We eten nou eenmaal snel teveel calorieën dan goed voor ons is. Dus zou het niet handig zijn om hier en daar wat trucjes toe te passen en bewuster om te gaan met eten om wat calorieën te besparen? Wel he? Probeer het eens!
Gooi de zak weg!
Als je ontzettend veel trek hebt in chips, pak dan niet de gehele zak mee, maar schep een handje in een klein schaaltje. Zo eet je niet gedachteloos de hele zak leeg! Want zeg nou eerlijk, als het in huis is en je hebt er trek in, dan blijft het erg lastig om het te vermijden. Natuurlijk zou het beter zijn als je de zak helemaal niet in huis haalt, maar ik begrijp het, soms zijn er situaties waarin dat niet is gebeurd om wat voor reden dan ook! 😉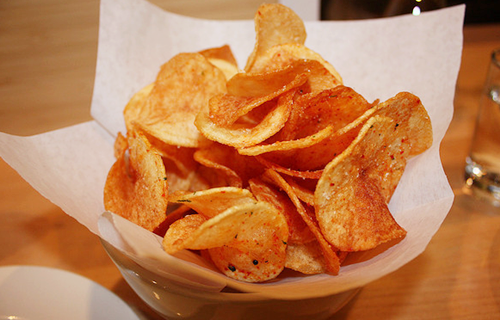 Eet rustig
In de drukte van de tijd waarin we leven kan het eten van een maaltijd voelen als een extra "to-do". Probeer toch om rustig je maaltijd op te eten en er niet doorheen te haasten. Door in alle haast een maaltijd te eten, eet je vaak veel meer dan nodig en goed voor je is. Leg af en toe even je bestek neer, kijk om je heen, probeer te begrijpen wanneer je verzadigd bent.
Eet voordat je gaat
Als je naar een feestje gaat waarbij je weet dat er veel snacks en eten zal zijn, eet dan voordat je gaat wat thuis. Een bakje yoghurt kan al voldoende zijn om de erge trek weg te nemen. Zo voorkom je dat je jezelf niet meer in de hand hebt en je vergrijpt aan kaas, worst, chips, zoutjes en gefrituurde hapjes.
Begin met soep
Soep is een perfect voorgerecht, omdat het je vol en verzadigd gevoel geeft. Daarom is het ook perfect om als voorgerecht soep te eten. Als het hoofdgerecht eenmaal op tafel staat zul je merken dat je al een stuk minder trek hebt. Heldere soepen hebben wel de voorkeur (in plaats van romige, gebonden soepen) omdat deze minder calorieën hebben en meer op basis van water zijn dan op room.
Honger? Maar eigenlijk dorst!
Wist je dat je vaak dorst signalen kunt verwarren met honger? Drink daarom altijd even een glas water als je trek of honger hebt, want misschien is dat al voldoende!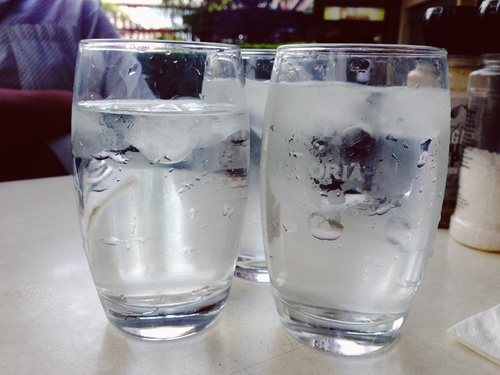 Luister naar je buik
Het kan gemakkelijk zijn om je eetroutine aan te passen aan de klok. 8 uur ontbijt, 12 uur lunch, half 6 avondeten etc. Je lichaam kun je hieraan laten wennen, maar niet elk lichaam past zich gemakkelijk aan en niet elk lichaam heeft exact dezelfde "werk routine" op een dag. We staan nou eenmaal op verschillende tijden op, bewegen intensief op verschillende tijden etc. Probeer daarom niet te hard vast te houden aan de klok, maar meer aan het gevoel in je buik. Begin je trek te krijgen en is het nog geen lunchtijd? Eet dan toch wat. Je buik is belangrijker dan de klok natuurlijk.
Bewaar, Like, Tweet of Pin!