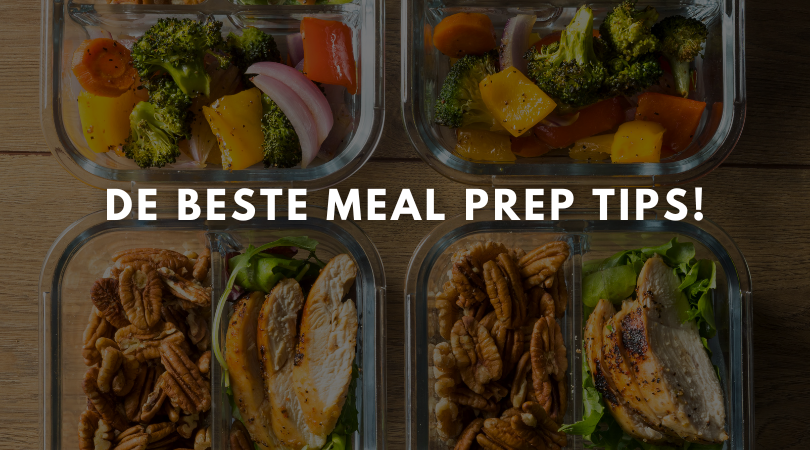 Wil je door de weeks flink wat tijd en denkwerk besparen door je gezonde maaltijden al geprept te hebben maar weet je gewoon echt niet waar je moet beginnen? Dan ben je hier aan het juiste adres. Ik heb de beste tips voor je om te beginnen zodat je gezonde leefstijl qua maaltijden niet meer afhangen van hoeveel tijd je te besteden hebt.
Het enige wat ik wel van je vraag is om één dag in de week iets meer tijd te besteden aan je maaltijden, dan heb je daar de rest van de week profijt van!
1. Begin klein 
Net zoals met alle andere gewoontes die je wilt aanleren waarbij wordt geadviseerd: begint klein, geldt dit ook bij mealpreppen. Ik weet dat je de typische beelden kent van enorme keukentafels en aanrechten gevuld met bakken en bakken mealprep maaltijden – maar dat is niet het level waar je je op hoeft te bevinden. Daar hoef je ook niet naartoe! Het kan al een wereld van verschil maken als je voor 4 doordeweekse avonden hebt gemealprept en je 3 avonden open laat voor uit eten, bestellen, of gewoon een freestyle kooksessie. Uiteindelijk kom je er écht wel uit wat het beste voor jou werkt en kun je zo keer op keer finetunen. 
2. Integreer elke 'voedselgroep'
Ik had hier ook 'macronutriënt' kunnen noemen, maar dat zou een beetje haaks staan op punt 1 om klein te beginnen. Om het makkelijk te maken voor je zou ik je adviseren aan de volgende voedselgroepen te denken bij elke maaltijd:
Groente en/of fruit – volkoren granen – een gezonde eiwitbron – gezond vet.

Denk aan; nasi met volkoren rijst (doperwten, wortel, ei en olijfolie) 

Of een volkoren wrap met kip, paprika, spinazie en avocado. 

Of een smoothie van banaan, (evt. havermout), pindakaas en amandelmelk. 
Ik zou het niet te strict aanpakken. Als je hier en daar de volkoren granen of een gezonde vetbron weglaat is dat helemaal geen probleem!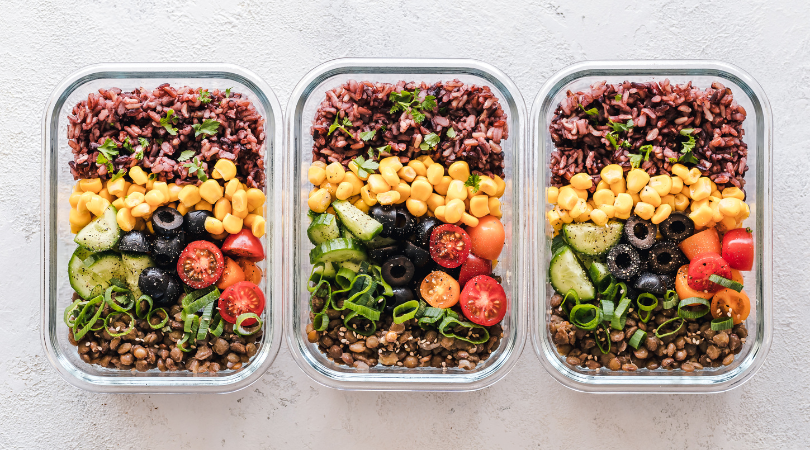 3. Zoek recepten die in de koelkast of vriezer bewaard kunnen worden
Een goede voorbereiding is het halve werk. Het zou zonde zijn als je aan de slag zou gaan met wat maaltijden die je normaal gesproken heel lekker vindt, maar er niet over hebt nagedacht hoe ze erbij staan als ze een nachtje of twee in de koelkast of vriezer hebben gelegen. Zoek daarom op Google of Pinterest naar recepten die in te vriezen zijn, dan kunnen ze automatisch ook in de koelkast! 
Peulvruchten, soepen en roerbakmaaltijden doen het altijd wel goed in dit soort gevallen! Salades niet 😉  Zodra je de recepten hebt, maak je er een boodschappenlijst van en kun je daarmee naar de supermarkt! 
4. Zorg voor goede kwaliteit opbergbakjes
Vroeger gebruikte ik alle soorten bakjes die er maar bestonden, maar tegenwoordig probeer ik zoveel mogelijk glazen bakjes te gebruiken. IKEA maakt fantastische in verschillende maten! Glas is ook fijn als het eten dat je erin doet nog warm of heet is, met plastic is dit niet altijd gezond voor je omdat het plastic kan gaan vervormen (de chemische structuur van het plastic verandert, dat wil je niet dichtbij je voedsel hebben).
Wacht wel eventjes met het plaatsen van de deksel tot het redelijk is afgekoeld.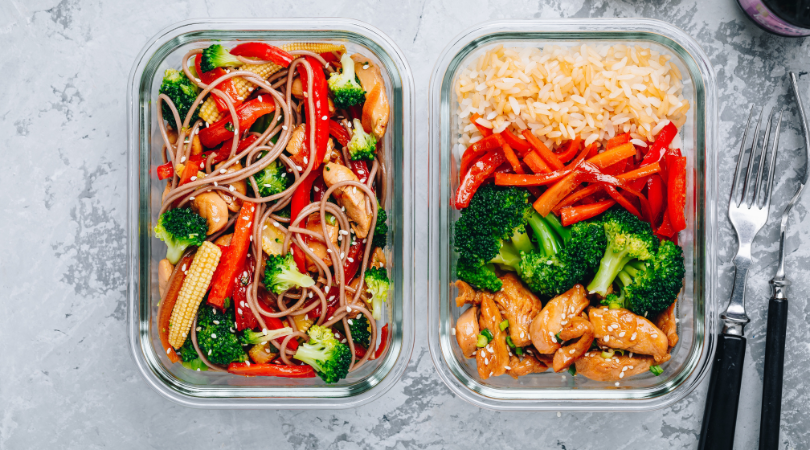 5. Zorg dat je het lekker vindt!
Misschien wel de belangrijkste tip want de enige manier dat je iets volhoudt is wanneer je er plezier aan ondervindt. Met eten is dat dus dat het lekker smaakt.  
Kies voor recepten waarvan jij weet dat je ze lekker vindt. Blijf weg van het stereotype van rijst, broccoli en kip als je dat niks vindt! Je hoeft dit niet te doen omdat je wilt afvallen, fit worden of wat dan ook – maar omdat je tijd wilt besparen door de weeks én tegelijkertijd verser en gezonder wilt eten omdat je anders misschien had gegrepen naar bewerkte, gefrituurde en bestelde maaltijden die niet per se hadden gehoeven op dat moment. 
Succes!
Dus weet waarom je het doet, laat het stereotype plaatje los, begin klein, heb vertrouwen in jezelf en fine tune hier en daar tot het voor je werkt. Ik hoop dat deze tips je op weg kunnen helpen!