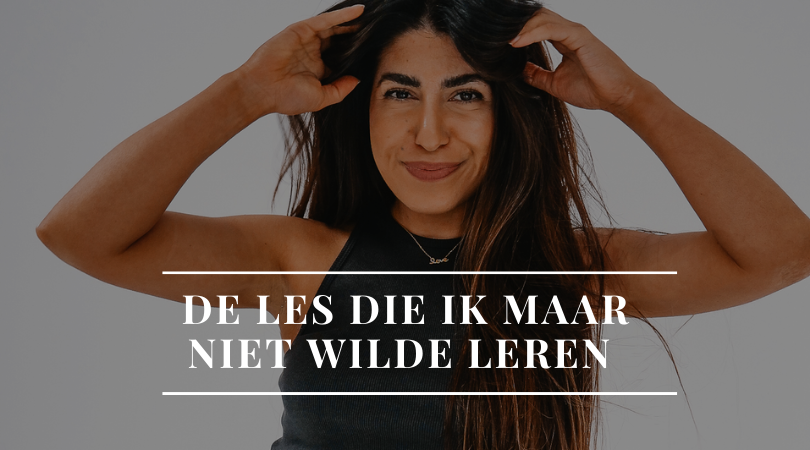 "So if you're going through a tough time right now, just know that it's happening because it's teaching you a lesson. The hurt you're feeling will help you appreciate something amazing in the future. Believe."
Ohhh deze quote, Oprah heeft er ook een variant van, maar het spreekt tot me.
Tot een jaar geleden kende ik deze quote maar voelde ik hem niet. Tot een jaar geleden ik keihard een les moest leren die ik jaren ervoor niet had geleerd met allemaal kleine mogelijkheden. Een jaar geleden kwam niet meer een mogelijkheid, maar een must. Ik MOEST dit nu toch echt leren.
Wat ik moest leren? Mijn ware zelf zijn en leven met het feit dat er mensen in mijn directe omgeving mij niet leuk/aardig vinden of begrijpen. Ik kon het altijd zo draaien dat een ander mij aardig vond, ik paste me wel aan, zette mijn trots aan de kant etc. Ook als dat betekende dat de ander onredelijk was naar mij toe. Maar sinds ik dat besloot niet meer te doen, kreeg ik de klap en heb ik moeten leren om te leven in dat gevoel.
Het is een heel naar gevoel en ik kan het nog steeds niet helemaal een plek geven, maar..
..
het gaat steeds beter. Voor mij is er geen weg terug naar extreem lief zijn en er alles aan doen dat bepaalde mensen me 'weer aardig' vinden. Want dat is niet de ware Teni. Dat is niet wat ik verdien na de dingen die zijn gezegd/gedaan richting mij. Terwijl het voor heel veel mensen makkelijk zou zijn om de schouders op te trekken en te denken "als je me zo behandeld, dan rot je maar op en vind je me maar onaardig", vind ik het verdomd lastig!
Daarbij komt dat mensen een hoop van mijn leven online kunnen blijven volgen en zien – en dat ook blijven doen – terwijl er dus onenigheid is tussen ons. Dat frustreert me, want die zichtbaarheid zorgt ook voor kwetsbaarheid. Dus jawel, er zijn een hoop lessen die voor mij te leren zijn uit deze situatie en al deze lessen maken me alleen maar sterker voor de toekomst.
Het leren van deze lessen gaan alleen nooit gepaard met rozengeur en maneschijn. Lessen leer je eigenlijk altijd door moeilijke situaties. Dus ik omarm deze en zet elke dag weer een stapje richting de sterkere versie van mijzelf 😉