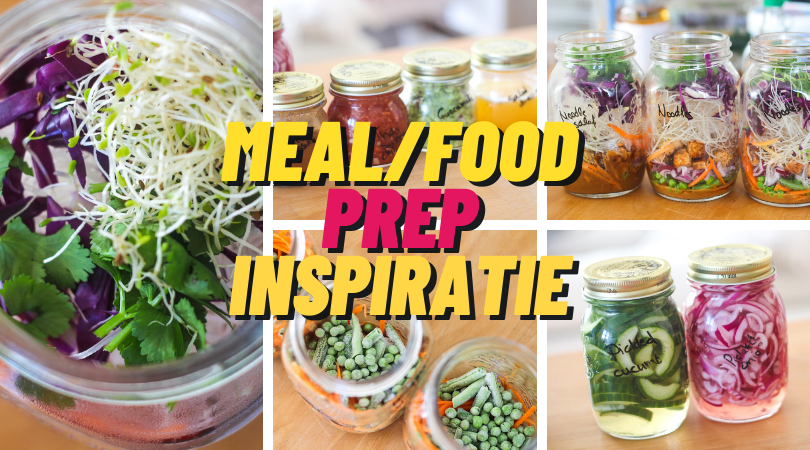 Boy en ik zijn een paar weken geleden flink aan de slag gegaan met meal preppen. Ik heb mooie potten gekocht (bij de TK Maxx) die we eerst even hebben gewassen en daarna met een hele planning hebben gevuld met allemaal lekkers!
Deze post is ook ter inspiratie van een mealprep, Hopelijk krijg je zelf ook zin om aan de slag te gaan na deze post en bespaar je jezelf flink wat tijd in de dagen na de mealprep!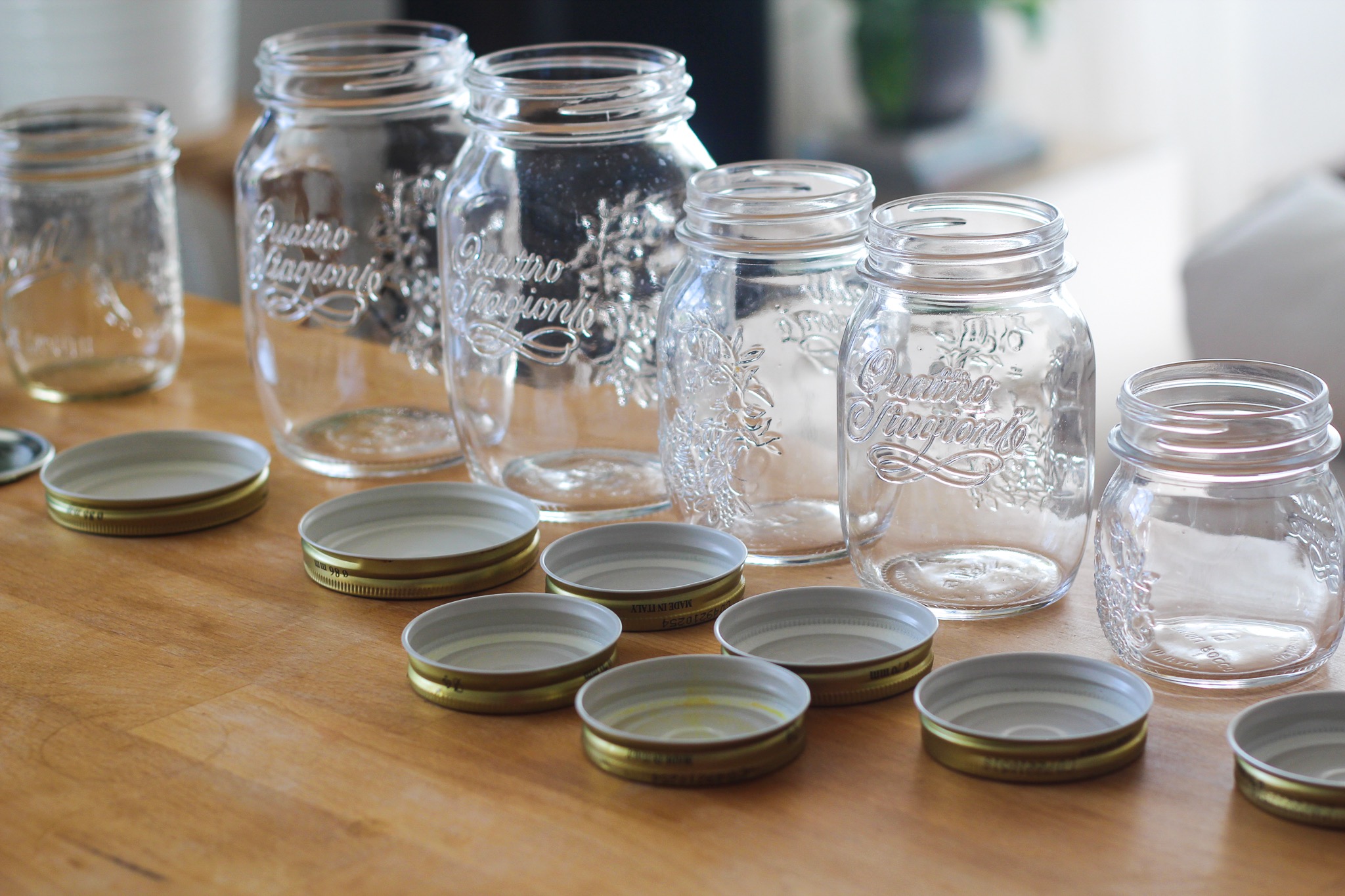 Alle potjes gewassen en wel, klaar voor gebruik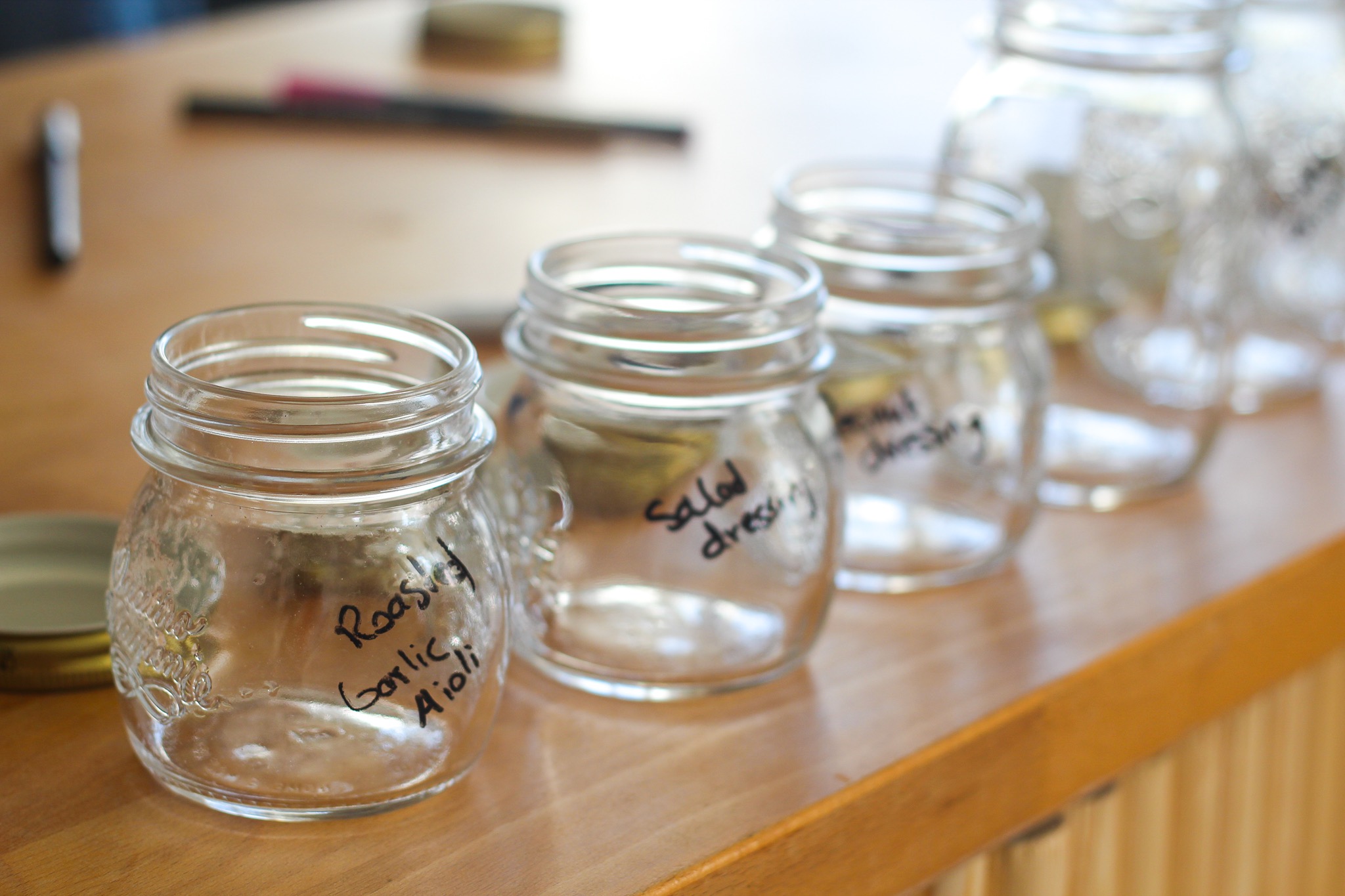 We kozen van te voren welk potje voor wat ging worden en schreven het erop (stiften waarmee je op glas kunt schrijven en ook makkelijk kunt uitvegen heb ik bij de Action gekocht).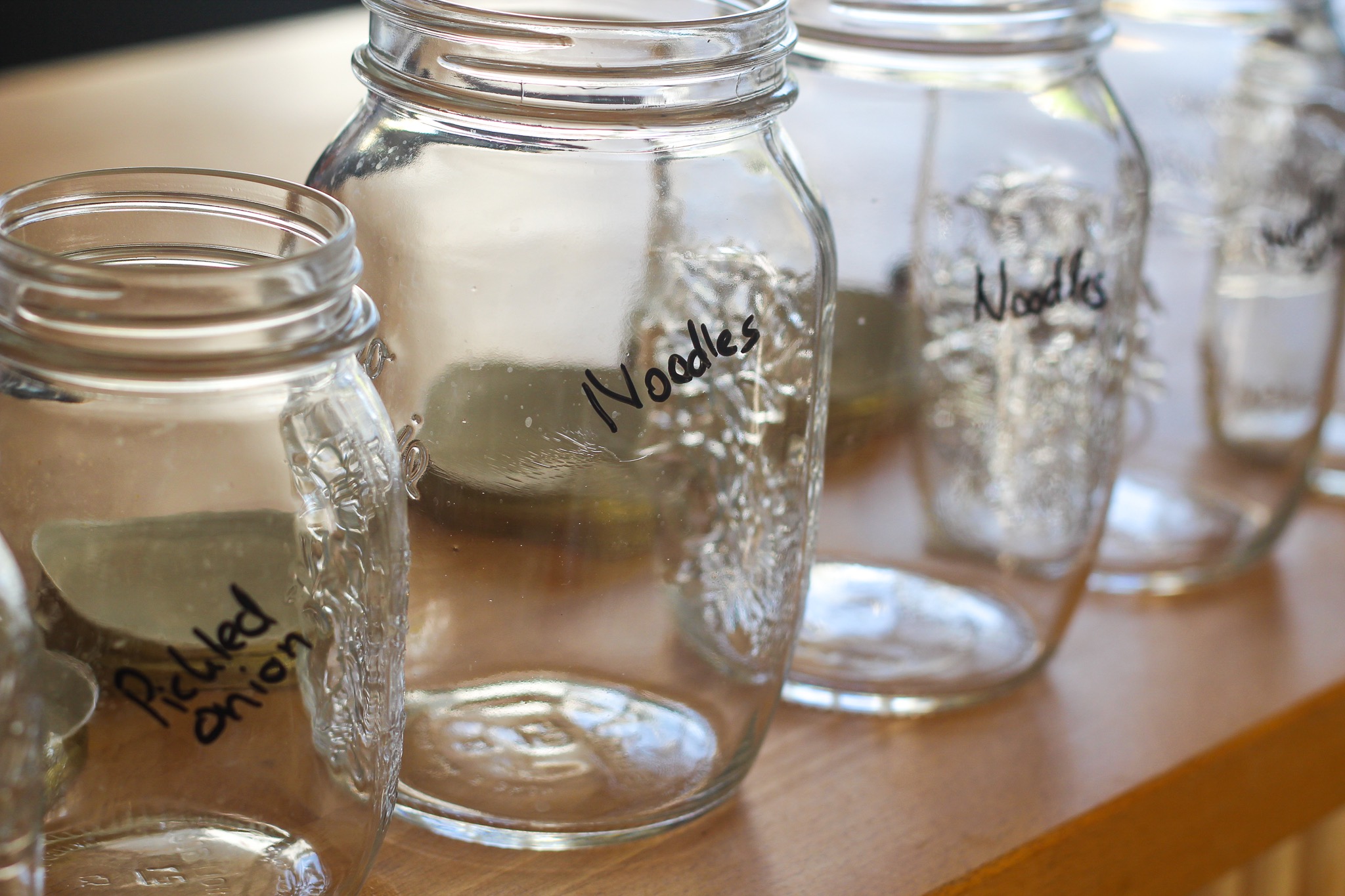 Zin in!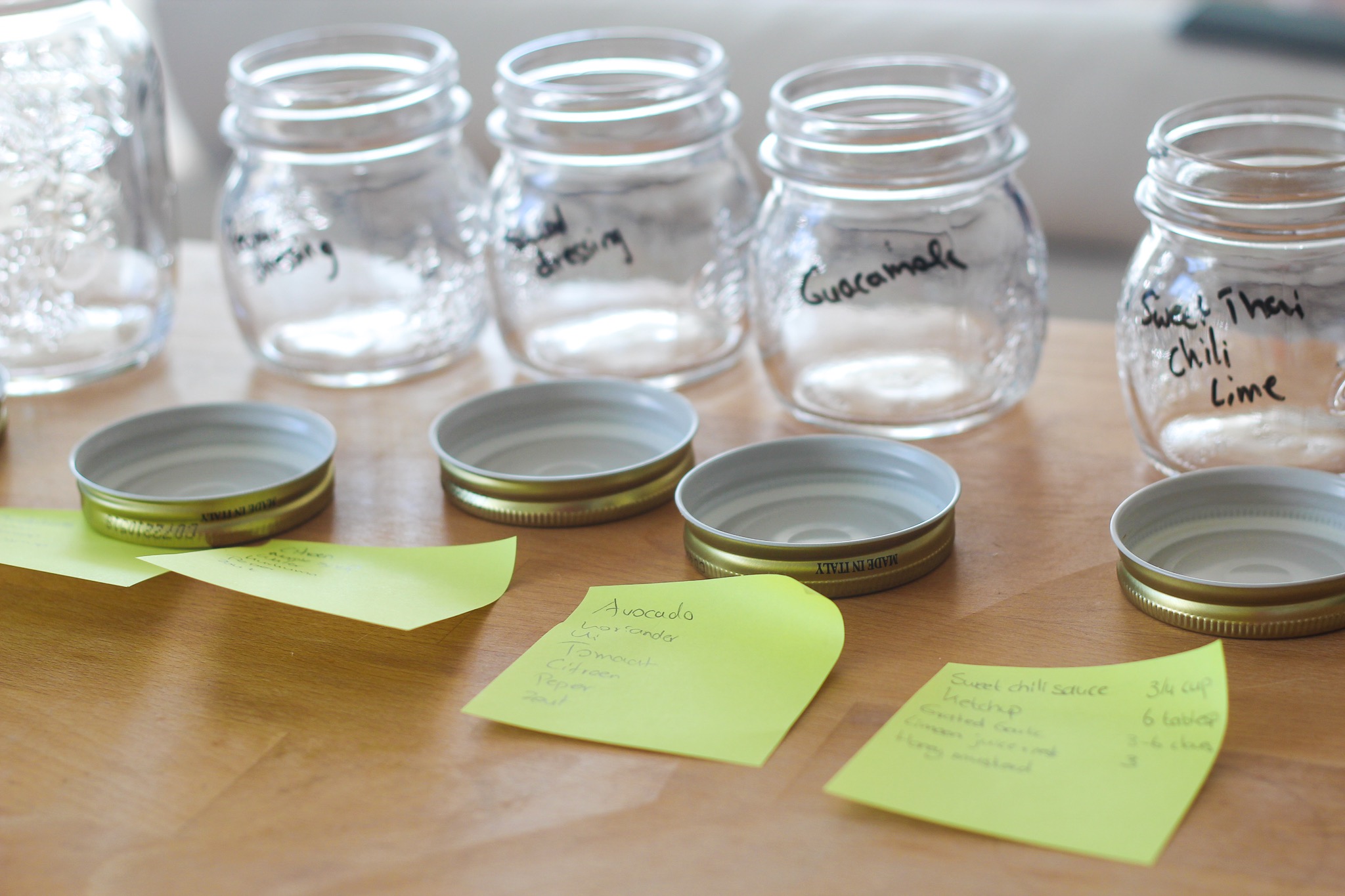 Daarna schreef ik op een post-it de ingrediënten per potje, zodat ik bijvoorbeeld een rode ui in één keer zou fijnsnijden voor verschillende potjes in plaats van steeds per potje alles afgaan. Er was namelijk wat overlapping qua ingrediënten.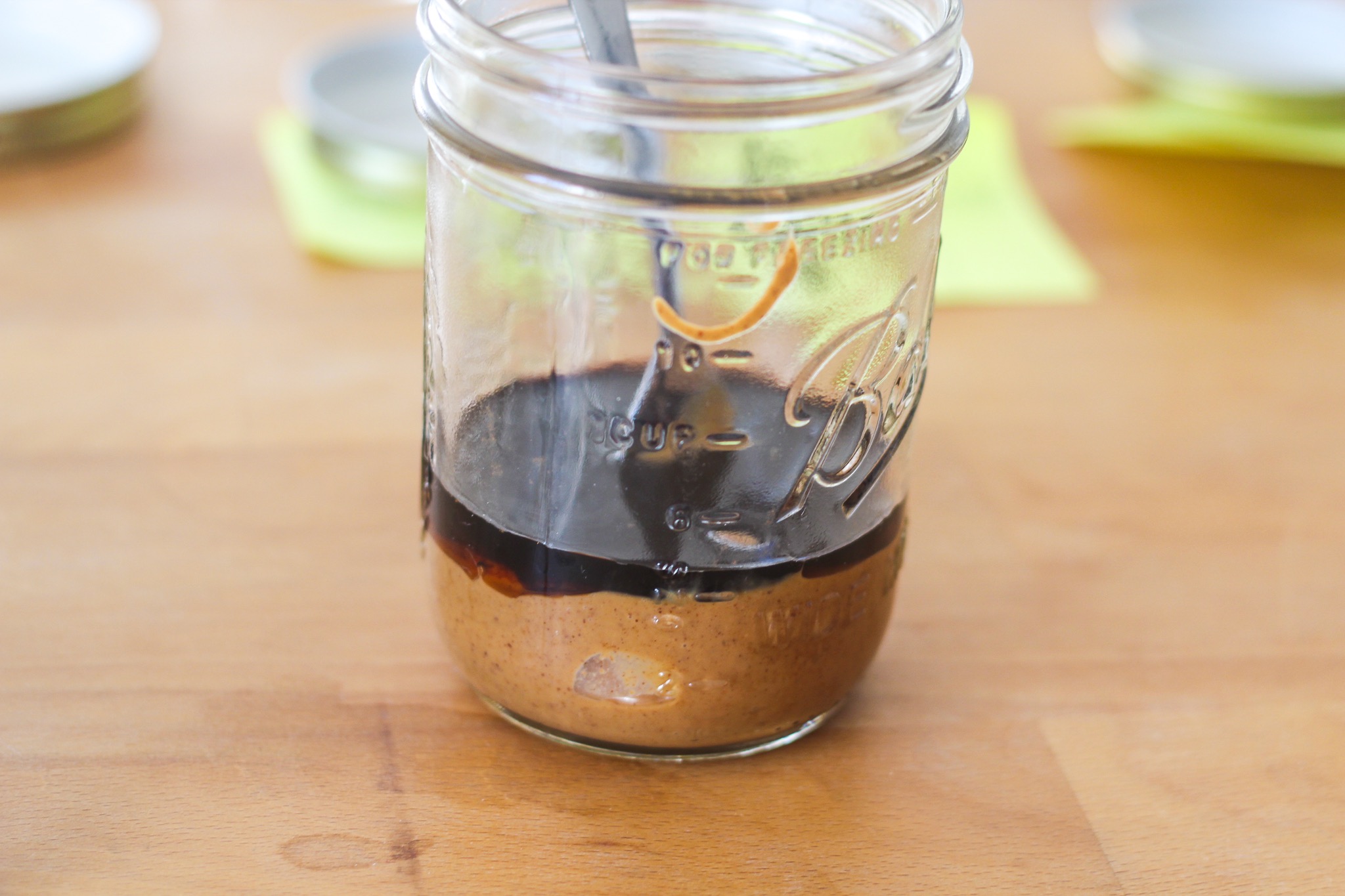 De pindakaas saus die ik bij heel veel Oosterse gerechten maak! Gebruik de volgende verhouding voor 1 maaltijd (2 personen):
2 eetlepels pindakaas
1 eetlepel maple syrup of honing
1 eetlepel citroen- of limoensap
2-3 theelepels sojasaus of tamari
Goed roeren en even proeven of jij hem lekker vindt! Mist het wat zout? Voeg wat sojasaus of tamari toe. Mist het wat zoets? Voeg wat maple syrup of honing toe. Mist het wat zuur? Voeg wat citroen- of limoensap toe!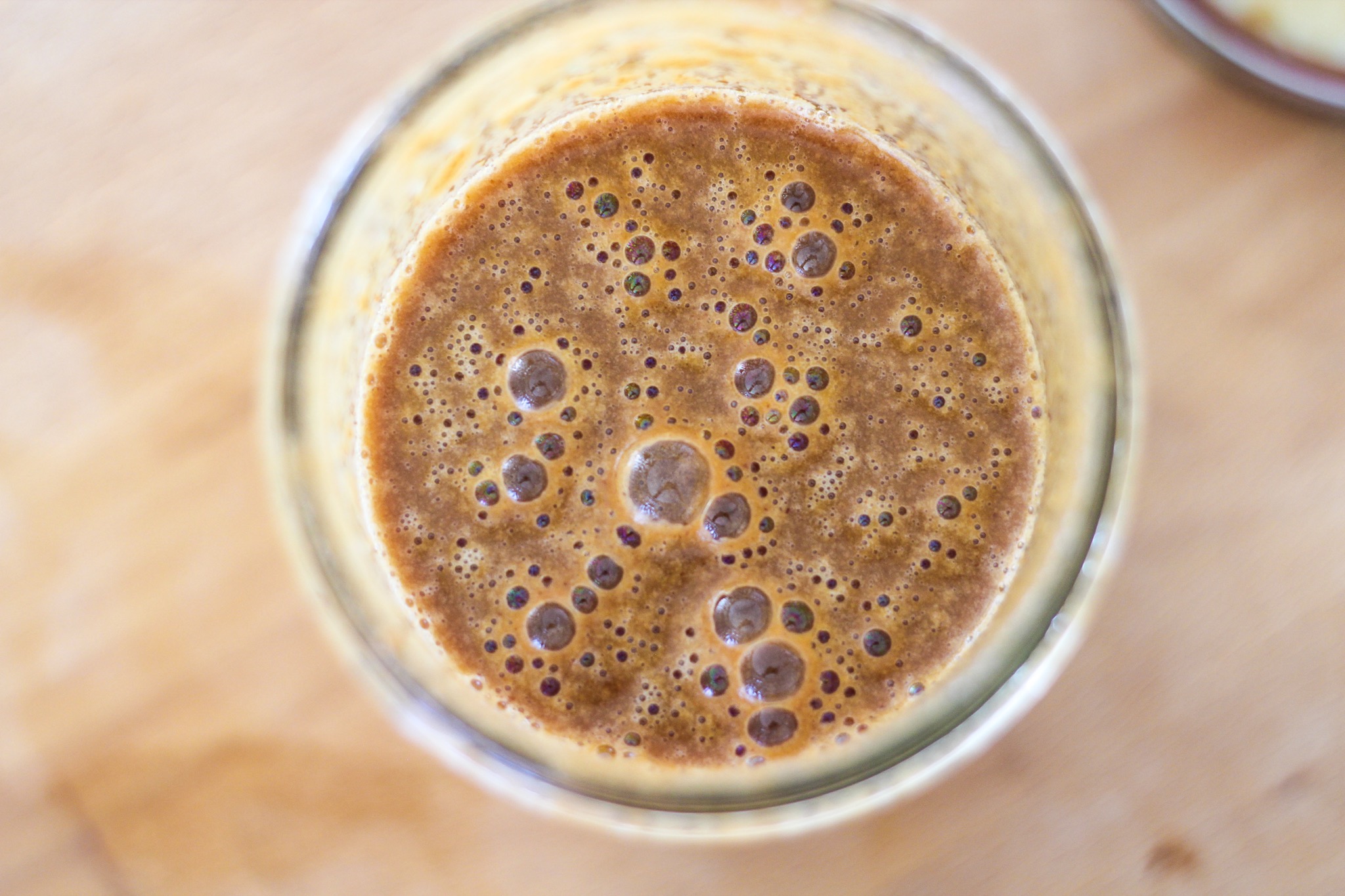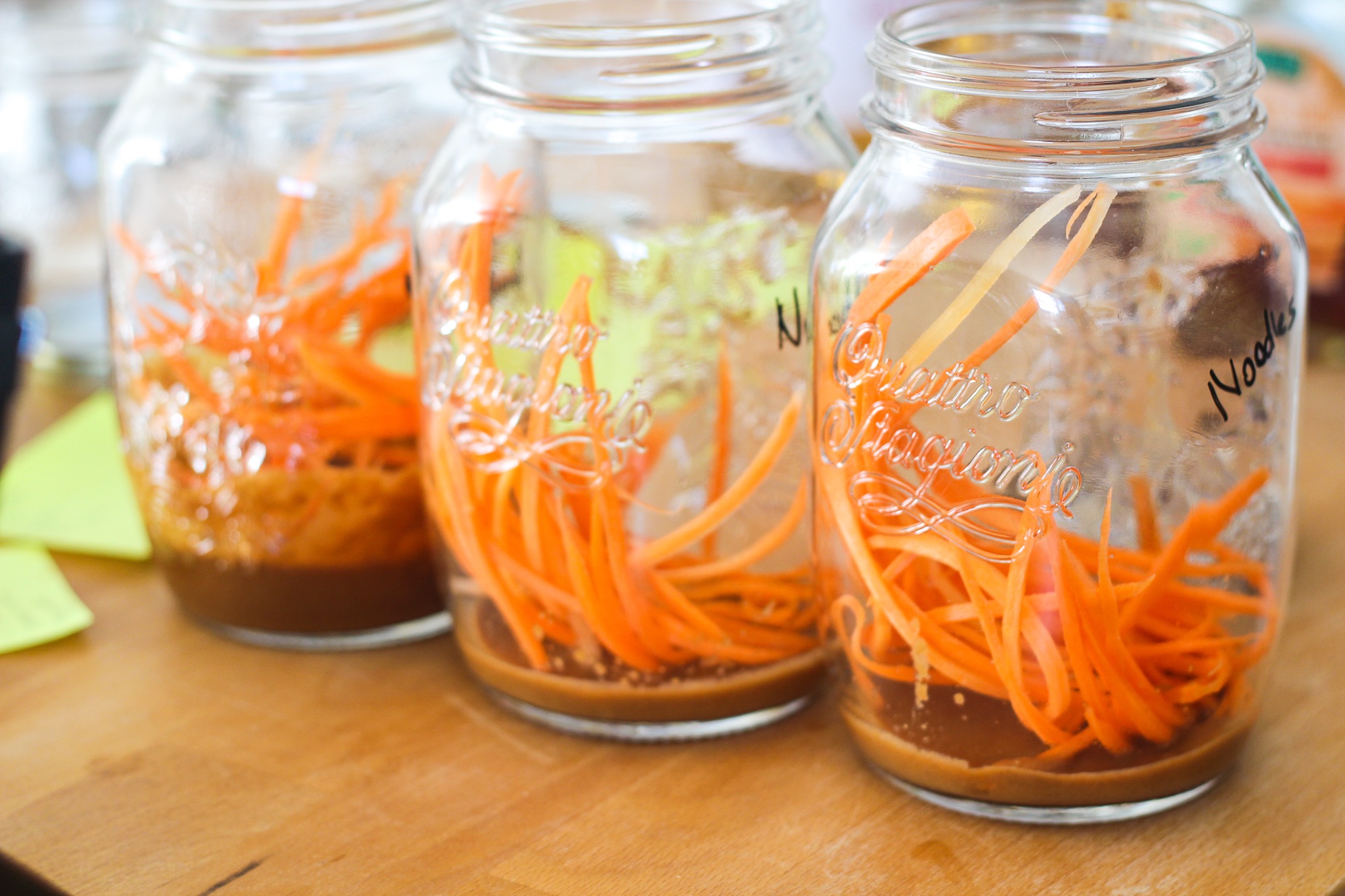 Deze saus heb ik onderin de potten gedaan waar de noodles in werden klaargemaakt. Daarbovenop komt alle groente naar keuze.
Wortel
Doperwten (diepvries)
Sperziebonen (diepvries)
Rode ui
Gebakken tofu of kip (met de pindakaas saus)
Rode kool
Koriander
Kiemen
Noodles (gekookt of ongekookt)
Mijn advies is om gekookte noedels toe te voegen als je een saus onderop hebt zitten. Ik maakte de fout om ongekookte te gebruiken met de saus. Als je ongekookte noodels gebruikt, dan heb je een soort soep want je voegt er heet water aan toe op het moment dat je het wilt eten. Binnen 4 minuten is je verse soep klaar. Ik zou er dan lekker een blokje bouillon bij doen.
Heb je saus onderop? Dan dus gekookte noedels zodat je het geheel alleen maar hoeft om te kieperen op een bord op het moment dat je het wilt eten. De saus komt dan bovenop die je dan door de noodle salade kunt roeren.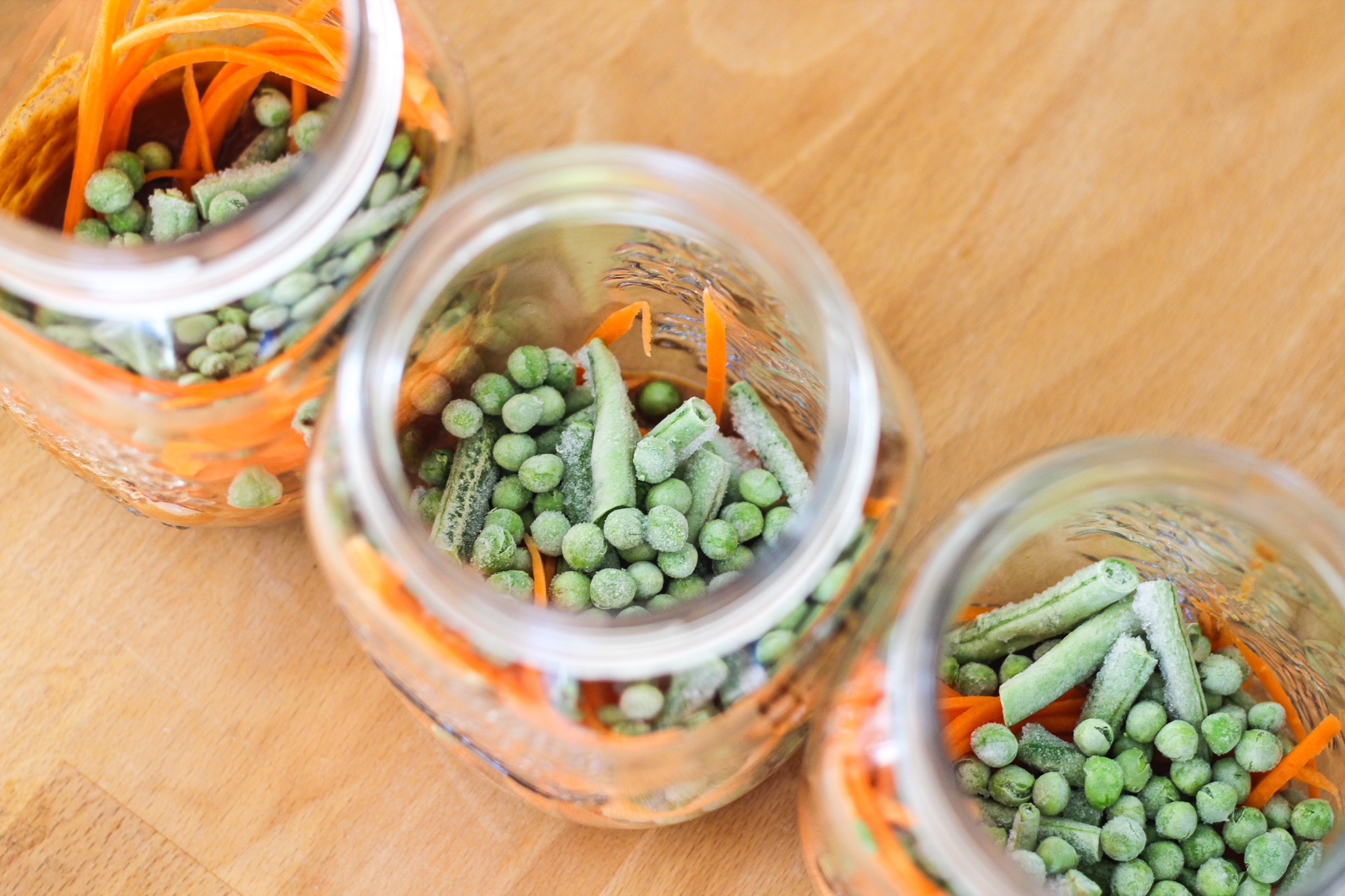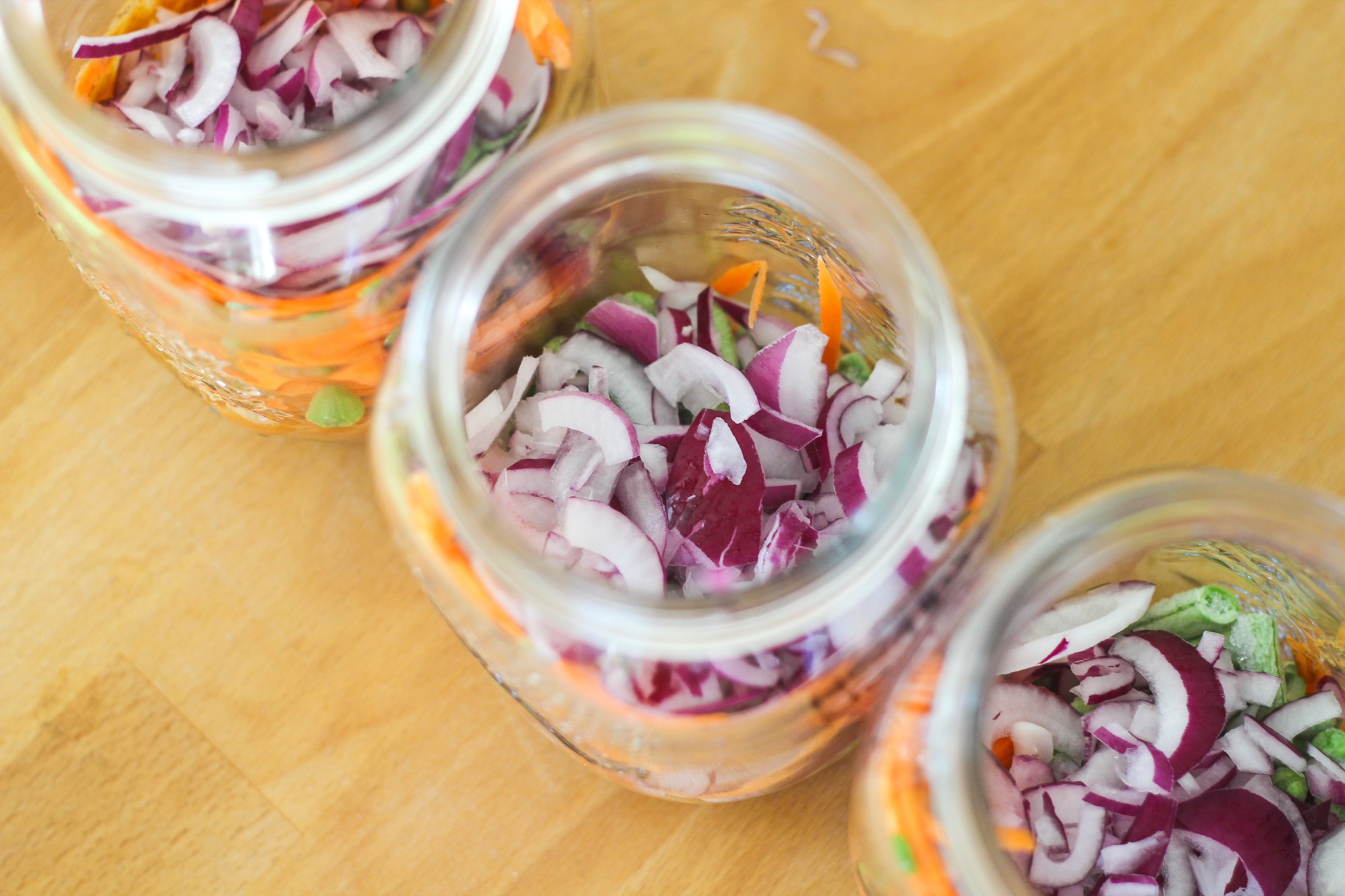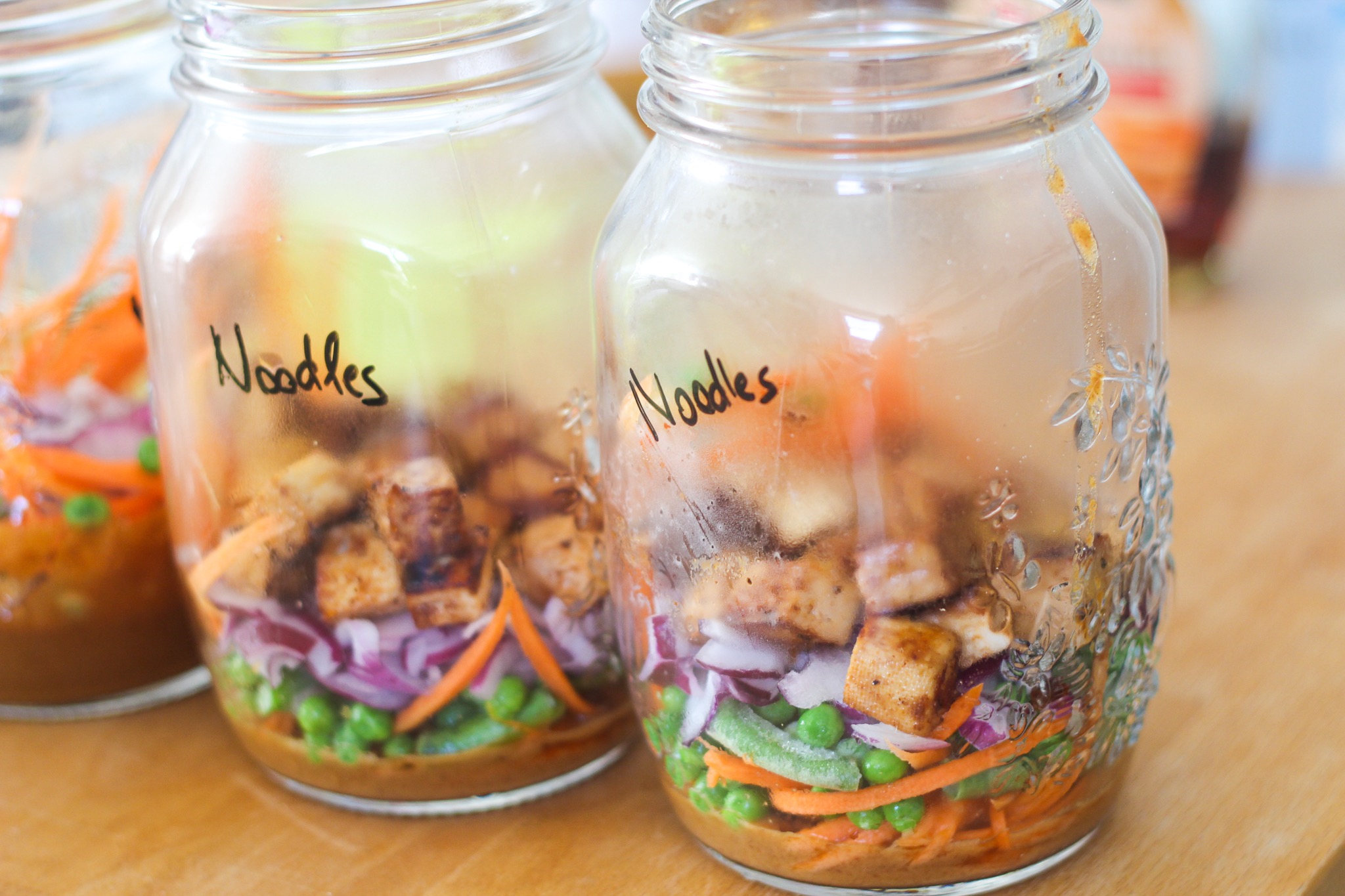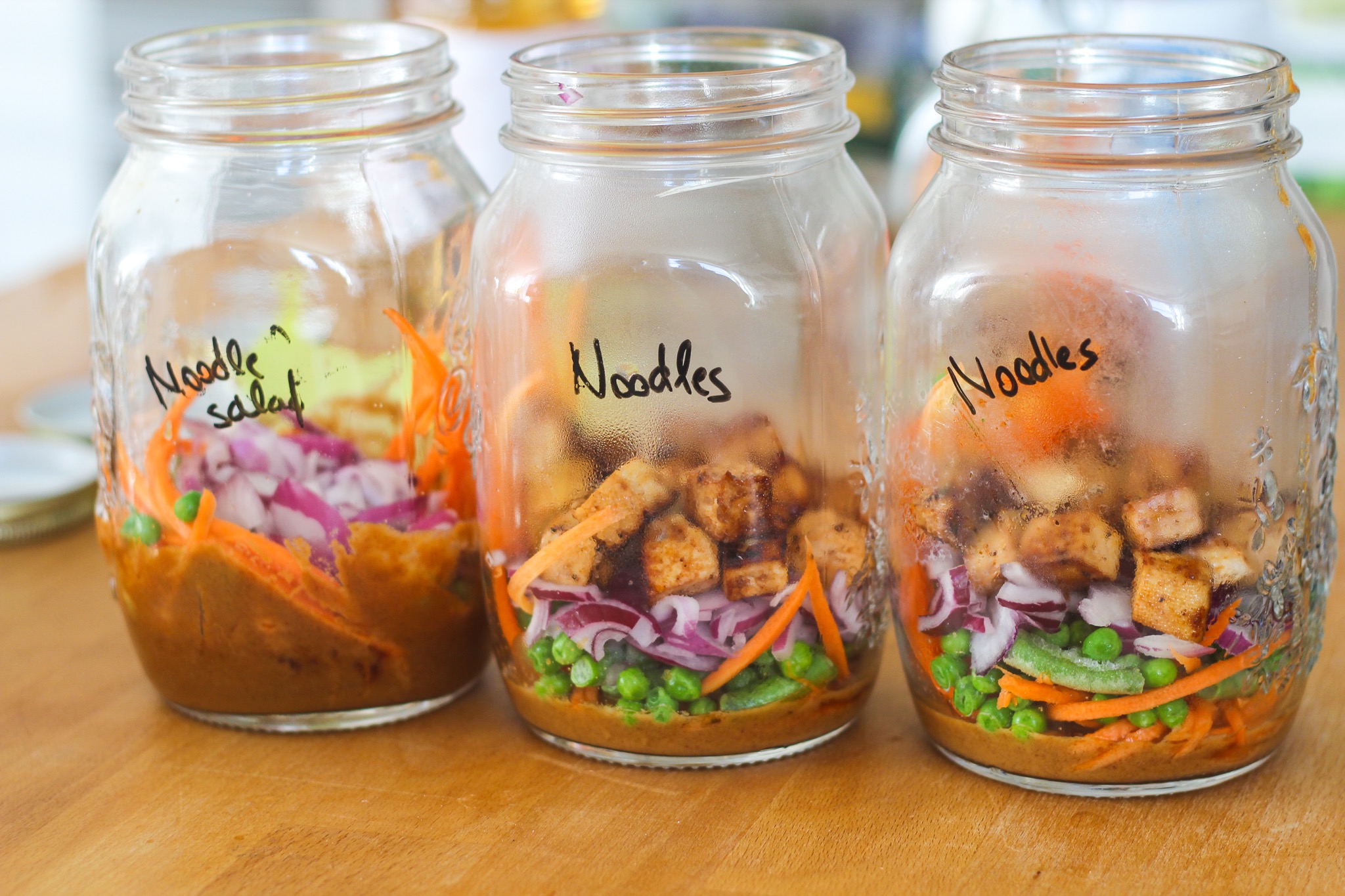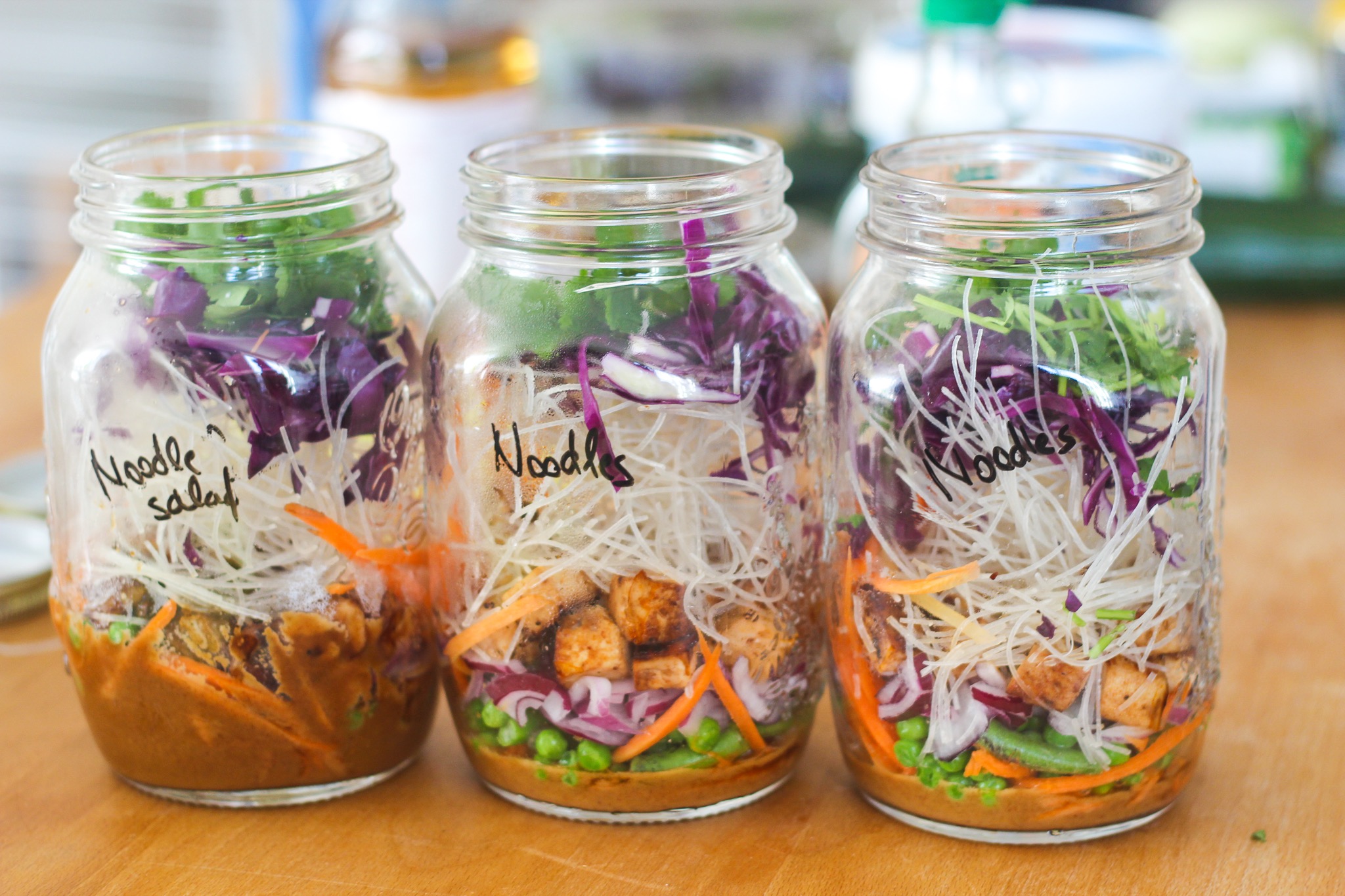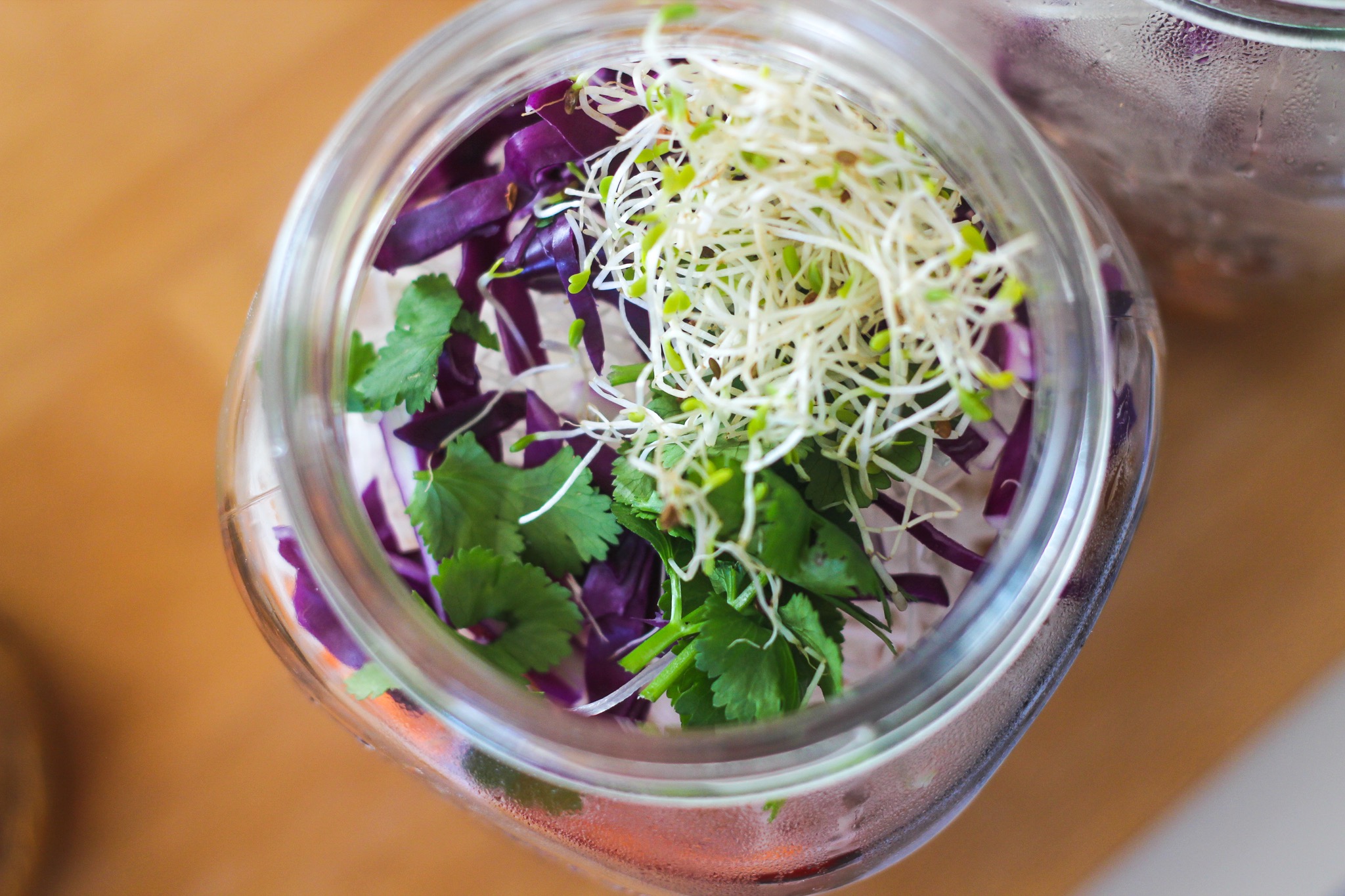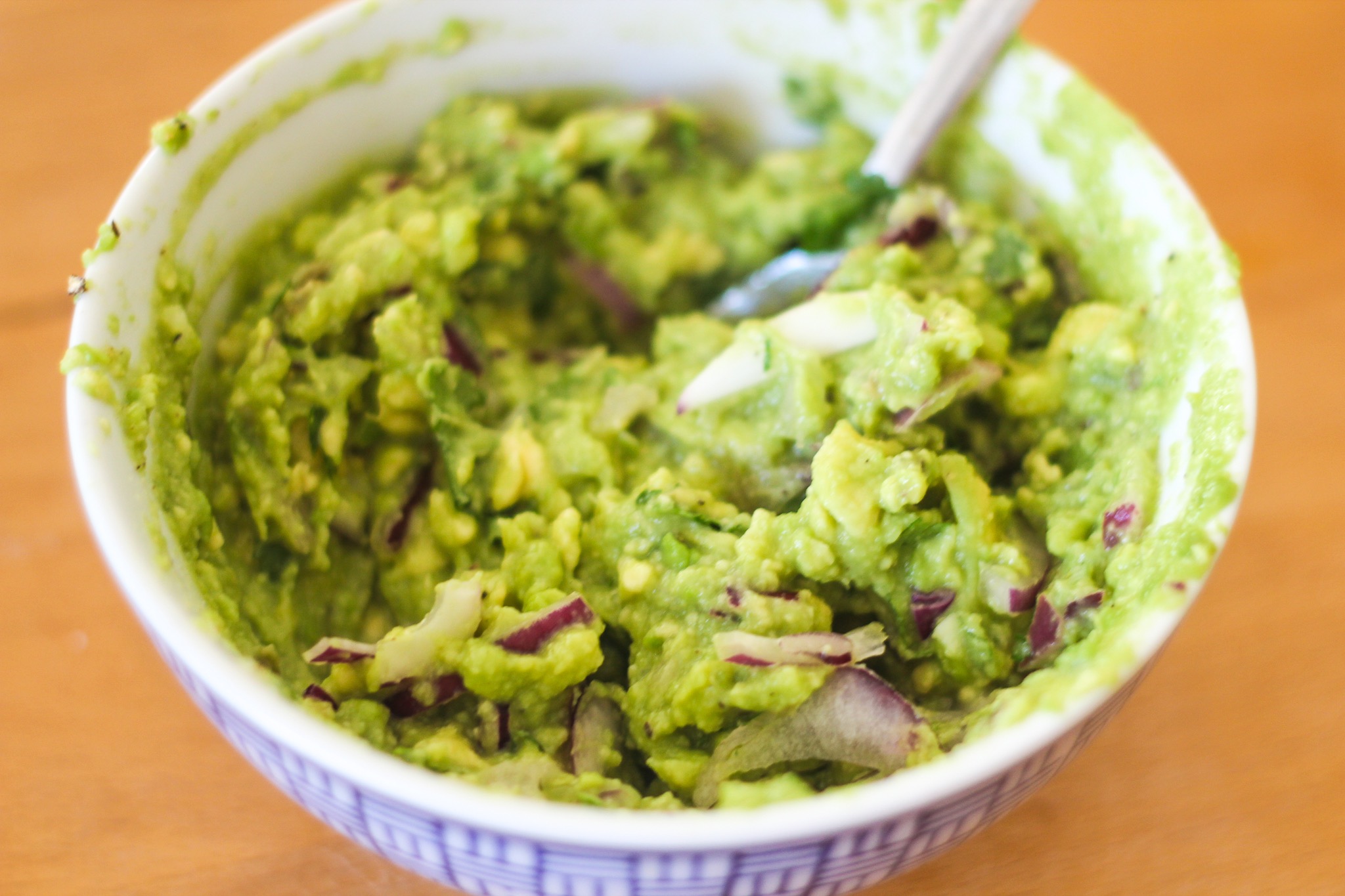 Guacamole in een potje is echt fantastisch! Zo heb je het klaarliggen voor op een broodje, als dip, op een wrap of als topping van een salade. Scheelt zoveel tijd!
Deze was ook binnen no-time op (ik denk 2 dagen max). Gebruik de volgende verhouding:
1 avocado, geprakt
1/2 rode ui, gesnipperd
sap van 1 citroen of limoen
1 eetlepel gehakte koriander
peper en zout naar smaak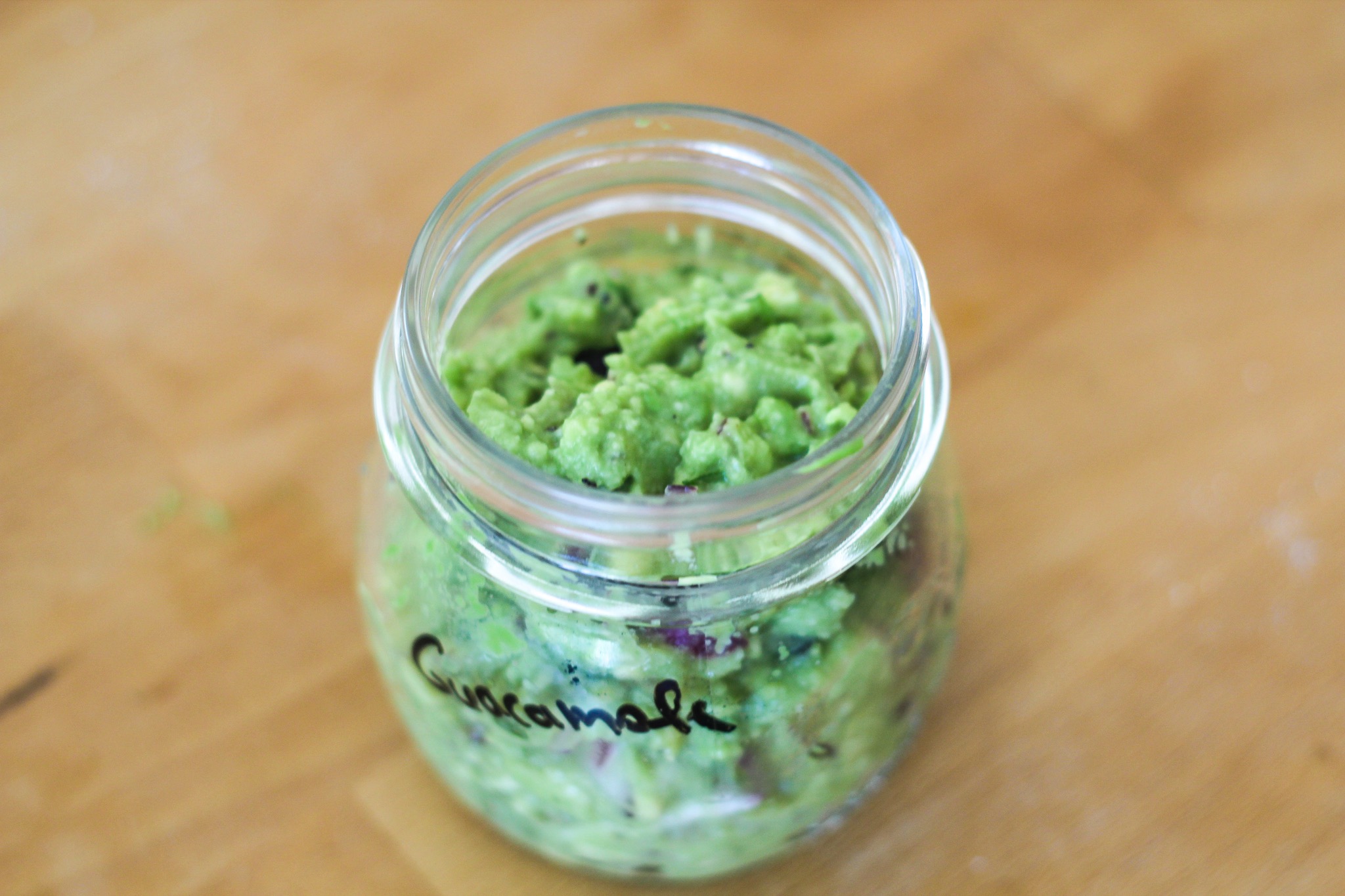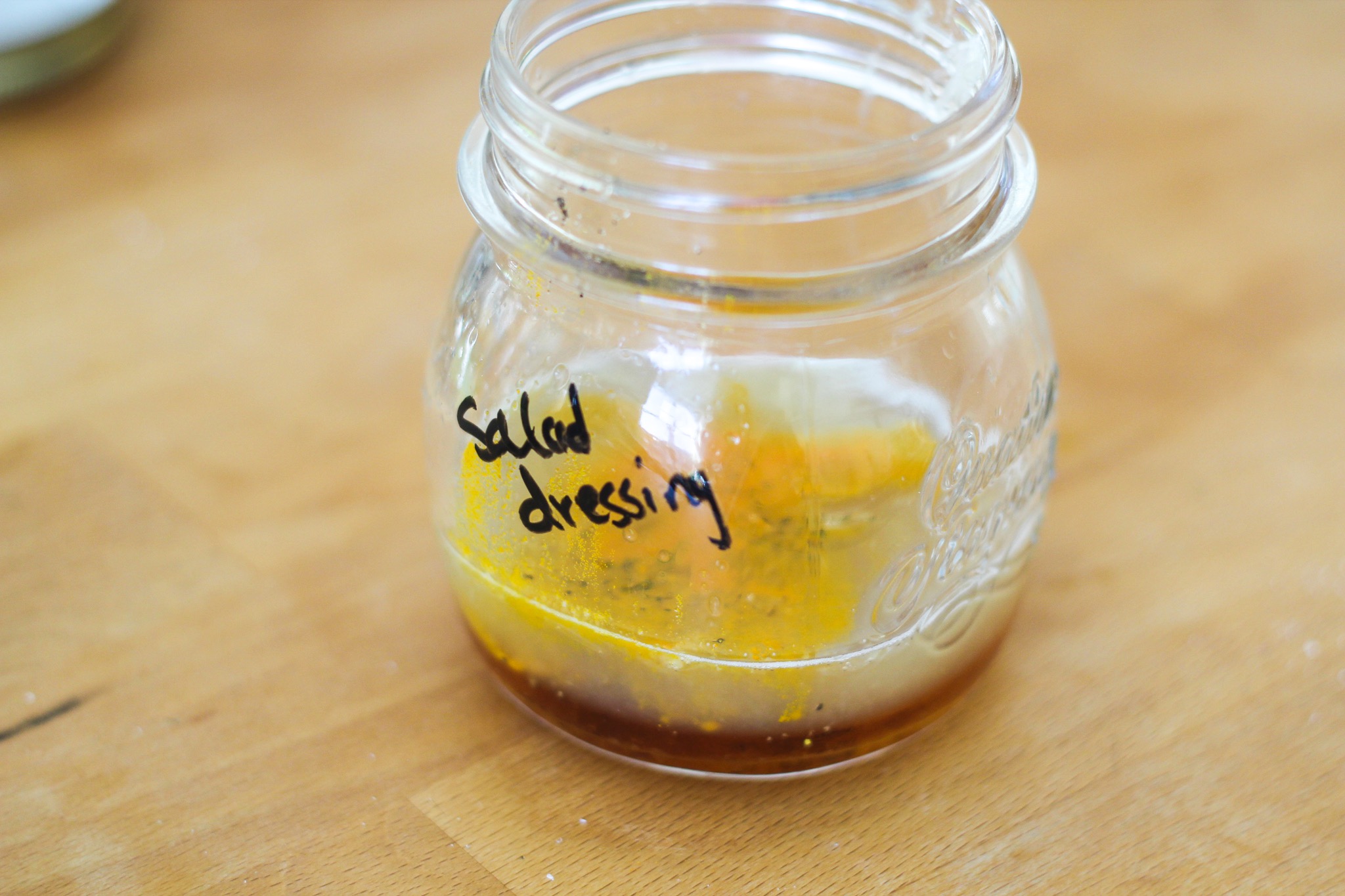 Een eigen dressing in de koelkast hebben liggen is ook weer zoiets fijns wanneer ik een salade maak en het irritantste de dressing maken vind! Kost tijd, zorgt voor meer afwas en ik heb maar een beetje nodig elke keer. Dit is een top dressing voor mij:
4 eetlepels citroensap
2 eetlepels maple syrup of honing
1/4 theelepel kurkuma
mespunt peper
snufje zout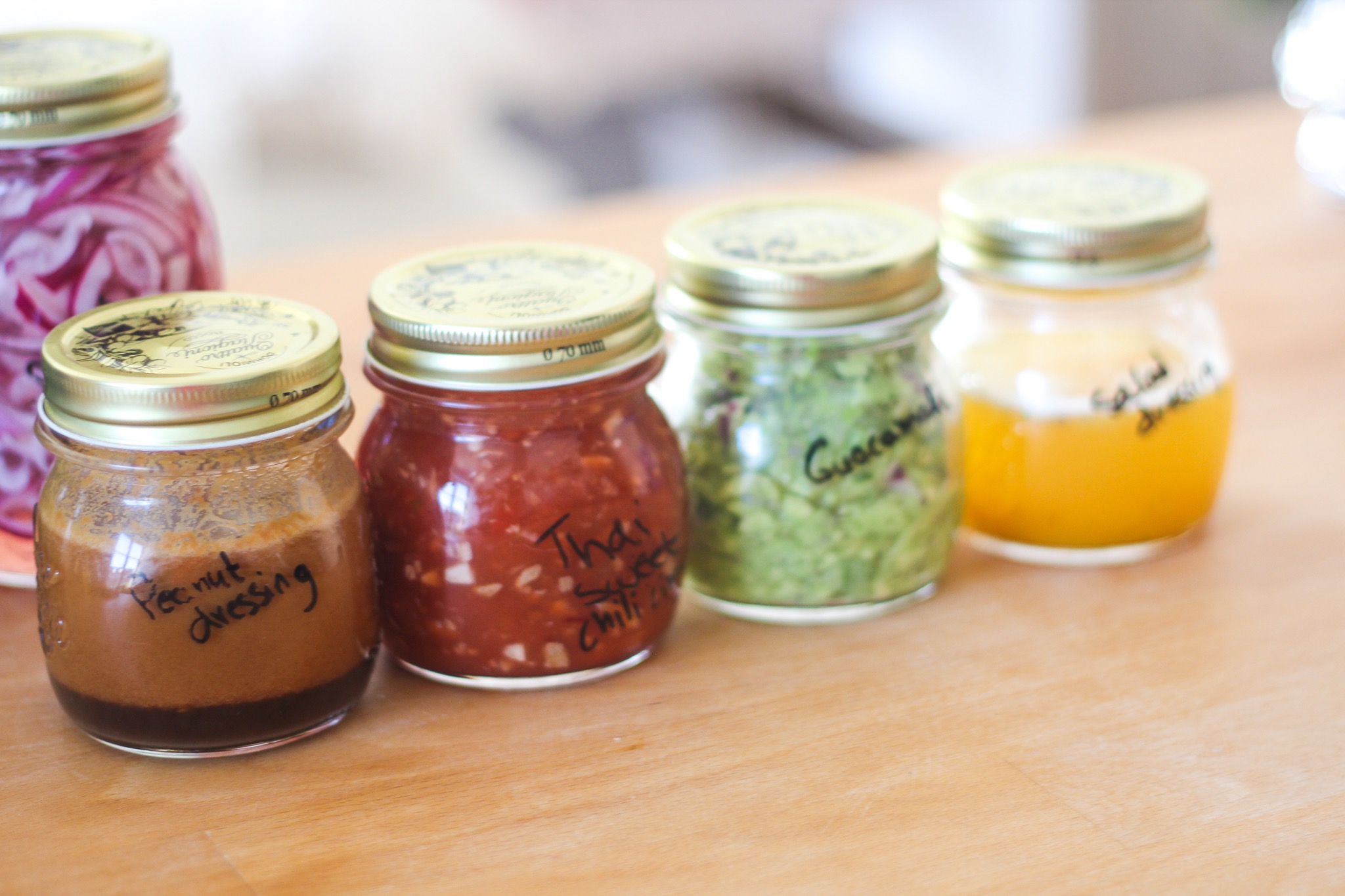 Nu mis je alleen nog het recept voor de Thai Sweet Chili saus die je hierboven ziet staan, deze komt van een Amerikaanse site en is dus in cups:
1/4

cup

 sweet chili saus

2

tablespoons

ketchup

1-2

 teentjes knoflook, geraspt  (wij vonden 2 teveel, 1 zou voldoende moeten zijn!)

sap van 1 limoen

1 theelepel mosterd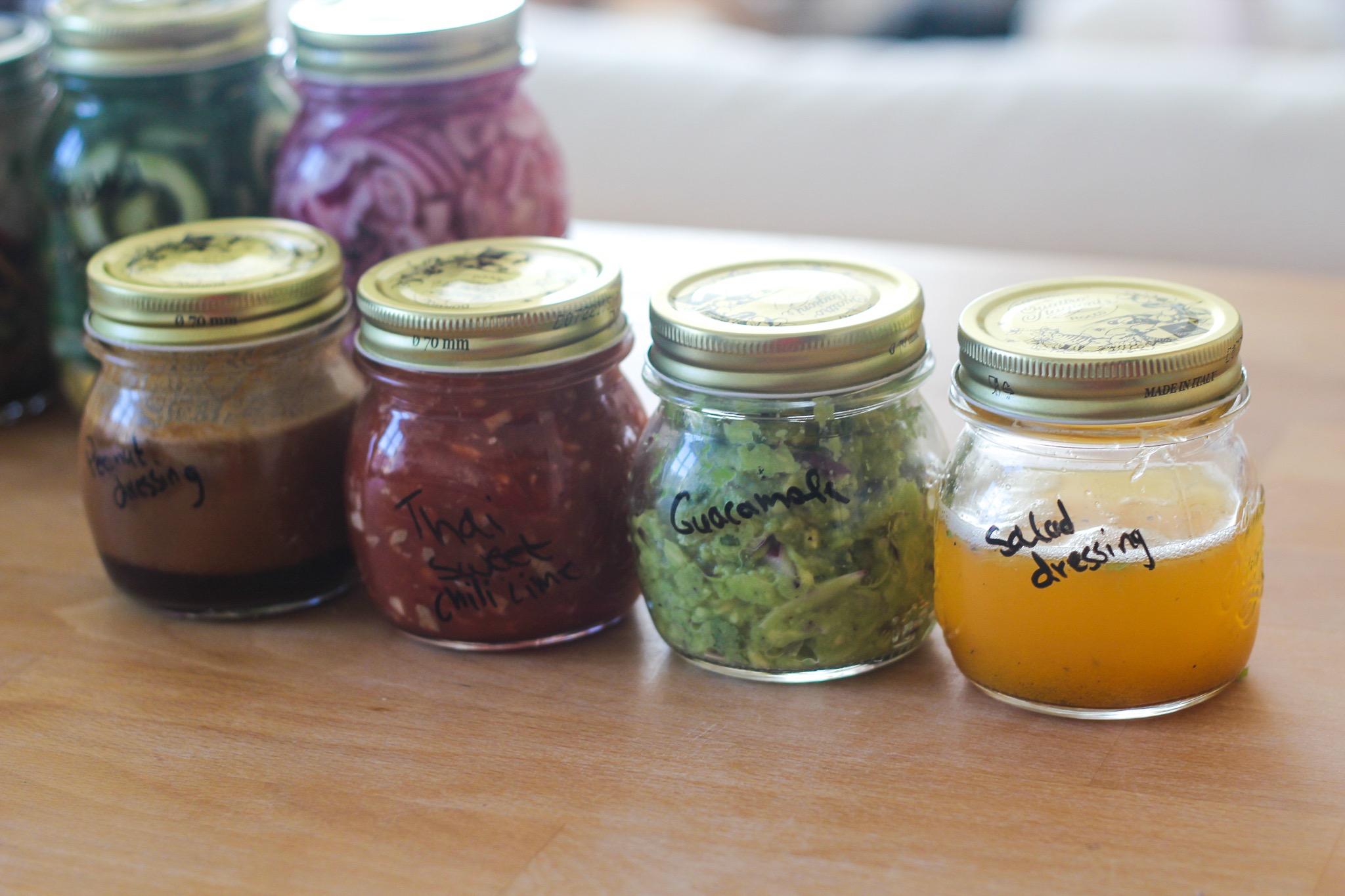 We aten die avond zelfgebakken frietjes en gebruikten de Thai Sweet Chili saus en guacamole. Jeetje wat was dat lekker!!!! Vooral de Thai Sweet Chili is een aanrader!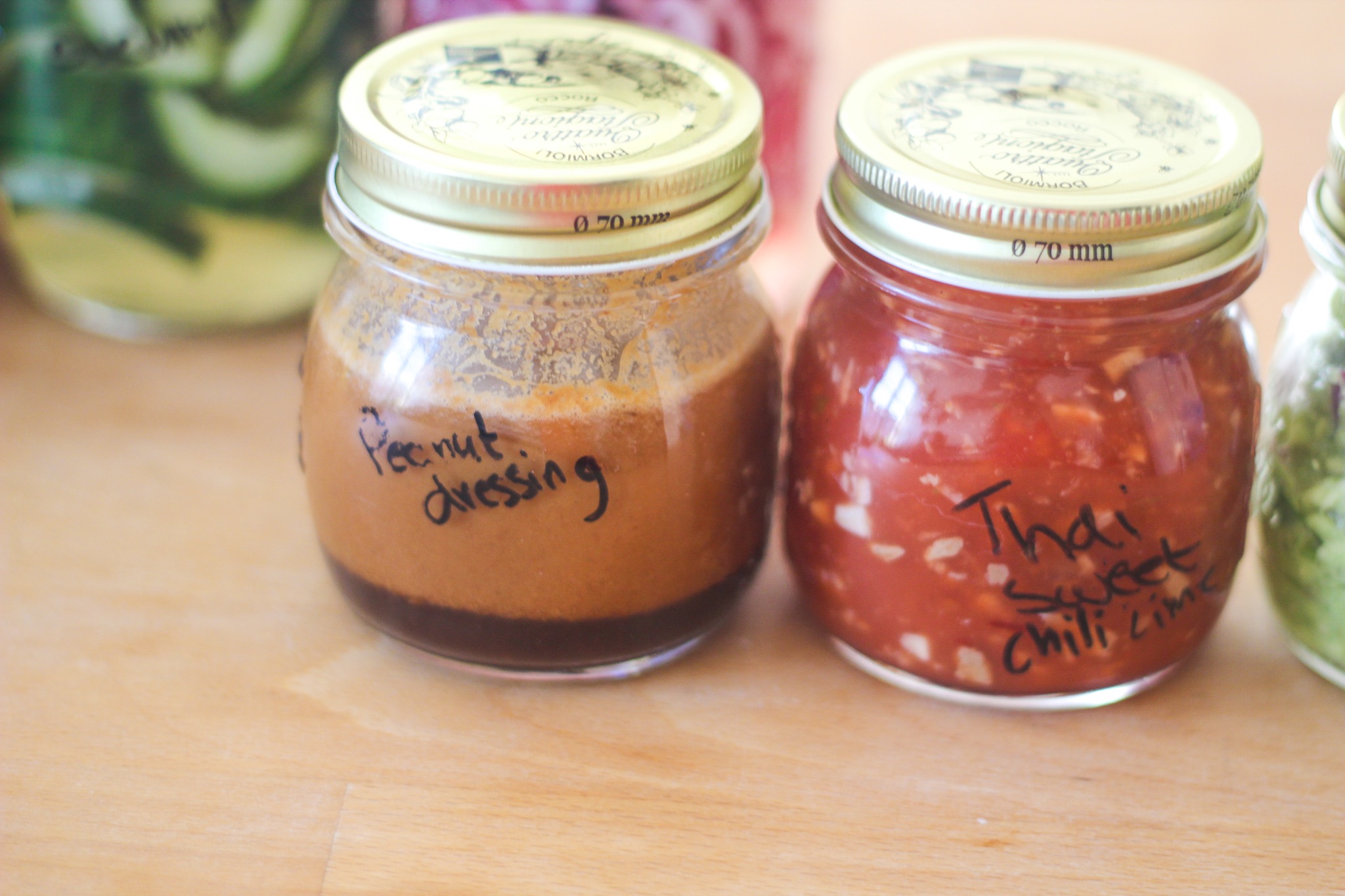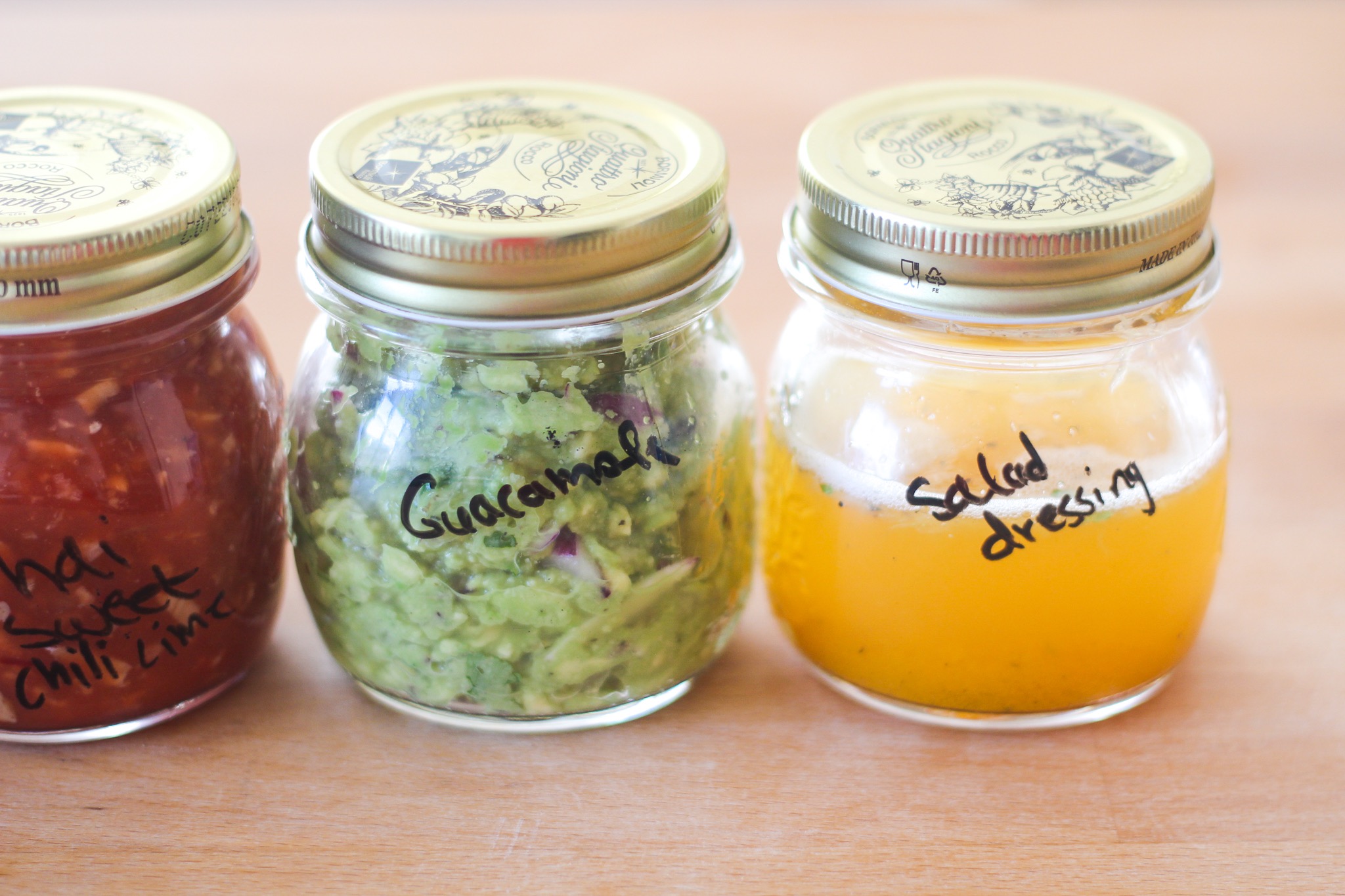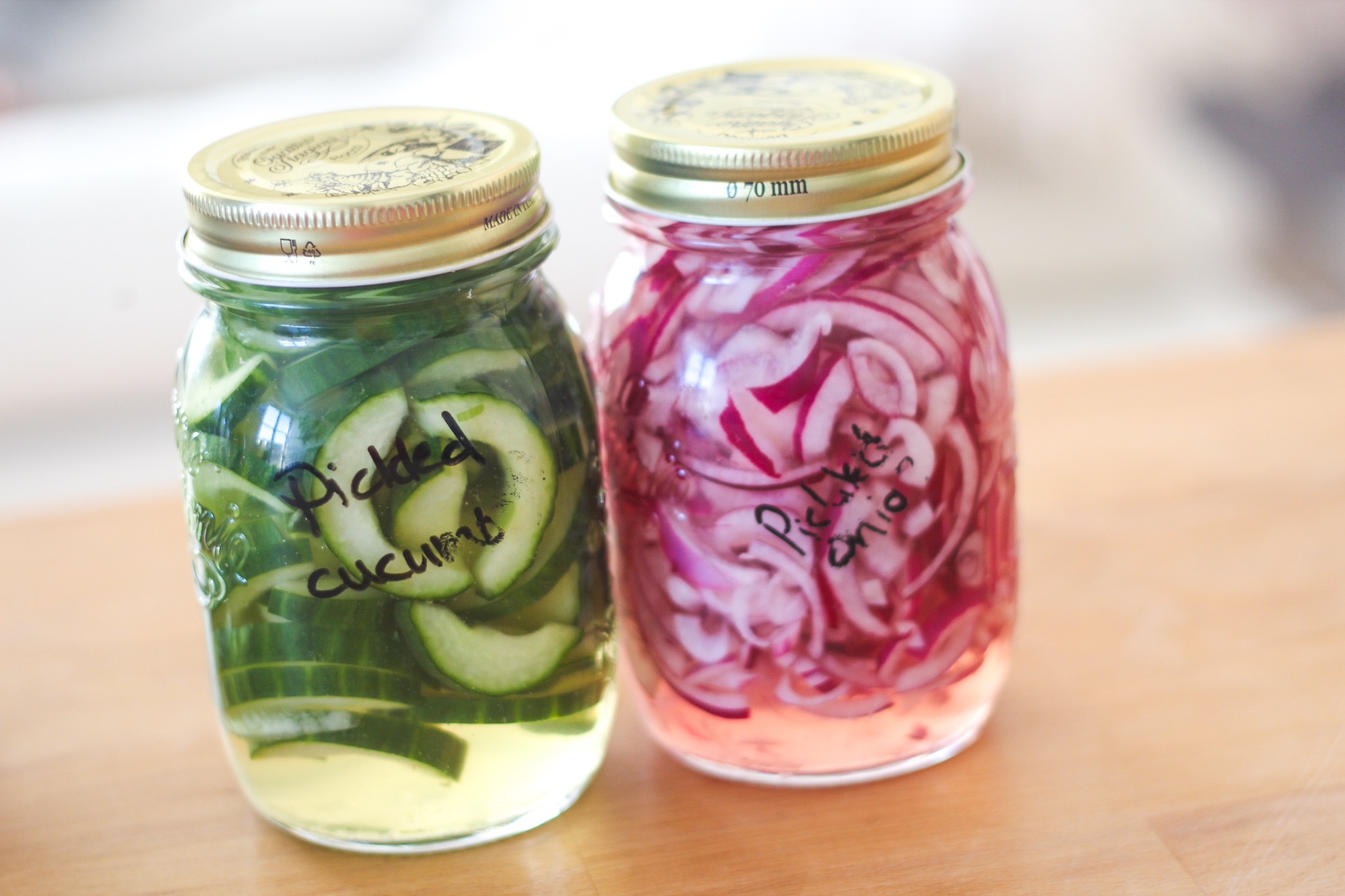 Komkommer en rode ui inleggen met water, appelazijn, suiker en een beetje zout.
1/2 cup appelazijn
1/2 cup water
1 eetlepel suiker
snufje zout
1 rode ui, gesnipperd
Ditzelfde kun je ook gebruiken voor de komkommer. Uiteindelijk hebben we niet per se de hoeveelheid rode ui en komkommer aangehouden maar gewoon de pot gevuld.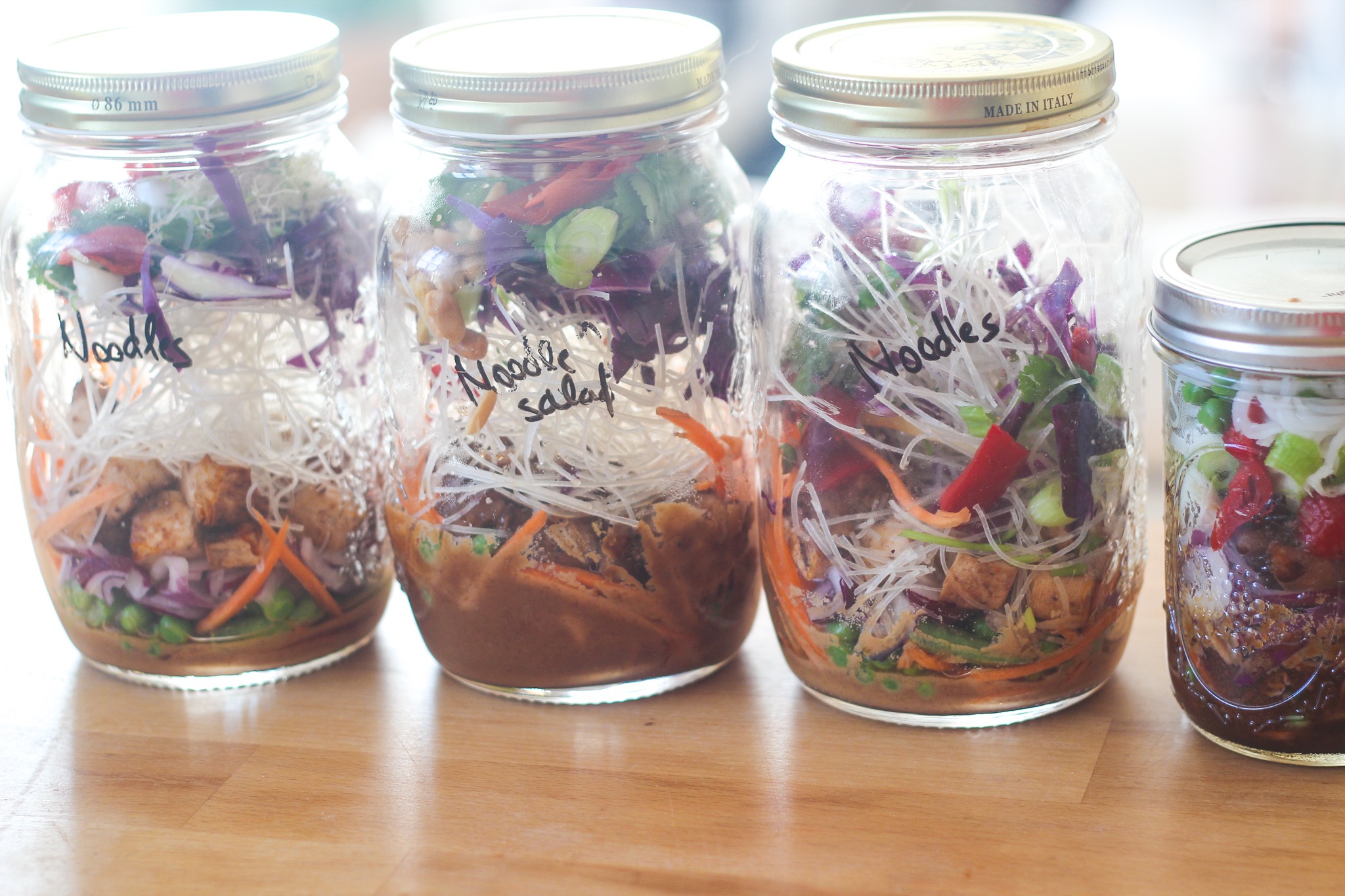 Als alles af is en de keuken weer opgeruimd is, geeft dat zo'n fijn gevoel! De potjes staan voor een toekomstige blije zelf die dankbaar is voor de tijd die eerder genomen is om gezonde maaltijden te bereiden!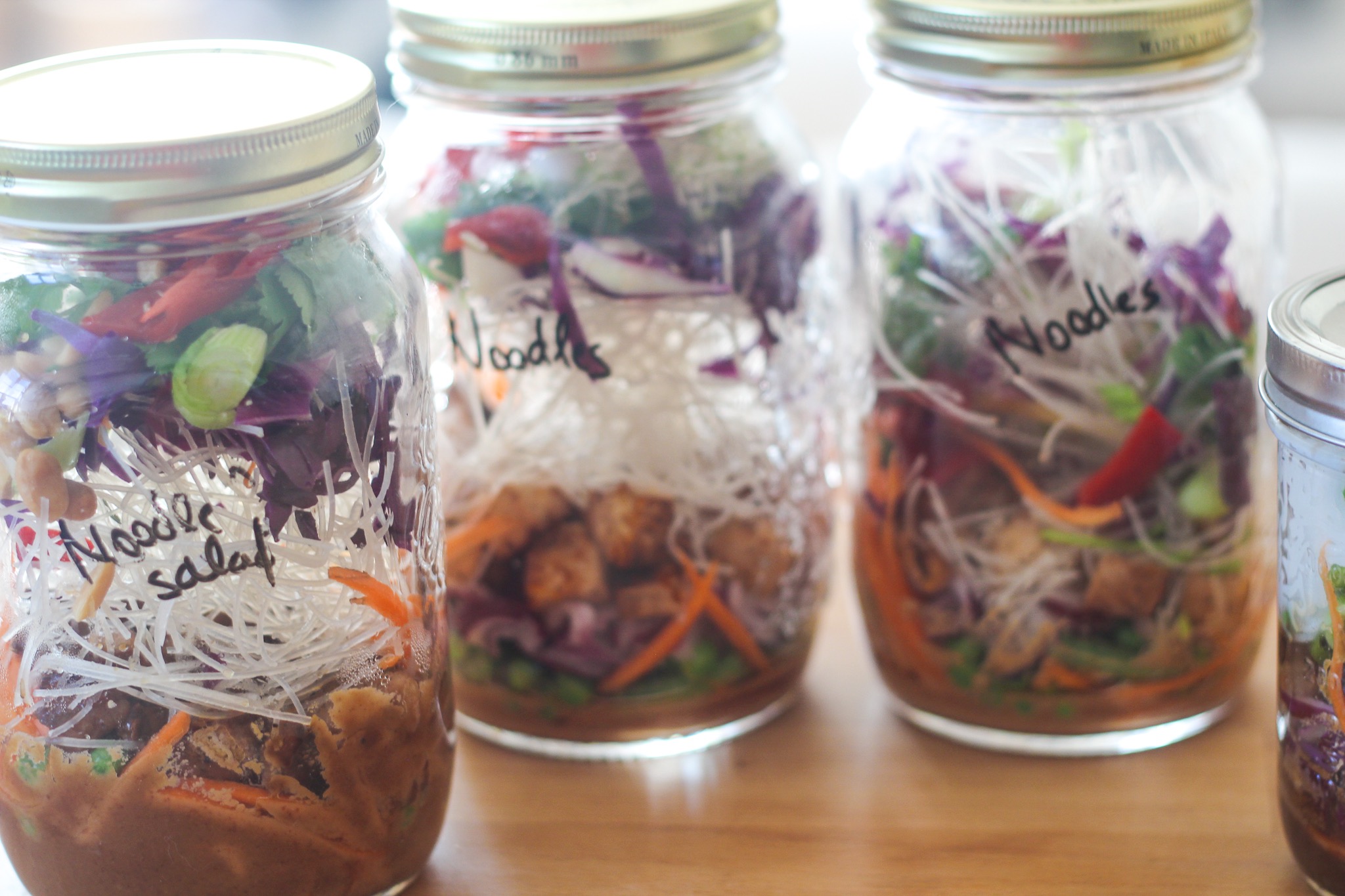 Ook is het een feestje om een pot te mogen aanbreken tijdens de lunch of het avondeten! 🙂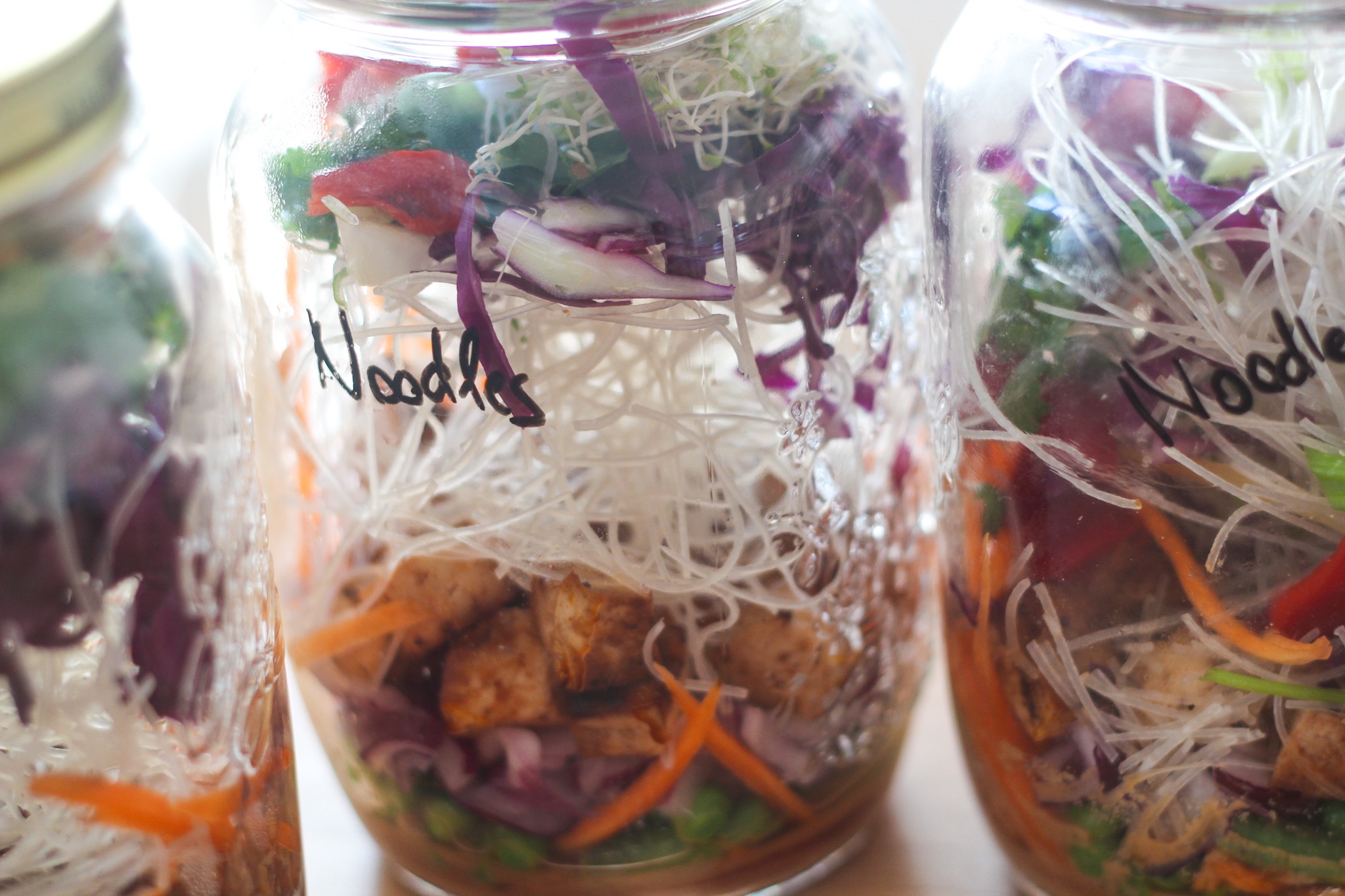 Hopelijk heeft deze post je geïnspireerd of op ideeën gebracht! Heb je zelf goede mealprep of foodprep tips? Laat het weten in de comments!