Nietsvermoedend liep ik op de dam, in de richting van warenhuis TK Maxx. Het was ongelooflijk druk, drukker dan normaal en ik begreep niet waarom. Eenmaal bij Damrak hoorde ik trommels, gejuich en ineens een paard met daarop, jawel, Sinterklaas! "Leuk, de intocht. Maar ik moet me hier even snel doorheen wurmen, want ik wil winkelen", dacht ik.
Sinterklaas draaide zijn hoofd om en tot mijn verbazing zag geen witte man met een lange witte baard en witte haren maar.. Ik een Zwarte man met lange vlechten. De muziek van de trommels begonnen ineens betekenis te krijgen. Het kwartje viel!
Ik wurmde me tussen de menigte want ik wilde dit van dichtbij zien..
En te zien kreeg ik het..
Met de zon die fel scheen op het paard van Sinterklaas drong de swingende muziek door. Met daarvoor een groep jongeren met trommels en Sinterklaas mijters op: geen Zwarte Piet te bekennen. Alleen maar gejuich, gedans en vreugde. Precies zoals ik het Sinterklaasfeest jarenlang heb ervaren.
Het was één van mijn lievelingsfeesten van het jaar. Ik verheugde me altijd enorm op pakjesavond, surprises, gedichten schrijven, je schoen zetten, de magie van het hele feest heeft een warme plek in mijn hart.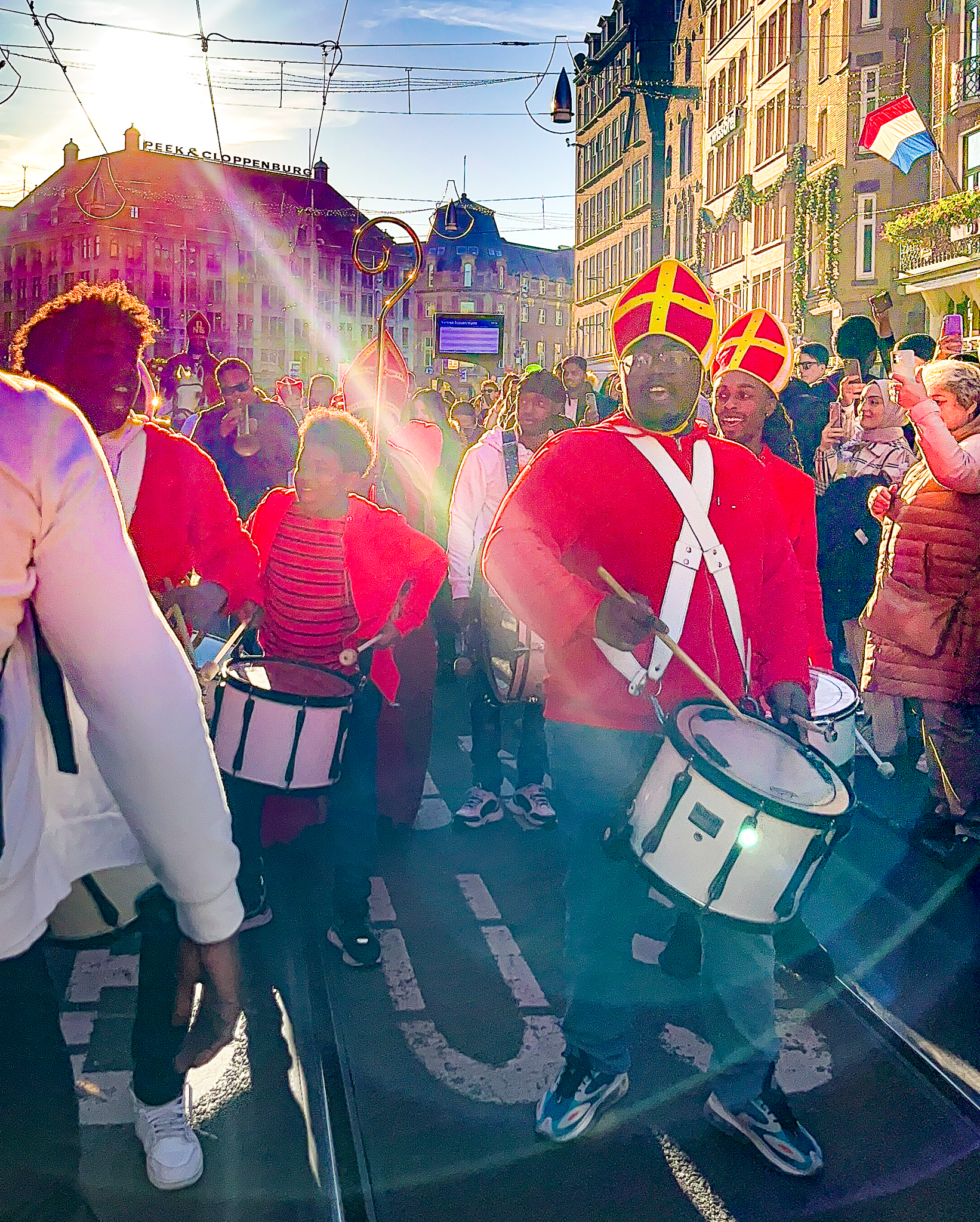 En zo heeft groot deel van Nederland het ook beleefd; een feest vol vreugde. Met Zwarte Piet en al.
Niet bewust van de pijn die zoveel mensen ervan ervoeren en hoe het niet meer van deze tijd is.
Het ene kamp voelt jarenlang de pijn en het onrecht, de andere kant voelt alsof er iets wordt afgenomen van ze. Iets wat ze nooit als naar of vervelend hebben ervaren maar als een leuk een traditioneel feest – logisch ook, want zij waren niet het target van de pijn.
Oók als we niet de racistische betekenis toekennen aan Zwarte Piet, werd het tijd dat we inzagen dat dit feest gegrond was in slavernij en racisme. 
Hoe je het verhaal ook wenste te zien of in te vullen (de schoorsteen, etc.), soms is het tijd voor een vernieuwde versie omdat we met de jaren heen wijzer en bewuster zijn geworden.
Een voorbeeld: 
Kijk je ooit oude series terug (zoals Friends) en denk je:
"Wow, wat homofobisch, dat zou nu niet meer kunnen."
Dat is omdat we met elkaar erachter komen dat iets eigenlijk heel kwetsend is geweest voor jaren en niet oké.
Zo zie ik dit ook.
Oké, maar dan moeten we dit ook verbieden..
Als je persoonlijk iets als pijnlijk ervaart, zoals mensen die rode truien dragen bijvoorbeeld, dan kan je daarvoor in opstand komen omdat je wilt en eist dat mensen geen rode truien meer dragen. Dan zijn de twee belangrijkste vragen:
"Is dit een persoonlijk trauma? Of is dit iets wat vanuit de maatschappij is gedaan en jou daardoor pijn en onrecht heeft aangedaan?"
Als het het laatste geval is, dan zullen er genoeg anderen zijn die dit ook zo hebben ervaren en is het duidelijk dat het dus ook vanuit de maatschappij veranderd moet worden. Maar als het een persoonlijk trauma is (je bent altijd geslagen door mensen met een rode trui), dan is het een persoonlijke verantwoordelijkheid om het trauma te helen.
Zwarte Piet is geen persoonlijk trauma van zwarte mensen. Het is vanuit de maatschappij (vanuit racisme) aangedaan en dient dus ook vanuit de maatschappij geheeld te worden.
Ben heel blij dat het Sinterklaasfeest daarom in een nieuw jasje gevierd kan worden ❤️
Dit bericht op Instagram bekijken
Check de slides waar de filmpjes te zien zijn door op het rechter pijltje in de post hierboven te klikken.
Foto: ANP