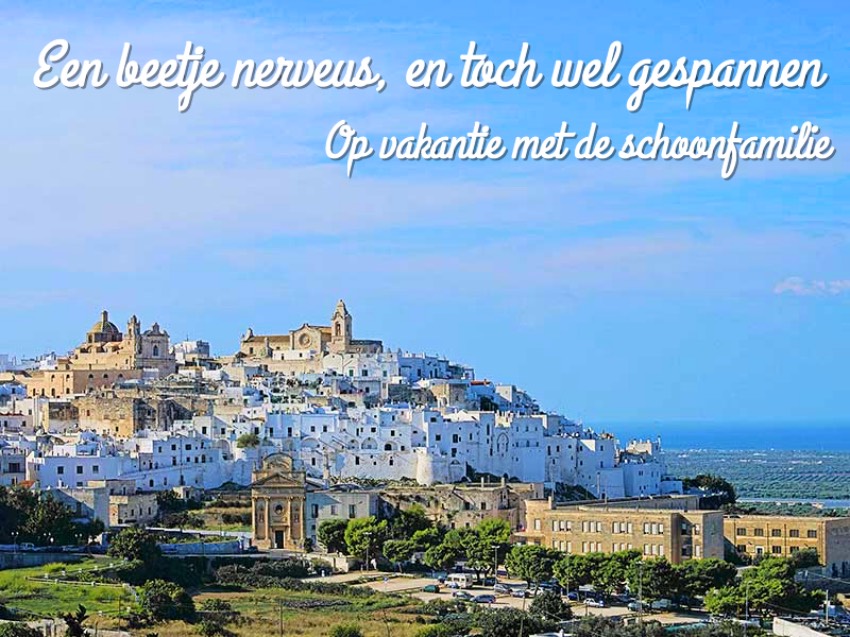 Een week geleden schreef ik een gedichtje voor je om te vertellen dat ik naar Curacao ging,
En vandaag is deze reis slechts een herinnering.
Maar niet getreurd want vol inspiratie en creativiteit keer ik weer terug,
Echter, niet voor lang, maar vliegensvlug.
Slechts drie uur rondhangen op Schiphol en weer door,
Want, meer reizen dit jaar hield ik me toch voor?
Al had ik deze reis zelf niet gepland,
Maar uitnodigingen om te reizen sla ik niet af, als je me nu een beetje kent.
Het is namelijk mijn schoonmoeder die me mee heeft gevraagd,
Dat voelt toch als een warm bad, of is dat nu afgezaagd?
Ik ben nog maar net een half jaar met haar zoon,
En mag nu al mee naar Italië gewoon!
Een beetje nerveus en toch wel gespannen, ik geef het eerlijk toe,
Want ik met mijn gekke gewoontes; toch wat kwetsbaarder dan ik me voor doe.
Een paar uurtjes alleen, of werken misschien,
Foto's van het eten maken, een stuk of tien.
En dan nog die camera, het sporten en eten tussen bepaalde tijden,
Zullen ze het begrijpen of me maar vermijden?
Hoe relaxt en comfortabel ik ook ben met mijn eigen manier van doen en zijn,
Op vakantie met nieuwe mensen, hopelijk gaat dat goed, flitst er door mijn brein.
Maar dan besef ik me weer dat mijn vriend er is en naast me staat,
Waardoor het heus niet allemaal ineens misgaat.
Toch wilde ik deze gedachtes wel met jullie delen,
Ik denk toch wel herkenbaar voor velen.
In ieder geval neem ik jullie ook hier weer mee op mijn reis,
Zuid Italië, heb je het wel eens Gegoogeld? Echt een paradijs!
Ik ga dit gedichtje afsluiten met een boel dankbaarheid,
Naast de gezonde spanning ben ik echt ontzettend gelukkig,
En dat is de waarheid.