Hoe fijn is het als we weer een artikel lezen over hoe gezond rode wijn is, of pure chocolade, of het eten van een groot ontbijt. Ons hart maakt een sprongetje! Tenminste, die van mij wel (vooral als het om wijn gaat..). Dit artikel is als reminder dat, hoe gezond iets ook is voor je, het altijd weer óngezond kan worden als je er teveel van binnen krijgt. En wat is dan teveel? Tja, dat is voor iedereen anders, maar ik denk dat je stiekem wel weet wanneer het teveel is..
(Rode) Wijn is goed voor je hart
Zekerweten! Maar pas op dat het zich niet resulteert in veel te veel dronken avonden waar er meerdere flessen doorheen gaan (ik neem aan met vrienden). En met "pas op" bedoel ik; geef jezelf niet het excuus dat het gezond is om er helemaal in los te gaan. Het is gezond, met mate. Maar heb je zin in een dronken avond met vrienden en vriendinnen? Ga ervoor! Houd jezelf alleen niet voor de gek dat 6 glazen wijn het gezonde effect verzesvoudigd, haha.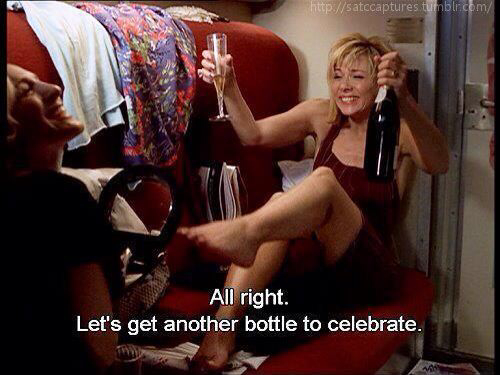 Pure chocolade is goed voor je
Dit kan zich weer resulteren in teveel pure chocolade eten, of sterker nog; teveel chocolade eten. Of het nu melk of wit is, er hangt een "gezonde" vibe om chocolade heen. Het is ook een beter alternatief dan snoep, dat simpelweg suiker, conserveermiddelen en kleurstoffen is. Maar chocolade bevat nog wel suiker, en hoe minder puur, hoe meer suiker en minder cacao. Het is de cacao die je binnen wilt krijgen voor je gezondheid. Geniet je meer van een stuk melkchocolade? Eet dan geen pure chocolade omdat het gezonder is maar je het ondertussen vies vindt. Geniet dan van je melkchocolade stuk 🙂
Stevig ontbijten, of goed ontbijten om af te vallen
Is zeker belangrijk! Maar maak het ontbijt niet groter onder het mom van "ik moet goed eten" terwijl je daarnaast niet sport en toevallig ook een grote lunch en een grote avondmaaltijd gaat eten. Wees realistisch en eerlijk naar jezelf hierin. Een stevig ontbijt kan een bakje havermoutpap zijn met een smoothie en een kopje koffie. Ik zit dan in ieder geval he-le-maal vol! Een te groot ontbijt voor mij zou zijn: 3 gebakken eieren, 2 bolletjes brood, een smoothie en een bakje yoghurt met muesli. Poeh.