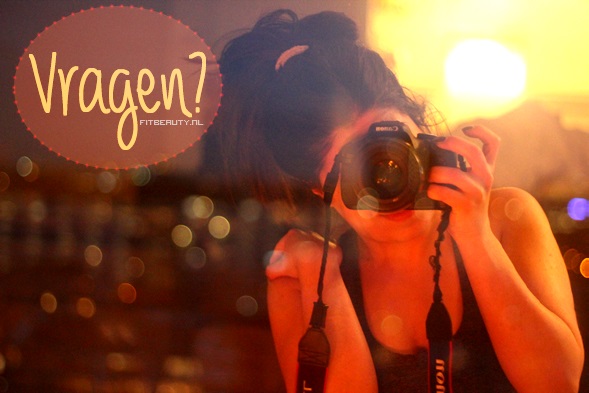 Ik krijg wekelijks veel vragen van lezers en lezeressen via de mail en dat vind ik heel erg leuk! Ik beantwoord de vragen dan ook graag 🙂 Nu bedacht ik me dat het een leuk idee zou zijn om één keer in de week uitgebreid een vraag te beantwoorden in artikelvorm op mijn blog, zo hoop ik anderen er ook mee te helpen in plaats van enkel een mail terug te sturen.
Of je vraag nu over voeding gaat, tips, recepten, fitness, sporten, supplementen of een persoonlijke vraag is, stel ze! Als ik het antwoord niet weet of er niet genoeg kennis in heb, dan geef ik dat natuurlijk eerlijk aan.
Stel je vragen liever op mijn Facebook pagina! Niet alleen is dit overzichtelijker, maar zo kunnen anderen er ook op reageren met hun eigen tips, ervaringen en kennis. Heb je geen Facebook? Dan kun je je vragen ook als comment onder een artikel plaatsen, óf je kunt ze gewoon mailen! Vooral als je graag anoniem wilt blijven is dit verstandig.
Hopelijk kunnen we met zn allen een hoop leren van elkaar! Ik kijk uit naar jullie vragen!