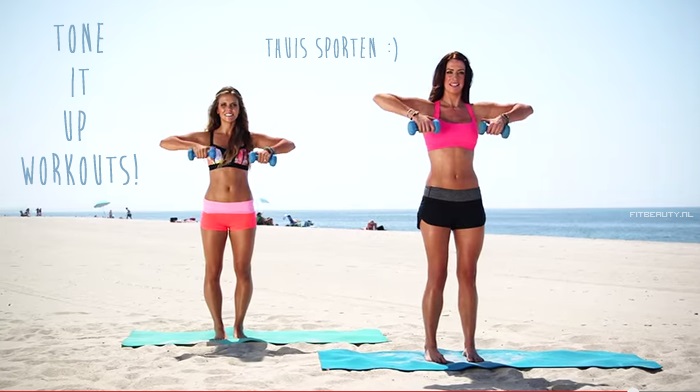 De afgelopen week ben ik amper naar de sportschool geweest. Deels komt dit omdat ik er even genoeg van had, en deels omdat mijn sportschool die normaal gesproken 24/7 open is, een aantal keren gesloten was en/of laat dicht ging en/of laat open ging en ik niet meer wist wanneer nou wat was en de gok niet ging wagen om voor een dichte deur te staan. MAAR! Ik blijf natuurlijk wel lekker sporten, dus heb ik lekker thuis gesport en ondertussen heb ik een paar favoriete workouts gevonden online die ik écht lekker vind. Ze zijn allemaal van ToneItUp (Karena&Katrina). Ik doe dan 2 of 3 videos achter elkaar als één hele workout. Je kunt dus zelf mixen en matchen! 
Super workout voor je benen en billen! En  -oh mijn god- de oefening die je ziet bij 13:10 min is best lastig en voel je de volgende dag zó hard in je billen, haha. Ik kon amper bukken om iets op te pakken of laat staan op een stoel te gaan zitten!
Deze is lekker om mee te beginnen, ik vind hem niet te zwaar. Het einde van de videos van ToneItUp zijn voor mijn gevoel altijd het zwaarst.
Veel balanceer werk in deze video, ook goed om te trainen!
Aaaaaaah mn armen gingen kapot! Maar heerlijk om eens een keer goed mn armen te trainen aangezien ik toch vaak mijn benen hard train met squats en lunges. Met de meeste cardio apparaten gebruik je ook weer je benen, dus is het goed om de armen ook eens actief te laten zijn!
Je ziet vaak dezelfde bewegingen terug komen, maar dat vind ik geen probleem. Het zijn hele effectieve oefeningen! Ook deze is goed voor je armen! Af en toe lijken het net barbie popjes op het strand, zo mooi is het licht ingesteld haha.
Ik word zo blij van de voorstukjes 😀 Als ik de video aan zet en klaar sta om te beginnen, dan komt eerst het voorstukje en dan raak ik heeelemaal gemotiveerd om te trainen. Ik wil er ook zo uit zien in bikini! haha. Mij helpt het in ieder geval! Ik moet je zeggen dat ik deze workout vrij zwaar vind omdat het veel "planks" zijn en ik hard bezig ben om mijn armen wat sterker te krijgen!
Armen armen armen! Ik wil niet per se armen zoals Karena, maar die van mij mogen zeker wat strakker!
Hopelijk motiveerd dit jullie ook om thuis lekker te sporten wanneer je geen zin hebt in de sportschool, of uberhaupt nooit naar de sportschool gaat! 🙂