THANK GOD IT'S FRIDAY!
Dat betekent dat we het vanaf nu leuk gaan hebben. Toch?
De werkweek is voorbij.
Hoera.
Nogmaals hoera.
Toch?
Is het stiekem niet sneu?
Dat je er eigenlijk van uit gaat dat het leven zuigt.
BEHALVE AF EN TOE, DAN IS ER EEN LEUK MOMENTJE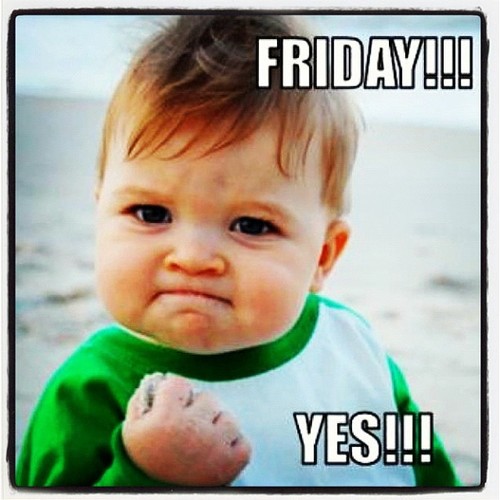 Ik geloof niet zo in de "Thank God it's Friday" mentaliteit. Dat zou betekenen dat mijn leven zuigt van maandag tot en met vrijdag,
En dat maar 30% van mijn leven (weekend) leuk kan zijn. KAN zijn inderdaad, want wat als je nou net een rotweekend hebt?
OEPS. 100% zuigweek.
Ik geloof niet meer in alles vooruit plannen om het leuk te hebben.
Hoezo plan je "het leuk hebben"? Dat gaat toch niet op commando.
Tijd is kostbaar.
Je leven gaat nu ook voorbij, beetje zonde om elke dag alleen maar naar 17:00 toe te leven.
Kunnen we het niet.. misschien.. OMDRAAIEN?
EN TOEN BEDACHT IK ME HET VOLGENDE
Wat zou erger zijn;
Het leven invullen alsof je vervelende dagen/tijden/taken moet hebben om vervolgens een klein beetje te kunnen genieten?
(maandag-vrijdag-zuigt-weekend-leuk-mentaliteit)?
of
Soms zuigt een periode. Of een dag. Of een uur. Of misschien 10 seconde wanneer je een prik krijgt van de dokter of er een stuk hars van je been wordt getrokken (meh.), maar in principe is er teveel leuks in het leven, op dit moment.
We draaien het dus eigenlijk om: het leven is tof, maar soms komt er spontaan een wat mindere periode.
En zo is alles ineens weer super helder in mijn hoofd.
23 januari 2015 – Vanochtend (gister als dit online komt) besloot ik een uurtje eerder naar mijn werk te gaan. Zonder dat ik het door had ben ik per ongeluk anderhalf uur eerder naar mijn werk gegaan. Oeps. Toen ik op de fiets zat richting het station, lekker luisterend naar een muziekje, werd mijn muziek onderbroken door mijn wekker. HUH?! WHAAAAAT! Ik ben veelstevroeg!

Maar hey, dan haal ik wel even een koffie en ga ik een half uurtje bloggen als ik achter de pc zit. En daaruit kwam dit artikel. Waardoor ik vanavond een "vrije avond" mag hebben.

AWESOME! Laten we zeggen dat ik deze mentaliteit ga aanhouden.
WAT JULLIE?! Eens? Oneens?