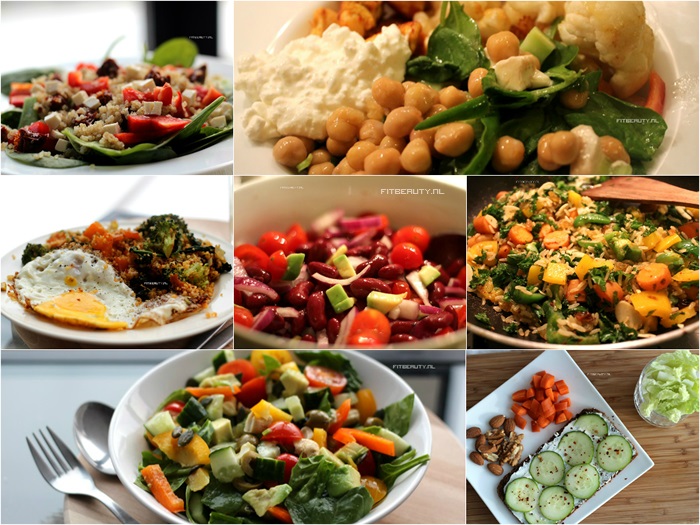 Inspiratie nodig voor je lunch of avondeten? Ik krijg heel vaak de vraag om wat vaker avondmaaltijden te posten, of recepten hiervan te delen. Ik heb hiervoor de hulp van mijn externe harde schijf ingeroepen met álle foto's die ik vanaf dag 1 van Fitbeauty heb gemaakt. Ik heb de beste avond- en lunchmaaltijden eruit gepikt die ik in dit artikel ga delen. Flink wat inspiratie hoop ik dus! Enjoy!
De reden waarom ik meer "ontbijt" en "zoetigheid" recepten heb, is omdat ik vaak niet écht een avondmaaltijd eet. Ik ben pas laat terug in Den Haag na mijn werk en ga meestal direct richting de sportschool waarna ik thuis kom en eigenlijk al na een uur of 2 weer naar bed moet. Dus om dan nog een hele maaltijd te bereiden en te eten is 1. zonde van mijn tijd 2. niet prettig voor de vertering als ik vrij gauw weer ga slapen. Mijn lunch is vaak mijn grootste maaltijd en na het sporten eet ik iets "makkelijks" zoals kwark, gekookte eitjes, crackers met beleg etc. 
Je zult héél veel "zelfde" soort maaltijden tegen komen: Salades die zijn samengesteld uit alles wat zich op dat moment in mijn koelkast bevond. Gebakken groente met een gebakken ei. Of gebakken groente met iets van couscous of zilvervliesrijst erdoor. En altijd; heel veel kruiden; verse kruiden maar ook gedroogde kruiden. Geen fancy gerechten dus! Super simpel en snel te bereiden.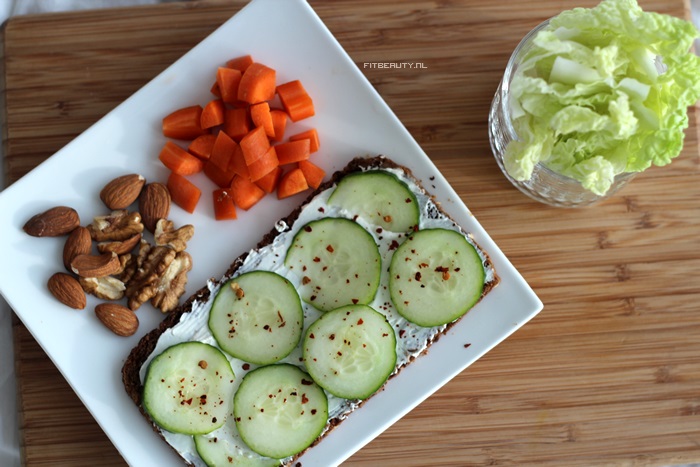 Vergeef het me als ik niet alle ingrediënten exact weet, de foto's zijn niet allemaal onlangs gemaakt. Walnoten, amandelen, wortel, sla/kool en een plak (zuurdesem?) brood met zuivelspread, komkommer en een klein beetje vermalen chili vlokken.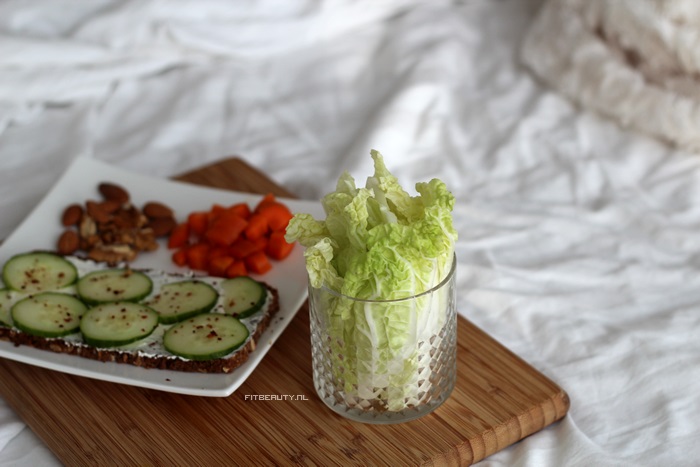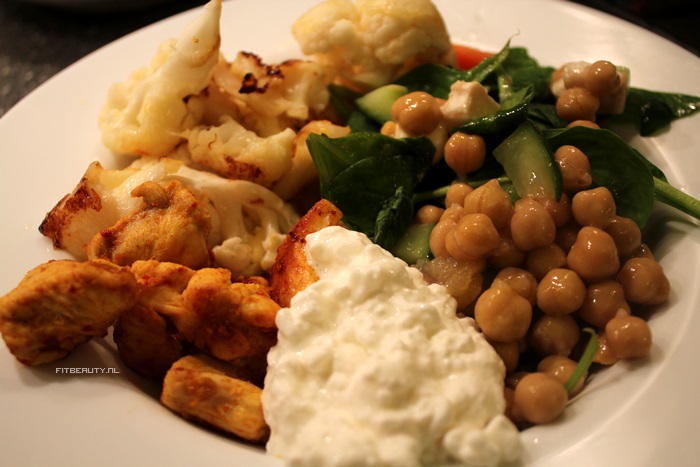 Bij elkaar geraapt zooitje. Waarschijnlijk na het food preppen. Kip, bloemkool, hüttenkase, kikkererwten, spinazie en een beetje feta.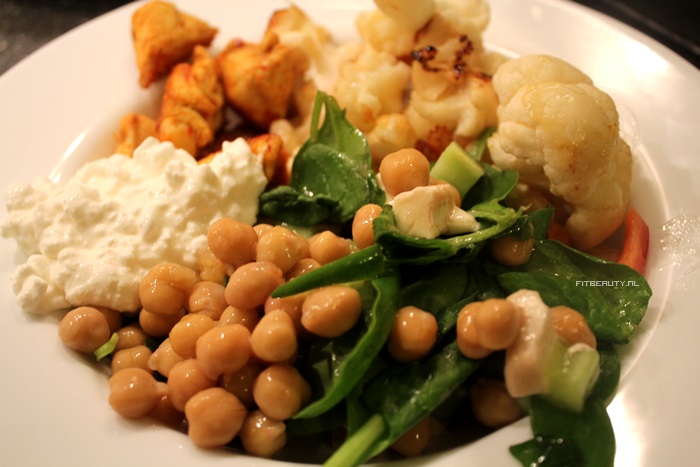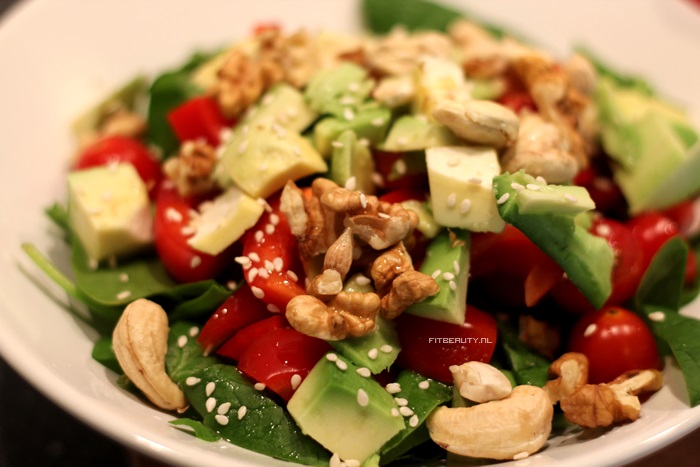 Spinazie, cherry tomaten, paprika, walnoten, cashews, avocado en sesam zaadjes.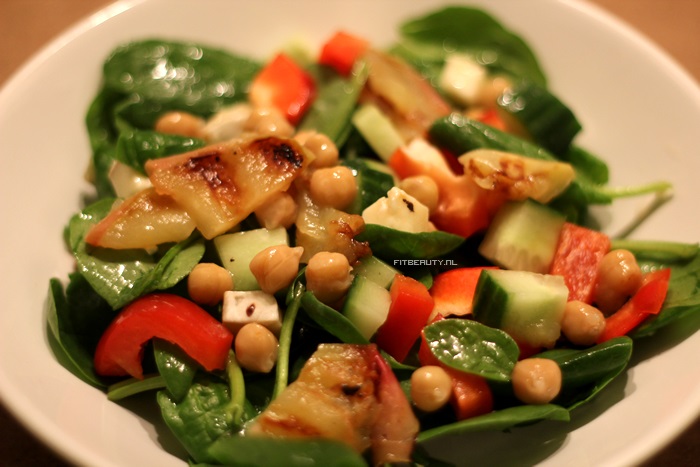 Een van mijn oude recepten: spinaziesalade met gegrilde appel.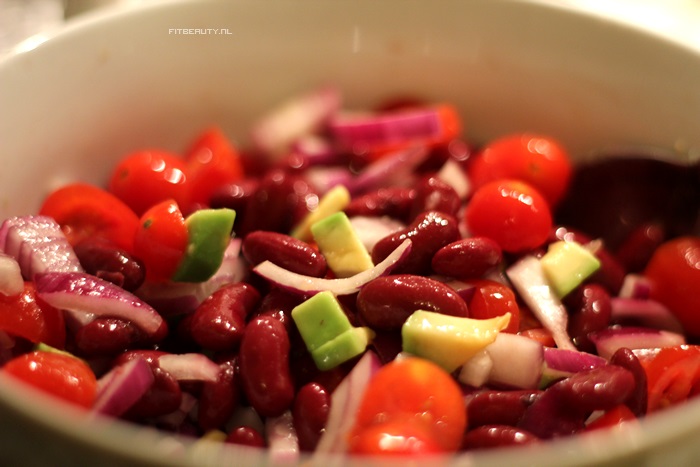 Bonensalade met rode ui, cherry tomaten, avocado, olijven, peper, zout en citroensap <3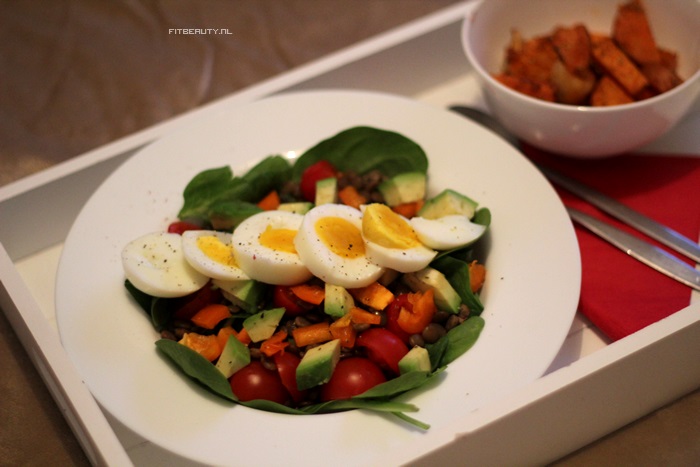 Spinazie, linzen, paprika, cherry tomaten, avocado, een gekookt ei en daarnaast wortel en zoete aardappel uit de oven.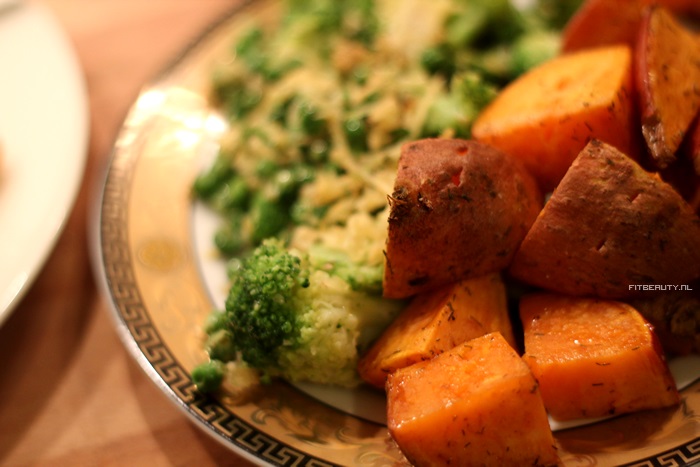 Broccoli, zoete aardappel met daarachter een omelet met doperwten en kaas.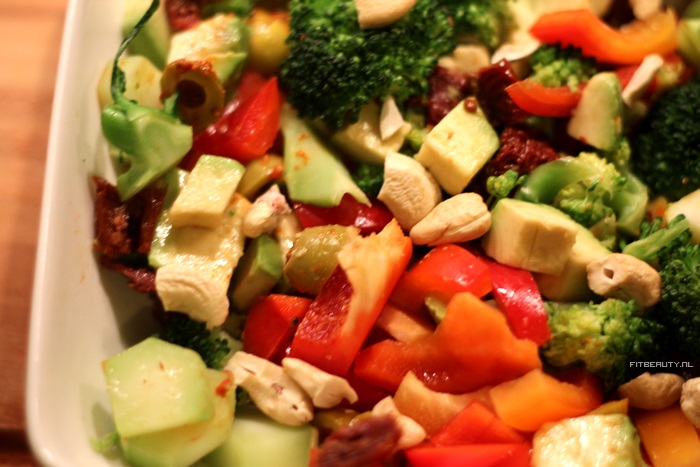 Broccoli, avocado, paprika, zongedroogde tomaten en cashewnoten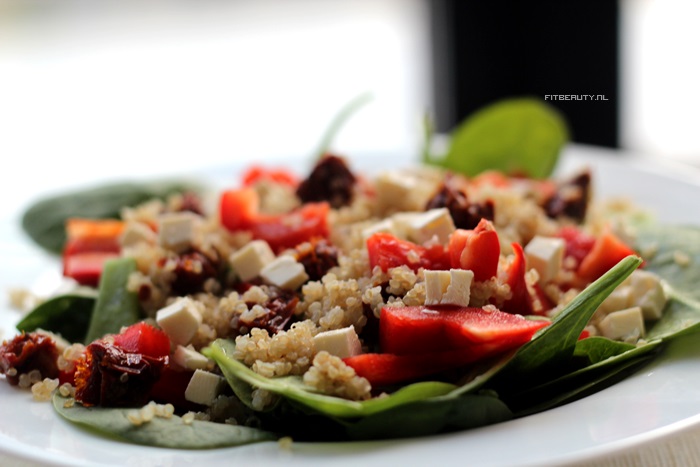 Spinazie, quinoa, paprika, feta en zongedroogde tomaten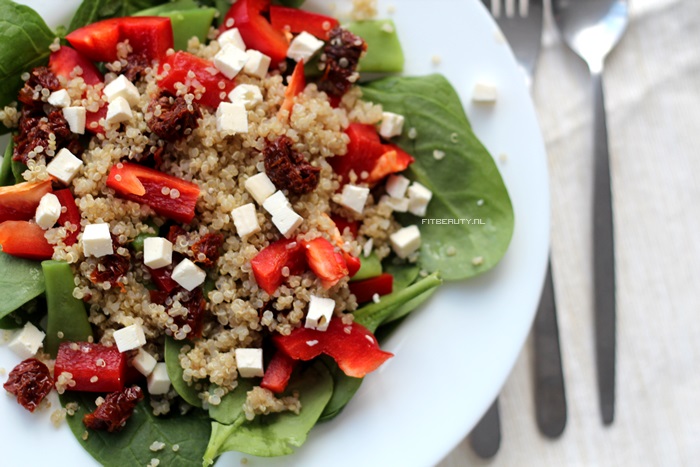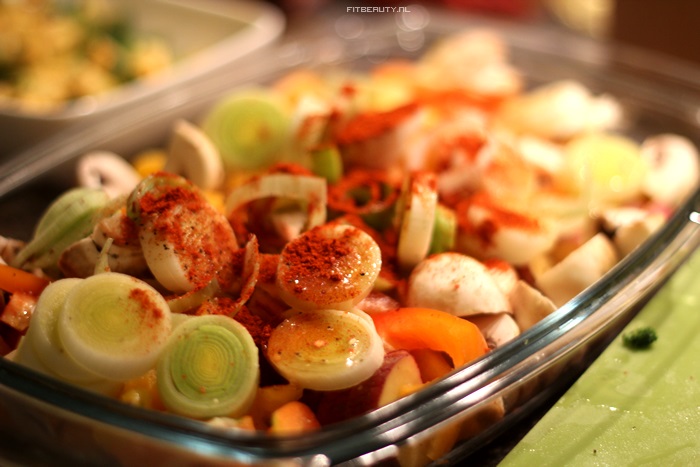 Alles wat over was blijkbaar in een schaal gegooid, beetje olijfolie eroverheen. Veel paprika poeder, wat peper en zout.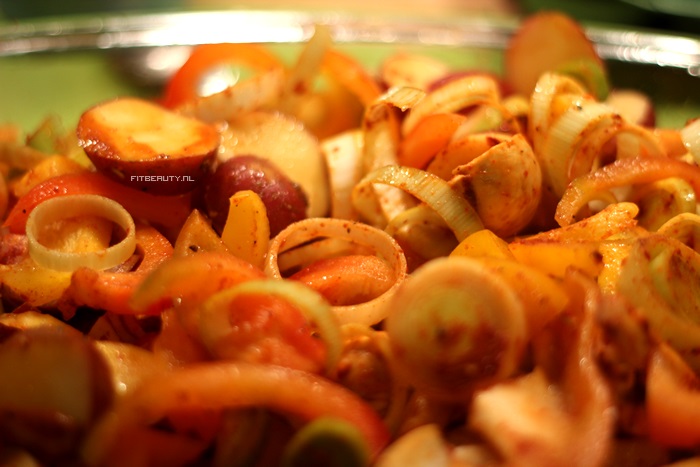 Het resultaat. Volgens mij is dit nog vóór het de oven in ging.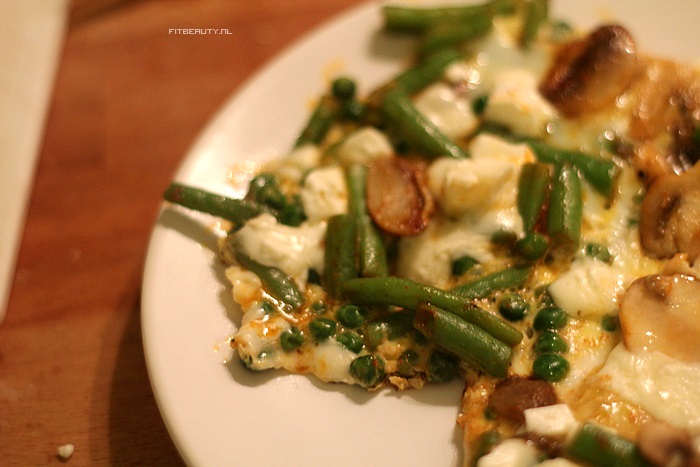 Omelet met doperwten, sperziebonen, champignons, feta en mozzarella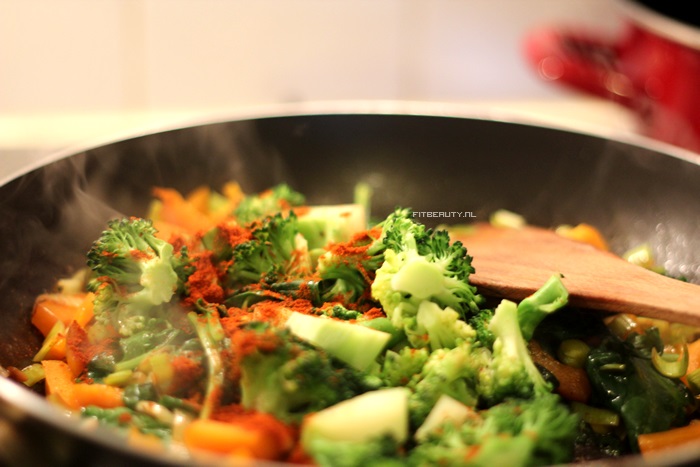 paprikapoeder gaat er snel doorheen bij mij.. Broccoli, spinazie, bosui en paprika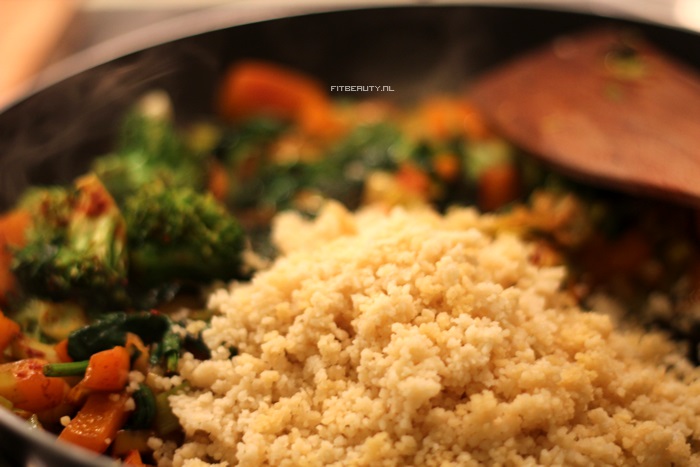 couscous (al klaargemaakt) erbij.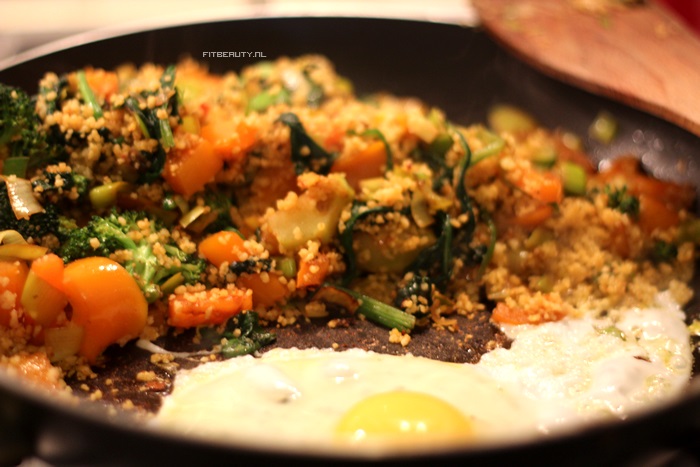 Ruimte maken om een ei in dezelfde pan te bakken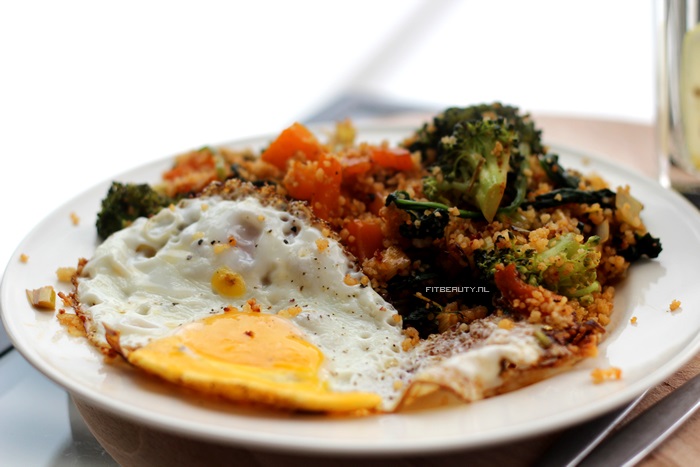 En het resultaat!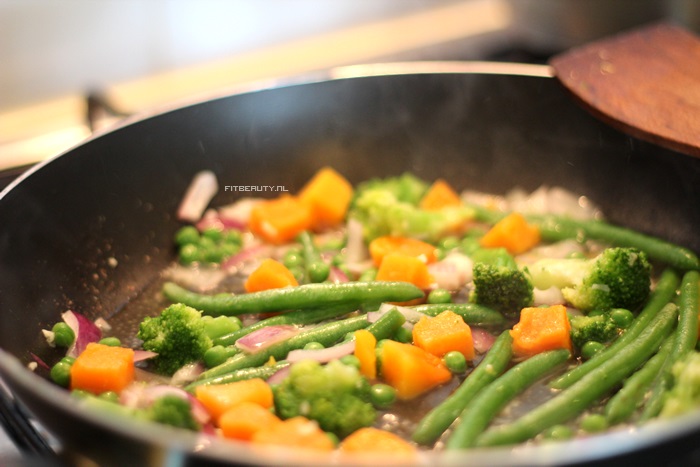 Pompoen uit de vriezer, sperziebonen, doperwten, broccoli en rode ui.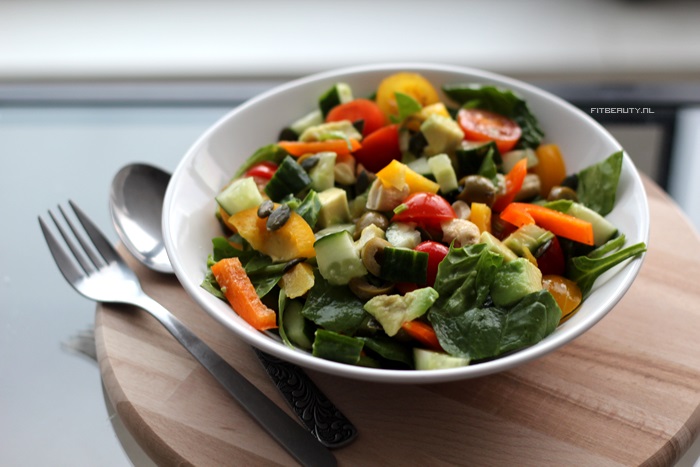 Spinazie, komkommer, tomaat, paprika, avocado, cashewnoten, olijven en pompoenpitten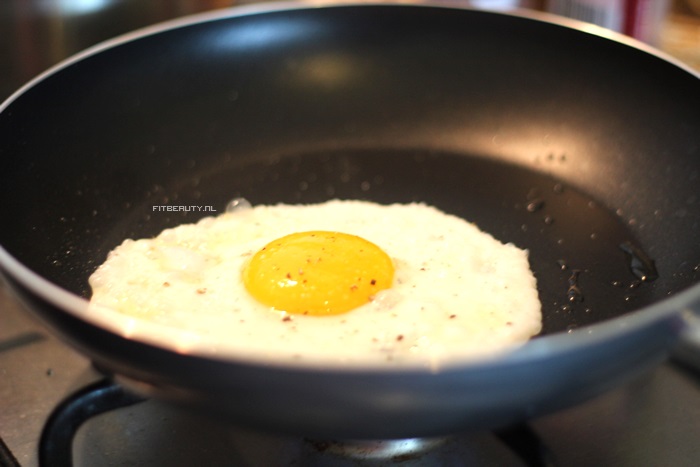 Een ei. Ja. Dat hoefde ik niet te vermelden.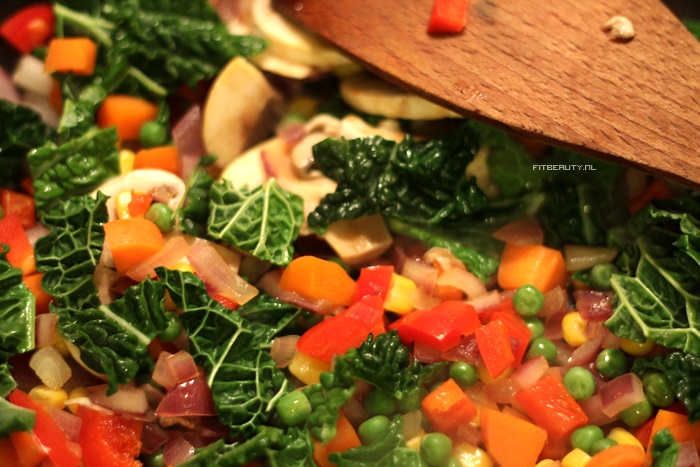 Paprika, mais, doperwten, rode ui, champignons, wortel en boerenkool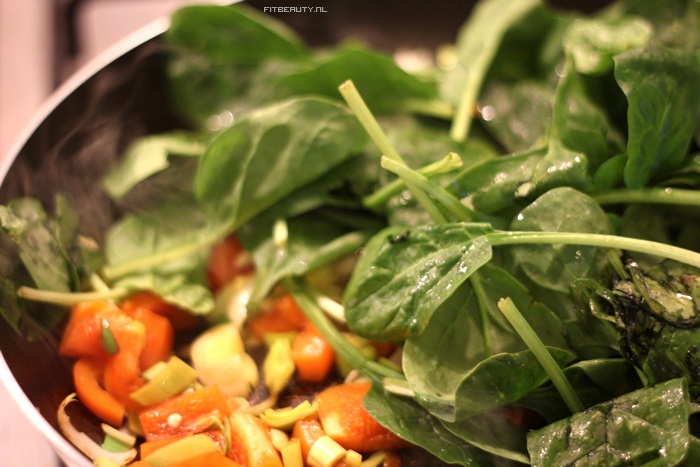 Spinazie, paprika, bosui, wortel en een beetje boerenkool.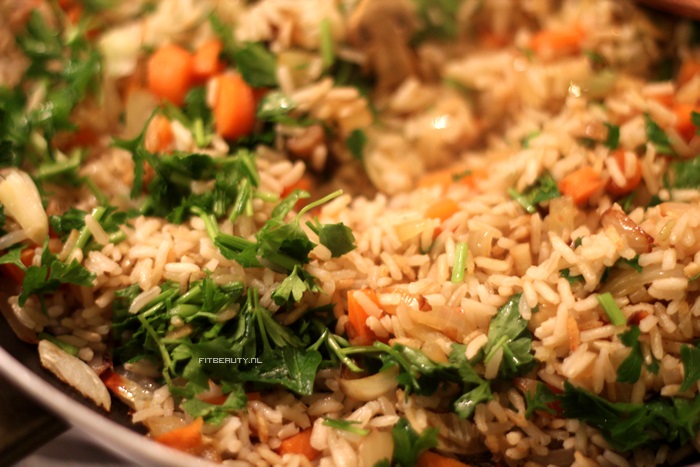 Zilvervliesrijst erbij en heel wat peterselie of koriander, ik kan het even niet zien. Sorry.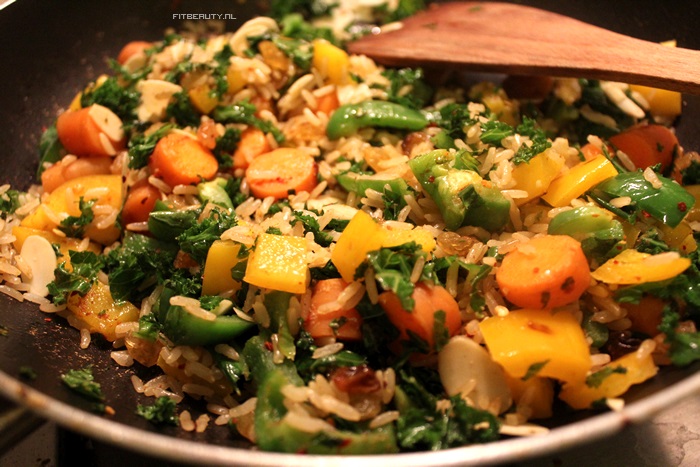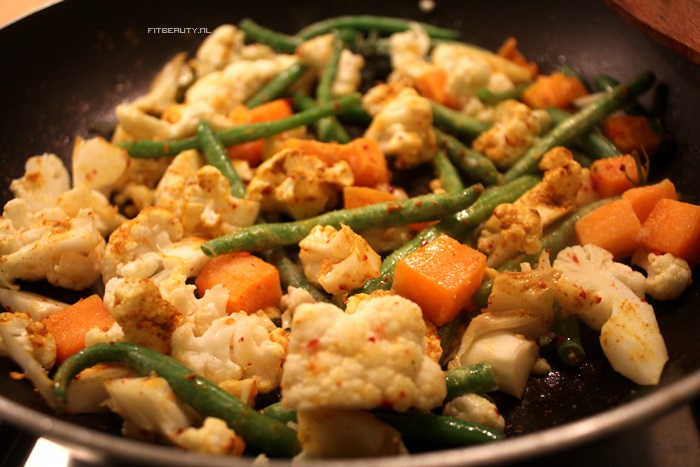 Bloemkool, pompoen, sperziebonen en heel wat kerriepoeder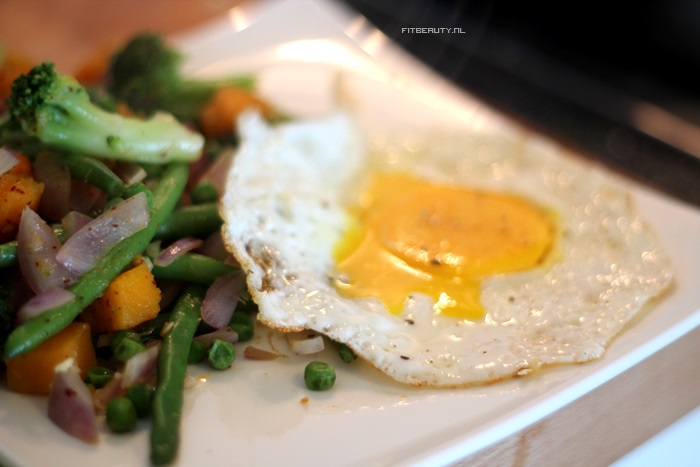 Sperziebonen, broccoli, rode ui, pompoen, doperwten en een ei.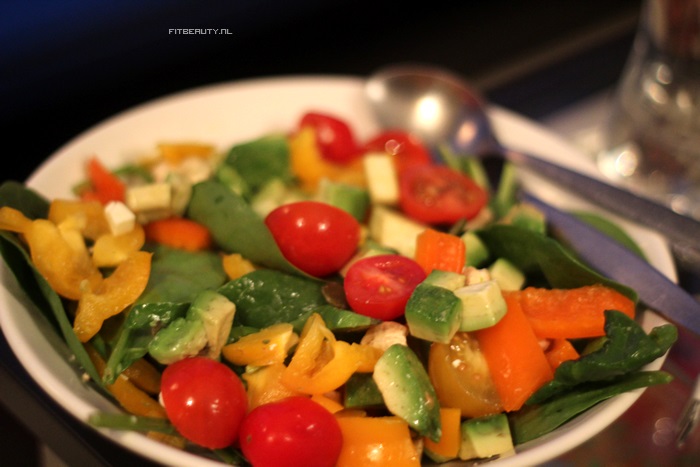 Spinazie, tomaten, paprika, avocado, feta en cashewnoten.
Saai he?
Zoals je hebt gemerkt: veel groente en als ik 'fancy' wil doen, bak ik er een ei bij. Misschien een idee voor mij om eens in de zoveel tijd een nieuwe avondmaaltijd uit te proberen, niet? Voor nu hoop ik dat je lekker groente gaat eten! Ha! 🙂