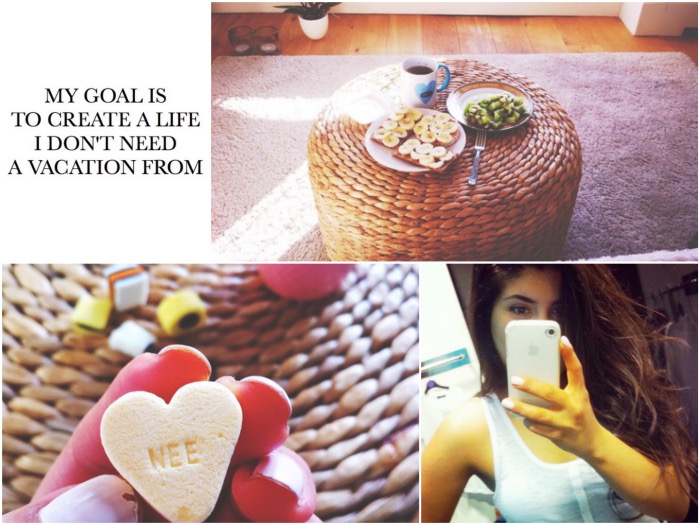 Weer helemaal terug op Nederlandse bodem en weer geïntegreerd in mijn leventje in Den Haag en Amsterdam. Tijd voor een Instagram update van de afgelopen 3 weken!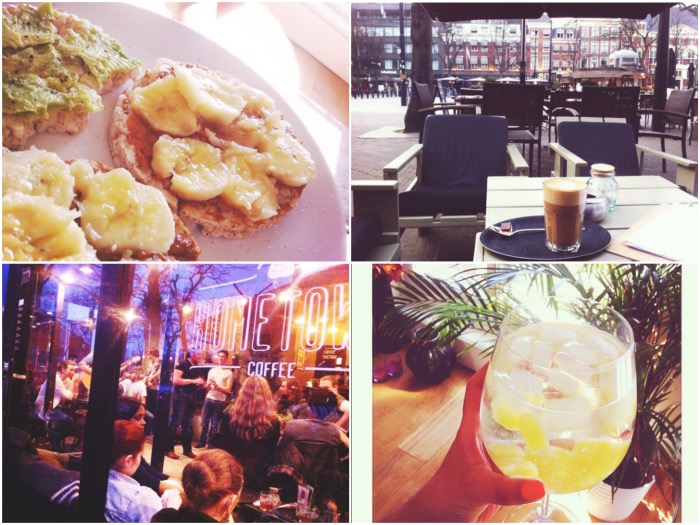 1. Rijstwafels met pindakaas zijn echt mijn ding, de laatste tijd doe ik er ook plakjes banaan op 🙂  2. Tijd voor koffie bij Hometown Coffee in Den Haag direct de eerstvolgende dag na terugkomst uit Amerika 3. 's Avonds was er live muziek bij Hometown Coffee! Wat leuk! Het was ook nog warm buiten en dit gaf zo een gezellige sfeer op het buitenhof in Den Haag 🙂 Ik moet echt uitgeroepen worden tot ambassadrice van Den Haag, haha, vinden jullie ook niet? 4.  Een enorm groot wijnglas (400 ml) gevuld met water, ananas uit de diepvries en ijsklontjes.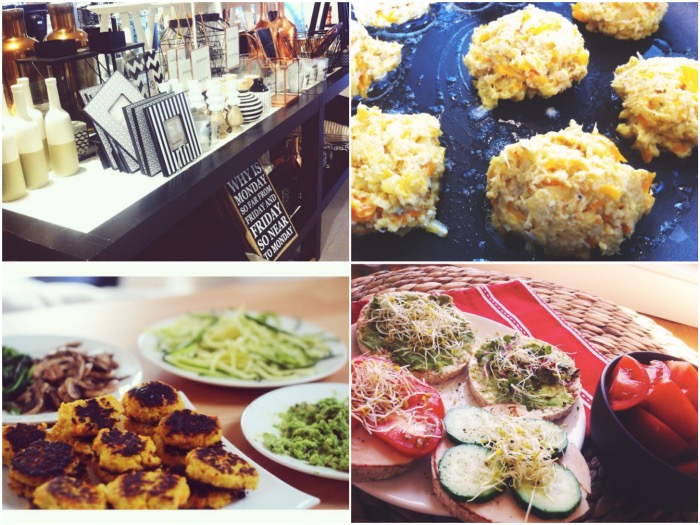 1. Omdat ik nu minder ben gaan werken op kantoor in Amsterdam, vond ik het tijd om mijn eigen kantoorgedeelte thuis eens goed aan te pakken. Ik kan dit niet in één dag, ik moet veel inspiratie op doen en flink door winkels struinen voor ik beetje bij beetje de juiste spulletjes weet te verzamelen. Hier was ik bij de V&D, deze stijl vind ik erg mooi! 2.Ik experimenteerde met een receptje voor kipburgers en dat lukt goed!   3. Zie hier het resultaat!  4.  Lunch!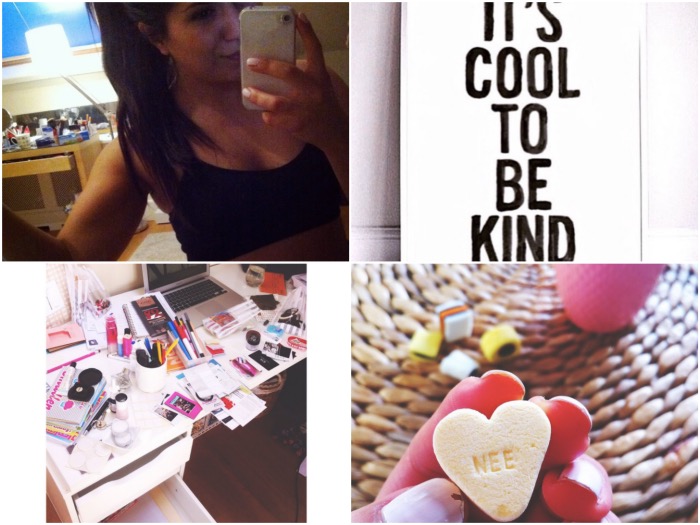 1.Heel hard mijn armen aan het trainen 🙂 Gaat stapje voor stapje vooruit.  2. Vriendelijkheid is underrated als je het mij vraagt. We hebben allemaal problemen in ons leven, we hebben het allemaal wel eens moeilijk en door onaardig te doen tegen iemand (die je misschien niet kent) omdat jij het even moeilijk hebt is niet oké. Je hebt geen idee wat de ander wel niet doormaakt. 3.Oja, als ik dan een gedeelte van mn huis wil aanpakken, dan moet dat ook van top tot teen. Alles moet uit de lades en kastjes en opnieuw ingedeeld of weggegooid worden. Scheelt weer rommel!  4.  Nee. Even geen zin in spinazie.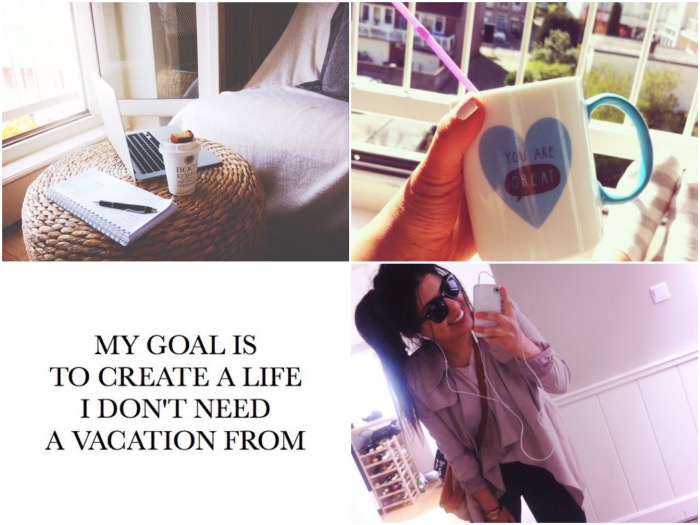 1. The office for the day! Met koffie en klein gebakje van cafe Blossom in Den Haag!  2. Chillen in de zon met koffie 3. 🙂 4. Hier ging ik net de deur uit om inspiratie op te doen voor mn kantoortje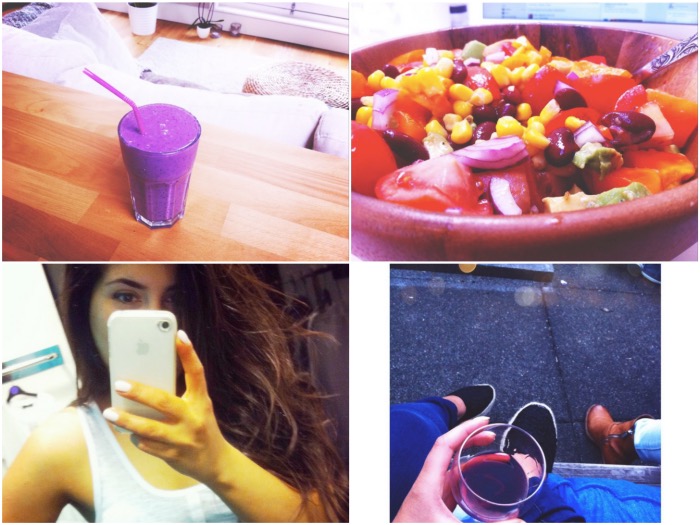 1. Oeeeh super paarse smoothie! Deze kon je voorbij zien komen in mijn voedingsdagboek 2.Snelle salade  3.Herkenbaar? Als je haar toevallig goed zit maar je nog moet sporten, haha  4. Wijn op het dakterras bij Byte!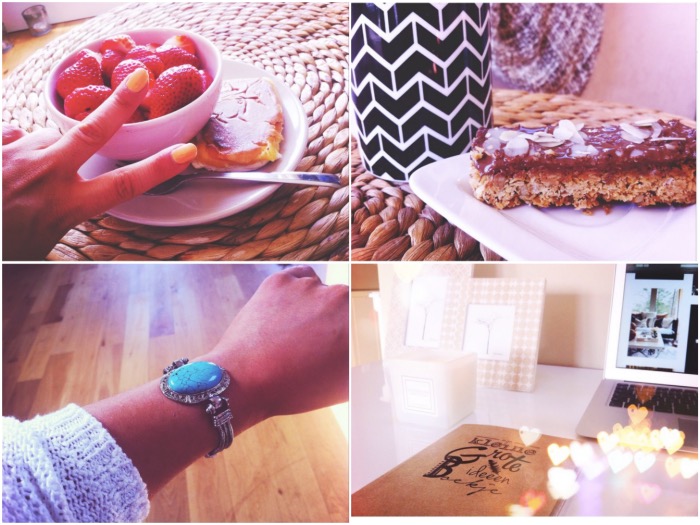 1. Bolletje met kaas (op de grill gezet) en een bakje aardbeitjes 2.Hemelse luxe mueslirepen gemaakt!  3. 🙂  4. De basis is er; schoon bureau.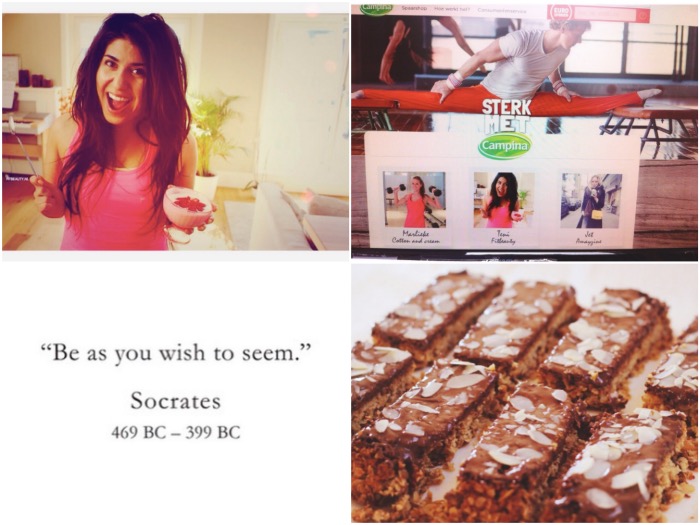 1. Ik werd geïnterviewd door Campina in het teken van de Nationale Sportweek 🙂 Hier kun je het teruglezen! 2. én ook nog eens terug te vinden op de site! Best een beetje trots! Check!  3. Iets om over na te denken 🙂 4.  Recept van deze mueslirepen gemist? Check!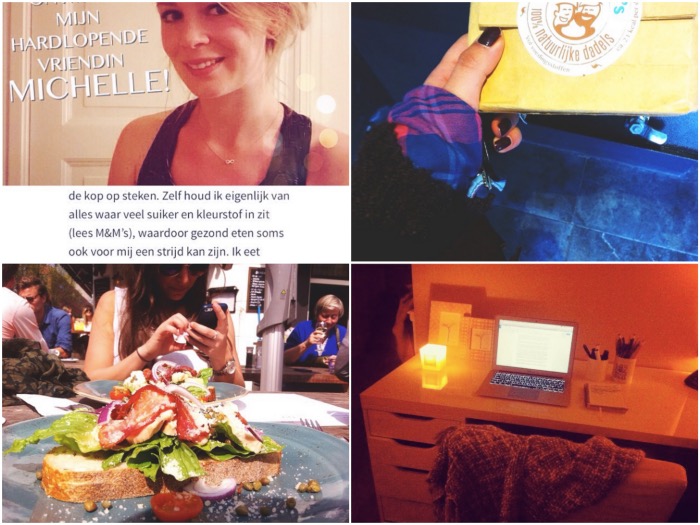 1. Heel trots op mn vriendin Michelle, ze is een fanatieke hardloper en schreef haar eerste blogpost over onder andere dat ze een halve marathon gaat lopen!  2. Post! Dadels van Yogi & Yousef, té lekker!  3. Met mn lieve vriendin Dani wezen lunchen en bijpraten in Amsterdam; ik ben dol op haar.  4.  Soms komt er ineens zoveel inspiratie, ik was niet te stoppen met typen op een avond. Ik was hier weer druk in de weer met mn boek.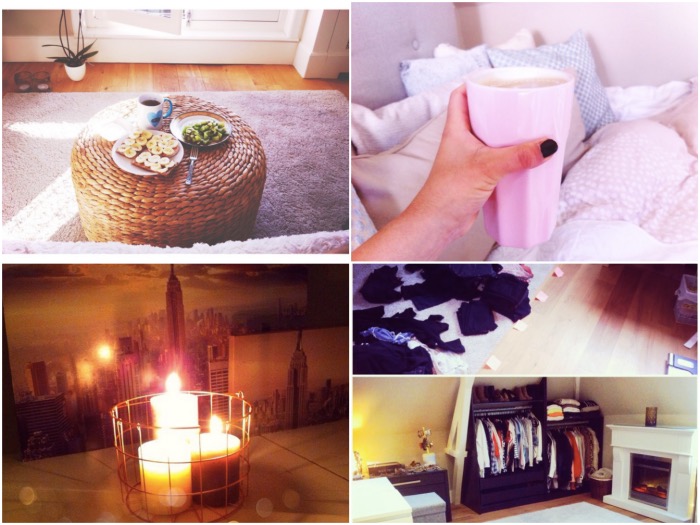 1. Eten!!  2. Wakker worden in een schone slaapkamer, schoon bed met veel kussens en een grote beker koffie. Does it get any better? 3. Ik had deze twee canvassen met New York gekocht, zo'n 2 jaar geleden. Met als doelstelling dat het me zou herinneren aan de stad die ik zo graag wilde bezoeken, ooit. En dat heb ik nu dus gedaan! AFGESTREEPT! Nu een nieuwe stad bedenken, haha 4. Door de cursus die ik heb gevolgd van Jelle (lijstjes.info) kom ik stap voor stap mezelf tegen, in mijn eigen huis. En kan ik niet anders dan dus ook stap voor stap delen van mijn leven aan te pakken en te minimaliseren. Wat een rust. Ik heb jullie hier nog een artikel over beloofd en dat wordt een goede! Ik documenteer nu nog steeds dingen, zoals onder andere het opruimen van mijn slaapkamer en kasten.
Mocht je me willen volgen, dat kan! @Tenitje