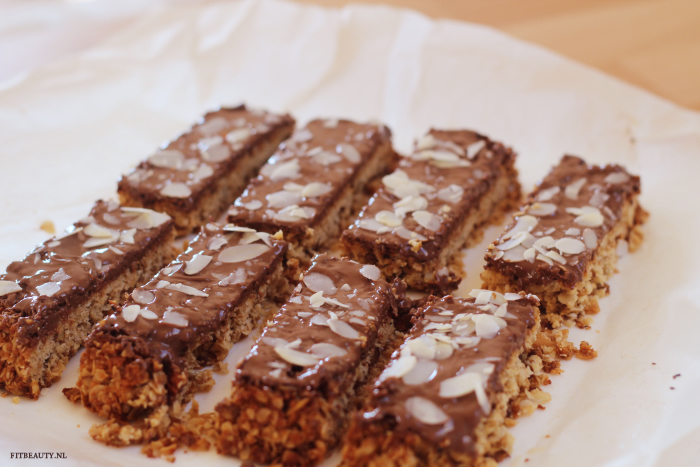 Hoe makkelijk is het om zelf mueslirepen te maken?! HEEL MAKKELIJK! Aangezien ik al twee versies heb, werd het tijd om de lat wat hoger te leggen en voor een luxere variant te gaan. Zelf luxe mueslirepen maken dus! En man o man, wat zijn deze HEMELS geworden. Gauw naar het recept! 
Wat heb je nodig voor 8 mueslirepen (+ randjes om vanaf te snoepen)
125 gram havermout
50 gram kokosrasp
65 gram boter of kokosvet
55 gram honing
60 gram zooi die je er zelf in wilt stoppen (rozijnen, pitjes, zaadjes, noten etc.)
80 gram chocolade (ik heb melk gebruikt)
Amandelschaafsels, chiazaadjes, wat je maar wilt voor bovenop de repen
Verwarm de oven vast voor op 180 graden Celcius.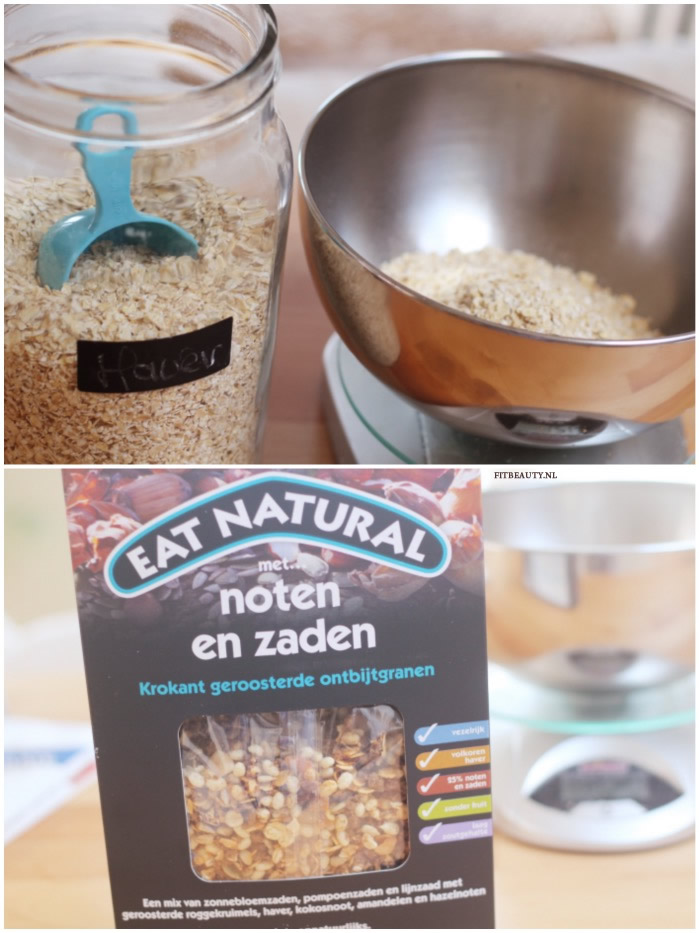 Deze muesli van Eat Natural stond in een pakketje op me te wachten toen ik terug kwam van vakantie; LEKKER! Ik heb 60 gram hiervan gebruikt. Superhandig als je zelf ook gewoon een zak muesli met vruchtjes/nootjes etc. hebt staan, dit kun je er makkelijk doorheen doen.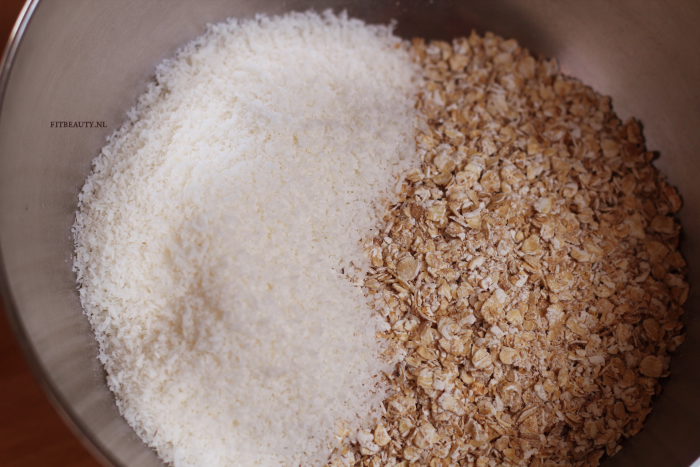 Havermout, kokos en muesli erdoor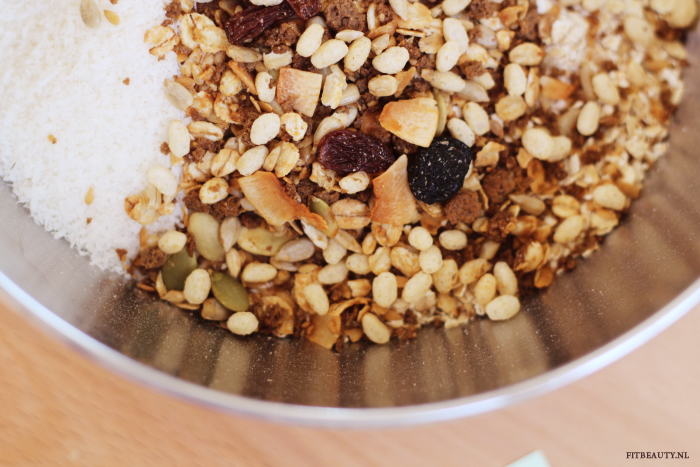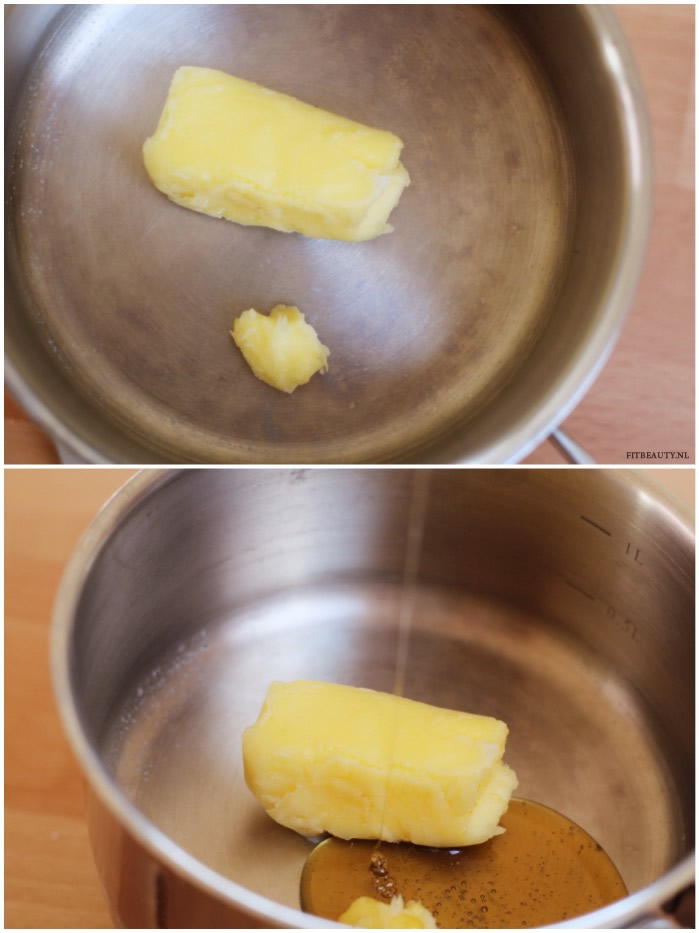 Boter en honing bij elkaar in een pannetje en dit laten smelten bovenop het vuur.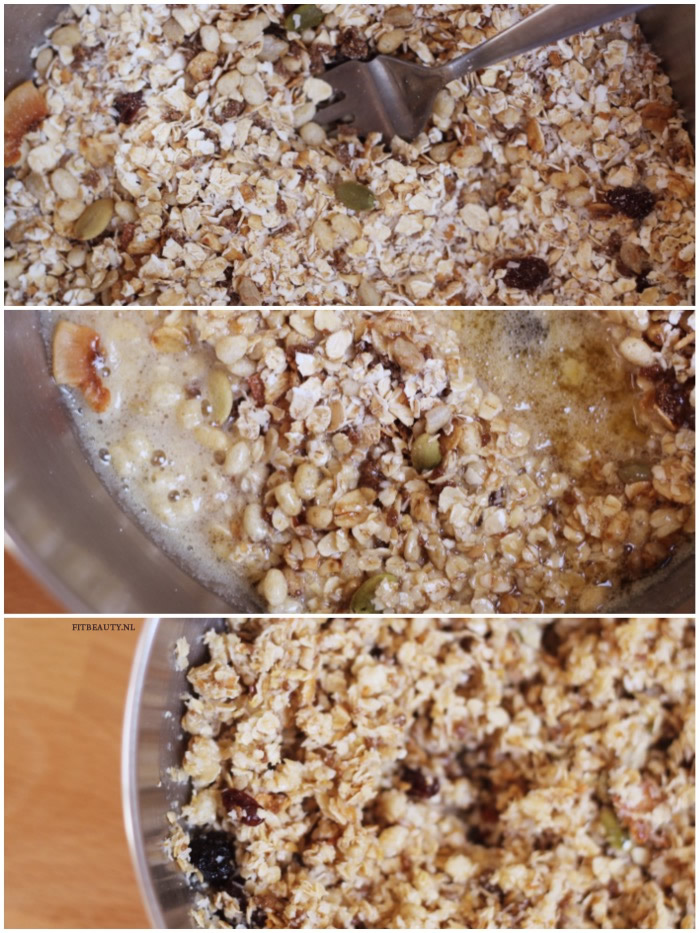 Spreekt voor zich. De gesmolten boter + honing bij het mengsel met de havermout, meng dit door elkaar met een vork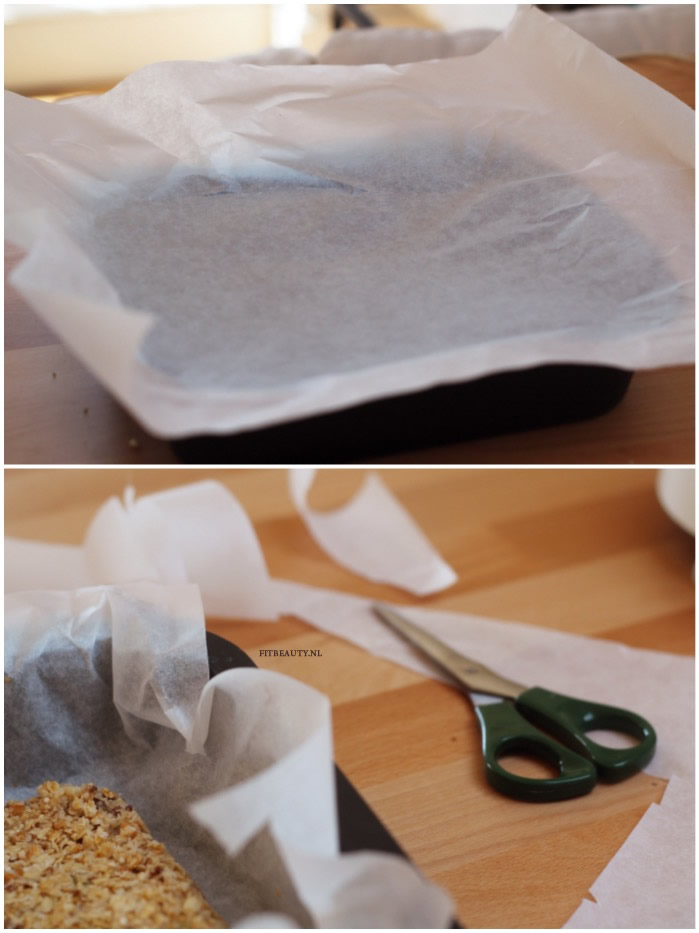 Ik gebruik zo'n brownie bakblik met een velletje bakpapier. Deze knip ik uiteindelijk wat af als het mengsel erin zit. Vind ik makkelijker te gebruiken.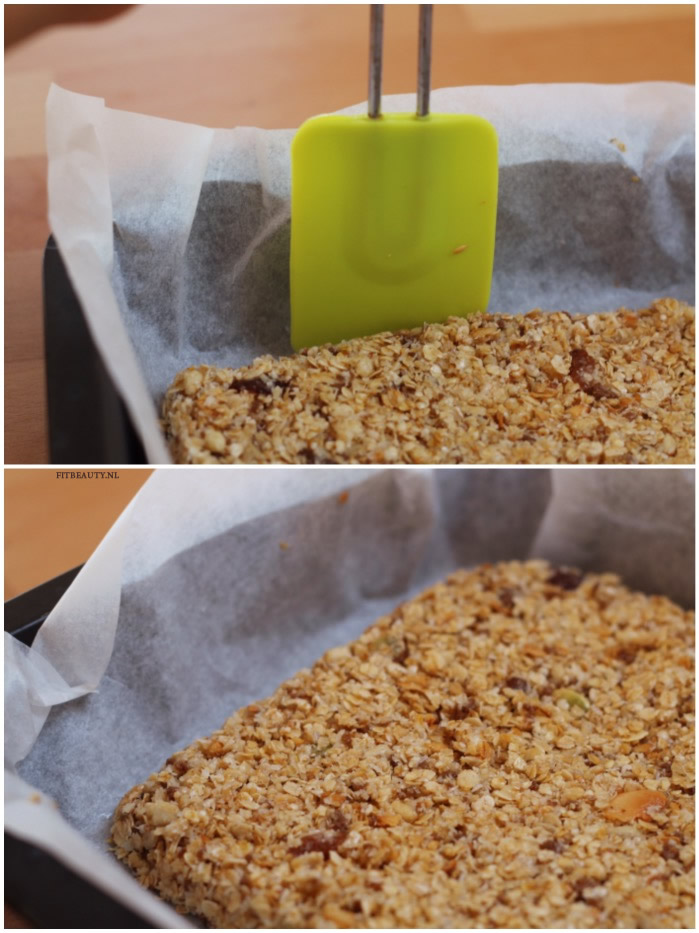 Wanneer je het mengsel in de vorm hebt gedaan druk je de bovenkant met een pannenlikker plat. Vervolgens ga je langs de zijkanten om ze recht te maken, het hoeft dus niet tegen de rand te zitten.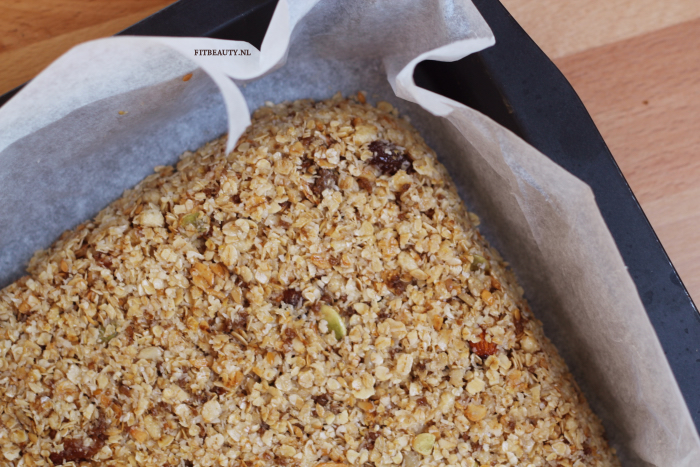 Dit gaat voor 30 minuten de oven in. Houd het echt goed in de gaten! In sommige ovens zal dit wat sneller gaan.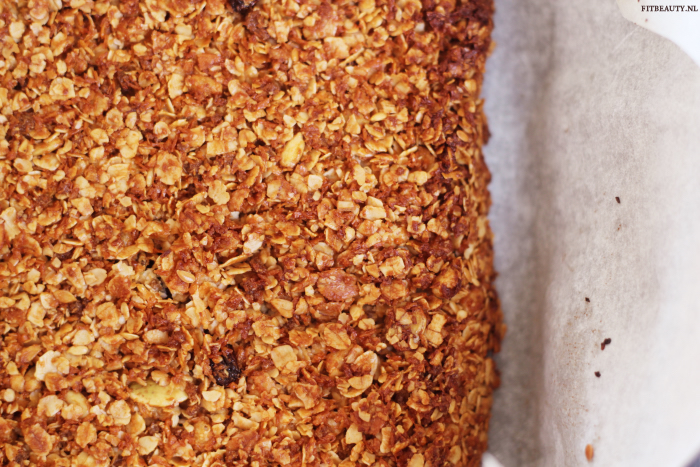 Laat dit volledig afkoelen! Als je nu al de gesmolten chocolade erop gaat doen, heb je kans dat het uit elkaar valt.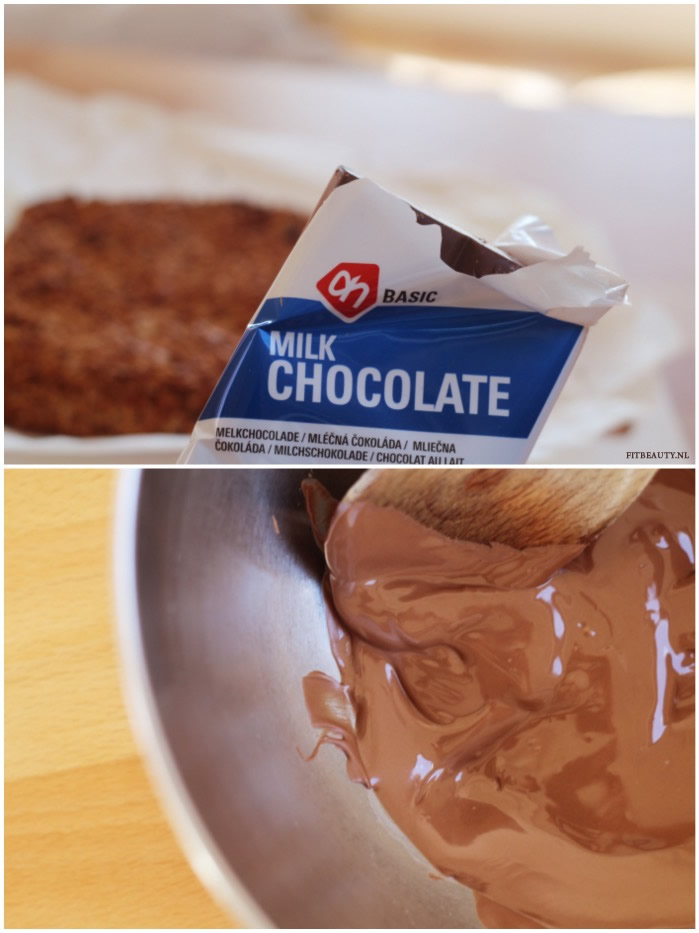 Tijd om de chocolade te smelten. Dit kan in een magnetron of in een kommetje boven kokend water.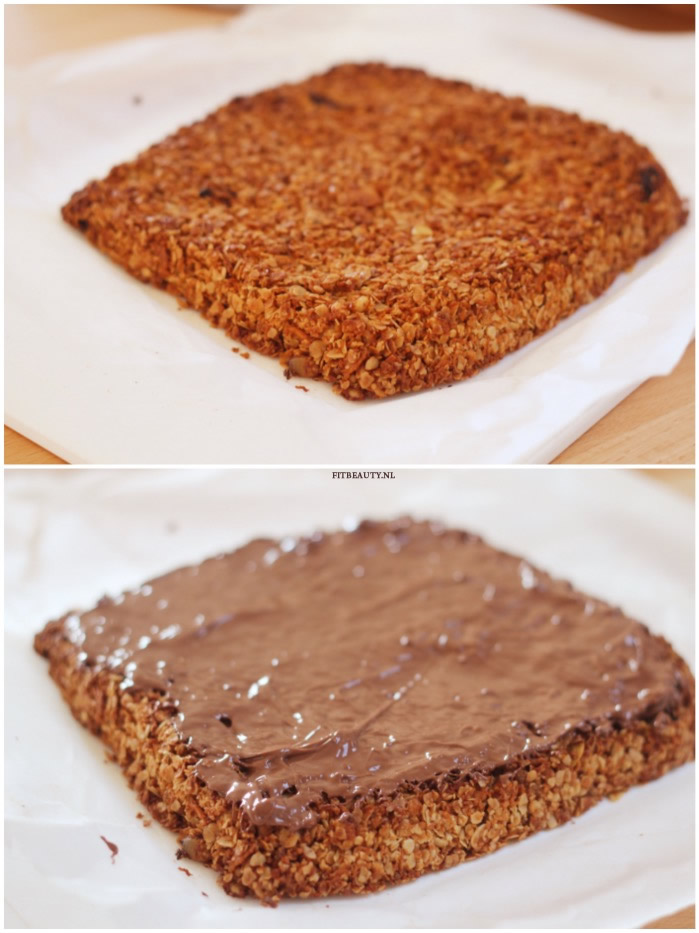 Tadaaaaaaa!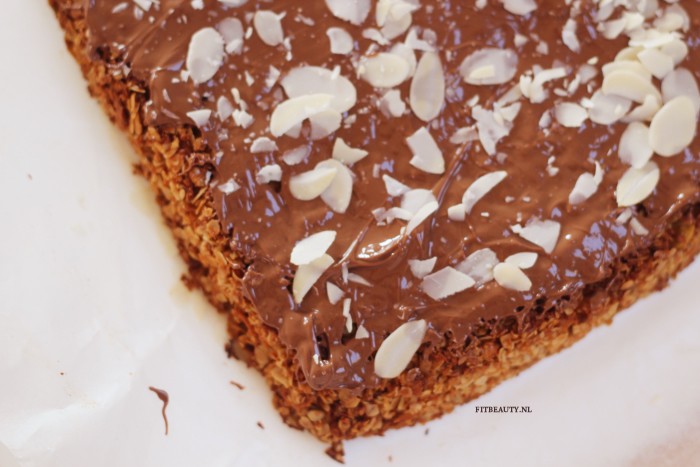 En gewoon om het een extra leuk beeld is; amandel schaafsels erbovenop!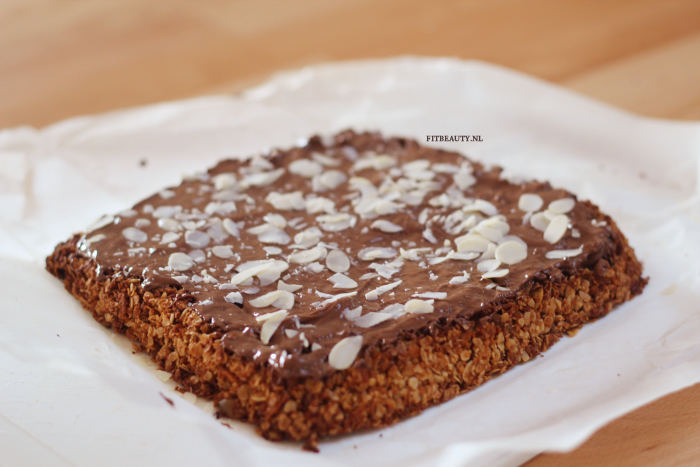 Ook dit laat je weer afkoelen, zo'n 15 minuten.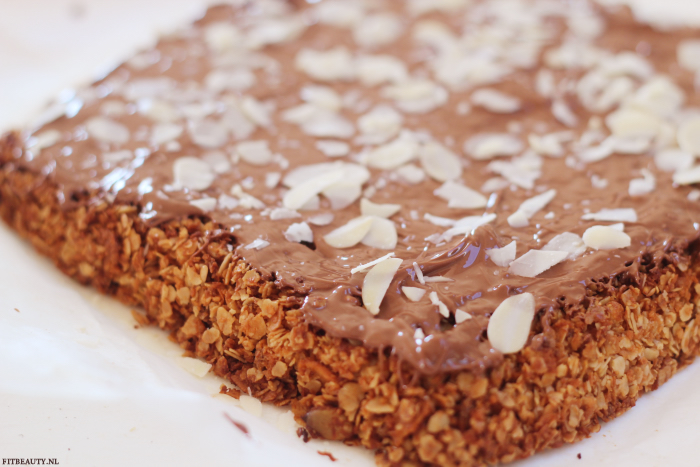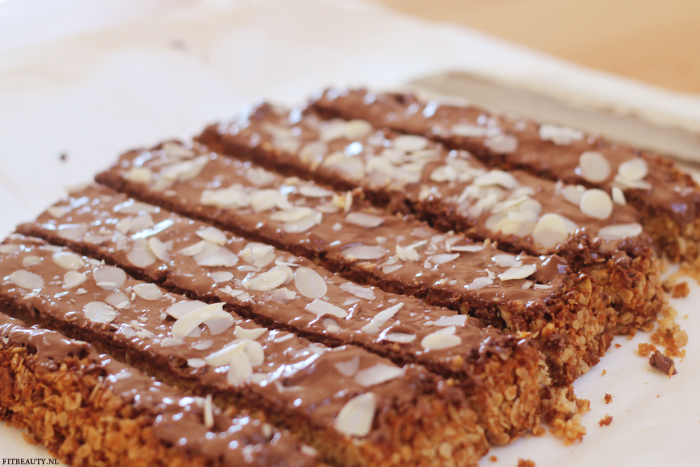 Vervolgens kun je voorzichtig beginnen met snijden. Zoals je zit heb ik de buitenste twee randjes vrij smal gehouden om de middelste 4 banen te kunnen gebruiken als mooie, rechte mueslirepen.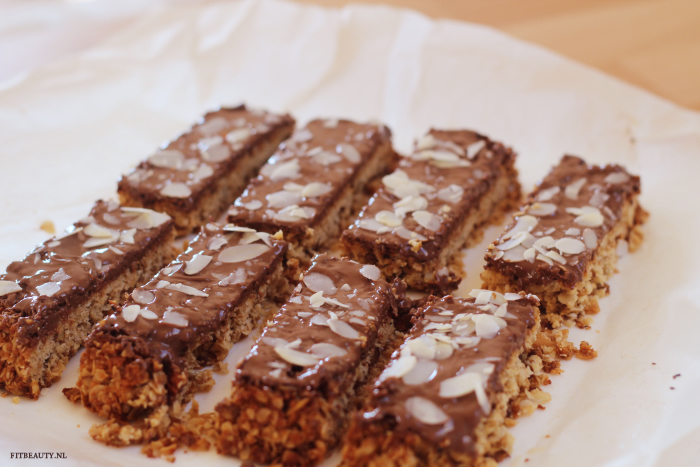 Hier het resultaat! Het lijkt misschien alsof ze uit elkaar gevallen zijn, maar dat is niet zo.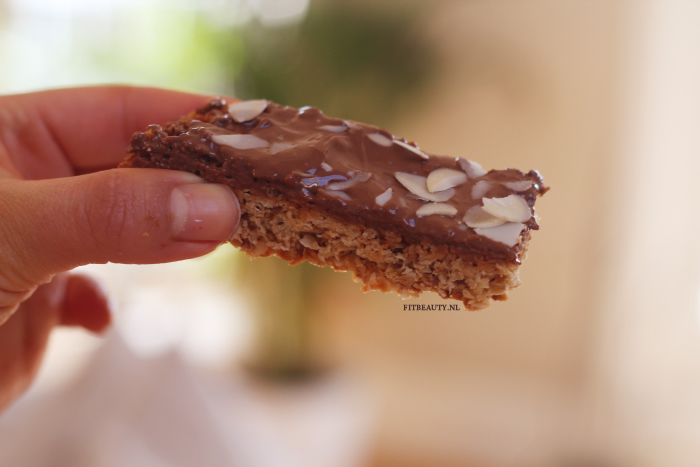 Tada!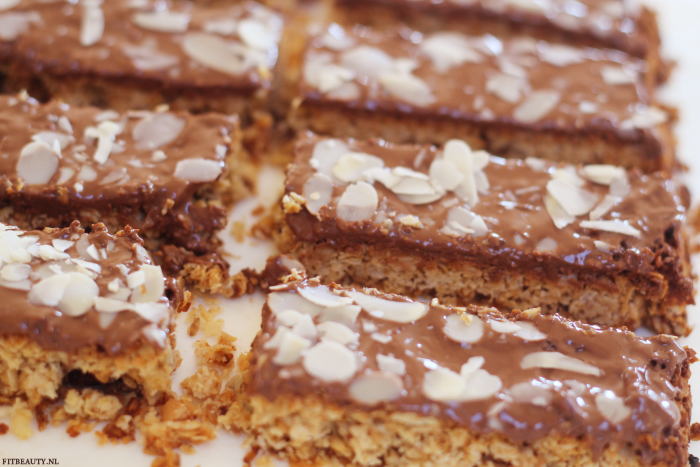 De chocolade zal niet helemaal hard worden, tenzij je de reep in de vriezer stopt. Dat is trouwens ook heel erg lekker, een reep uit de vriezer! Klein beetje laten ontdooien.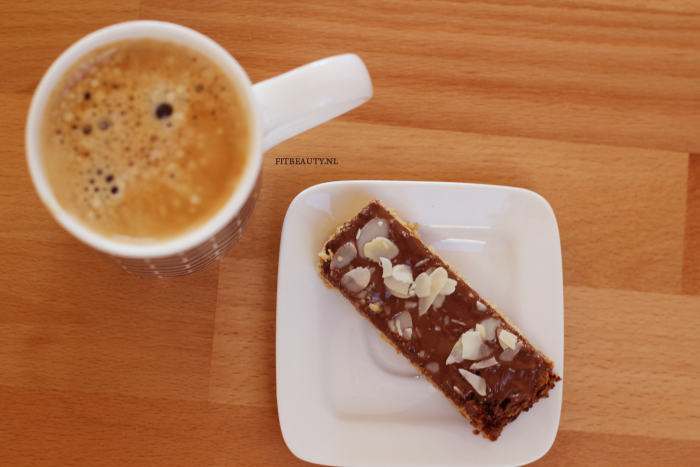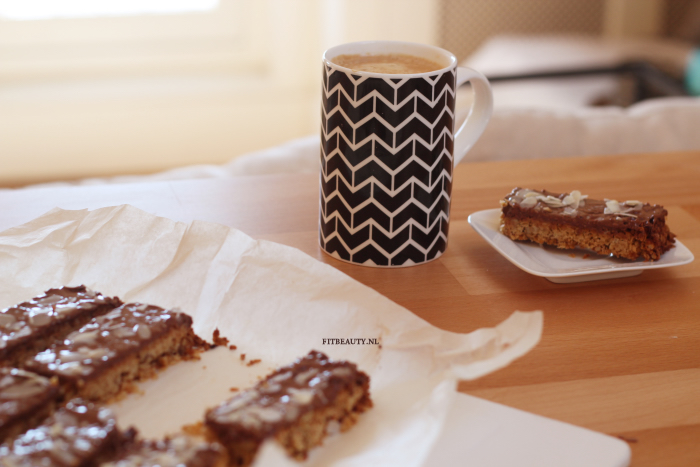 Eetsmakelijk!