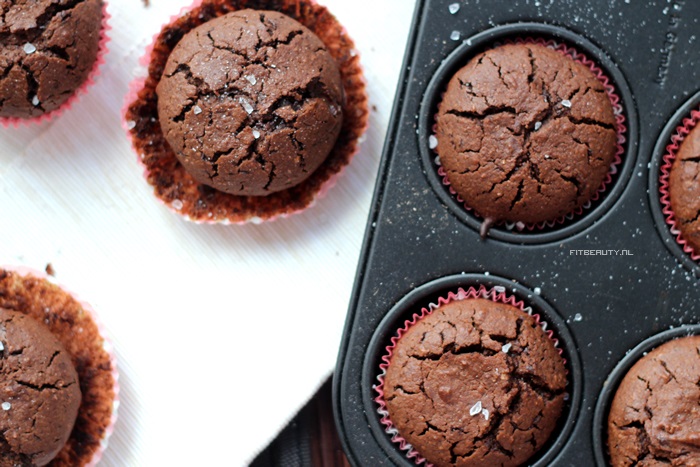 Chocolade muffins die niet zó zoet zijn, maar zoet genoeg. Ik houd van dat soort gebak. En gelukkig kunnen we het zelf maken! 
Deze muffins bevatten geen tarwe, maar je mag gerust de rogge vervangen door tarwe als dat beter uitkomt. Volkoren tarwemeel bevat meer vezels en zal je meer een verzadigd gevoel geven; kleine tip! 😉
Wat heb je nodig voor 12 grote muffins?
150 gram roggebloem/meel
125 gram amandelmeel
6 eetlepels cacaopoeder
2 theelpels bakpoeder
snufje zout
3 eieren
240 ml kokosmelk (ik heb uit blik gebruikt)
160 ml gesmolten kokosolie
300 ml honing/ahoorn-/agavesiroop
100 gram pure chocolade, gehakt* of cacao nibs
Verwarm de oven voor op 200 graden Celsius. Doe de roggebloem, amandelmeel cacao, bakpoeder en snufje zout in een grote kom en meng dit met een vork door elkaar.
In een wat kleinere kom klop je de 3 eieren 1 minuut met een mixer. Als je deze niet hebt kun je het ook met een garde of een vork doen. Als ze lekker luchtig zijn geworden met veel belletjes is het perfect! Voeg de honing/ahoorn/agave toe aan de eieren, vervolgens ook de kokosmelk en de kokosolie (de olie zorgt ervoor dat ze héérlijk zacht worden). Meng dit goed door met een vork zodat de honing gelijk verdeeld is door het mengsel.
Voeg het ei mengsel toe aan de grote kom met alle droge ingrediënten en meng dit door met een vork (even een arm workout!), zie de foto voor de textuur die je wilt krijgen.
De pure chocolade kun je het beste met een groot mes fijn hakken op een stukje aluminiumfolie met daaronder een houten snijplank. Voeg de chocolade of cacaonibs toe aan je muffin beslag en roer dit er zachtjes doorheen ("omvouwen" wordt het ook wel genoemd), het hoeft echt niet perfect gemengd te zijn.
Plaats muffinvormpjes in de muffinbakplaat (kan ook zonder, maak hem dan even vet met wat olie) en verdeel het beslag over zo'n 12 muffinvormpjes.
Dit gaat 20 – 25 minuten de voorverwarmde oven in tot de bovenkant open begint te barsten. Dit kan bij sommige ovens iets langer duren dan 25 minuten, houd de muffins dus even in de gaten!
Die barsten in de muffin maken ze echt héél aantrekkelijk! Ik heb ze bestrooid met wat zeezout, zodat de zoete smaak beter naar boven komt. En het ziet er natuurlijk leuk uit. Enjoy!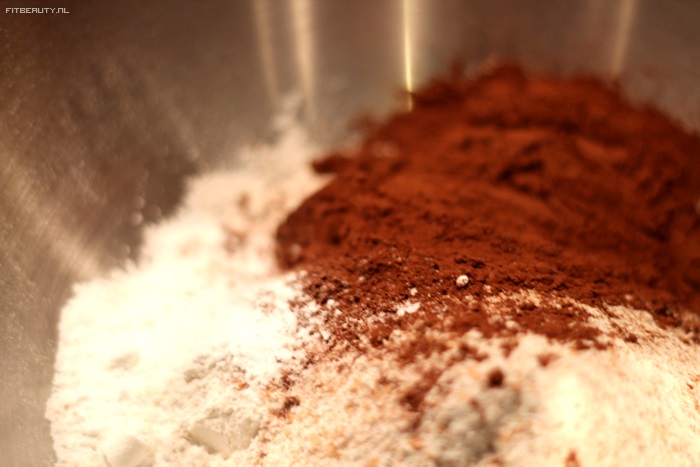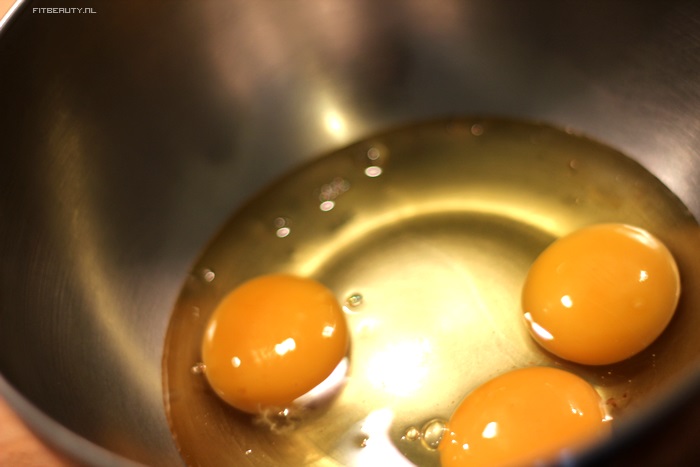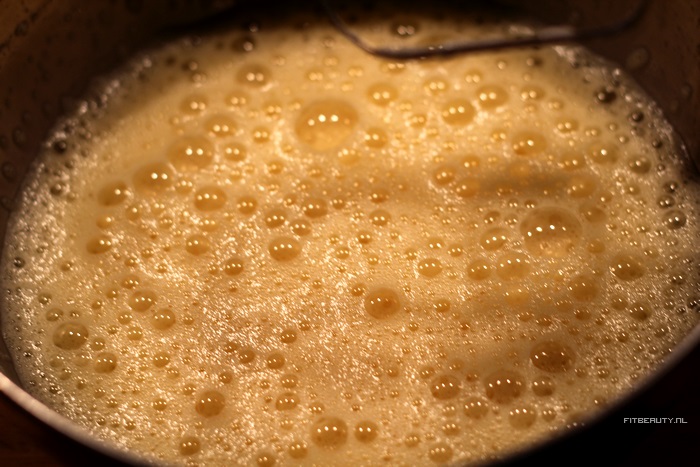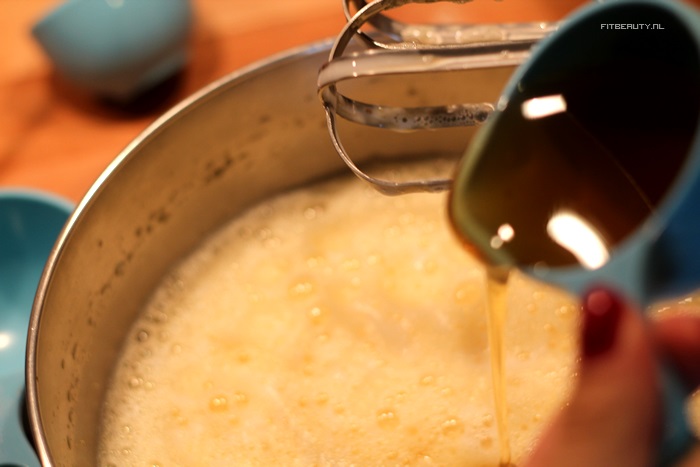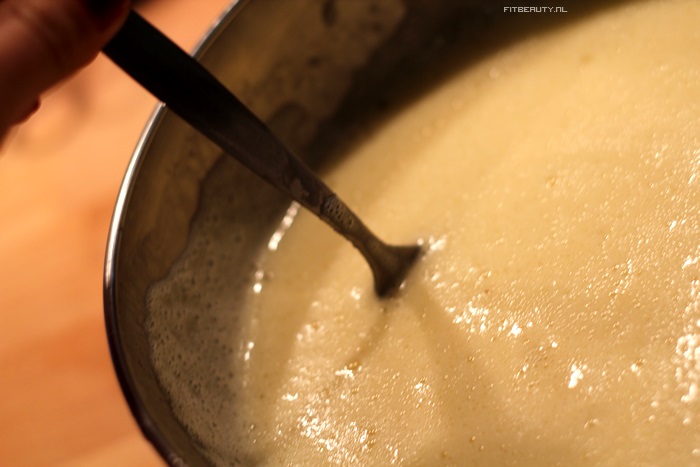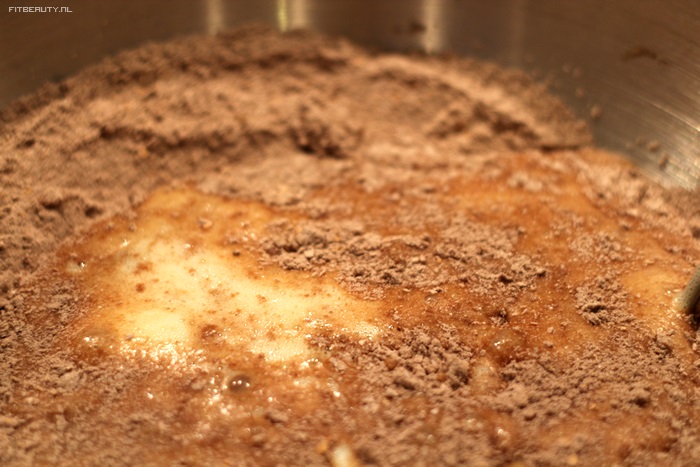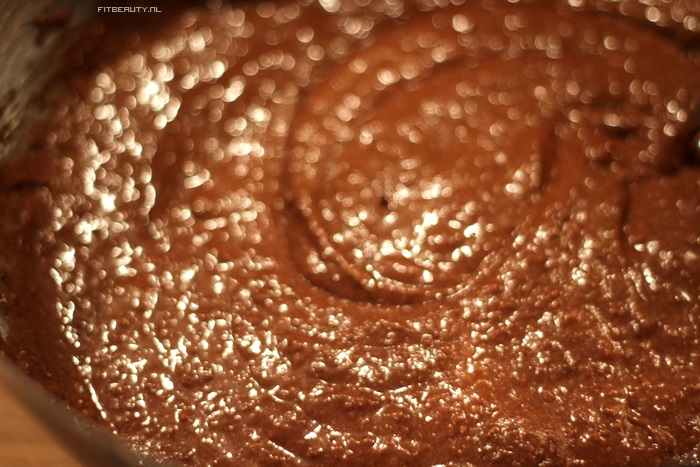 Dit is de textuur die je wilt krijgen!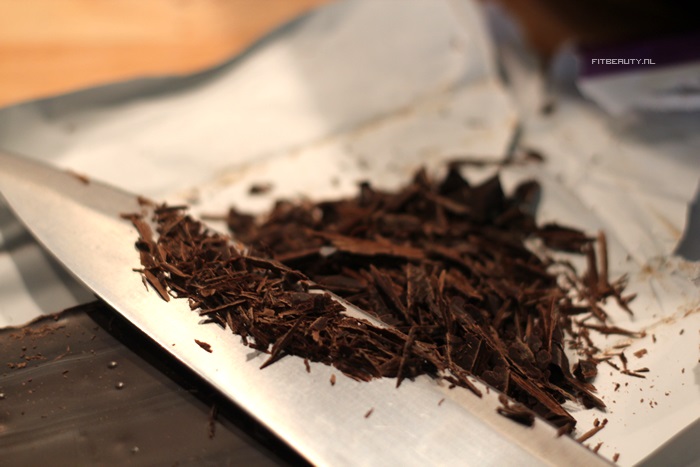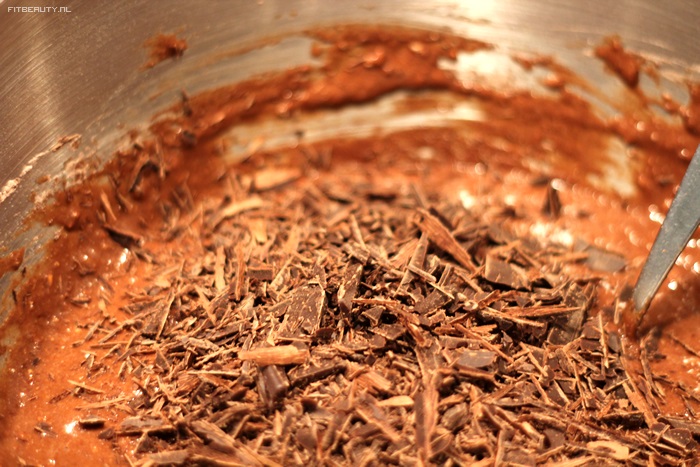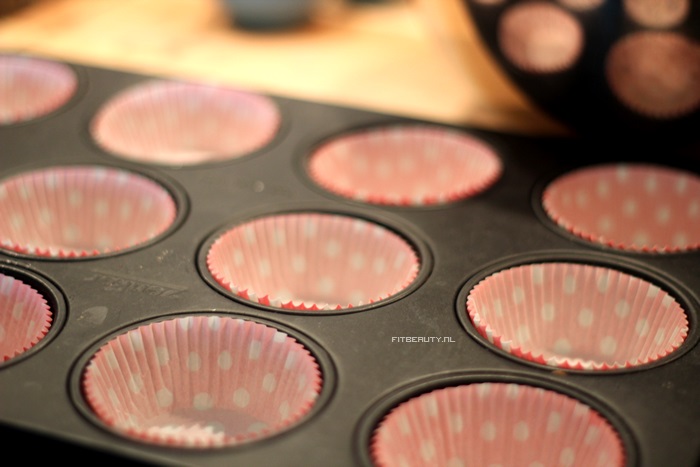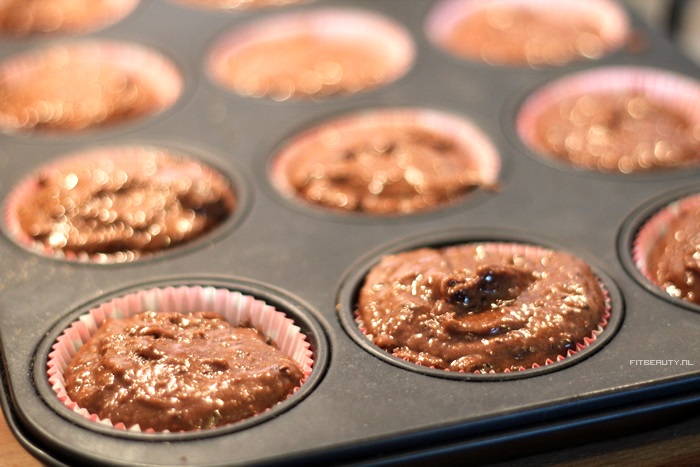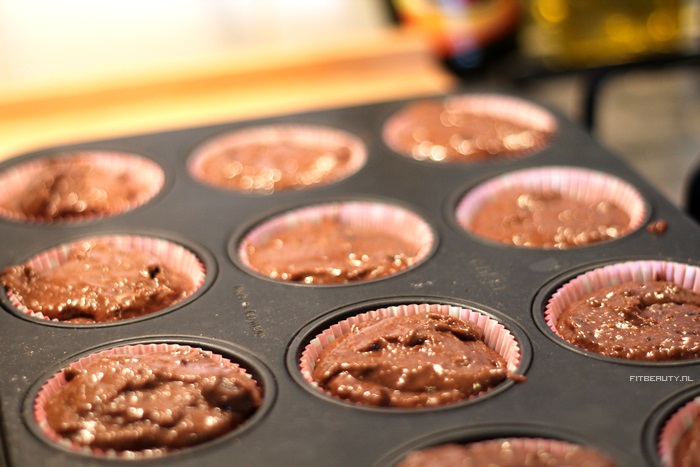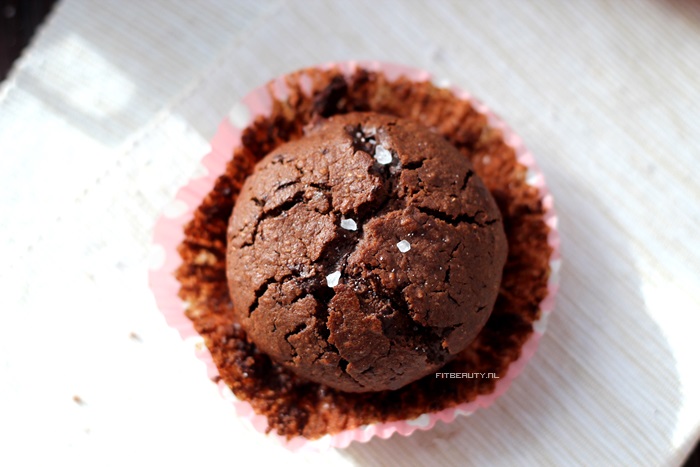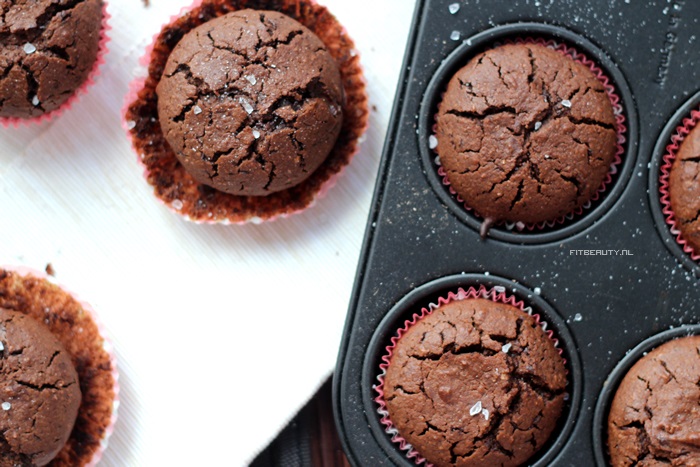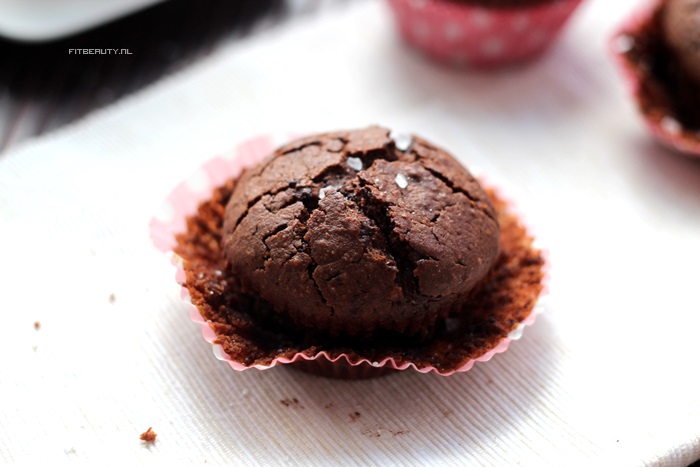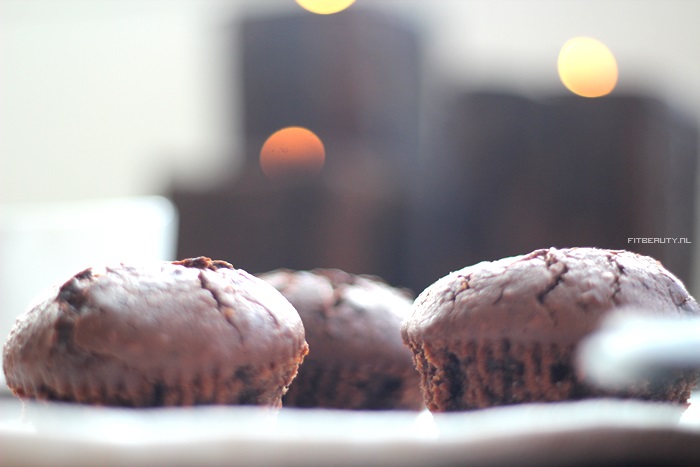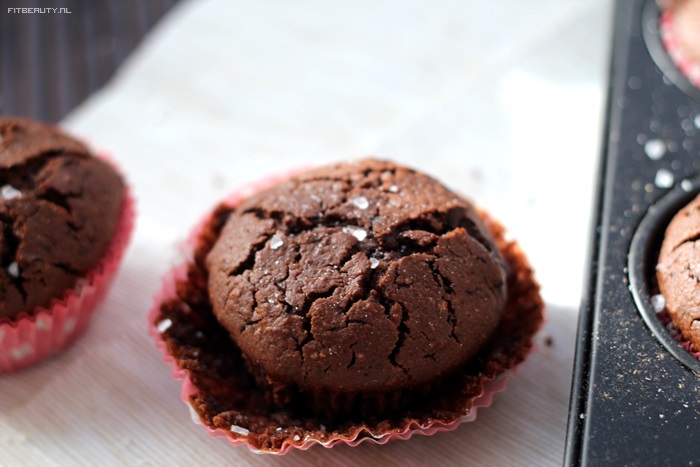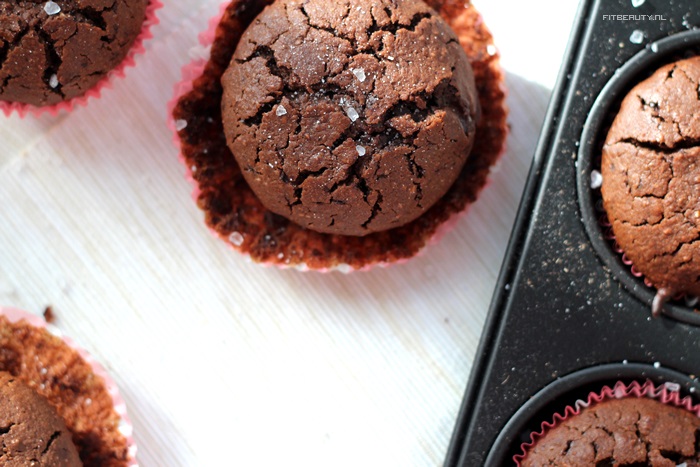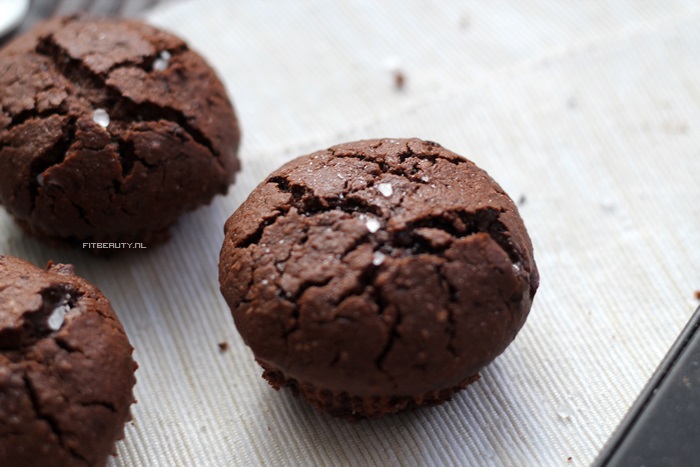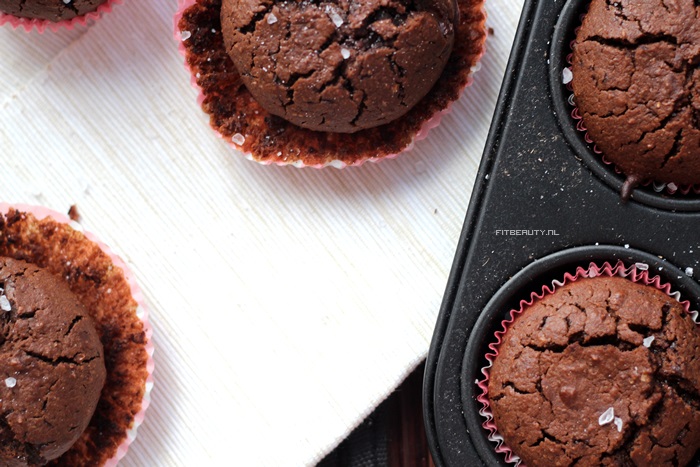 Geniet ervan!