Tijd gaat hard! Instgram foto's ook! Het is weer tijd om terug te blikken door het oogpunt van Instagram op de afgelopen weken. 🙂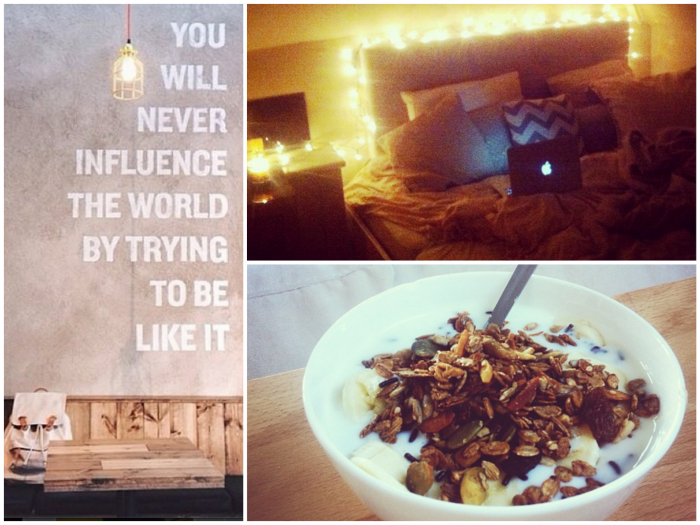 1. Quotes 🙂 2. Laat thuis, nog even werken aan een post. 3. Ik krijg geen genoeg van de granola van de Marqt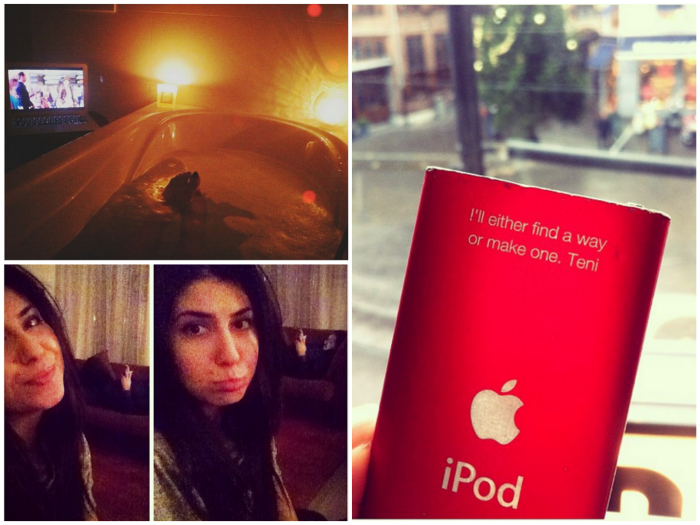 1. Eigenlijk ga ik nooit in bad. Als ik eenmaal comfortabel ben (500 x warm water of koud water erbij tot het goed is) denk ik.. "en nu?". Maar héél soms, vind ik het wel chill met het kijken van een filmpje erbij. 2. Bij mn moeder thuis in Utrecht op Sinterklaas avond. Wachten om te vertrekken naar de rest van de familie. Mn broer is druk met zijn iPad. 3. Ik vond mn oude iPod ineens met allemaal oude muziek; awesome! En daar stond deze quote achter. Je kon toen ter tijd iets in je iPod laten graveren.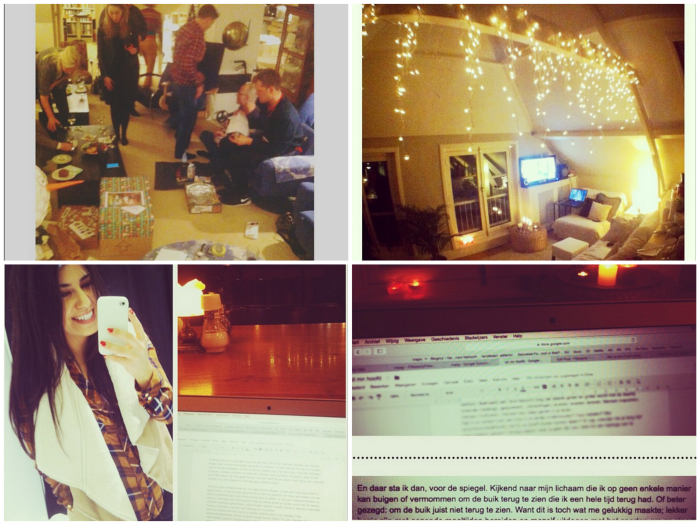 1. Sinterklaasavond! 2. Mn huis, tijdens de feestdagen, lol. 3. De hele dag in een koffietent gezeten, werkend aan mn boek. 4. Schrijven, schrijven, twijfelen, weghalen, opnieuw schrijven, nog meer schrijven, weer weghalen, etc. Zo gaat het een beetje.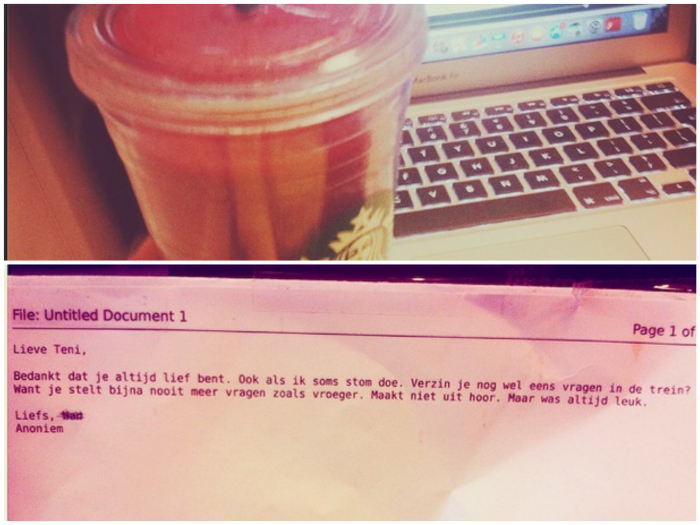 1. In de trein met mn smoothie en laptop. Artikel of boek, ik ben altijd bezig. 2. Op donderdag mogen we op het werk altijd briefjes schrijven naar elkaar, deze worden dan opgehaald en afgeleverd. Dit is een briefje dat ik lang geleden heb gekregen, maar het blijft aandoenlijk en te cute!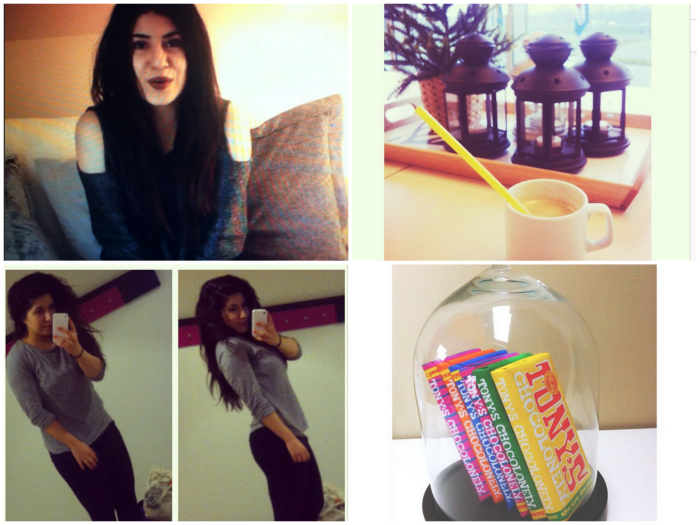 1. Screenshot van de korte video over dat Fitbeauty.nl twee jaar bestaat! 2. Met mn moeder in de Ikea. 3.  Schaamteloos in de kleedkamer foto' s maken. De sportschool is toch vet rustig. 4. Tony's die ik weggaf bij de winactie van het twee-jarig bestaan!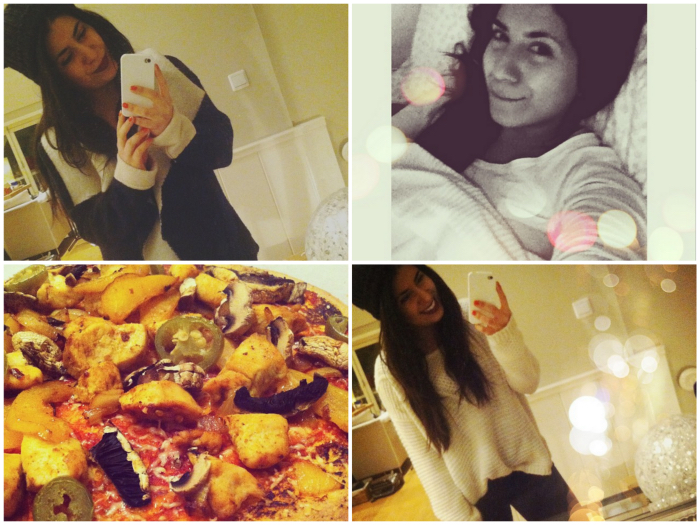 1. Geen idee wat ik hier ging doen. 2. Slapen, onee eerst selfie. 3. Pizza op een wrap! 4. Op naar wijn in de stad.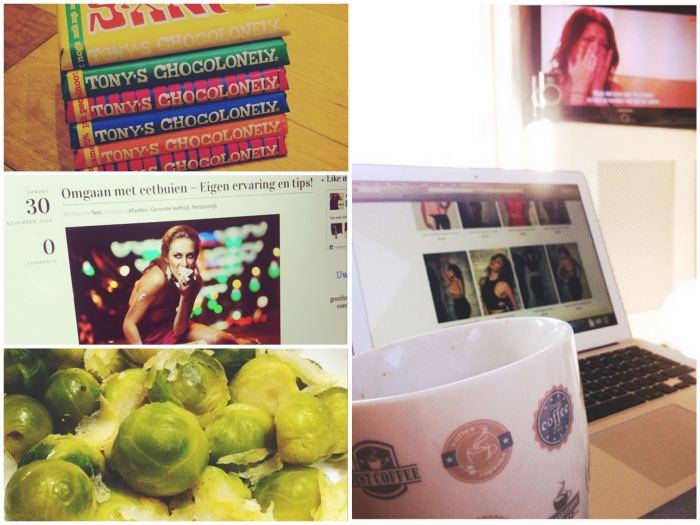 1. Chocolaaaaa! 2. Artikel voor de dag erna alvast een beetje verklapt *check* 3. Spruitjes met kaas! 4. Koffie, online shoppen en slechte televisie. Dat is mijn zaterdagochtend.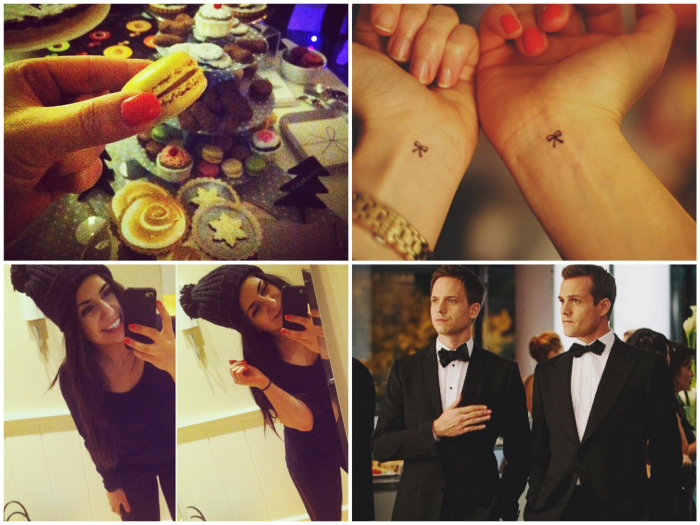 1. Persevent van de Hema! ZOOOVEEL LEKKEEERSS! 2. Bij het persevent hebben we kleine nep tattoo's gezet, supercute. 3. Hoi! 4. Suits, ik mis je, wanneer kom je terug? Ik hoor zelfs mensen in de trein tegen elkaar zeggen dat het zolang duurt voor het nieuwe seizoen weer begint… zucht.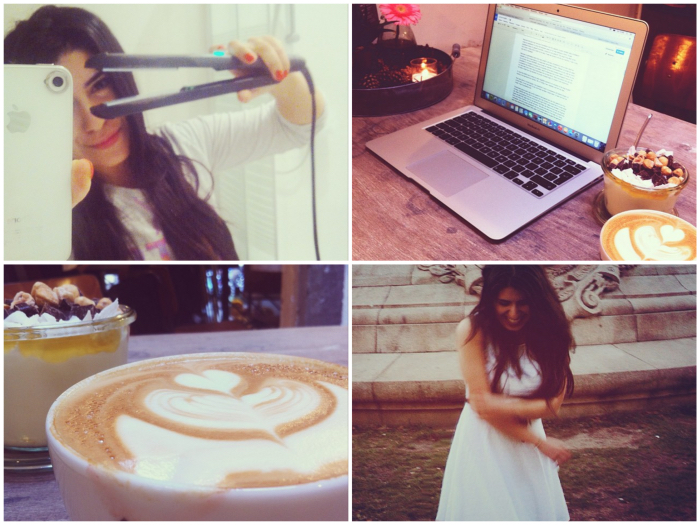 1. Soms heb ik er zin in in de ochtend, en doe ik mn haar. Normaal kam ik het niet eens, oeps. 2. Ik had jullie gevraagd wat een leuke plek was om een paar uurtjes te werken met wat koffie, in Amsterdam; the yoghurtbarn in Amsterdam! Topplek! 3. Nogmaals, the yoghurtbarn 🙂 4. TBT, Porto!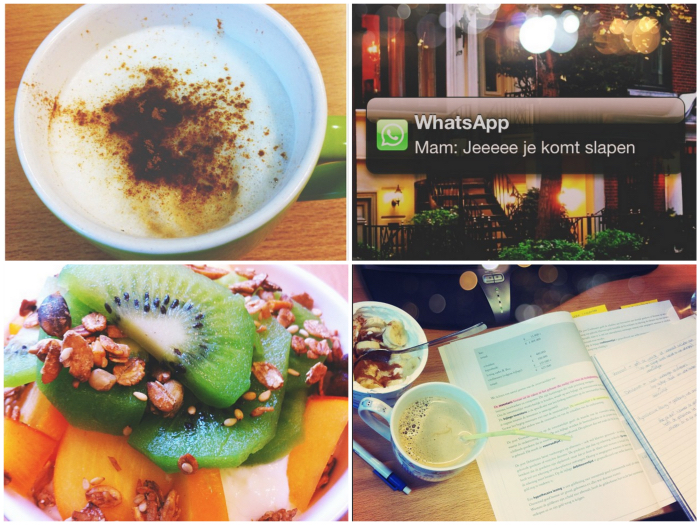 1. Cappuccino met kaneel. 2.  Mn moeder is te cute, ik ging die avond logeren bij haar. 3. Jum. 4. Begonnen met een opleiding boekhouden, gewoon, omdat het kan, en het heel cool is.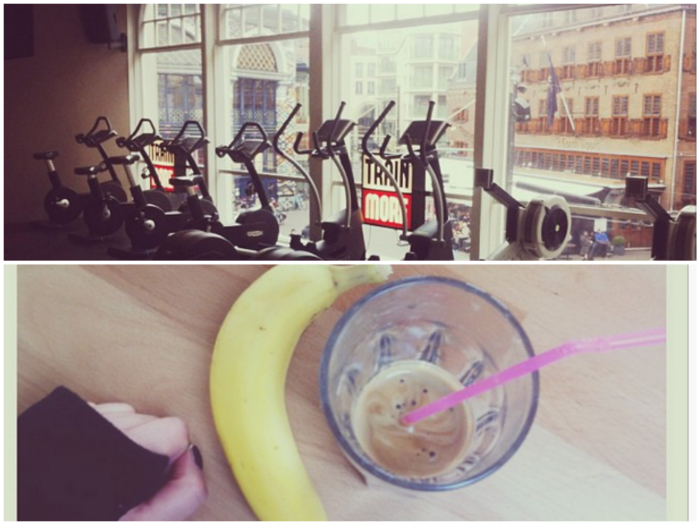 1. Heerlijk dat de sportschool zo rustig is. Ik kijk nu al tegen januari op wanneer ineens IEDEREEN al die apparaten en matjes bezet houdt. 2. Espresso + banaan en dan sporten!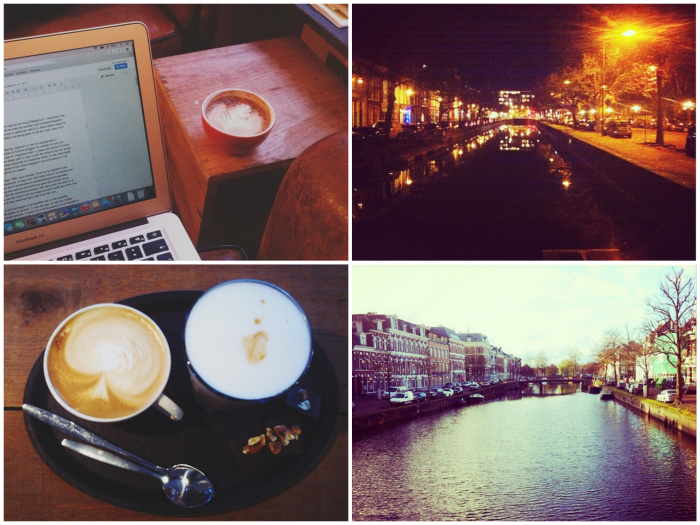 1. Ik ben keihard aan mn boek aan het werken! Ik zou nog heel veel advies vanuit jullie willen, hier ga ik nog naar vragen in een post! 2. Den Haag! 3. Koffie met een vriendin in Haarlem. 4. Haaaarlem!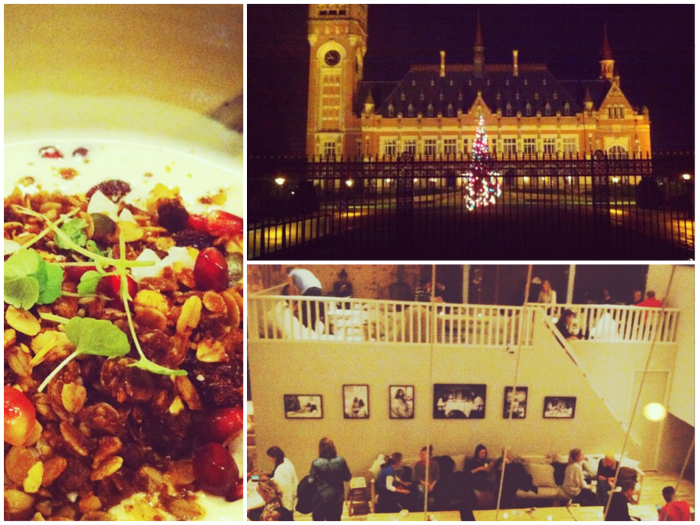 1. Samen met Dani van Fitgirls.nl zitten bijpraten en brainstormen in C&T Amsterdam, ik had deze yoghurt met granola besteld. Lekker! 2. Als ik mijn straat uitloop, dan zie ik gewoon dit. Hoe vet is dat! Den Haag is zo mooi en leuk 🙂 KOM HIER OOK WONEN! 3. C&T in Amsterdam, erg gezellig 🙂
1. Deze kleur!! 1 banaan + 1 kop amandelmelk + diepvriesfruit, vooral met veel bosbessen. En dan in de blender! 2. Hoi Amsterdam. Ik was hier op weg naar mn werk. 3. Lunchbakjesgestoord. 4. Ik poste een filmpje op Instagram van een stukje dat ik piano speelde, veel mensen wisten überhaupt niet dat ik piano speelde. Hier kun je het zien.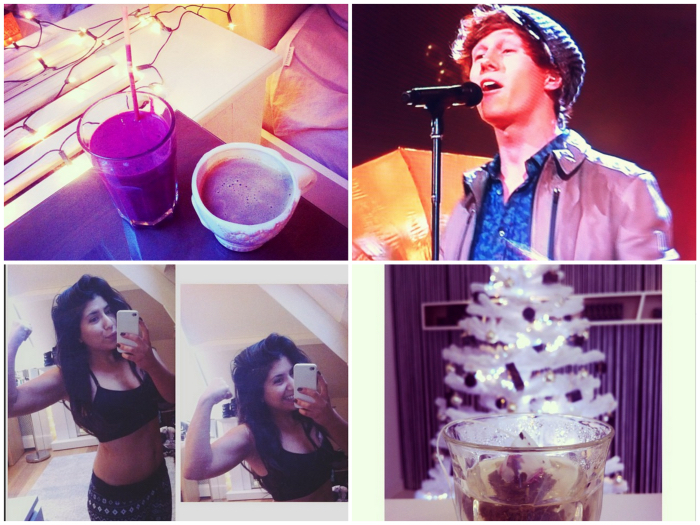 1. Smoothie en koffie. 2. Jaa, ik kijk de voice! Als ik thuis ben op vrijdagavond. En ik vind Guus toch best en leukerd! 3. Enjoy the proces. Ik ben nog lang niet waar ik wil zijn, maar dat weerhoud me niet van plezier maken en het allemaal leuk vinden op dit moment 🙂 4. Wachten met een kopje thee, kijkend naar een witte kerstboom!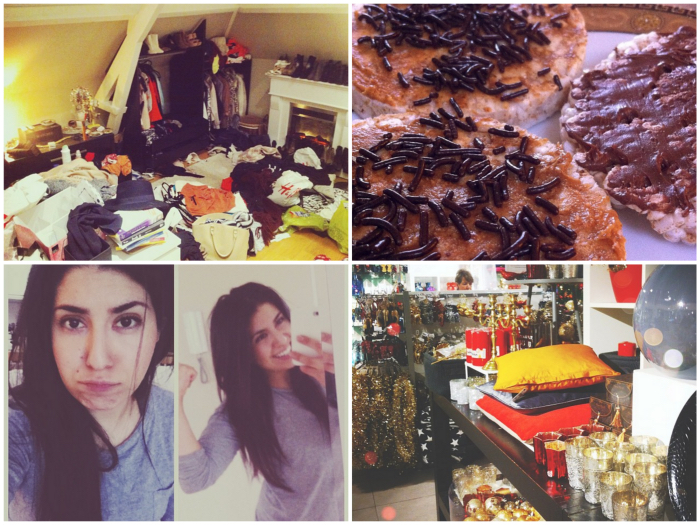 1. Ik ken blijkbaar geen schaamte. Dit is een probleem van teveel zooi en te weinig ruimte; de slaapkamer/kast. 2. Te lekker. 3. Ik deed een oproep voor een Personal Trainer om iets cools bij te gaan houden op mn blog. Ik heb veel reacties gehad! Heel tof! Het is nog even uitzoeken wanneer en met wie ik dit nu aan ga, vooral de tijd die ik ervoor vrij wil maken is lastig! 4. KERST KERST KERST KERST KERST KERST!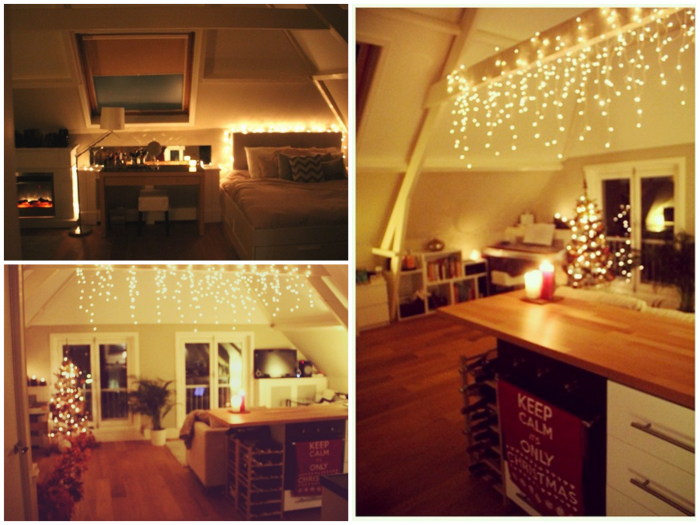 1+2+3. Kerstgek? Nee joh.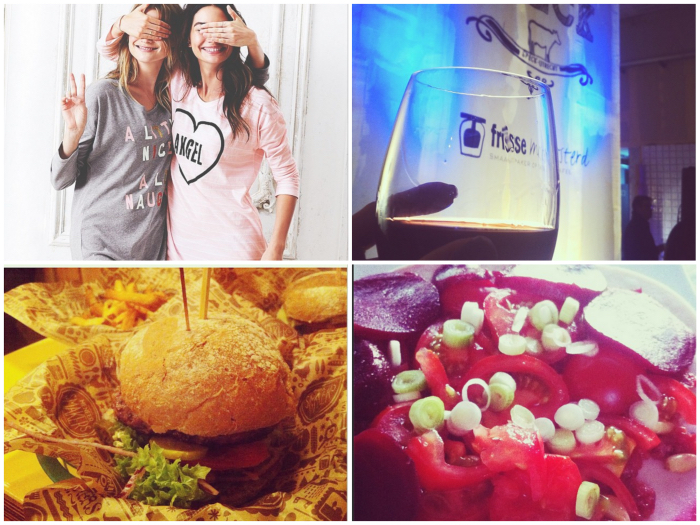 1. Victoria's Secret dames omdat ik die dag het vervolgartikel had geschreven. 2. Opening van een nieuw restaurantje om de hoek bij mn moeder in Utrecht. Leuk! 3. Tja, als ik bij mn moeder ben, dan lopen we ook even naar meneer Smakers. Zo dichtbij, zo lekker! Gek op een goede burger. 4. Eten.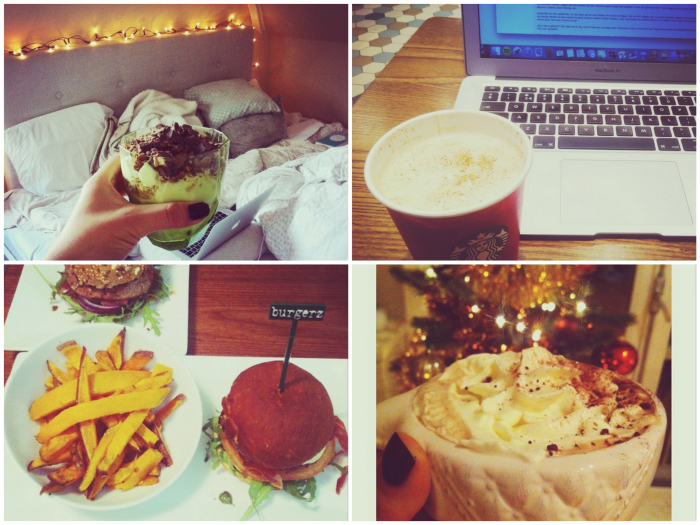 1. Zondagochtend. Kwark, granola, banaan en chocolade. 2. half uur wachten op de trein? Mooi, dan tikken we weer verder. 3. Oké als je van een goede burger houdt, maar, zeg maar; ECHT. Dan moet je naar Burgerz! Volgens mij hebben ze er in Delft en Scheveningen ook een, ik was naar die van Den Haag; awesome! Het is ook nog eens in een heel mooi stukje van Den Haag, dus mocht je hier niet vandaan komen, dan heb ik alvast een tip voor je voor de volgende keer dat je hier bent! Ik woon op loopafstand, WIEHOUDMETEGENWIEHOUDMETEGEN.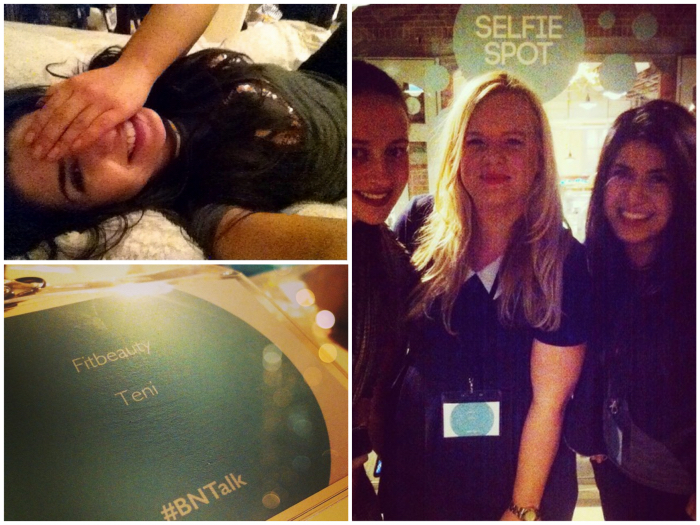 Ik was uitgenodigd voor de Bloggers Network Talk en het was super! Enorm veel inspiratie en goede kennis opgedaan. Moe en voldaan thuis, neergeploft op bed!
Zo, dat was een flinke post! Mocht je me willen volgen op Instagram: Instagram.com/Tenitje