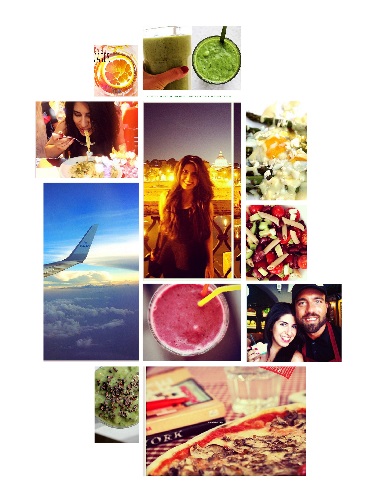 Even een korte Instagram update! Er zijn weer een hoop foto's en momenten voorbij gekomen waar ik in dit artikel even bij stil sta!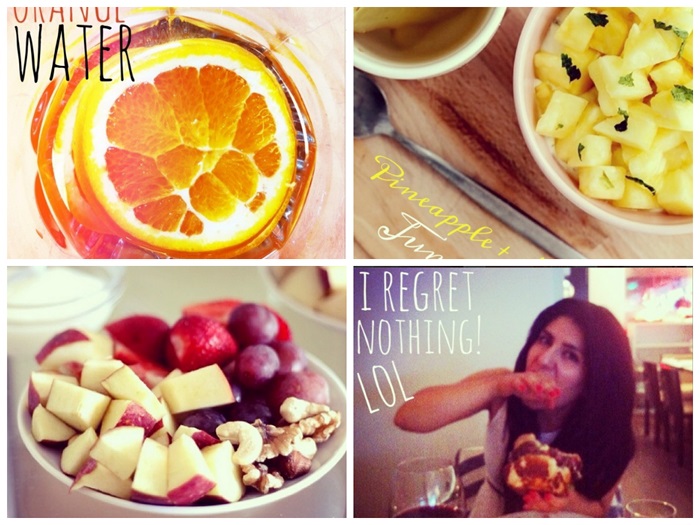 1. Te beginnen met een warme dag op kantoor, dan pak ik vaak een kan water en doe er sinaasappelschijfjes in. Lekker verfrissend! 2. Ik was naar de markt geweest! En lekker munt en ananas ingeslagen (ik kan niet wachten om dit weer te halen!) 3. fruit en noten als lunch in Portugal 4. Oja.. hamburgers! Echt mega lekker gegeten in Portugal!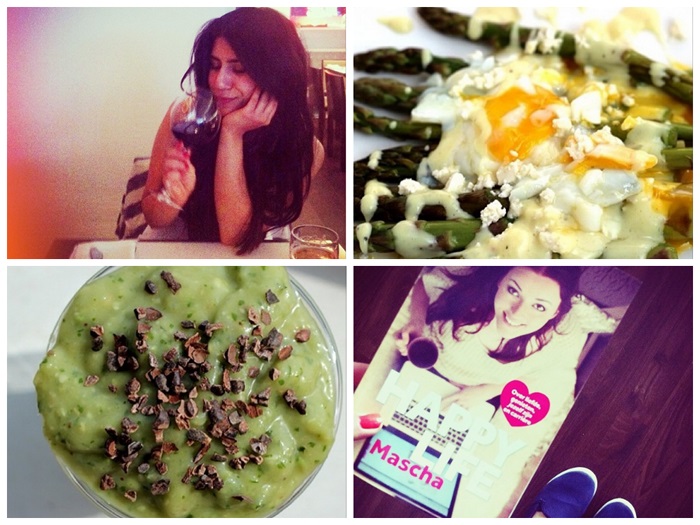 1. In dezelfde tent waar ik de burger at, wijtnjes drinken met mn liefste vriendin. 2. Asperges! Oeh ik krijg er weer trek in. 3. Een beetje een verslaving van me de laatste tijd "dikke" groene smoothies. Hier had ik wat munt doorheen gedaan en het was echt heerlijk. De basis is voor mij vaak een (bevroren) banaan en een avocado. Daarbij kun je eindeloos variëren. 4. Zo blij dat ik het boek van Mascha heb gekocht! 🙂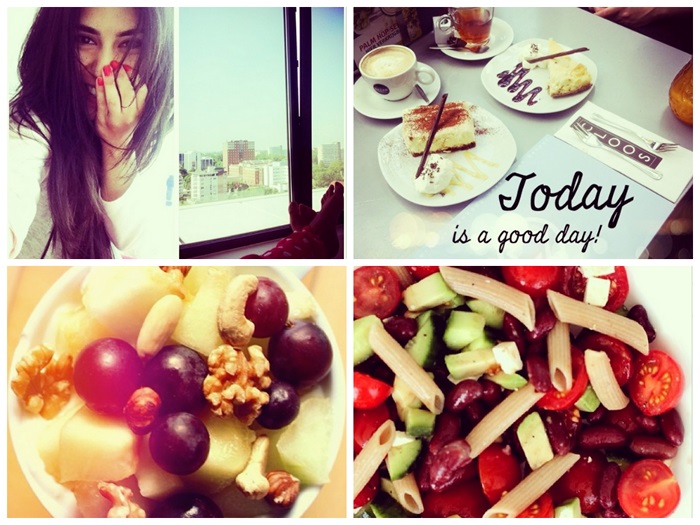 1. Ik ben zó gelukkig hier! De ochtend voor ik ga tekenen voor mn nieuwe huisje. Niet omdat ik mn oude huisje zat ben, maar het is tijd voor wat nieuws en dat brengt veel "excitement" met zich mee! 2. Ik heb getekend!!!! AAAH!!! 3. Nog een fruitontbijtje in Portugal. 4. Lekkere zomerse bonen salade met volkoren penne erdoor (ik kan even geen pasta meer zien zeg, haha)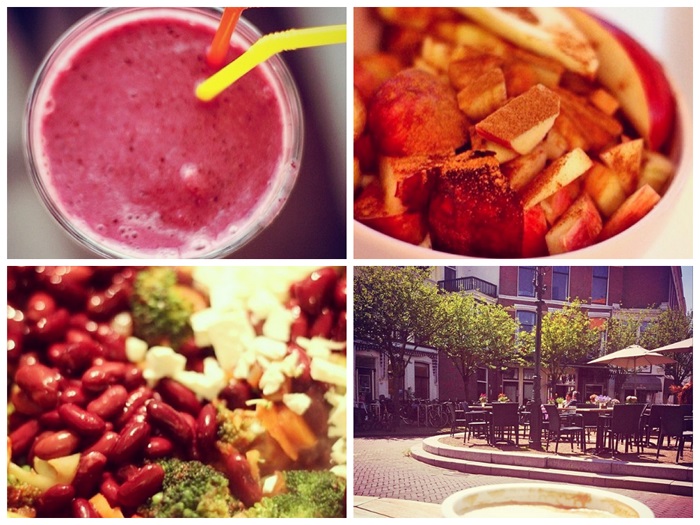 1. Smoothie! Deze keer met rode vruchten en yoghurt. 2. Fruit van de markt, wilde perziken met appel en daaronder zit nog wat kwark. Oja, en niet te vergeten: heel veel kaneel! 3. Allemaal restjes bij elkaar gegooid als maaltijd, lekker! 4. Met een vriendin een kopje koffie gedronken in de straat waar ik naar ga verhuizen, snappen jullie waarom ik zo blij ben? Haha echt een heerlijke buurt, midden in de stad!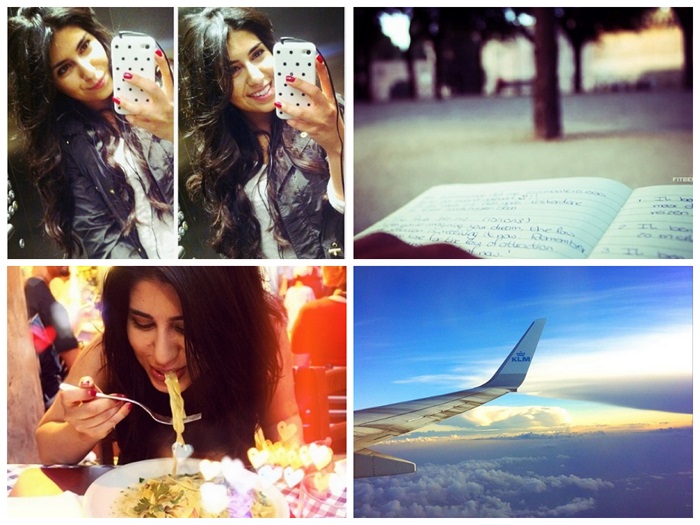 1. Klaar om naar Rome te gaan! Ik ging met een vriendin alleen ik was echt mega dom om de verkeerde vertrekdatum door te geven aan haar (ze woont in Amerika, dus ging allemaal via facebook berichten).. Zij vloog dus een dag eerder en ik vloog de dag erna.. Oeps. 2. Een half dagje alleen doorgebracht in het park met mn dagboek. Genieten a la Teni. 3. Pasta! Het eerste bord pasta in Rome, best lekker maar niet magisch ofzo.. haha. 4. Dit vind ik een van de mooiste gevoelens ter wereld.. De rust die ik voel als we hoog boven de wolken vliegen met een mooi muziekje in mn oren. Dan ga ik ik ineens dingen in perspectief zien ofzo. Soms moet je er dus echt "letterlijk" boven staan, haha.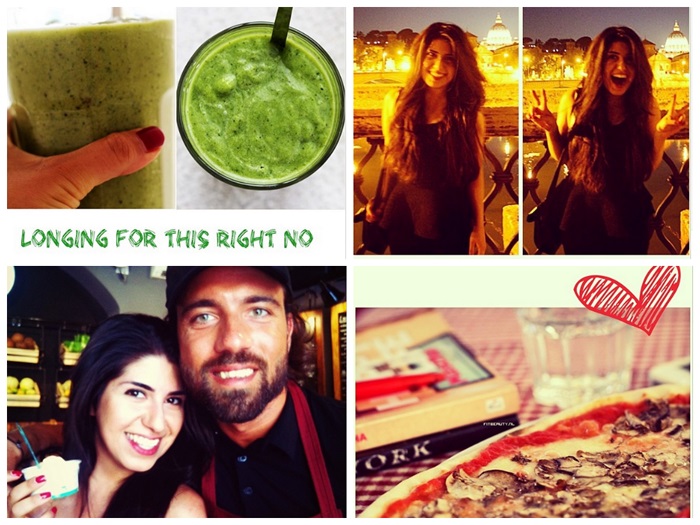 1. In Rome nog amper groente of fruit gegeten.. boo-hoo. Kreeg ineens mega veel trek in mn groene smoothie met spinazie. Ik moet echt mn lichaam goed gaan voeden als ik terug ben! 2. Maar, het is hier wel Prachtig! Dit is mn 2e keer in Rome en ik blijf het waanzinnig vinden. 3. Ik vroeg aan jullie of jullie nog gezonde tentjes kenden waar ik even aan mn groente-fruit kick kon komen. En ondertussen vond ik deze tent aT in Rome (hier komt een apart artikeltje over!). Ze hadden er WiFi en toen ik even mn instagram ging checken zag ik dat foodbeautypassion (foodbeautypassion) me dit tentje had geadviseerd.  SUPER TOEVALLIG! Want ik stond er dus al in 🙂 En geloof me, het is er echt super! Ik had hier een glutenvrij, lactosevrij, vegan ijsje. Als ik dit soort tentjes binnen ga vraag ik altijd of het oké is om veel foto's te maken van alles omdat ik een blog heb en er graag wat over wil schrijven. Anders staat het zo raar dat ik daar met mn grote camera foto's aan het maken ben van de schappen met sinaasappels haha. Tot nu toe vind iedereen het super cool en laat ik ook elke keer mn blogje achter en geef ik de datum dat het artikel online komt.
Deze man (Gabriel) heeft ons heel leuk geholpen en vertelde dat hij ook veel tijd in Nederland heeft doorgebracht. Lache! Maar daarover dus meer in het artikel zelf 🙂
4. De middag die ik alleen doorbracht heb ik ook even genoten van een pizza, natuurlijk. Haha.
Mocht je me willen volgen op Instagram, ik heet @Tenitje 🙂