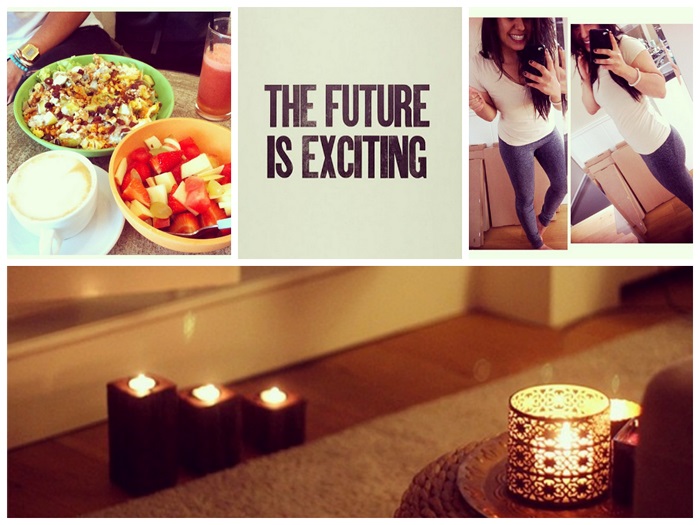 Instagram update! Veel gebeurd, veel gegeten, veel lol gemaakt en vooral veel om te delen!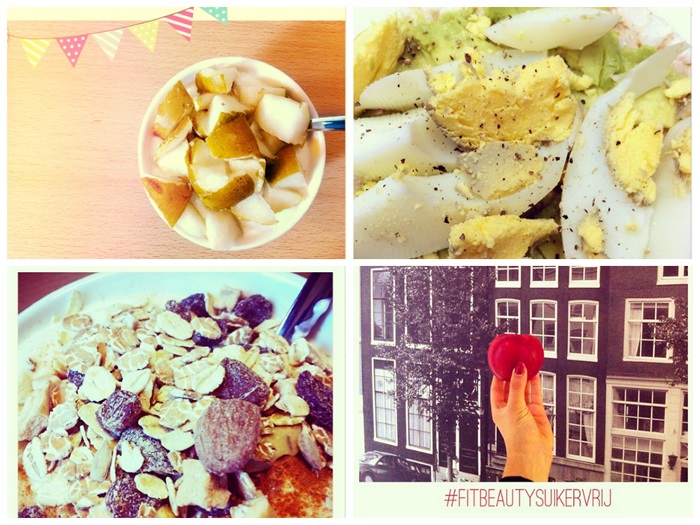 1. Snacken op het werk met kwark en een peer. Hier deed ik nog de suikervrije challenge. 2. Veel geluncht met een gekookt ei en rijstwafels, deze was met avocado erbij, jum! 3. Kwark en muesli en wat kaneel! 4. Appel was roooood! Moest er een foto van maken, haha.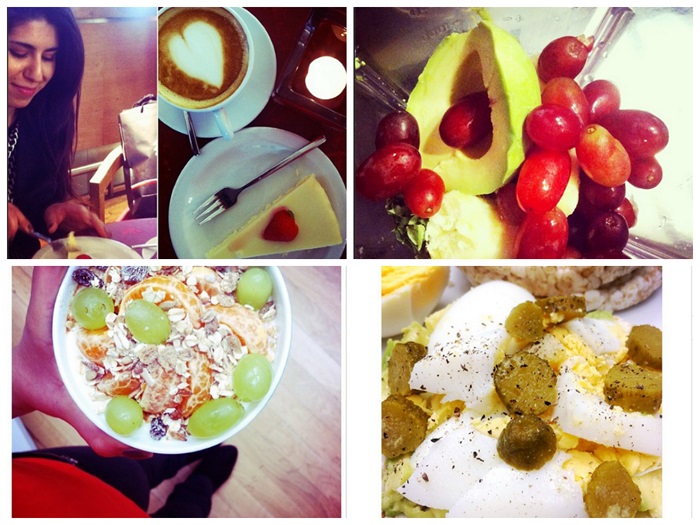 1. Suikervrije challenge zat erop en ik ging voor een stuk witte chocoladetaart! Met veel hoofdpijn daarna. 2. Smoothie time! Deze maakte ik toen ik wat haast had in de ochtend: boerenkool, banaan, druiven en avocado (en water). 3. Kwark met muesli, mandarijn en druiven op kantoor 4. Daar hebben we weer een lunch met rijstwafel, avocado, ei, augurk, peper en zout.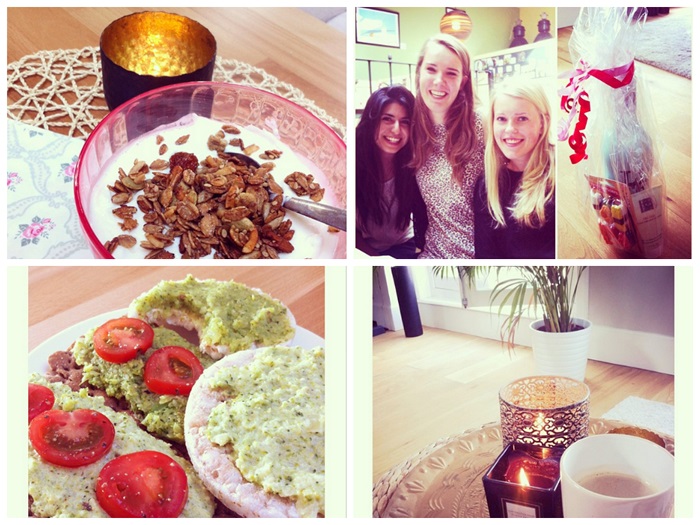 1. Word het al saai? Kwark met granola van de Marqt (zit basterdsuiker en honing in) 2. Twee meiden van een middelbare school (6 vwo) uit Hilversum hadden me gemaild met de vraag of ze me mochten interviewen voor hun profielwerkstuk, zo leuk! Ze zijn helemaal naar Den Haag gekomen om me te interviewen, vond het heel tof! En ze hadden nog een cadeau meegenomen ook; lief 🙂 3. Rijstwafels, crackers met de superlekkere broccoli spread! 4. Ochtendjes als deze 🙂 Op de bank met koffie en kaarsjes aan in de kamer.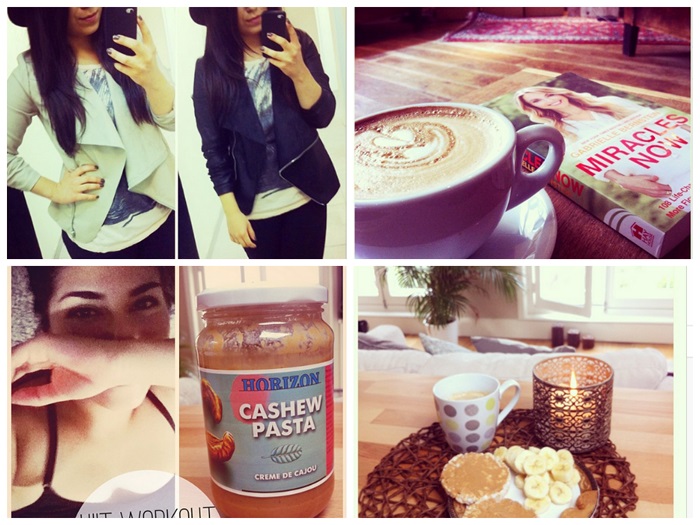 1. Shoppen! Ik kon niet kiezen dus heb aan jullie gevraagd welke ik moest nemen. Het is de zwarte geworden! Meeste stemmen gelden, haha. 2. Even ontsnappen aan de drukte in de stad door de Coffee Company in te duiken met een net gekocht boek en een cappuccino. 3. HIIT workout gedaan van Tone It Up! En cashew pasta gekocht bij de Marqt, ohhhhhhh hemel in een potje! 4. Ontbijt! Rijstwafels met cashew pasta, een banaan met nog wat cashewpasta (hehe) en koffie met amandelmelk.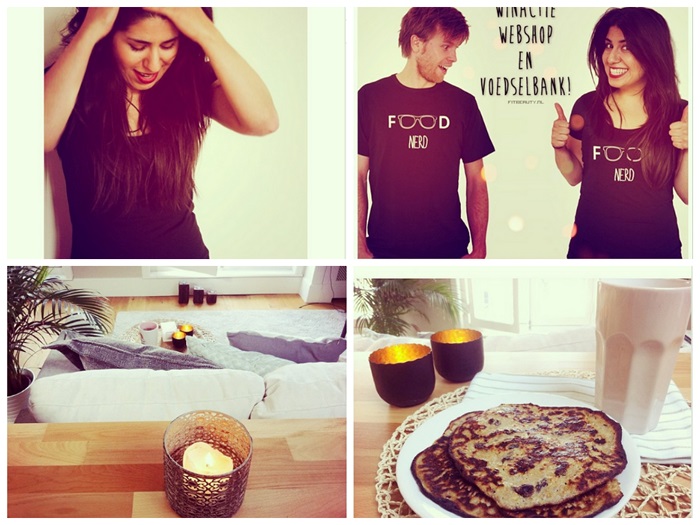 1. Op het werk, foto's maken voor het FOOD NERD t-shirt! 🙂 2. Zo blij met de shirts! Je kunt ze nog steeds bestellen met de kortingscode HIPBEAUTY (gaat 5 euro af) én er wordt sowieso 5 euro van elke aankoop gedoneerd aan de voedselbank. 3. Ik ben gelukkig met hoe mn huisje langzamerhand één geheel wordt. Ohhhh ik voel me hier zo gelukkig! 4. banaan ei pannekoeken!!!!!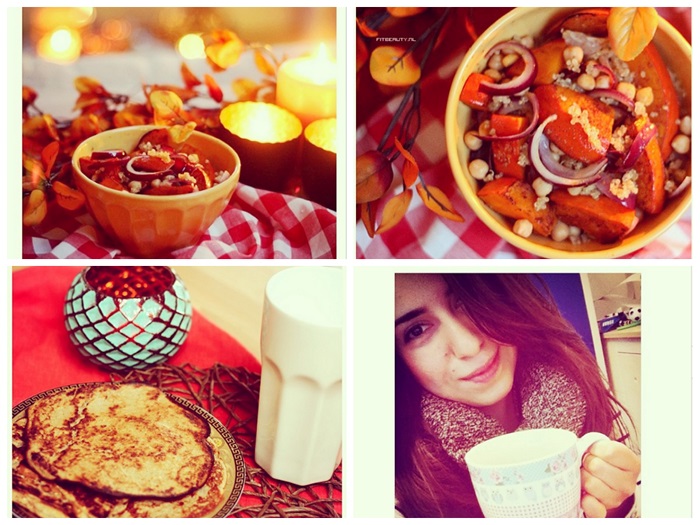 1. Pompoen quinoa gemaakt 🙂  2. Helemaal in de herfst stemming, ik houd van dit seizoen. 3. Daar zijn weer de banaan-ei pannekoeken 🙂 Hmmm.. 4. Op het werk met een grote mok thee. Je ziet hier al dat ik steeds vermoeider raak, haha. Weinig slaap de afgelopen weken!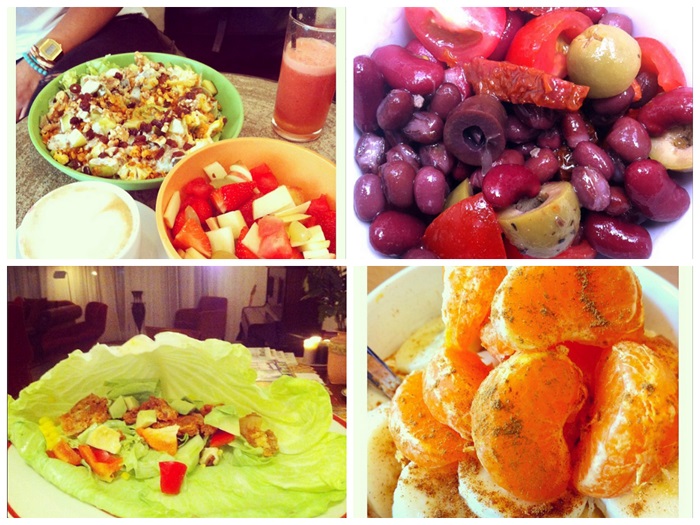 1. Bij Venkel gegeten in Amsterdam met dailymary_ ! 2. Bonen salade 🙂 3. Bij mn moeder in Utrecht logeren met als avondeten: sla wraps! Wat een gezellig huis is het toch ook! 4. Op het werk, met kwark, mandarijn en kaneel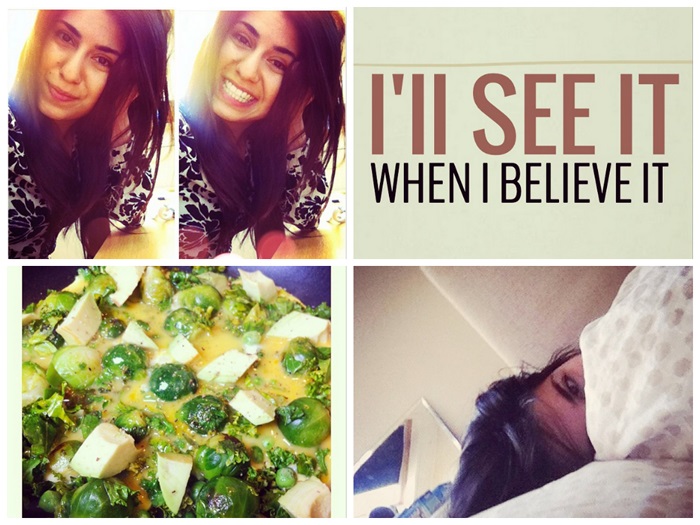 1. Haaaaai.. ! 2. Ik houd van deze quote! Eerst geloven, en dan verschijnt het. Hehe 🙂 3. Keiharde workout gehad, daarna deze maaltijd gegeten: 2 eieren, doperwten, boerenkool, spruitjes en avocado. 4. Na een ontbijt ben ik toch weer mn bed in gedoken, zo moe. Vampire Diaries gekeken (nieuw seizoen is weer begonnen! Damon <3)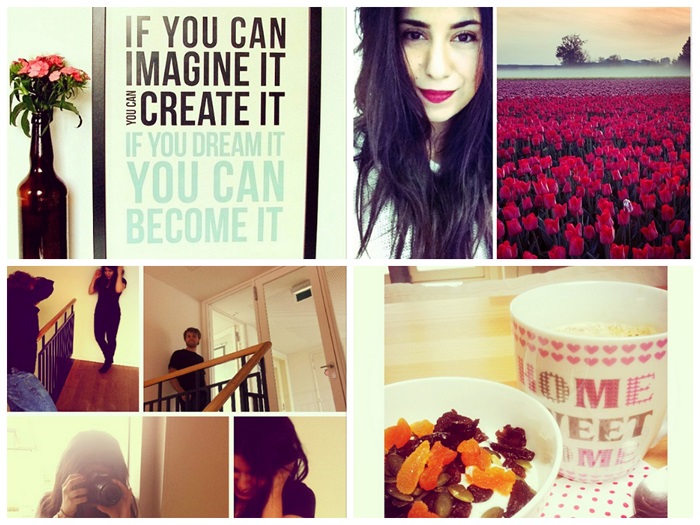 1. Komt overeen met de vorige quote 🙂 I love it. 2. Dit was een speciale dag voor mn moeder broer en mij, het was namelijk precies 20 jaar geleden dat we naar Nederland waren gekomen. Ik kan me niet voorstellen hoe mijn leven eruit had gezien als ik hier niet was opgegroeid, super super super dankbaar voor alle kansen die ik heb gekregen. Nederland: i love you! 3. De dag waar we hard hebben gewerkt aan de webshop van Byte! 4. Kwark met gedroogd fruit en pompoen pitten en een grote mok koffie!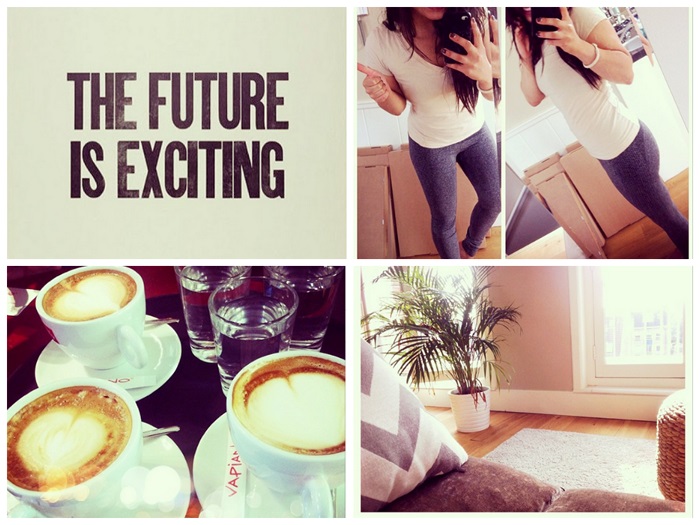 1. Dit was een goede dag waarbij ik veel zin had in alles wat nog ging komen! 2. Ik kocht een nieuwe sportlegging bij de H&M en ik voelde toch dat mn lijf wat strakker was geworden, HOERA!!!!!! 3. Met twee supertoffe vriendinnen een girlsnight bij Vapiano's in Amsterdam. 4. Moe, gewoon moe aan het zijn op de bank. haha.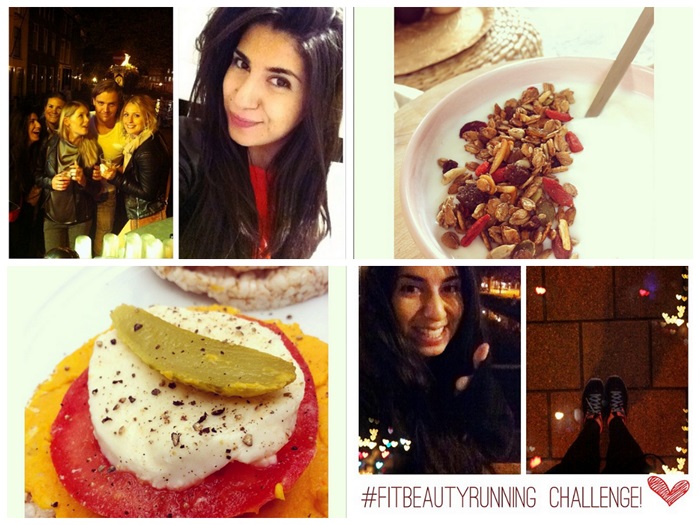 1. Leids ontzet! Voor het eerst bij geweest, leuk! Ik was met mijn vriendinnen van Voeding&Diëtetiek, en toen we nog op school zaten, was er 1 jongen in onze klas (tussen verder alleen maar meisjes, haha) en die werkte toevallig in een tentje, dus we moesten hem natuurlijk even opzoeken! Was lang geleden dat we hem hadden gezien en gesproken 🙂 2. Aaah die granola's van de Marqt zijn zó lekker! 3. Creatief met eten haha: pompoenhummus op een rijstwafel, met tomaat, mozzarella en een augurkje. 4. Dag 1 van de #fitbeautyrunning challenge was een feit! 5:30 opgestaan en erop uit!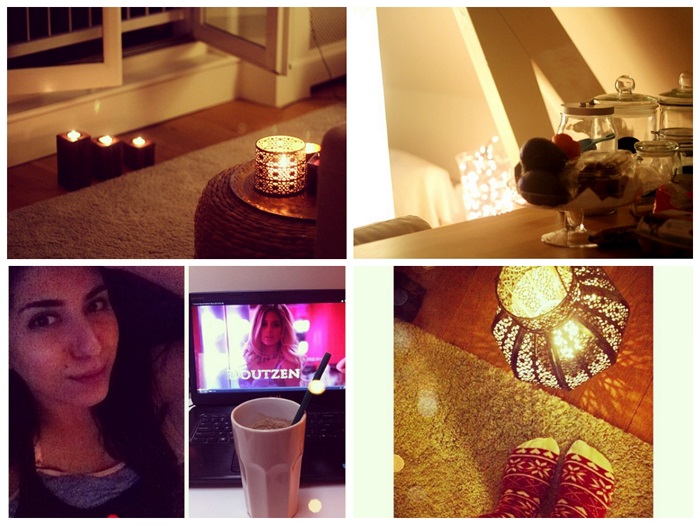 1. Had ik al gezegd dat ik dol ben op mn huisje? Het heeft zoveel sfeer en karakter 🙂 2. Kleine glimps van de keuken met allemaal potten. 3. Eerst de Victoria's Secret Fashion Show (2013) gekeken, daarna workout! 4. Ik heb zin in de kerst zoals je ziet!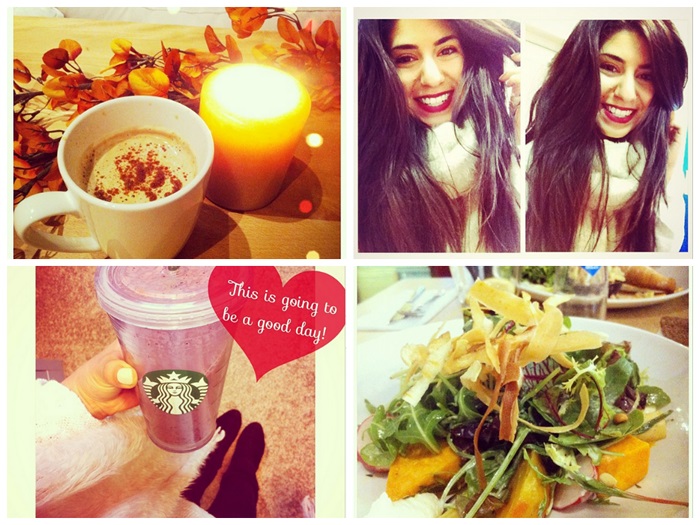 1. Vroeg! Tijd voor koffie met een beetje kaneel. 2. Hallooooo wallen! Haha 3. Smoothie in mijn Starbucks meeneembeker 4. Afspraak voor werk buiten de deur, heel lekker geluncht bij het NRC cafe in Amsterdam.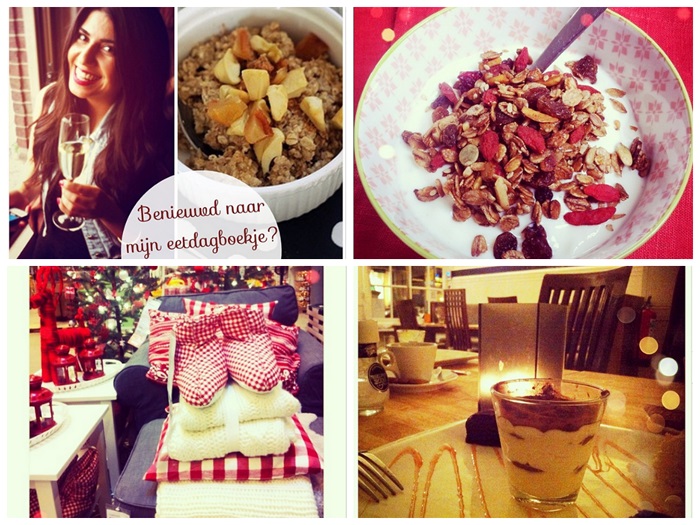 1. Twee random dagen bijgehouden wat ik heb gegeten voor Reny's site; mindyourfeed.nl . Het kan zijn dat je het weinig vindt, het kan zijn dat je het veel vindt, onthoud dat het maar 2 dagen zijn en dit niet direct een perfect beeld geeft van iemands voedingspatroon. Check desnoods de comments op facebook bij deze post als het heel weinig lijkt in eerste instantie. Daarnaast hoop ik toch echt dat het gezien wordt als iets leuks om te lezen en ideeën uit te krijgen en niet om direct te oordelen over of iemand iets goed/fout doet wat betreft eten 🙂 2. Same old, same old! 🙂 3. IKEA IK HOU VAN JE! Kerst afdeling! 4. Met mn moeder en broer uit eten geweest bij Ampersand in Haarlem. Oh jongens, dit restaurant is 100% wat voor mij en ook voor jullie, ik heb er heel veel foto's over gemaakt en meer dan drie kwartier met de eigenaar lopen praten, het is zó bijzonder. Binnenkort een heel artikel over dit resaurant!
Mocht je me willen volgen op Instagram; leuk! Ik heet @Tenitje .. Omdat ik Teni heet en klein ben 🙂 Haha.