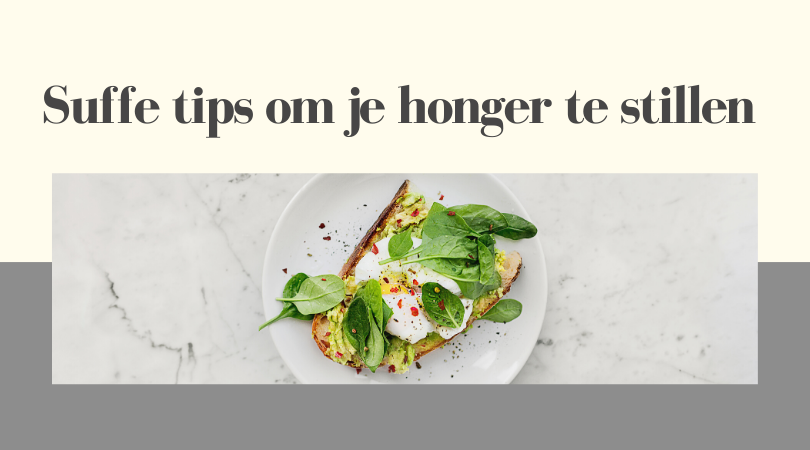 Zijn er manieren om de honger op een gezonde manier te stillen? Is dit überhaupt wel een gezonde vraag om te stellen?
Heus wel, maar de context waarin je deze vraag stelt is wat het belangrijkste is. Vandaag deel ik je 4 manieren om de honger te stillen, maar dit zijn wel wat suffe ideeën, be prepared.
Dit is deel 2 van deze reeks, lees hier deel 1 over het stillen van je honger.Let op: vandaag heb ik voornamelijk 'b-onderzoeken' gebruikt. In deel 1 ga ik in op de tips die met mooi onderzoek onderbouwd zijn, in dit deel heb ik het over de gekke en aparte tips die eerder interessant zijn om uit te zoeken maar niet keihard nagevolgd dienen te worden. Snap je wat ik bedoel? 😉
1. Eet gember
Jazeker! Gember is gelinkt aan zoveel gezondheidsvoordelen waaronder het verminderen van (1)(2)(3)(4):
een misselijk gevoel
spierpijn
ontstekingen
suikerspiegel schommelingen
En daar kunnen we, volgens recent onderzoek, ook nog het volgende aan toevoegen: verminderd hongergevoel.
Dit onderzoek laat zien dat het nemen van 2 gram gemberpoeder opgelost in heet water tijdens je ontbijt je hongergevoel ná de maaltijd kan verminderen (5).
Maar let wel, dit is een klein onderzoek wat slechts een indicatie laat zien. Ik vond het de moeite waard om te benoemen omdat gember sowieso erg goed voor je is – dus what's the harm, wetende dat teveel nooit goed is.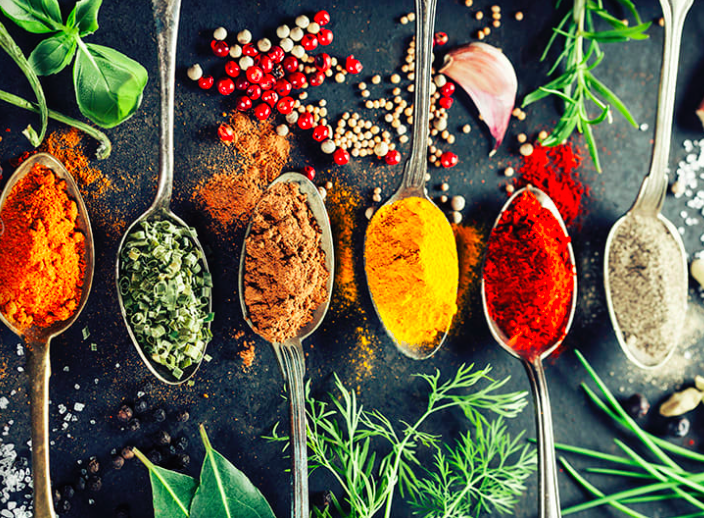 2. Eet met een grotere vork
De grootte van je bestek heeft meer invloed dan je denkt. Uit het volgende onderzoek bleek dat mensen die een grotere vork gebruikten 10% minder aten dan de mensen die een kleinere vork gebruikten (6). Whaaat!
De onderzoekers vermoeden dat een kleine vork niet echt helpt bij een verzadigd gevoel omdat je telkens een mini hap binnen krijgt, waardoor je uiteindelijk meer blijft eten.
Best gek, toch? Ik zou juist denken dat omdat je er langer over doet je juist sneller vol zit.
Dit effect bleek echter niet het geval te zijn als het om ander bestek ging dan een vork. Een grotere lepel bleek namelijk juist het tegenovergestelde effect te hebben, mensen aten gemiddeld 14,5% meer per maaltijd (7).
3. Gebruik kruiden en specerijen
Gember was niet het enige. Het volgende onderzoek keek naar de effecten van capsinoïden, die voorkomen in hete pepers maar ook in zoete pepers (8),  op je verzadigingsgevoel. Wat bleek? Deze stofjes hielpen bij het verminderen van honger en verhogen van een vol en verzadigd gevoel.
Omdat ze ook wat hitte creëeren in je lijf zou het kunnen dat je ietsjes meer calorieën verbrandt na een maaltijd, maar dit moet nog veel beter onderzocht worden (8). Let wel, hoe toleranter je wordt tegen pittig eten, hoe minder dit effect meespeelt.
4. Eet van kleinere borden
Wel kleine vorken, geen kleine lepels en ook weer wel kleinere borden. Poeh. Ik zou eigenlijk zeggen: doe lekker wat je zelf wilt met je borden en je bestek want deze mini dingen gaan niet het uiteindelijke verschil maken in hoeveel je afvalt of aankomt.
Maar ik moet het toch benoemen, vooral deze tip met de borden omdat ik dit al jaren doe.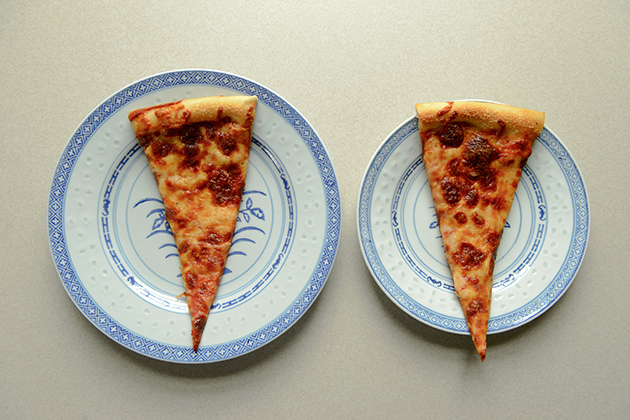 De grootte van je bord veranderen – als in: wisselen voor een kleiner bord, niet je bord door midden breken – kan je onbewust helpen bij het verkleinen van je porties. Hierdoor eet je zonder dat je het echt door hebt minder zonder dat je het gevoel hebt dat je 'weinig' eet omdat je bord vol ligt (9), het is alleen een kleiner bord.
Het interessante is dat dit effect zelfs de super-bewuste-eter erin kan luizen.
Uit het volgende onderzoek bleek dat zelfs voedingsexperts onbewust zichzelf 31% méér ijs serveerden wanneer ze een groter bakje kregen (10). Dat vind ik nog eens interessante data!
Uit onderzoek blijkt dat wanneer je meer op je bord hebt liggen, de kans groot is dat je dit eet zonder dat je het je realiseert (11) !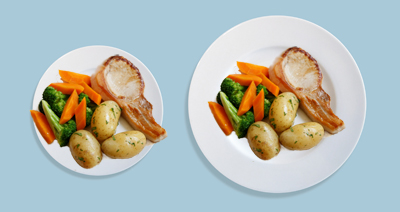 Ik moest natuurlijk eindigen met een iets gegrondere tip!
Wie van jullie eet al van kleinere borden? Ik ben iemand die van eten houdt en door wat trucjes hier en daar zichzelf erin moet luizen om wat minder te eten. Een kleiner bord helpt me al jaren! Wie doet dit nog meer?