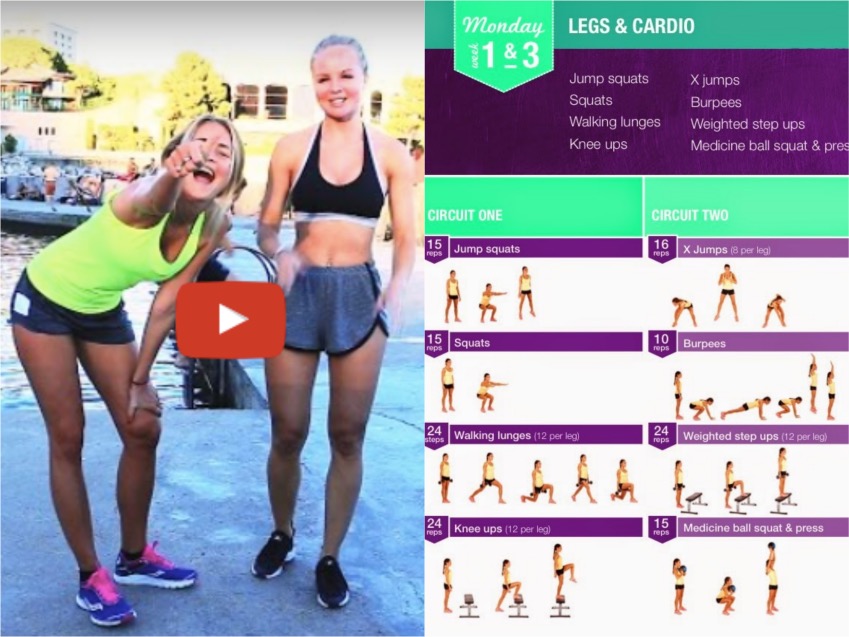 Het is alweer een lange tijd geleden dat ik een workout routine of iets dergelijks heb gedeeld met jullie. Ik heb namelijk geen vaste routine en om de twee à drie weken raak ik verveeld en wil ik wat anders doen. Een aantal workouts die ik op dit moment doe deel ik vandaag met jullie!
40-30-20-10
Deze eerste sessie komt van een video van Alexandra Bring. Een Zweedse Instagrammer die ik al járen volg en ineens zag ik een YouTube video bij Janni (volg ik sinds kort ook op YouTube, naast Instagram) waar Alexandra ook in voorkwam: "Wat leuk! Ze kennen elkaar!" Dacht ik toen. Daarna zag ik dat Alexandra ook zelf is gestart met een YouTube kanaal waar ze in een van haar videos samen met Janni een workout sessie doet. Ze legt uit wat de bedoeling is en op dat moment denk ik alleen maar: DIT WIL IK OOK DOEN!
Het ziet er simpel (als in, geen ingewikkelde bewegingen) en effectief uit! En nu ben ik verslaafd aan de 40-30-20-10 sessie, je kunt het met verschillende oefeningen doen als je wilt en in totaal kom je dus uit op 100 reps per oefening! Hieronder de video, en daaronder de workout opties die ik heb gedaan
[wpdevart_youtube]B1lxO53VtNo[/wpdevart_youtube]
De huidige workout is:
Step-ups
Hands to toes
Jumping squats
Ab press
Optie 2:
Step-ups

Russian twist

 met eventueel gewichtjes in je handen (ik doe 3kg per hand)
Squat
Deze variant is minder zwaar vind ik, omdat je niet de jump squats hebt maar de gewone. En Mountain climbers worden voor mijn gevoel pas zwaar na de 30-40, aangezien deze workout begint met 40 en daarna minder wordt, vind ik dit een lichtere combinatie aan oefeningen.
5 minuten Billen & Benen
Het bewijs dat je in 5 minuten keihard je benen en billen in vuur en vlam kunt zetten door een workout. Ik denk van te voren vaak; hoeveel zijn nou 5 minuten van je leven Teni? Dit kun je makkelijk even tussendoor doen, totdat ik er middenin zit.. Ai. Maar super effectief dus! 5 minuten = geen excuusjes 😉
[wpdevart_youtube]afghBre8NlI[/wpdevart_youtube]
De helft van Kayla Itsines
De meeste mensen kennen Kayla Itsines vast wel! Met haar 5,7 miljoen volgers op Instagram moeilijk te missen op social media! Anderhalf jaar geleden bestelde ik ook haar workout guide en ik moet zeggen: Dit is waanzinnig! Het is een vrij simpel concept maar meer dan logisch dat dit je ontzettend fit en sterk gaat maken als je het 3 x in de week doet.
Zoals ik eerder zei raak ik snel verveeld met vaste routines dus doe ik sporadisch een workout van haar guide. Het enige is wel, dat het 28 minuten lang flink afzien is. Ik vind het soms ZO zwaar dat ik bij de gedachte ervan geen zin heb om te beginnen. Wat me dan helpt is om de helft van zo'n workout te doen, ineens voelt dat wel te doen: 14 minuten. Wat is nou een kwartiertje van mn leven? Denk ik dan weer.
Het concept ziet er als volgt uit:
Routine 1:
oefening 1 keer x
oefening 2 keer x
oefening 3 keer x
oefening 4 keer x
timer van 7 minuten aanzetten en achter elkaar door de oefeningen met de bijbehorende reps (x) tot de 7 minuten gevuld zijn. Dan houd je een pauze van maximaal 1 minuut en ga je door naar Routine 2 met 4 andere oefeningen met bijbehorende reps. Ook weer voor 7 minuten. Normaal gesproken herhaal je dit nog een keer waardoor je in totaal 28 minuten je in het zweet hebt zitten werken, maar om de drempel soms te verlagen doe ik alleen de helft. 2 x 7 minuten dus en ook met mijn eigen combinatie aan oefeningen. Bijvoorbeeld:
Routine 1:
Burpees

x 10

Walking Lunges

x 24 (12 per been), eventueel met gewichtje vast (ik doe 3 kg per arm)
Squat x 15

Kettlebell swing

x 10
Routine 2:
Jump squats x 10
Deadlift met dumbell x 15  (ik doe 3 kg per arm)
Curtsy lunge x 20 (10 per been)
Step ups 20 (10 per been)
Het kan natuurlijk zijn dat je geen kettlebell of gewichtjes hebt, daarom is het fijn dat je met zo'n schema alles kunt aanpassen en oefeningen kunt vervangen met andere. Zo heb ik er een workout voor mijn benen en billen van gemaakt, maar je kunt je ook focussen op je bovenlichaam of juist verschillende oefeningen doen voor het gehele lijf. Helemaal je eigen keuze dus!
Hopelijk heb je hierdoor weer wat inspiratie op gedaan om wat nieuws te proberen of af en toe een andere (korte) workout mee te pakken! 🙂