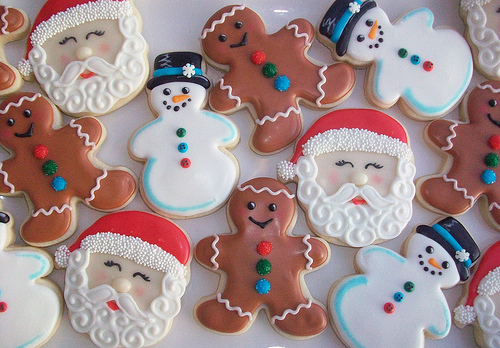 Het is bijna kerst!! De meeste mensen hebben vooral zin in kerst omdat er dan een excuus is om heerlijk lekker en veel te eten. Ik hoor niet tot die groep mensen. Ik maak me zorgen en wel weken van te voren.  Ik kan voor mijn gevoel niet starten met een nieuw workout schema, omdat de kerst eraan komt. Of met een nieuwe voedingschallenge want de kerst zit ertussen. Zucht. Het is zien te overleven tot de kerst is afgelopen en dan maar zien hoe erg de schade is.
Vergis je niet, ik vind kerst ontzettend leuk en gezellig. Maar al dat eten dat erbij komt kijken, maakt me een beetje bang. Hoe ga ik me beheersen? Juist daar heb ik wat op bedacht!
Ik heb alvast een menu samen gesteld voor morgen tot aan het avondeten. Het avondeten is bij mijn moeder thuis en daar heb ik geen controle over (en dat hoeft ook niet). Overdag ga ik extra goed op mijn eten letten zodat ik in de avond ten eerste niet zo'n honger heb dat ik meteen aanval en ten tweede rustig lekker kan eten zonder dat ik veel te veel calorieën binnen krijgen en met een schuldgevoel de avond afsluit.
Goed, en dan nu op naar mijn samengestelde menu! Dit heb ik gedaan aan de hand van wat ik in huis heb deze dagen:
Ontbijt
volle yoghurt + 1 eetlepel Griekse yoghurt gemengd in een schaaltje (door een eetlepel Griekse yoghurt wordt het hele mengsel super lekker!)
twee eetlepels zelfgemaakte cruesli (muesli + honing + noten –> in de oven)
Tussendoortje 1
Kopje koffie met sojamelk en een theelepel honing

Tussendoortje 2
1 gekookt ei
1 rijstwafel met pindakaas
Lunch
couscous salade met gebakken uitjes en rozijnen
Tussendoortje 3
handje noten 
mandarijn
kopje thee
En dan dus op naar het avondeten, toetjes, koekjes en andere lekkernijen!
Ik eet inderdaad mijn tussendoortjes af en toe een beetje vreemd. Dat komt omdat ik graag koffie drink in de ochtend, maar dit liever niet op de lege maag doe en ook weer niet met mijn ontbijt wil drinken. Daarom drink ik het een uurtje later ongeveer.
Ik hoop dat het me lukt om dit voor morgen aan te houden. Christmas, here i come!
Bewaar, Like, Tweet of Pin!