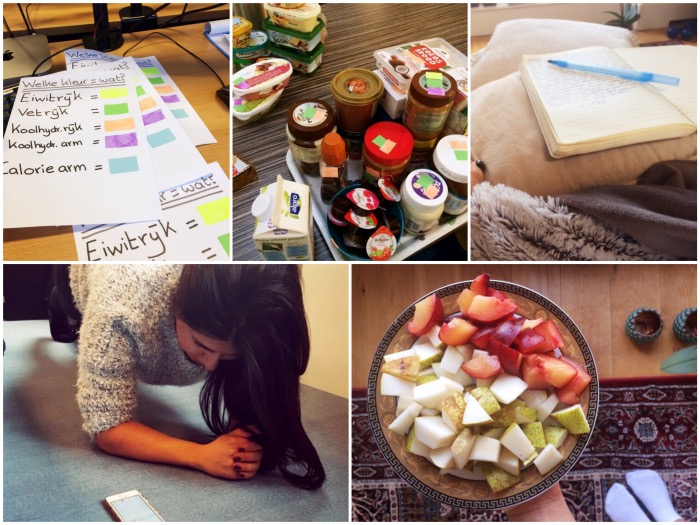 En er is opnieuw een week voorbij! Jeetje wat gaat het snel, voor je het weet is het zomer. Haha. Ik moet zeggen dat de afgelopen weken echt relaxt waren voor mijn doen. Geen gehaast van afspraak naar afspraak, event naar event maar werken, koken, sporten en enigszins op tijd naar bed. Wel een extra toevoeging de afgelopen week; planken op kantoor!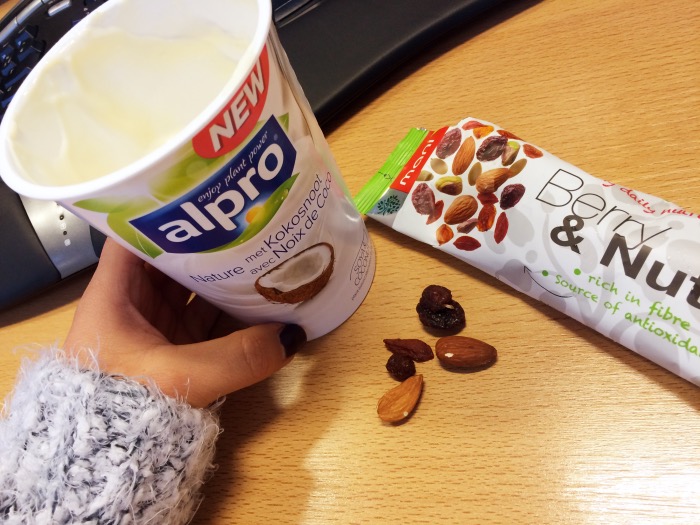 Geen haast met afspraken, maar wel als ik naar kantoor moet in de ochtend en ik niet echt een lunchbakje klaar heb liggen. Zakje nootjes mee, yoghurt mee en klaar.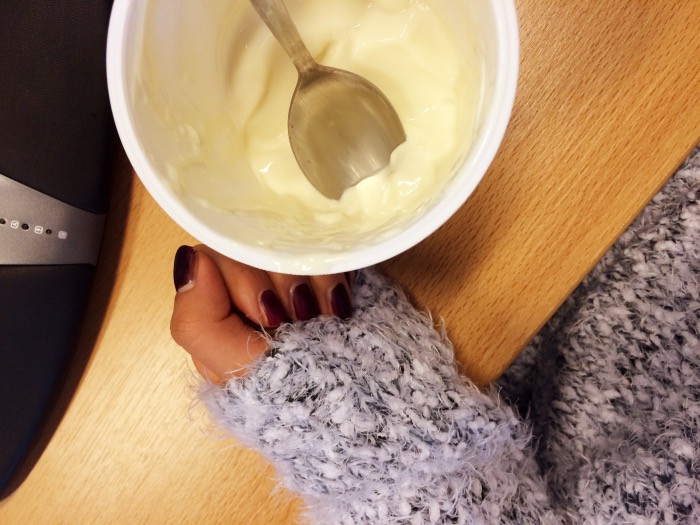 In de meest comfortabele trui ever.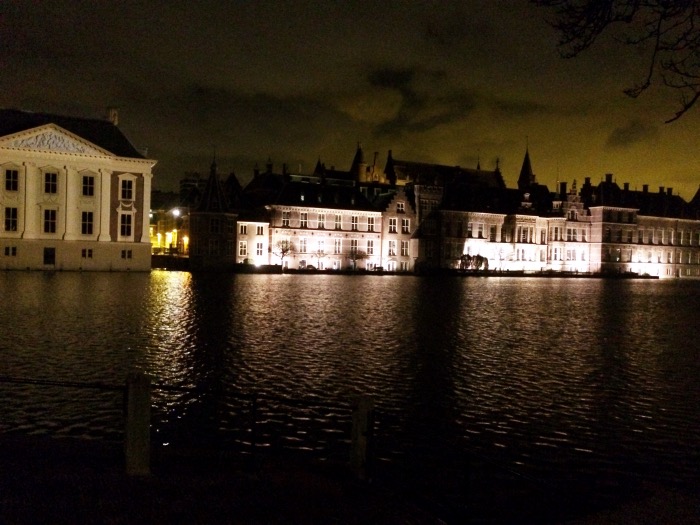 De vroege hardlooprondjes zet ik nog door, zolang het niet regent. Eigenlijk bevalt het me heel erg goed, ik ben toch al wel wakker in de ochtend en het kleine rondje dat ik doe, doe ik echt op mijn gemak waardoor het meer een "alles even op een rijtje zetten" rondje is in plaats van een keiharde workout. Heel erg fijn.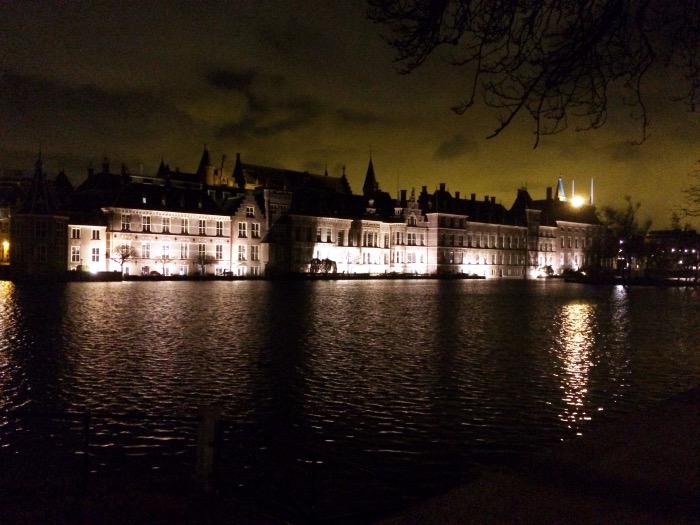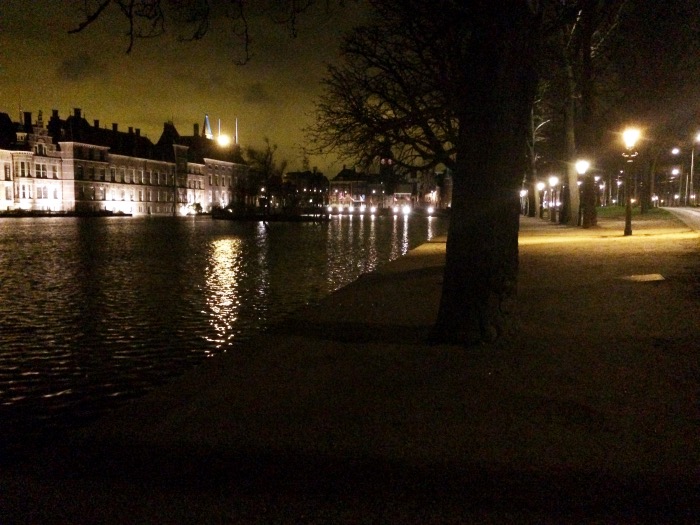 Een van mijn favoriete stukken van Den Haag 🙂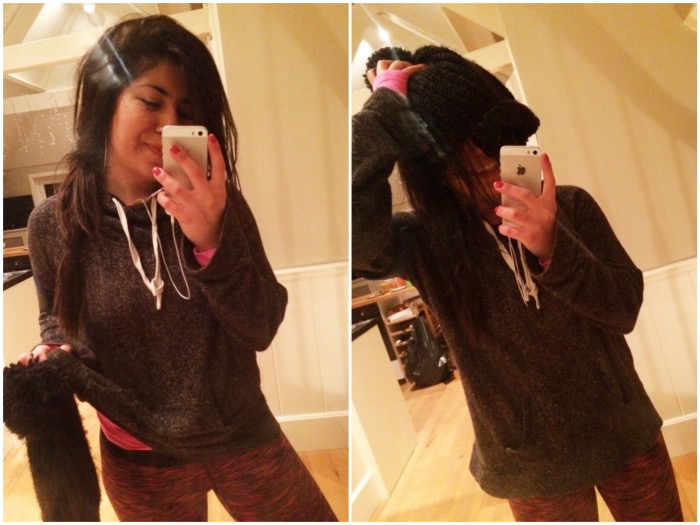 Mijn hoofd als ik terug ben van het hardlopen, 6:00 uur. Haha.
Ik kwam dit tegen en vond het zulke leuke truien voor vaders en hun zoontjes. Ik smolt helemaal. "Ou Le Wappeur" (oelewapper), "Qua Jounge" (kwajonge), en "Snoupcont" (snoepkont). Dit moet ik hebben later, haha.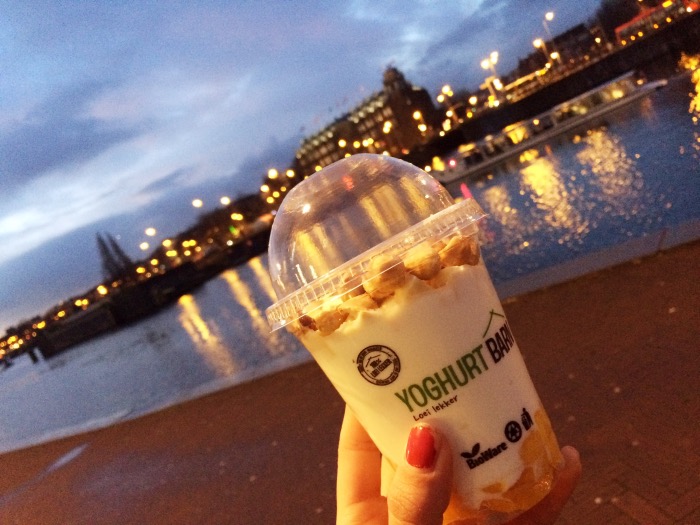 Een keer geen hardlooprondje in de ochtend maar extra vroeg naar kantoor, Amsterdam. Zo fijn dat de Yoghurt Barn op Amsterdam Centraal al vanaf 7:00 uur open is!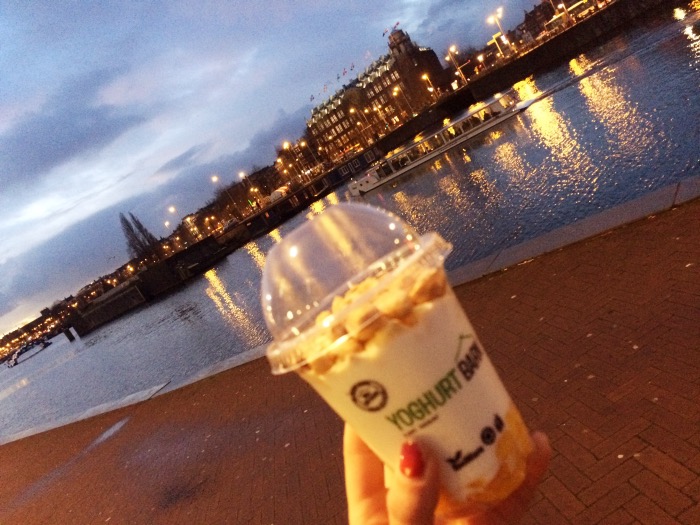 Kwam een bootje langs, die wilde ik even op de foto zetten. 🙂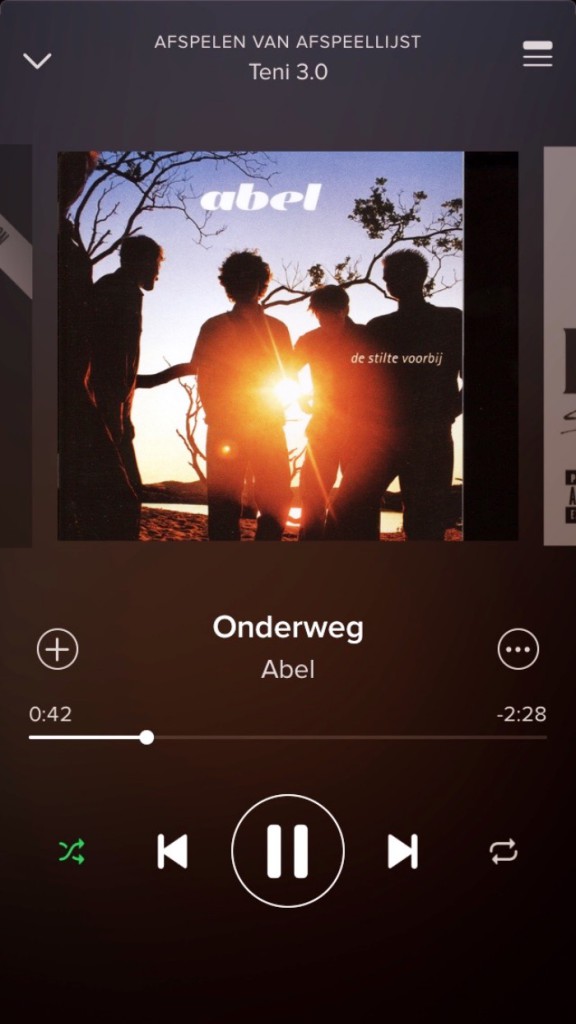 Dit blijf ik een van de mooiste Nederlandstalige nummers ooit vinden. Toen het net uit kwam was ik verliefd op een jongen en die stuurde me toen dit liedje en zei; "Als dat stukje komt van 'je zwarte haren en je lach' dan moet ik aan jou denken"..  Jep, ik smolt. Haha.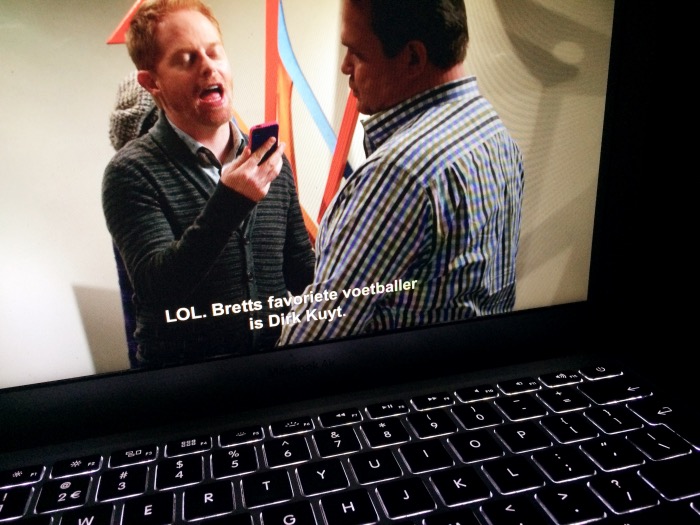 Verbaasd over hoe goed de ondertiteling is gedaan bij Modern Family! Heel creatief gezocht naar een Nederlandse manier om hetzelfde grapje over te brengen, nice job!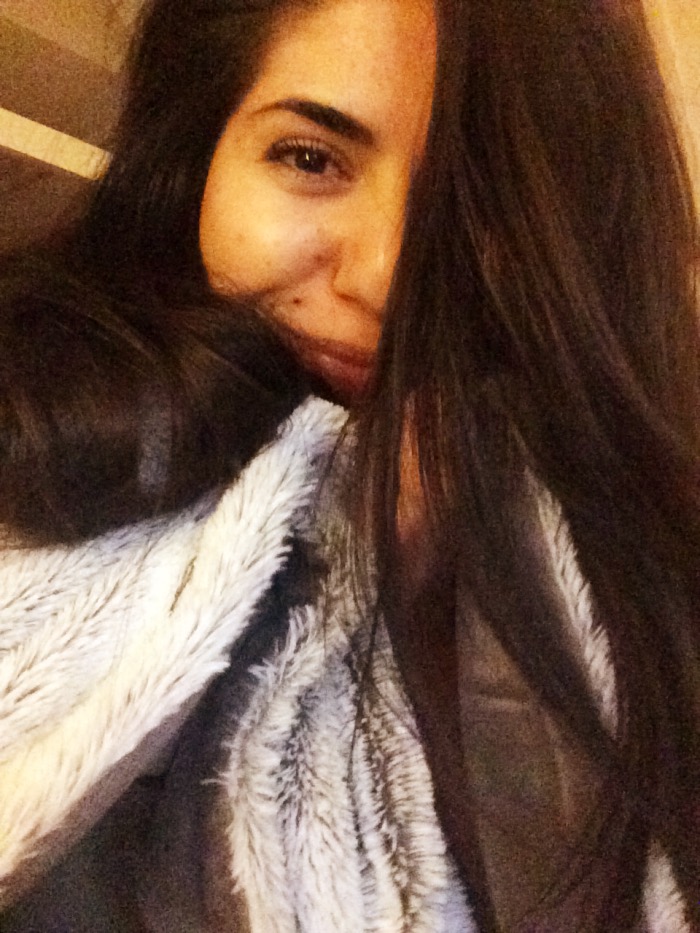 Onder een dekentje, op de bank.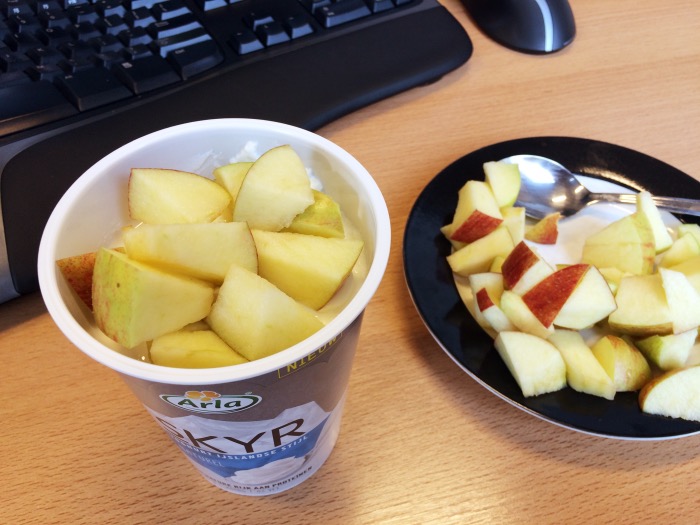 Yoghurt met fruit is echt wel mijn ding. En Skyr vind ik super lekker.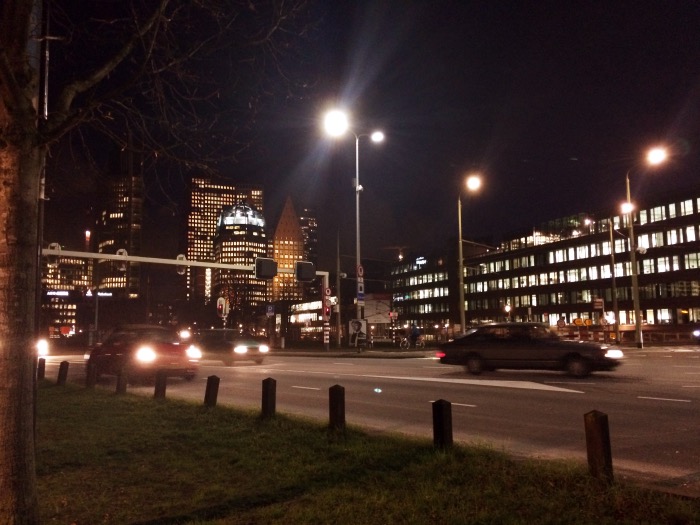 Hoi Den Haag tijdens de spits!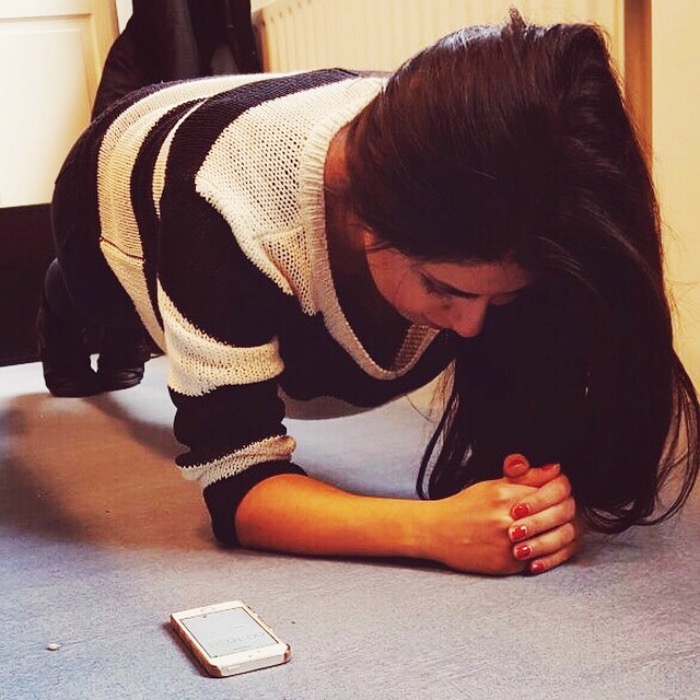 Planken op kantoor! Ik maakte met mezelf de deal om 5 keer per kantoordag 1 minuut te planken. Soms worden dat 2 minuten en heel soms 3. Doordat Lianne naast me zit krijg ik steeds de reminder om te planken. Zo besef ik me niet om 5 uur dat ik nog 3 keer moet planken, maar gaat het wat geleidelijker over de dag. Dus, thanks Li!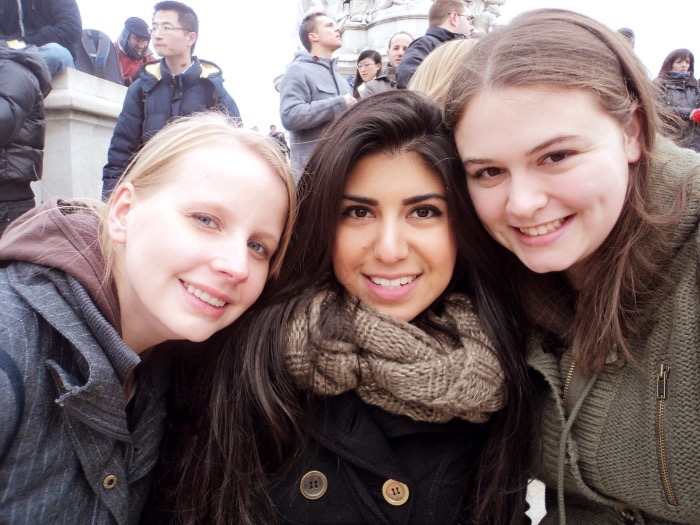 Ik kwam deze foto tegen van een aantal jaren terug, verbaasd over hoe jong ik eruit zie! Haha. Onschuldig hoofd.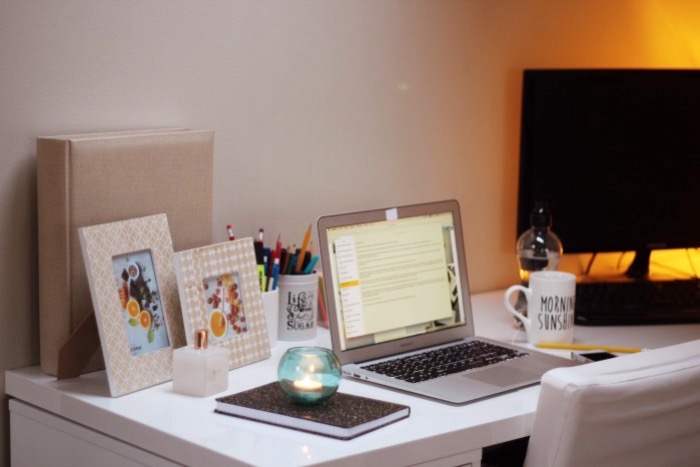 Maandagmorgen, aan het werk.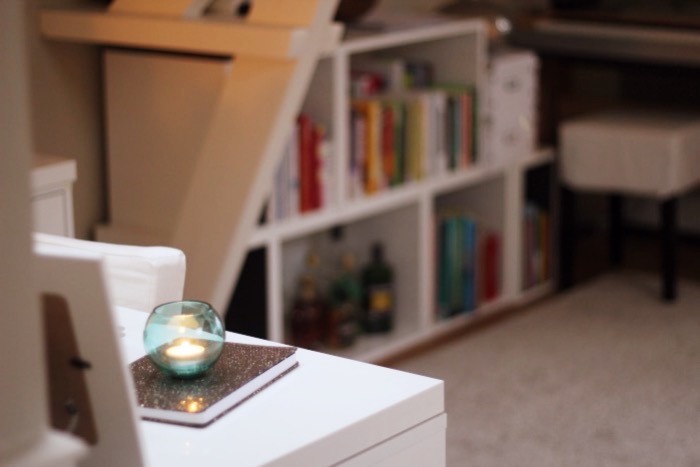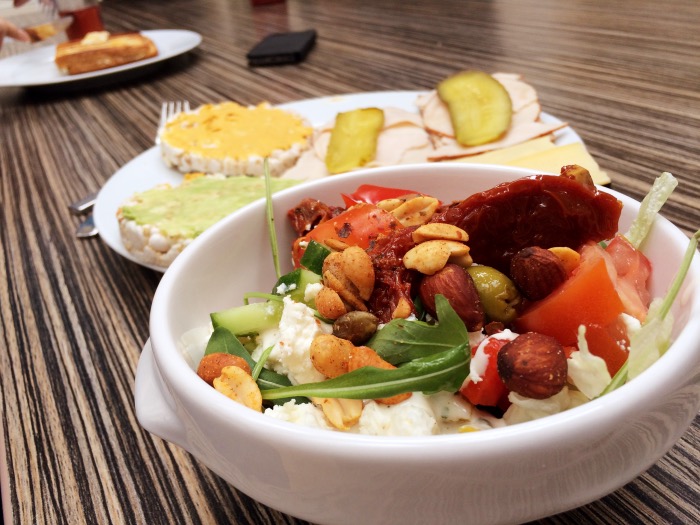 Salades op kantoor zijn geweldig 🙂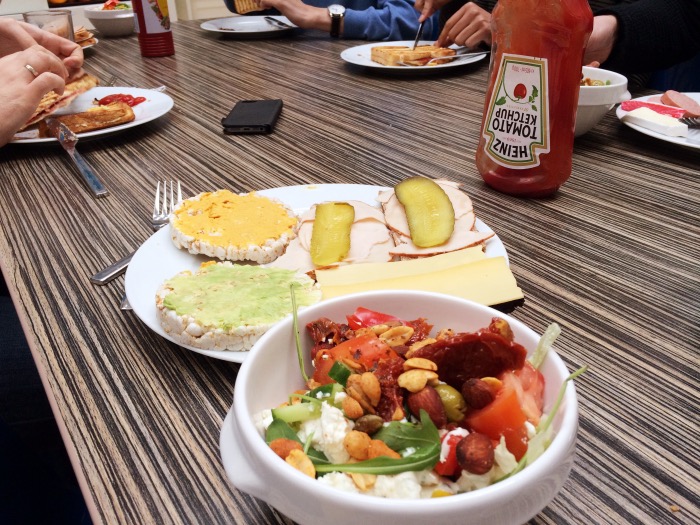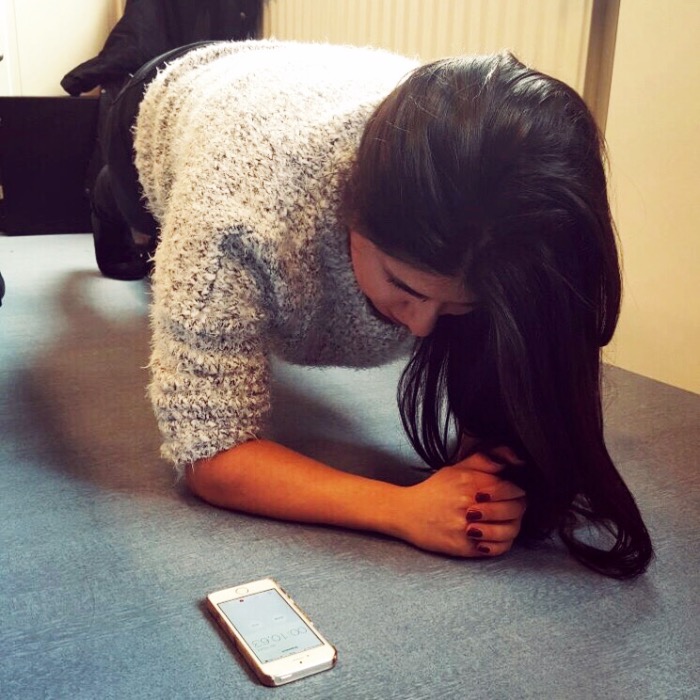 Daar gaan we weer.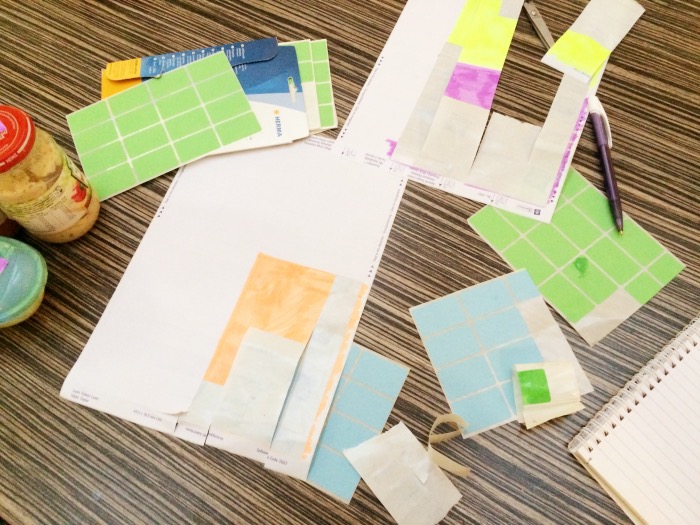 We hebben elk kwartaal "gezondheidsweek" op kantoor. En natuurlijk heb ik me aangemeld om in het team te zitten die nadenkt over de nieuwe leuke dingen die we in die week gaan doen. Deze keer kwam ik met het idee om al onze lunchartikelen te labelen met stickers. En dan niet "goed" of "fout", maar met dingen als "eiwitrijk", "koolhydraatarm" of "caloriearm" zodat alles in principe goed is, zolang het in jouw doel past. Dus is je doel om meer eiwitten binnen te krijgen? Dan volg je makkelijk 1 kleur.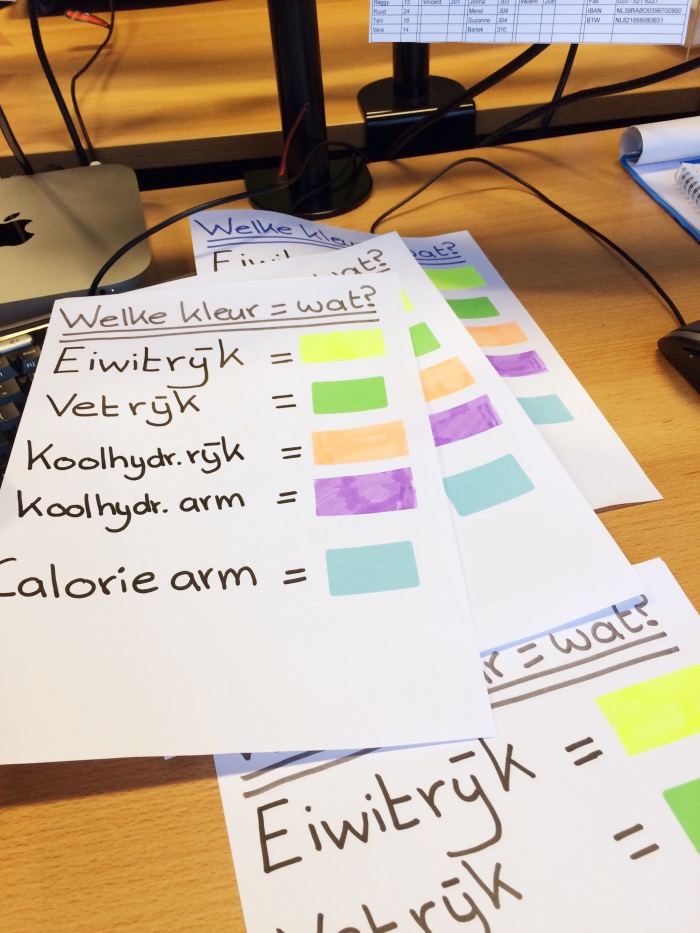 Ik probeerde dus rood en groen te vermijden, nu hadden we wel groen maar die heb ik dan weer gekoppeld aan vetrijk zodat je geen associatie hebt met de kleur in combinatie met het product.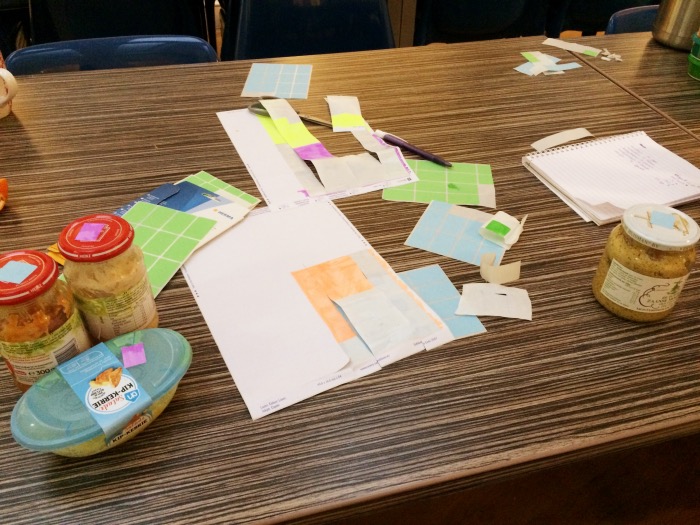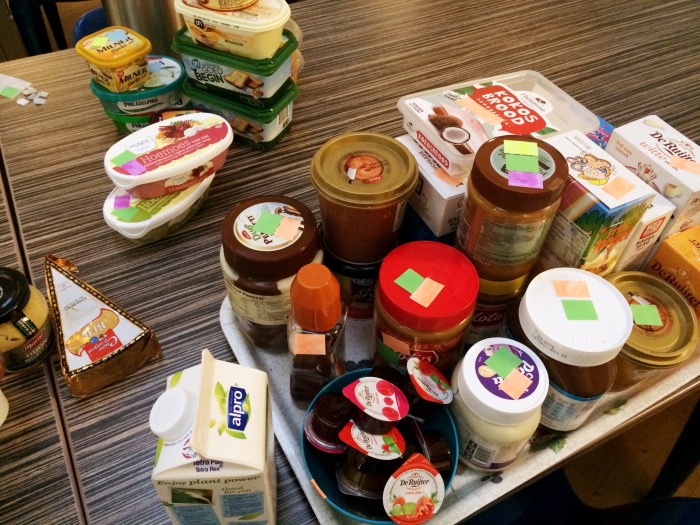 Best heel leuk om te doen!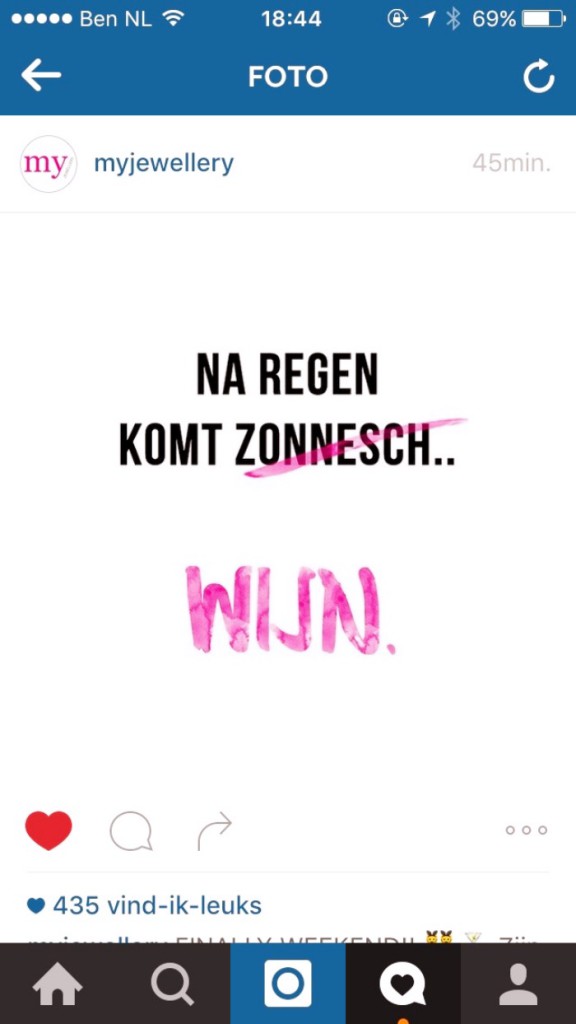 Natuurlijk, ik word elke week weer getagd in wijn posts. Dit was de mooiste van de afgelopen week haha.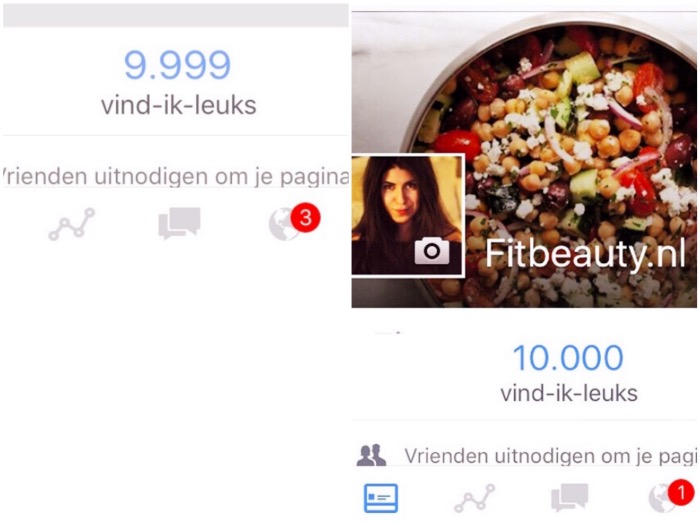 Ik hield het niet meer! 10.000 volgers op Facebook is echt ongelooflijk! MAAR ECHT! Vrijdagavond was het zover en ik was helemaal hyper.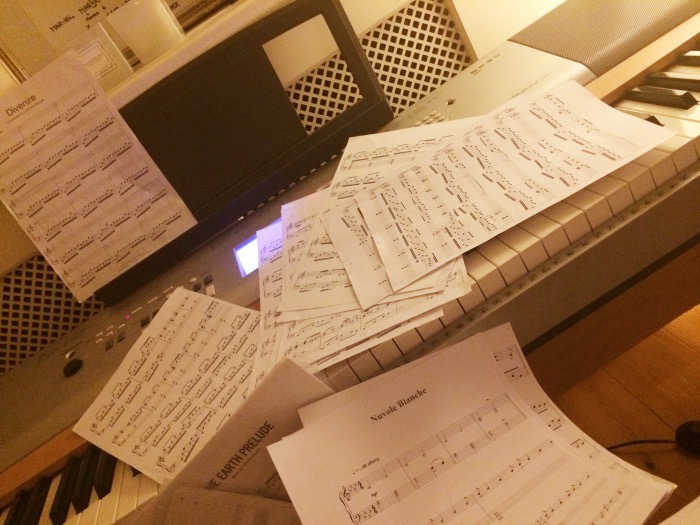 Zo hyper dat ik niet kon slapen en dus ging piano spelen en alles herorganiseren, haha.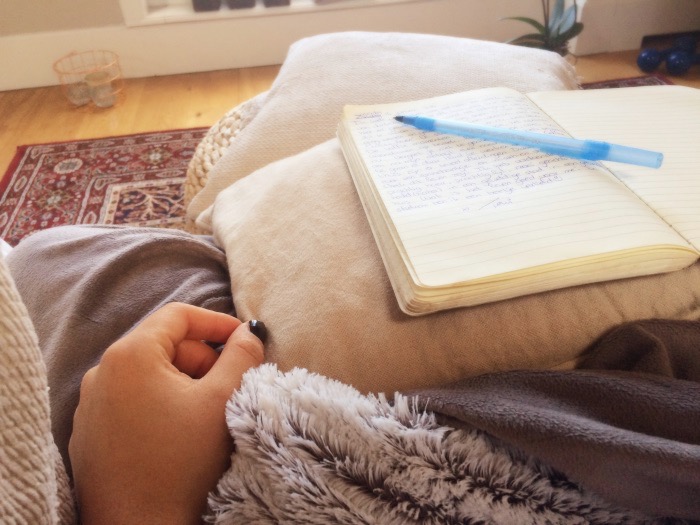 Ochtenden die zo beginnen zijn heel relaxt. Dagboek schrijven 🙂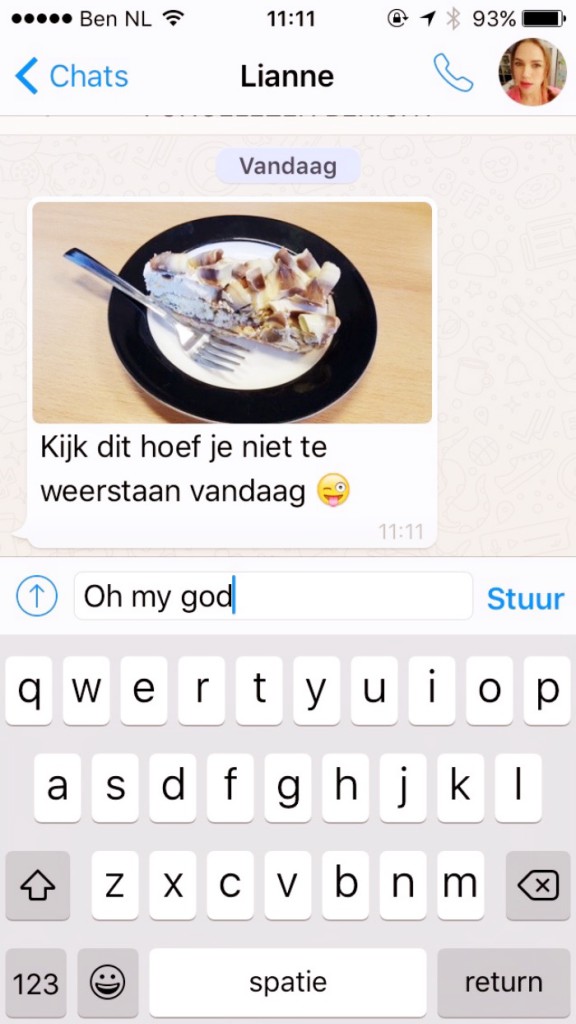 Aangezien ik niet 5 dagen in de week op kantoor werk, mis ik dus wel eens dit soort dingen haha.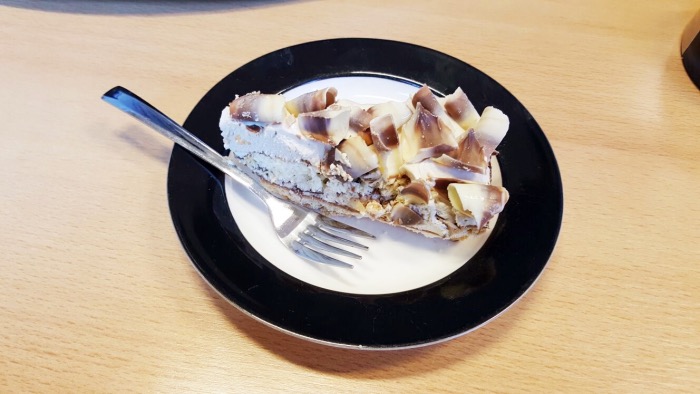 Bij dezen de foto van Lianne van weer een taartje dat ik niet hoefde te weerstaan. Thanks! :p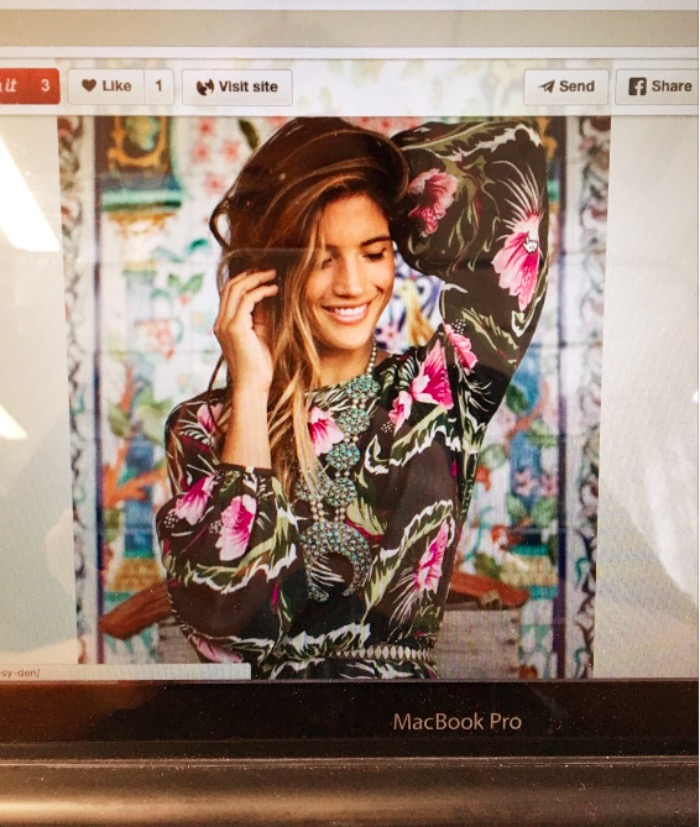 Voor de fotoshoot voor mn boek hebben we een mapje op Pinterest aangemaakt waar we foto's in gooien om een beetje te bepalen waar we naartoe willen. Deze had ik niet toegevoegd maar ik vind hem bijzonder leuk!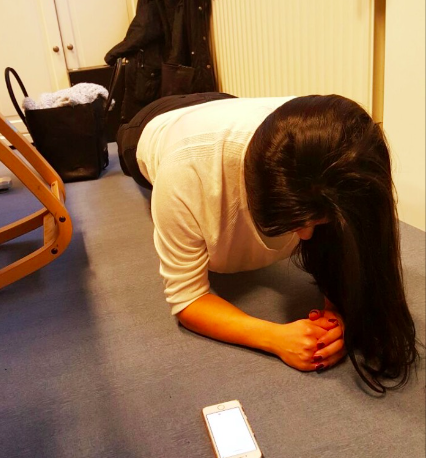 Dit is dezelfde dag als met die enorm zachte, comfortabele trui (zie mijn tas op de achtergrond), maar het was zo warm op kantoor dat ik me had omgekleed.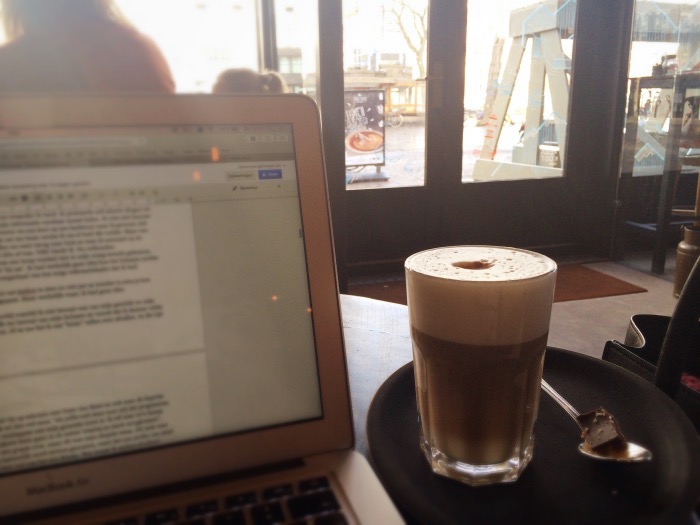 Werken aan mn boek, puntjes op de i. In Hometown Coffee.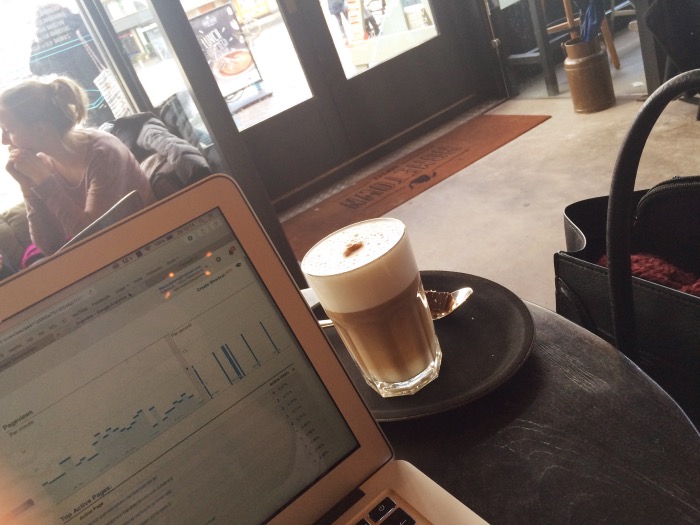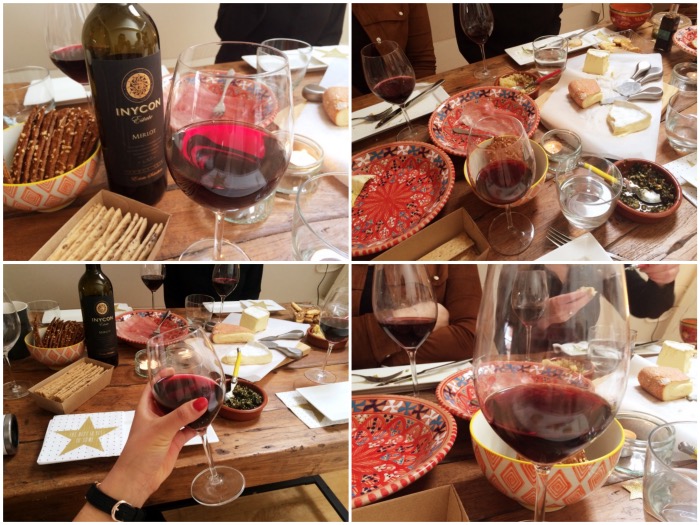 Wijn met vriendinnen! Deze keer niet bij mij thuis, maar bij een andere vriendin in Haarlem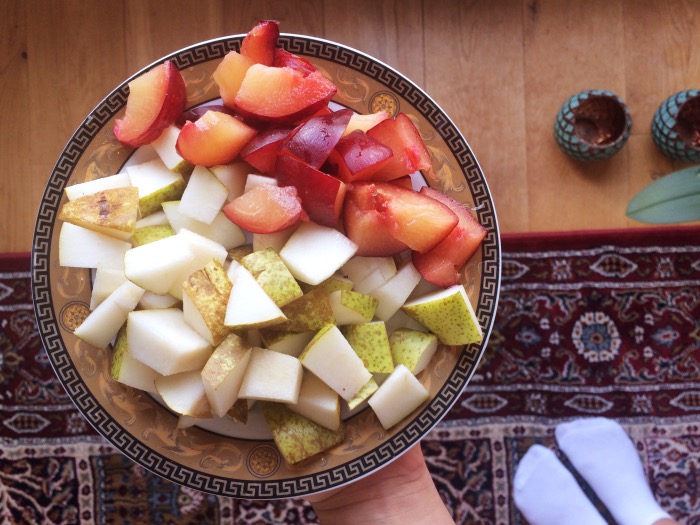 Zomer op mn bord!
ZO! Best een relaxte week he? Ik knijp even in mn handjes. En klop even af.
Fijne zondag lieve mensen!