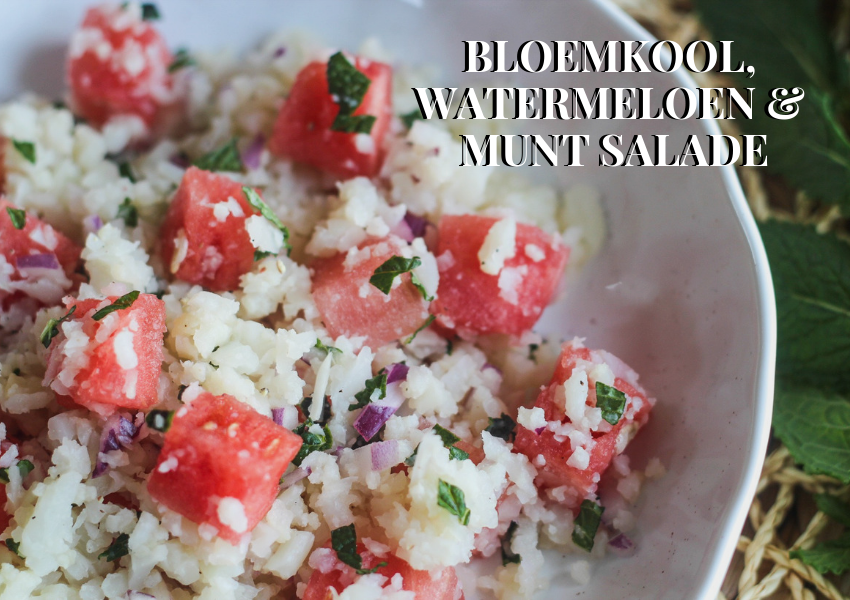 Dit klinkt misschien als een gekke combinatie, maar laat het me uitleggen. Op mijn site heb ik enkele jaren geleden een recept gepost waar ik watermeloen verwerk in een couscous salade, deze vind ik héérlijk en wilde ik opnieuw maken aangezien ik een lekkere grote sappige watermeloen in huis had gehaald.
Maar ik kwam erachter dat ik geen couscous meer had. Dus begon ik me te bedenken wat ik eventueel daar in de plaats van kon gebruiken, rekening houdend met de wijntjes die ik die avond nog ging doen met vriendinnen. Oftewel; ik wil geen enorme zetmeelrijke maaltijd (als in: veel rijst, pasta, brood etc.). Aangezien ik vaak diepvriesbloemkool in de keukenmachine gooi om er bloemkoolrijst van te maken bedacht ik me dat ik dit ook kon doen voor dit recept!
Het klinkt een beetje gek en misschien moet je wennen aan het idee, maar de uitkomst was super! En heel handig om zo'n receptje bij de hand te hebben als je een balansdagje nodig hebt (of weet dat je een extra glas wijn + toetje wilt 's avonds zonder teveel binnen te krijgen). Dit soort recept experimentjes maken het leuk en fijn om bezig te zijn met gezonde voeding en balans als je het mij vraagt! Op naar het recept!
Wat heb je nodig voor 1 persoon:
200 gram (diepvries)bloemkool, fijngemalen in de keukenmachine of gewoon kant-en-klare bloemkoolrijst
200 gram watermeloen, in blokjes gesneden
1/2 rode ui, gesnipperd
3-4 blaadjes munt, fijngesneden
1/2 citroen, uitgeperst
snufje zout, naar smaak
Optioneel: blokjes feta
Bak de bloemkoolrijst even kort in een pan (hoeft niet per se olie bij) zodat de bloemkool niet meer rauw is. Vervolgens is het een kwestie van alles bij elkaar doen, naar smaak citroen en zout toevoegen – husselen en klaar!
Doe er gerust meer/minder ui, munt of iets anders in – deze salade is helemaal voor jou! Enjoy 🙂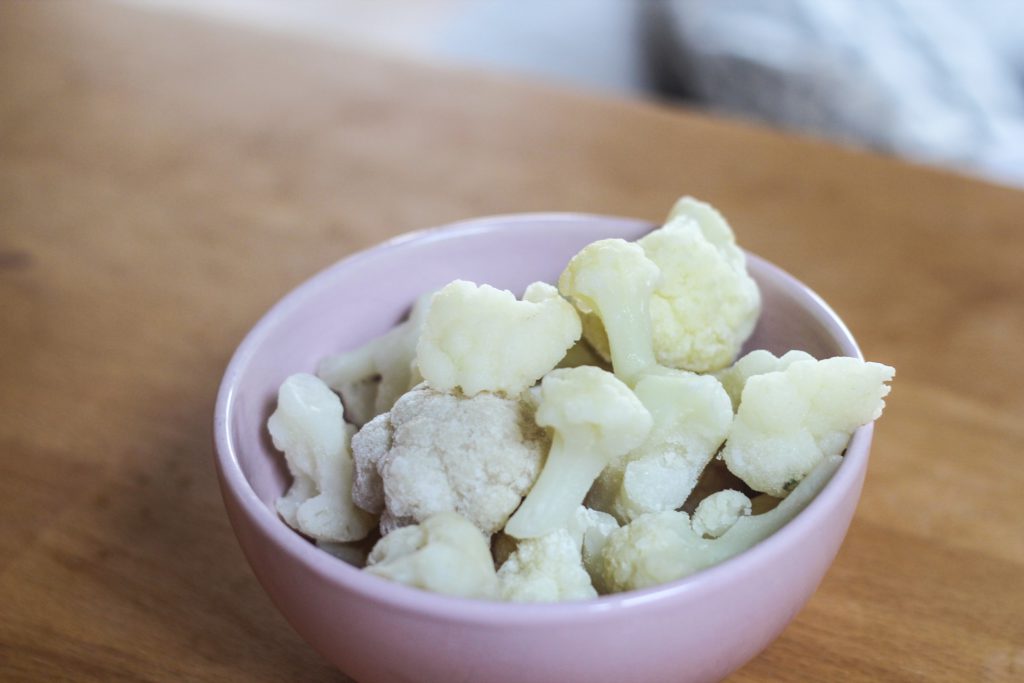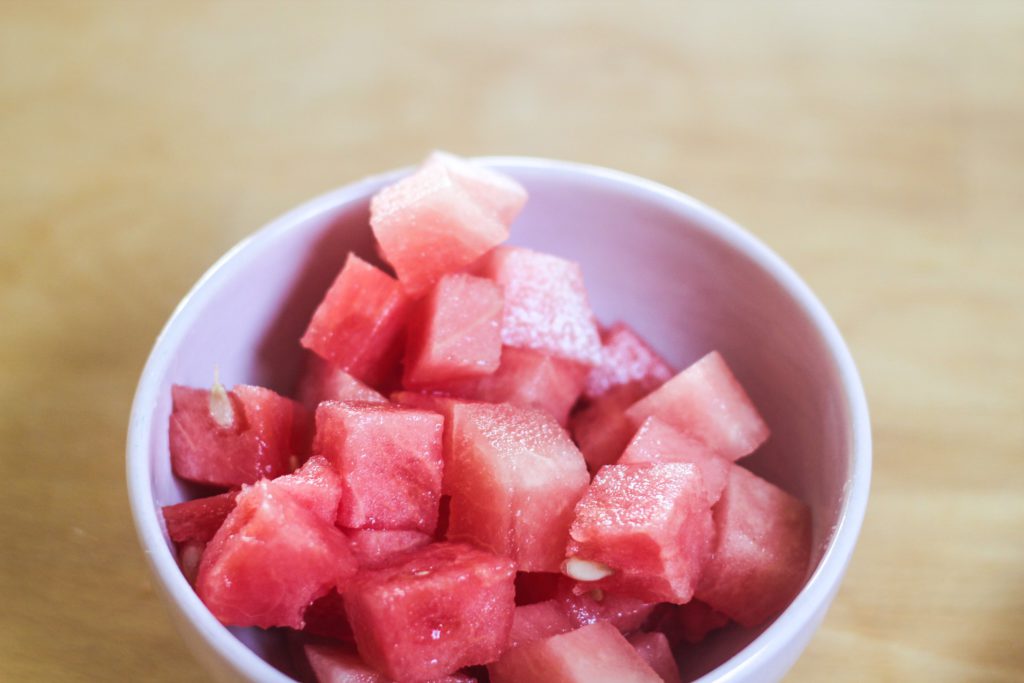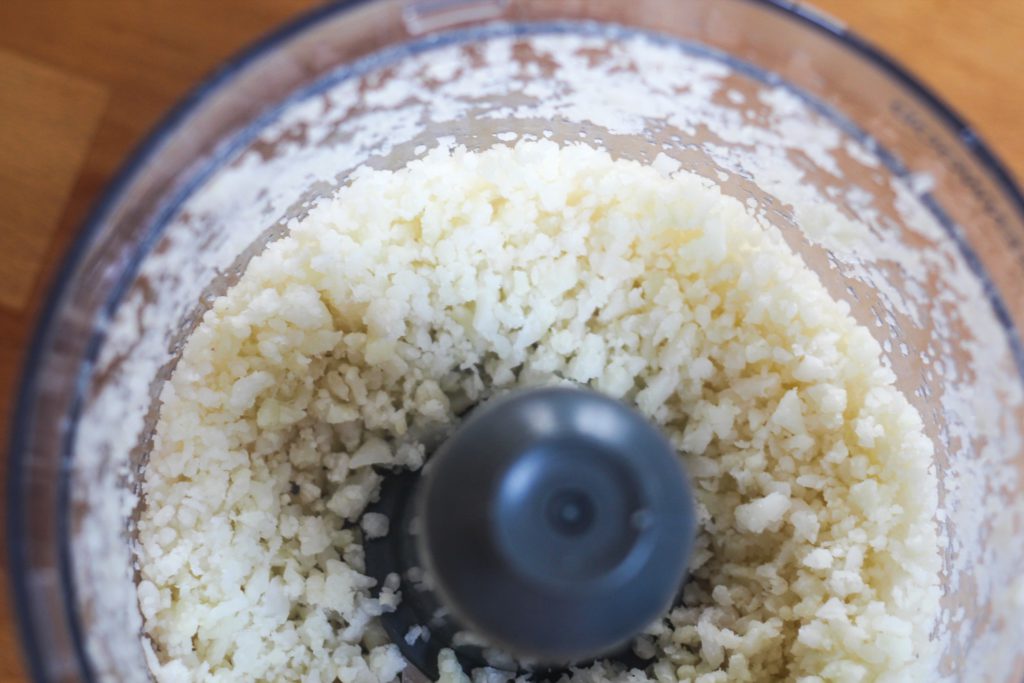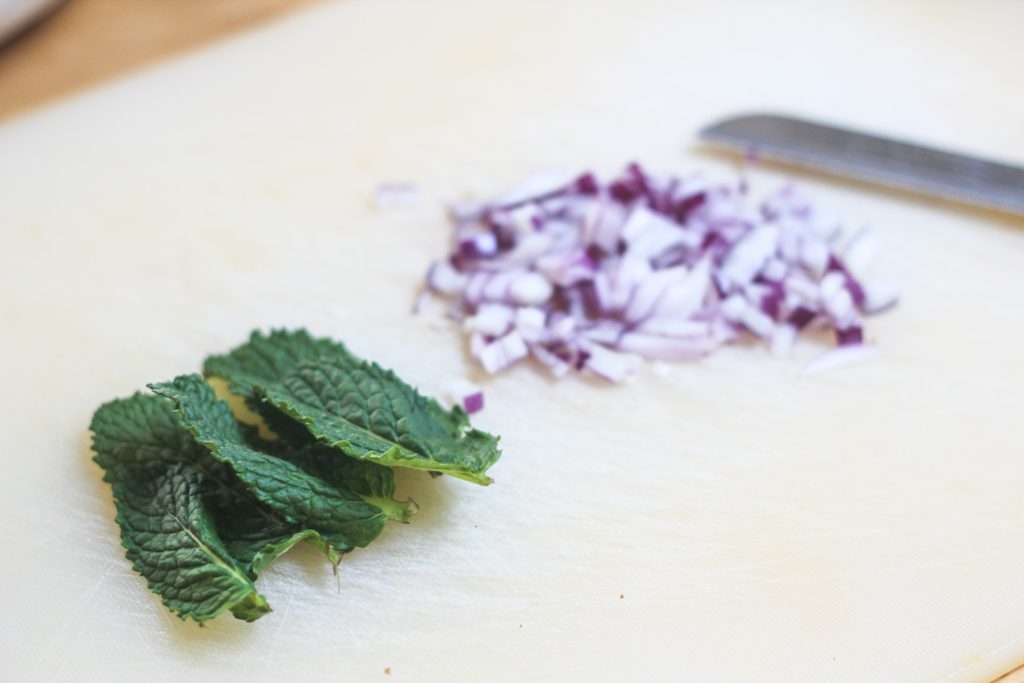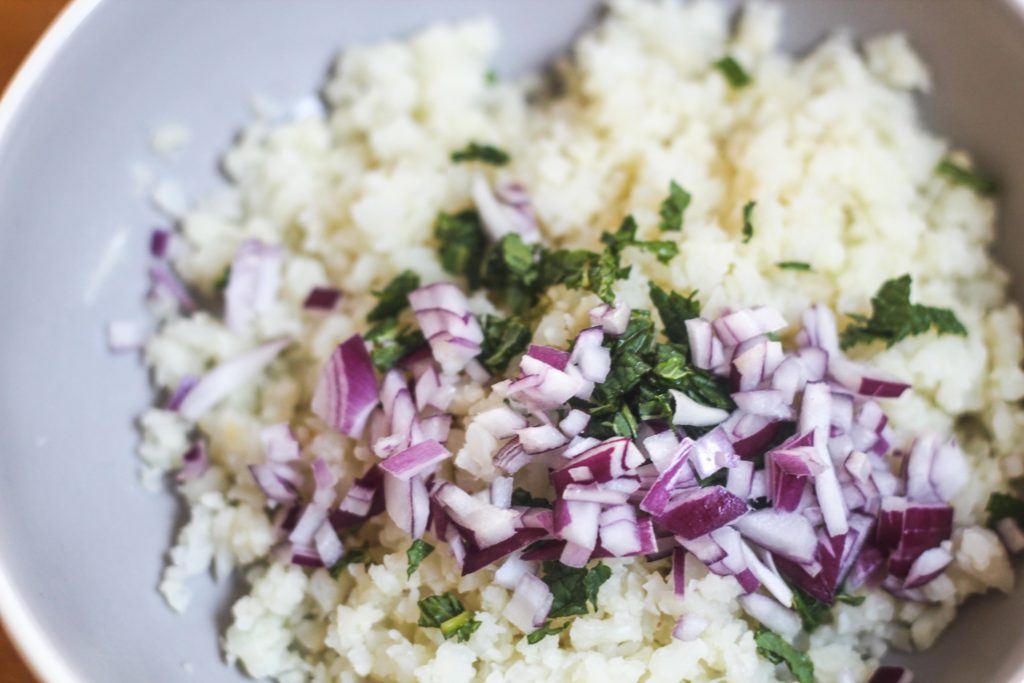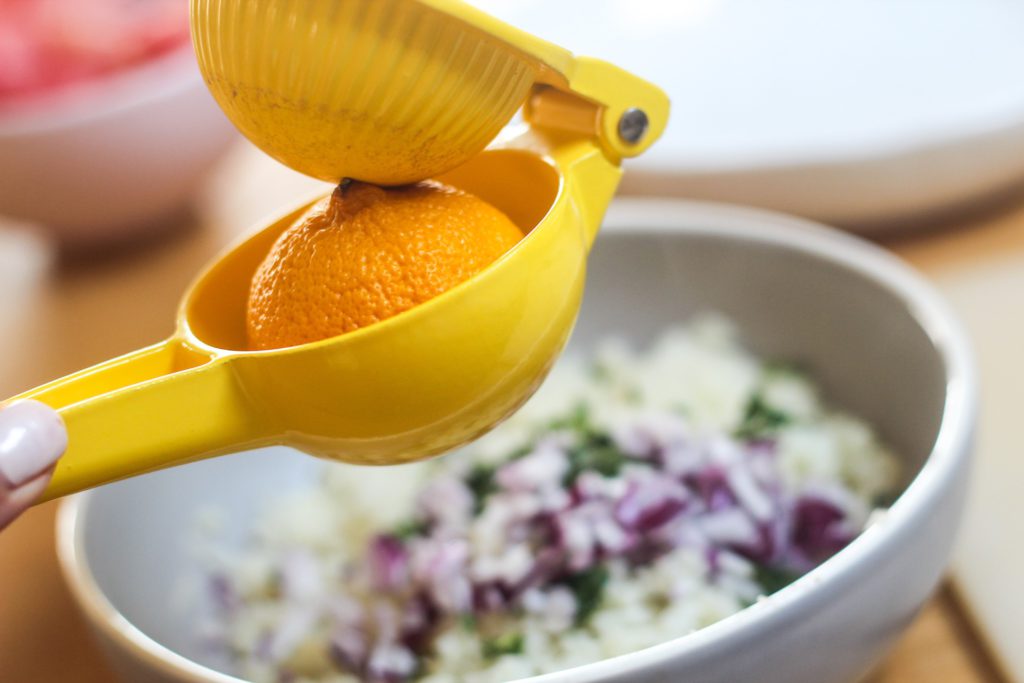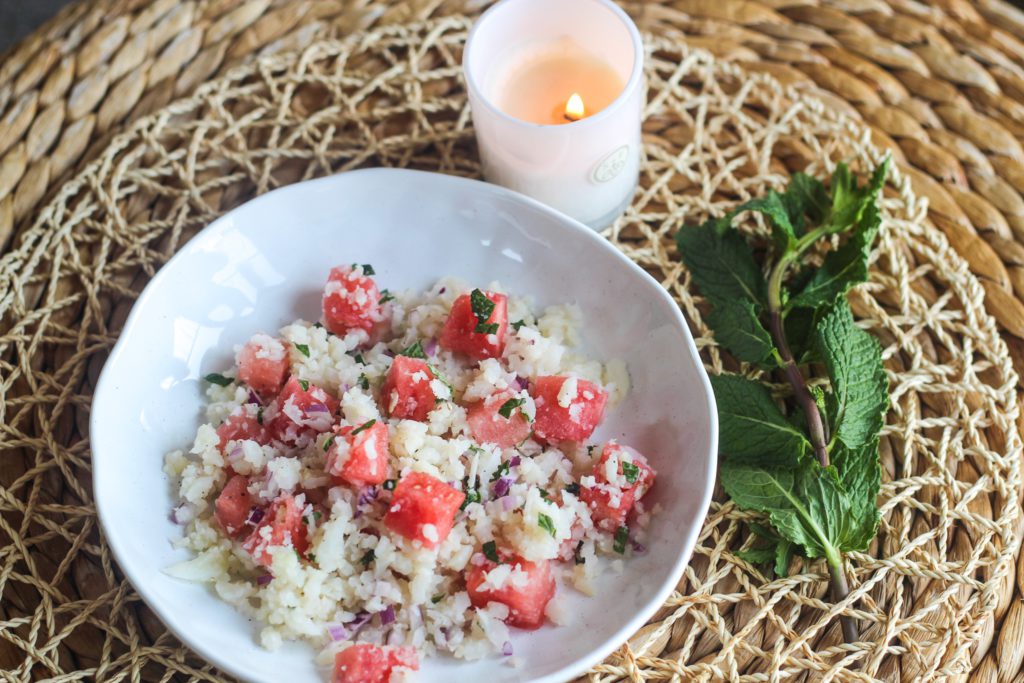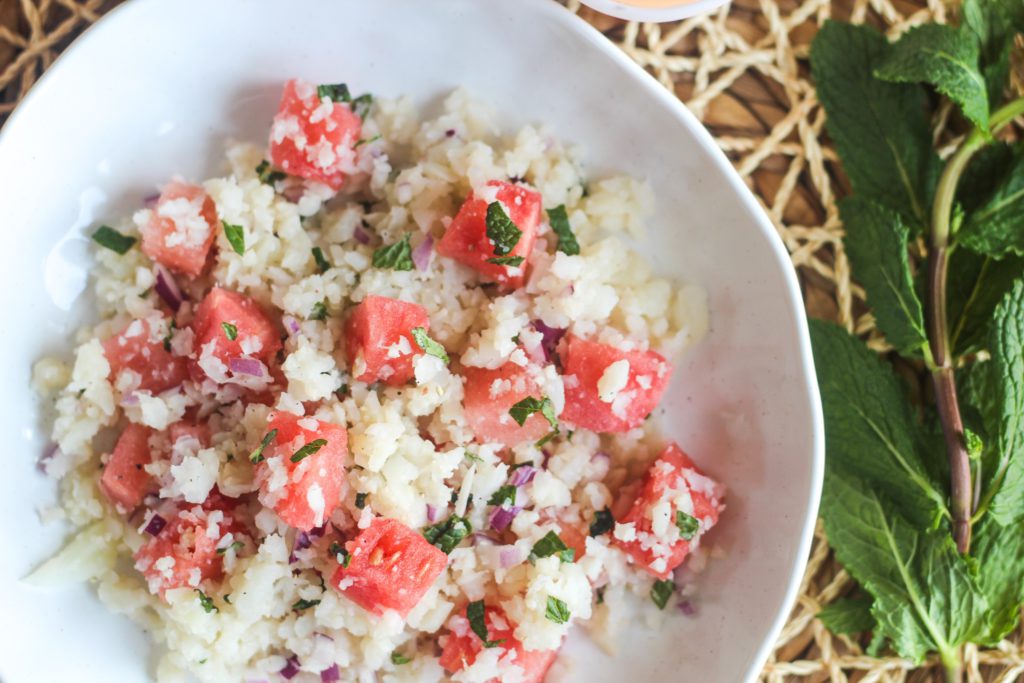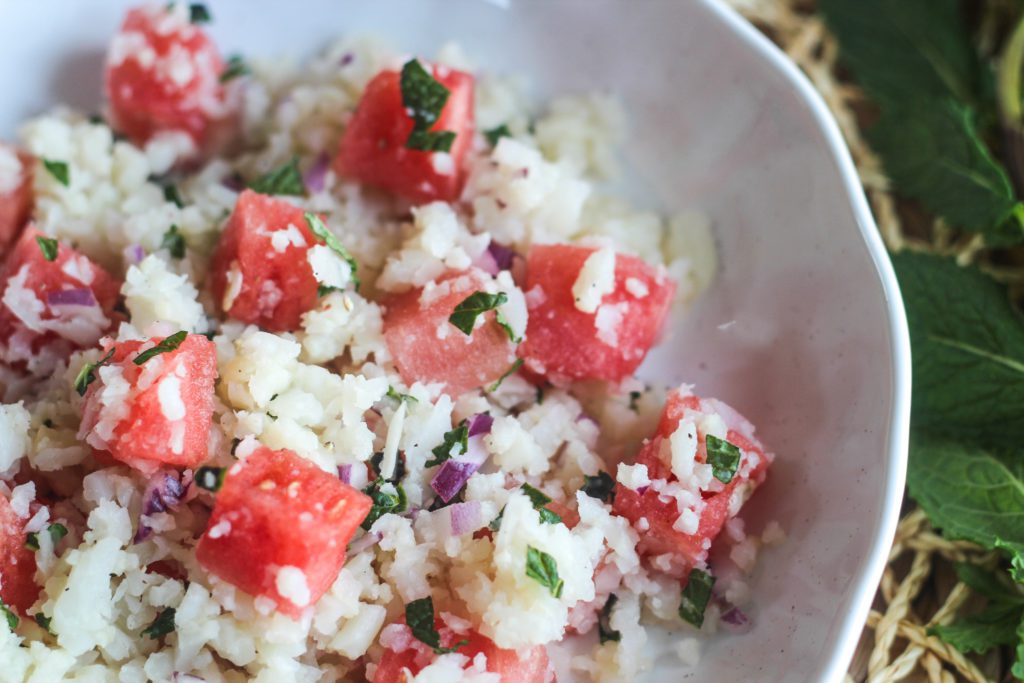 Bewaar, Like, Tweet of Pin!