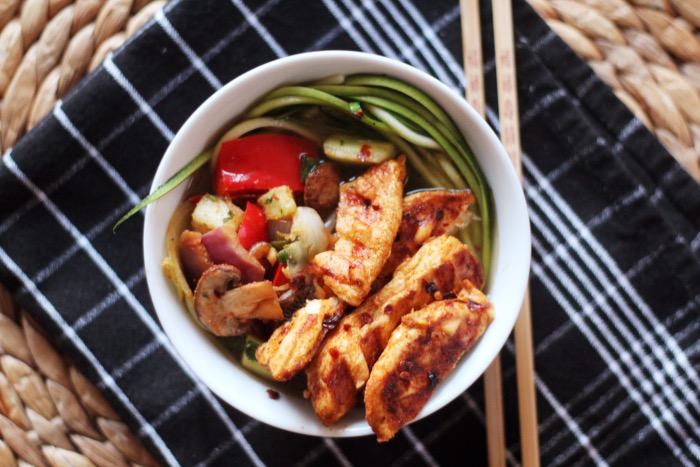 Een lichte maaltijd die énorm voedend is en ook enorm vult! Win-win maaltijd noemen we dat. Courgette noedels met (gegrilde) kip en veel groente! Eigenlijk eet je groente met groente met kip; je lichaam gaat blij zijn. 
Wat heb je nodig voor zo'n 4 personen?
300-400 gram kipfilet
1 courgette
1 bouillonblokje, kip
olie
groente, wat jij maar wilt (denk aan: ui, paprika, champignons, peultjes, taugé, wortel)
Kruiden:
chili vlokken (1/2 theelepel)
paprika poeder (1 theelepel)
knoflookpoeder (1 theelepel)
gemalen koriander (1/2 theelepel)
gemalen komijn (1/2 theelepel)
Doe vooral zoveel je zelf wilt qua kruiden!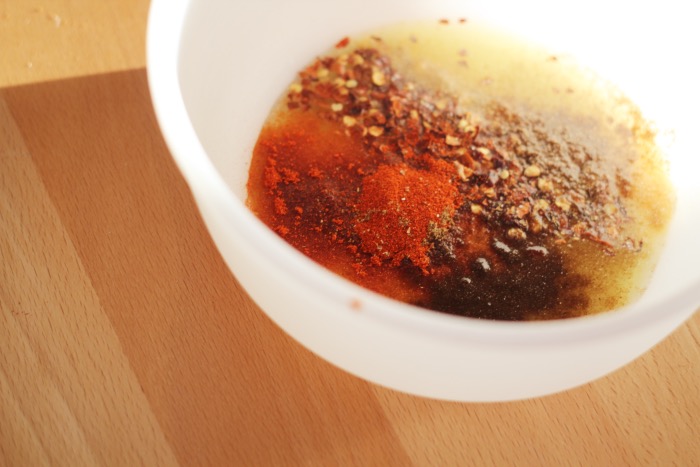 Doe de helft van de kruiden die je hebt in een kom en meng dit met 2 eetlepels (olijf)olie om een marinade te maken voor de kip. De andere helft ga je namelijk later bij de groente toevoegen.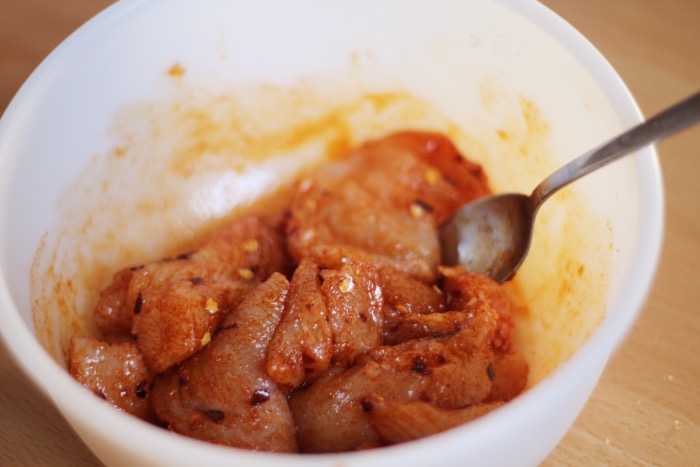 Snijd de kip in niet al te kleine stukken en doe ze in de marinade. Laat dit minstens 15 minuten intrekken, hoe langer hoe beter natuurlijk. Maar ik heb niet zoveel geduld.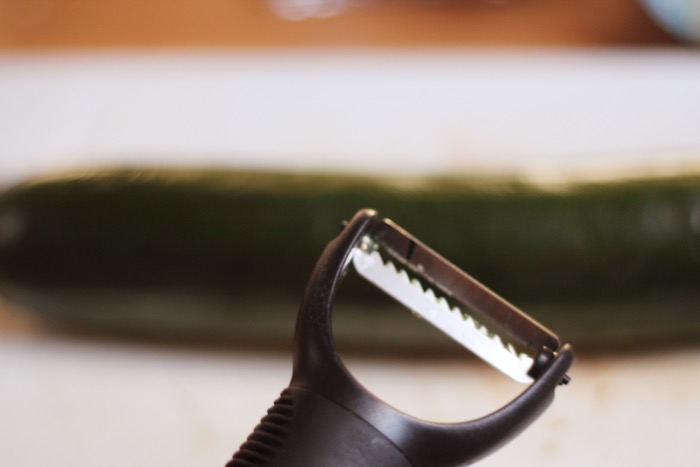 Voor de courgette noedels heb je een julienne snijder nodig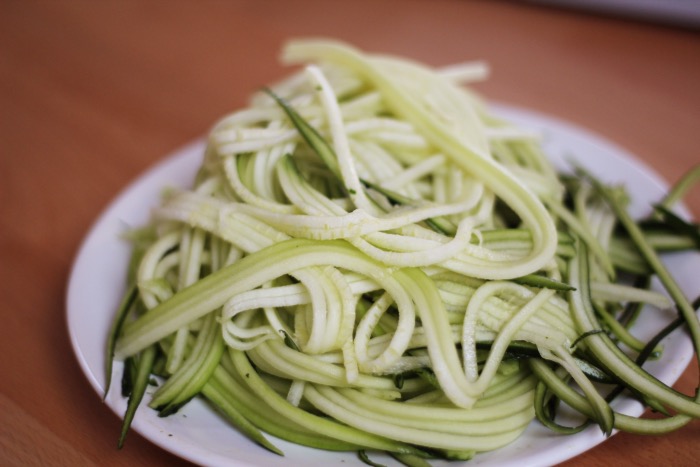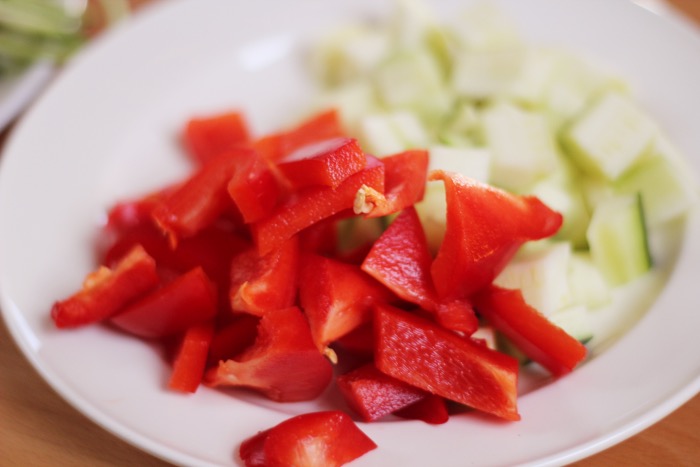 Ik had wat rode paprika over, en het laatste stuk van de courgette dat ik niet echt meer "gesneden" kreeg heb ik in blokjes gesneden.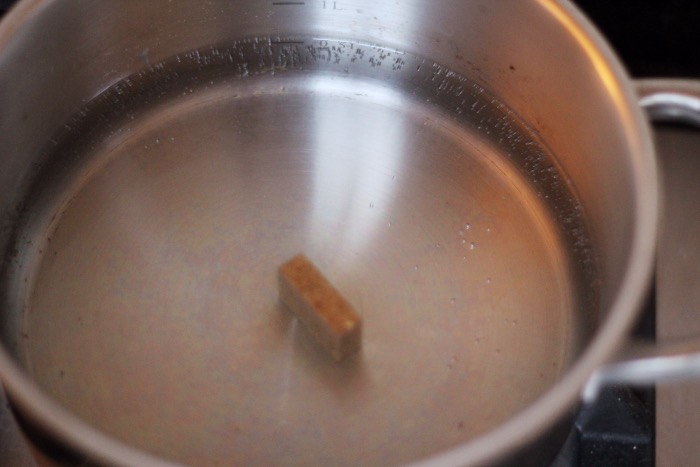 Doe een liter water in een pan en doe het bouillon blokje erbij. Voor de oplettende kijker; je ziet dat hier geen liter in zit, er kwam nog meer water bij na de foto 😉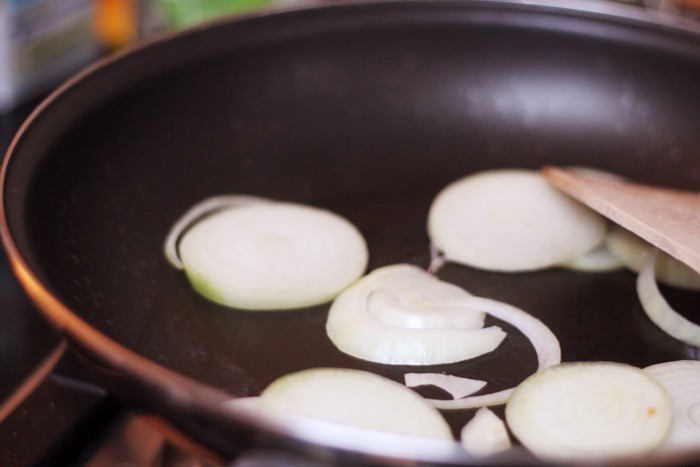 In een andere pan, doe je wat olijfolie en begin je met het bakken van de groente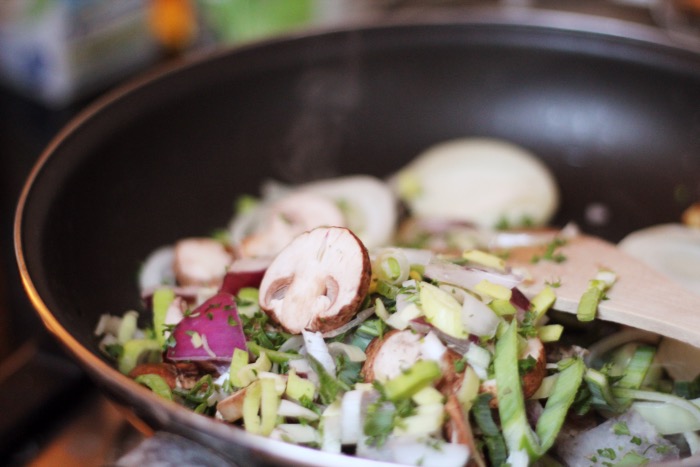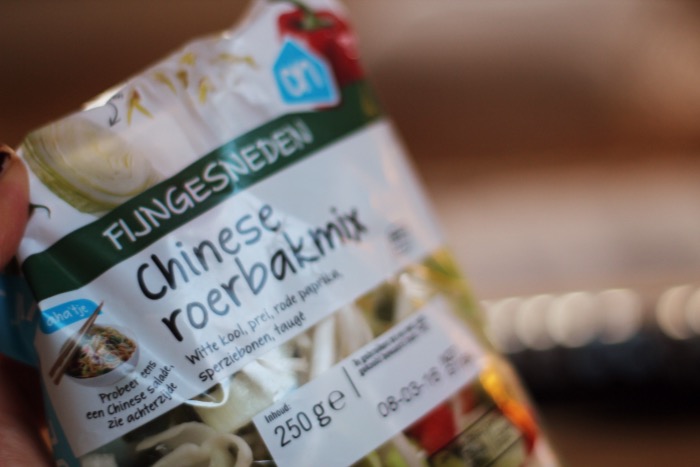 Ik had deze zakjes nog gekocht in de Bonus. Kwestie van opmaken 🙂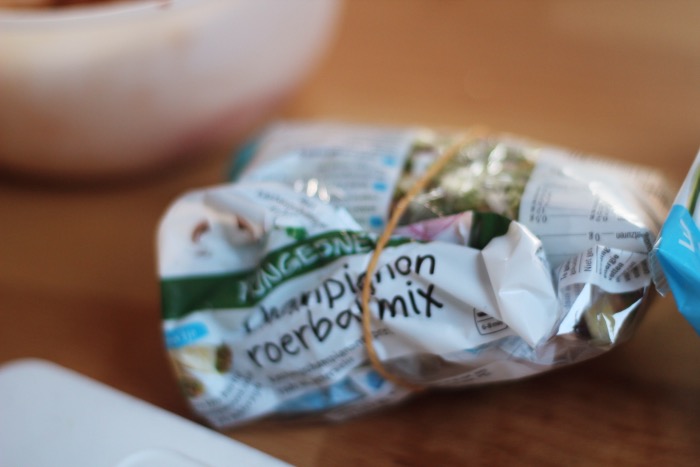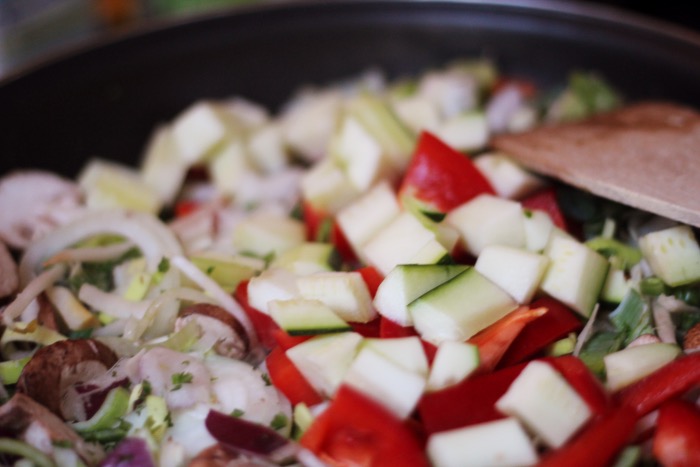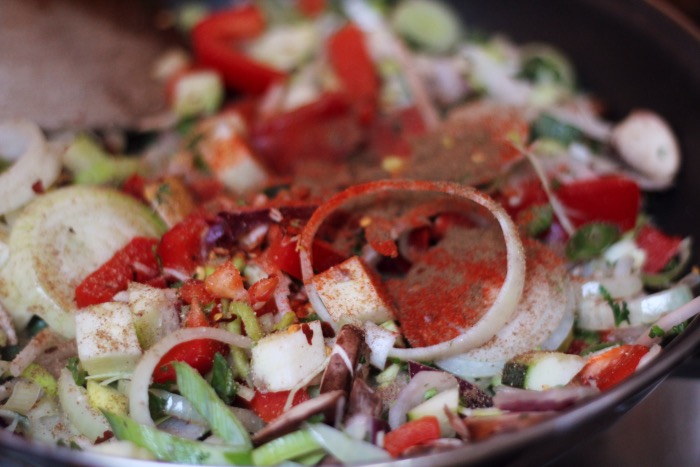 Voeg de andere helft aan kruiden toe aan je groente mengsel, bak dit zo'n 10 minuten. Zorg ervoor dat je groente niet slap wordt maar nog stevig blijft. Ondertussen kun je de kipfilet grillen of in een andere pan bakken. Ik heb het gegrild op mijn grillpan, maar omdat rauwe kip er niet heel smakelijk uit ziet heb ik de foto's weggelaten haha 🙂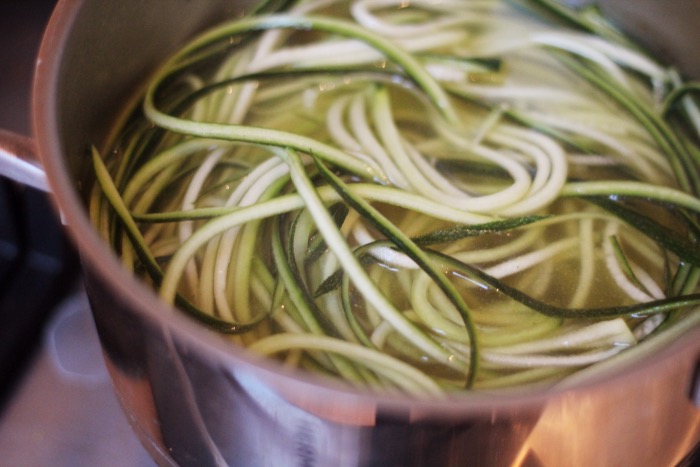 Als het water in de pan met het bouillon blokje aan het koken is en het bouillon blokje helemaal opgelost is, haal je de pan van het vuur en doe je de courgette noedels erin.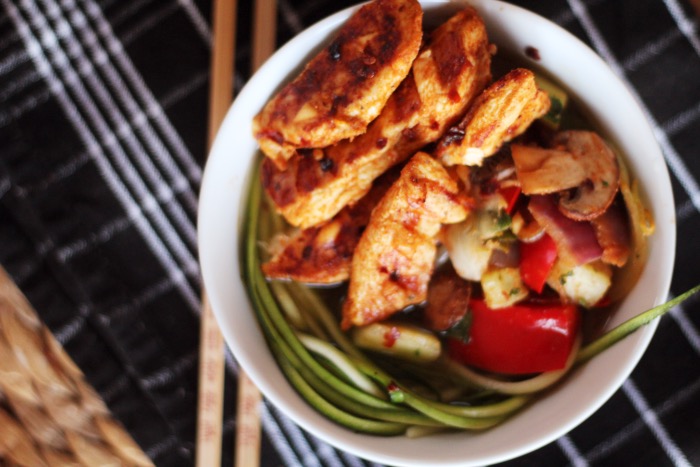 Pak 4 kommetjes, doe onderop wat bouillonwater met noedels, vervolgens wat groente en bovenop de kip. Je kunt hier nog verse koriander bij doen en serveren met wat sausjes zoals Sriracha (mijn favoriet! Maar wel pittig). Eetsmakelijk!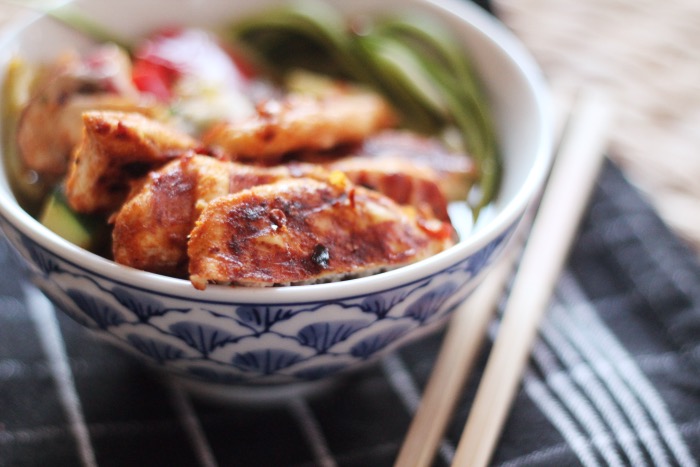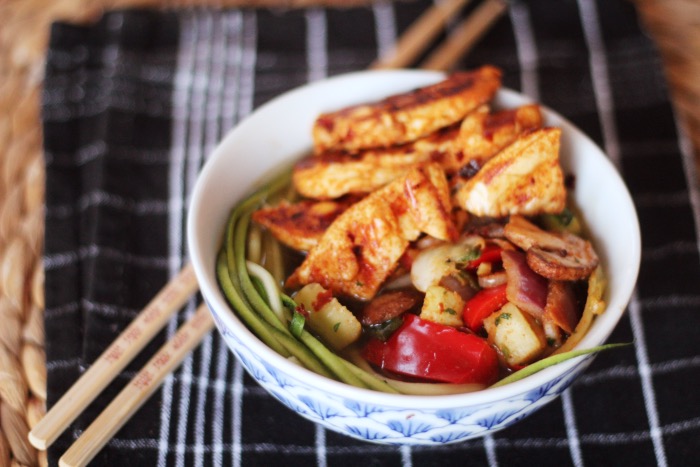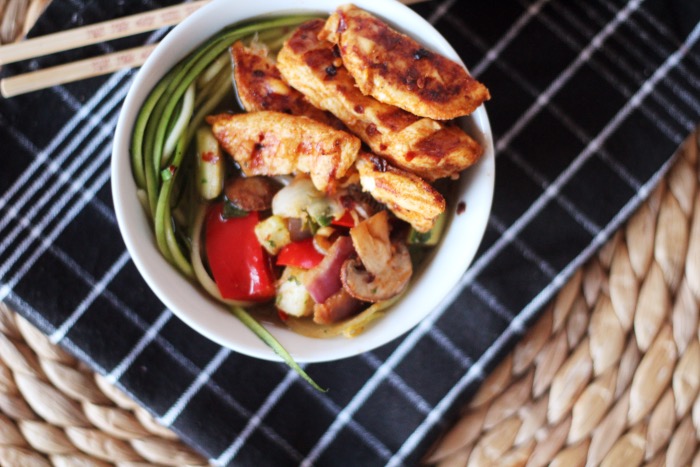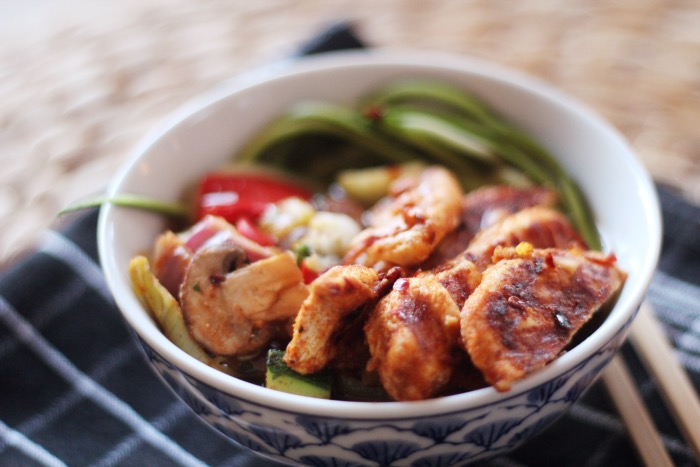 Bewaar, Like, Tweet of Pin!