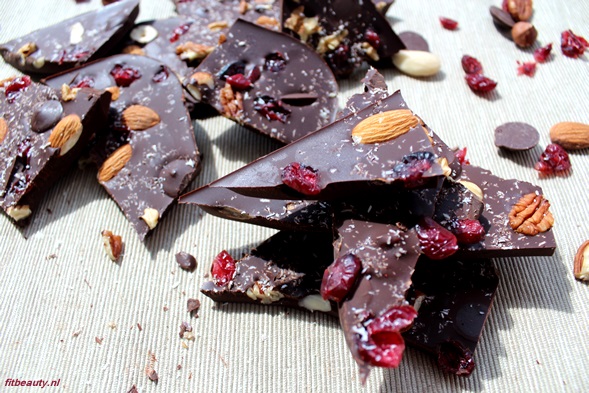 Ik ben super super super enthousiast! Ooit eens een eigen chocolade reep willen maken? Dat kan! Ik ben voor een super gezonde variant gegaan met noten en pure chocolade. Een heerlijk tussendoortje voor bij de koffie, of wat dacht je om als cadeau te geven? Je kunt iemand zijn/haar favoriete snoep of koekjes erin verwerken, mooi doorzichtig papier eromheen, en je hebt een prachtig cadeau. Kijk gauw mee naar het recept!
Je bepaalt natuurlijk zelf wat je in je chocoladereep wilt doen, dit heb ik gebruikt:
400 gram pure chocolade (zo hoog mogelijk percentage cacao)

Gedroogde cranberries
Gemengde noten (pecan, amandelen, walnoten, hazelnoten)
Pure chocolade muntjes
Kokosrasp
Klein beetje boter om het blik in te vetten
Vierkanten bakblik
Pannetje
Vuurvaste kom
Houten lepel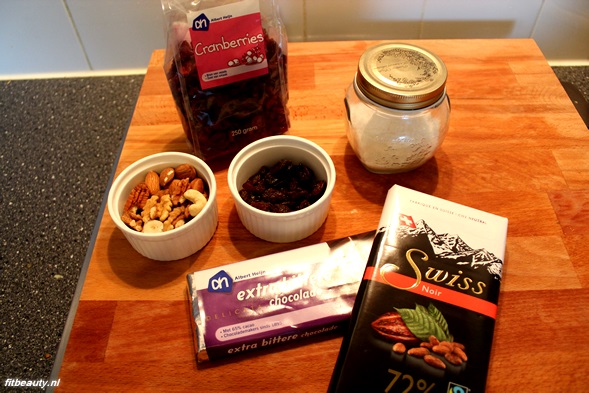 Ik heb niet de exacte hoeveelheden van de noten en cranberries, dit omdat ik ze een beetje gevoelsmatig heb verdeeld over de gesmolten chocolade zoals je zometeen zult zien.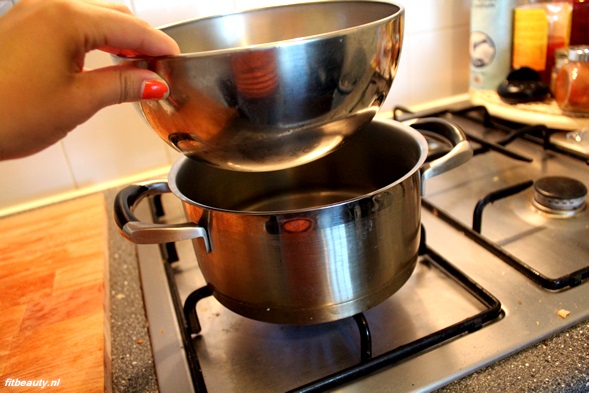 Zet een pannetje, met ongeveer een kwart gevuld met water op hoog vuur totdat het kookt. Zodra het kookt zet je het vuur op zijn laagst en kun je er een kom boven plaatsen.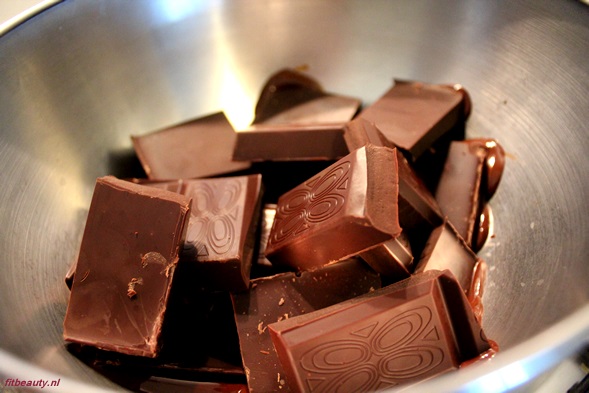 Doe de chocolade erin en je zult zien dat het heel langzaam begint te smelten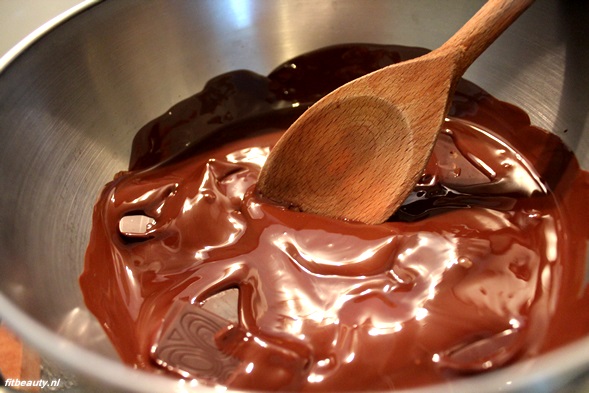 Roer het af en toe goed door met een houten lepel zodat de chocolade niet aan de onderkant geplakt blijft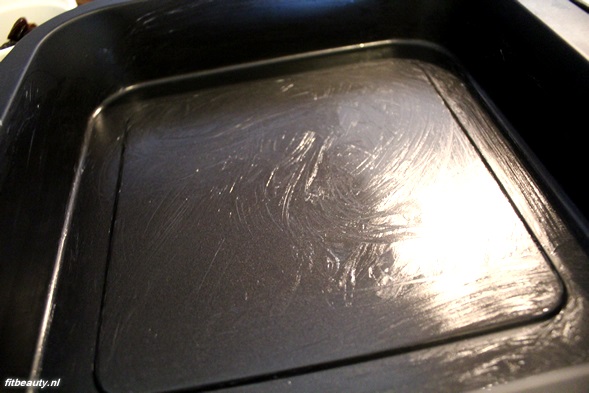 Vet het bakblik alvast in met wat boter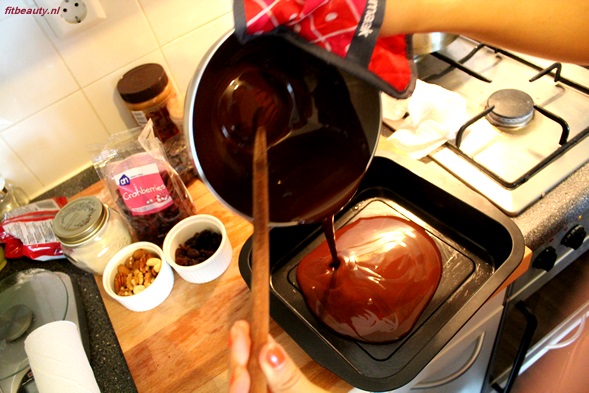 Zodra de chocolade helemaal gesmolten is kun je het in het bakblik schenken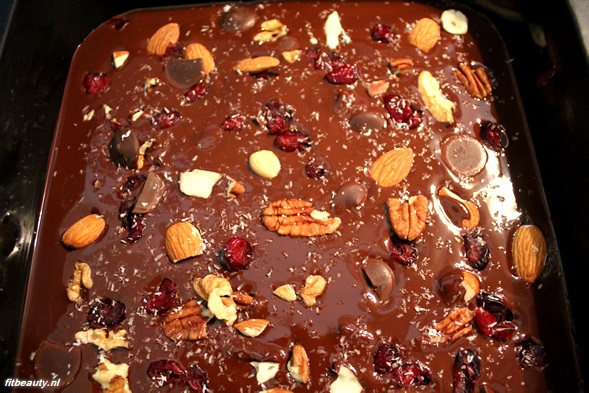 Het een na leukste gedeelte van dit recept, al het lekkers dat jij hebt uigekozen verdelen in de gesmolten chocolade!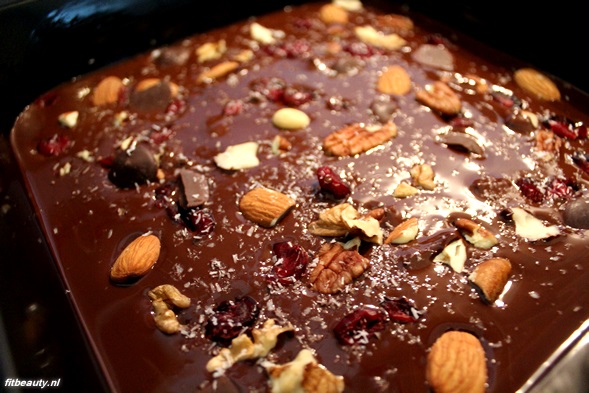 Ik kan niet wachten! Zet dit minimaal 3 uur in de koelkast, het moet goed hard zijn geworden.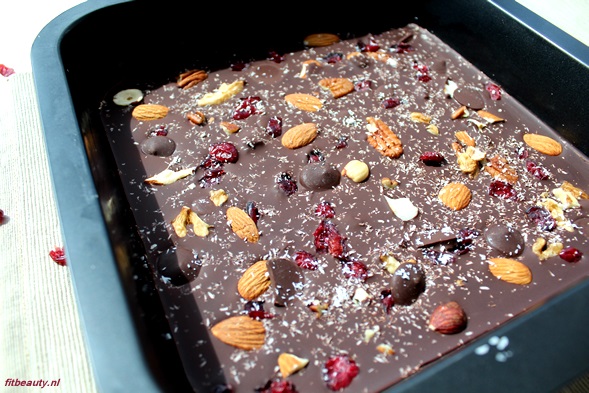 En zo ziet het er uit nadat het goed hard is geworden. Kwestie van omkieperen en in stukken breken!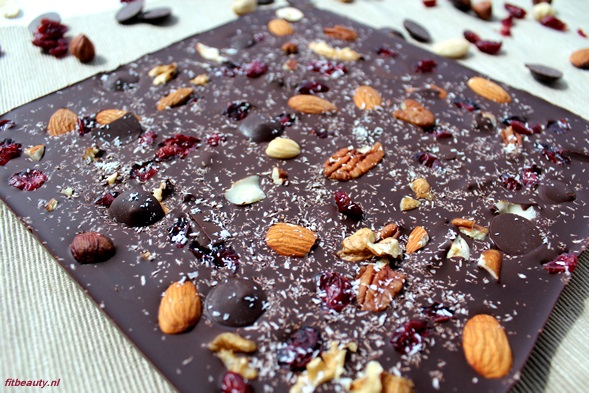 Nu komt het leukste gedeelte; breken!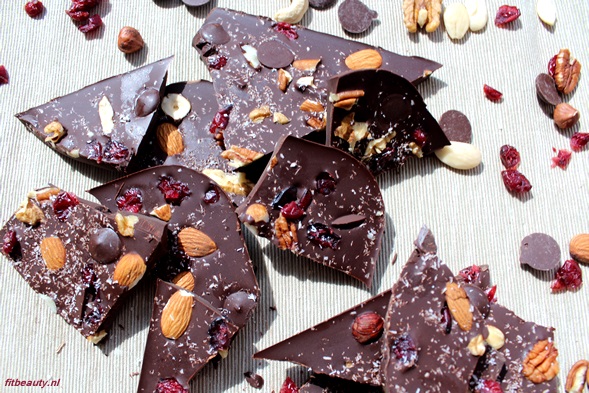 Hier zou je bij een bakkerij toch aardig wat voor betalen?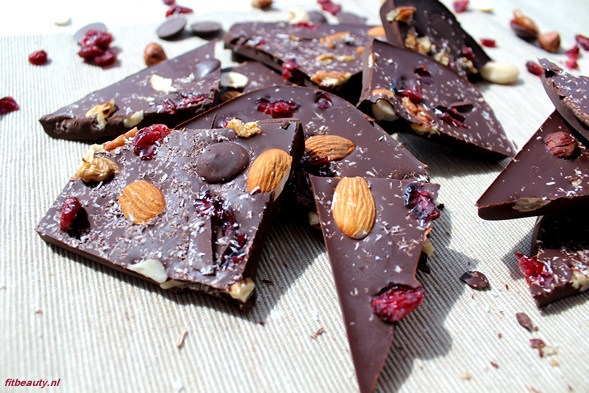 Zo simpel zelf gemaakt.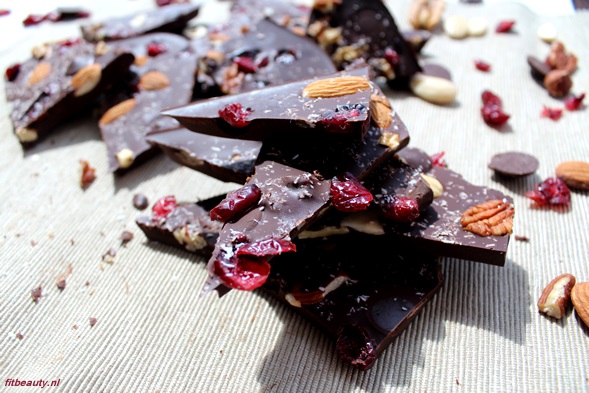 Bewaar de stukken wel in de koelkast, het zou zonde zijn als het zou smelten. Als je het mee wilt nemen, wikkel het dan in ieder geval in aluminiumfolie. En geniet ervan!