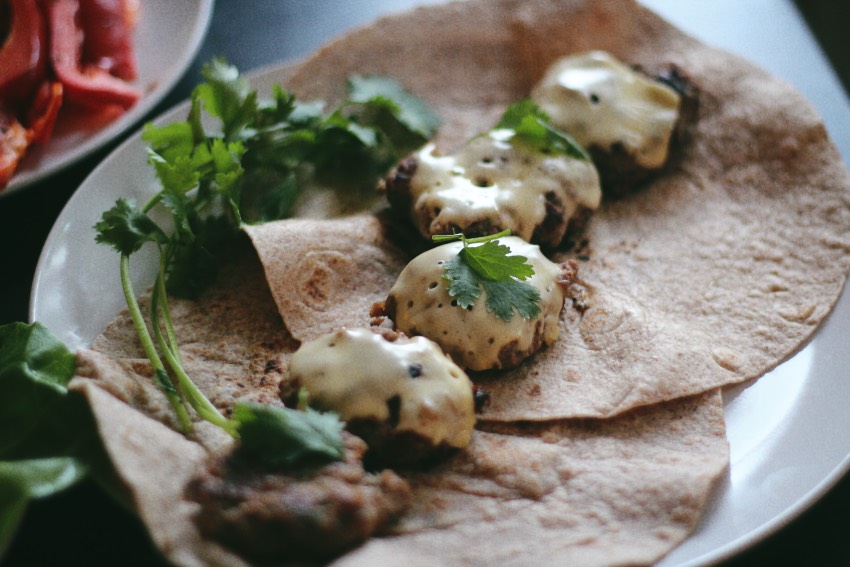 Ik krijg geen genoeg van gehaktballen! En vooral deze waren verrassend lekker en sappig! Het sappige komt door de bonen die wat sap met zich meedragen uit de pot, dit zorgt ervoor dat de gehaktballen niet uitdrogen wanneer je ze doorbakt!
Wat heb je nodig voor twee personen?
300 gram gehakt
150 gram bruine bonen uit blik/pot + 1 eetlepel van het vocht
1 ui
2 eieren
Verse koriander
Knoflookpoeder
Komijn
Paprika poeder
Peper en zout
Olie om in te bakken
Plakken kaas*
*Optioneel
Om de gehaktballen mee te eten, optioneel:
sla bladeren
wraps
avocado
koriander
tomaat
sla
paprika
Doe alle ingrediënten van de gehaktballen bij elkaar in een kom of keukenmachine (zorg dat de ui in kleine stukjes is gesneden, evenals de verse koriander) en meng/mix het geheel tot alles goed gemengd is en je hier balletjes uit kunt halen. Het kan zijn dat je er geen ballen van kunt draaien omdat het te nat is. Dat geeft niet! Dan kun je gewoon met een lepel elke keer een hoeveelheid in de pan doen.
Verhit olie in een koekenpan en plaats daar de gehaktballen of gehaktballetjes (zoals ik heb gedaan) in de pan. Bak ze per kant ongeveer 4-5 minuten tot ze gaar zijn. Je kunt aan het eind ook een plakje kaas erbovenop leggen zodat dit lekker gaat smelten!
Zo simpel kan het zijn, kwestie van wat groente snijden, wraps opwarmen en opdienen! Je kunt ook sla bladeren gebruiken in plaats van wraps, wat jij maar wilt. Eetsmakelijk!