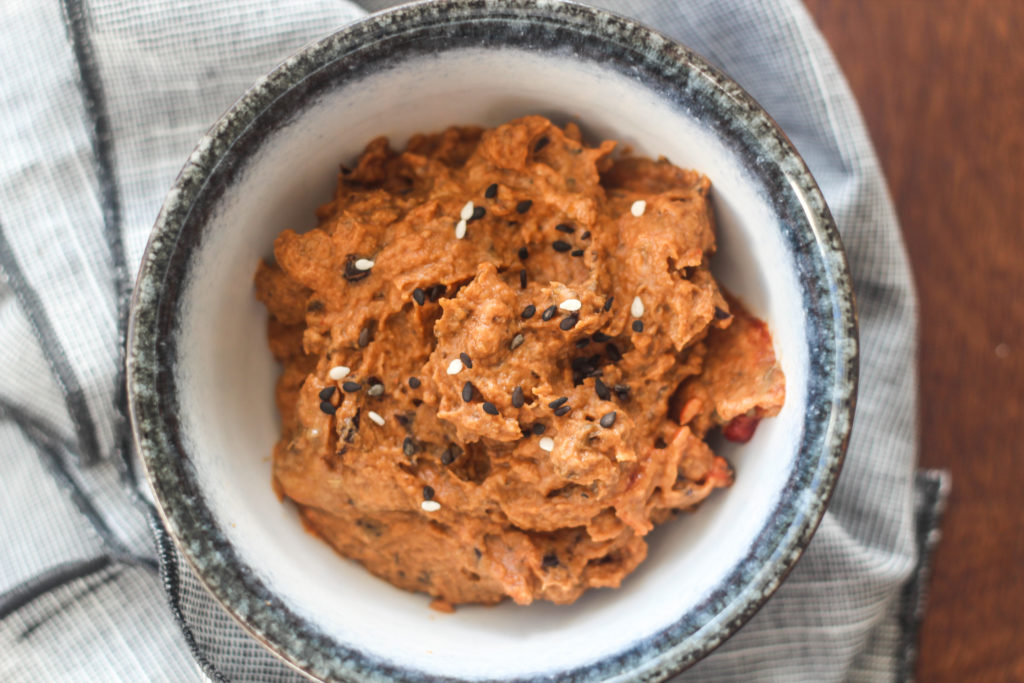 Vandaag een simpel maar o-zo lekker recept. Dit kun je bij zoveel verschillende maaltijden eten en het is zó smaakvol. Ik betrapte mezelf erop dat ik bij de koelkast stond met een lepel en het stond uit te lepelen, haha. Dus ja – ook los is het te eten 😉
Op naar het recept van deze heerlijke geroosterde aubergine dip.
Wat heb je nodig?
2 aubergines
1 eetlepel tahin (sesampasta)
140 gram zongedroogde tomaten
1,5 eetlepel tomatenpuree
1 eetlepel appelazijn
1 eetlepel olijfolie
1 citroen, uitgeperst
2 theelepels komijnpoeder
sesamzaadjes ter garnering (optioneel)
Verwarm de oven voor op 200 graden Celsius. Prik wat gaten in de aubergine's – dit is heel belangrijker anders ontploft je aubergine in de oven! 😉
Zet de aubergine's op een bakplaat eventueel bedekt met een velletje bakpapier. Zet de bakplaat in de voorverwarmde oven voor 50 minuten. Jep, je dient wel flink wat geduld te hebben voor je heerlijke dip 😉 Maar dan heb je ook wat!
Haal de aubergine's uit de oven na 50 minuten en laat hem even afkoelen. Snijd de groene onderdelen er vanaf en snijd de rest in blokjes – doe ze in de keukenmachine met alle overige ingrediënten en blend het geheel tot een heerlijke dip. Proef even of je de balans tussen de smaken lekker vindt en voeg waar nodig peper, zout en/of citroensap toe. Sprenkel wat sesamzaadjes bovenop en klaar!
Heerlijk bovenop een buddha bowl, om je groente in te dippen of als een beleglaagje op een een cracker of broodje met wat avocado bovenop! Hmmm..
Ook kun je het verdunnen en gebruiken als pastasaus 😉 Hele interessante smaakcombinatie. Ik hoop dat je er net zo enthousiast over bent als ik!
Boy niet, die lust geen aubergine's. Meer voor mij dus.