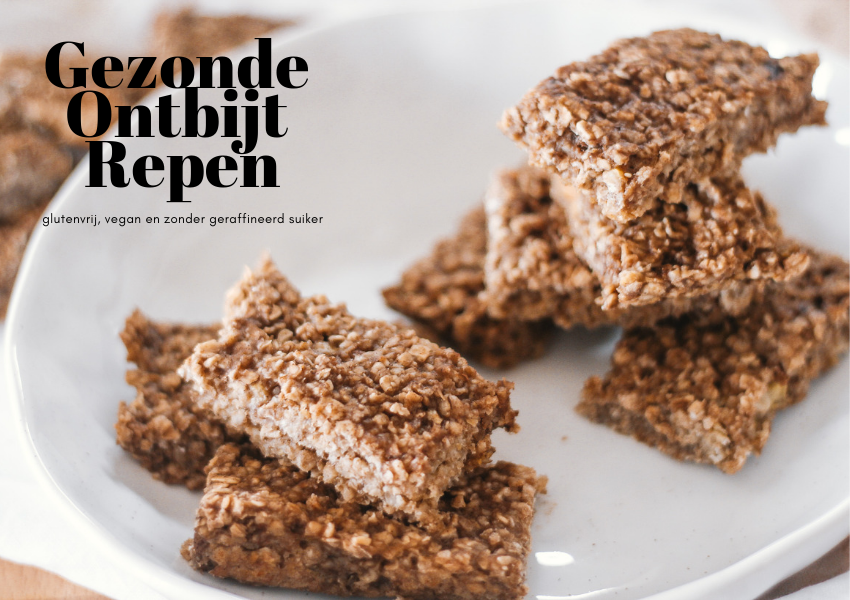 Wanneer je van die ochtenden hebt dat je wél gezond wilt eten maar gewoon niet weet waar je de tijd vandaan moet halen om iets bij elkaar te gooien en ook nog eens op te eten. Dan heb ik vandaag een heerlijk recept dat de oplossing kan zijn!
Gezonde ontbijt repen zonder geraffineerd suiker en zonder zooi. Je kunt ze tot wel een week in de koelkast bewaren óf gewoon in de vriezer leggen (daar blijven ze minstens een maand goed!) en elke ochtend er 1-2 in je tas gooien wanneer je de deur uit gaat.
Zelf heb ik ze vooral opgegeten bij de koffie in de middag, dus houd je vooral niet te hard vast aan het ontbijt-idee bij deze repen! 
Wat heb je nodig voor 12 kleine en 10 grote repen?
200 gram havermout*
2 hele rijpe bananen, geprakt
3-4 eetlepels amandelmelk (of een andere soort melk)
2 eetlepels pindakaas / amandelpasta / cashewpasta (wat jij het lekkerst vindt)
1 eetlepel honing / maple syrup (voor vegan)
1-2 theelepel(s) kaneel
1 theelepel vanille extract
olie om de schaal mee in te vetten
*Havermout is in principe glutenvrij. Echter zijn vele varianten die je in de supermarkt kunt kopen niet 100% glutenvrij omdat ze in een fabriek worden verwerkt waar ook andere granen worden verwerkt. Hierdoor komen er vast en zeker sporen van gluten in de havermout. Let dus op wanneer je glutensensitief bent of Coeliakie hebt, dat je een variant koopt die 100% zeker glutenvrij is.
Verwarm de oven vast voor op 180 graden Celsius. Nu komt het simpelste recept ooit:
Voeg alle ingrediënten (behalve de olie) bij elkaar in een kom en meng dit met een vork goed door tot het een beslag is geworden. Verplaats het beslag naar een cakeblik of brownieblik (deze is vierkant) die je met wat olie hebt ingevet. Je kunt ook een velletje bakpapier onderop plaatsen en deze ook nog even invetten (dubbele zekerheid). Verplaats het beslag naar je gekozen blik en plaats dit in de voorverwarmde oven voor zo'n 12-15 minuten, afhankelijk van hoe sterk je oven is.
Wanneer je ze uit de oven haalt zullen ze nog wat zacht zijn, maar maak je geen zorgen! Laat ze rustig afkoelen en snijd ze daarna in repen, naar jouw gewenste formaat. Zelf sneed ik, toen de repen nog warm waren, een randje ergens vanaf om meteen te proeven! Tja, daarvoor heb jíj ze gemaakt toch – eigen regels! 😉
Zoals ik zei, lekker voor bij de koffie maar ook voedend voor een snel ontbijt. Je krijgt onder andere havermout, pindakaas en banaan binnen en dat klinkt toch als een voedend ontbijt? Maar dan in de vorm van een reep! Eetsmakelijk!