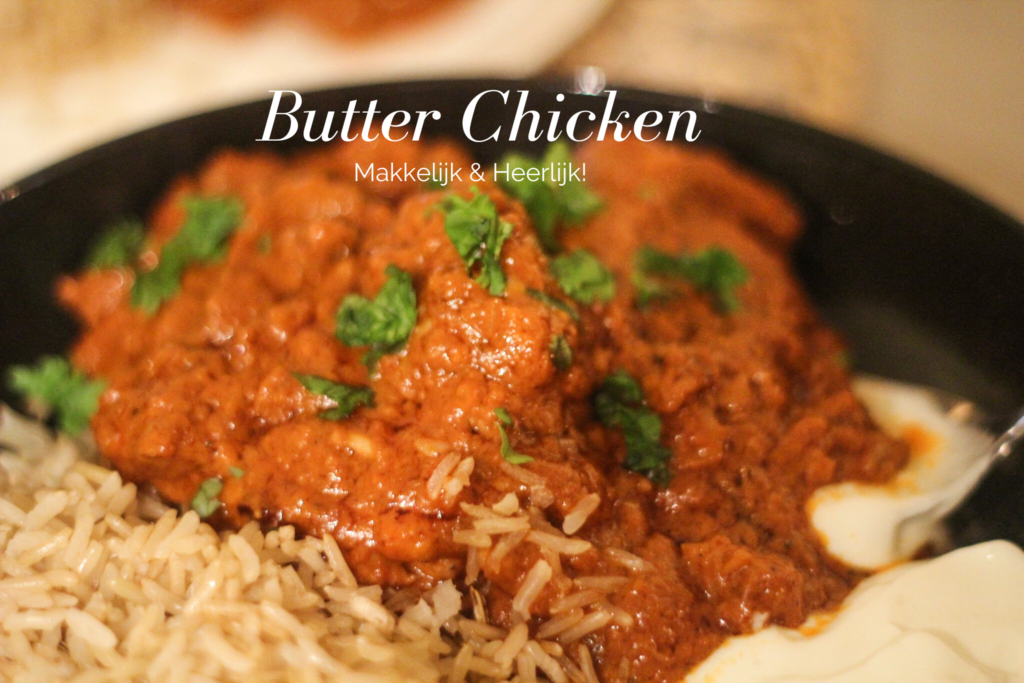 Waarom elke keer 40 euro uitgeven als je het ook zelf kunt maken? Ja, daar zijn genoeg redenen voor natuurlijk. Maar dit is zo'n gerecht dat ik met zo ontzettend veel liefde eet en nooit heb bedacht om zelf te maken omdat het vast enorm ingewikkeld moet zijn met alle kruiden enzo. Dat is wat ik dacht.
Tot ik besloot de 'stoute schoenen' aan te trekken en gewoon maar te proberen. Een paar keer proberen met het recept van Jamie Oliver resulteerde in een 'iets simpelere' maar heerlijke variant op mijn site! Hopelijk geniet jij net zo van dit recept als Boy en ik hebben gedaan! Indiase butter chicken! 
Wat heb je nodig voor 3-4 personen?
Voor de kip:
350-350 gram kippendijen
2 eetlepels kwark of yoghurt
 2 theelepels volkoren tarwemeel of roggemeel of kikkererwtenmeel (of een andere meelsoort)
4 teentjes knoflook
3 cm gember, geschild
1 theelepel paprika poeder
1/2 theelepel garam masala poeder
1 theelepel koriander poeder
mespunt kaneel
Voor de saus:
2 eetlepels boter
5 kardemom 'pods'
4 stukjes kruidnagel
1 kaneelstokje
1 ui, fijngesneden
3 cm gember, geraspt
2 theelepel paprika poeder
1/2 theelepel garam masala poeder
3 eetlepels tomaten puree
250 ml room
3 eetlepels honing
Verse koriander ter garnering
Voor de kip:
Meng de yoghurt met de meel tot er geen klontjes meer in zitten.
Voeg de kruiden toe en mix deze er ook goed door
Voeg nu de kip toe (eventueel in stukken gesneden) en zorg dat elk stukje kip bedekt is met de marinade. Zet dit minstens 20 minuten in de koelkast met een laagje folie eroverheen. Een hele nacht marineren is natuurlijk helemaal top!
Verwarm de oven voor op 200 graden Celsius en verplaats de kip met de marinade naar een ovenschaal. Zet dit voor 25 minuten in de oven tot de kip mals en gaar is.
Voor de saus:
Verwarm de boter in een kookpan op een middelhoog vuur.
Voeg de kardemom (kneus deze met een lepel zodat de geur vrijkomt), het kaneelstokje en kruidnagel toe en bak dit een minuutje tot alle geuren lekker vrijkomen.
Voeg de ui toe en bak deze mee tot hij goudbruin is.
Voeg de gember toe en bak dit 1 minuut mee.
Doe vervolgens de garam masala en tomatenpuree erbij, roer het even door en voeg vervolgens beetje bij beetje de room toe.
Als alles toegevoegd is en een paar minuten suddert kun je twee dingen doen; of je haalt het kaneelstokje, de kardemom en kruidnagel eruit, of je haalt het kaneelstokje er alleen uit en doet de rest in de blender zodat je een gladde massa krijgt.
Doe vervolgens de kip bij het geheel en laat het nog 2 minuten sudderen.
En je butter chicken is klaar! Best simpel toch? Serveer het met wat verse koriander, yoghurt, rijst en/of naanbrood en het is he-le-maal af! Enjoy!