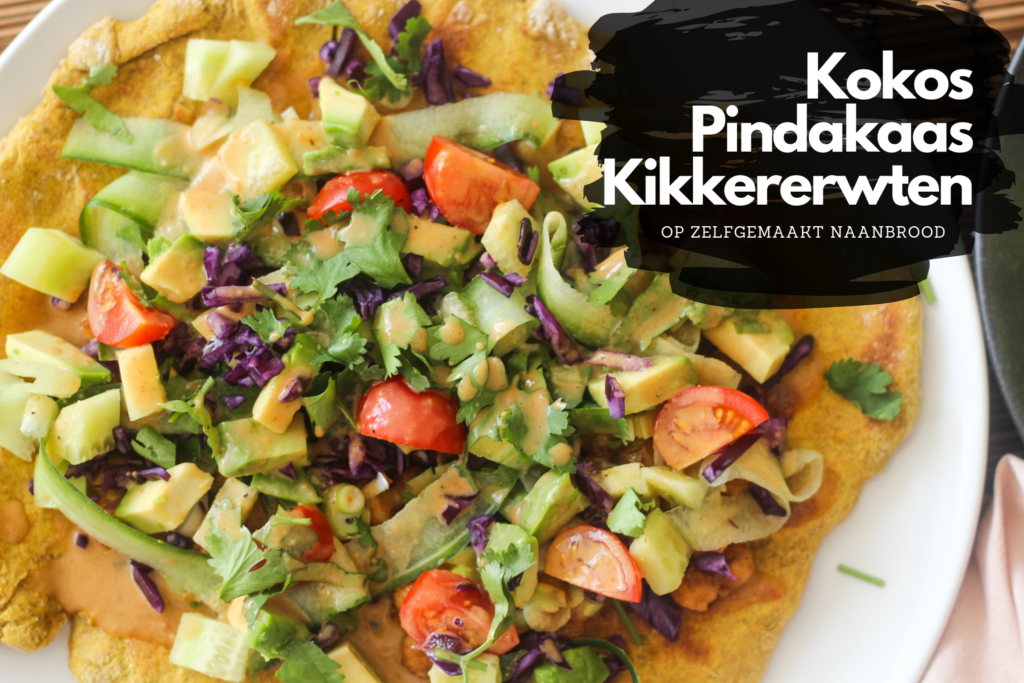 Man o man wat zijn Boy en ik lekker aan het eten de laatste tijd. Ik moet zeggen dat het tien keer leuker is om lekker (en gezond) eten klaar te maken als je het kunt delen met iemand waar je van houdt. Hoewel ik heel veel van mezelf hou (hehe) en met veel liefde altijd voor mezelf heb gekookt voelt het nu extra leuk om af en toe uit te pakken in de keuken.
Kleuren, geuren, texturen en dan te bedenken dat het bomvol vitamines, mineralen en vezels zit. Vandaag op het menu; een waanzinnige 'saus' van kokosmelk en pindakaas waar de kikkererwten in gebakken worden, deze top je met kleurrijke groente op een zelfgemaakt naanbroodje of doe je in romaine sla taco's!
Zondag is echt een fijn recepten dagje, vinden jullie niet? .. Anyway, op naar het recept!
Wat heb je nodig voor de saus?
2 eetlepels pindakaas
3-4 eetlepels kokosmelk
1-2 eetlepels maple syrup (ahornsiroop)
1 eetlepel citroensap
1/2 theelepel komijnpoeder
1/4 theelepel peper
1/4 theelepel knoflookpoeder
Doe alles bij elkaar in een keukenmachine of blender en mix het tot een gladde massa.
Wat heb je nodig voor het naanbrood?
300 gram (volkoren) bloem
1 theelepel bakpoeder
30 gram boter, gesmolten
1 eetlepel honing
100 ml water
1 eetlepel yoghurt
1 theelepel kurkuma
1/2 theelepel komijnpoeder
Doe alles bij elkaar in een kom en meng het eerst met een vork tot er langzamerhand een dik deeg ontstaat. Ga dan door met kneden met je handen. Voeg een beetje water toe als het nog geen deegbal wil vormen (een theelepel extra kan soms al genoeg zijn) of voeg bloem toe als het te nat is. Laat het deeg even 10 minuten rusten. Verwarm vervolgens wat boter of olie in een pan en kies zelf hoeveel van het deeg je wilt uitrollen (of platdrukken op het aanrecht) tot een naanbroodje. Plaats deze in de koekenpan en laat hem op een zacht vuurtje 4 minuten per kant bakken.
Wat heb je nodig voor de toppings (gebruik zoveel je wilt!)?
Kikkererwten, uit blik – uitgelekt
Rode kool, gesnipperd
Cherry tomaten, gehalveerd of in 4en
Komkommer, geschilde 'vellen'
Avocado
Lente ui
Koriander
Olie om in te bakken
Komijnpoeder, peper en zout naar smaak
Verhit wat olie in een koekenpan en doe hier de kikkererwten in. Breng ze op smaak met komijnpoeder, peper en zout. Als ze al een beetje warm zijn geworden (2-3 minuten) doe je er een scheutje van de saus bij. Houd het vuurtje laag en wacht rustig tot de saus een beetje is ingedikt. Haal de pan van het vuur – het is nu tijd je zelfgemaakte naanbrood of de romaine sla te beleggen met al het lekkers! Hier mag je los gaan en van alles proberen met de toppings, je hoeft je niet te houden aan de ingrediënten die ik heb genoemd, deze mag je wel als leidraad gebruiken als je wilt! Top het geheel met de saus en dan is het een kwestie van smullen! Enjoy!