[wpdevart_youtube]dGVdivHEpAQ[/wpdevart_youtube]
Pizza is altijd een goed idee!
Mocht je daar nog niet van overtuigd zijn, heb ik een 1 minuut video voor je, voordat je in het recept duikt!
Maar hoe doe je dat als je geen zin hebt om uren in de keuken te staan, wel kwalitatief goede ingrediënten wilt voor zowel de saus als toppings, geen kant-en-klare diepvries pizza wilt eten én misschien ook nog alleen woont en geen 'leftovers' wilt? Ik breng u mijn recept voor de Makkelijke Pesto Pizza op een Wrap! 
Het is je vast niet ontgaan dat ik van lekker eten houd. Het is je misschien ook niet ontgaan dat ik alleen woon. Wat vaak resulteert in een heleboel 'leftovers' waar mijn vriezer inmiddels van ontploft. Vandaag heb ik een recept voor de alleen-wonende maar eigenlijk ook iedereen die een avond lekker en makkelijk een pizza wilt eten, zonder teveel gedoe. Eerder heb ik mijn liefde voor de tortilla wrap als pizzabodem geuit in verschillende Voedingsdagboeken en recepten, en vandaag gebruik ik hem weer in combinatie met een groene pesto als saus.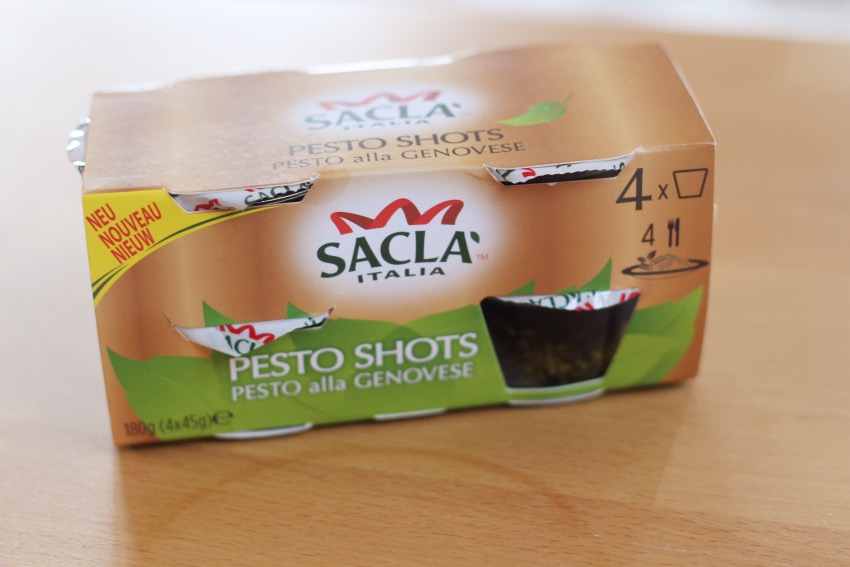 Welke pesto? Een speciale. Namelijk die van Saclà. In tegenstelling tot een hoop andere merken komt deze wel degelijk uit Italië zelf en dat zie je ook terug in de ingrediëntenlijst.
Zonnebloemolie, Italiaanse basilicum 36%, Cashewnoten, Grana Padano kaas BOB, Zeezout, Glucose, Pecorino Romano kaas BOB, Aardappel, Gemalen pijnboompitten, Extra vierge olijfolie, Specerijen, Wei-eiwit, Aroma, Natuurlijk knoflook aroma met andere natuurlijke aroma's, Zuurteregalaar: Melkzuur. Antioxidant: Extract van rozemarijn.
Zoals je ziet geen goedkope rommel dat erin is gebruikt ter vulling van de pesto, maar stuk voor stuk kwalitatieve ingrediënten (zie Italiaanse basilicum, kwalitatieve kazen, pijnboompitten, extra vierge olijfolie etc.) naast enkele ingrediënten voor de juiste structuur en consistentie.
Wat heb je nodig voor twee middelgrote pesto pizza's?
De overige ingrediënten kun je geheel naar eigen smaak toevoegen. Ik heb gebruikt:
1 tomaat
1 ui
handje wilde spinazie
50 gram geruld gehakt
25 gram witte kaas, in blokjes
pecannoten
peper, chili vlokken, gedroogde oregano
Verwarm de oven vast voor op 180 graden Celsius.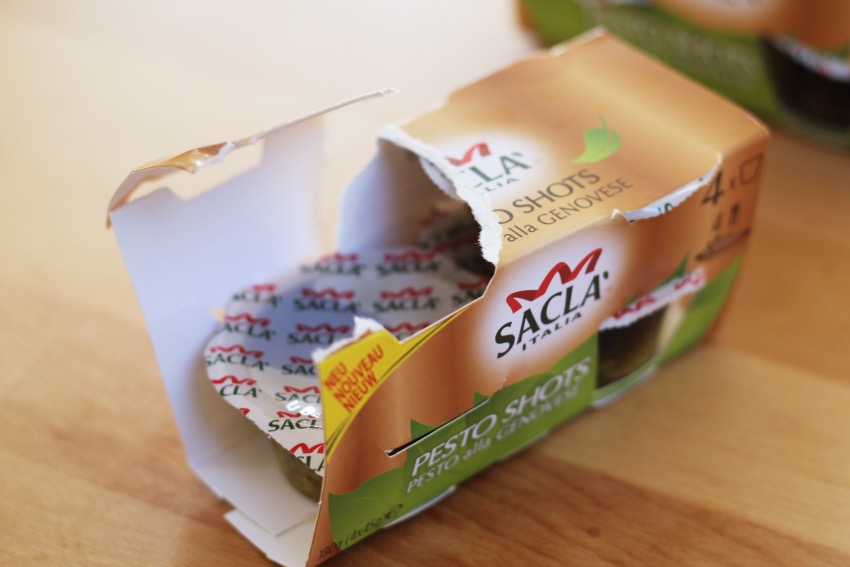 Dit vind ik ontzettend handig, de pesto is in 'shots' verpakt waardoor ik niet een heel potje hoef te openen die ik niet in één of twee keer in mn eentje op krijg wat vaak resulteert in een schimmellaag bovenop het potje bij een volgend gebruik. Dit vind ik oprecht ideaal voor mij!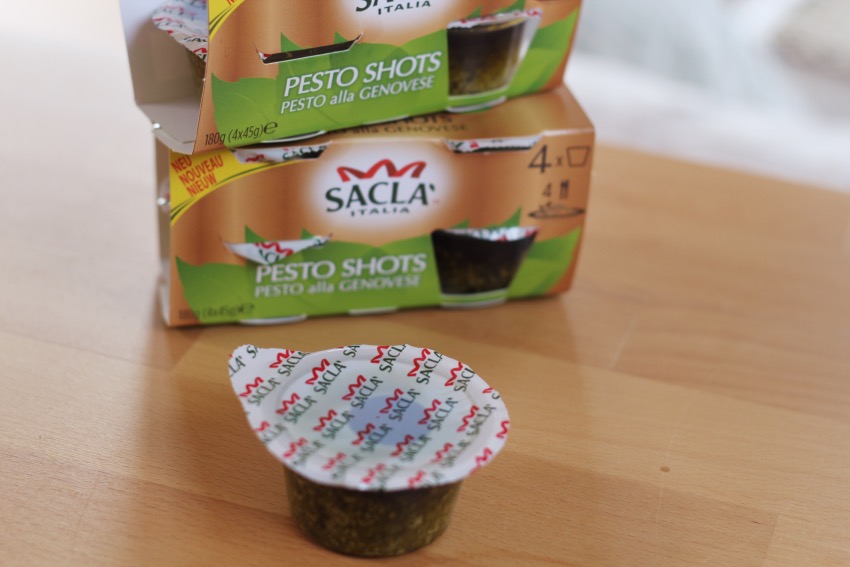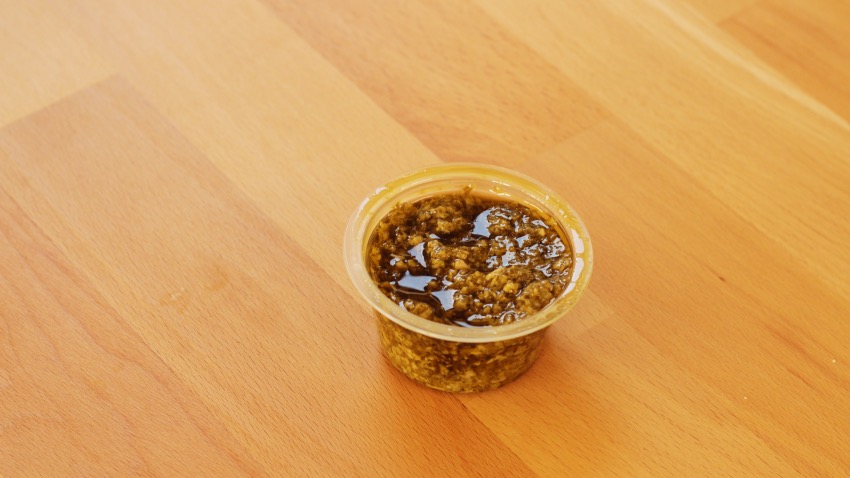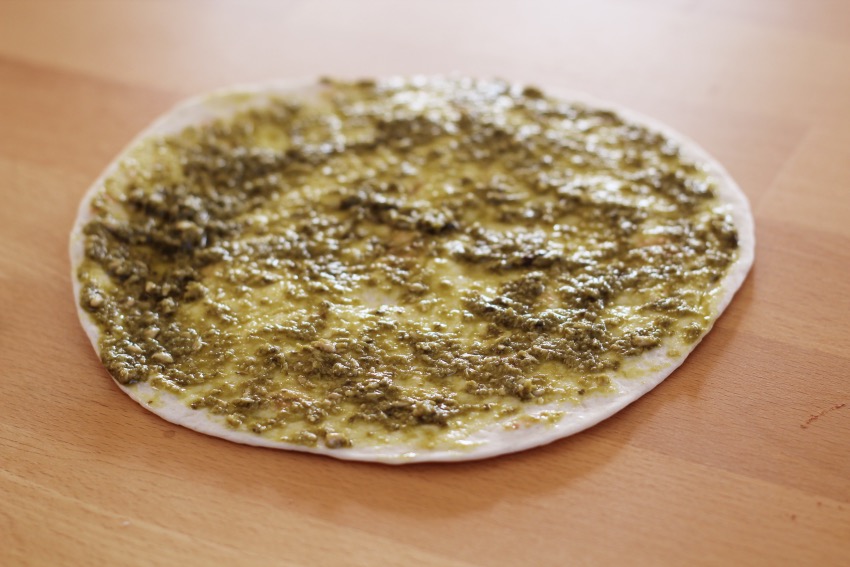 Besmeer de twee wraps met 1 pesto shot.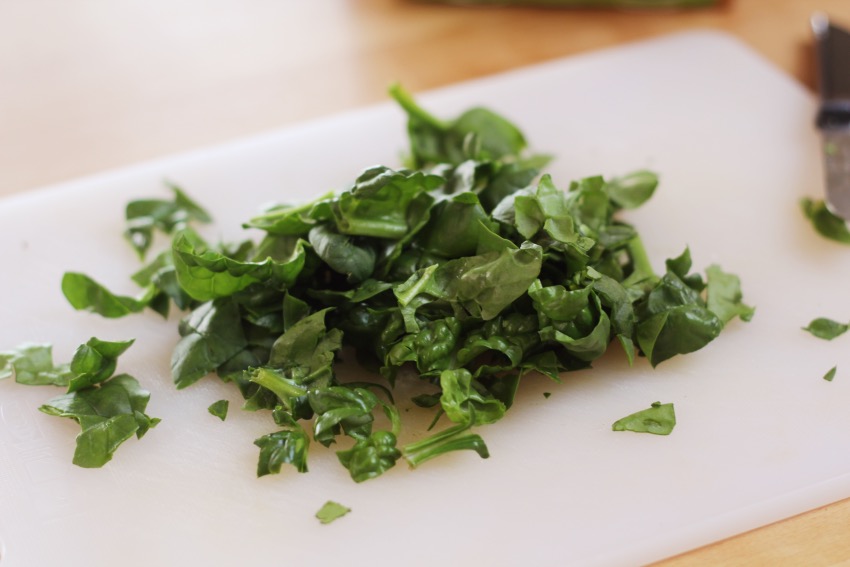 Snijd de spinazie grof door zodat je dit makkelijker over de wrap kunt verdelen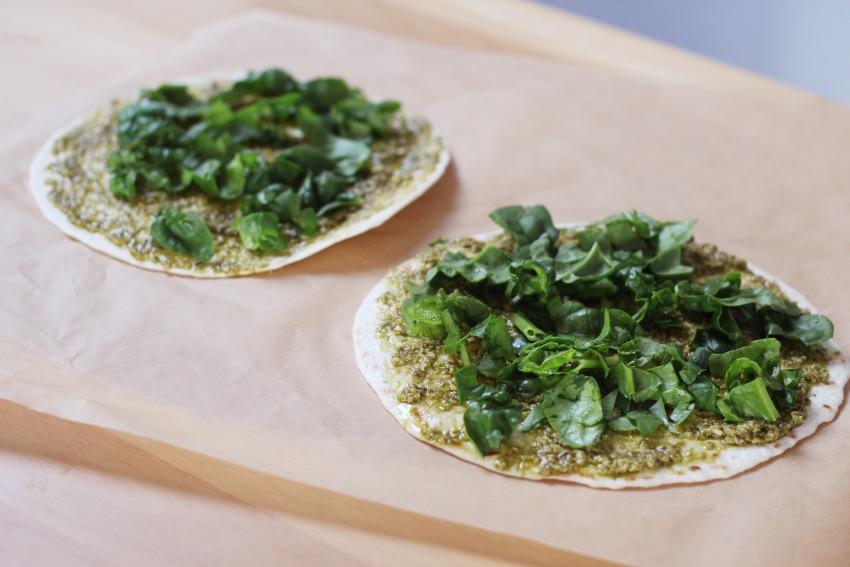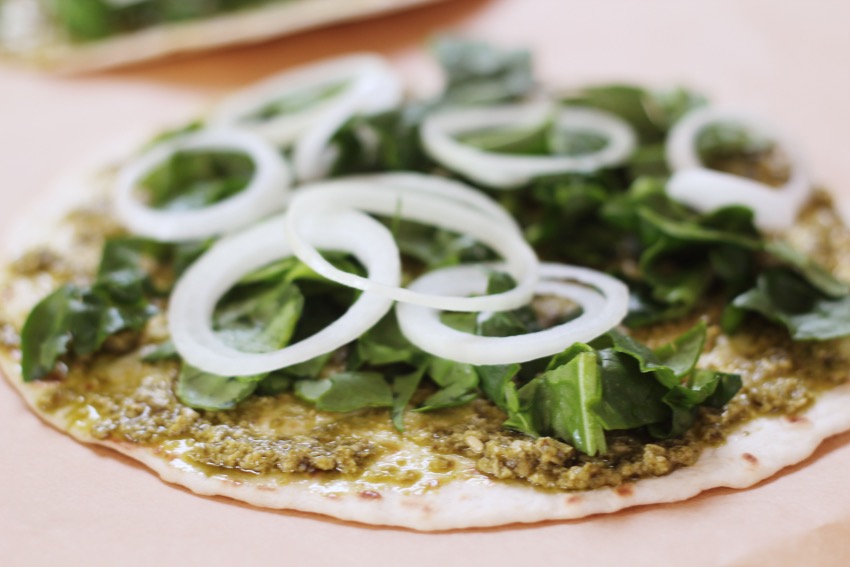 Snijd de ui in ringen en verdeel deze over de twee wraps. Hmm, zie even de lekkere laag pesto onderop!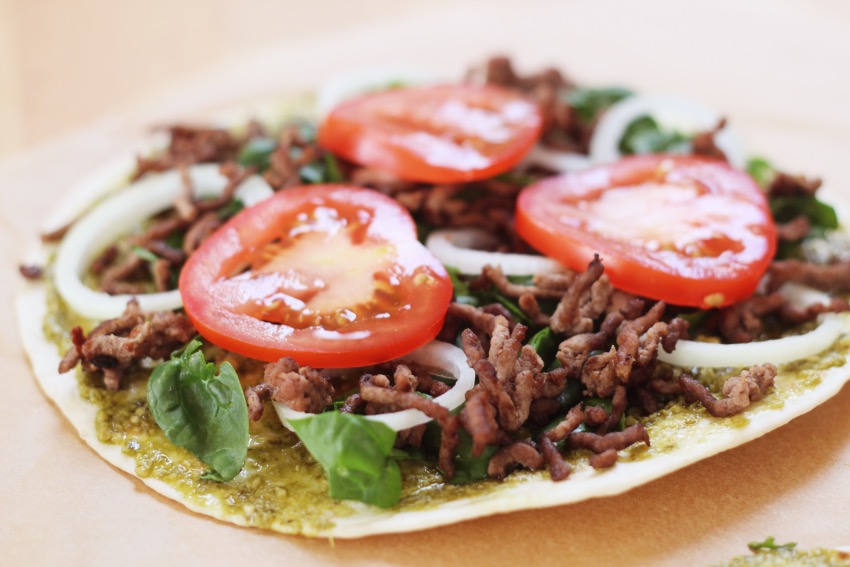 Ik heb één variant vegetarisch gelaten en de ander niet. Zoals je ziet heb ik het gerulde gehakt bij de ene pizza gedaan met daar bovenop de plakjes tomaat.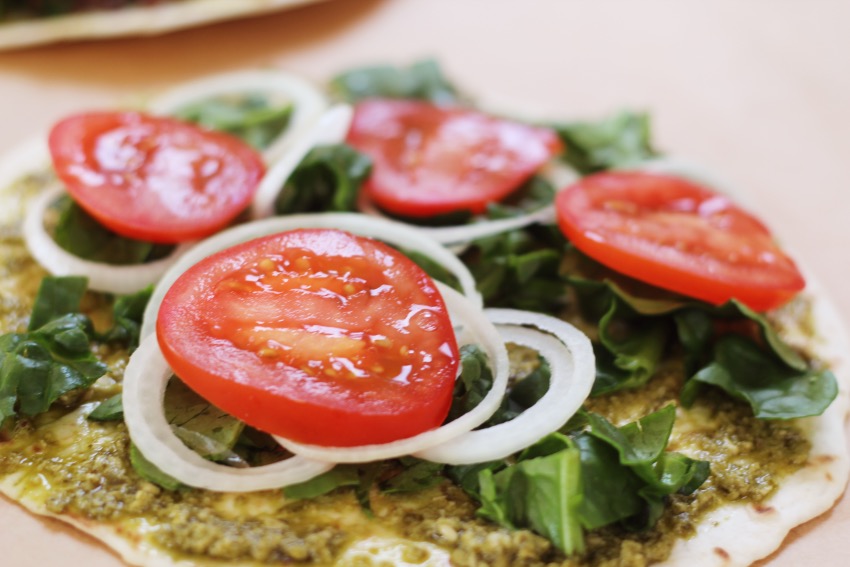 Voor de andere vegetarische pizza gebruik ik de pecannoten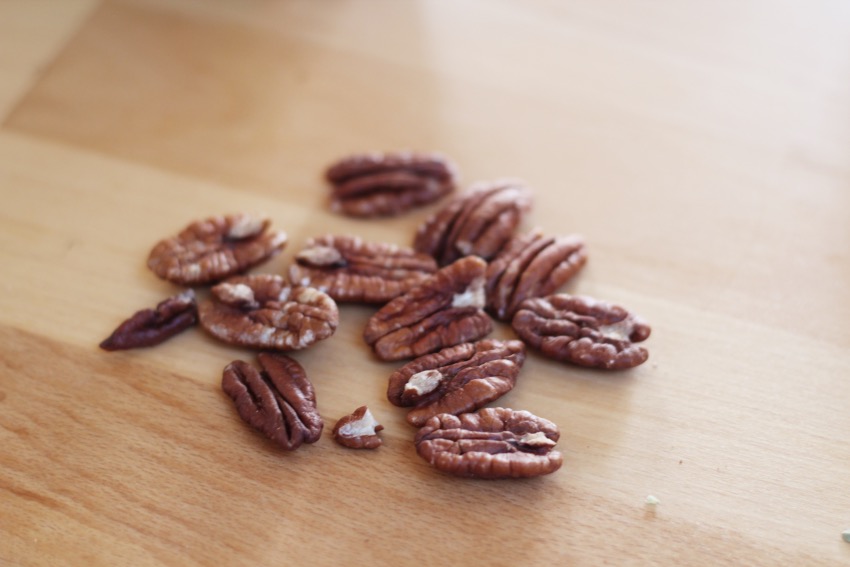 Je kunt deze fijnhakken maar ook gewoon met je handen uit elkaar halen en over de pizza strooien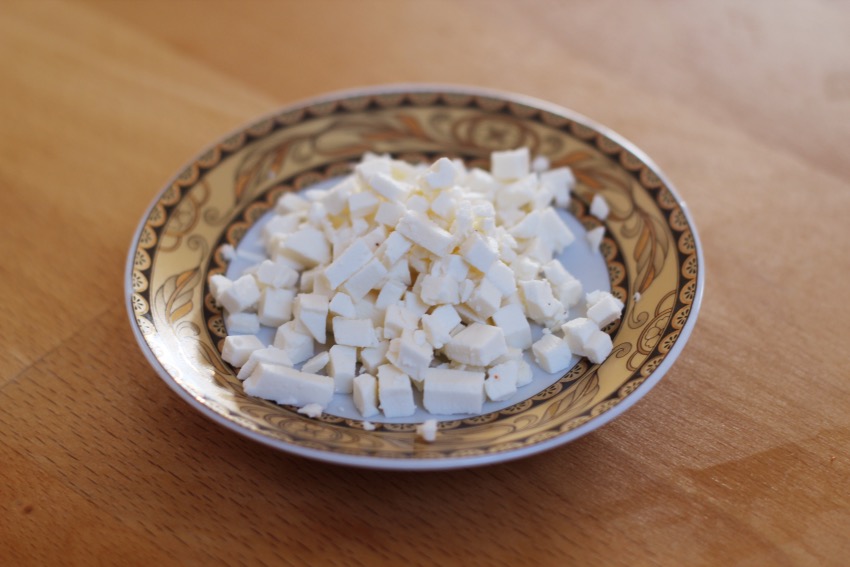 Hetzelfde geldt voor de witte kaas, snijd deze in blokjes of verkruimel hem met je handen boven de pizza's.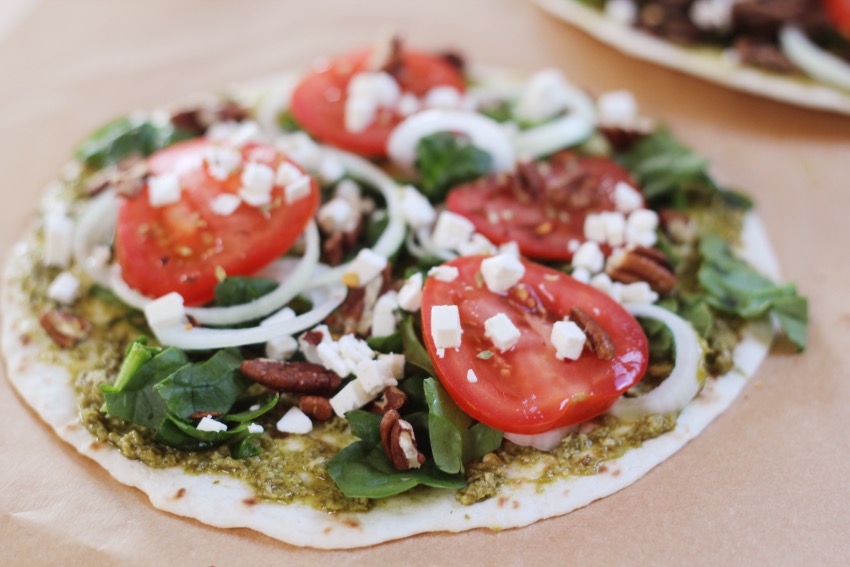 Hier zie je de vegetarische variant met peannoten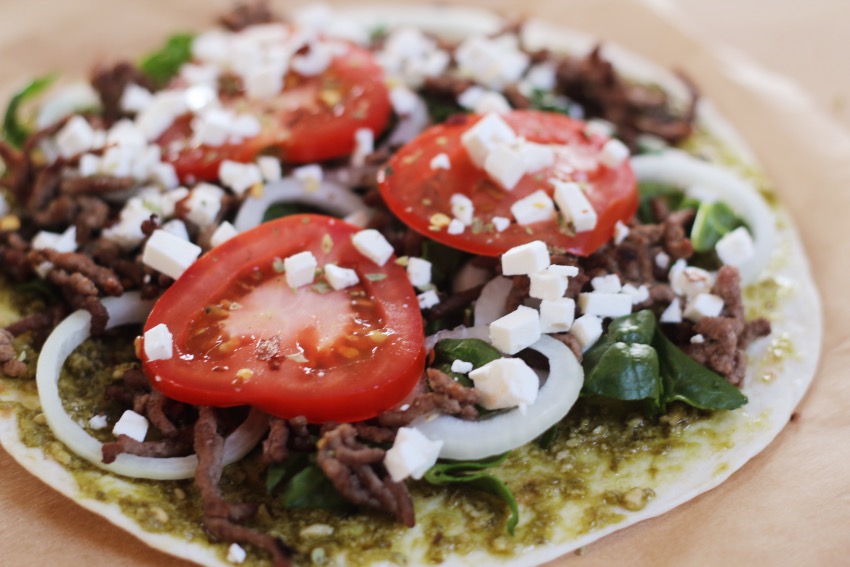 De niet vegetarische variant met gehakt.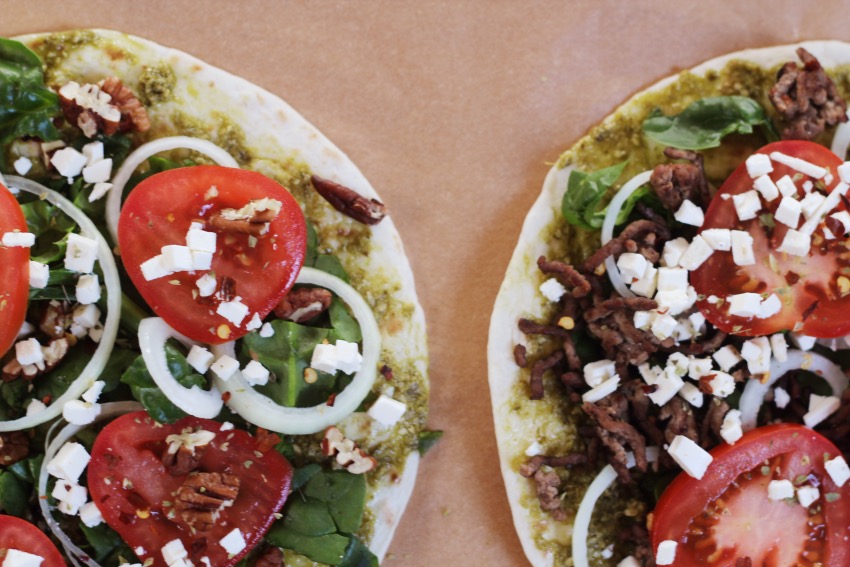 Dit mag de oven in voor 10-15 minuten, afhankelijk van je oven. Houd de wrap pizza's goed in de gaten aangezien ze vrij snel klaar zijn.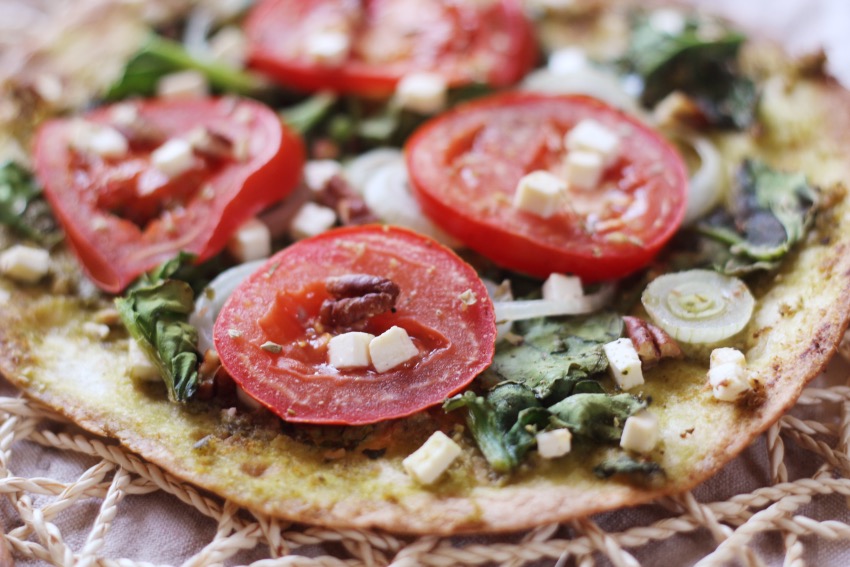 Na 15 minuten heb ik mijn pizza's uit de oven gehaald en is dit het resultaat! Een heerlijke pesto pizza binnen een handomdraai gemaakt!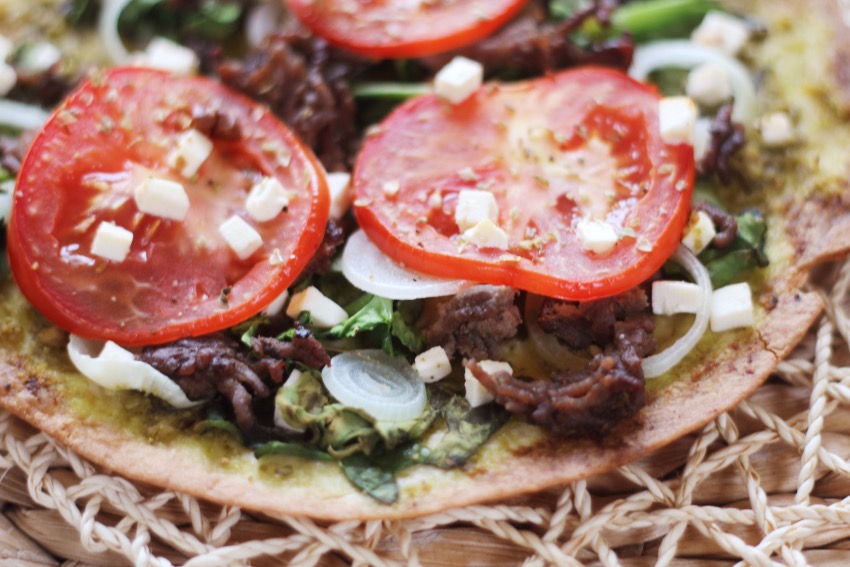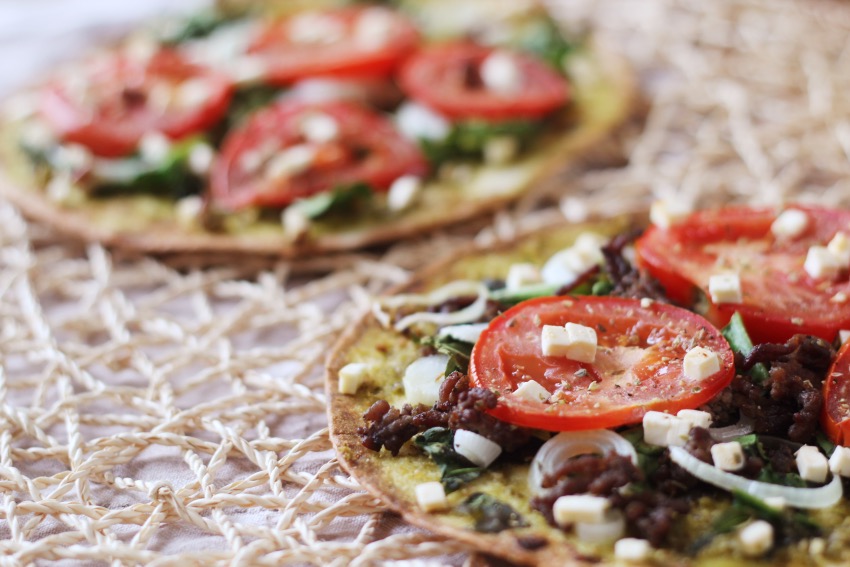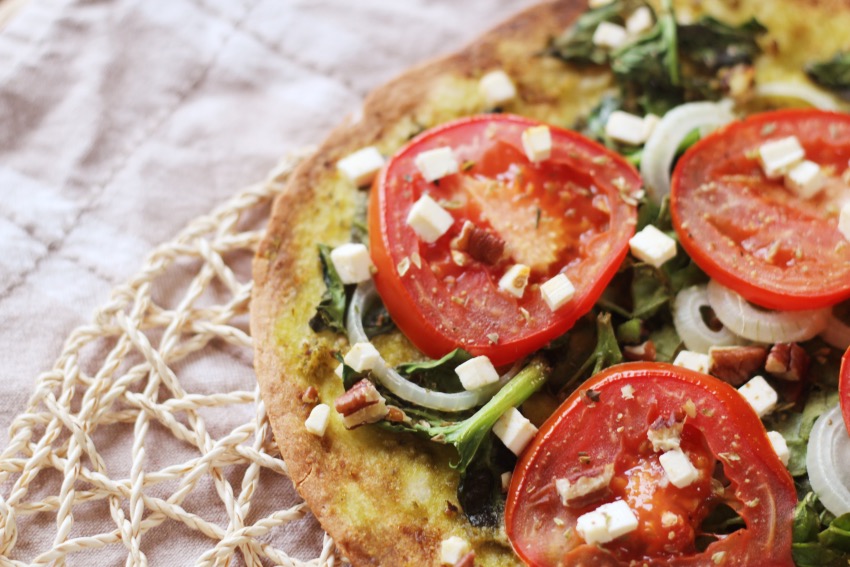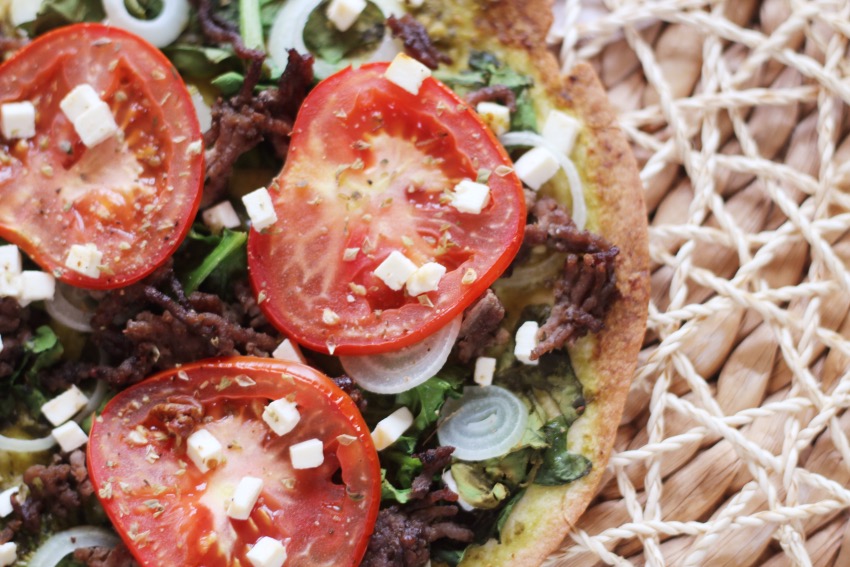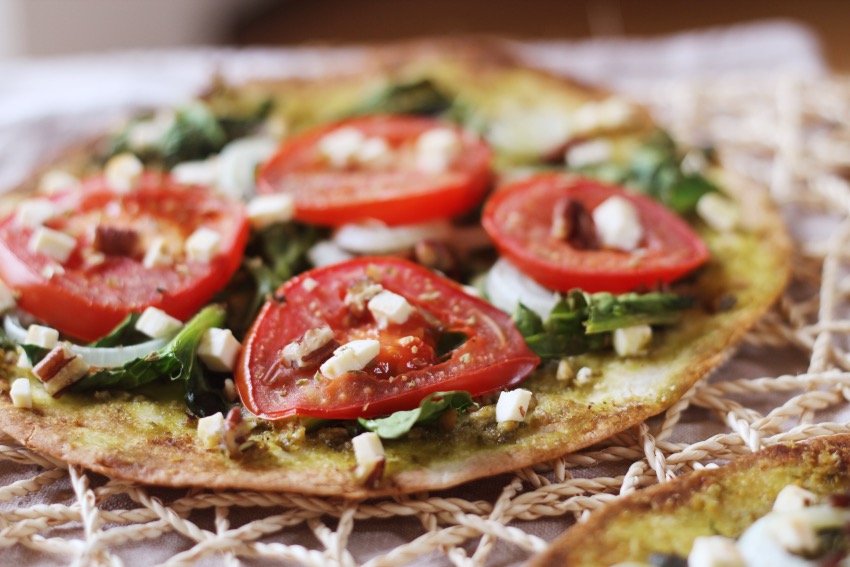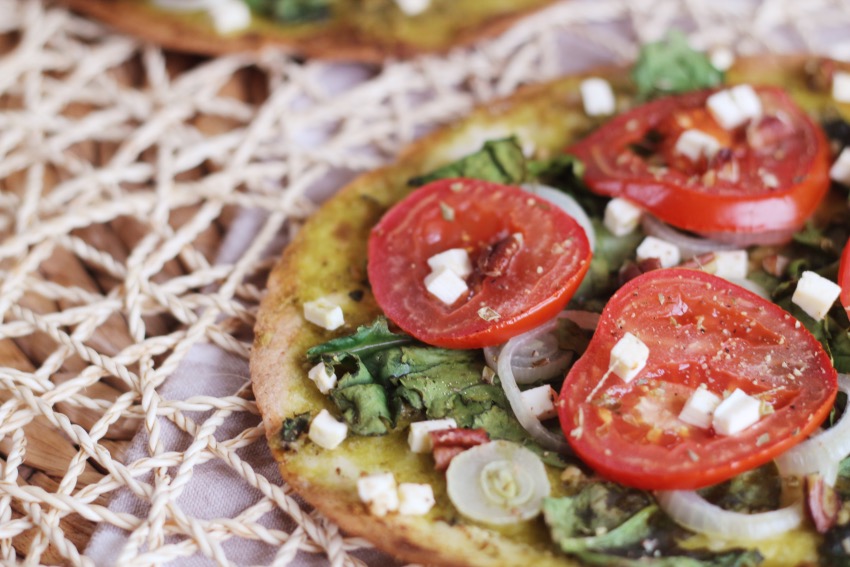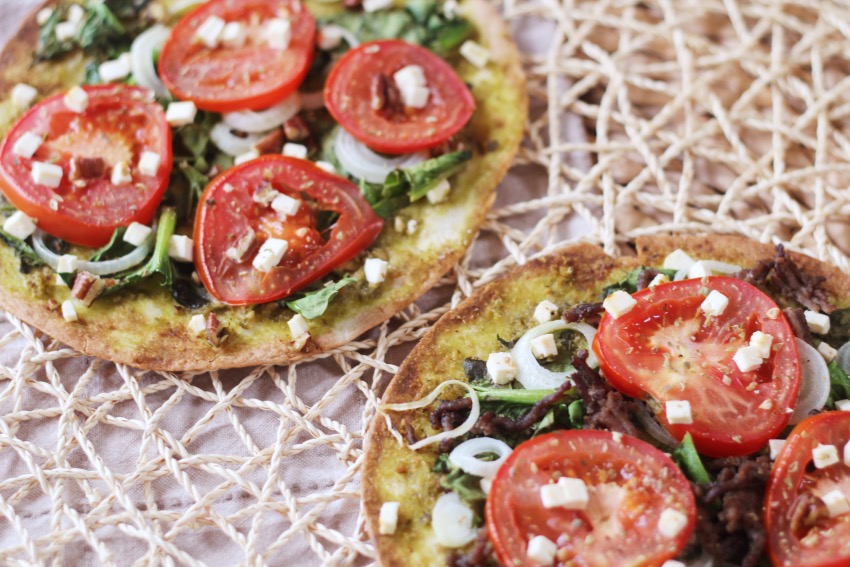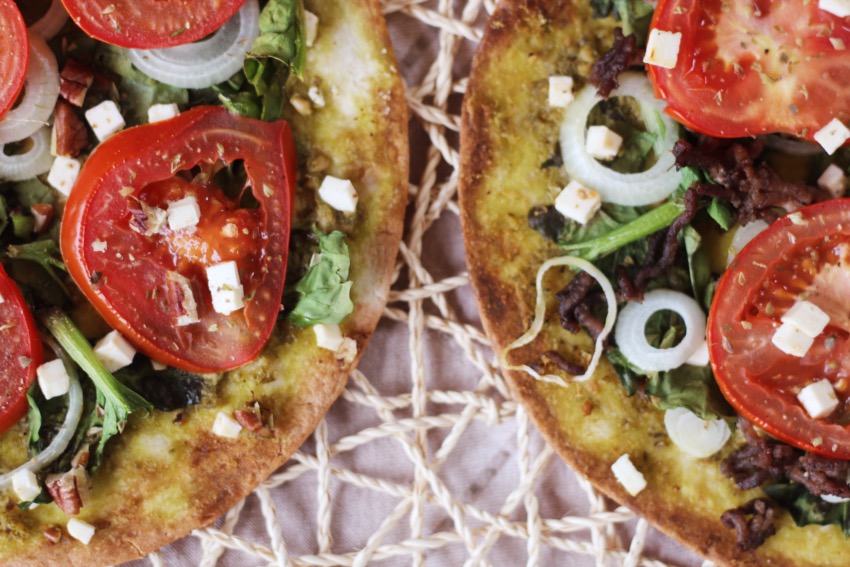 Eetsmakelijk!