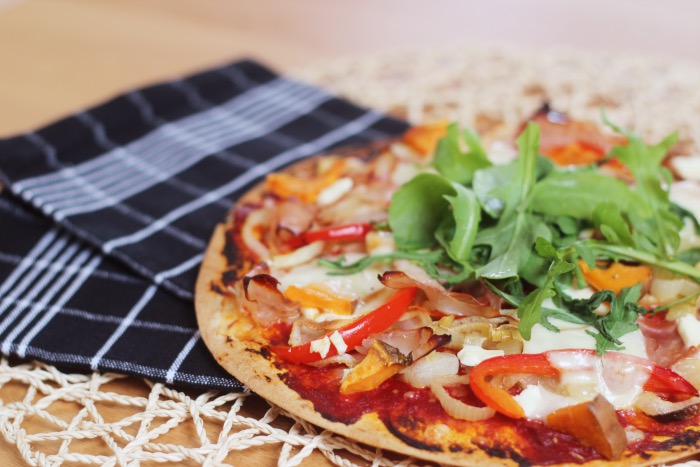 De tortilla wrap pizza is niet nieuw voor mij. Het is zo simpel en zooooo mega lekker! Daarom mag het een update krijgen op mijn recepten pagina. Net zoals de banaan-ei pannekoeken die inmiddels al 4 updates hebben gehad, haha. Mocht je benieuwd zijn naar de eerste keer dat ik dit postte (mei 2013!), klik dan hier.
Maar voor nu, 2.0 versie! Jum 🙂 
Wat heb je nodig? Eigenlijk alleen een wrap en de toppings die jij op een pizza wilt, haha.
Tortilla wrap, het liefst een grote of een middelgrote
Blikje tomatenpuree
Olijfolie
Toppings?
Kaas
Ham
Paprika
Ui
Zoete aardappel
Feta
Mozzarella
Rucola
Ik heb de oven voorverwarmd op 180 graden Celsius.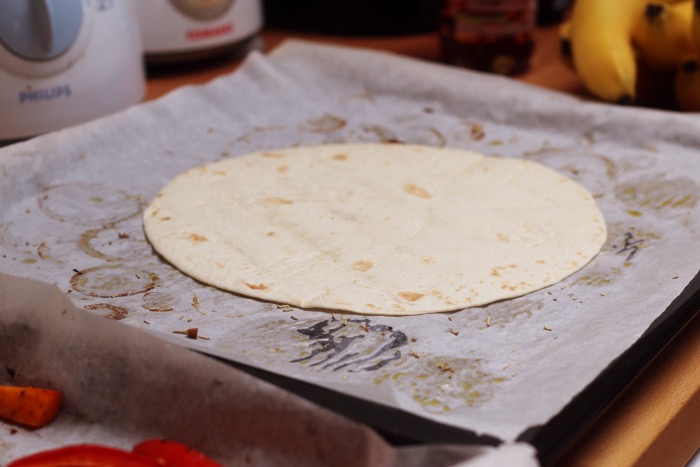 Oja, ik was druk in de weer met groente in de oven dus heb ik gewoon het bakpapier gebruikt wat al eenmalig de oven in was gegaan zojuist. Beetje zonde om nieuwe te pakken.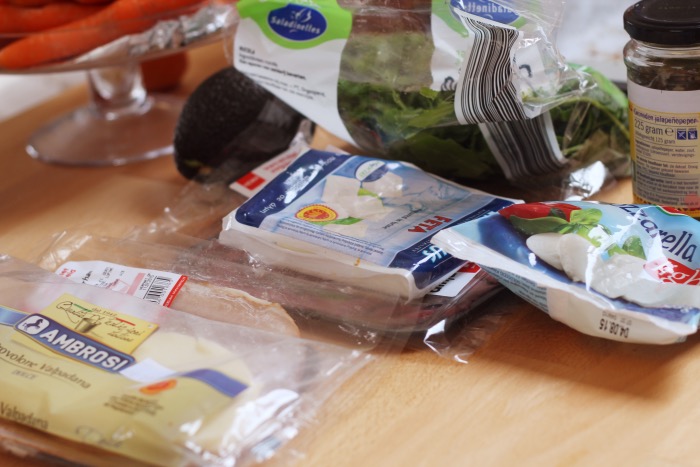 Je ziet op deze foto aan de rechterkant ook nog jalapeno's, ik vind deze zooooo lekker, vooral op een pizza. Maar toen ik het potje open deed was alles beschimmeld 🙁 boo-hoo. Dus dan maar zonder!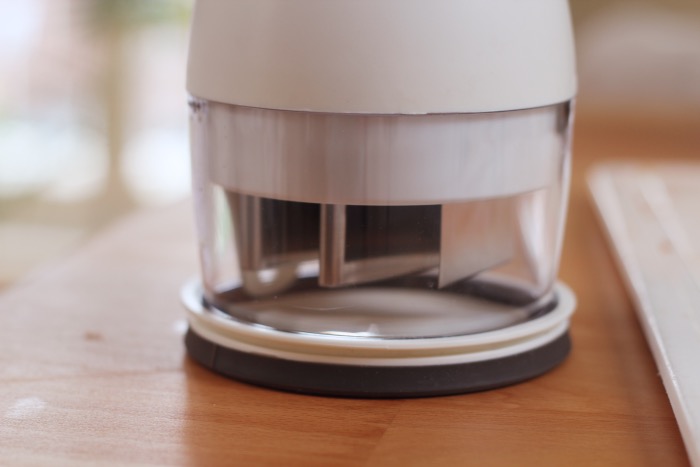 Dit is echt een geniale uitvinding, bij de Ikea gekocht. Hiermee kun je uitjes, knoflook of bijvoorbeeld kaas in stukjes hakken.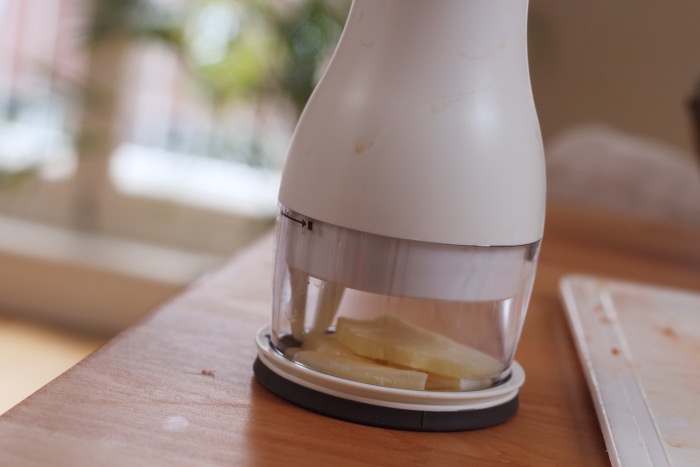 Ik had namelijk geen geraspte kaas maar wel een heerlijk stuk kaas. Om dit te raspen vind ik teveel werk en gedoe. Dus dat gaat mooi in dit apparaatje.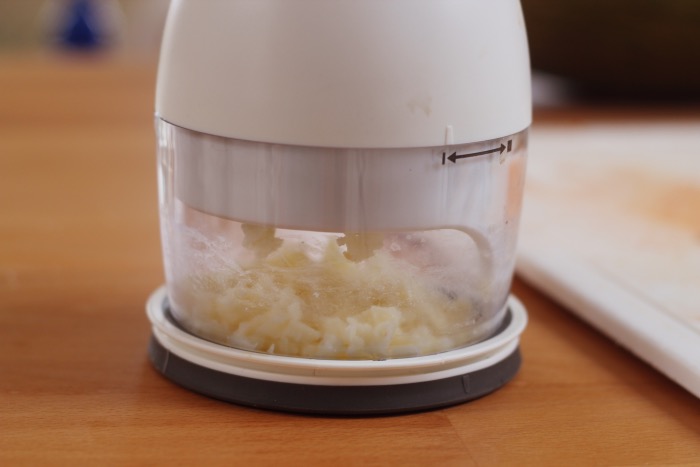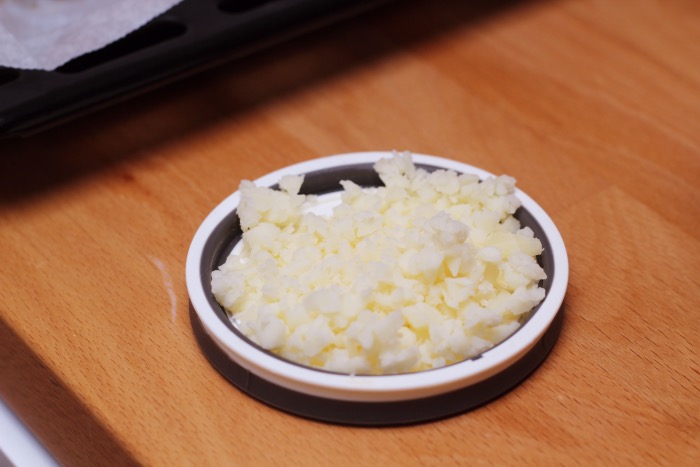 Prima wat mij betreft 🙂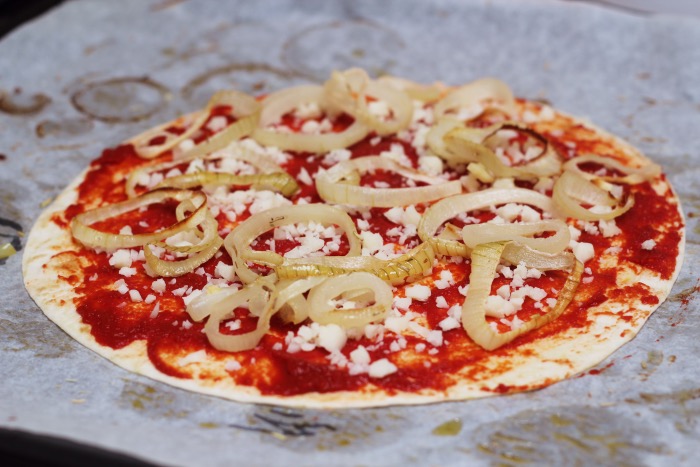 Ik heb de randen van de wrap besmeerd met olijfolie, deze verbranden namelijk vrij snel als ze "droog" blijven. Vervolgens de tomatenpuree met de bolle kant van een lepel op de wrap gesmeerd. Je kunt ook altijd nog wat oregano of andere Italiaanse kruiden door de tomatenpuree doen.
Kaas + uitjes erop. De uitjes komen uit de oven, je kunt ze ook eerst even bakken of gewoon rauw op de pizza doen. Toevallig had ik wat over uit de oven, vandaar!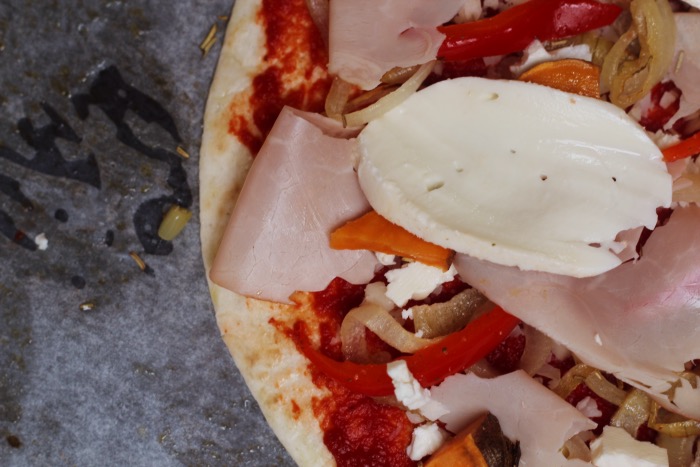 Een plak ham in stukjes gescheurd en verdeeld over de pizza. Vervolgens ook paprika, zoete aardappel (kwam met de uitjes uit de oven) feta en de mozzarella erop en klaar.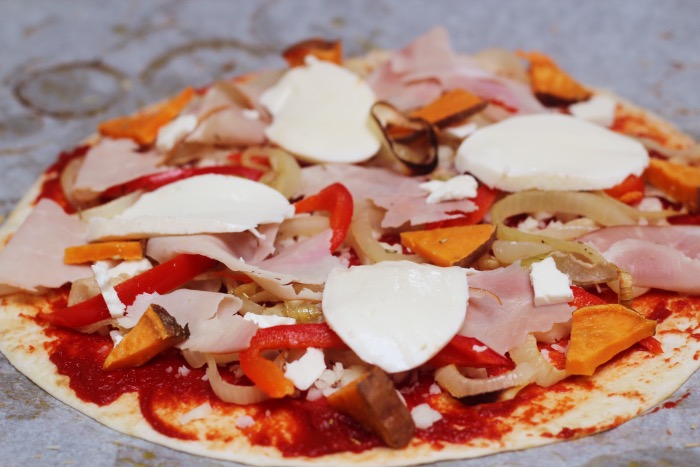 Dit mag voor 10 tot 15 minuten de oven in.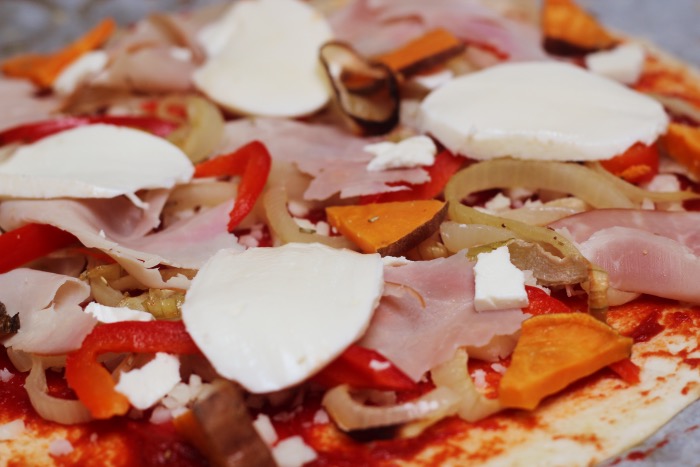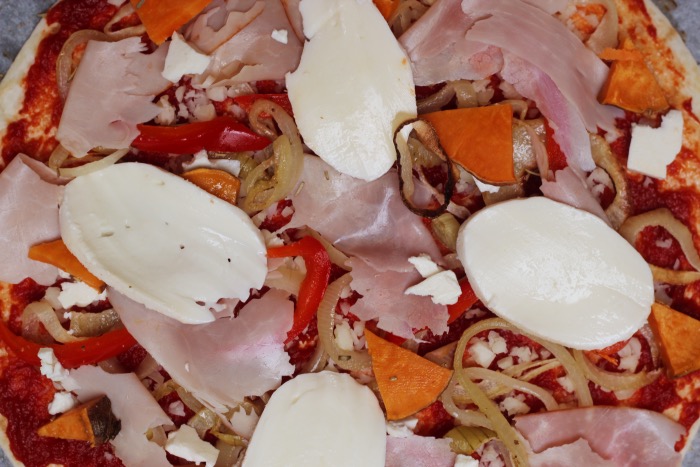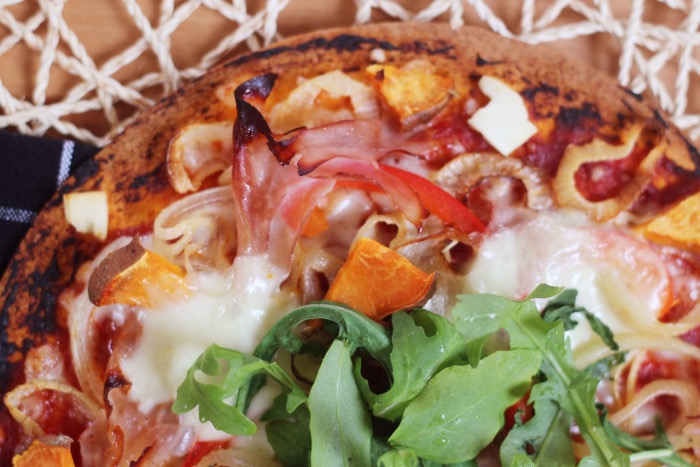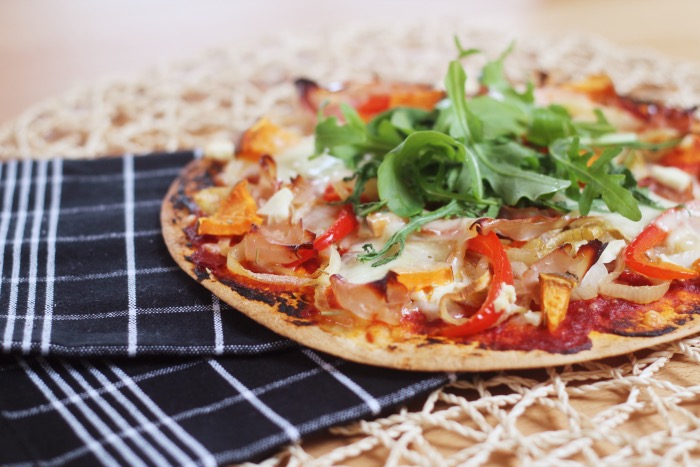 En gewoon omdat het mooi staat (niet per se omdat ik het zo lekker vind) wat rucola in het midden en je kunt je pizza serveren! Of meteen opeten. Of zoals ik, een kwartier lang foto's maken tot de pizza koud is en vervolgens opeten met Orange is the New Black op de achtergrond. 🙂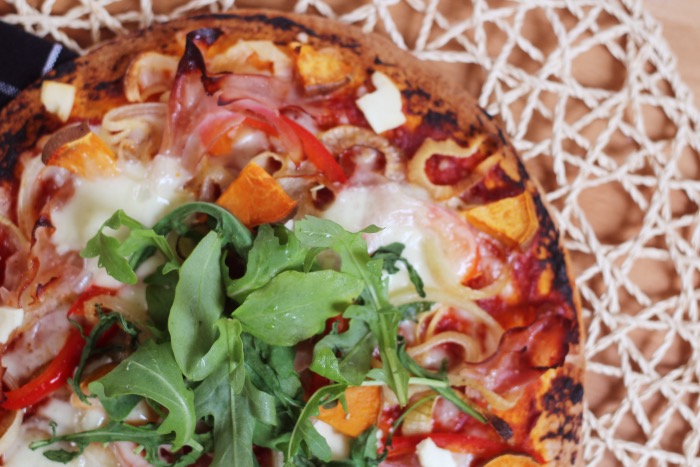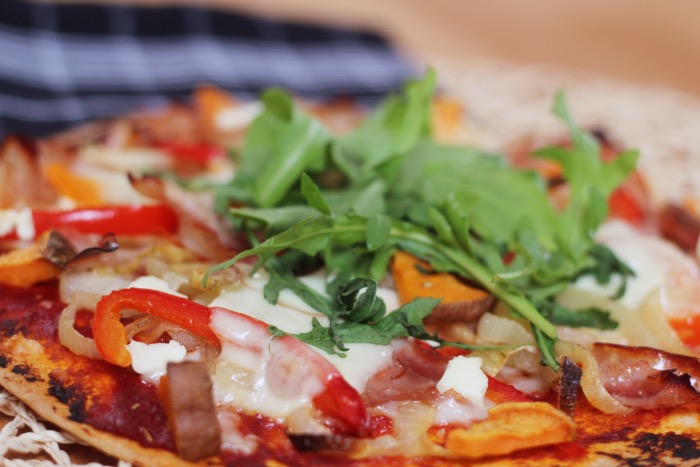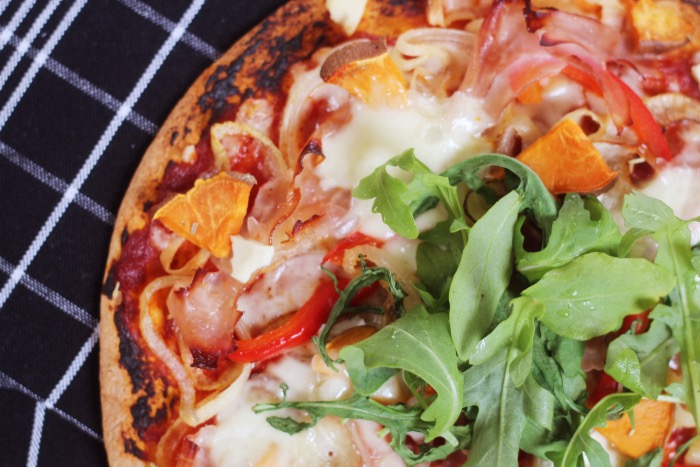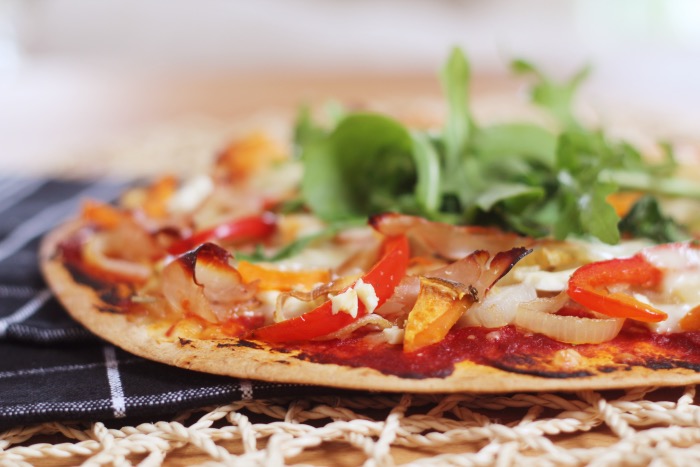 Smakelijk!