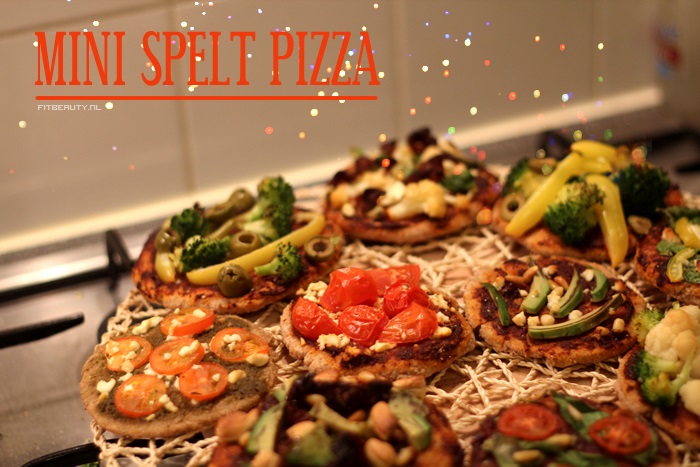 Voor het geval nog niet iedereen ervan op de hoogte is: ik ben gek op pizza, echt gek op pizza! Nu is de pizza die bij de meeste mensen bekend is niet de gezondste variant, daarom probeer ik ze zelf gezonder te maken om er extra van te kunnen genieten. Deze pizza's zijn van speltmeel gemaakt en zonder geraspte kaas, dat scheelt weer! 
Wat heb je nodig voor het deeg van 10 mini pizza's?
360 gram speltmeel (+ extra tot het deeg niet meer plakkerig is)
14 gram gist (1 zakje is meestal 7 gram)
240 ml warm water
1 eetlepel olijfolie
Voor de saus:
1 klein blikje tomatenpuree
2 eetlepels olijfolie
1 eetlepel gedroogde oregano of italiaanse kruiden
De toppings mag je helemaal zelf weten, daar heb ik geen hoeveelheden van gemeten. Wel zal ik benoemen per pizza wat voor toppings ik heb gebruikt voor het geval je inspiratie nodig hebt!
Verwarm de oven voor op 210 graden Celcius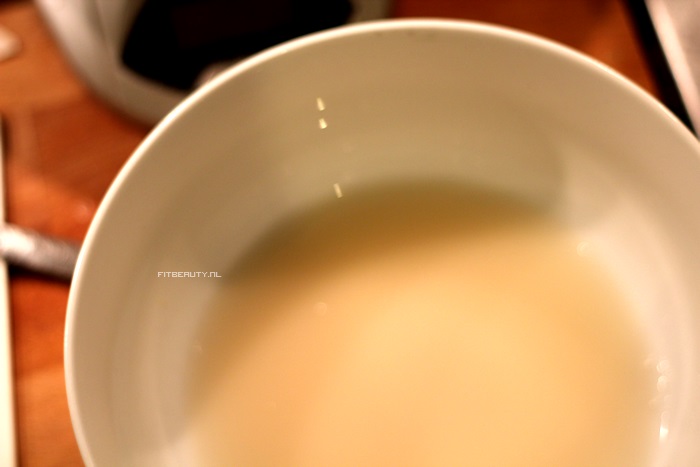 Doe het warme water samen met de gist in een kom, meng dit even door en laat dit 10 minuten staan.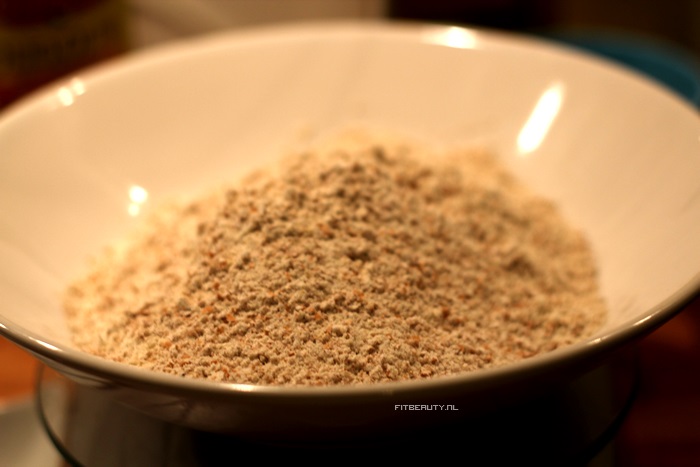 Voeg het speltmeel toe aan de kom met water en gist, meng dit eerst met een vork door tot het een dikke massa wordt, ga het vervolgens kneden met je handen, doe er veel speltmeel bij om het niet plakkerig te maken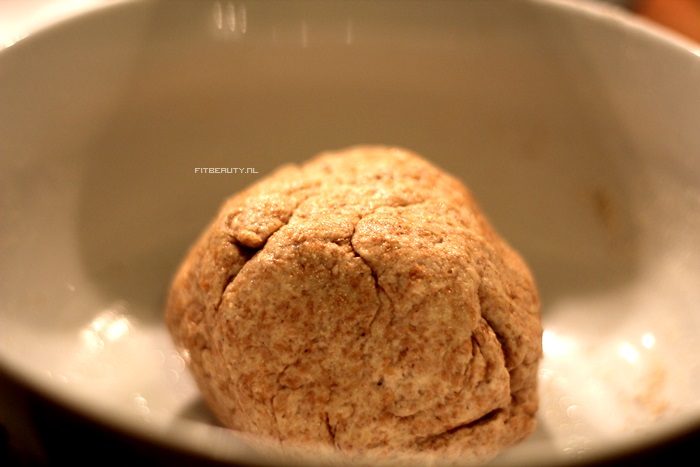 Als je het goed kunt kneden zonder dat het nog aan je vingers plakt, doe je er een scheutje olijfolie overheen, kneed dit nog even door en leg het terug in de kom. Laat dit 1 tot 2 uur staan bij kamertemperatuur.
Na een uur kun je er kleine ronde vormpjes uit maken, leg deze op een bakplaat bedekt met bakpapier.
Tijd voor de saus, oh zo simpel! Alles bij elkaar en even flink roeren; klaar!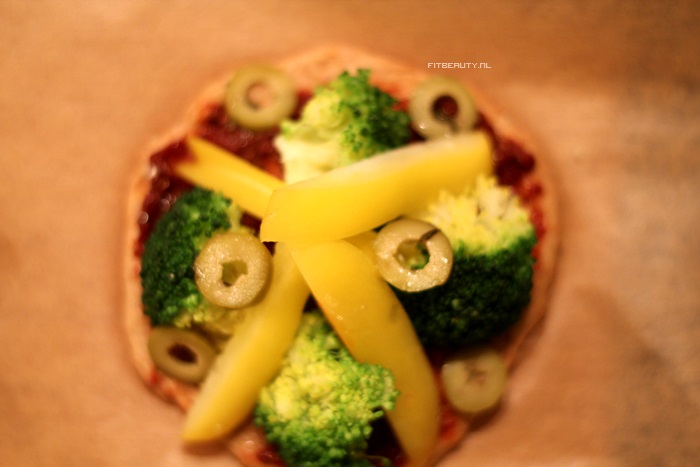 Het leukst gedeelte; de pizza's beleggen. Zorg er natuurlijk eerst voor dat alle pizza bodempjes bedekt zijn met de saus.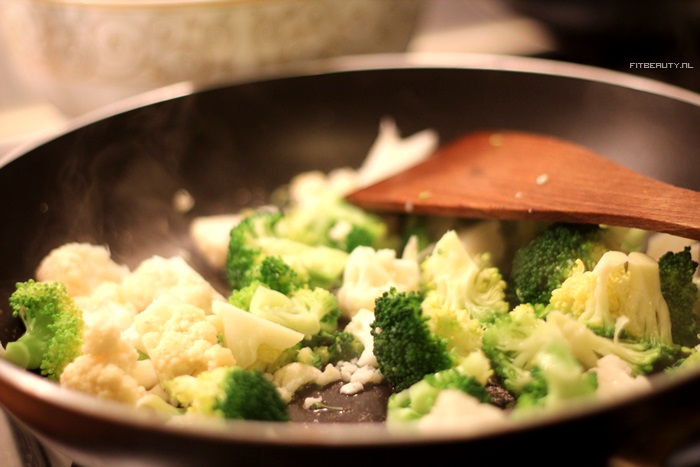 Ik vind broccoli erg lekker op mijn pizza, bloemkool ook wel. Ik bak ze altijd even kort in een koekepan met water (geen olie) tot ze beetgaar zijn, dan kunnen ze op de pizza.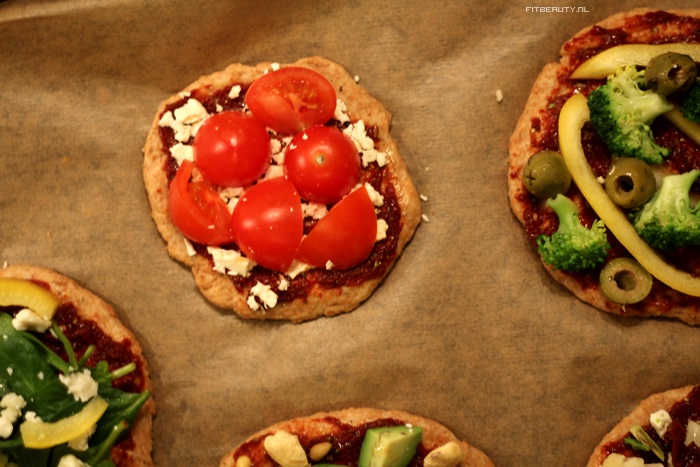 Feta kaas met cherry tomaten, broccoli met gele paprika en olijven,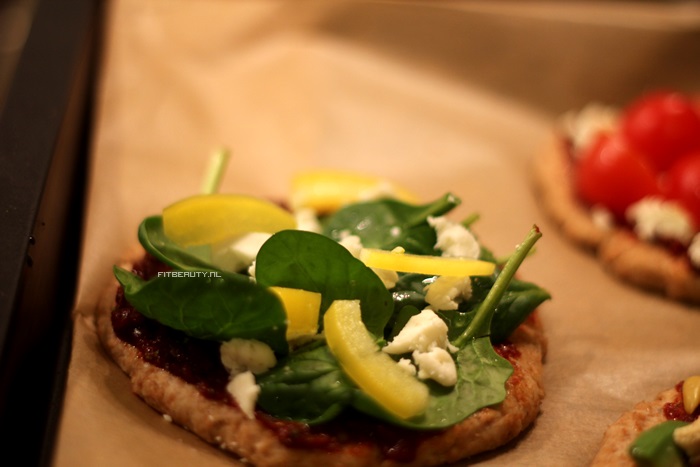 Spinazie, geitenkaas en gele paprika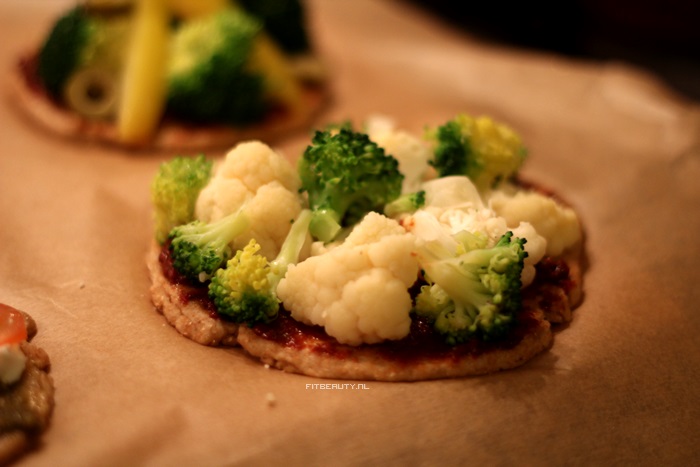 Een en al broccoli en bloemkool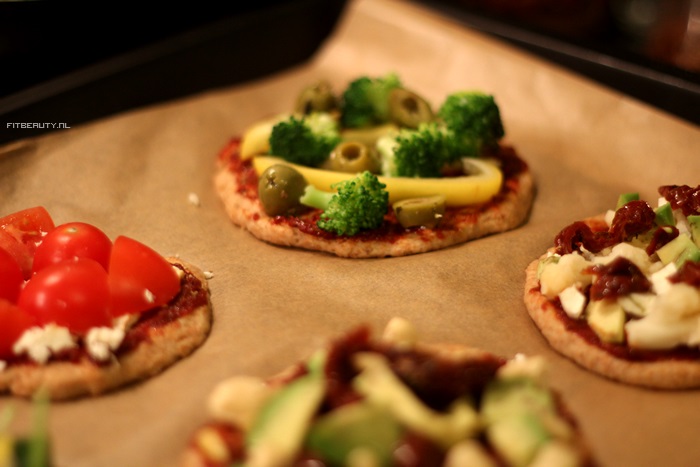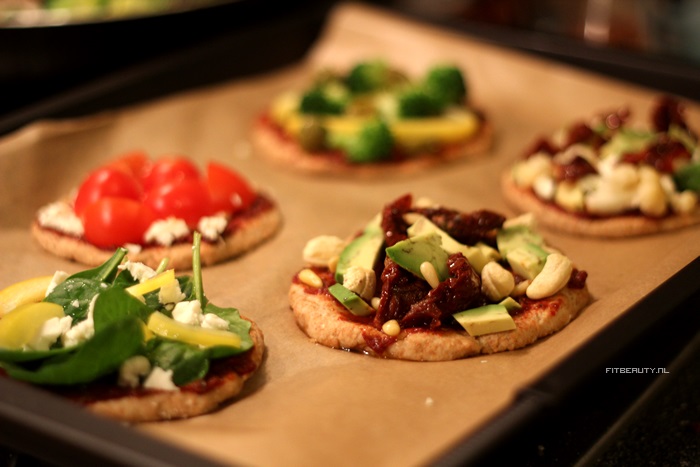 Avocado, pijnboompitten, cashewnoten en zongedroogde tomaatjes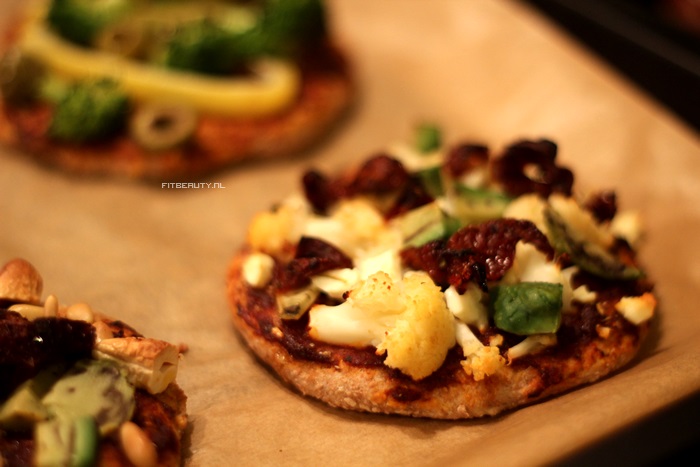 Bloemkool, geitenkaas, zongedroogde tomaatjes en avocado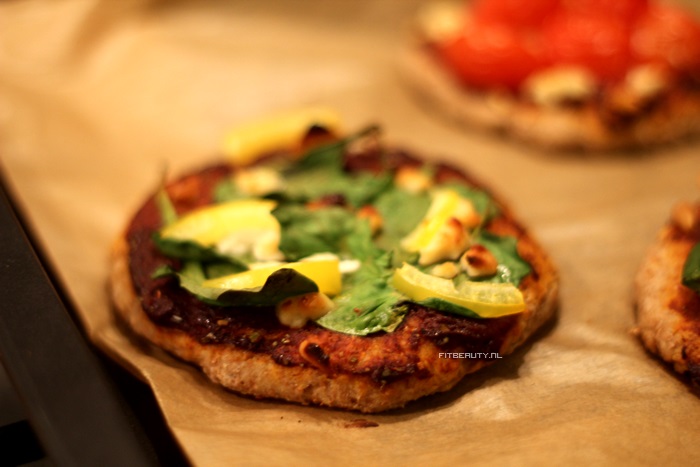 Doe ze 15 tot 20 minuten in de voorverwarmde oven.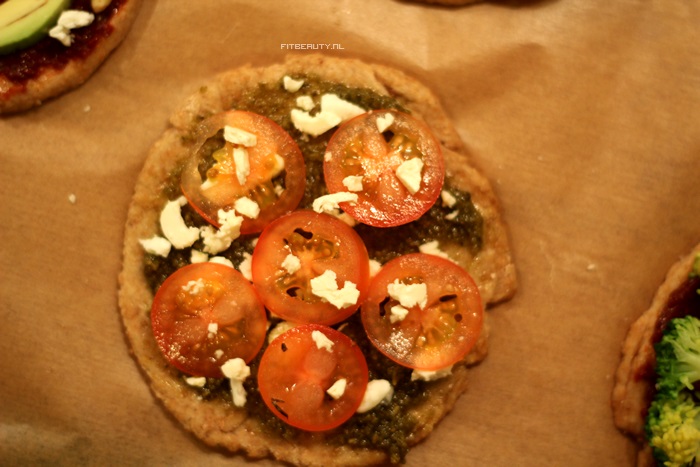 Deze pizza heb ik niet bedekt met de tomatensaus, maar met groene pesto, daarna wat geitenkaas en cherrytomaatplakjes; héérlijk!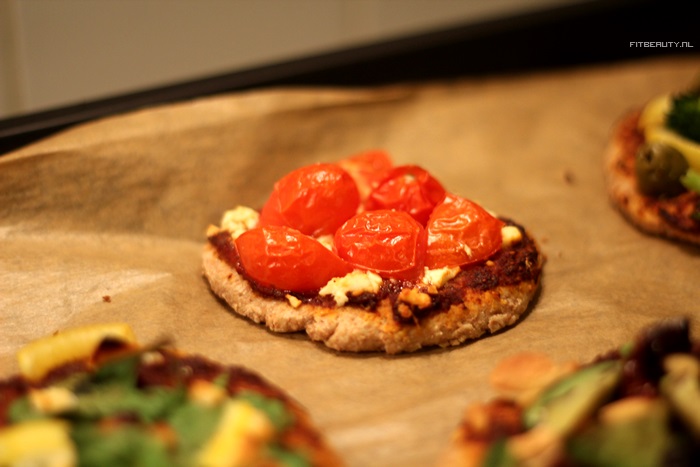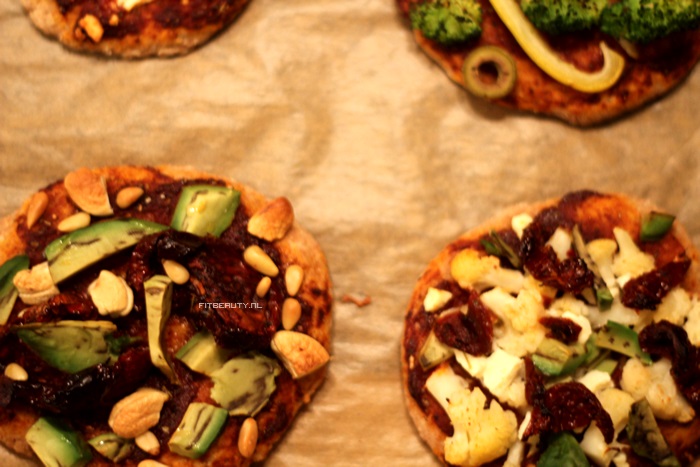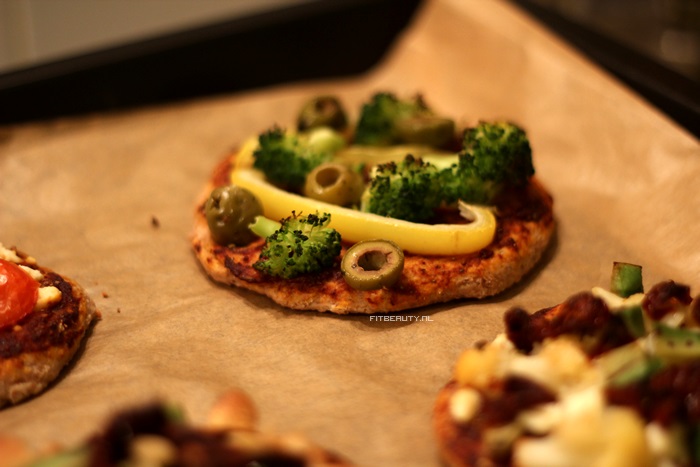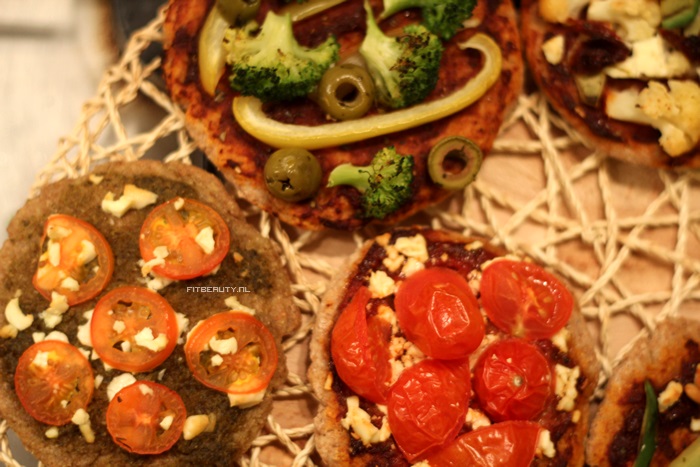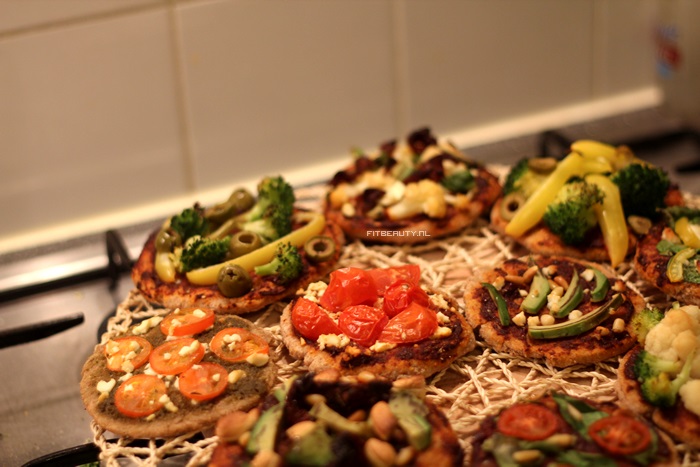 Heel erg leuk voor een feestje of een brunch 🙂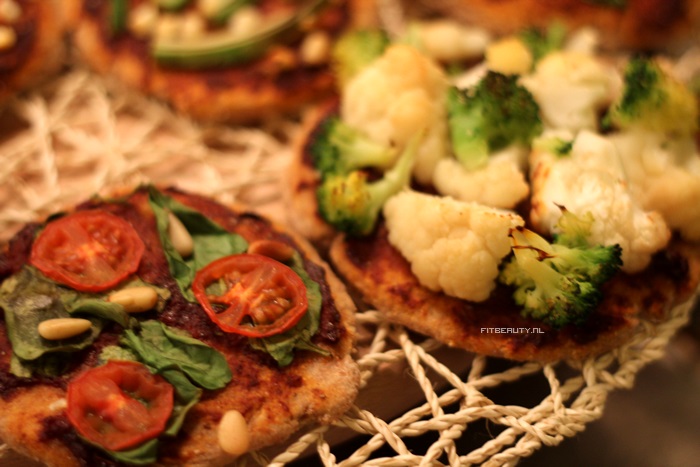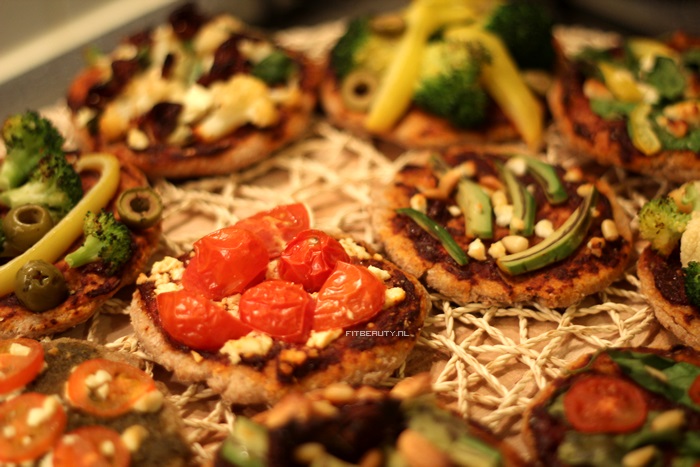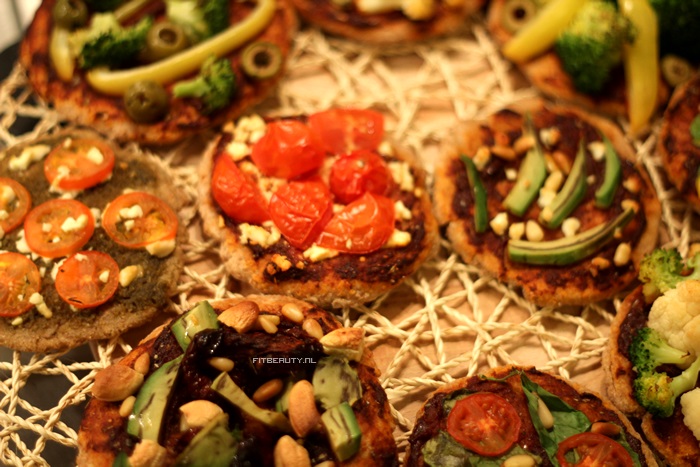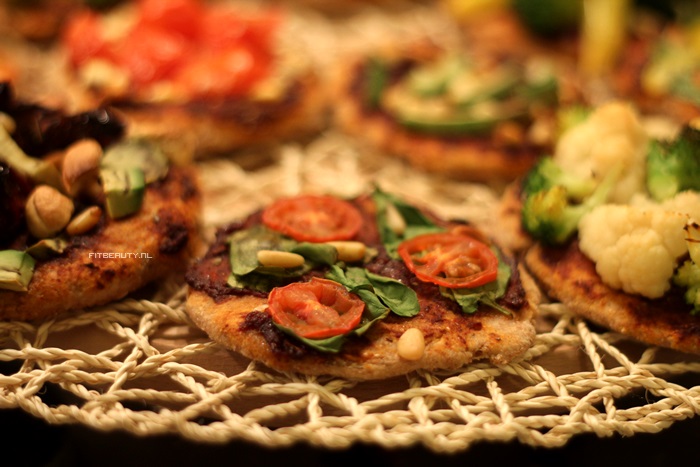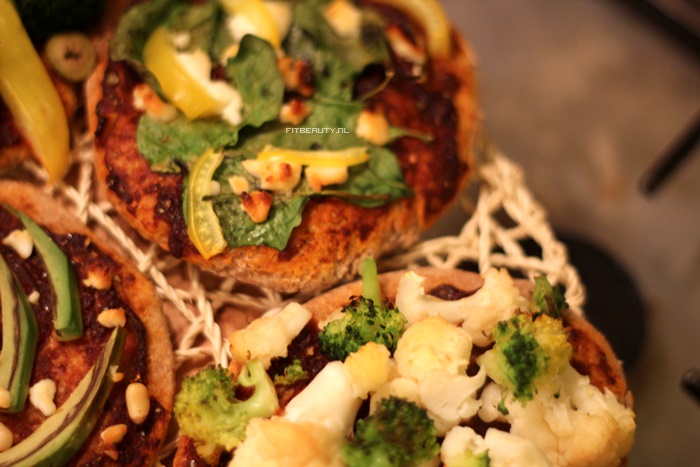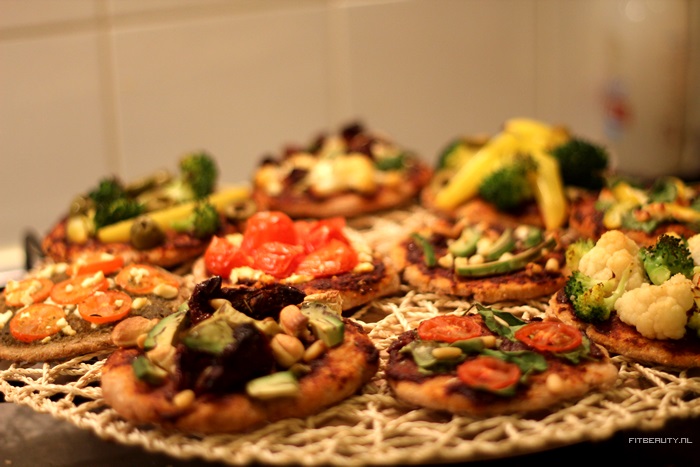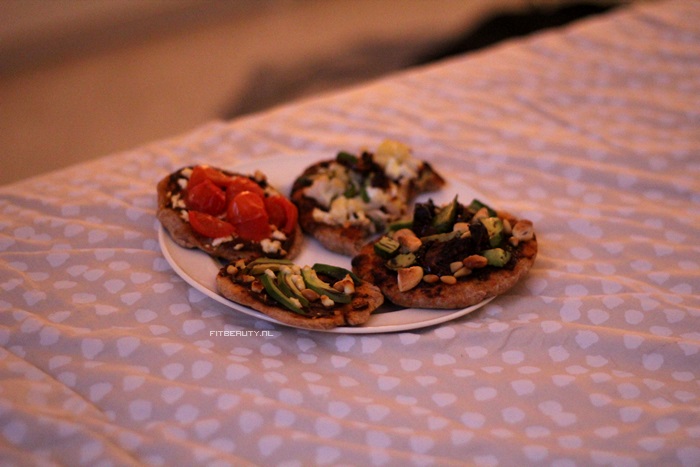 Ik ben helemaal verslaafd aan The Vampire Diaries (don't judge). Dus kaarsjes aan, onder de dekens kruipen, Netflix aan en pizza eten! Kan niets tegenop!