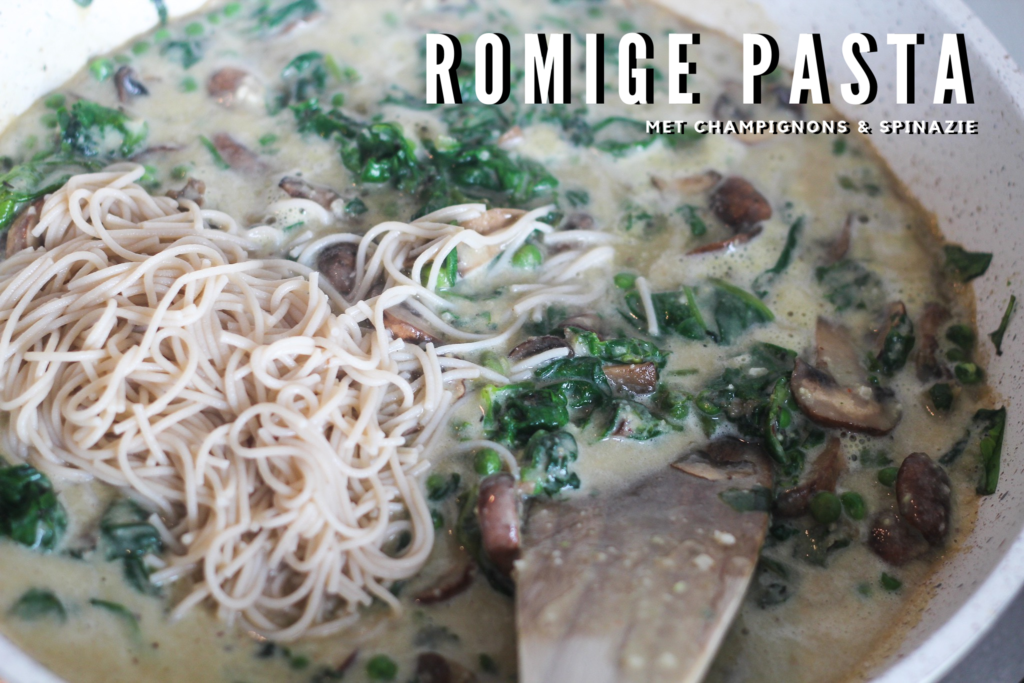 Een heerlijke romige pasta die geheel vegan is. Hartverwarmend, super voedend en bomvol goeds! Wat wil je nog meer? Oja, simpel te maken 😉
Wat heb je nodig voor 4 personen?
150-200 gram pasta (mag elke variant zijn die je wilt, ik heb zilvervliesrijst pasta gebruikt)
1 ui, gesnipperd
2 teentjes knoflook, fijn gesneden
250 gram champignons, gewassen en gesneden
handvol spinazie
200 gram diepvries doperwten
1-2 eetlepels verse basilicum
1 theelepel gedroogde tijm
kokosolie of olijfolie om in te bakken (1/2-1 eetlepel)
Voor de saus:
1/2 avocado
200 gram cashewnoten (of een mix van noten, paranoten doen het ook goed!)
snufje cayenne peper
1 eetlepel edelgistvlokken
200 ml havermelk
1 theelepel tamari
sap van een halve citroen
snufje zout en peper
Mix alle ingrediënten van de saus in een keukenmachine en zet dit even aan de kant.
Verhit de olie in een koekenpan en bak hierin de knoflook, ui samen met de gedroogde tijm voor 1-2 minuten. Voeg vervolgens de champignons en doperwten toe, bak dit mee voor zo'n 5-10 minuten. Roer het af en toe even door.
Bereid alvast de pasta zoals op de verpakking vermeld staat.
Voeg de basilicum en spinazie toe wanneer de champignons geslonken zijn en bak dit voor 3-4 minuten totdat ook de spinazie geslonken is. Als het goed is zou de pasta nu ook gaar moeten zijn, zo niet – zet het vuur van de koekenpan laag of uit tot de pasta gekookt is.
Doe de saus bij het geheel, giet de pasta af en doe deze er ook bij. Meng het lekker door en proef even of je de smaak goed vindt. Voeg gerust wat citroensap en/of edelgistvlokken toe om de smaak zo te krijgen zoals jij wilt.
De avocado, noten en havermelk zorgen voor de romigheid, de edelgistvlokken zorgen voor die kaas-achtige smaak.
Als je saus te vloeibaar is, kun je het even op een laag vuurtje laten sudderen zodat het wat indikt!
Enjoy!