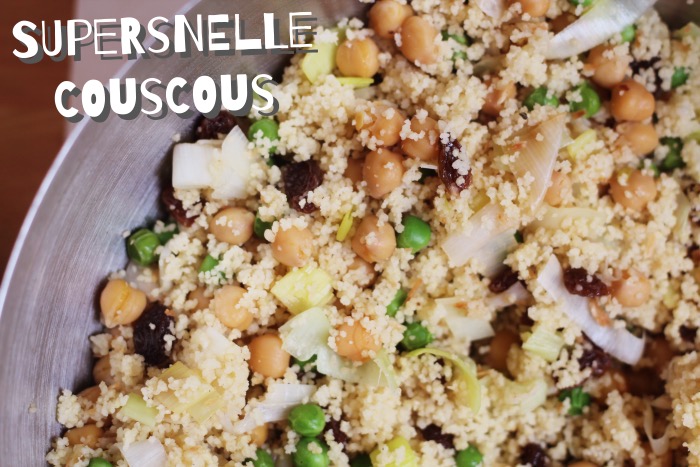 Als er een gerecht is dat ik zo snel mogelijk, voor zoveel mogelijk mensen moet maken, dan is het mijn supersnelle couscous. Het is heel makkelijk, kan bijna niet mis gaan en ontzettend lekker!
En het was wel degelijk zo een dag dat ik deze truc in moest zetten. Ik bleef te lang in bed liggen, vervolgens liep ik maar wat te ijlen door huis omdat ik geen pindakaas meer had maar wel rijstwafels, geen beschuit maar wel muisjes, geen boter/plaksel maar wel hagelslag en mijn koffiezetapparaat wilde niet meewerken. Beetje doelloos heb ik voor de tv gehangen, mailtjes binnen zien komen en gedacht "poeh, nog meer todo's, dat komt vanavond wel", en uiteindelijk veel te laat naar de sportschool, veel te sloom begonnen, toen ik de smaak te pakken kreeg besefte ik dat ik als de wiedeweerga naar huis moest om een recept klaar te maken voor meerdere mensen, douchen, en dan richting Utrecht met een bak eten. Couscous it is. En onbewust zorg ik er dus ook altijd voor dat ik deze ingrediënten in huis heb.
Wat heb je nodig voor een GROTE bak couscous?
400 gram couscous
300 ml heet water met bouillon
40 gram rozijnen (of meer naar smaak)
1 blik/pot kikkererwten +/- 250 gram
1 prei of 1 grote ui
200 gram diepvriesdoperwten
blokje boter (grootte van een theelepel)
Kruiden die je bij de hand hebt (ik gooide er stiekem seroendeng doorheen, gewoon, omdat ik het in huis had)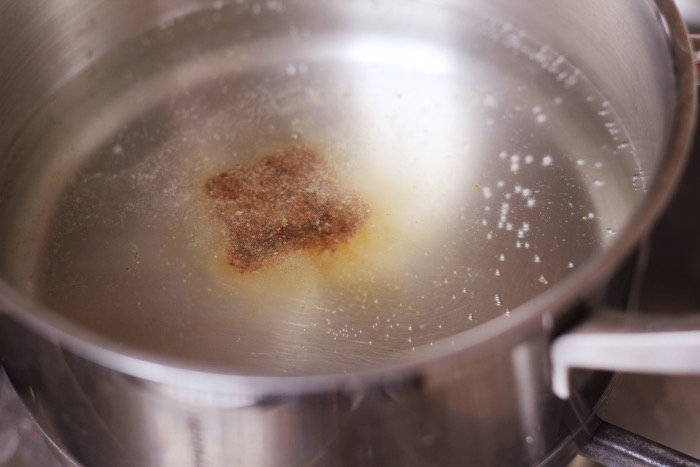 Allereerst zet je water op waar je het bouillon blokje in kunt oplossen.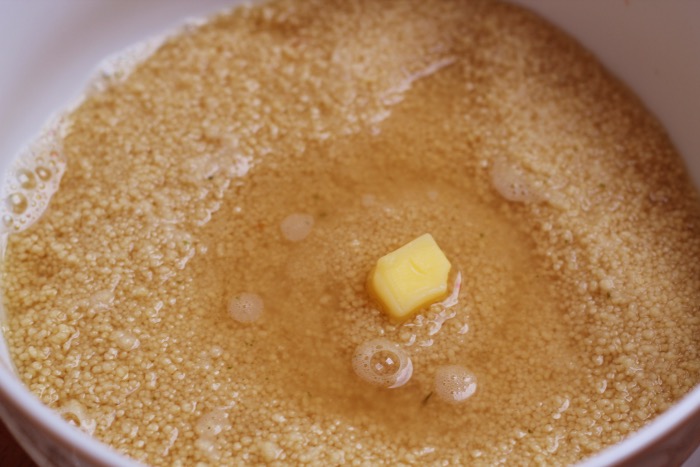 Doe vervolgens de couscous in een kom en giet daar het kokende water over. Het kan zijn dat je niet al het water nodig hebt, de couscous moet namelijk net onder water komen. Mocht je teveel water hebben toegevoegd (te plakkerig?), doe er gewoon wat couscous bij en meng dit door met een vork. Hier doe je ook het blokje boter erbij.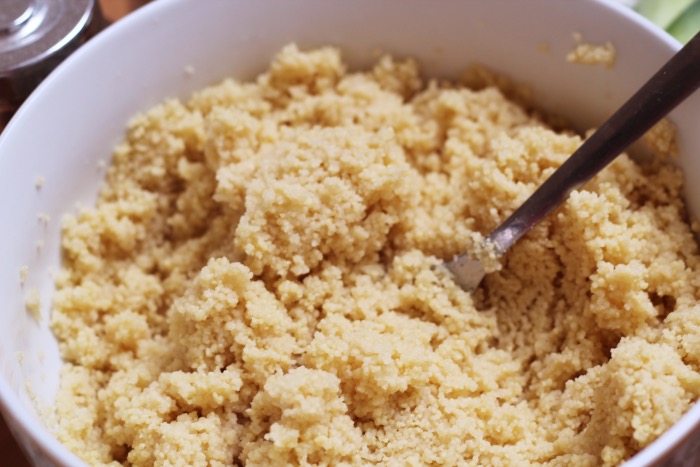 Met een vork roer ik altijd na een minuut even goed door de couscous, zo kan ik zien of de hoeveelheid water goed is bij de hoeveelheid couscous. Zoals je ziet was dit wat plakkerig, dus heb ik er couscous bij gedaan en weer opnieuw erdoor geroerd. De overige couscous absorbeert automatisch weer wat vocht zodat het geheel minder plakkerig en meer korrelig wordt.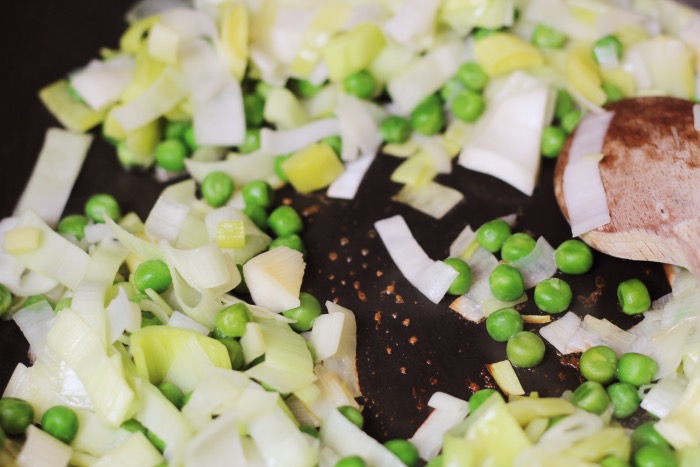 Verhit wat olie in een pan en bak daar de prei en diepvriesdoperwten in.  Als de prei (of ui) glazig is geworden en de doperwten niet meer bevroren zijn, kun je de overige ingrediënten toevoegen.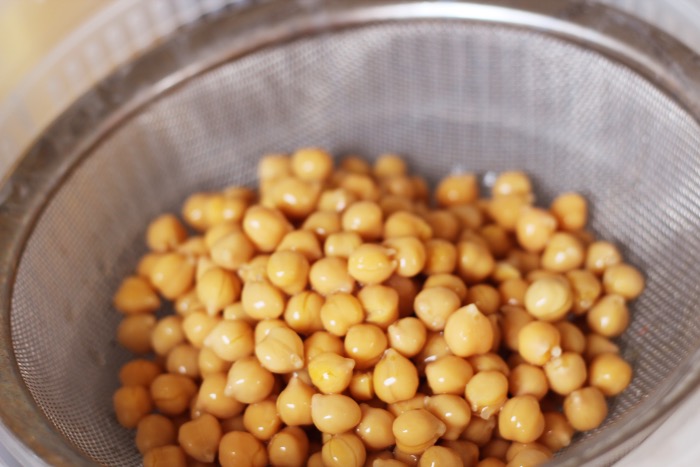 Kikkererwten even uitlekken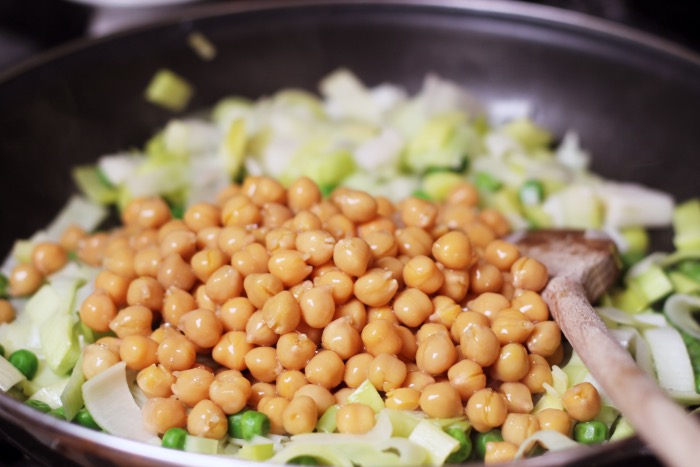 En hup! Erbij!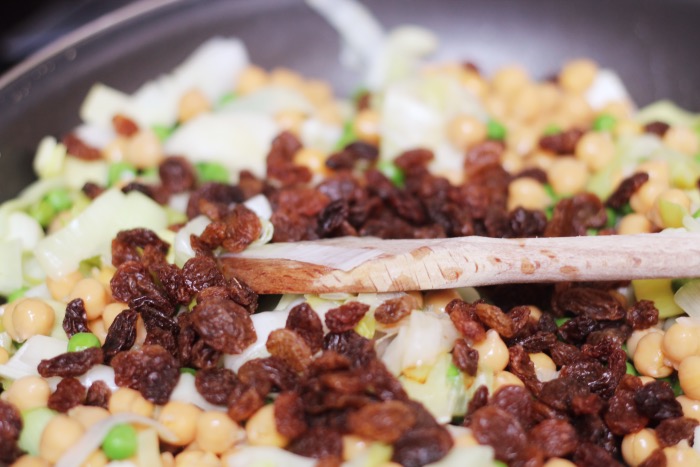 Direct daarna doe ik de rozijnen er ook bij. De kikkererwten en rozijnen hoeven alleen maar opgewarmd en wat zachter te worden, "gaar" zijn ze al.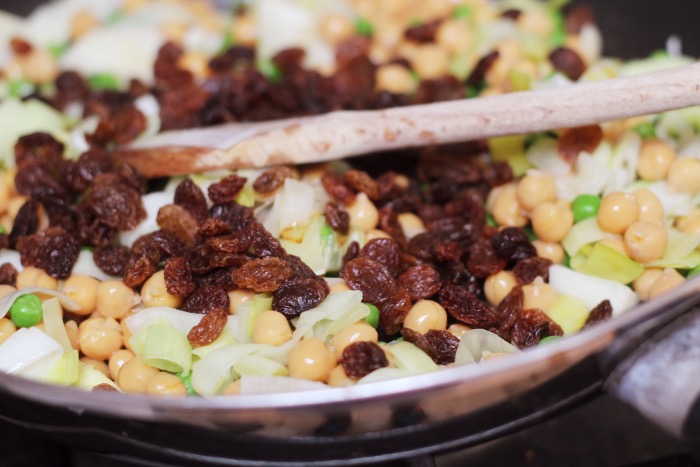 Dit is geheel optioneel. Ik wilde nog wat meer "smaak" toevoegen en normaal doe ik dat met koriander, maar dat had ik niet meer in huis. Ik heb twee eetlepels seroendeng toegevoegd, ik heb dit al zo lang op het aanrecht staan. Heel lekker om zo af en toe door gerechten te doen!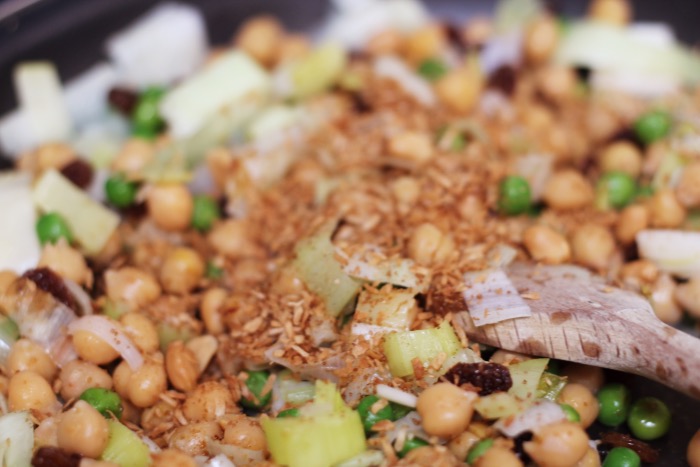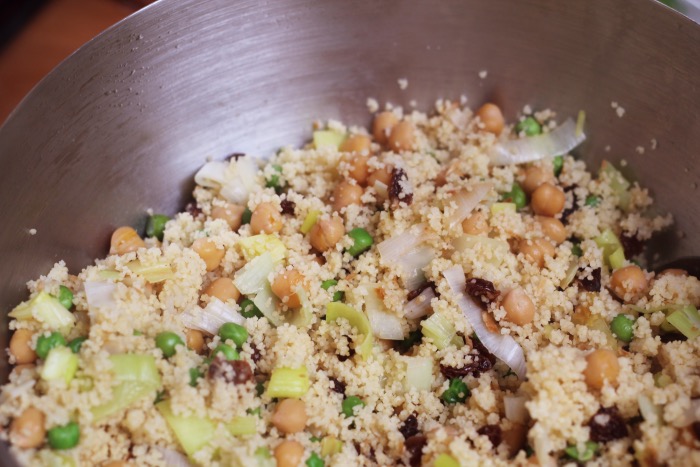 In een hoge kom doe ik het mengsel bij de couscous en meng ik het even goed door elkaar. En je gerecht is klaar! Dit kan zowel warm als koud gegeten worden.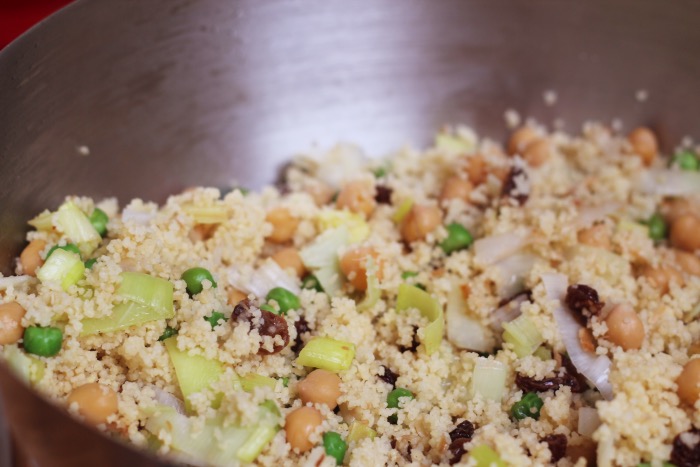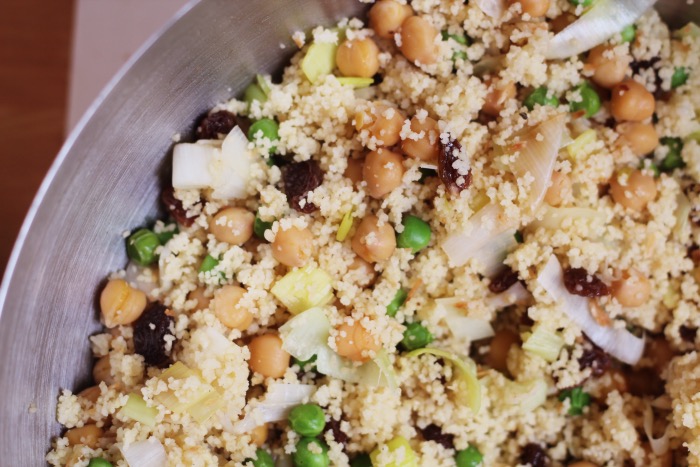 Wat mij betreft altijd een goede optie bij haast 🙂 Binnen 15 minuten staat het op tafel. Of in mijn geval, zit het in bakjes in mijn tas om mee te nemen naar een eet-feestje, haha.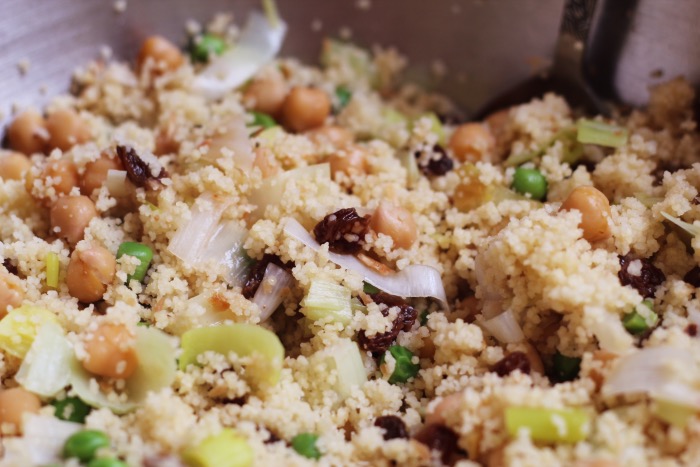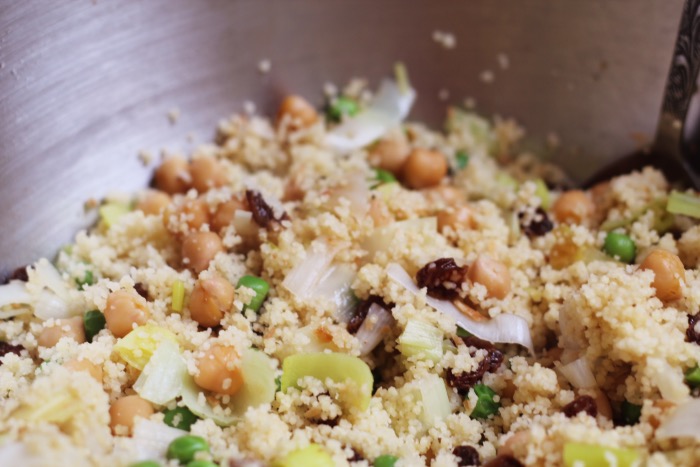 Smakelijk!