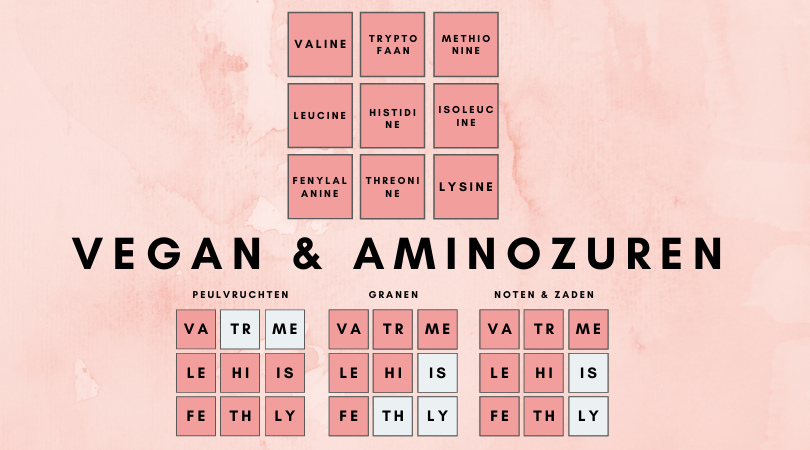 Aan je eiwitten komen terwijl je plantaardig eet leek altijd een hele opgave. Vooral toen er ineens ook nog eens de informatie kwam over essentiële aminozuren. 
Maar, dit is echt onzin. Met plantaardig eten kunnen we genoeg eiwitten binnen krijgen, inclusief alle essentiële aminozuren én is het zoveel beter voor de rest van onze gezondheid in tegenstelling tot de meeste dierlijke producten.
Vandaag maak ik graag visueel hoe makkelijk het is om alle nodige stofjes binnen te krijgen. Tijd om te screenshotten dus!
Je lichaam heeft 20 verschillende aminozuren nodig om goed te kunnen functioneren, hoewel ze alle 20 belangrijk zijn, zijn er 9 aminozuren die de titel 'essentieel' hebben ontvangen (1). Deze 9 moet je via voeding binnen krijgen omdat je lichaam ze niet zelf kan aanmaken.
Veel dierlijke voedingsmiddelen bevatten alle 9 aminozuren. Met plantaardige voedingsmiddelen is dit vaak niet het geval. Onder andere om deze reden is het dus belangrijk om lekker gevarieerd plantaardig te eten. Maar dat roept natuurlijk vragen op: Hoe gevarieerd moet ik eten? Moet ik elke avond iets anders avondeten? Wat als ik elke ochtend hetzelfde wil ontbijten? En wat moet ik dan eten om ze allemaal binnen te krijgen?
Laten we beginnen met het benoemen van de 9 essentiële aminozuren. dit zijn:
Histidine
Isoleucine
Leucine
Lysine
Methionine
Fenylalanine
Threonine
Tryptofaan
Valine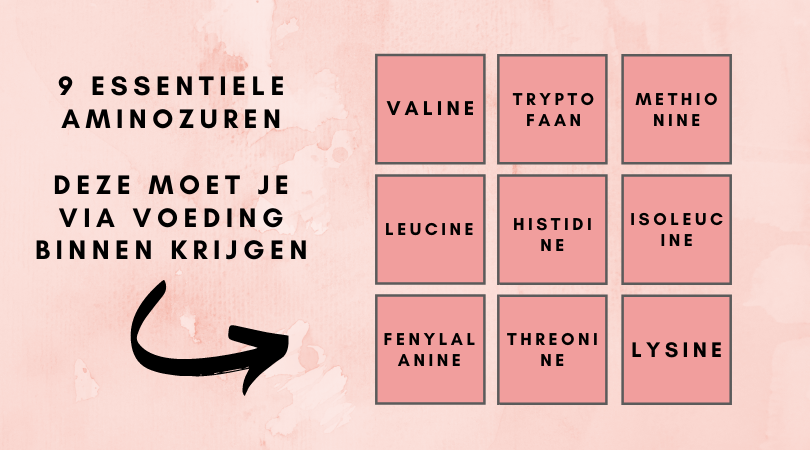 Als we deze dan verdelen over plantaardige voedingsmiddelen, dan komt het volgende uit: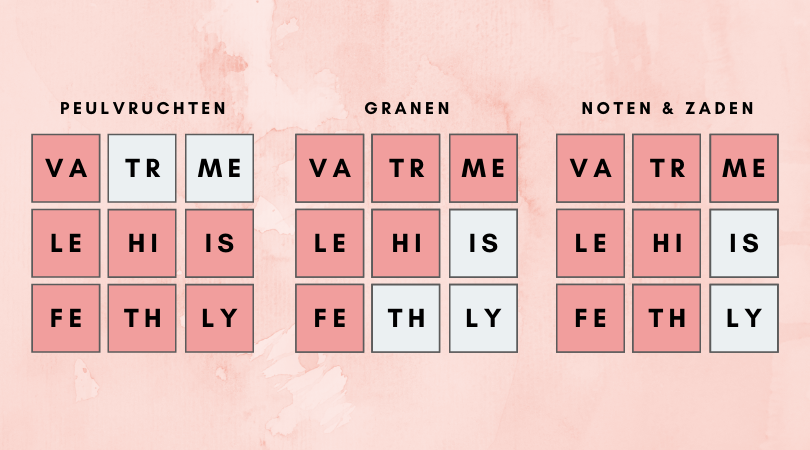 (lees dit in een versnelde voorleesstem op in je hoofd:) Je hoeft je niet elke dag druk te maken om alle essentiële aminozuren, want er is oprecht veel te veel om je druk over te maken hoe meer je leert over voeding tot je op een punt komt dat je realiseert dat de stress die je ervaart tijdens het perfect willen eten alles veel erger maakt en je dus ineens snapt wat balans is en een relaxte aanpak van voeding betekent.
Als je als richtlijn probeert om in ieder geval elke week iets van peulvruchten, granen, noten en zaden binnen te krijgen is er niets aan de hand. Vind je iets (bijvoorbeeld alle peulvruchten) niet lekker maar eet je 100% plantaardig? Dan kun je de volgende voedingsmiddelen nog overwegen, deze zijn plantaardig en bevatten alle 9 essentiële aminozuren:
Soja
Quinoa
Boekweit
Edelgistvlokken ("nutritional yeast")
En anders kun je altijd nog eiwitpoeder aanschaffen met een compleet aminozuur profiel om misschien eens in de zoveel dagen door een smoothie te doen.
De opties zijn er, het is belangrijk om te weten waar je moet zoeken aan de hand van jouw leefstijl en voorkeur!
Je zou kunnen denken "als ik dierlijk eet, hoef ik er niet over na te denken en krijg ik alle aminozuren gewoon binnen" – dat is waar, maar niet elk dierlijk voedingsmiddel is weer even gezond voor je lichaam (lees dit artikel; dierlijk vs. plantaardig eiwit), ook al heeft het alle aminozuren. Met plantaardig eten, is dat niet het geval tenzij je intolerant of gevoelig bent voor een specifiek voedingsmiddel.
Ik ben zelf geen veganist, maar ik zie wel in wat de verschillen in gezondheid zijn wanneer je plantaardig eet en wanneer je dit niet doet. Hopelijk geeft dit artikel weer hoe je vrij 'makkelijk' alle essentiële aminozuren binnen kunt krijgen als je plantaardig eet of wilt gaan eten!