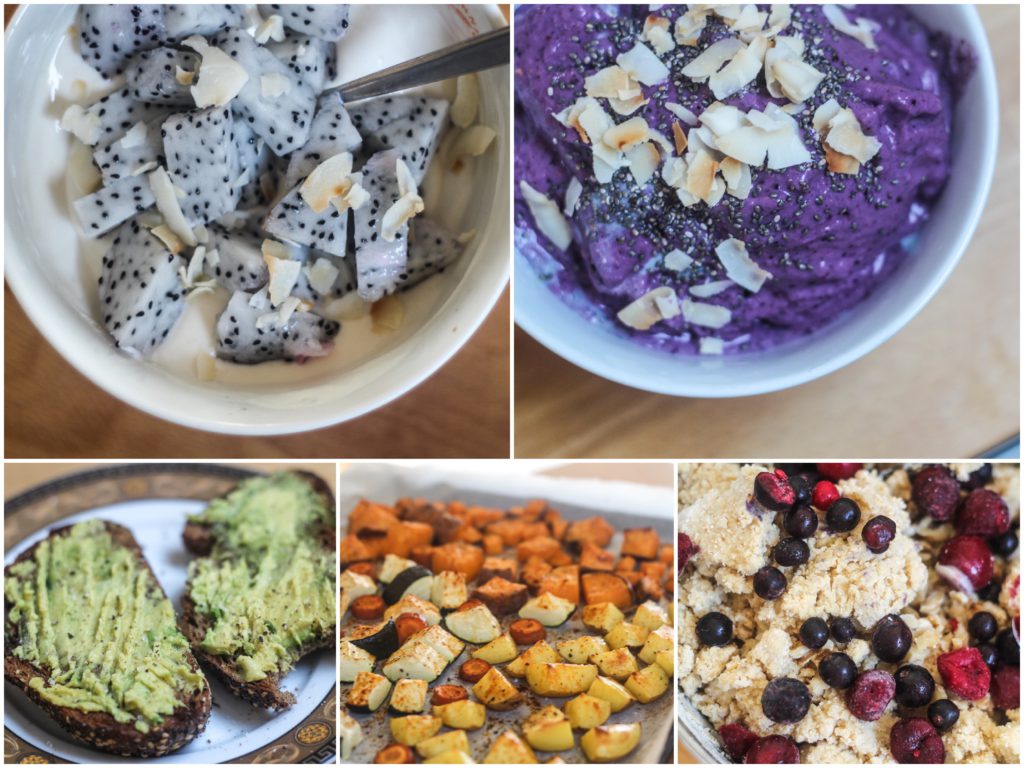 Het voelt toch een beetje gek, ja, dat voelt het zeker. Kijkend naar deze foto's van mijn maaltijden van de afgelopen tijd – toen ik nog in Den Haag woonde. Zoals je misschien begrijpt lopen bepaalde zaken op mijn blog en op mijn YouTube kanaal achter op de realiteit – dat geeft me namelijk de tijd om vooruit te werken. Wat vervolgens wel betekent dat ik dit type in de tegenwoordige tijd, terugkijkend naar de foto's van Den Haag.
Volg je me nog?
De maaltijden die ik daar klaarmaakte en daar at, het is nog maar kort geleden maar er is zoveel gebeurd in de tussentijd. Ik heb nog niet echt een flow gevonden in de nieuwe keuken, maar kijkend naar deze foto's geeft het me weer een boost aan inspiratie en motivatie – hopelijk doet dat het ook bij jou! De komende voedingsdagboeken zijn nog vanuit Den Haag, maar dat zou niet moeten uitmaken aangezien het gaat om de maaltijdjes! Laten we erin duiken 🙂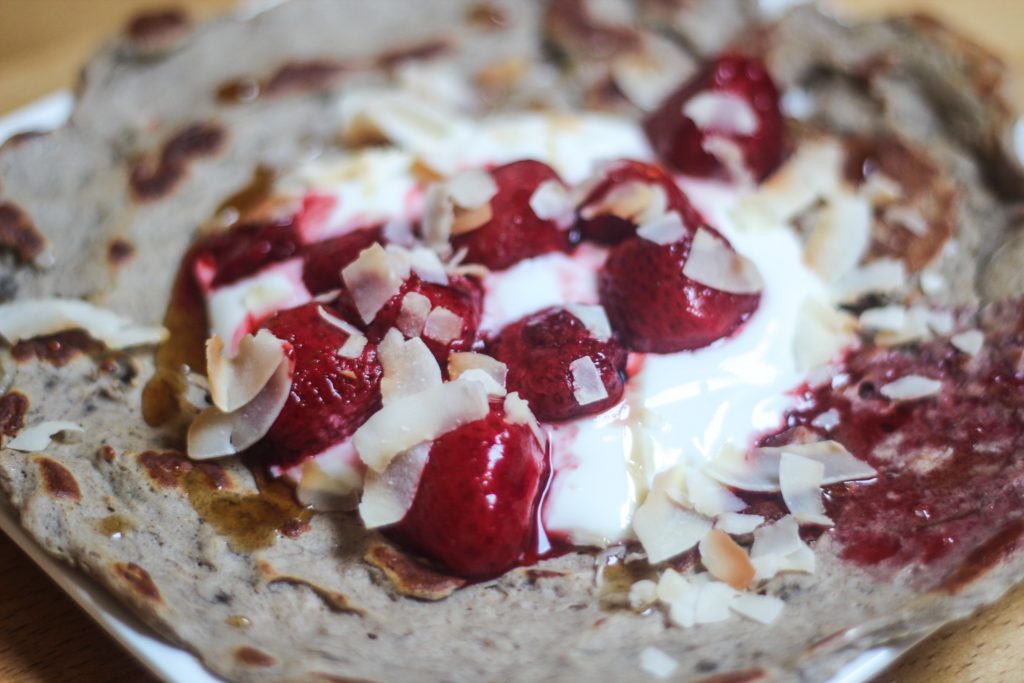 We beginnen met een heerlijke banaan-ei-eiwit pannenkoek met yoghurt, aardbeien, kokos en wat ahornsiroop/maple syrup.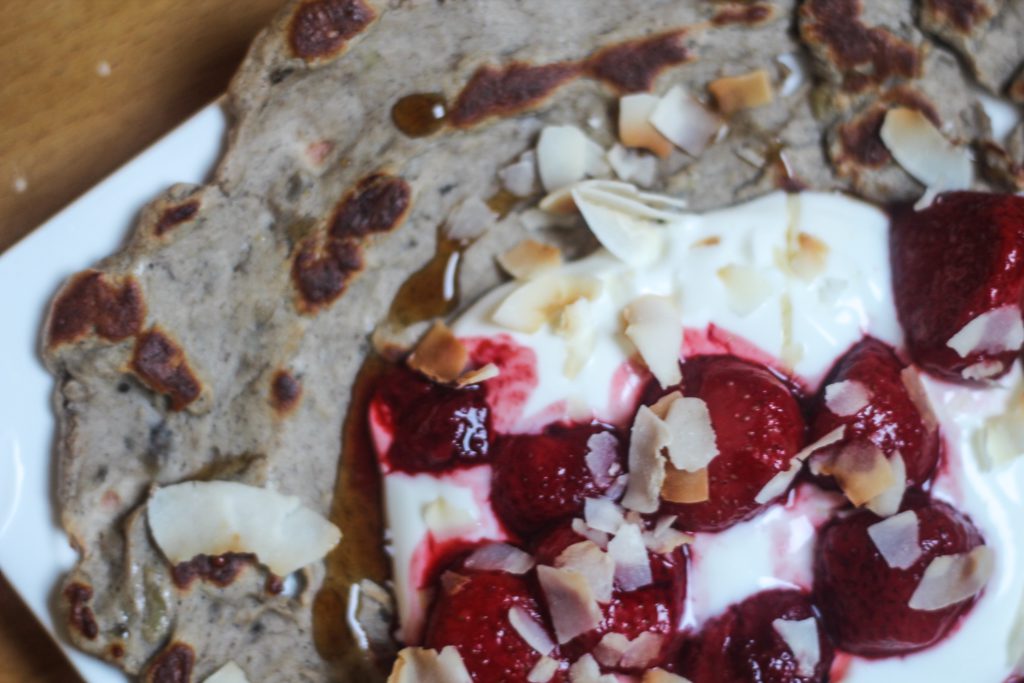 Eén van mijn lievelingsontbijtjes.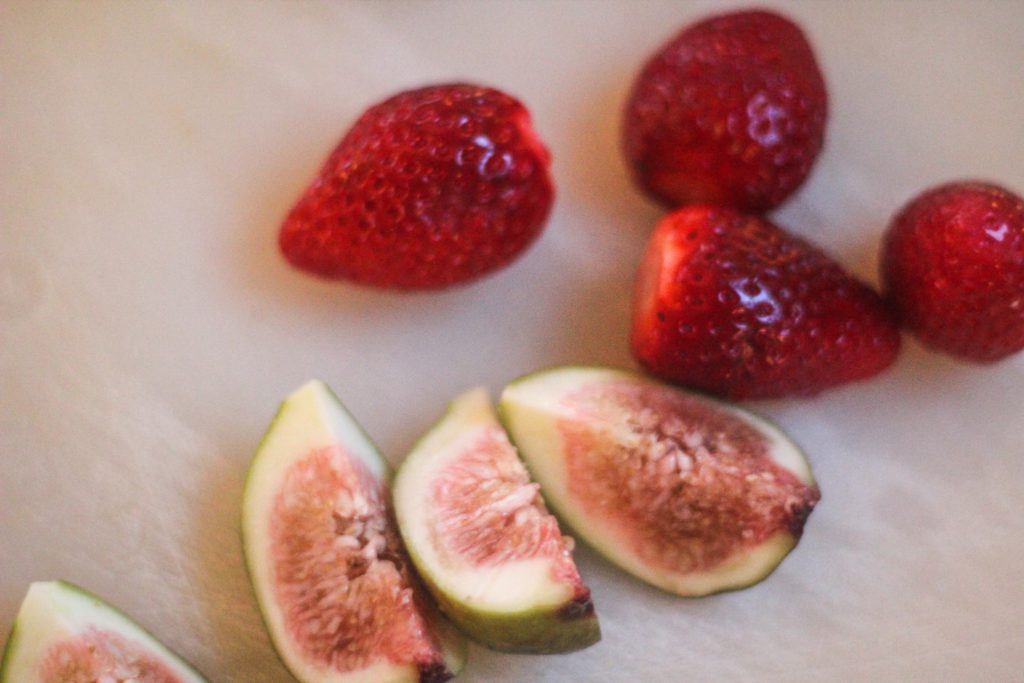 Verse vijgen gekocht om heerlijk op te snacken!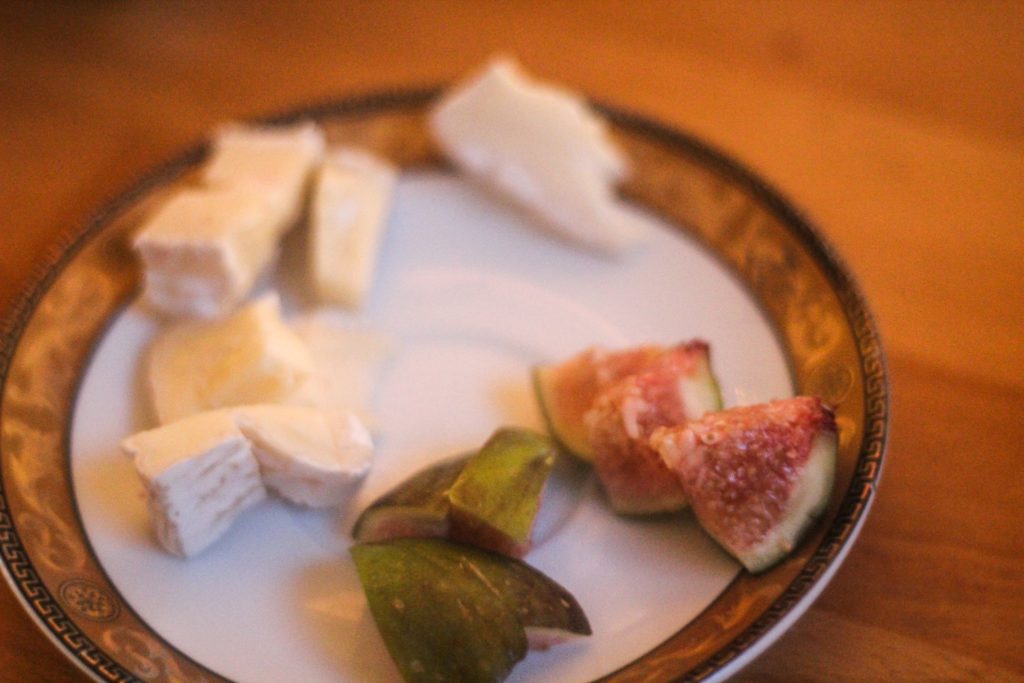 Met wat camembert in de avond, genieten.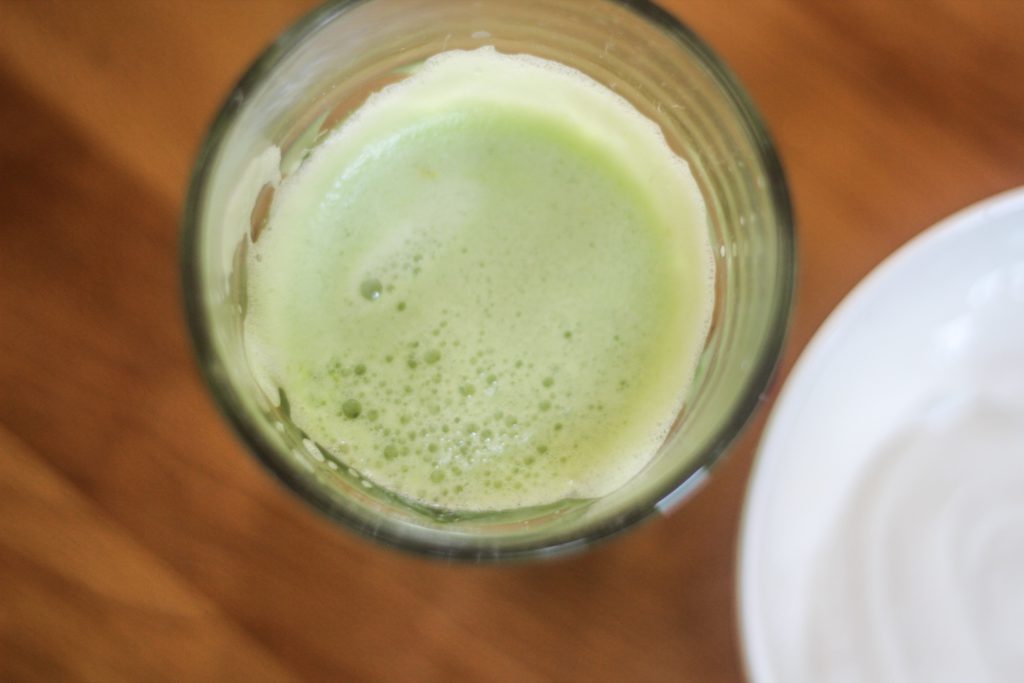 Selderijsap in de ochtend, op een lege maag.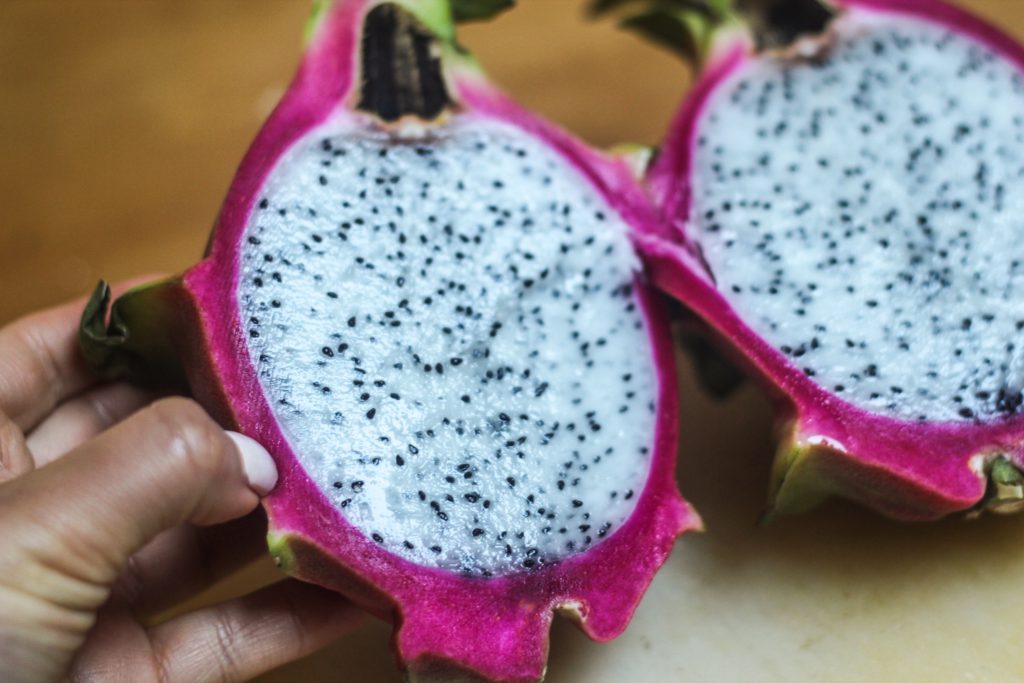 Exotisch fruit bij de Lidl! Daar werd ik héél blij van! Kijk hoe prachtig de natuur toch is, wauw. Pitaja of ook wel Dragonfruit genoemd.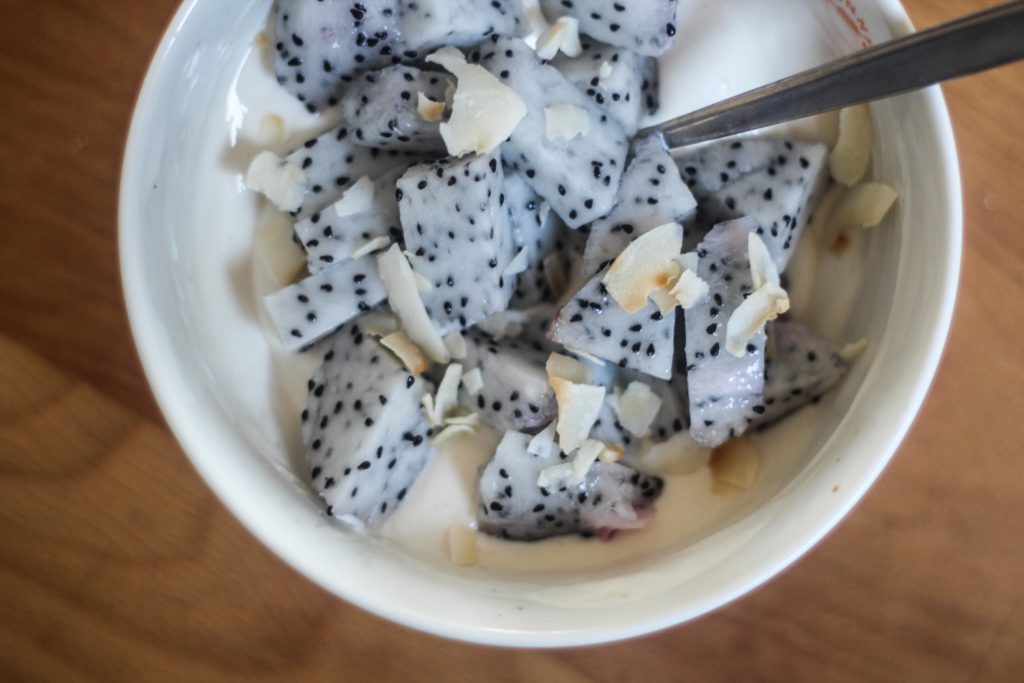 In een schaaltje met yoghurt en kokos.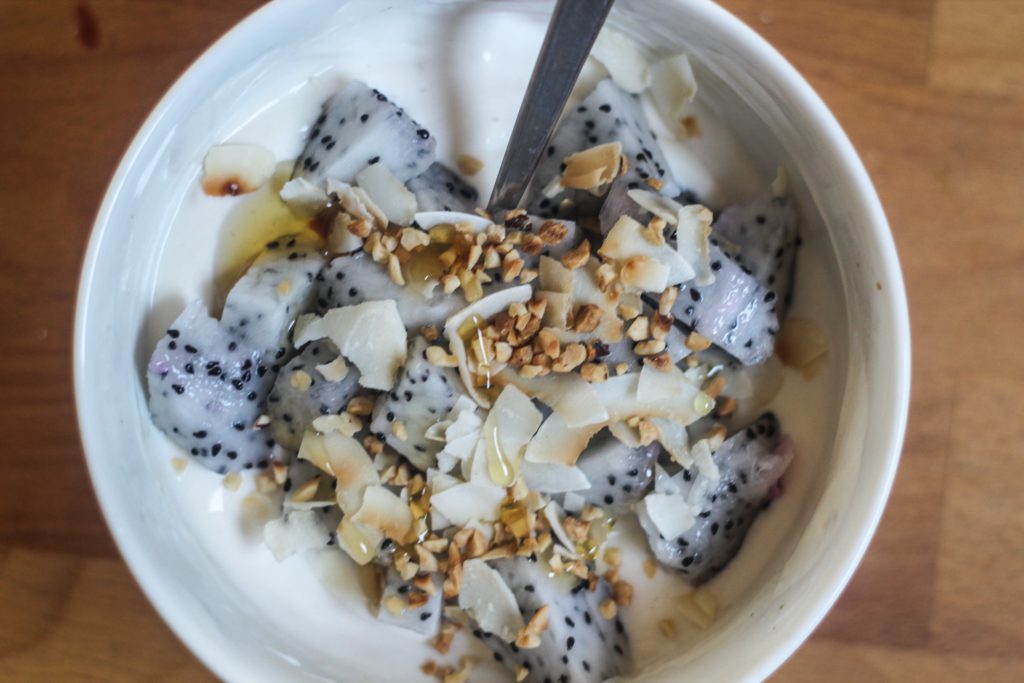 + gehakte hazelnoten en wat honing.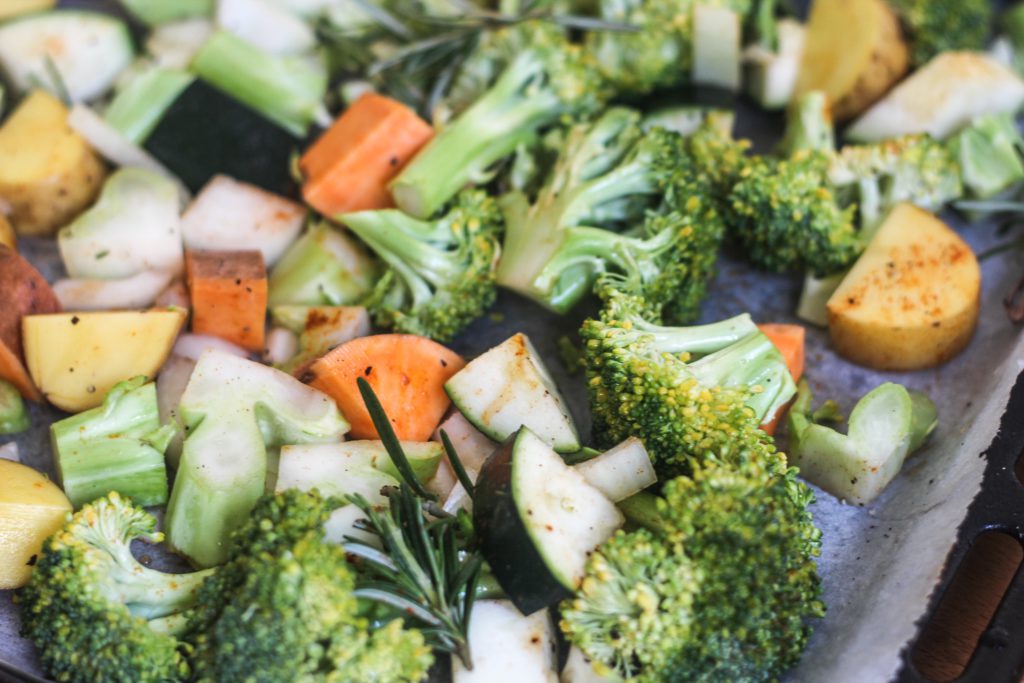 Het is weer tijd voor een flinke batch groente met lekkere kruiden die zo in de oven gepopt worden.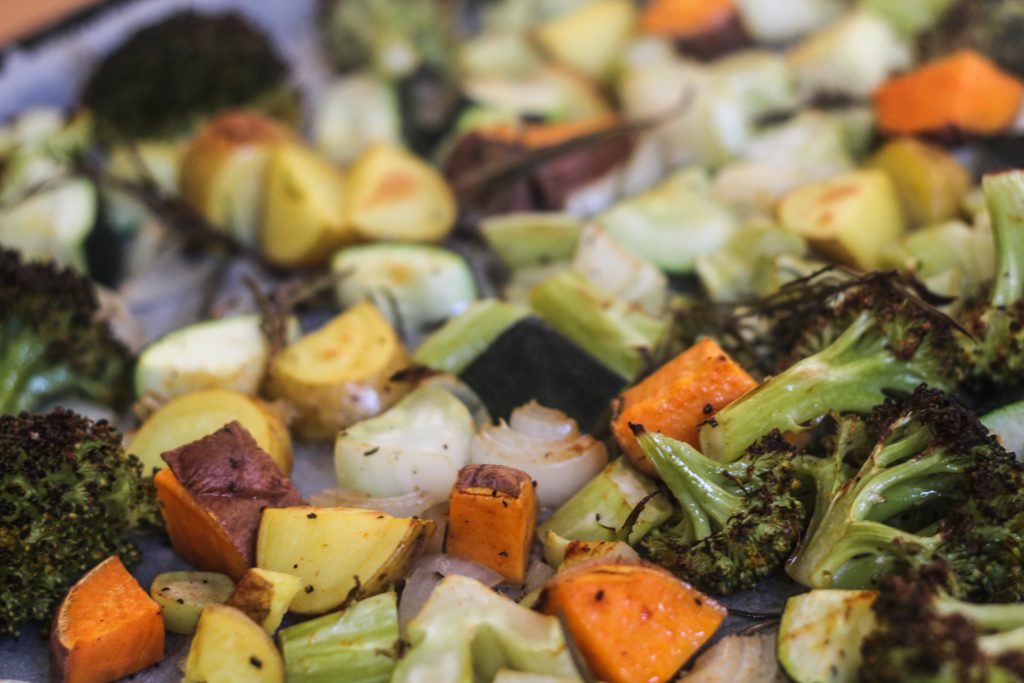 Er zitten ook zoete en gewone aardappelen tussen.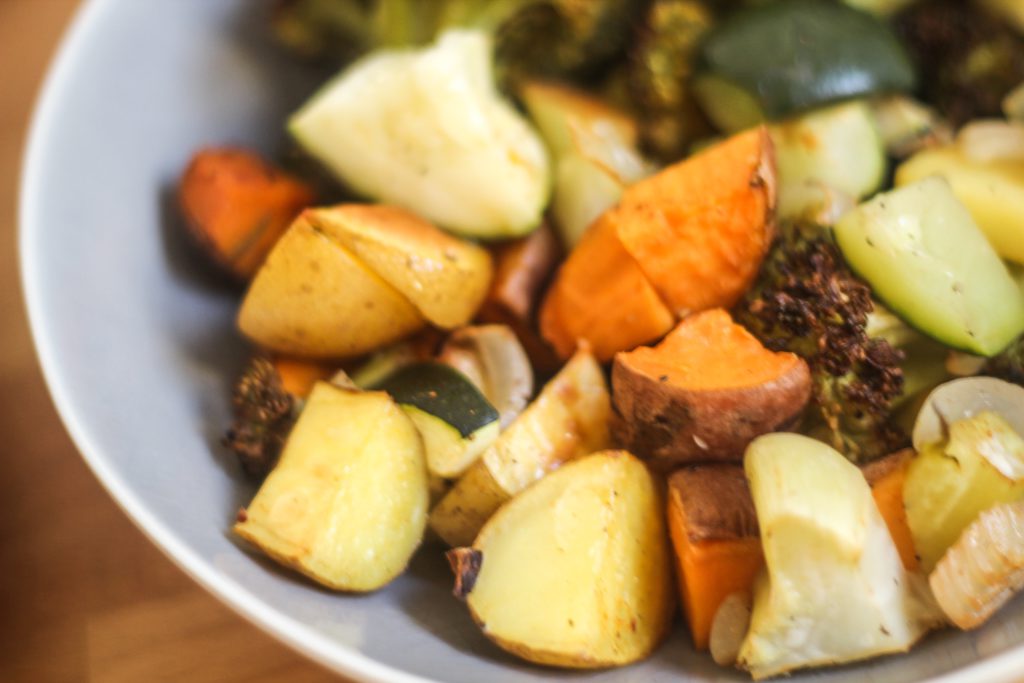 Hmm, ik ruik het bijna door mijn scherm heen!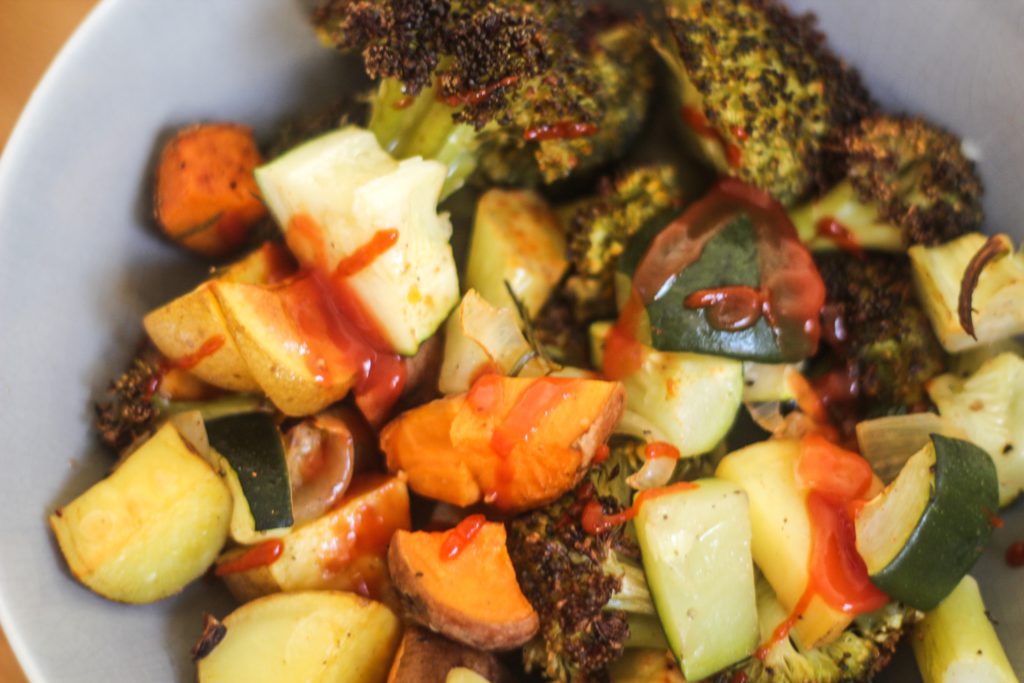 Daar gaat wat Sriracha en ketchup overheen, ik weet het – ketchupfreak hier.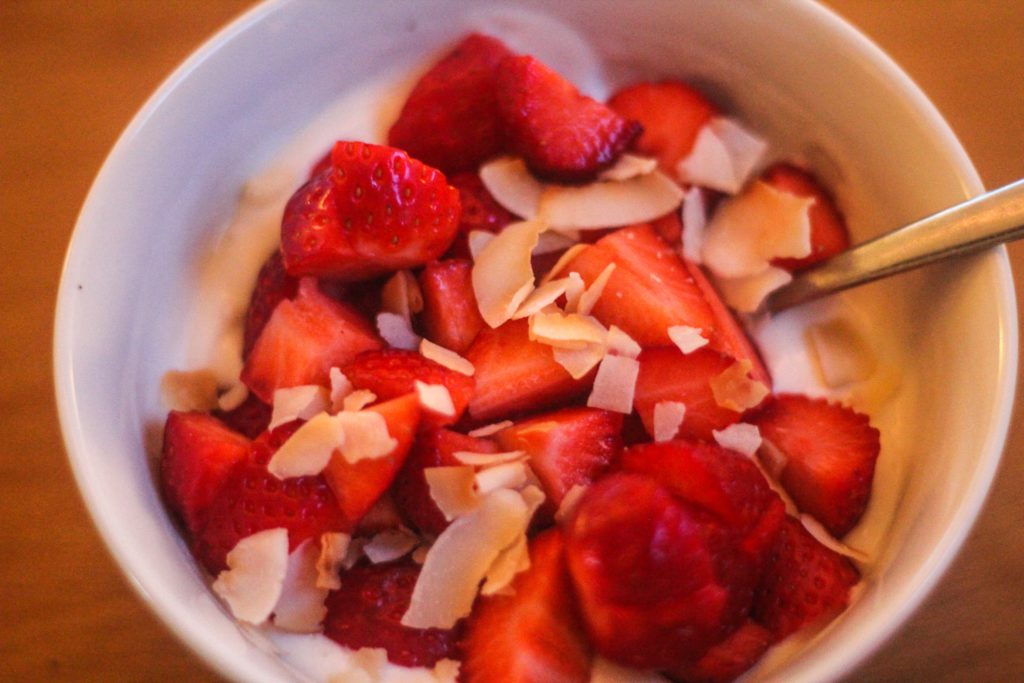 Yoghurt met aardbeien en kokos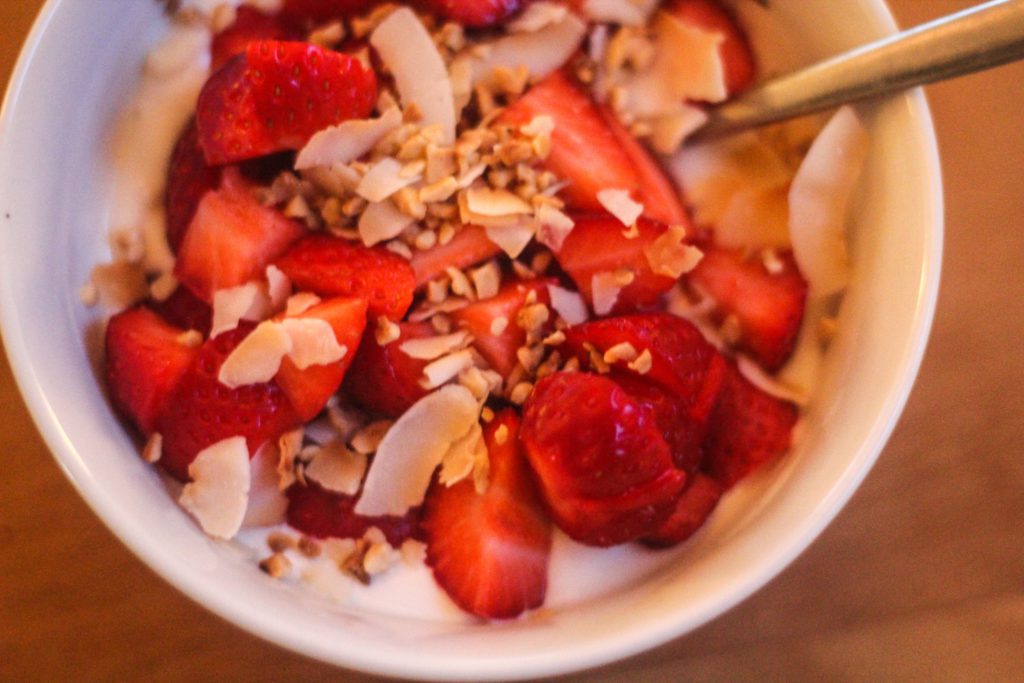 Ook daar gingen weer wat gehakte hazelnoten (van de Lidl) overheen.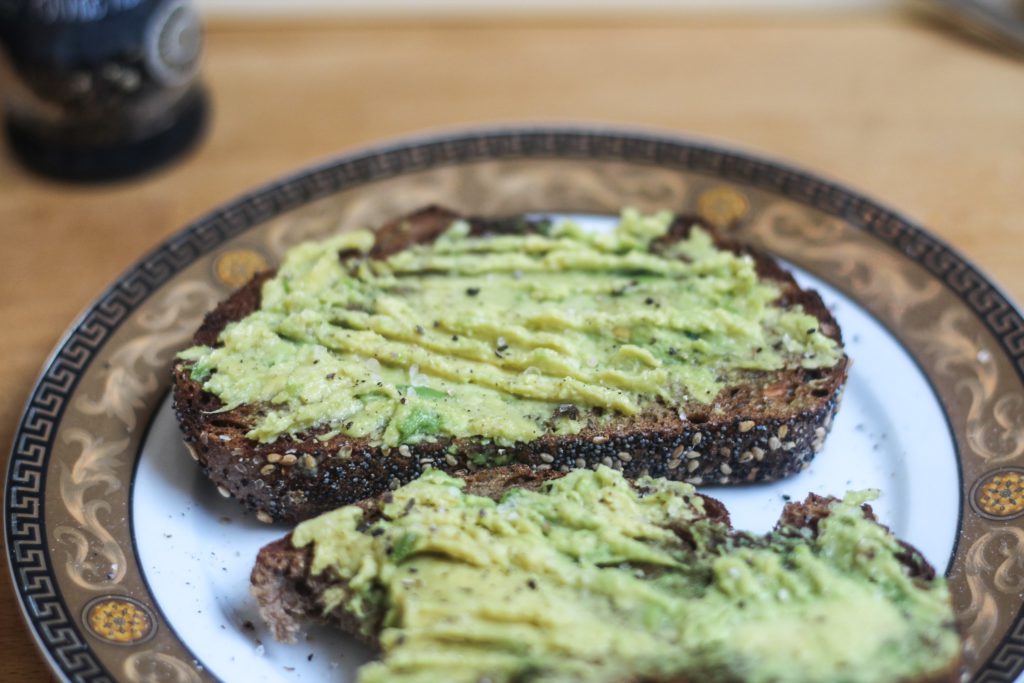 Brood van de Lidl met avocado, peper en zout. Verrukkelijk! Ik weet niet precies meer hoe dit brood heet, maar het is het brood dat bij de 'verse broodjes' afdeling ligt achter glas en het is nog ongesneden. Je kunt het zelf in zo'n snijmachine plaatsen. Dit vind ik tot nu toe één van de lekkerste broden van de Lidl.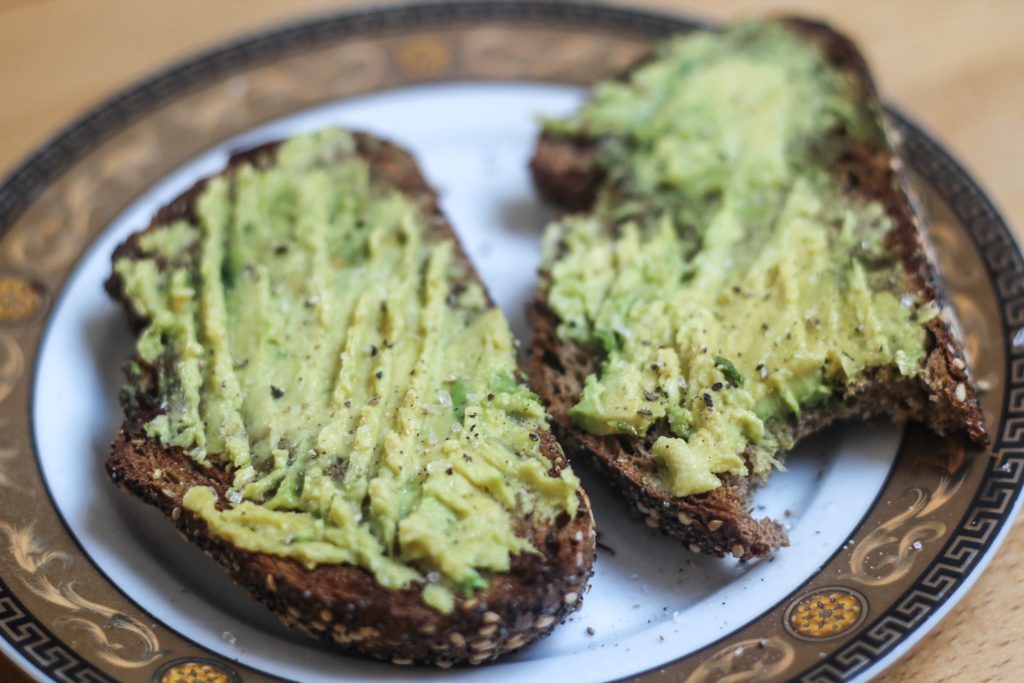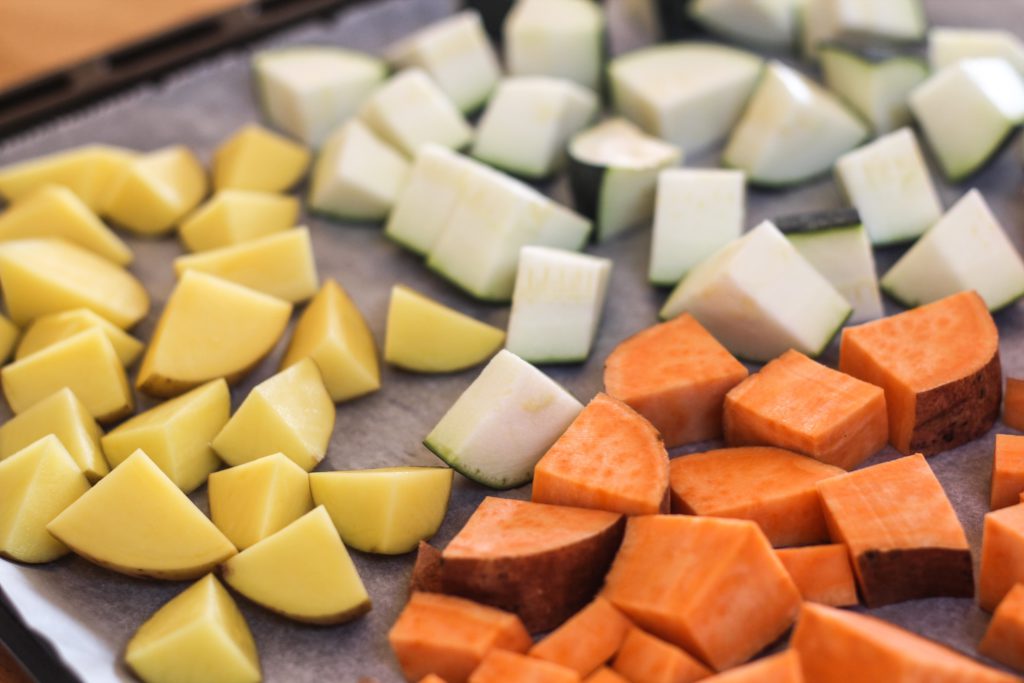 Tijd voor een nieuwe batch! Aardappelen, zoete aardappelen en courgette.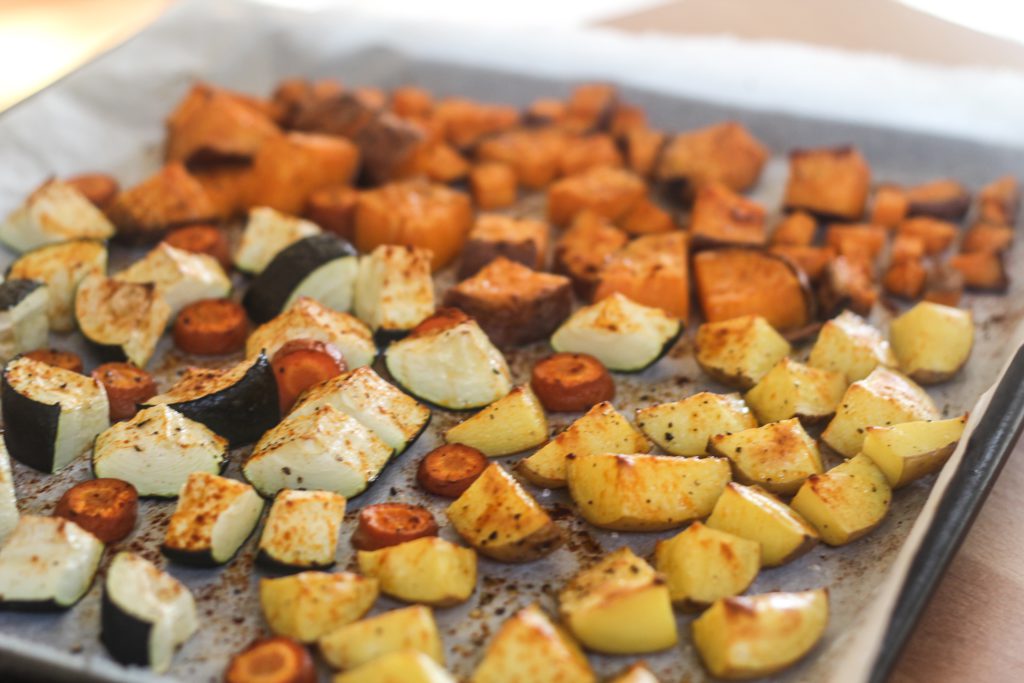 Nog wat wortels ertussen geplaatst met peper, zout en paprika poeder.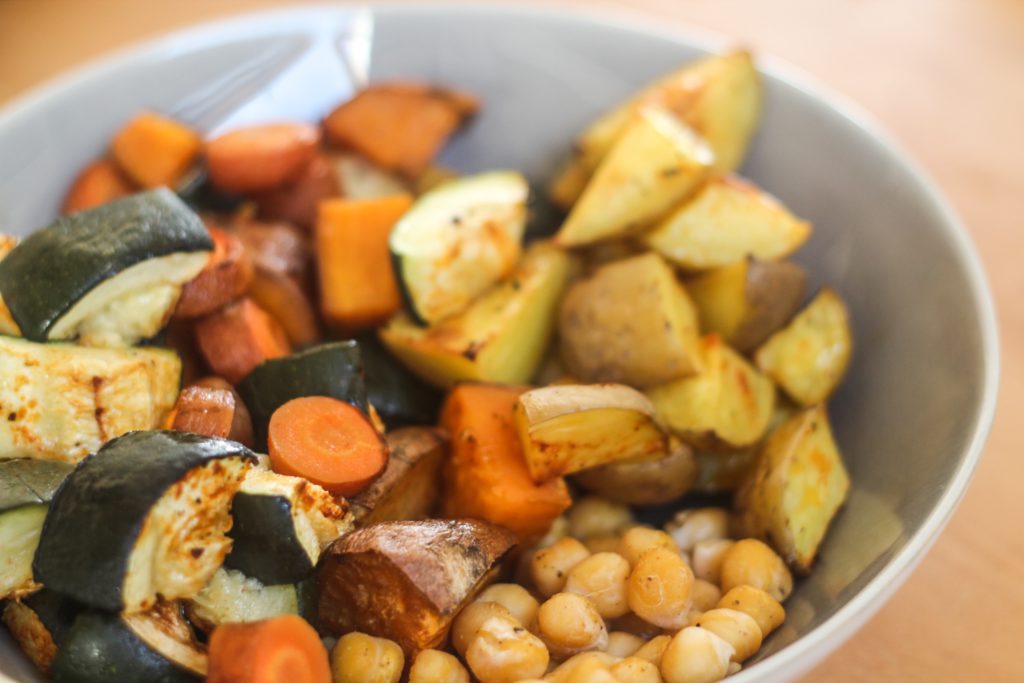 Dit eet ik met wat kikkererwten die ik heb gebakken met een beetje komijnpoeder.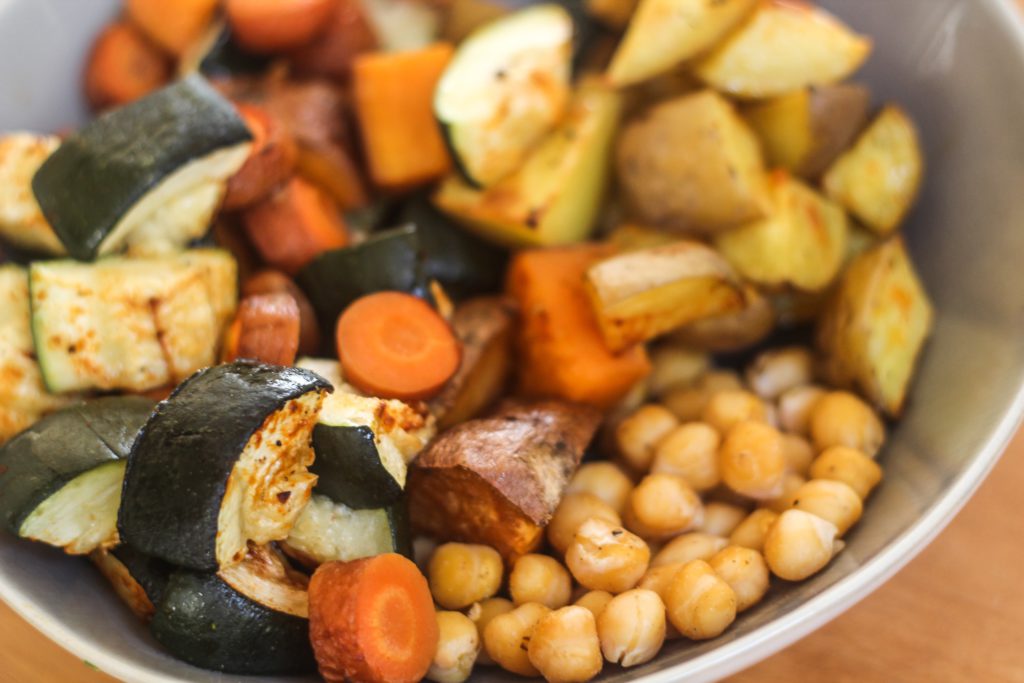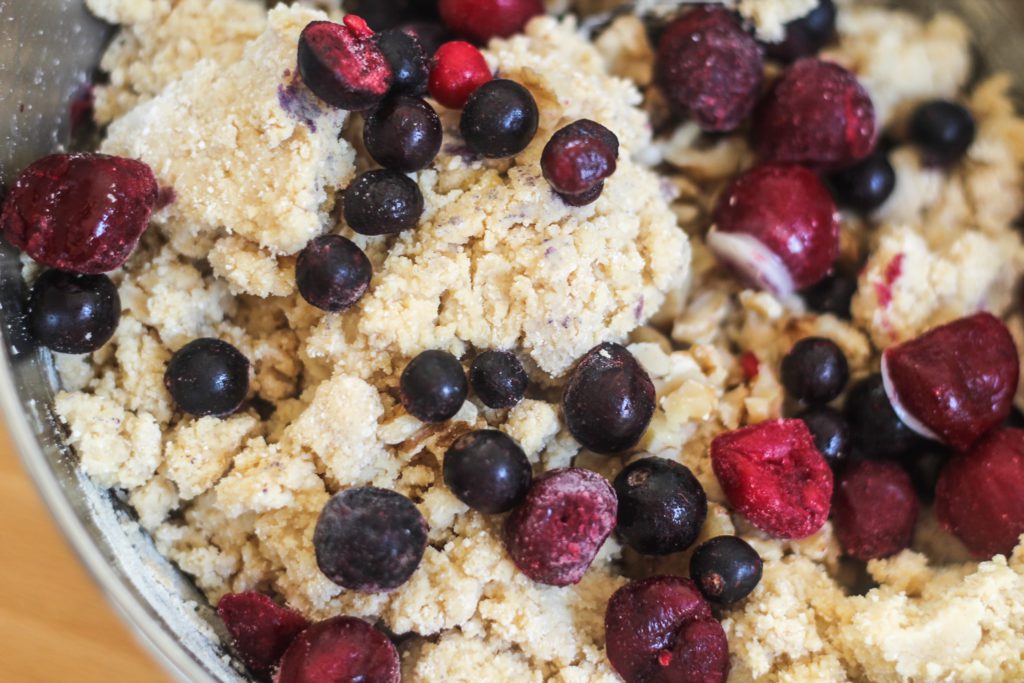 Gezonde muffins in the making! Met diepvries rood fruit en walnoten.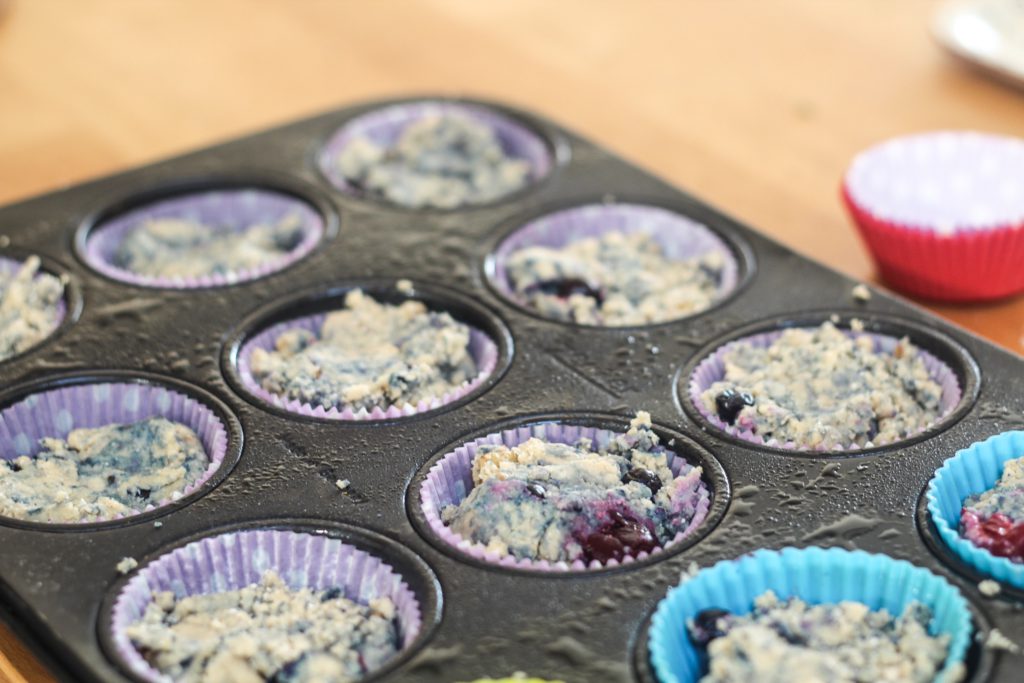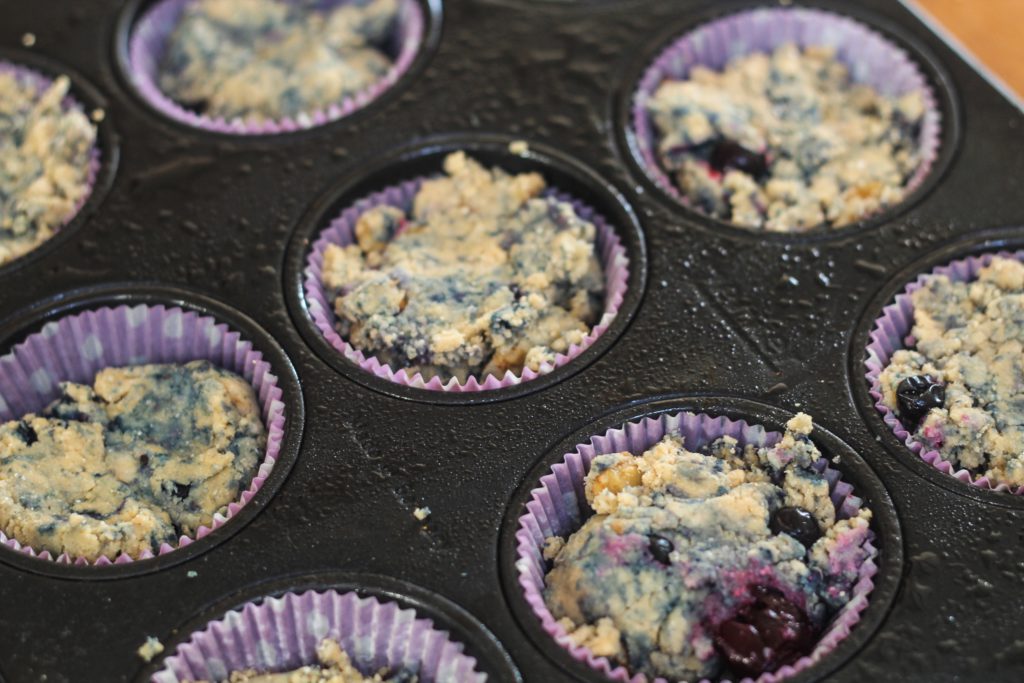 Zien er wat rommelig uit, maar ze waren heerlijk!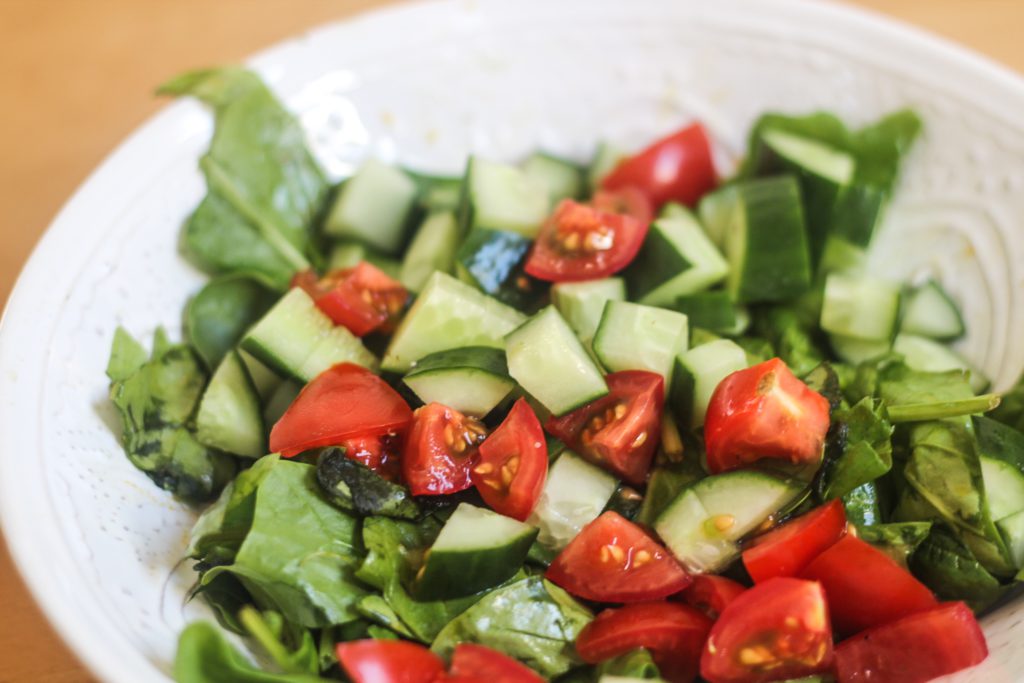 Simpele salade met spinazie, komkommer, paprika en tomaat.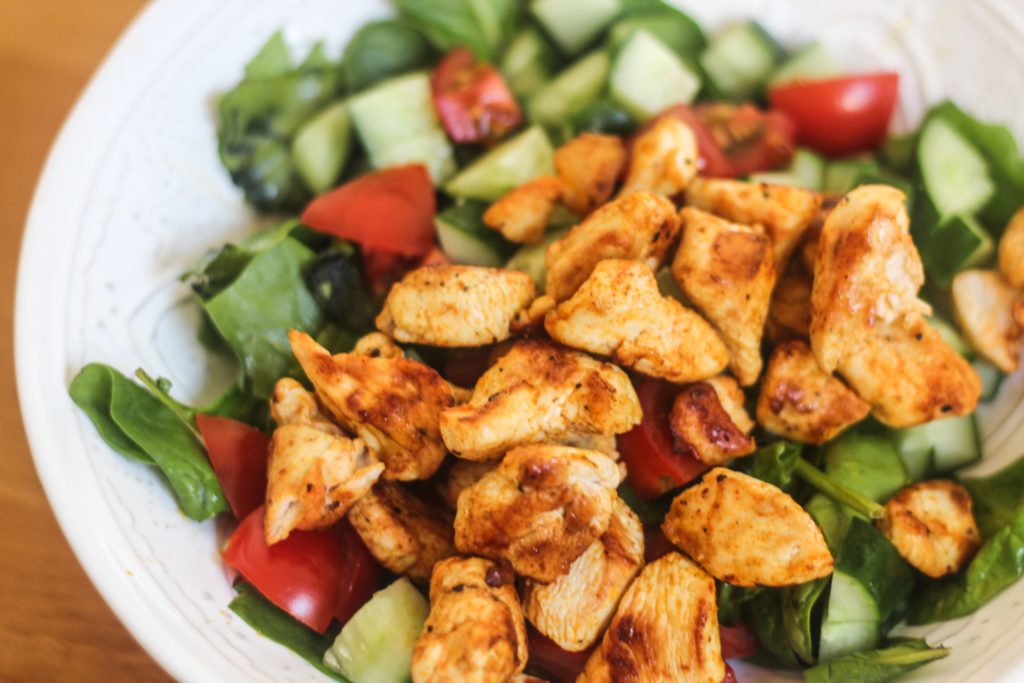 + gebakken kip.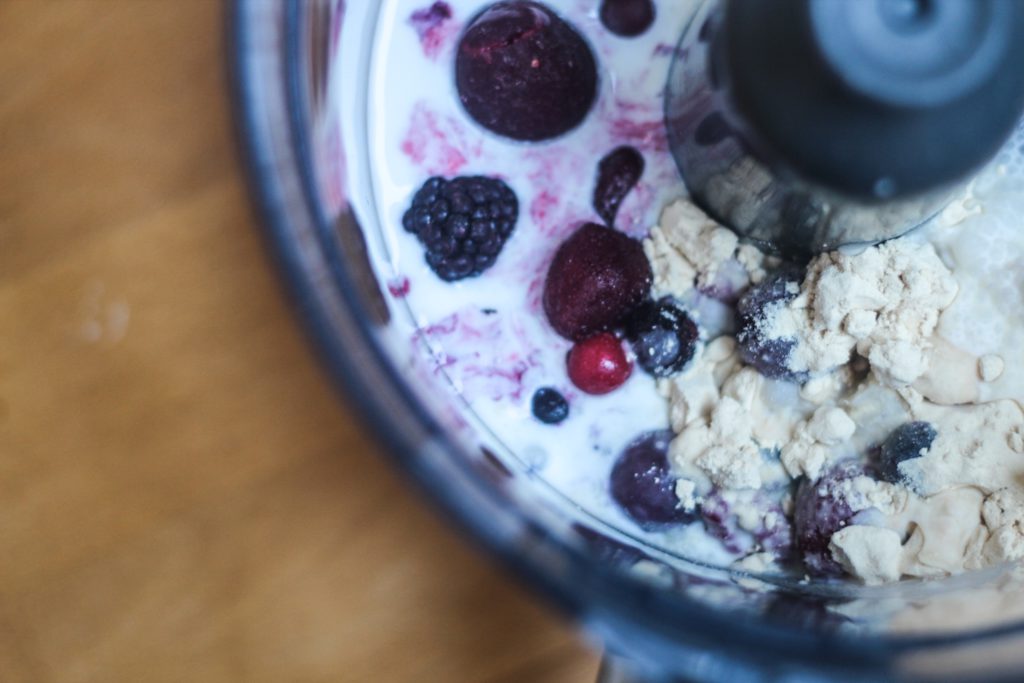 Tijd voor een smoothiebowl! Hier zit in: diepvries rood fruit, 1/2 banaan uit de vriezer, 2 eetlepels eiwitpoeder, vanille (vegan), 1 theelepel acai poeder en een kopje amandelmelk.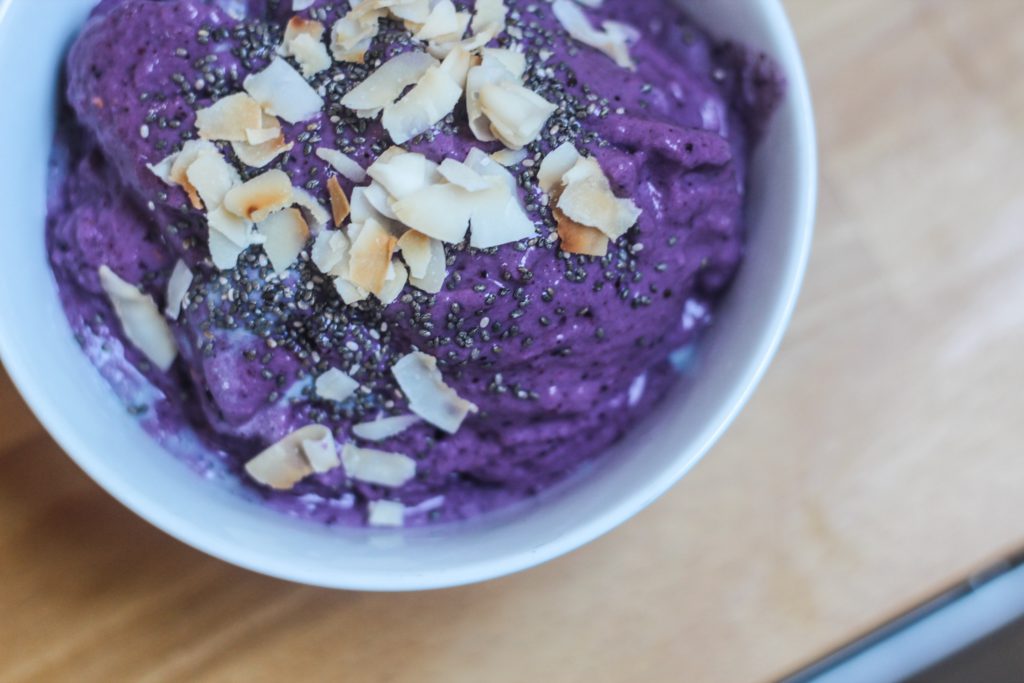 Met wat chia zaad en kokos getopt, heerlijk!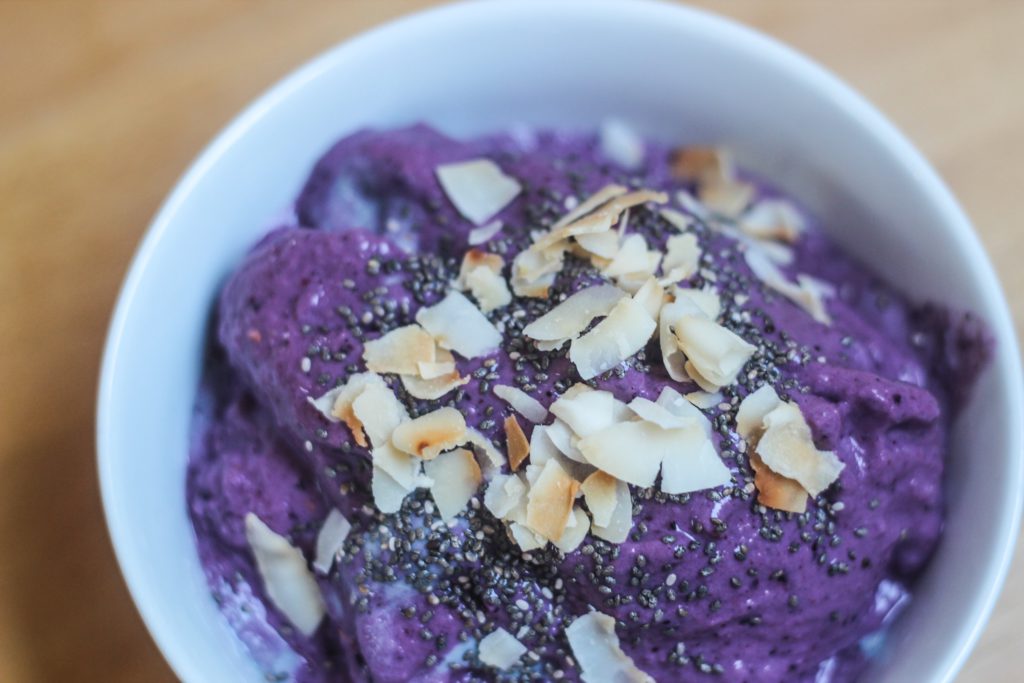 Die kleur alleen al!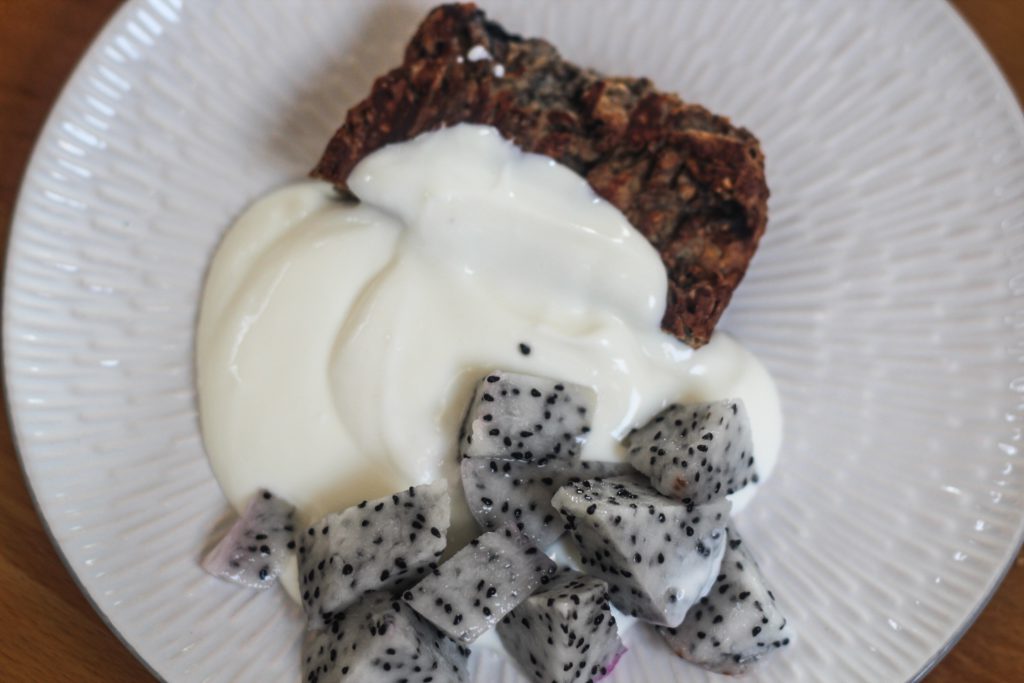 Ik had nog wat zelfgebakken cake over, dit heb ik op de grill verwarmd en met wat yoghurt en pitaja opgegeten. Heerlijke combi!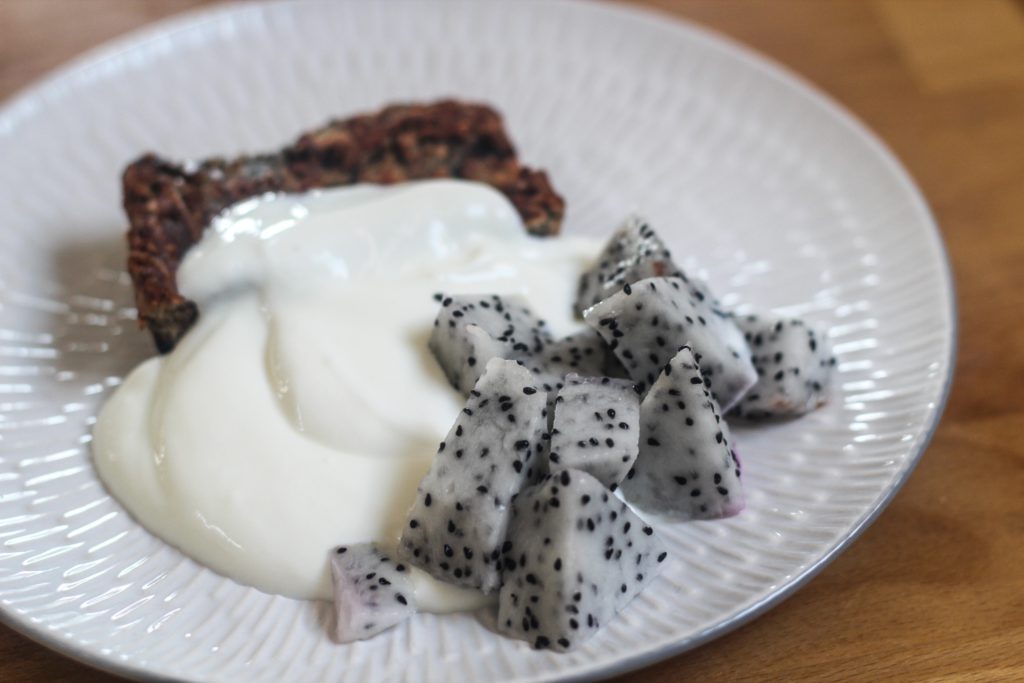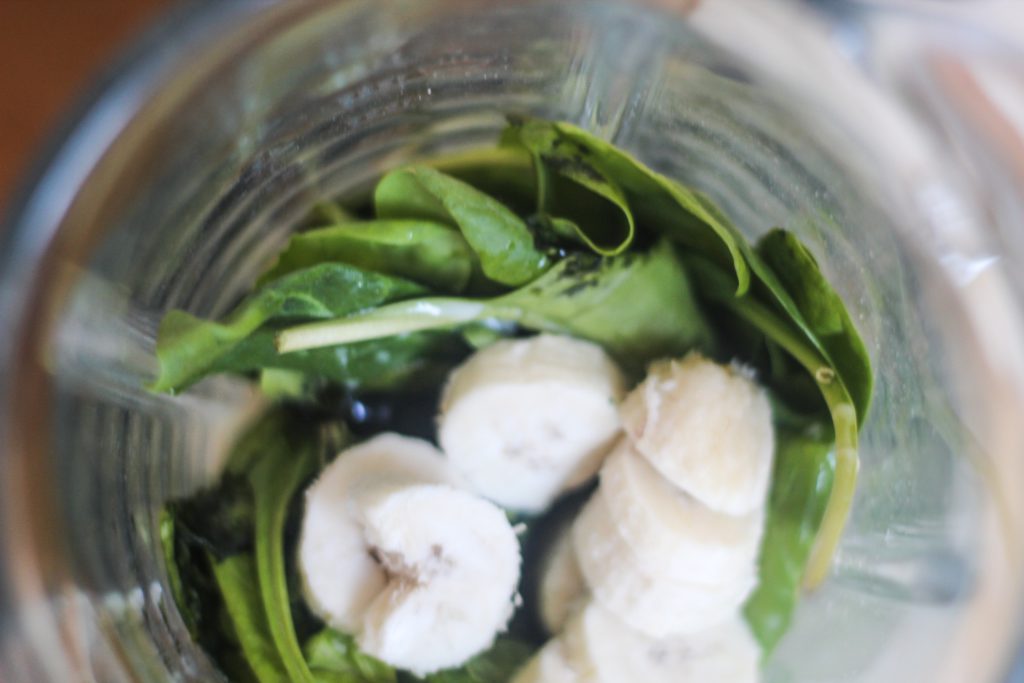 Na een paarse smoothie bowl is het tijd voor een groene smoothie bowl. De ingrediënten zijn bijna hetzelfde, in plaats van rood fruit gaat er spinazie in, in plaats van acai gaat er spirulina in.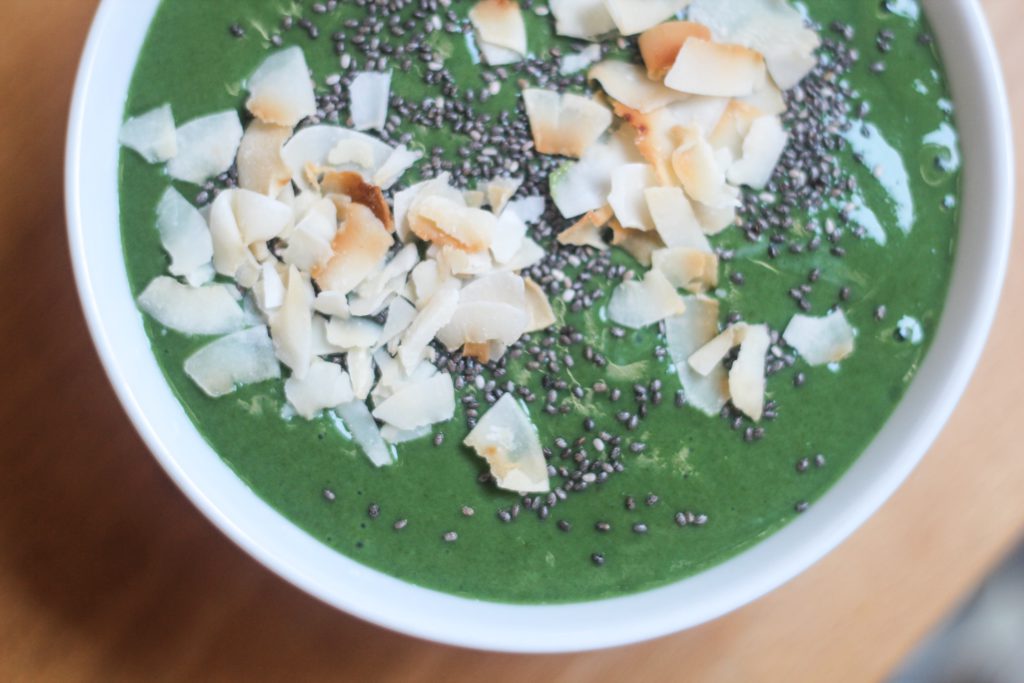 Tada! Een groen monster maar zo lekker!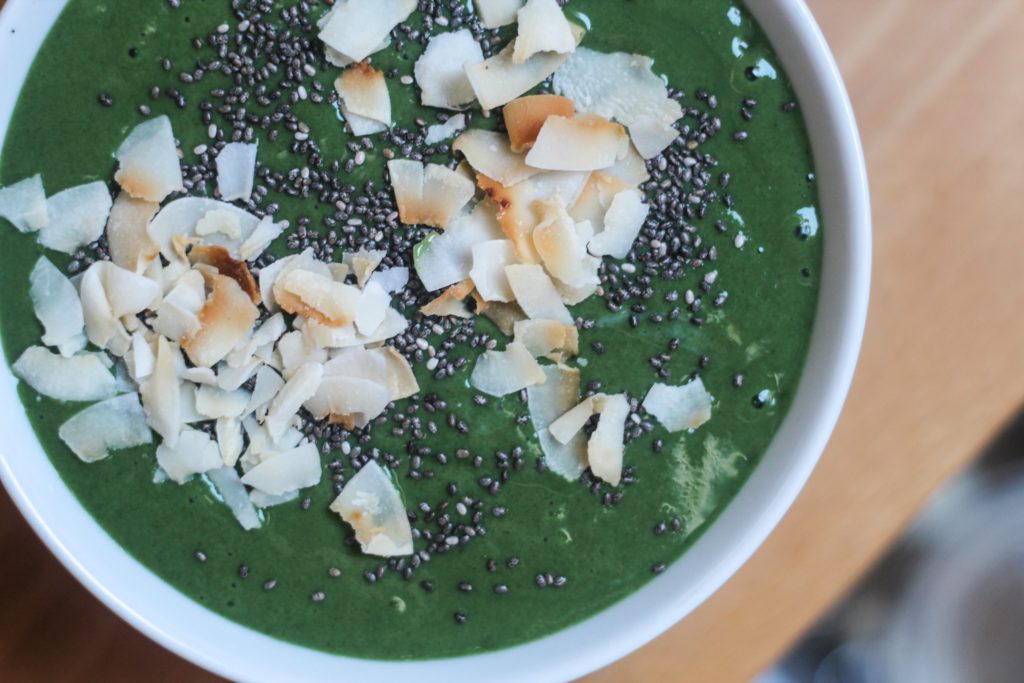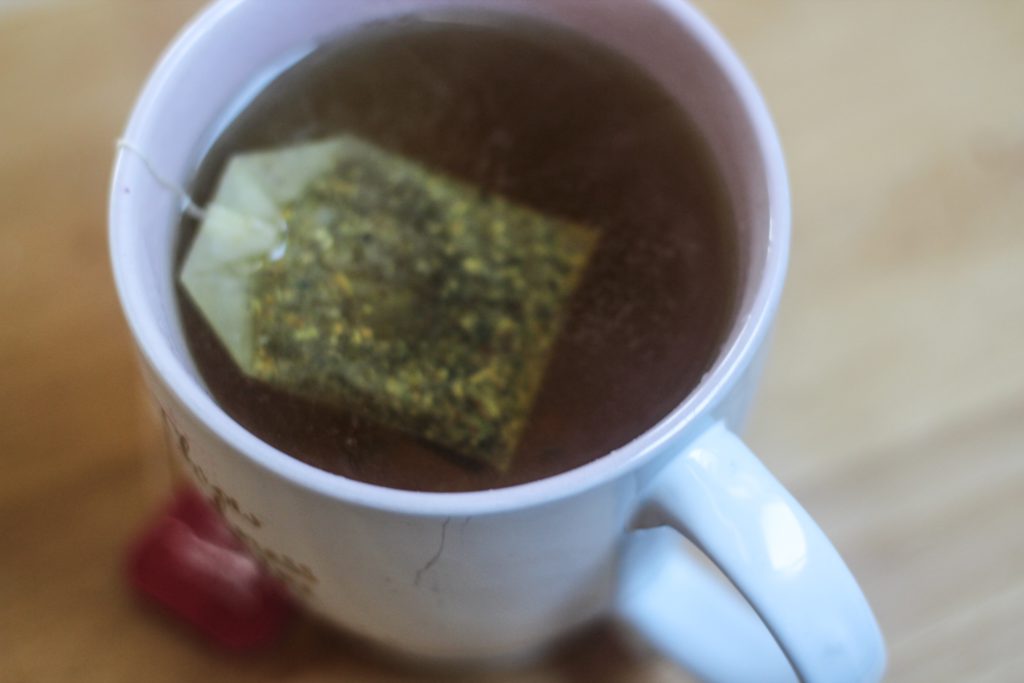 Tijd voor wat vaker thee.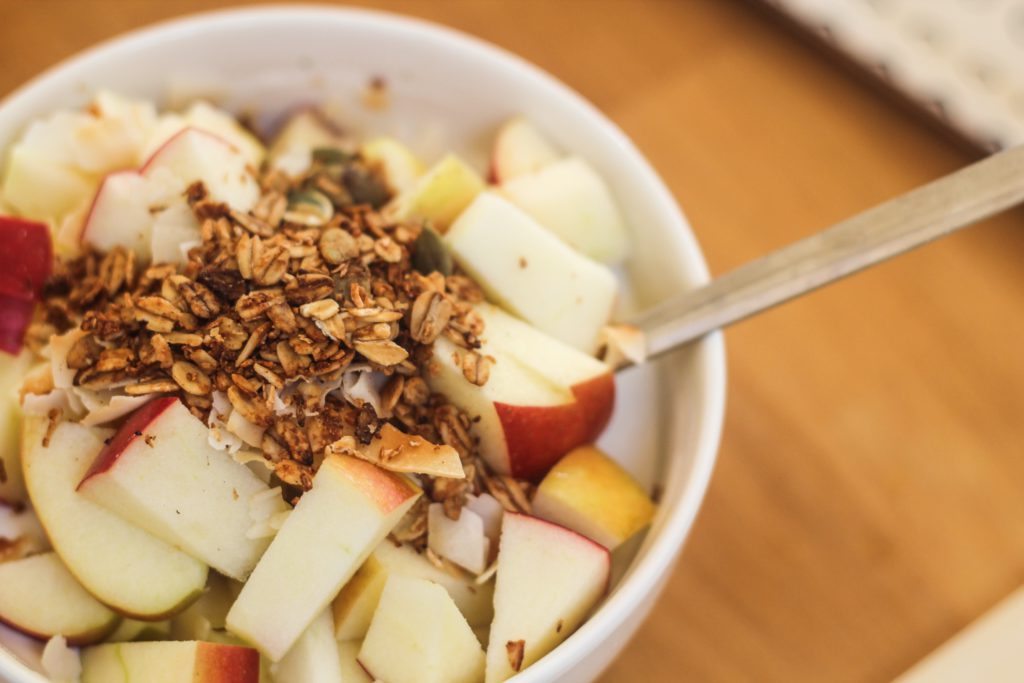 Bakje yoghurt met appel, kokos en wat granola van SCRATCH cafe.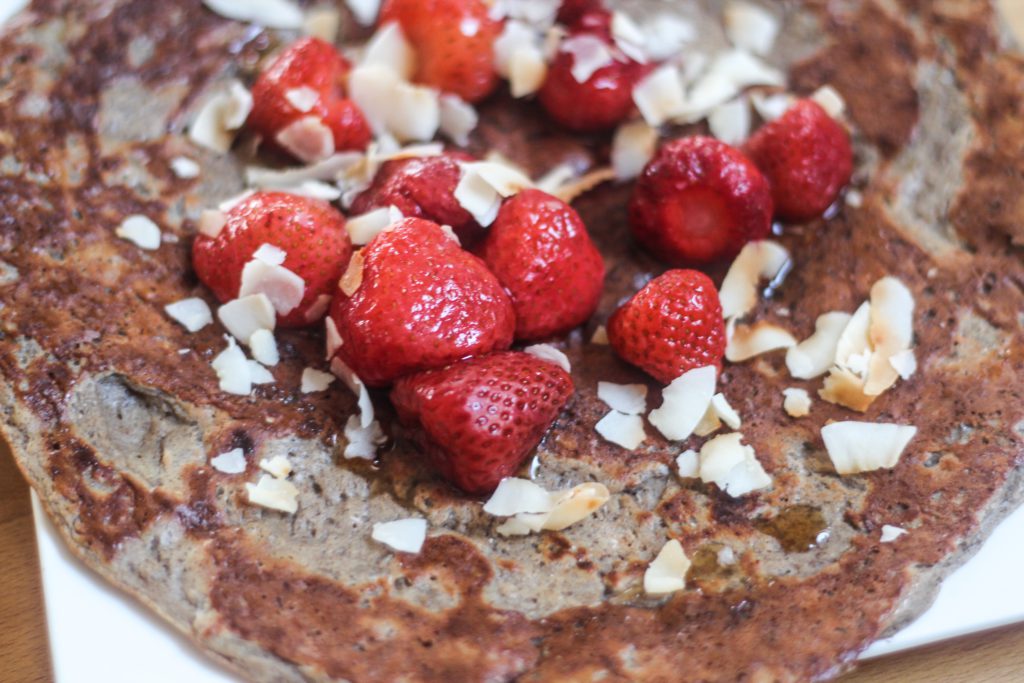 En we sluiten het af met hetzelfde als waar we mee openden; banaan-eiwit-ei pannenkoek met aardbeien, kokos en maple syrup.
Zo! Dat was even een boost aan kleuren en inspiratie, hopelijk ook voor jou! Geniet van deze zaterdag lieve mensen <3