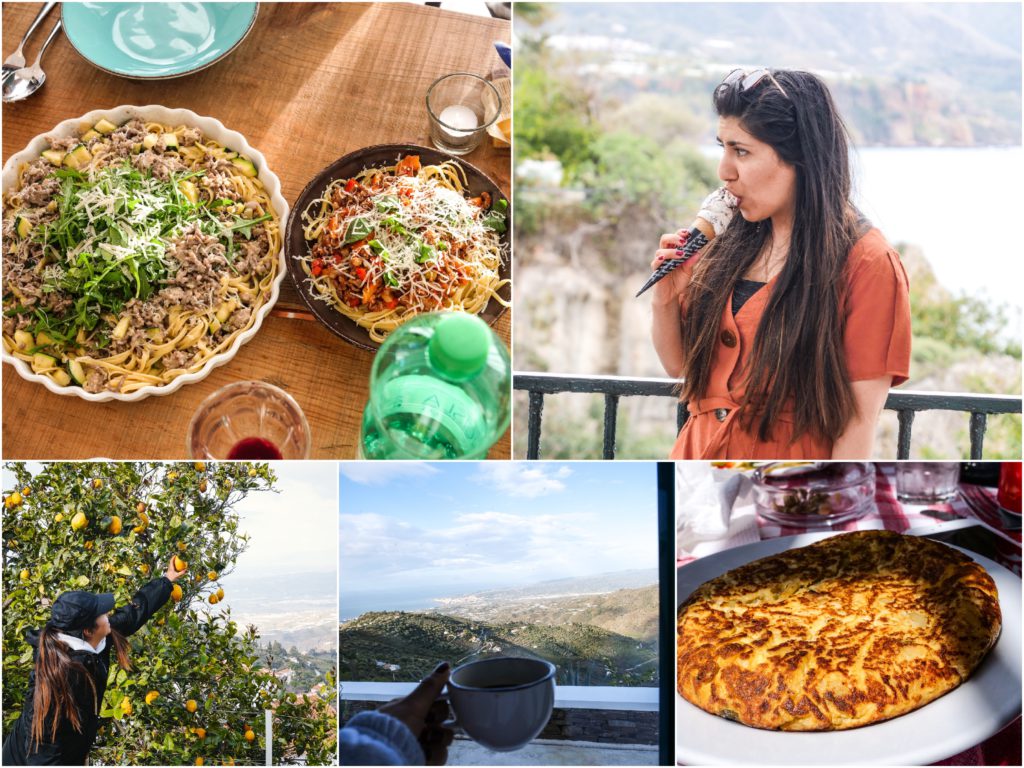 Ik ben net terug uit Spanje en ik kan je vertellen: het weer was bij jullie tien maal beter dan bij ons! Dat betekende vooral dat we lekker veel boodschappen hebben gedaan en in ons huisje hebben opgegeten in alle gezelligheid.
Tijd voor een ander voedingsdagboek dan je misschien gewend bent: Voedingsdagboek uit Spanje met de schoonfamilie!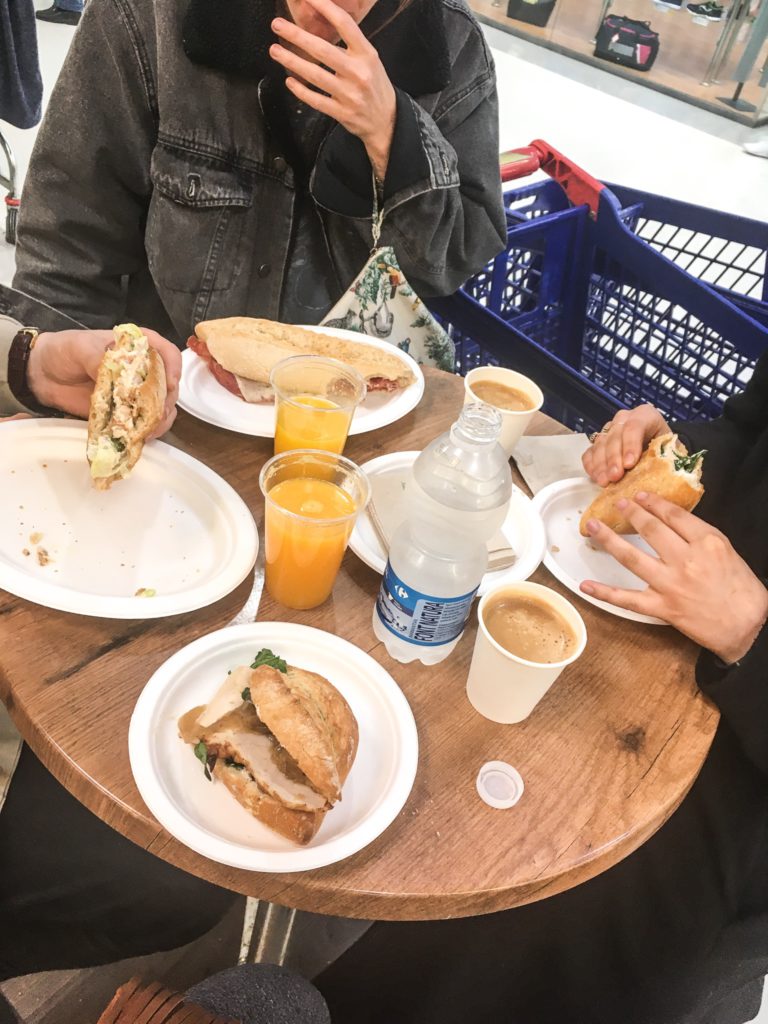 Na het aankomen op het vliegveld van Malaga hebben we twee groepen gemaakt, we waren met 8 + baby. Groep 1 ging naar het huisje en groep 2 ging boodschappen doen. Drie keer raden in welke groep ik zat; boodschappen natuurlijk!
We hadden allemaal ontzettend veel honger en besloten voor we de supermarkt in zouden gaan een broodje te eten. De broodjes waren waanzinnig lekker en maar 1,50 per stuk! Hoe dan!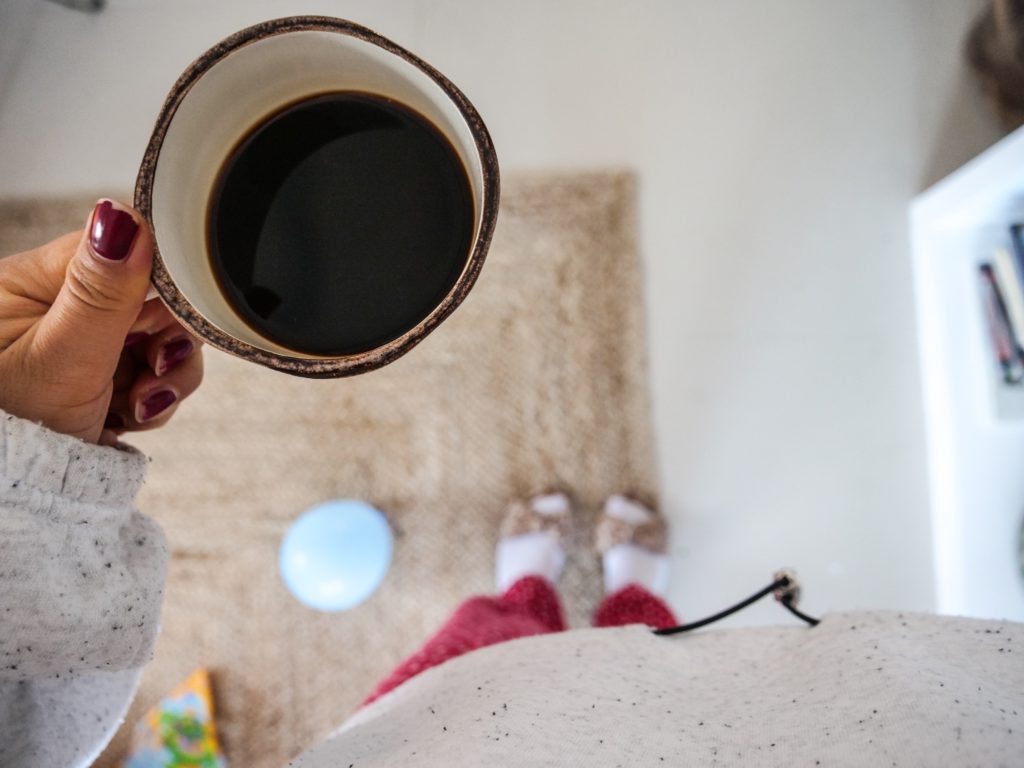 Koffie in de ochtend, heerlijk! Wel met sokken in slippers want het was koud, haha!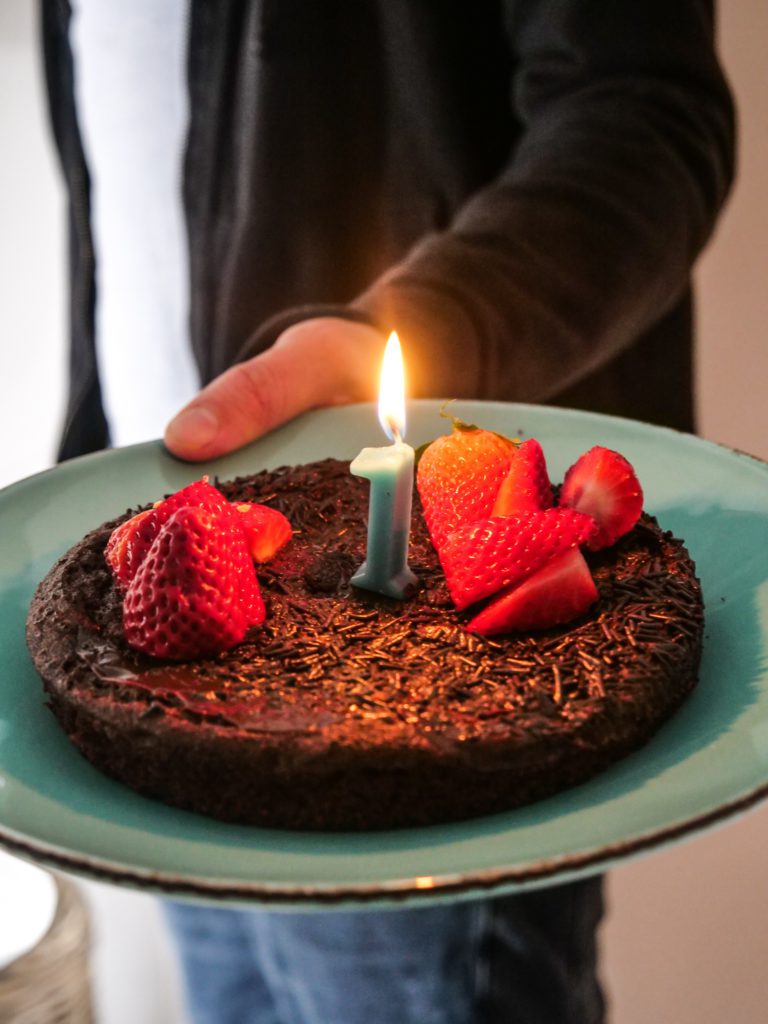 De baby werd 1 jaar en dat moest gevierd worden met taart!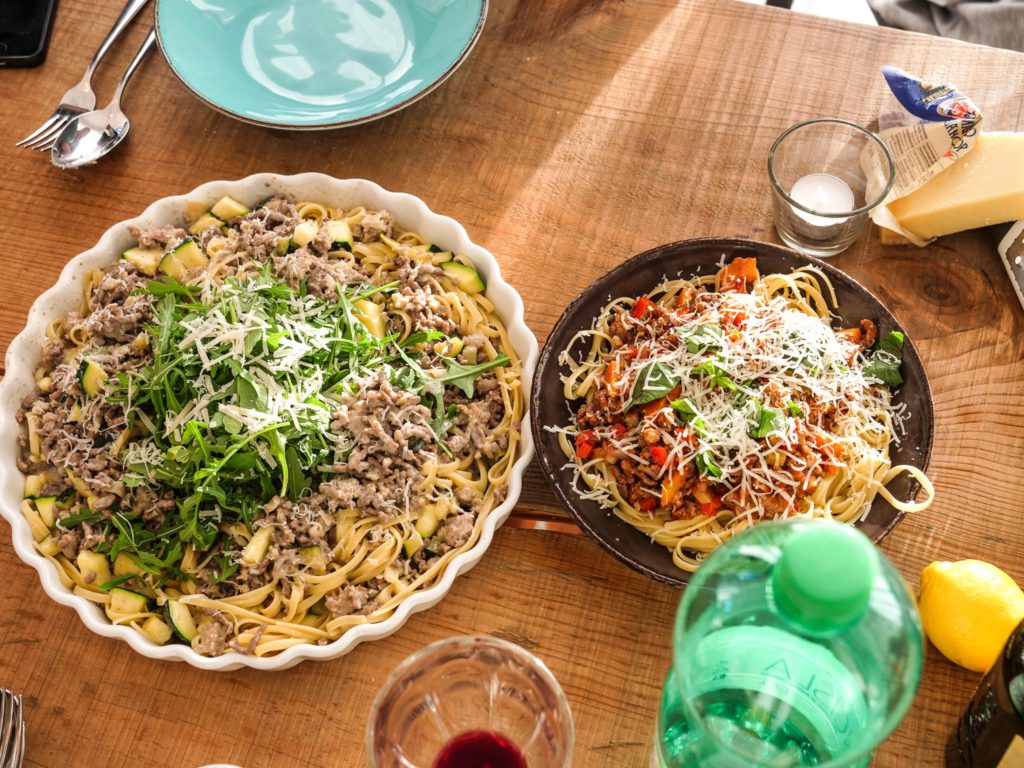 Die avond aten wij heerlijke pasta, twee soorten. Witte wijn roomsaus en een bolognese. Genieten!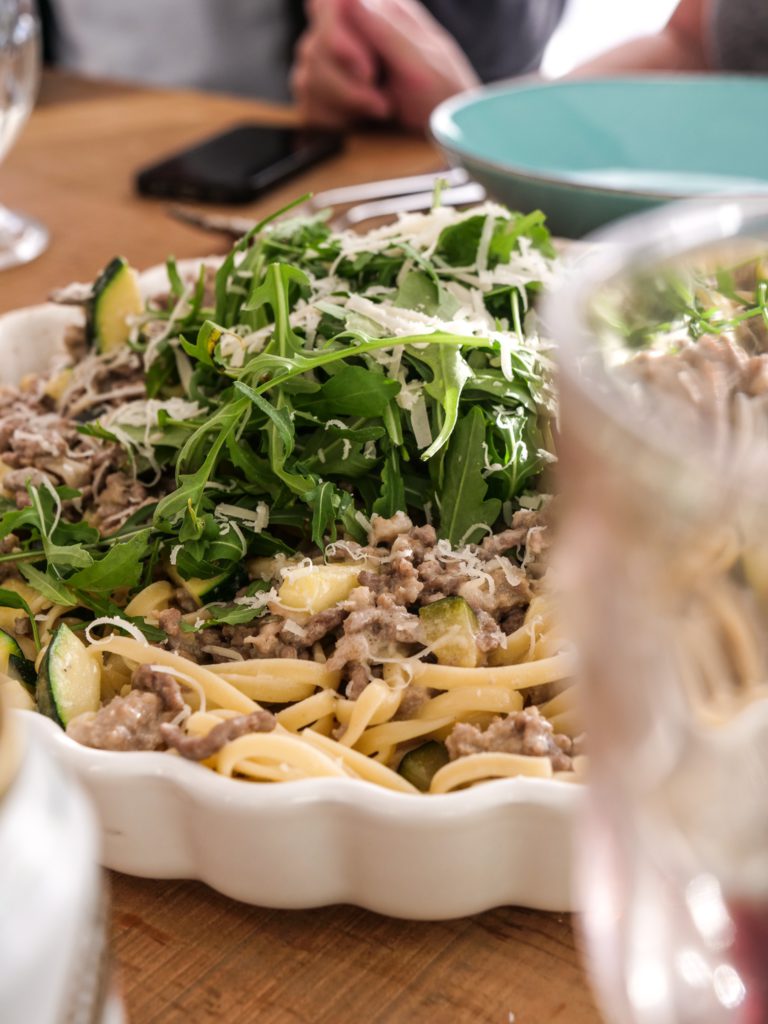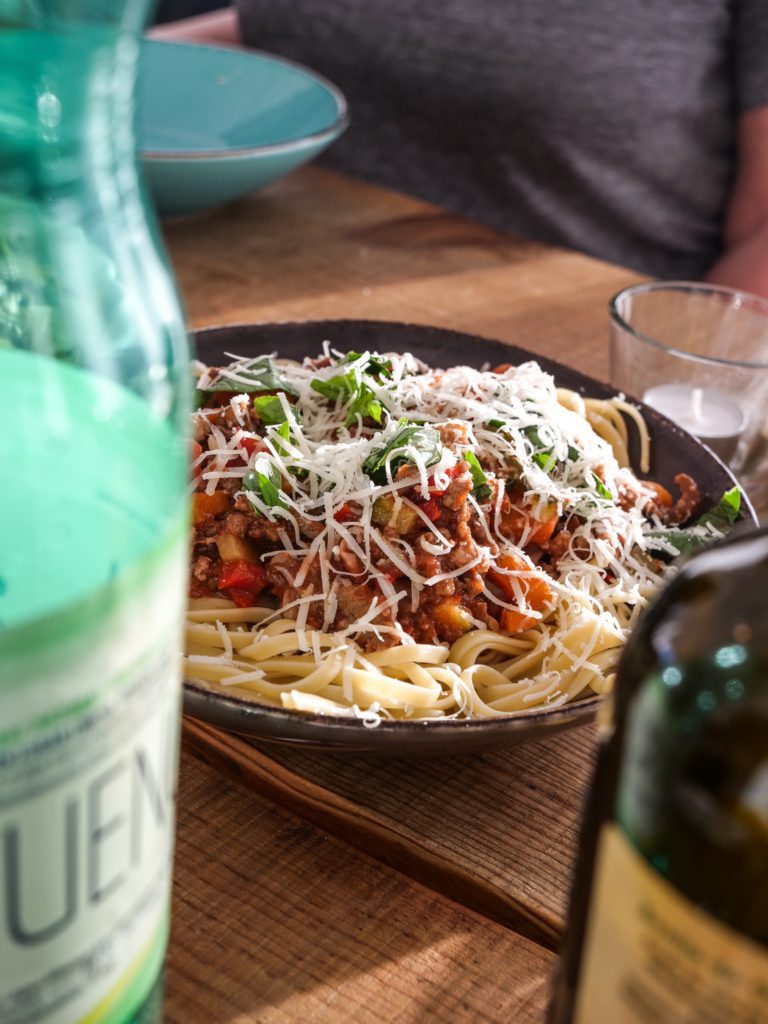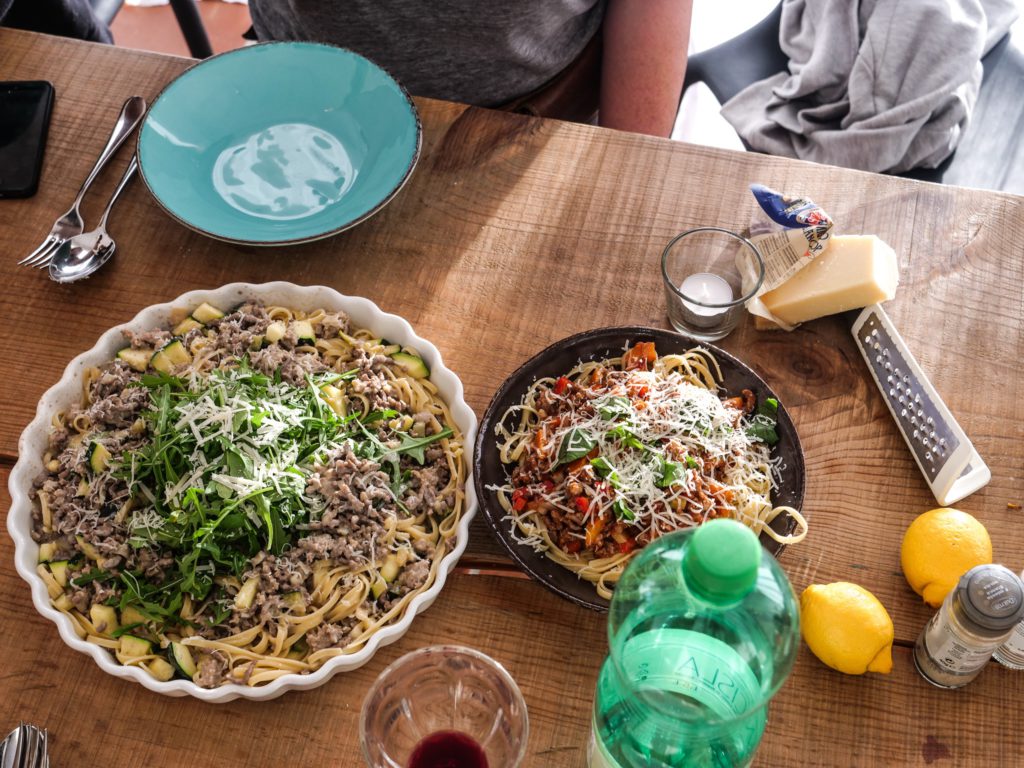 De nodige wijntjes werden ook gedronken, zoals je misschien al kunt zien was mijn glas bijna leeg.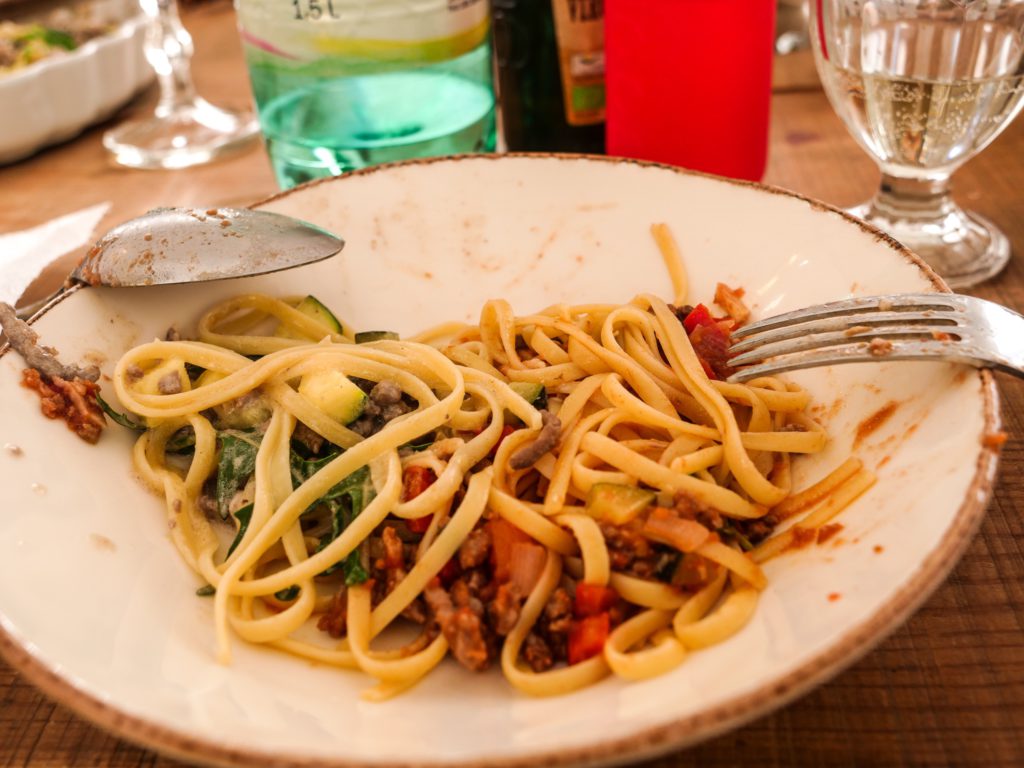 Jummie!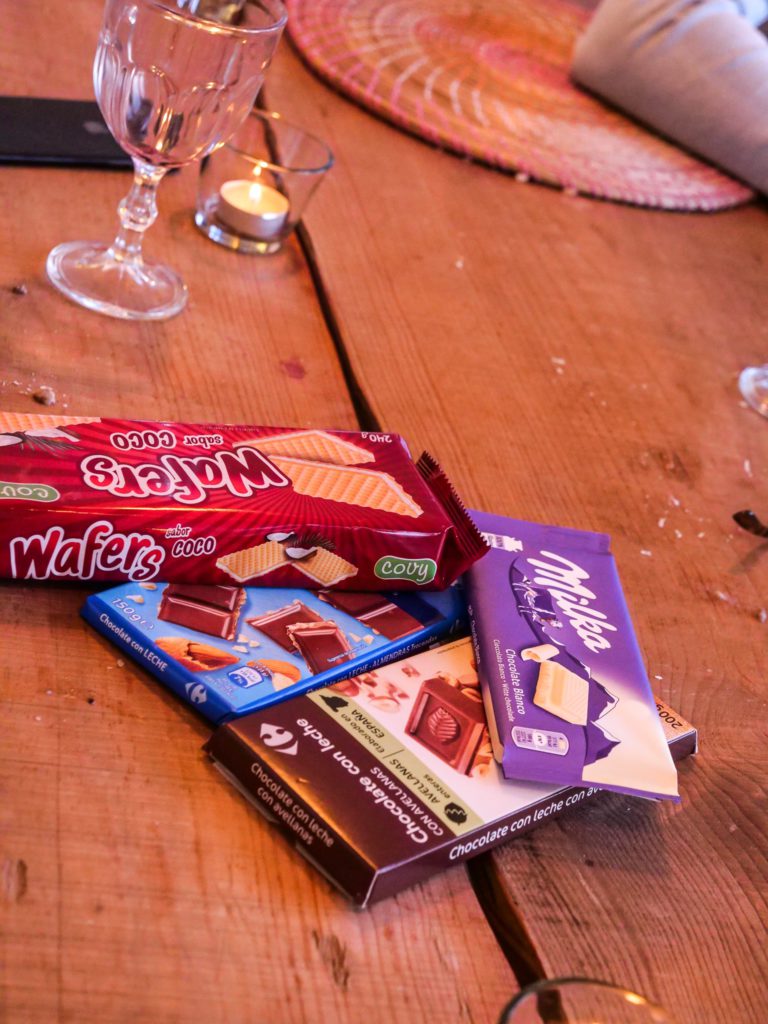 's Avonds lekker praten met elkaar onder het genot van meer wijn en chocolade. Het waaide en het was koud, dus dit was natuurlijk hartverwarmend!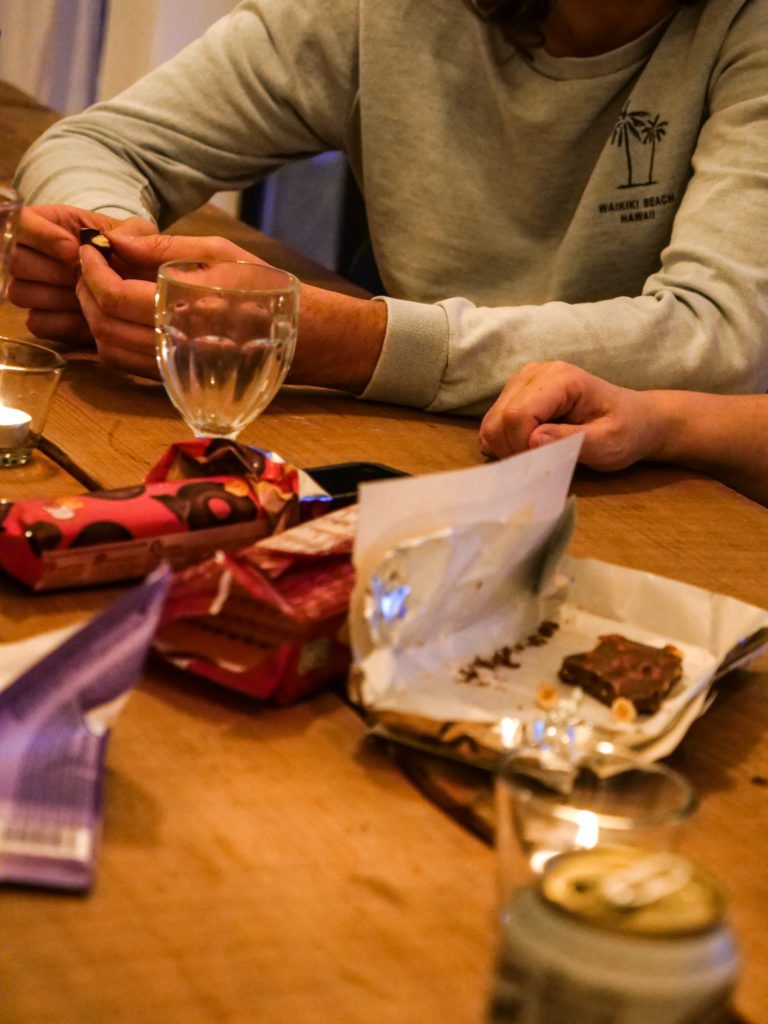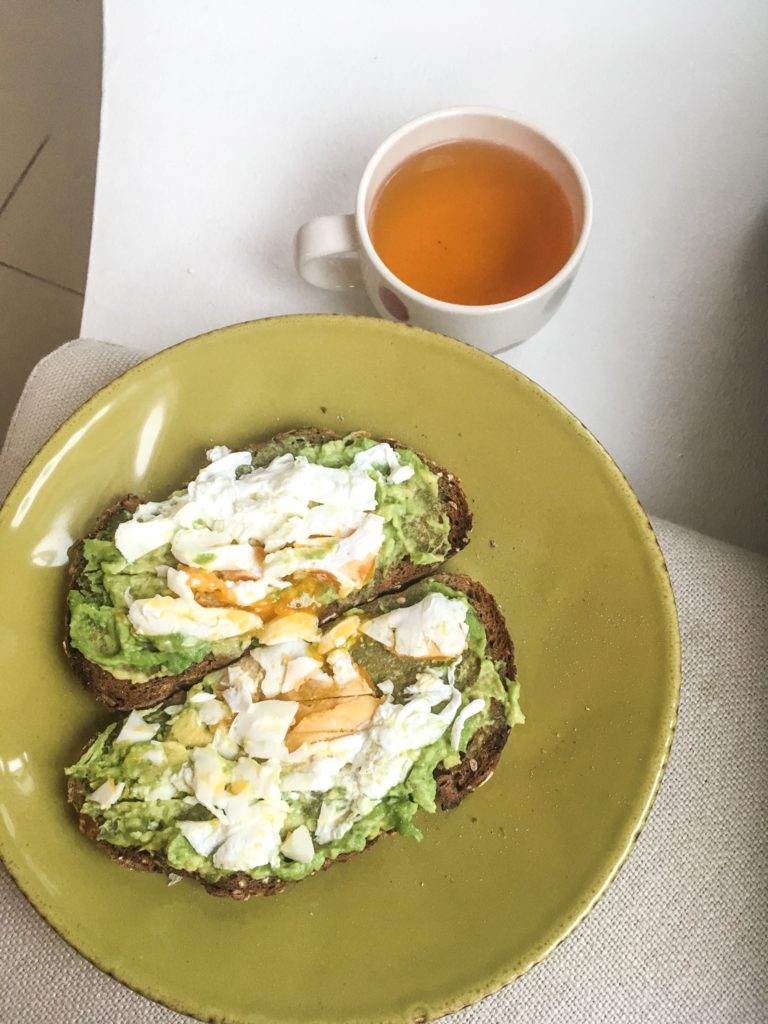 De volgende ochtend, na een flinke hike at ik twee broodjes met avocado en een gepocheerd eitje + thee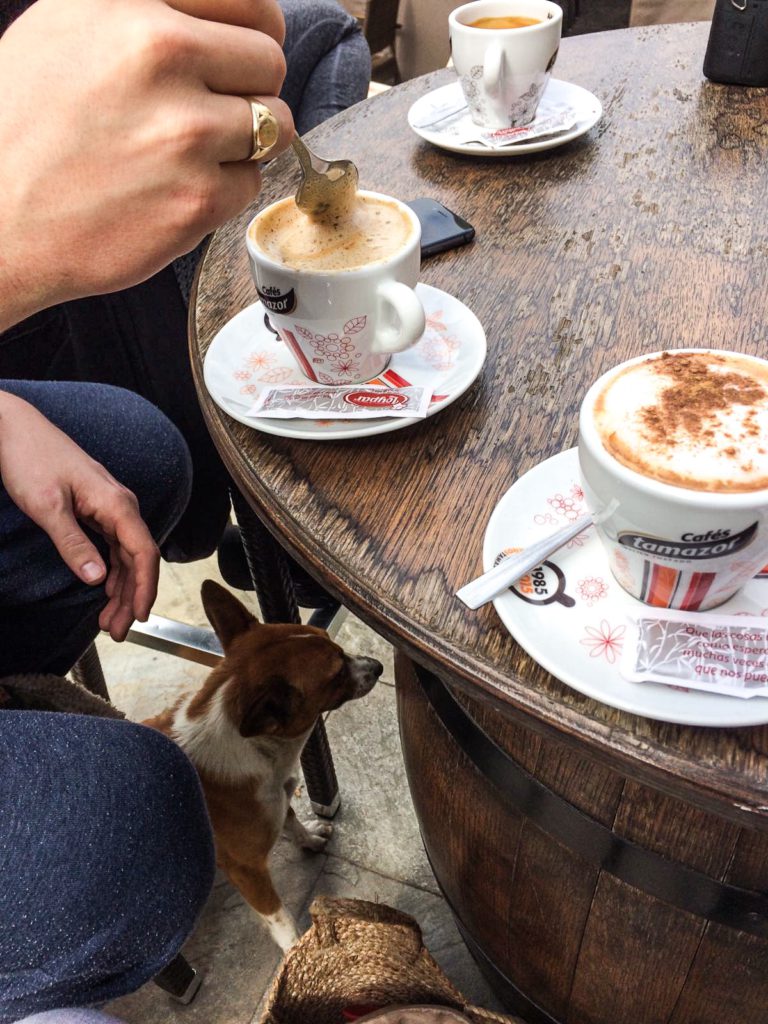 Als je me op Instagram volgt, dan heb je deze lieve hond vast voorbij zien komen! Hij ging overal met ons mee naartoe en had mijn hart een beetje gestolen terwijl ik dat niet gauw heb met honden of katten. In het foto dagboek vertel ik er meer over!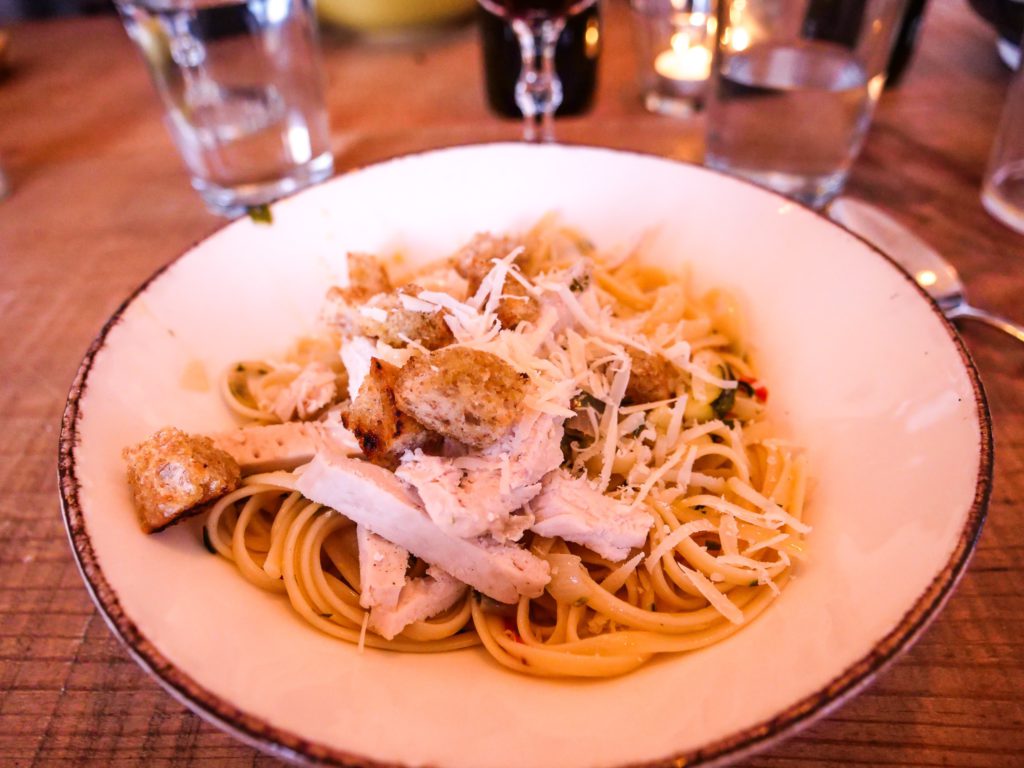 Nog meer pasta! Deze keer met croutons en kip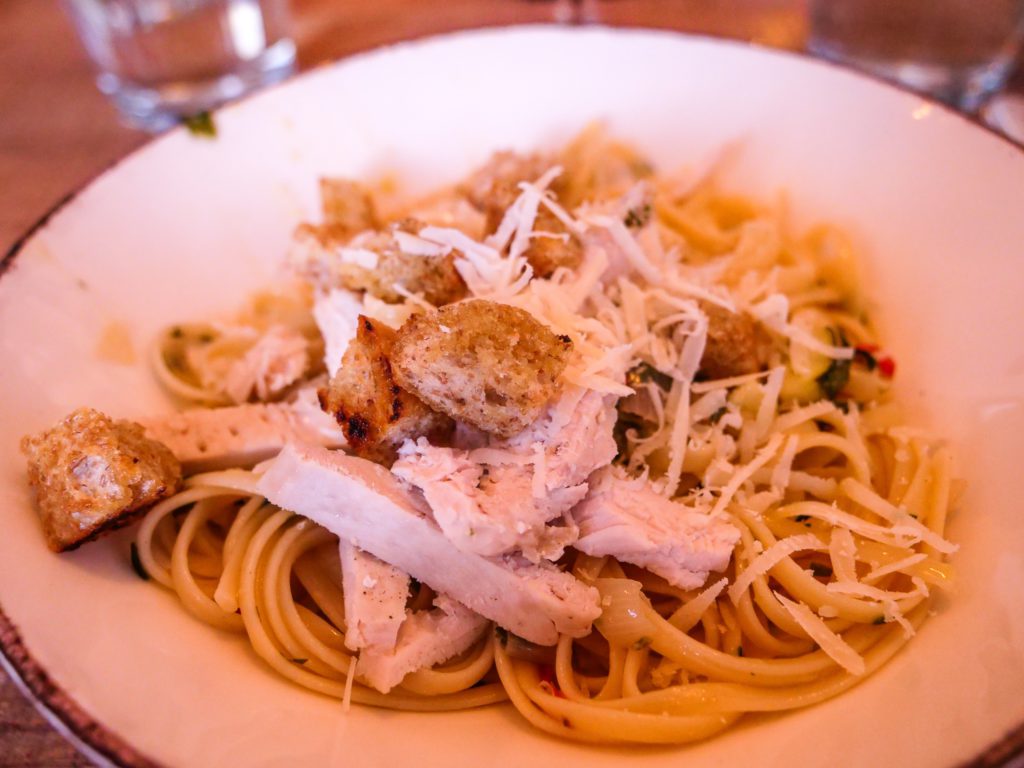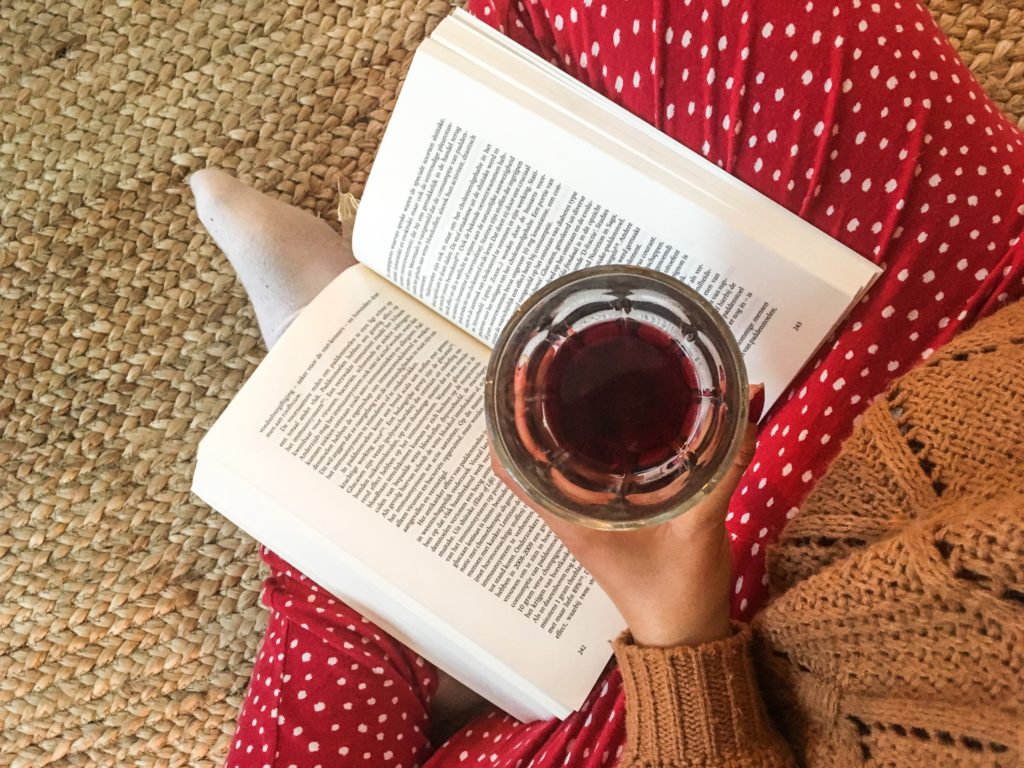 Wijntje, openhaardje en een boeiend boek.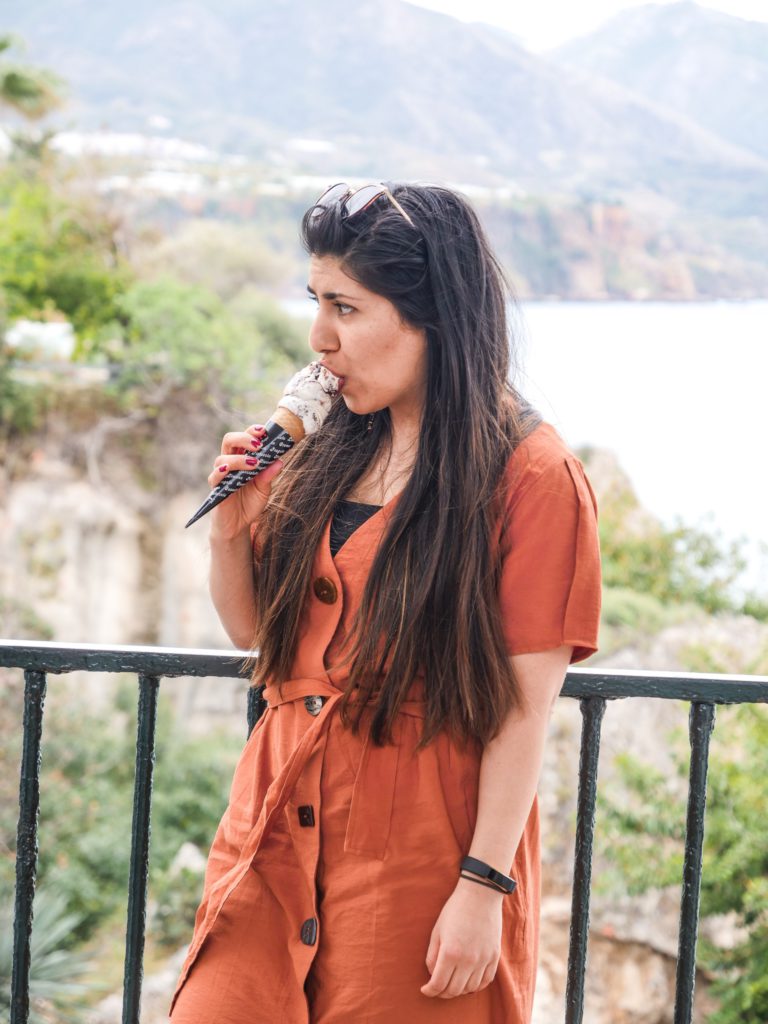 Met een beetje zon gingen we al gauw naar buiten – natuurlijk wilde ik een ijsje!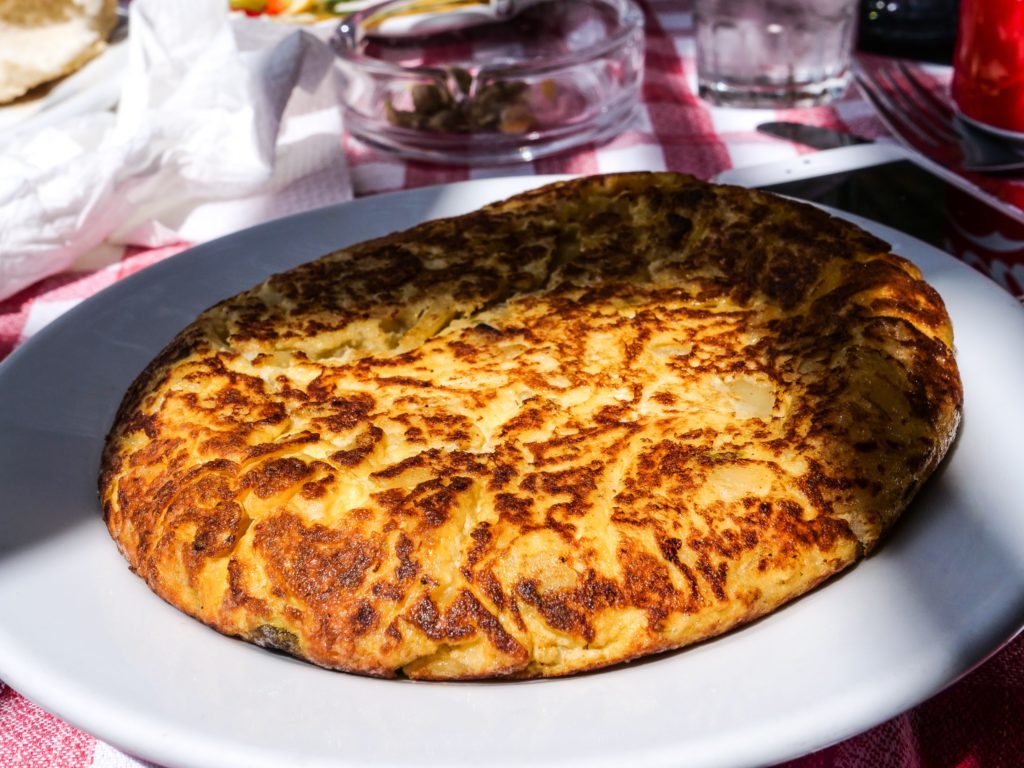 Bij het strand zagen we een heerlijke tent met flink wat mensen en lekker ruikend eten, dat konden we niet weerstaan. We parkeerden de auto's en gingen direct zitten. Ik bestelde een Spanish Omelette, wel zo leuk als je in Spanje bent. De paella trok meer mijn aandacht maar helaas zat daar vis in en dat eet ik niet.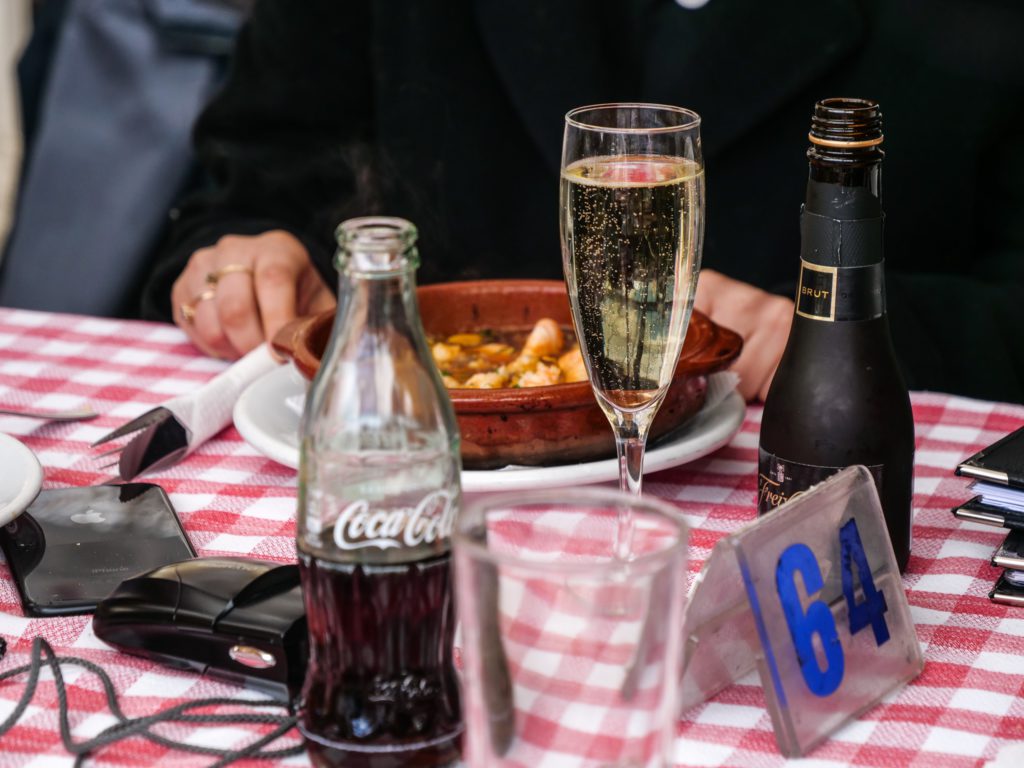 Garnalen aan de overkant.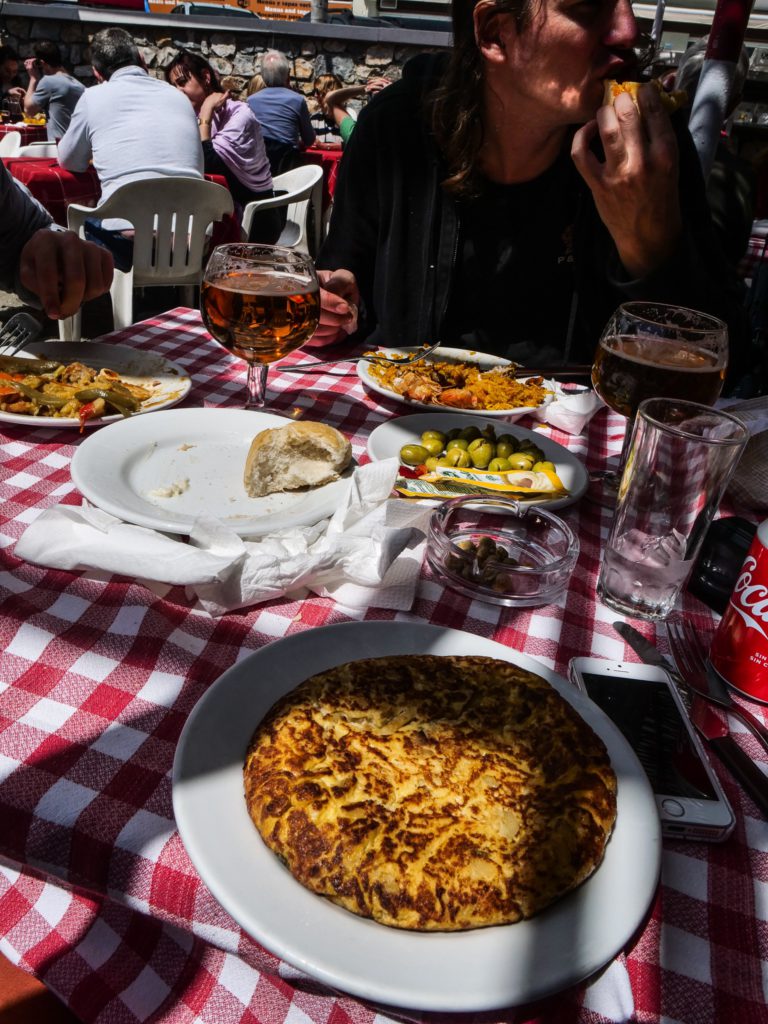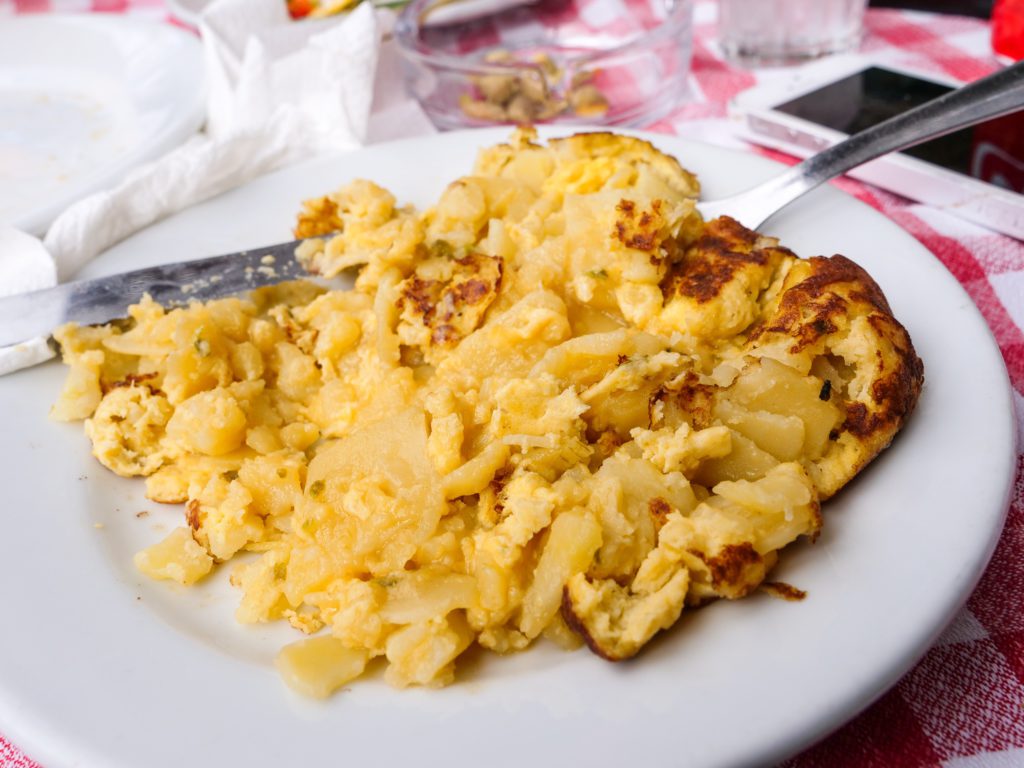 Jummie!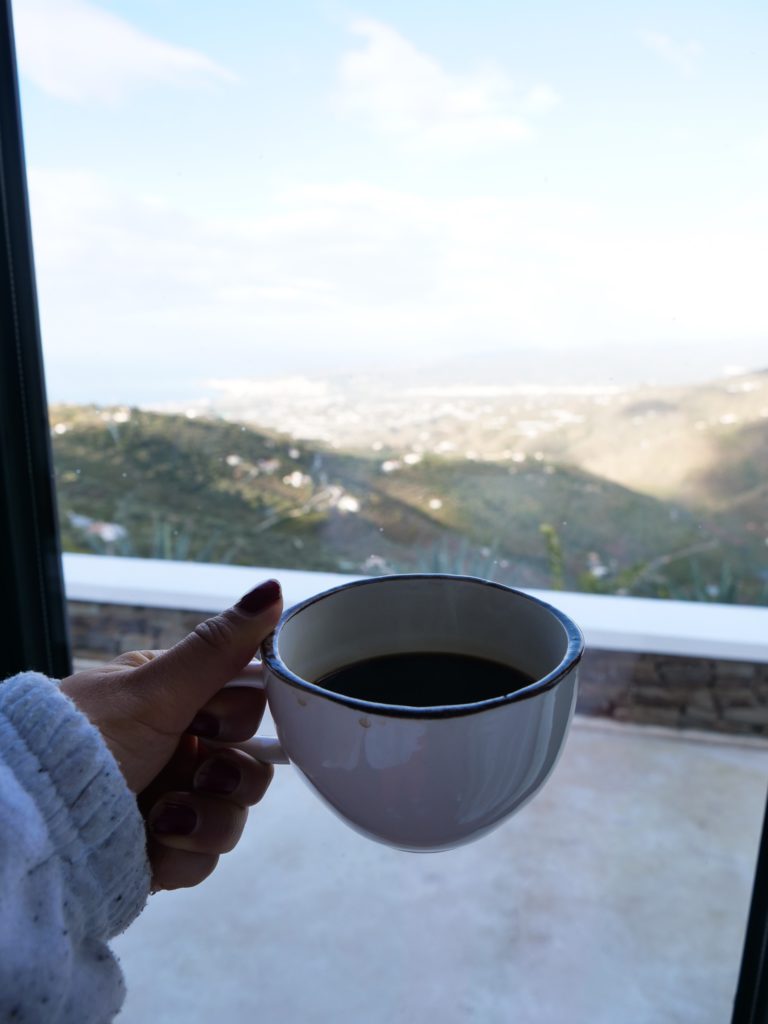 Koffie met een waanzinnig uitzicht.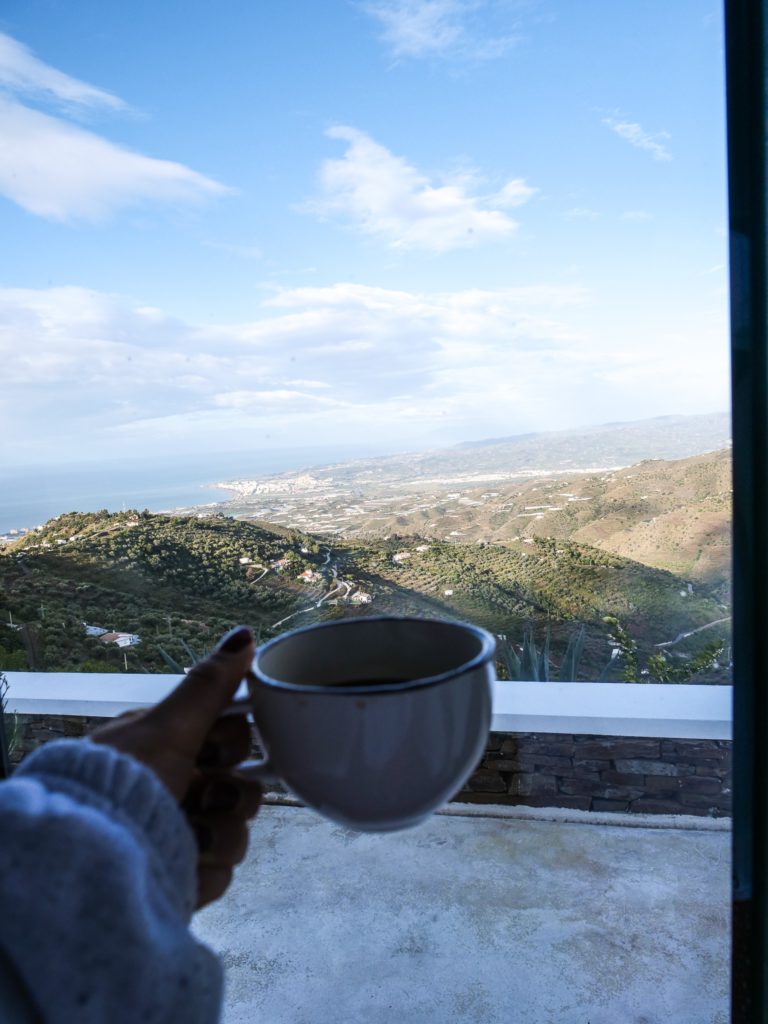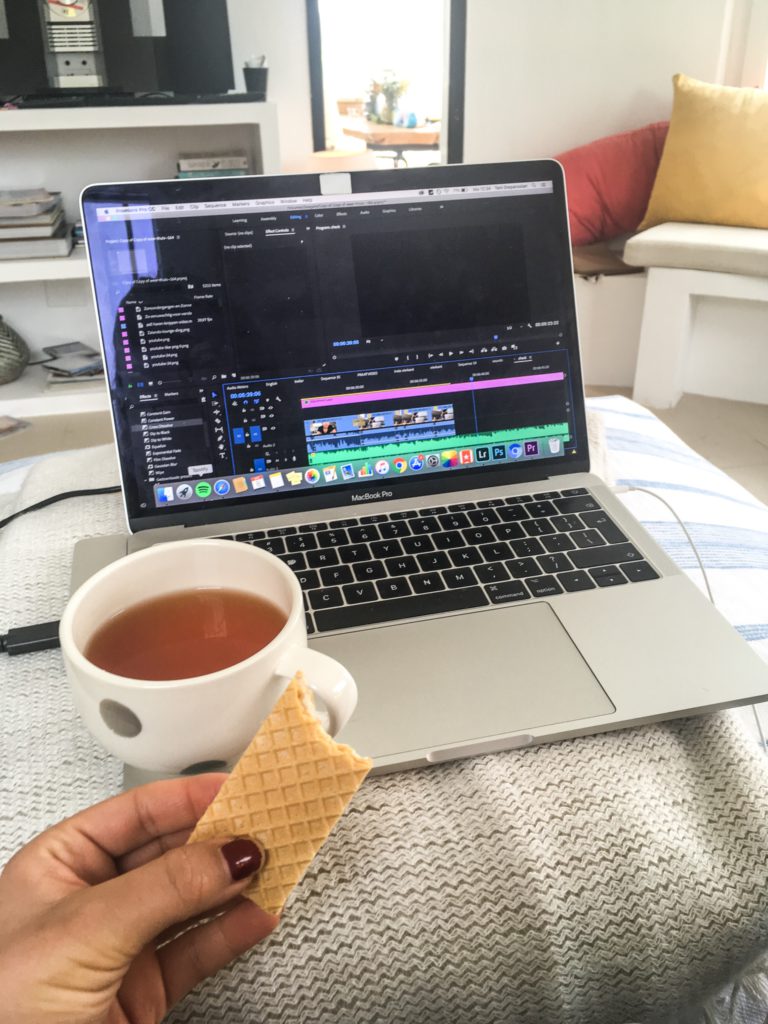 Er werd tussendoor ook gewoon gewerkt en geëdit, wel met een snackje.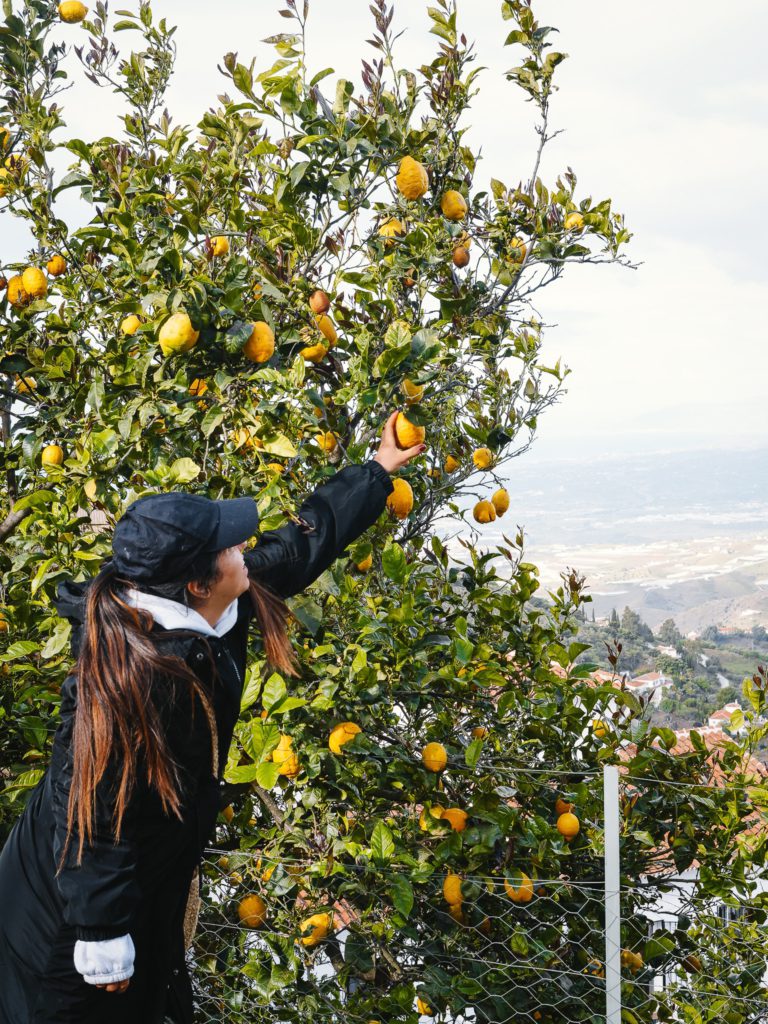 Wandelen door de bergen en citroenen pikken (grapje).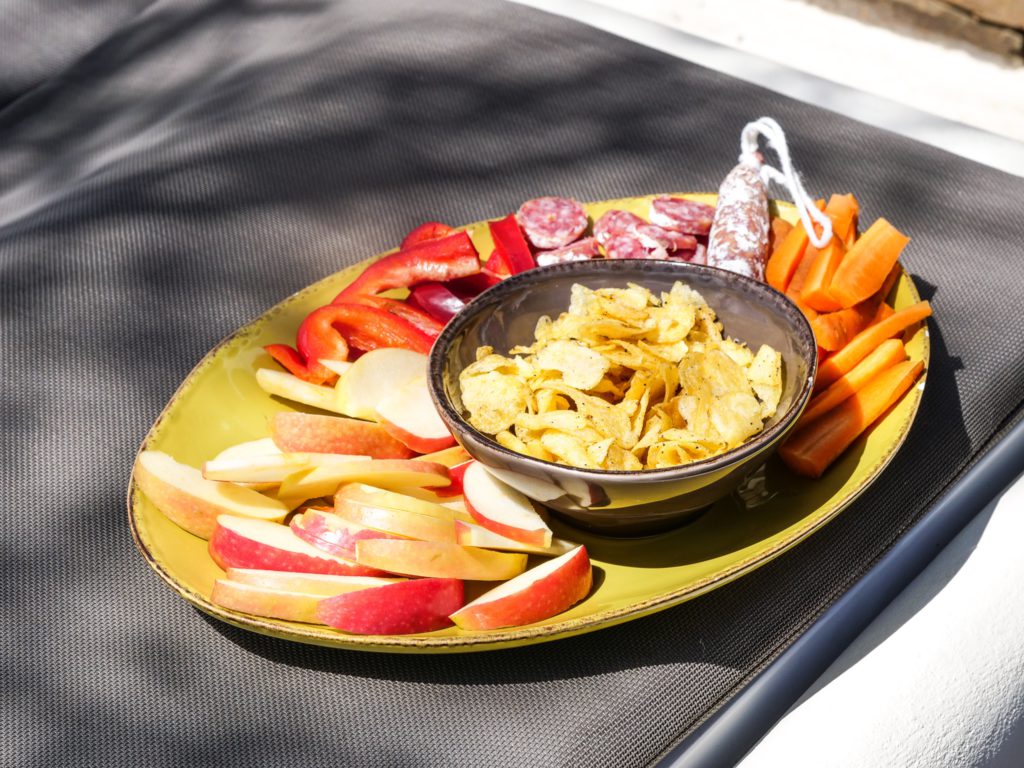 De zon scheen een paar tellen en ik was weer buiten te vinden bij deze schaal met appel, wortel, paprika, worst en chips.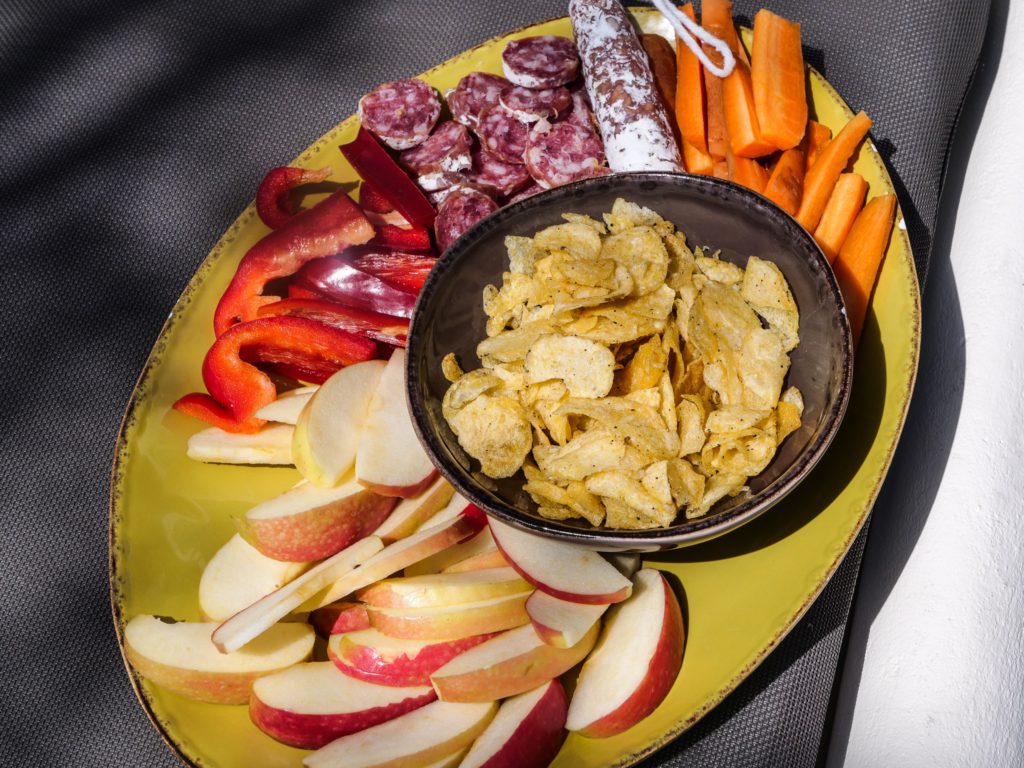 Daarnaast had ik ook een glas wijn.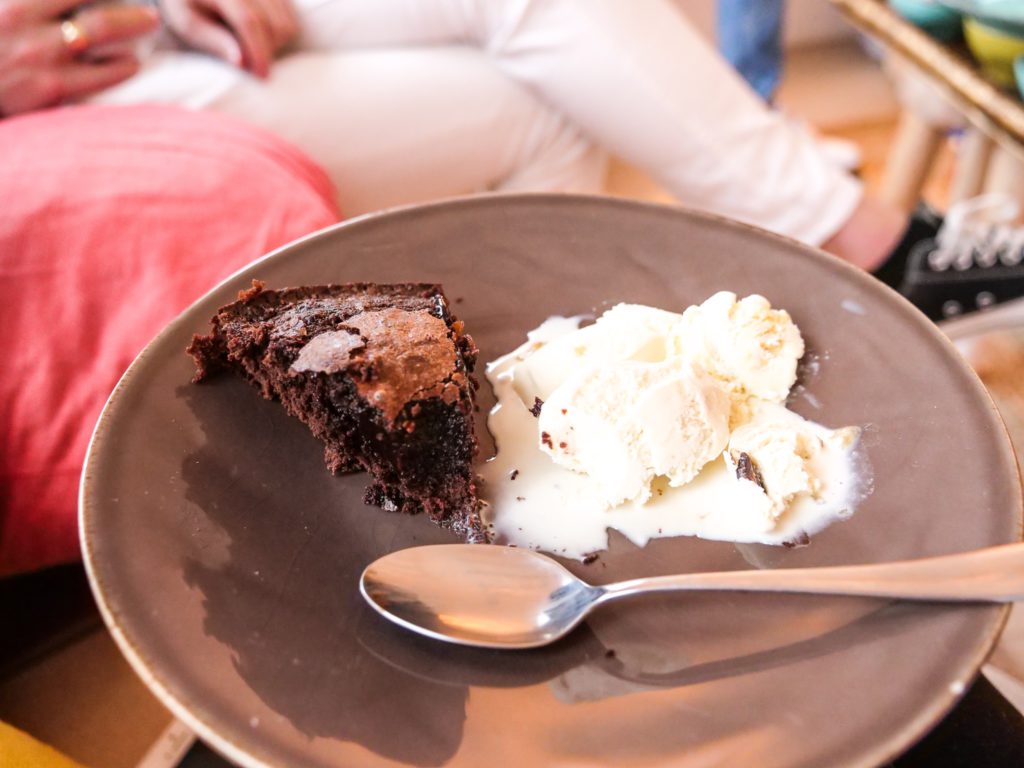 's Avonds aten we zelfgebakken brownie met ijs.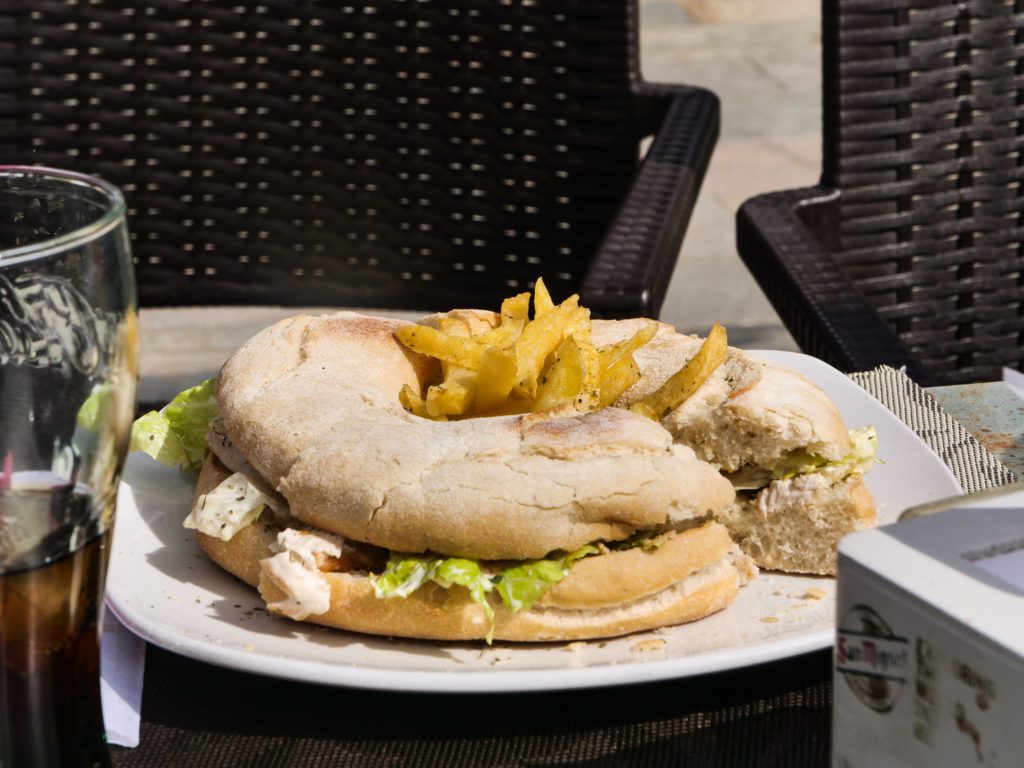 Boy bestelde ergens een broodje met kip, dat leek niet zo boeiend maar het was zo lekker! Ik pikte namelijk een "hapje" 😉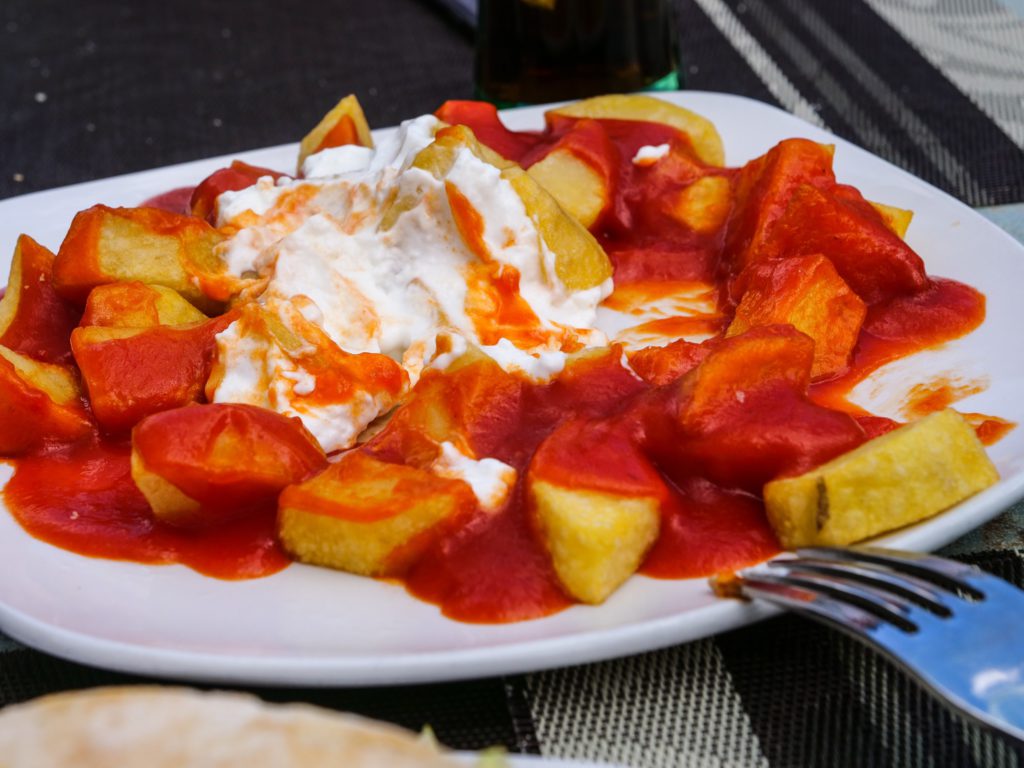 Patatas bravas voor iedereen.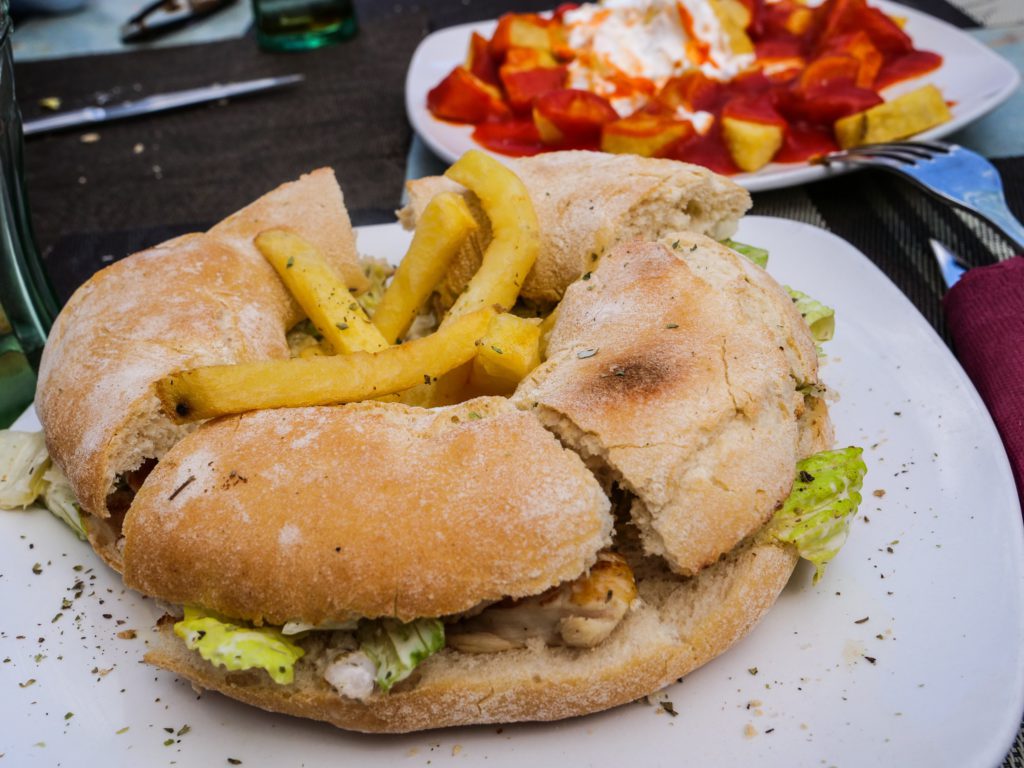 Dus besloot ik zelf ook maar een broodje te bestellen in plaats van die van Boy helemaal op te eten, haha.
Herkenbaar?
Hopelijk heb je genoten van dit voedingsdagboek uit Spanje! Natuurlijk heb ik véél meer gegeten dan er foto's van zijn, maar dat is ook een beetje het doel van de vakantie – in het moment zijn en niet alles hoeven vast te leggen. Er komt wel een vlog van Spanje online, daarin heb ik de balans naar mijn idee goed gehouden. Ik bedoel daarmee de balans van filmen en beleven, niet qua voeding haha.
De balans qua voeding creëer ik nu ik weer terug ben! Heb een fijne dag lieve allemaal!
Bewaar, Like, Tweet of Pin!