Ik ga weer enkele voedingsfabeltjes ontmaskeren waar heel veel mensen voor vallen. En ergens begrijp ik het wel, maar hopelijk ga je door mijn uitleg begrijpen waarom iets wel of niet waar is. Laten we beginnen!
Verzadigd vet is slecht voor je
Niet waar. 
WAT?! Verzadigd vet is toch slecht voor je? Dat weet toch iedereen? Maar dit is niet waar, het heeft  in de loop der tijd steeds een slechtere naam gekregen, vooral omdat de tegenhanger "onverzadigd vet" goed voor je is, lijkt het gauw genoeg zo te zijn dat verzadigd vet niet goed voor je is. Uit meerdere onderzoeken is er geen bewijs naar voren gekomen over dat verzadigd vet bepaalde ziektes kan veroorzaken [1]. Ik heb een heel artikel geschreven over verzadigd vet vs. transvet, hieruit wordt het hopelijk ook voor je duidelijk dat we eerder transvet uit de weg moeten ruimen in plaats van verzadigd vet: klik!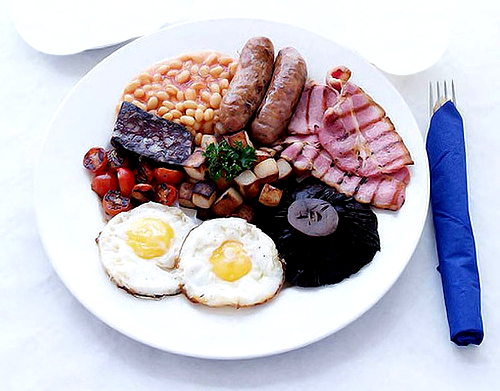 Biologisch betekent automatisch dat het gezond is
Absoluut niet.
Je kunt alles in biologische vorm krijgen tegenwoordig. Het probleem? De slimme marketing mensen hebben een manier gevonden om bewerkt voedsel ook biologisch te noemen. Wat je vooral moet onthouden is dat bewerkt voedsel, bewerkt voedsel is en blijft. Het maakt niet uit of de ingrediënten van biologische oorsprong zijn. Biologische gebakjes die gemaakt zijn van biologische suiker en biologische bloem is nog steeds bewerkt voedsel; vol suiker en narigheid.
De frequentie van je maaltijden is van belang
Hm, niet echt.
Hoeveel maaltijden moet je eten om af te vallen? Dat is een strikvraag omdat het eigenlijk niet uit maakt. Er zijn mensen geweest die zijn afgevallen met 3 maaltijden per dag, maar ook mensen die zijn afgevallen met 8 maaltijden per dag. Het belangrijkste blijft dat je een maaltijd frequentie kiest die het beste bij jouw leefstijl past. Voel je je verzadigder als je vaker op een dag een kleine maaltijd mag eten? Doe dat! Voel je juist dat je teveel eet (psychologisch) bij 6 kleine maaltijden per dag? Eet er dan minder! Er zijn echt geen vaste hoeveelheid maaltijden die het geheim tot afvallen zijn.
Calorieën zijn DE bepalende factor bij afvallen
Nope. Ook niet waar. 
Natuurlijk, als je minder calorieën eet dan je verbrandt val je af. Dat is wel de simpelste manier om uit te leggen hoe je moet afvallen. Maar het is niet de bepalende factor. Waarom niet? Als je twee verschillende mensen op een dieet zet met dezelfde hoeveelheid calorieën maar de een eet meer calorieën uit eiwit, zullen ze beide een andere lichaamssamenstelling krijgen. Hun stofwisseling zal ook verschillend worden na enige tijd. De een zal ook steeds minder calorieën moeten eten om te blijven afvallen terwijl de andere dat niet hoeft te doen.
Verschillende macronutriënten (wat? Koolhydraten, eiwitten en vetten) hebben verschillende effecten op het lichaam. Dus het maakt wel degelijk uit wáár je calorieën uit komen om af te vallen en te blijven afvallen.