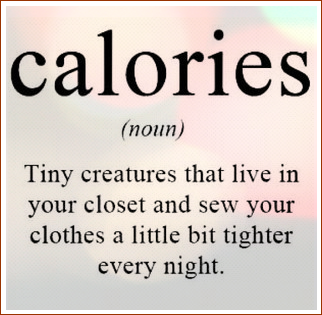 'Wow deze reep chocolade heeft 800 calorieën!'
'Ik heb in een uurtje bodypump wel 500 calorieën verbrand!'
Klopt het eigenlijk wel wat we hier zeggen? Want wat is nou een calorie? Is het iets waar je van aankomt? Is het iets waardoor je weet hoeveel vet je hebt verbrandt na het sporten? Wat is toch die calorie?!
Simpel gezegd is een calorie een eenheid van energie. We leggen vaak de link tussen een calorie met voedsel en vaak met 'slecht' voedsel. "Deze zak chips heeft wel 1000 calorieën!"
Wat een calorie precies is, zal ik je in één zin uitleggen:
Een calorie is de hoeveelheid energie, of warmte, die ervoor nodig is om de temperatuur van 1 gram water, met 1 graad Celcius (1,8 Fahrenheit) te verhitten.
…. Ja, dat zal wel. Wat betekent dat dan eigenlijk?
Een 'voedingscalorie' bevat 4,184 joules, dit is gelijk aan 1 kilocalorie. En dat is het woord dat in de volksmond gebruikt wordt als calorie. Voortaan wanneer ik het woord calorie gebruik, bedoel ik dus eigenlijk de kilocalorie.
Wat doen calorieën nou eigenlijk?
Mensen hebben energie nodig om te kunnen leven. Energie is nodig om bijvoorbeeld te kunnen ademen, bewegen en bloed door het lichaam te pompen. Hier heb je energie voor nodig uit voedsel: calorieën. In voedsel kennen we vier bronnen die de mensen voorzien van calorieën, namelijk; koolhydraten, vetten, eiwitten en alcohol. Één gram koolhydraat levert 4 calorieën, één gram vet levert 9 calorieën, één gram eiwit levert 4 calorieën en één gram alcohol levert 7 calorieën. Alles wat voor de mens eetbaar is, is opgebouwd uit een van of een combinatie van de 4 bovengenoemde bronnen, ook wel macronutriënten genoemd.
En dat is dus de basis! Een calorie is dus energie die we nodig hebben om te kunnen overleven. En dat doen we door simpelweg te eten! 🙂
Hoeveel calorieën heb ik nodig?
Deze vraag hoor ik heel vaak en dat begrijp ik ook volkomen. Dit vroeg ik mij ook jarenlang af. Want zodra ik zou weten hoeveel calorieën ik nodig zou hebben om te kunnen overleven, wist ik precies hoeveel ik ervan ging eten om af te kunnen vallen. Komt bekend voor? Nu is het antwoord toch niet zo simpel als de vraag. Want de hoeveelheid calorieën die je nodig hebt is ten eerste afhankelijk van je geslacht, ten tweede van je lengte en gewicht en ten derde van de mate waarin je per dag beweegt. En daar zijn formules voor bedacht, de bekendste formule is die van Harris & Benedict.
Let wel, deze formule heeft geen inzicht in hoeveel kilogram van je lichaam bestaat uit vet en uit spieren. Dit maakt namelijk heel erg veel uit in het berekenen van hoeveel calorieën je nodig hebt!
Zo'n formule kan wel heel handig zijn om een indicatie te krijgen van wat je nu nodig hebt aan calorieën. Maar het belangrijkste, en dit wil ik toch wel benadrukken, is uit welk voedsel je de calorieën haalt. En dat is wat veel mensen vergeten wanneer ze alléén kijken naar calorieën en al hun voeding op basis van calorieën uitzoeken. Waarom gaat dat fout? Laat ik het zo stellen, waar dient voeding voor? .. Om ons lichaam te voeden. Ja. Een calorie is maar een gedeelte van voeding. Om je lichaam te kunnen voeden heb je veel meer nodig dan alléén calorieën. Je hebt vitamines en mineralen nodig, dit noemen we de micronutriënten. Deze zijn van groot belang voor de hele huishouding van je lichaam. Want wanneer je voeding gaat selecteren op basis van calorieën, kan het zomaar eens zijn dat je eindigt met voedsel als slim pasta (0 kcal), light frisdrank en bouillon.
Ooit wel eens van lege calorieën gehoord?
Dat zijn dus de bovenstaande voedingsmiddelen. Ze geven je calorieën, maar verder ook nauwelijks wat anders. Ja, ze bevatten weinig calorieën en hierdoor zul je niet gauw teveel calorieën binnen krijgen, maar voeden ze het lichaam wel? Zoals ik al eerder zei, heeft het lichaam vitamines en mineralen nodig. Dit is echt de key die ervoor zorgt dat je lichaam gevoed wordt en minder snel hongersignalen afgeeft. En niet alleen dat, want het lichaam zit veel ingewikkelder in elkaar. Vitamines en mineralen zorgen voor talloze andere functies in je lichaam. Maar hierover meer in een ander artikel.
Als we nu kijken naar de uitspraak 'Wow deze reep chocolade heeft 800 calorieën!' , zegt het alléén iets over de energie die de reep bevat. En ook niets anders. 
Wat bevat een reep melkchocolade nog meer dan?
Eiwitten, Koolhydraten, Vetten, Voedingsvezels, Water, Natrium, Kalium, Calcium, Fosfor, Magnesium, IJzer, Selenium, Zink, Jodium, Retinol, Beta-caroteen, Luteine, Zeaxanthine, Beta-cryptoxanthine, Vitamine B1, Vitamine B2, Vitamine B6, Vitamine B12, Nicotinezuur, Folaat, Vitamine C, Vitamine E, Alfa-tocoferol, Gamma-tocoferol en Delta-tocoferol.
Natuurlijk niet allemaal in grote hoeveelheden (bijvoorbeeld Vitamine B1: 0,07mg) maar ze zitten er wel in!
Oké, en wat bevat een kopje bouillon dan?
Eiwitten, Koolhydraten, Vetten, Water, Natrium, Kalium, Fosfor en Jodium.
Als we alleen naar de calorieën kijken, bevat een kopje bouillon er ongeveer 5. Maar als we verder kijken dan alleen calorieën zien we dat je je lichaam toch wel beter voedt met een stukje chocolade.
Wil dit nu zeggen dat we allemaal massaal aan de chocolade moeten? Natuurlijk niet. Dit laat alleen zien dat calorieën eigenlijk heel weinig zeggen over een voedingsmiddel. En dat dit alleen, is naar mijn mening niet voldoende om als maatstaf te gebruiken voor alle voeding.
Voor exacte hoeveelheden van allerlei voedingsmiddelen klik hier 勝駒 特吟 大吟醸 1800ml 【清都酒造】【富山県 日本酒】
大きいサイズ メンズ SAKAZEN (サカゼン) ウール100% マルラーネ生地 ピンストライプ シングル 2ツ釦 ワンタック ツーパンツ スーツ ビジネス シングルスーツ 2パンツ ウール
http://www.crewcutandnewt.com
Fanatics Authentic Cleveland Browns Brown Framed Logo Jersey Display Case ユニセックス 小物 一般
深みのある質感のシンプルな学習机 100cm幅※代引き不可 ナチュラル
【ふるさと納税】梨子本果樹園の梨(幸水、二十世紀、豊水、詰め合わせいずれか:品種指定可)10kg (17〜26個入)※着日時はご指定いただけません8月下旬から順次発送
【あす楽対応!】【送料無料!】JPS漢方薬-50 麻子仁丸「ましにんがん」エキス錠 200錠×10個【JPS製薬】【第2類医薬品】【4987438065060】【メール便・ネコポス不可】
ユーキャンの大卒公務員(警察官・消防官コース)通信講座【一括払い】
www.jobsfindernow.com
【ポイント10倍】池永鉄工 新中華鍋 木蓋付 36cm/日本製の中華鍋。