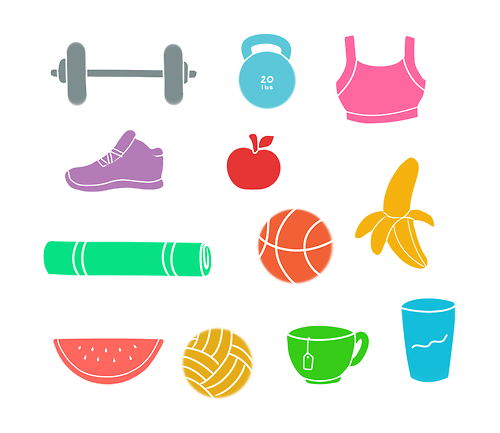 Wil je afvallen of gezonder worden? Lukt het niet? Of gaat het te langzaam? In dit artikel 3 belangrijke regels die je zonder twijfel kunnen helpen als je ze volgt. Lees gauw verder!

Stop met het tellen van calorieën!
Tuurlijk is het belangrijk om in de gaten te houden wat je eet en hoeveel calorieën bepaalde voedingsmiddelen bevatten. Maar dit is puur om wat meer inzicht te krijgen in welke voedingsmiddelen veel en weinig calorieën bevatten zodat jij zelf kunt indelen wanneer je deze van jezelf mag eten en wanneer het beter is van niet. Door ongeveer te weten hoeveel calorieën bepaalde voedingsmiddelen bevatten wordt je kennis vergroot, misschien leer je wel hele nieuwe dingen over bepaalde voedingsmiddelen die je weer helpen met juiste keuzes maken.
Dit wil niet zeggen dat je ook daadwerkelijk elke calorie moet tellen die je in handen krijgt. Elk lichaam heeft een andere behoefte en elke dag kan je behoefte net weer anders zijn dan de dag ervoor. Focus je meer op de kwaliteit van voeding en je zult verbaast zijn hoe dichtbij je dan bij je doelen kunt komen zonder ook een calorie te tellen.
Houd niet te krampachtig vast aan voedings verhoudingen.
Hoeveel eiwitten, koolhydraten en vetten moet je eten om af te vallen? Dat doet er niet toe. En weet je waarom niet? Omdat elk lichaam, elke persoon, anders reageert op voedsel. De een vindt het heerlijk om brood te eten en moet er niet aan denken om brood te moeten schrappen om af te vallen. De ander houdt van vlees en vooral veel vlees en wil dat absoluut niet schrappen.
Uit onderzoek is zelfs gebleken dat het niet uit maakt welke verhouding van de drie macronutriënten je eet om af te vallen, zolang je meer verbrandt dan je eet. Of je dat nu doet met het minderen van vet, of het minderen van koolhydraten, het maakt allemaal niet uit. Zolang je de balans zo houdt dat je minder eet en daardoor beetje bij beetje afvalt kom je langzamerhand dichterbij je doel.
Omring jezelf met mensen die je aanmoedigen.
Dit is een hele belangrijke en wordt vaak onderschat. Mensen om je heen hebben invloed op je, of je dit nu wilt of niet. Let er dus goed op welke mensen je toelaat in je leven. Zijn het mensen die al jouw energie opslurpen? Of mensen die altijd maar negatief zijn over het leven omdat nooit iets lukt en alles tegenzit? Dit kan namelijk een grote invloed hebben op de manier waarop jij naar de wereld kijkt en erger nog; de manier waarop je naar jezelf kijkt! Wees dus selectief, de mensen om je heen bepalen onder andere jouw denkwijze.
Probeer jezelf dus te omringen met mensen die weten dat het je gaat lukken om je doel te bereiken en je ook aanmoedigen in plaats van mensen die zelf nooit iets gedaan krijgen en daarom ook overtuigd zijn dat dit bij anderen ook niet lukt.