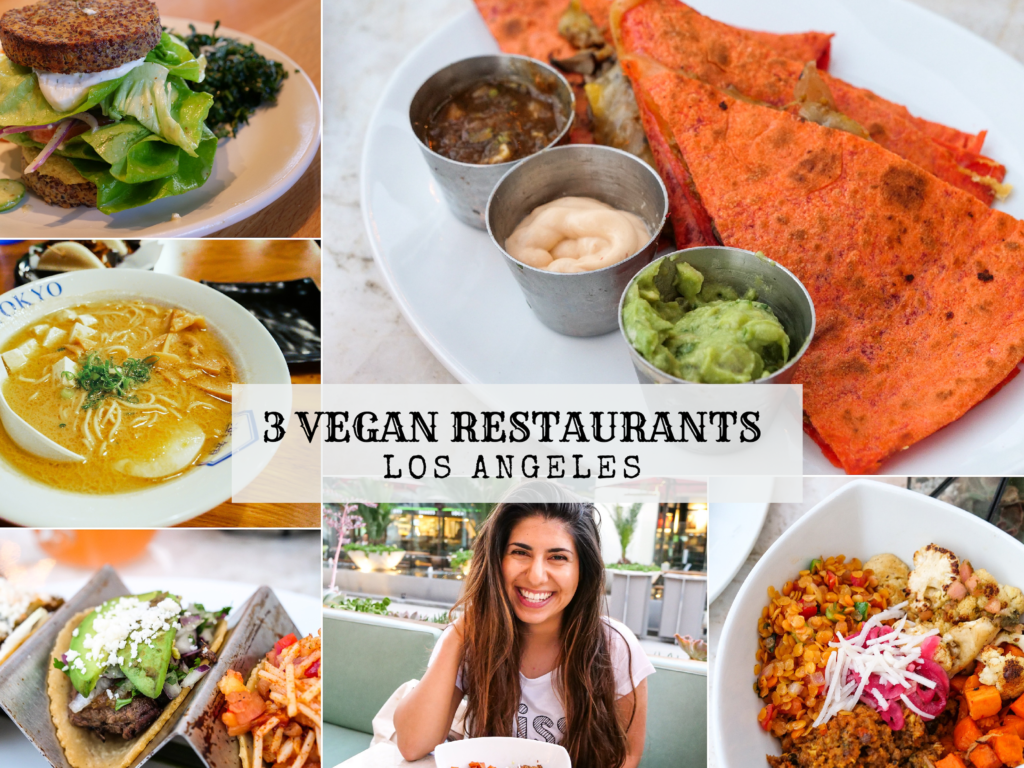 Tijdens mijn maand in Amerika ben ik véél uit eten geweest, dat is een feit. Ik vroeg jullie op Instagram of er interesse was naar een artikel/video over veganistische restaurants die ik ging uitproberen, en dat was er!
Ik heb er 3 voor dit artikel uitgeprobeerd en wat ik ervan vond lees je vandaag terug! Vanmiddag komt er ook een video live op mijn YouTube kanaal waar je alles ook nog eens in video vorm terug kunt zien (vond het zo leuk om te filmen!). Benieuwd naar mijn oordeel?
Tocaya Organica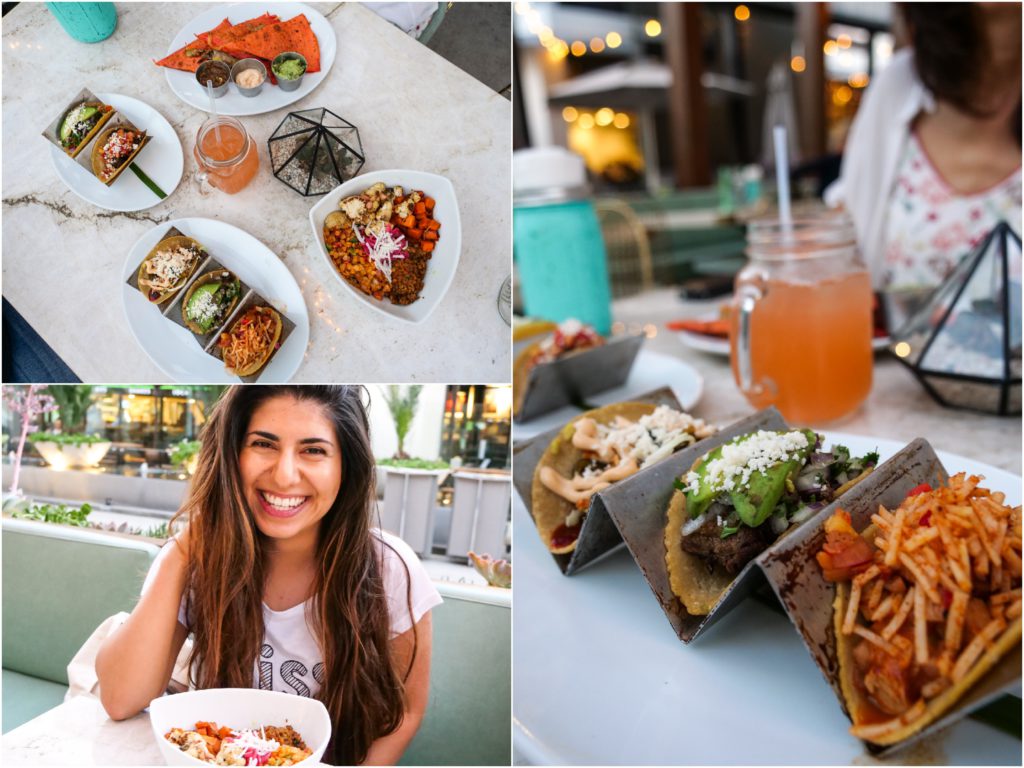 Dit restaurant valt onder een keten, zoals vele restaurants in Los Angeles. Ik ben normaal gesproken geen fan van keten-restaurants, maar in Amerika kun je ze soms niet vermijden. En al helemaal niet als het een keten is die juist gezond (en plantaardig) eten wil promoten. Tocaya Organica dus, ze noemen het zelf Modern Organic Mexican Food.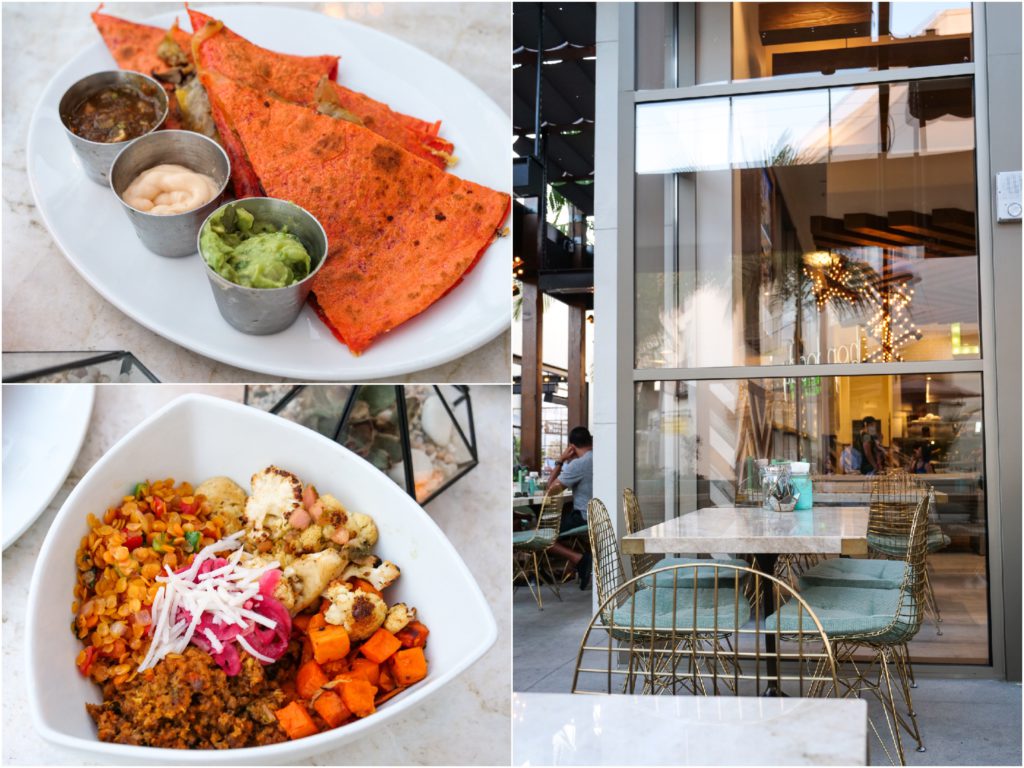 Alles op het menu was vanuit een plantaardige basis, maar je kon er vlees, vis en kip bestellen. Dus dat is fijn om te weten!
We bestelden taco's, een burrito en ik ging voor een bowl die helemaal veganistisch was. Van de vegan mozzarella tot hun eigengemaakte 'eiwit' component; vegan picadillo. Over dit laatste was ik erg te spreken, het was ZO lekker! Absoluut een aanrader als je in de omgeving van Los Angeles zit, met 9 restaurants in die omgeving zit er vast één bij je in de buurt daar. Ze zitten trouwens ook in San Diego met hun 10 restaurant.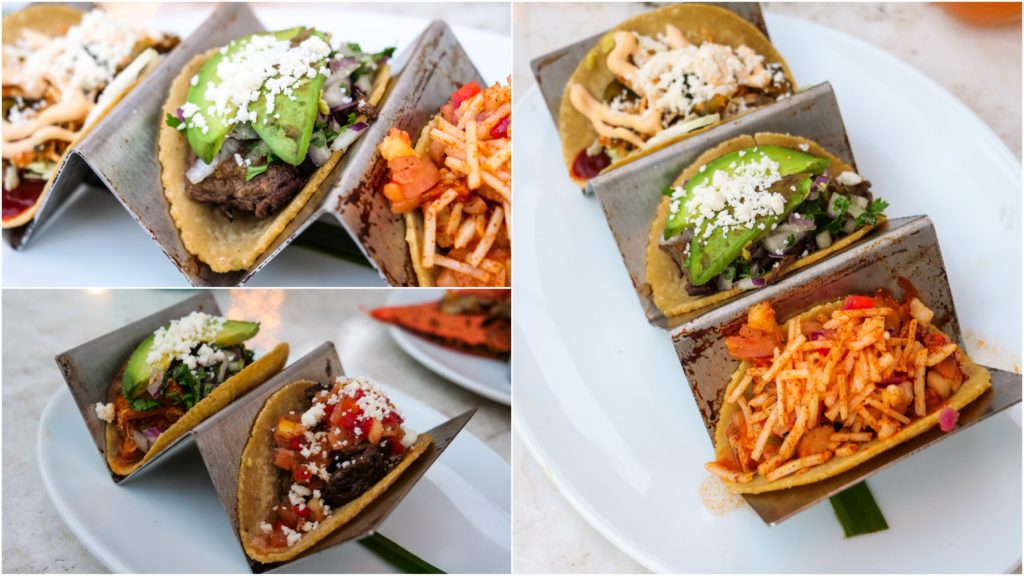 Tijdens mijn hele verblijf ben ik 3 keer bij dit restaurant wezen eten, zo lekker vond ik het! En elke keer bestelde ik hun huisgemaakte vegan picadillo.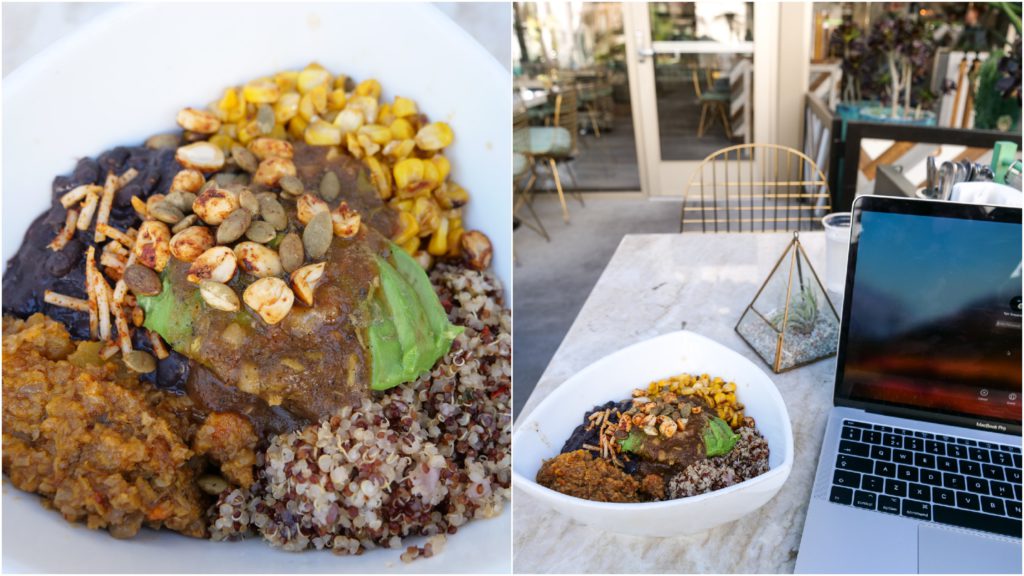 De bediening krijgt van mij een 8,7
Rakkan Ramen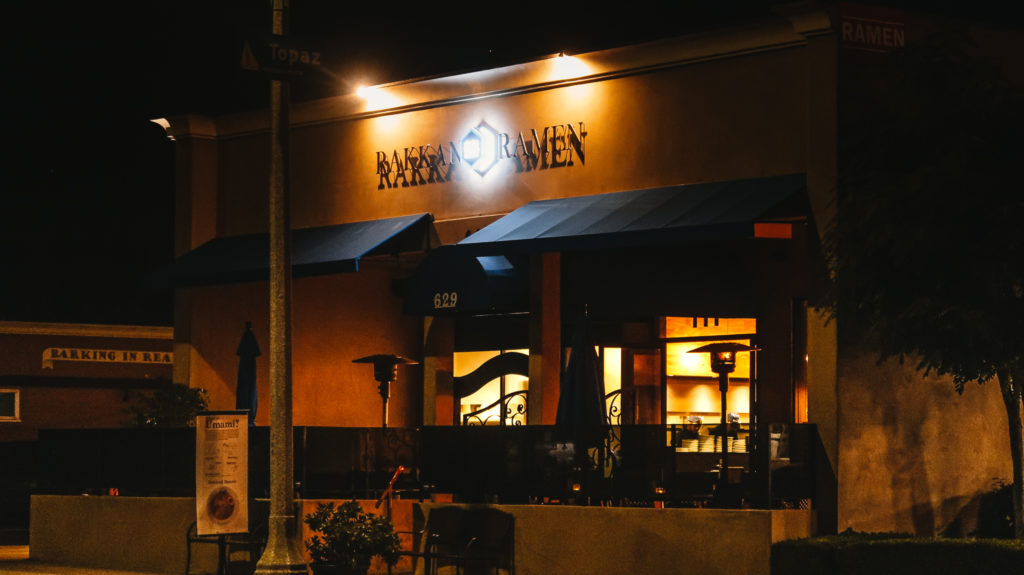 Mijn broer is een grote fan van ramen en om die reden ben ik gaan zoeken naar een restaurant waar dit misschien ook veganistisch te krijgen was. Als het ergens moet opkomen, dan is het wel in de omgeving van Los Angeles. Zo kwam ik rakkan ramen tegen en besloot het een kans te geven. De basis, de bouillon, is helemaal plantaardig waardoor je verschillende dingen op het menu helemaal veganistisch kon bestellen. Als je bij een ramen tent komt waar hun bouillon al op basis van vlees is, dan kun je het natuurlijk wel vergeten als veganist.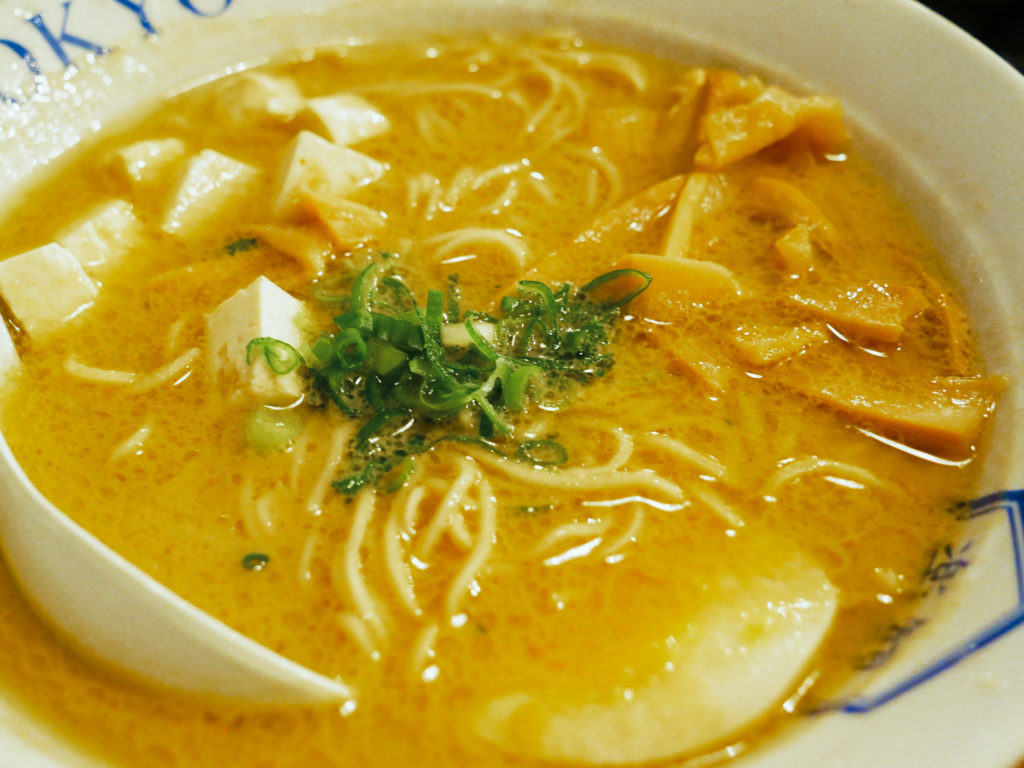 Hoewel ik niet per se een grote fan ben van 'soep' (omdat het kietelt in mijn keel, haha) en het al helemaal niet graag eet/drink in de zomer maakte ik me een beetje zorgen of ik het wel zo lekker zou vinden.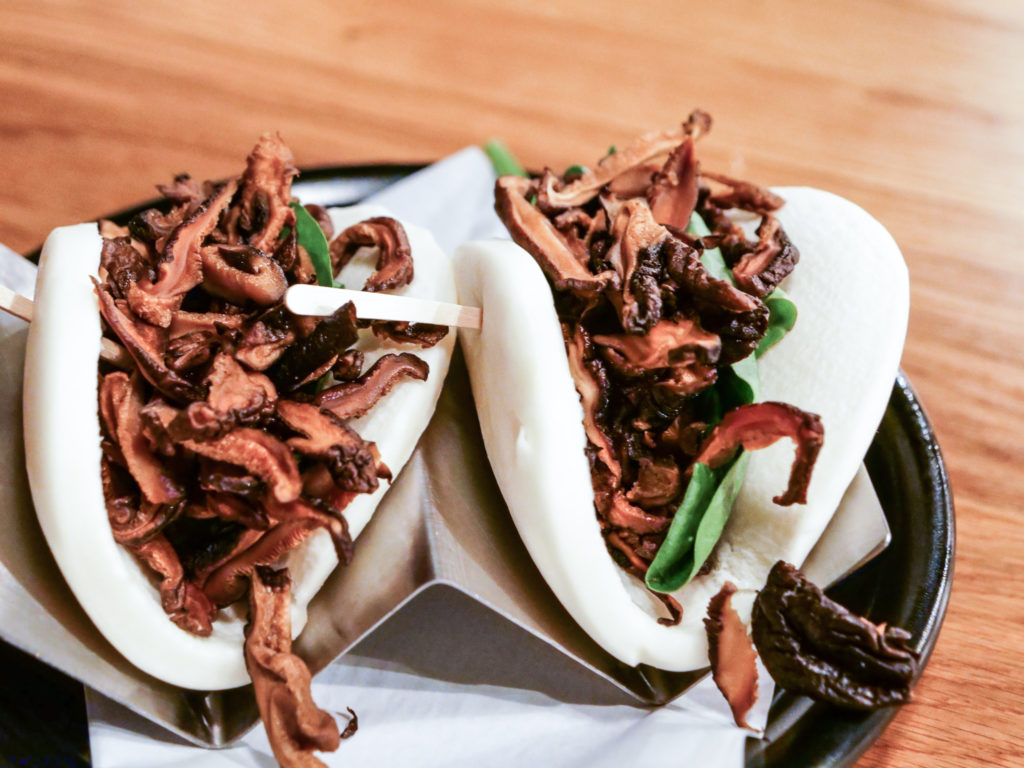 Maar ik was verbaasd! Het was enorm smaakvol en met elke hap voelde ik me helemaal warm worden van binnen. Ik denk dat wanneer het koud buiten is, dit écht comfort food is. Waarschijnlijk weet jij dit allang en ontdek ik pas net hoe lekker ramen kan zijn. Daarnaast bestelde ik ook een gestoomd broodje met umami shitake – ook helemaal vegan. Deze was prima, maar had veel lekkerder gekund als ze wat meer de structuur van de shitake hadden gebruikt om er iets mee te doen in combinatie met een saus. Uiteindelijk heb ik er zelf vet veel saus op gedaan – wat je ook terugziet in de video.
Maar let wel, niet alle sausjes daar zijn vegan.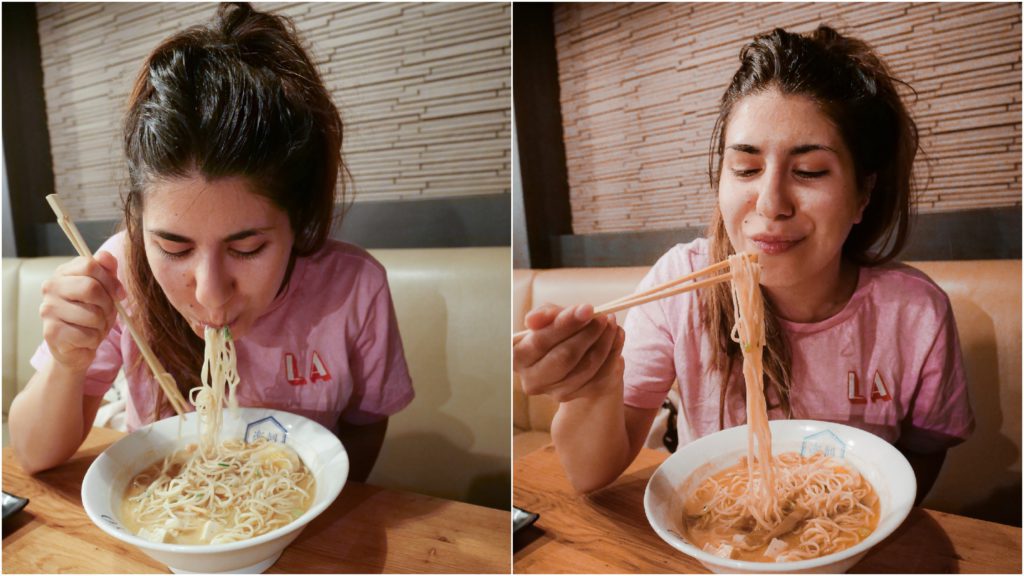 De bediening krijgt van mijn een 8,5
True Food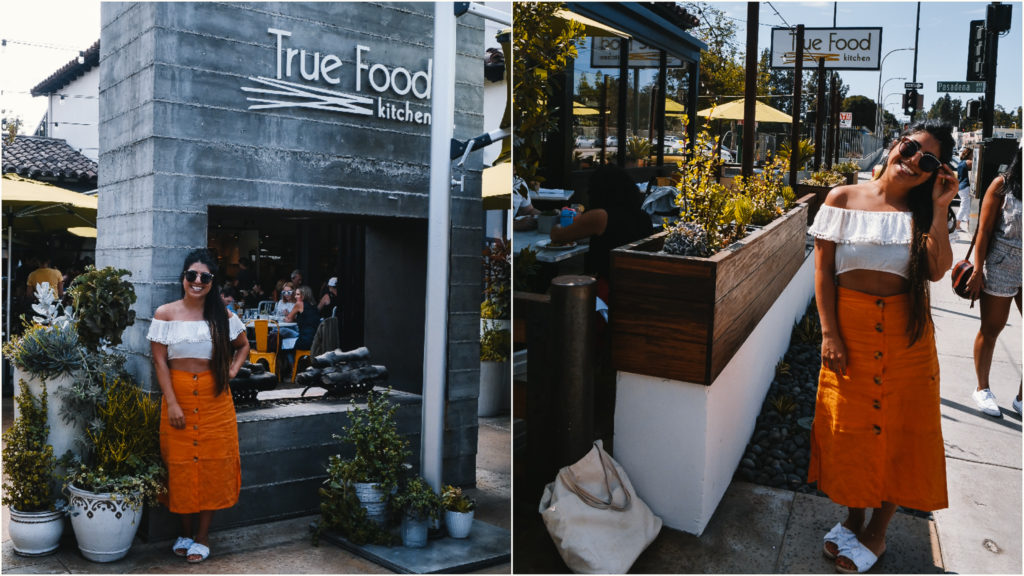 Ook dit is een keten restaurant maar ik hoorde er zoveel positiefs over dat ik niet anders kon dan ook een bezoekje hieraan te brengen. True Food. Toen we eenmaal een dag hadden ingepland om langs dit restaurant te gaan en ik online het menu bekeek kon ik wel huppelen van geluk. Werkelijk allemaal dingen die ik thuis ook maak, stonden op het menu. Dingen die ik in Nederland (helaas) nog láng niet op een menu zie verschijnen. Denk aan:
Spaghetti Squash Casserole (de heerlijke spaghetti squash uit de oven)
Kale Guacamole (guacamole met boerenkool? YEAS!)
Inside Out Quinoa Burger (dit zijn twee quinoa burgers die in plaats van brood worden gebruikt aan de buitenkant van je 'burger', zie foto).
etc.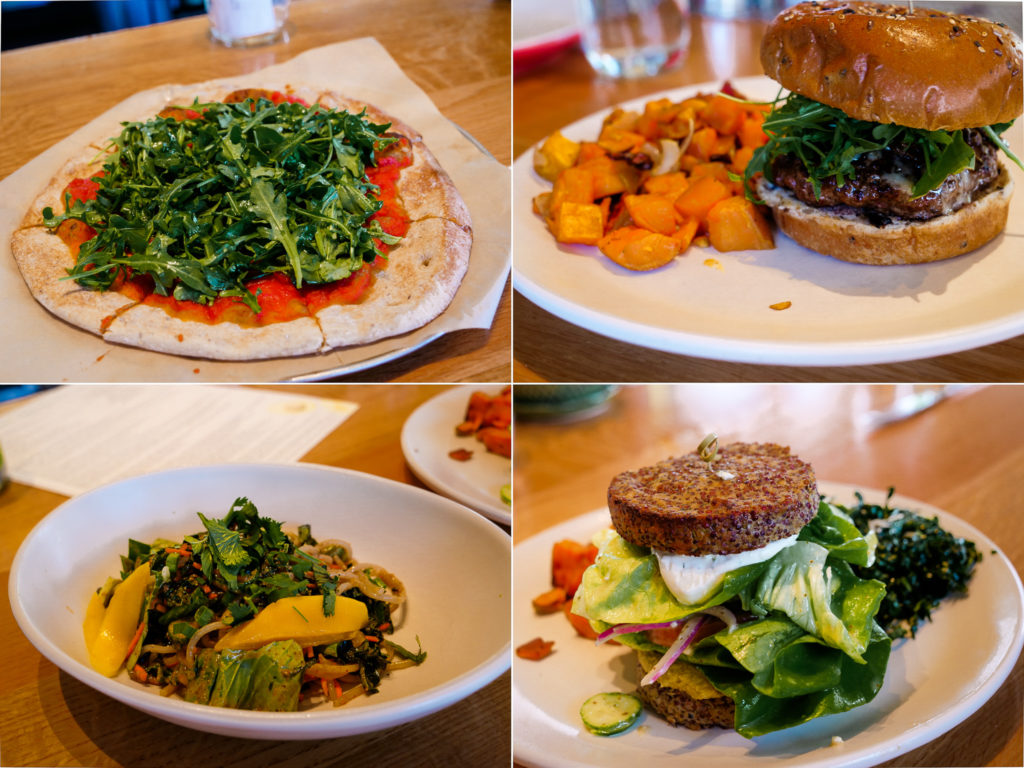 Ook hier was ik weer enorm positief verrast en wilde ik graag nog eens terug, helaas hadden we daar niet meer de tijd voor. De meeste dingen op dit menu zijn ook vanuit een plantaardige basis samengesteld maar er zijn ook niet-vegan gerechten te bestellen, zoals de burger die je op de foto ziet. Dus je kunt er met verschillend gezelschap eten!
Let wel, dit is het enige restaurant waarvan ik vond dat ze wel veel 'smaak' toevoegden waar niet nodig was. Dus in de vorm van dressing en sausjes. Mijn salade was doorweekt van de dressing en de pizza die we als voorafje bestelden om te delen had rucola bovenop maar de rucola was ook nog eens zoet door de dressing.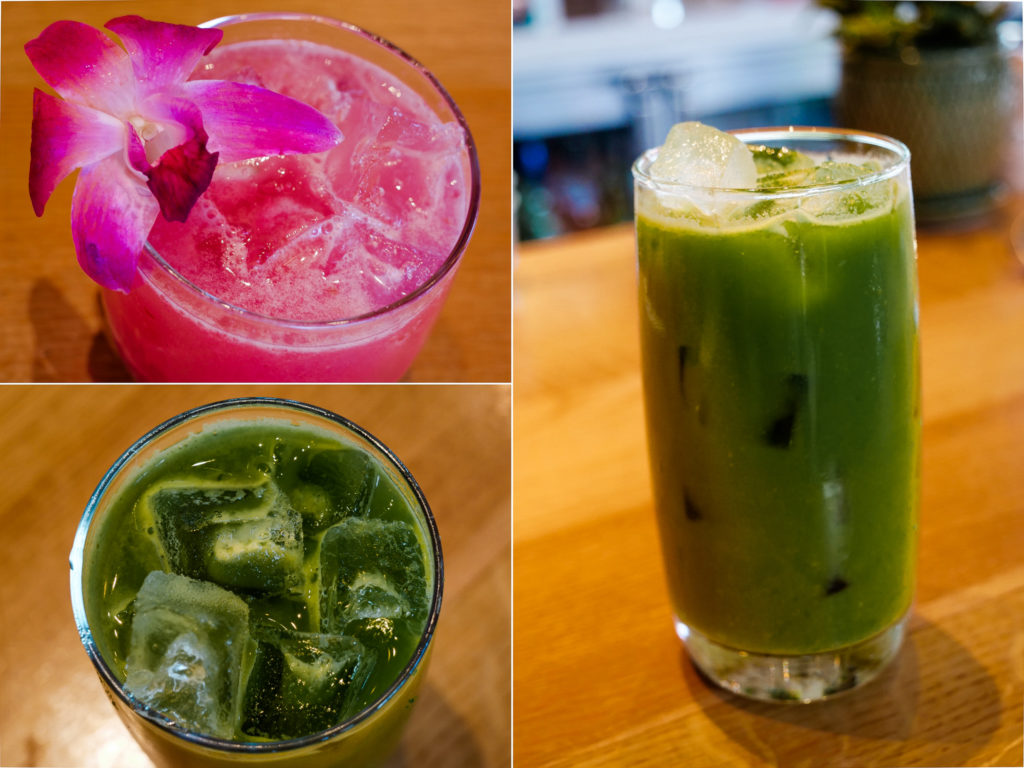 Jammer, maar helaas erg 'Amerikaans'. Verder was ik absoluut erg positief over dit restaurant.
De bediening krijgt van mij een 7,5.
Hopelijk vonden jullie dit artikel leuk en hebben jullie verzoekjes voor andere plekken en steden om zoiets uit te proberen. Bijvoorbeeld "Ontbijttentjes in Den Haag" of "Vegetarische restaurants in Barcelona". Ik zeg maar wat 😉 En als je zelf nog tips hebt; laat het vooral achter in de comments!

Ga je binnenkort ook naar Amerika? Dan moet je wel tijdig een ESTA aanvragen!