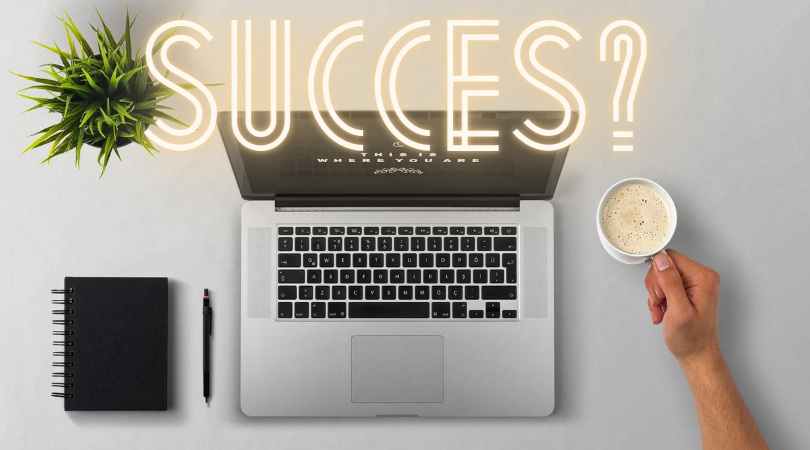 Succes is niet iets dat je zomaar overkomt. Het gaat gepaard met hard werken en de juiste mindset hebben. Maar hoe weet je nou of je de juiste mindset hebt? En of je niet misschien wordt tegengehouden door je gedachtes?
Het vergt moed en doorzettingsvermogen om succesvol te zijn en te willen zijn, ja echt. Dit zijn vijf dingen die je bewust of onbewust tegen kunnen houden in jouw weg naar succes.
1. Angst voor afwijzing en om te falen
Veel van 's werelds grote ondernemers hebben moeilijke tijden gekend. Of het nu persoonlijk of zakelijk was, er is een grote kans dat anderen niet dezelfde visie of mening delen en dat dit gepaard gaat met moeilijke situaties. Maar wees hier sterk en braaf aan jouw doel. Hoe sneller je realiseert dat je nooit iedereen kan pleasen, hoe sneller je richting succes gaat. Lees het volgende artikel over falen dat ik enige tijd geleden schreef om een ander perspectief op te krijgen:
2. Geen plan hebben
Wanneer je georganiseerd bent en een idee hebt van hoe je naar het volgende level in je leven kan gaan, zet je wat mij betreft de juiste stappen richting jouw succes. Zonder doelen en stappen te hebben lijkt het bijna alsof je blind bent en maar wat doet in de hoop dat het per ongeluk werkt.
Je hebt het veel meer in de hand dan je denkt, heb grote dromen en doelen, maar kijk naar de kleinste stap die je kunt zetten naar het volgende level voor jou. Vergelijk jezelf hier niet met anderen die misschien vijf jaar geleden voor het eerst die kleine stap hadden gezet zoals jij dat nu doet. Ieder heeft zijn/haar eigen proces, focus je op jouw eigen proces.
3. Geen geduld
Dit gaat niet over één nacht ijs (zeg ik het goed? Ik had het ook kunnen Googlen, maar het is 23:38 en ik ben moe).  Je zult er uren, uren, uren en nog eens uren in moeten stoppen met heel veel geduld. Zonder geduld red je het in dit geval niet, anders had iedereen het wel gedaan. Je wordt getest en de vraag is: hoeveel geduld heb je?

4. Moeite met jezelf ertoe zetten
Als je niet met jezelf de afspraak kunt maken om je ertoe te zetten het komende half jaar, of jaar of twee jaar – waar zul je je dan ooit wel toezetten? Als iets belangrijk genoeg is, probeer dan echt een afspraak te maken met jezelf. Dit hoeft niet op alle vlakken van je leven, kies er één waar je echt aan wilt werken en maak de afspraak.
5. Niet beginnen
Logisch natuurlijk, maar o zo belangrijk om te benoemen. Als je niet begint, dan komt er natuurlijk helemaal niets van terecht. Maar beginnen voelt vaak als een mega grote stap, dat is omdat het contrast zo hoog is tussen het leven wanneer je 'er niets mee doet' en het leven wanneer je wél begint. Maar je maakt het beginnen vaak groter in je hoofd dan het is. Begin met een mini stap en realiseer dat het best goed te doen was!
Ik hoop dat je dromen en doelen hebt voor jezelf die je motiveren stapjes er naartoe te zetten!
Herken of heb jij punten die jou tegenhouden? Welke zijn dat dan en doe je daar iets mee?
Foto: Michael Snell