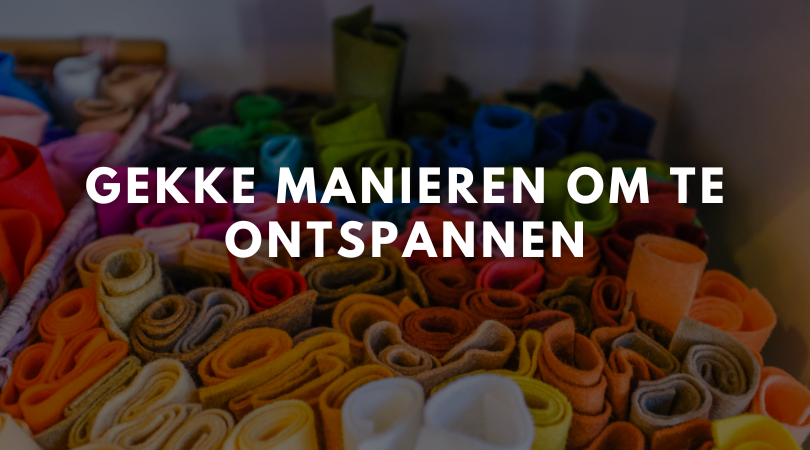 We kennen de standaard tips wel: ga wandelen, mediteren, schrijven, op je ademhaling letten, sporten, slapen etc. Maar wat nou als je gewoon echt even een vreemde, rare, random, 'out of the box' tip wilt om te ontspannen? Zou het werken?
Ik heb er 5 voor je op een rijtje gezet:
1. Broeken inkorten
Of iets anders naaien wat al heel lang nodig is, maar je er maar niet aan toe komt. Dit is iets wat best wat focus vergt en daardoor juist kan helpen bij het ontspannen. Niet als je er helemaal niks van bakt en constant in je vinger prikt, ga dan over op mijn andere tips 😉
2. Kijk een reality show
Vol drama en vaak ook negativiteit maar soms is het zo fijn om een niet met je eigen shit bezig te zijn. Het is niet voor niets een guilty pleasure voor velen en het is oké om daar af en toe gebruik van te maken. En misschien kun je er ook wel een positieve draai aan geven door de outfits te googlen die jij mooi vindt om te kijken of je soortgelijke dingen kunt bestellen! Maak van de realityshow een inspiratie shoppingssessie van 😉
Voel je je schuldig? Lees even mijn artikel over de periode dat ik elke dag The Real Housewives of Beverly Hills keek:
Ik biecht op: The Real Housewives of Beverly Hills is mijn guilty pleasure | MET REDEN!
3. Flossen
Een soort massage voor je tandvlees. Maar ook belangrijk want het moet toch gedaan worden voor een gezond gebit, waarom niet onder het mom van ontspannen? Win-win?
Al moet ik zeggen dat flossen voor mij nog teveel als terror voelt omdat ik het niet vaak genoeg doe en het ongemakkelijk en soms pijnlijk vind, oeps. Daar gaat mn tip.
4. Organise iets op kleur
Je boeken? Je verzorgingsproducten? Je nagellakjes? Je kleren? Sowieso is opruimen een goede manier om te ontspannen maar om het iets meer 'out of the box' te maken kun je specifiek op kleur gaan organisen! Geeft een verfrissend resultaat als je het nog nooit hebt gedaan!
5. Ruim je portemonnee op
Hoeveel zooi verzamelen we in onze portemonnee? Bonnetjes, papiertjes, plasticjes, verlopen pasjes en stempelkaarten die misschien nog leeg zijn. Gooi ze weg, ruim het op en houd de plek waar je geld en belangrijke pasjes zijn netjes – ook zodat de energie goed kan stromen daar 😉 Daar geloof ik dan weer in!