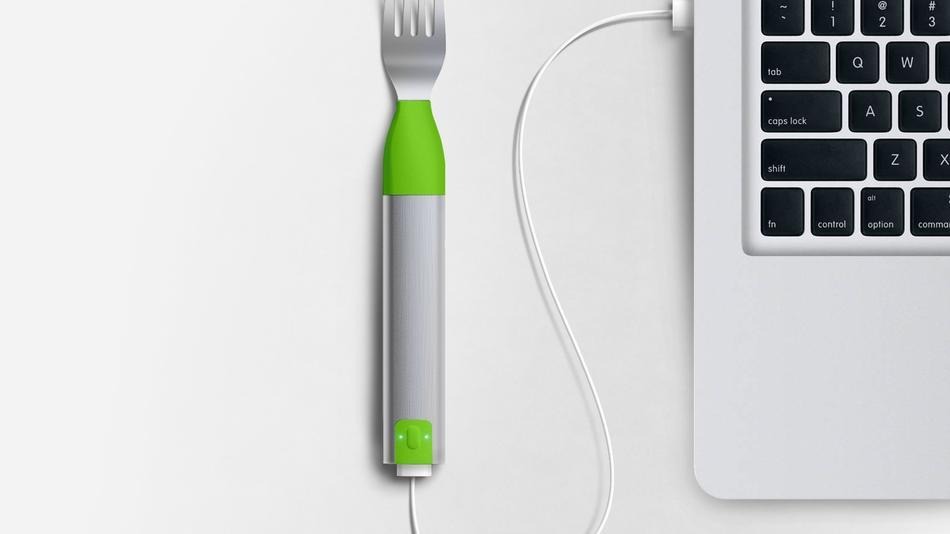 Ik kwam deze gadget tegen op het web en vond het zo een grappig idee dat ik er graag een artikel aan wilde wijden! Als je ooit een gadget hebt gewild die een van je slechte voedingsgewoontes zou aanpakken, dan is dit een goede! De HAPIfork
De vork ziet er een beetje uit als een elektrische tandenborsten en je laadt hem op aan je computer of laptop. Maar hoe laat de vork nou weten dat je te snel eet? .. Hij vibreert in je mond als je te snel happen neemt (ha-ha). Dus als je heel vaak de vork van je bord naar je mond beweegt.
Daarna upload het jouw informatie naar een app via bluetooth of via je USB naar je computer/laptop, daar geeft het een mooi schema weer van hoeveel happen je neemt tijdens een maaltijd en hoevel tijd hier tussen zit. En kun je dus bijhouden of de tijd tussen je happen na een tijd minder wordt.
Ik vraag me af of dit mensen écht interesseert en of je hier zoveel tijd aan wilt besteden. Ik denk eerlijk gezegd dat je veel verder komt met andere slechte voedingsgewoontes aanpakken zoals;
uit een kleiner bord eten
met kleiner bestek eten
niet voor de televisie eten
in de keuken opscheppen en ergens anders eten
etc.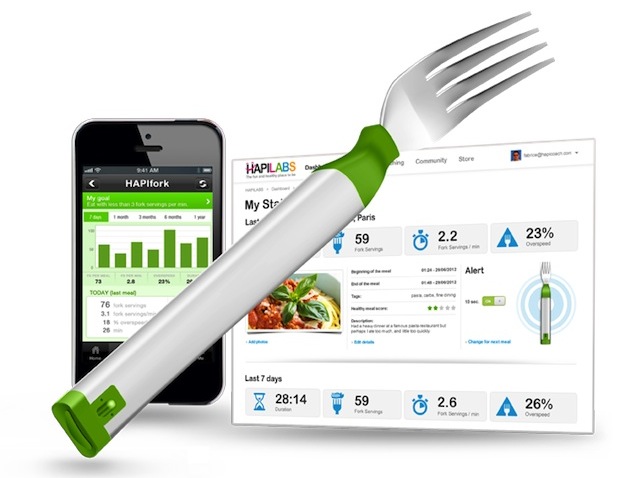 Maar het product wordt onderbouwd door verschillende wetenschappelijke onderzoeken die allemaal neerkomen op het feit dat wanneer er langzaam en bewuster gegeten wordt, dit beter is voor je verteringsstelsel, gewicht en gezondheid.
Alleen vraag ik me af of je echt zo bewust van je eten kan genieten als je continu let op je vork en of deze wel of niet gaat trillen in je mond. Het kan best een schrik effect geven lijkt me, als de vork ineens gaat trillen. Straks verslik je je nog.
De vork detecteerd je mond op dezelfde manier als je telefoon met touchscreen je vinger detecteerd, namelijk door middel van een aanraking. Wist je dat wanneer de vork binnen 10 seconden twee maal je mond binnen gaat hij al trilt? 10 seconden! Dat is veel!
De HAPIfork heeft wel een innovatie prijs gewonnen. Maar ik ben geen fan.