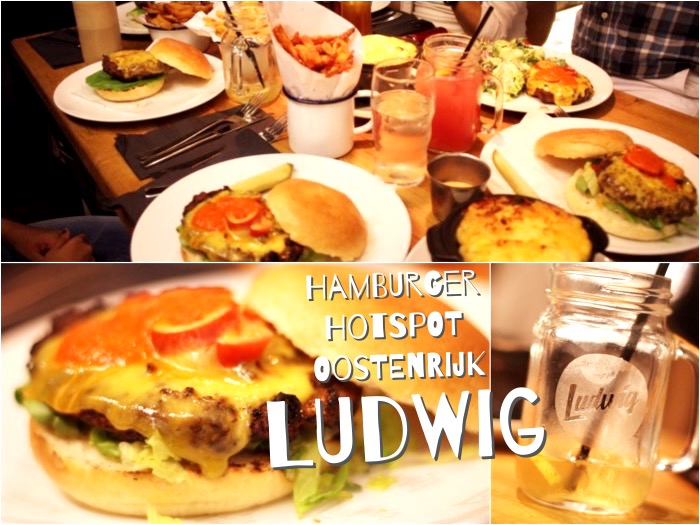 Mijn liefde voor hamburgers gaat over grenzen.
Zoals de meeste mensen weten ben ik een groot fan van hamburgers; een goed stuk vlees, op een lekker knapperig broodje met wat bijzondere toppings hier en daar en het leven is nét wat beter geworden, voor mij dan. Zo dacht ik eens te zoeken naar een hamburger tent in Oostenrijk, waar we op vakantie zouden gaan, in de hoop iets tofs te vinden. En ik werd gehoord hoor! Ik kwam het restaurant "Ludwig" tegen, na wat reviews lezen, foto's bekijken (zoeken op hashtags werkt perfect) besloot ik dat we met het hele gezin erheen moesten. Ik maakte een reservering voor zes personen op mijn laatste avond in Innsbruck, Oostenrijk.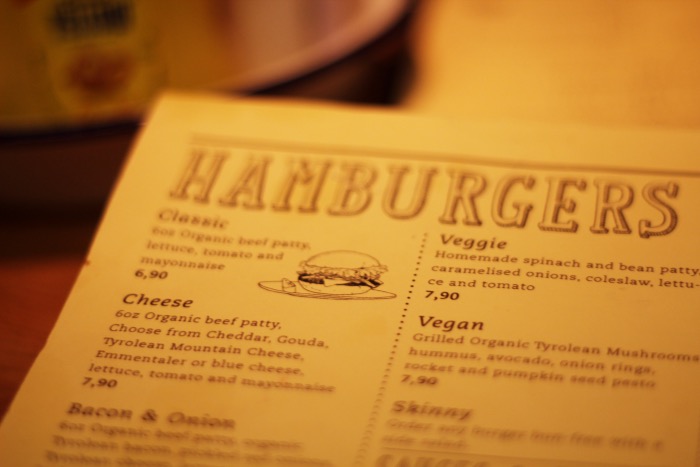 Natuurlijk had ik de kaart allang bekeken, maar ik had expres nog niet besloten wat ik zou nemen. Aangezien we met zn zessen waren, is het altijd een mooie mogelijkheid om zoveel mogelijk verschillende dingen te bestellen om zo van elkaars bord te mogen proeven. Daar zijn wij niet vies van, haha. Fijn dat er flink wat variatie is op de kaart, van Vegan tot Skinny tot de supervette hap met Bacon & Onion.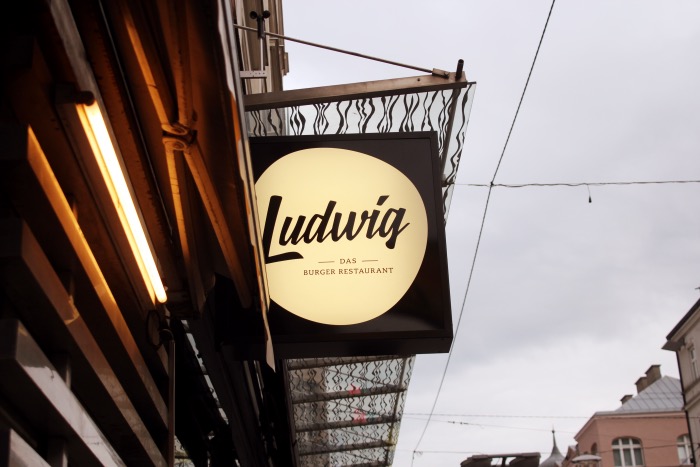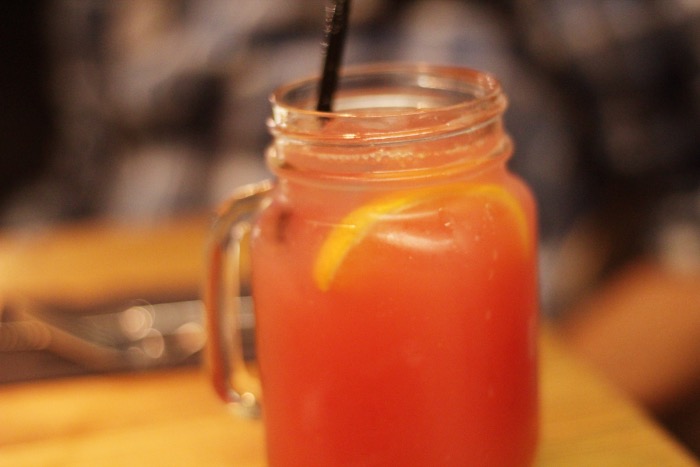 Home made lemonade en Ice tea staat ook op de kaart, het fijne aan deze drankjes? Heeel licht zoet. Hoewel de hele beleving een beetje "hipster-Europa" met een vleugje "Amerikaanse-termen" is, ben ik blij dat er niet een kilo suiker is toegevoegd aan de drankjes.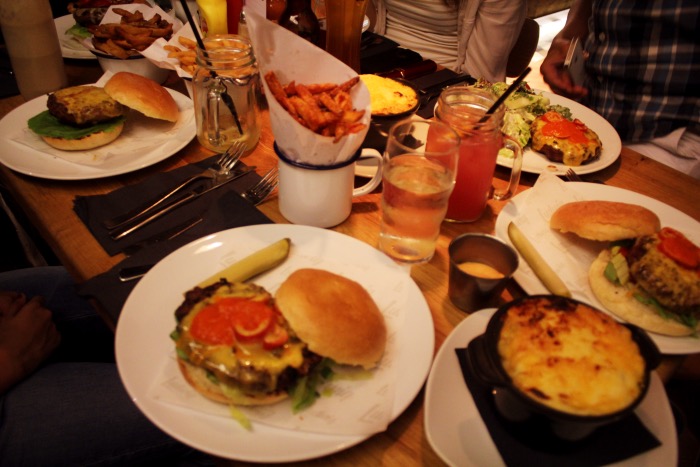 Zo zie je rechts de "Mac and Cheese", wat natuurlijk heel Amerikaans is. Maar dan op zijn Europees bereid en dat is alleen maar een compliment voor het eten. Goede kaas, romige saus en vooral niet "teveel" zoals in Amerika geserveerd zou worden.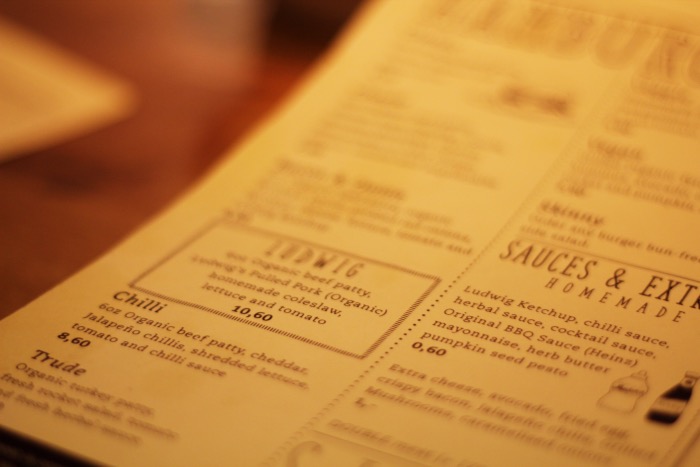 Ik heb de Chili hamburger genomen. Er was een tijd waarin ik veel pittig eten at en er dus goed tegen kon. Ik dacht dat dit niet echt was veranderd. I was wrong, poeh, ik moest een aantal keer mijn neus snuiten, zo pittig was de chili burger! Terwijl mijn stiefzusje van 14, die dezelfde burger had, nergens last van had. Het zal wel aan mij liggen.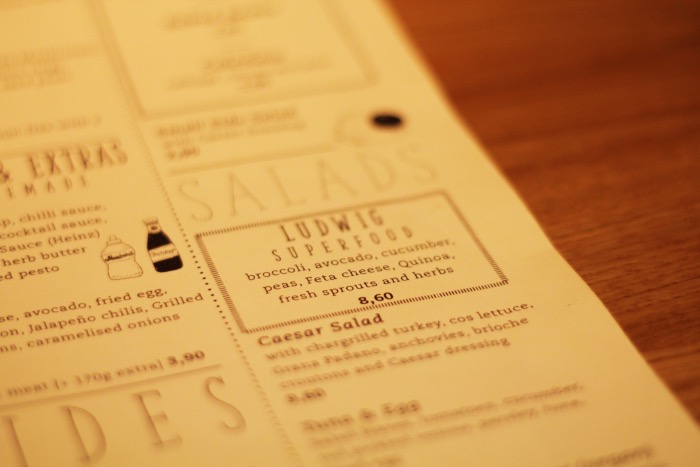 De hipheid.. "Ludwig Superfood", maar vervolgens staat er gewoon lekker broccoli, avocado, komkommer etc. op. Weet je wat het fijne daaraan is? Dit zijn namelijk de superfoods die echt de superfoods zijn, al jaren. Ik ben blij dat ik hier geen goji bessen of chia zaad zag staan. Ik heb er niks tegen, maar voor de verandering vind ik dit mooi 🙂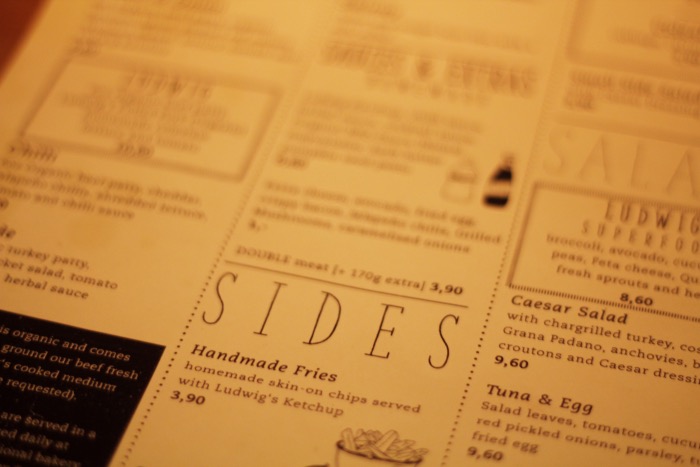 Fries 🙂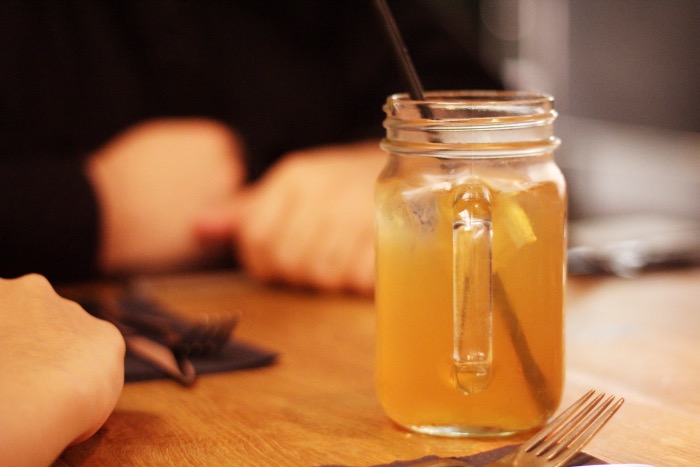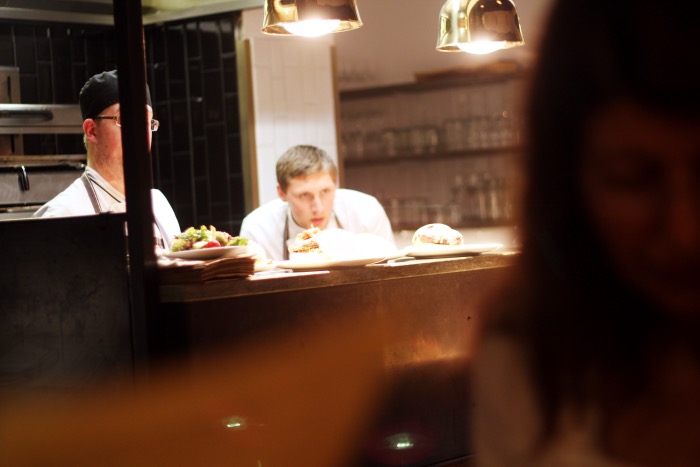 Open keuken, ook heel hip in hamburger tentjes.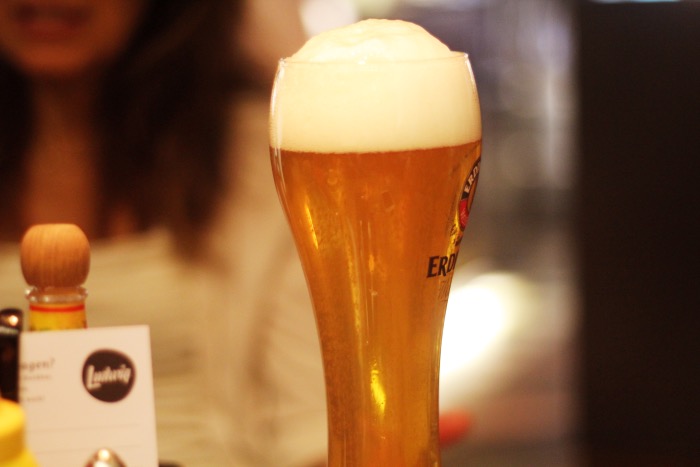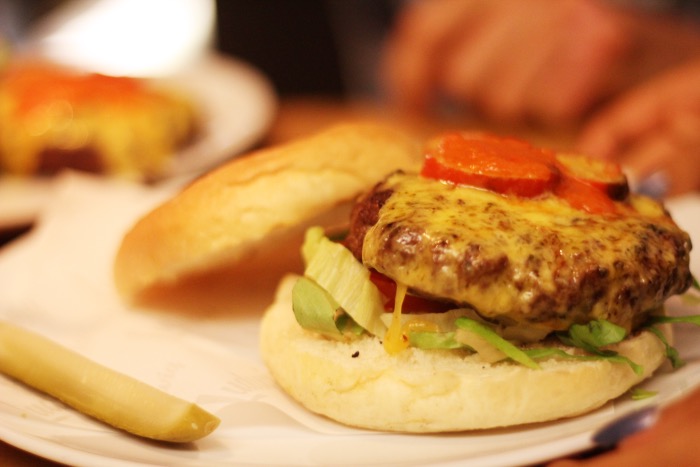 Als de kaas goed gesmolten is, zijn dat pluspunten voor mij.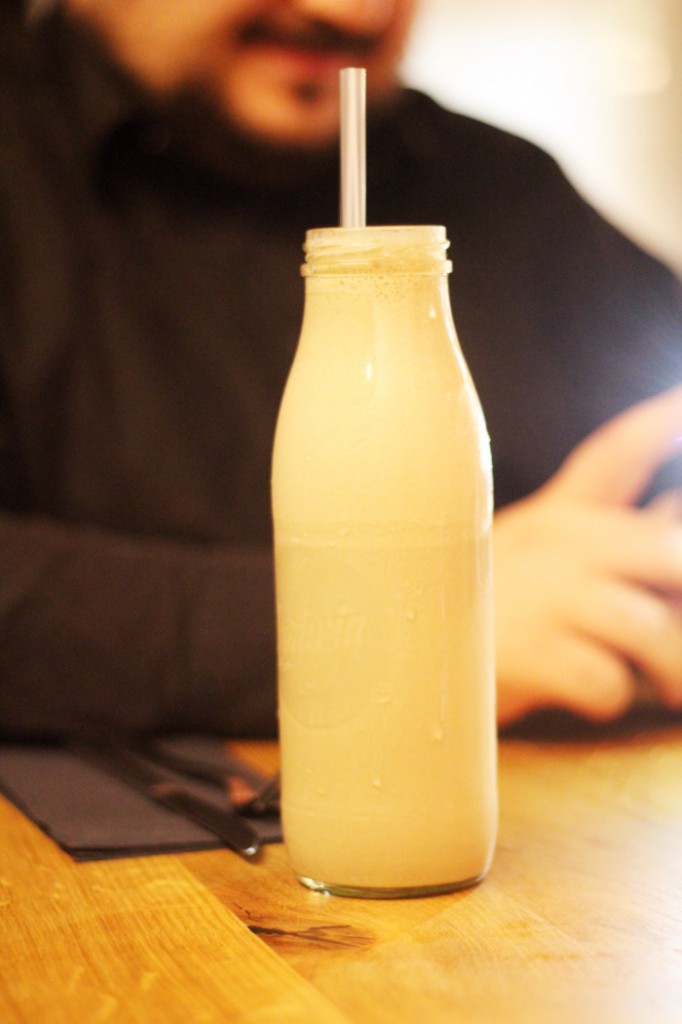 Dit is wel een Amerikaanse milkshake qua zoetheid en naam "chocolate milkshake", echter is het formaat wel lekker Europees. Dit is namelijk de grote. In Amerika zou je minstens het dubbele qua formaat krijgen voor een "grote milkshake".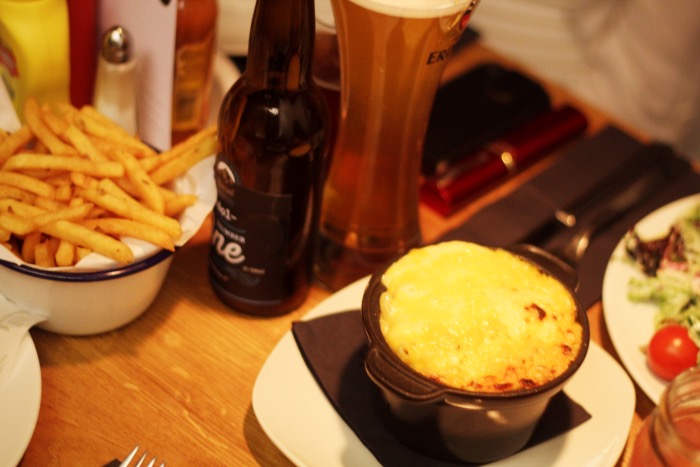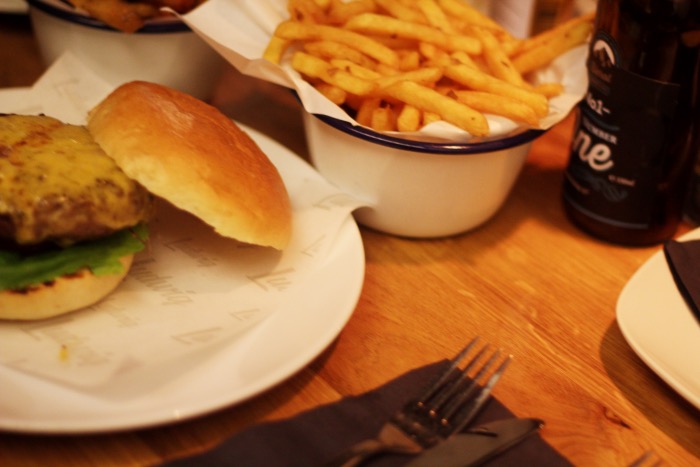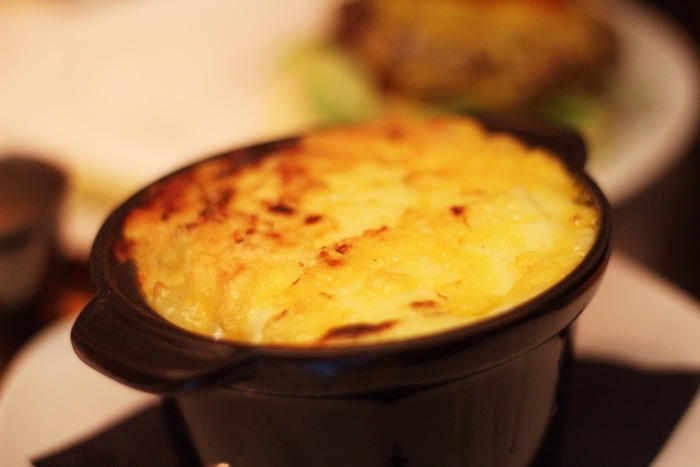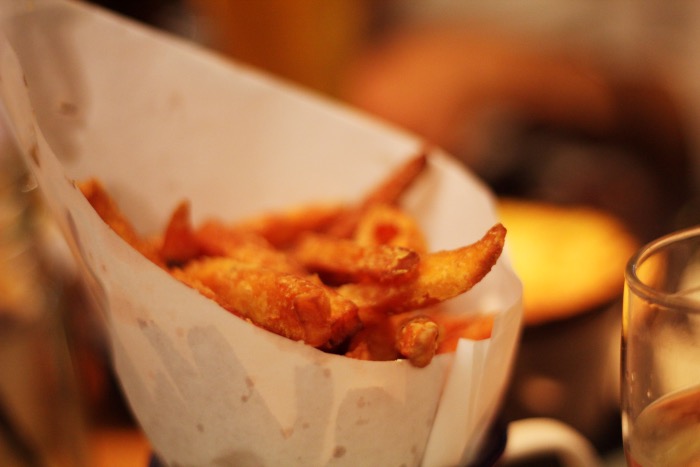 Zoete aardappel frietjes! Als deze op het menu staan, neem ik ze standaard. Echter stonden deze op hun "speciale, tijdelijke menu". Dus staat het niet standaard op het menu helaas.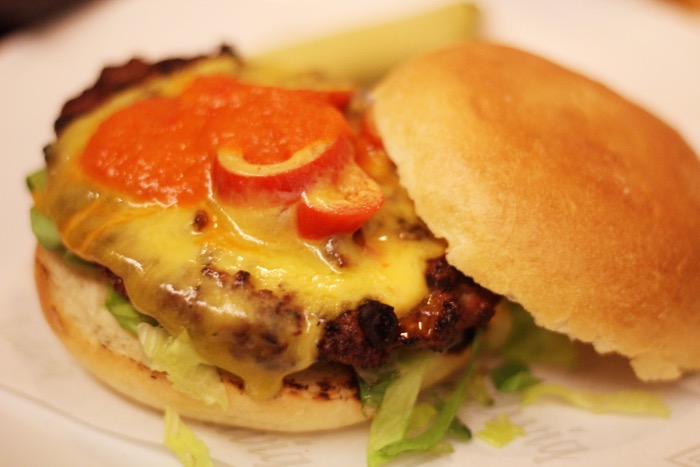 Oja! En ze hebben een huisgemaakte ketchup die bijzonder lekker is. Al zeg ik dat niet snel omdat ik Heinz ketchup toch echt de aller-aller lekkerste vind. Je ziet hier een beetje van de huisgemaakte ketchup bovenop de burger.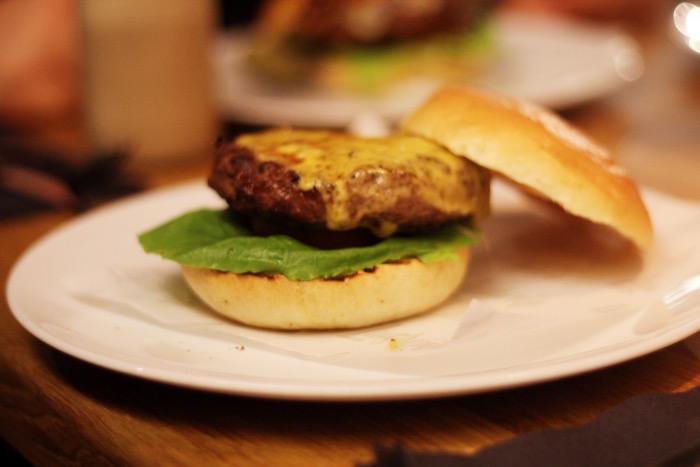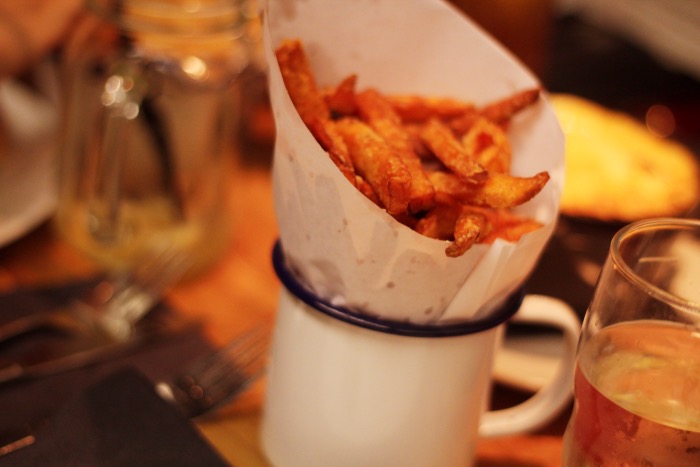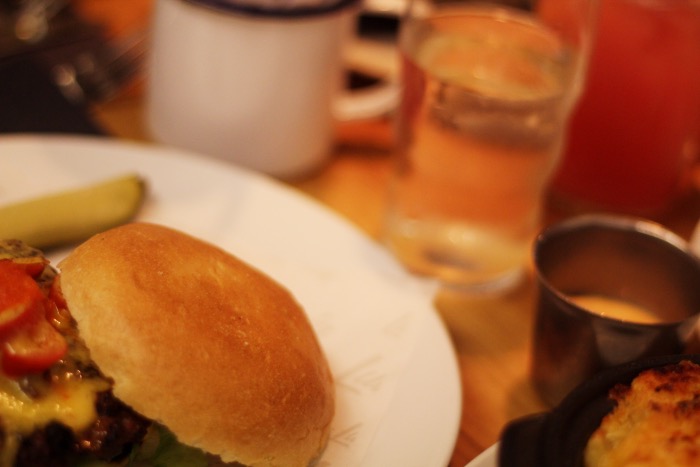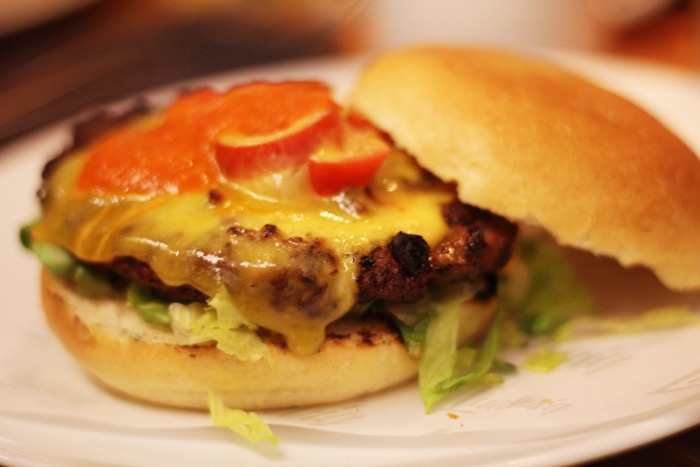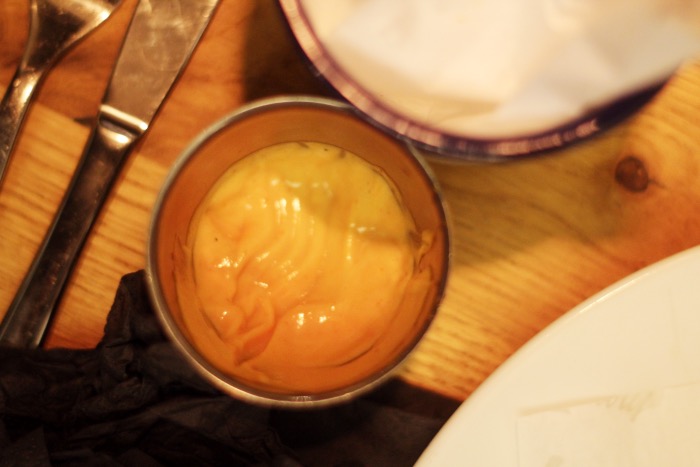 Dit is een "speciale" saus die je bij de zoete aardappelen erbij kreeg. Dus ook niet iets dat standaard op het menu staat. Ik heb geen idee wat erin zit maar het smaakte naar een mengsel van ketchup, mayonaise en een klein beetje mosterd. Heel erg lekker, zo lekker dat ik er met mijn vork in ging om vervolgens de vork in mn mond te stoppen. Oeps. Haha.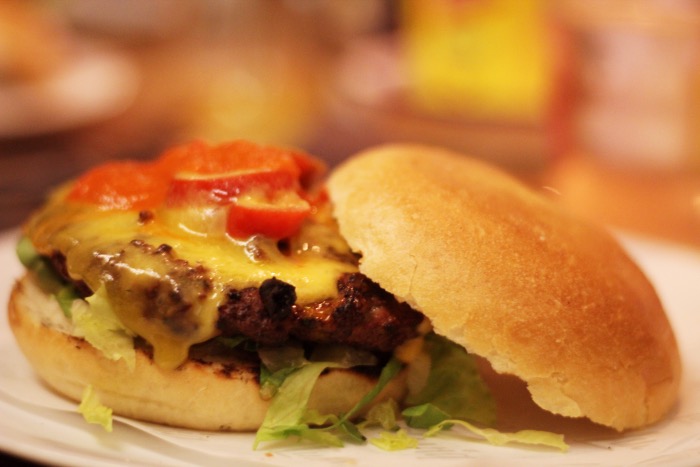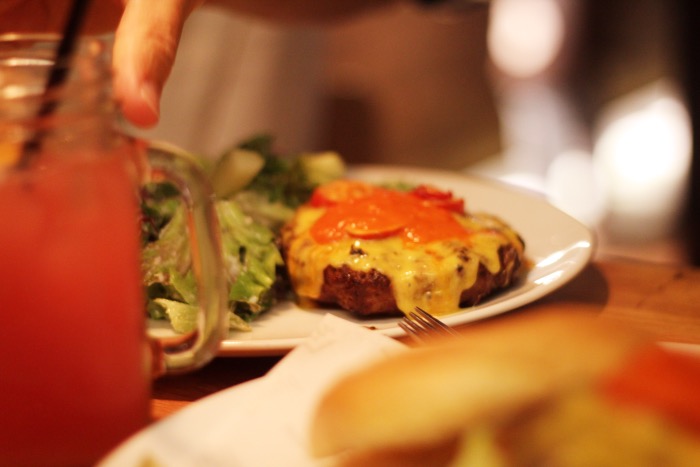 Hier zie je de skinny burger, zonder broodje, met veel groente aan de zijkant.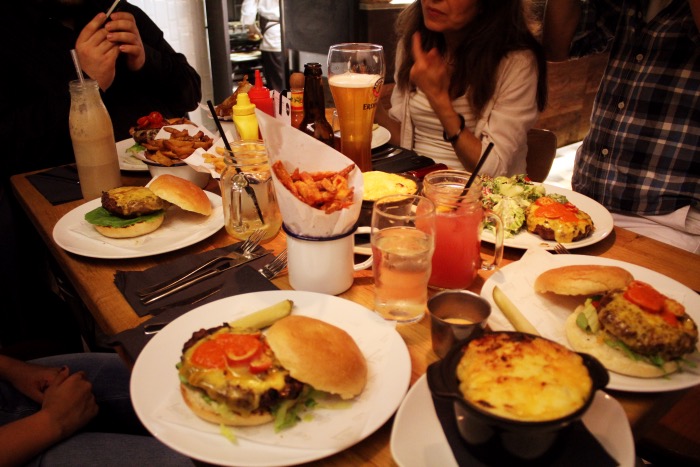 Klaar met foto's maken Teni? Ja? WE WILLEN ETEN!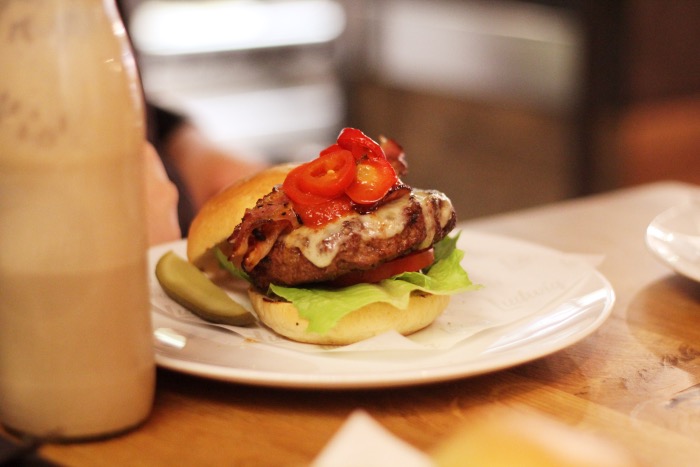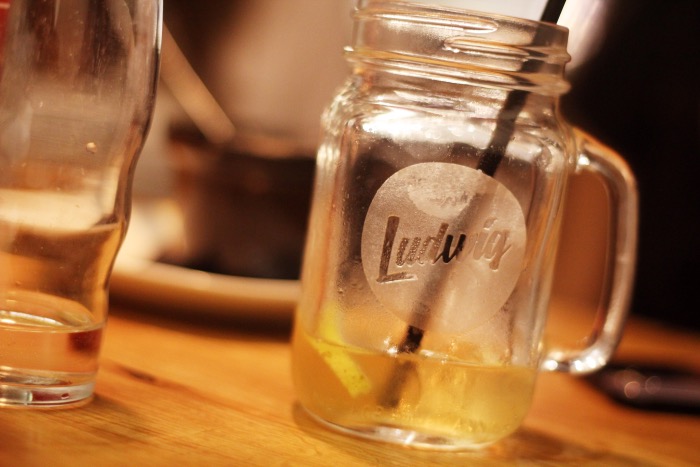 Ook heel hip, van die mason jars met handvat.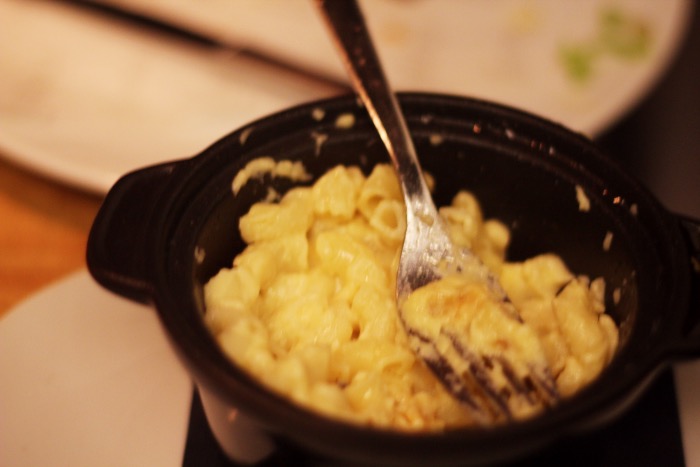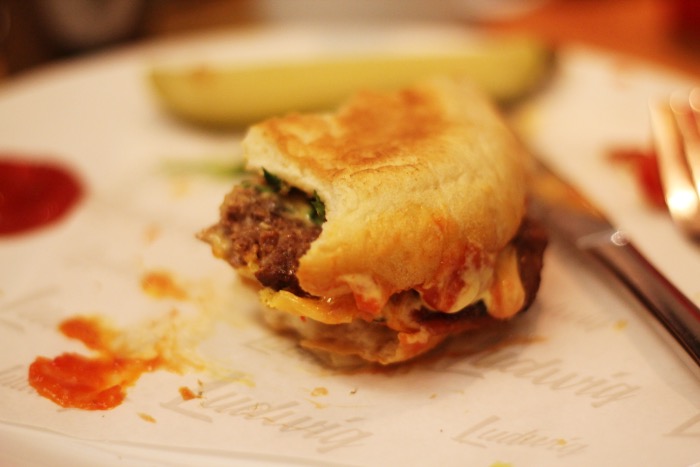 Zo. En dit is de laatste foto die ik heb genomen, omdat ik hierna toch echt alleen maar wilde focussen op de burger en op het gezelschap. Haha. Ik heb echt genoten!
Het fijne is dat je online kunt reserveren en het hele menu kunt bekijken. De site is lekker overzichtelijk opgesteld; check! Je kunt Ludwig vinden in Innsbruck, Oostenrijk 🙂 Mocht je er eens zijn en fan zijn van hamburgers, dan zou ik zeggen; GAAN! 🙂