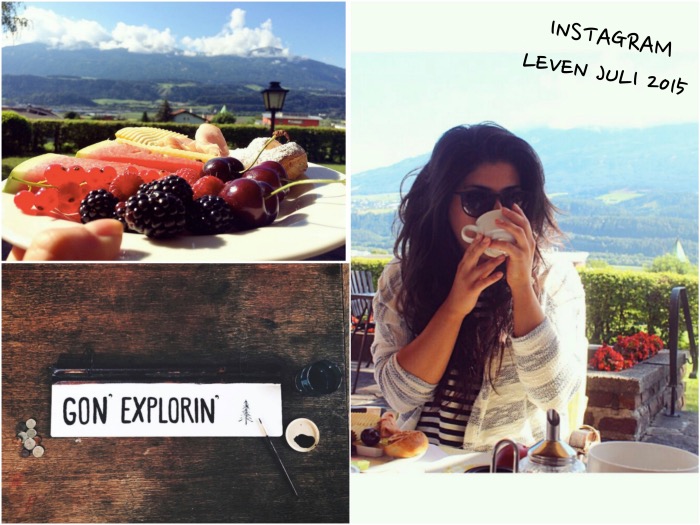 Ik zie een nieuwe trend bij mezelf opkomen, en dat zijn foto's met een beker of mok voor mijn gezicht. Haha. Geen idee hoe/waarom, maar het valt me op dat ik wel 3 foto's heb in deze Instagram post waar dit in voor komt. Verder geen druppel wijn, jaja, hoe is het mogelijk. Wel 1 dag met alcohol, maar dat is behoorlijk minimaal. Ennnn foto's uit Oostenrijk, waar ik vandaag weer weg ga (boo-hoo). Laten we naar de post gaan!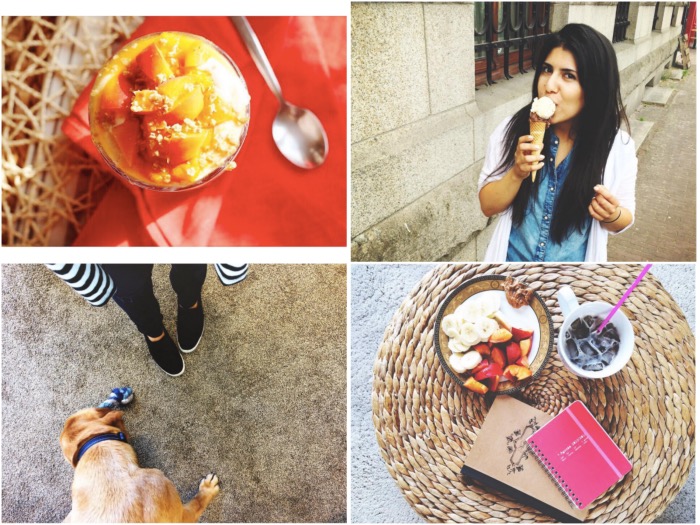 1. Ontbijt parfait gemaakt! Het recept staat inmiddels online 🙂   2. De ijsfiets kwam langs ons kantoor! Ik maak natuurlijk graag gebruik van de mogelijkheid om een ijsje te nemen!   3. Hoi hond op kantoor! Het was alweer een tijdje geleden dat ik op kantoor was.   4.   Plannen, schema's en gaan! Drukke dag voor de boeg.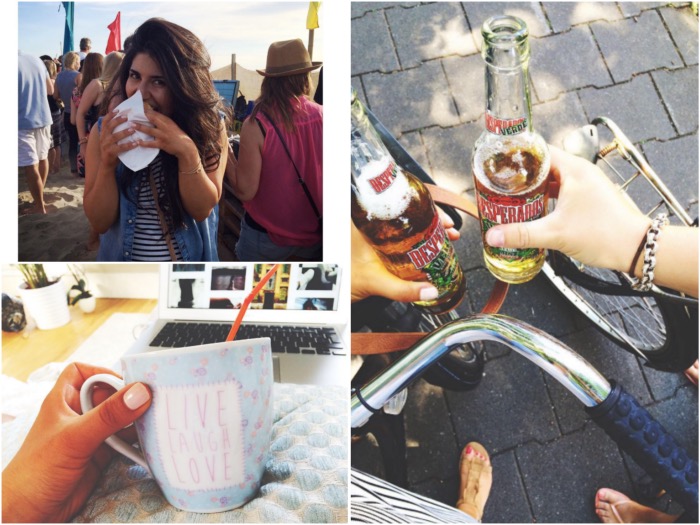 1. Aan het genieten van een hamburger, haha  2. Corona's voor onderweg!   3.  Koffie en tumblr 🙂 Perfecte combinatie.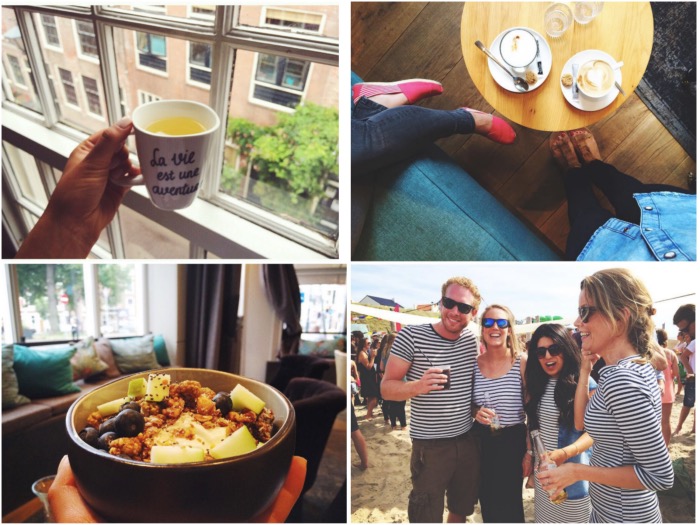 1. Wakker worden in Haarlem!   2. Ontbijten in Haarlem bij Blender, ontzettend leuk tentje!  3. Kokosyoghurt met allemaal dingen erin, haha. Superlekker wel 🙂 Ik vind kokosyoghurt altijd zo lekker zacht, ik wil er gewoon in springen en mezelf ermee omringen..   4.   Deze mensen snappen het! STREEPJES!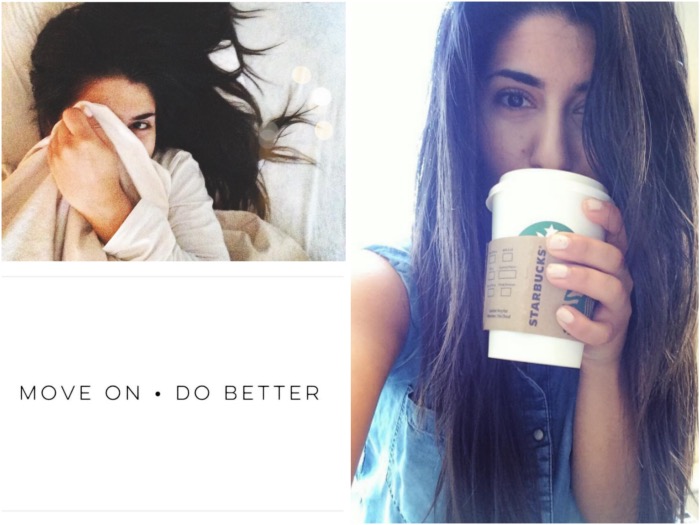 1.  Soms word ik gewoon erg vrolijk wakker 🙂  2.  Deze quote heeft voor mij niets met mannen/relaties te maken, toen ik het op Instagram had gepost dachten een aantal vrienden dat er misschien iets aan de hand was. Haha. Alhoewel je het op vele manieren kunt opvatten betekent deze quote vooral voor mij dat ik niet te lang moet blijven hangen met mijn gedachtes en gewoontes in het negatieve. Even simpel gezegd 3.  Kijk, daar hebben we zo'n foto van een beker voor mn gezicht. Haha. Goedemorgen! Starbucks is altijd een goed idee 🙂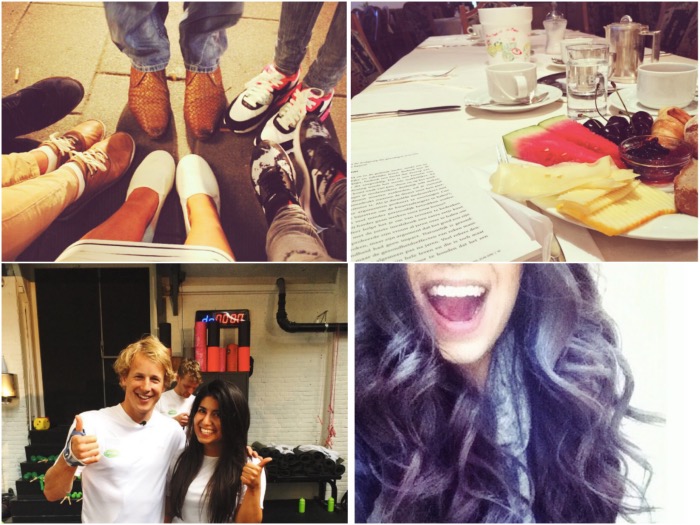 1. Familie!  2. Ik was de eerste bij het ontbijt in Oostenrijk.. Iets met gewend zijn om super vroeg op te staan  3. Gesport met Epke!   4.   Ik gooide een post eruit met de vraag of jullie vragen hadden voor een video! EN OF JULLIE DAT HADDEN, haha. Komt bijna online!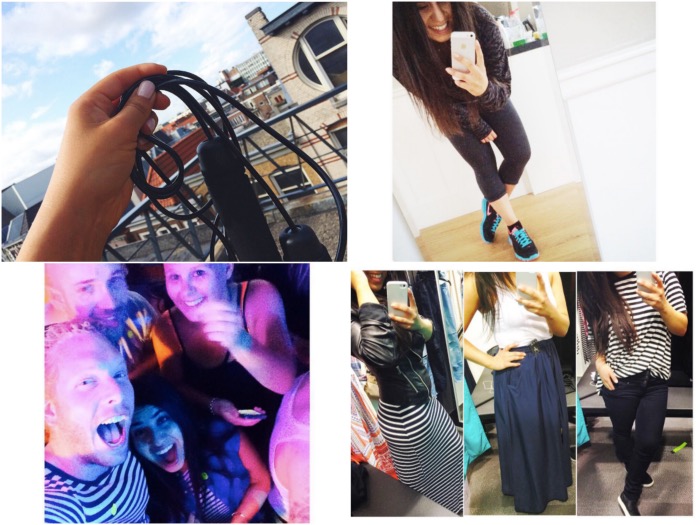 1.  Een van mijn favoriete bezigheden op het dakterras van de sportschool: touwtje springen! 2. Hallo zwetende Teni.  3. Feestje!  4.   Streepjesshoppen.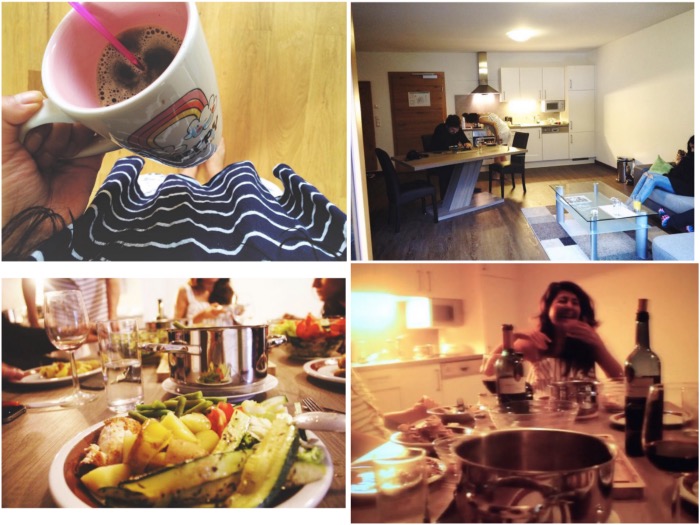 1. De ochtend voor ik vertrok naar Schiphol – Oostenrijk  2. Aangekomen in het appartement in Oostenrijk! Lekker huiselijk met iedereen zo bij elkaar.  3.  Mijn eerste avond had mama gekookt 🙂  4.   Hier vertelt mn moeder een ontzettend grappig verhaal, haha. We verstaan het halverwege alleen niet meer en hebben alleen nog maar de slappe lach. De video kun je hier terugzien.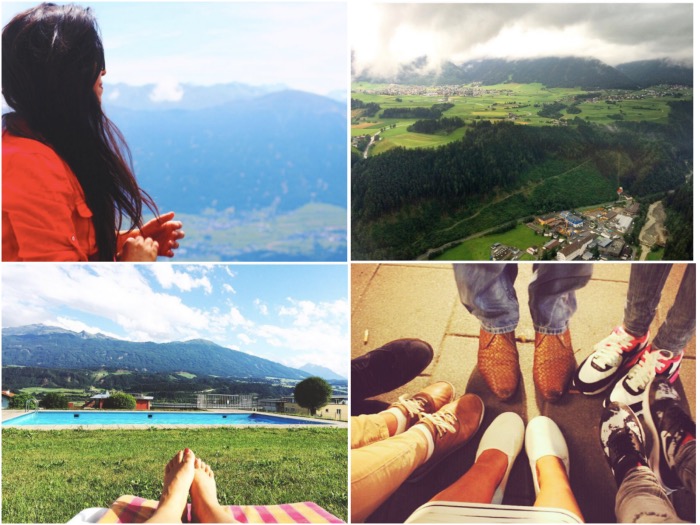 1. Ergens bovenop een berg in Oostenrijk de belangrijke dingen van de onbelangrijke dingen aan het onderscheiden  2. Dit was vanuit het vliegtuig!  3.  Een dag waar ik alleen maar heb geslapen en gechilled 🙂  4.   Oeps, deze foto kwam al voorbij. Familie! Mn broer doet eigenwijs aan de linkerkant en laat maar 1 voet zien. Haha.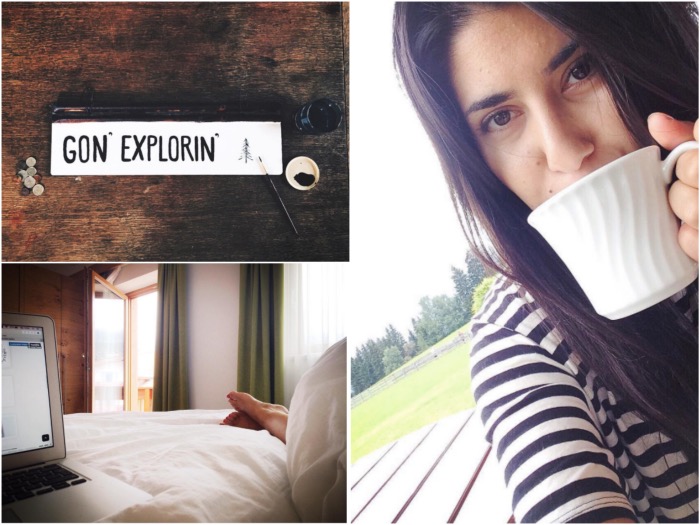 1.  Ik had weer zin om de bergen in te gaan! 2. Rustdag 🙂  3.  Kijk dit is nummer 2! Cappuccino drinken als pauze moment, daarna weer door de berg op.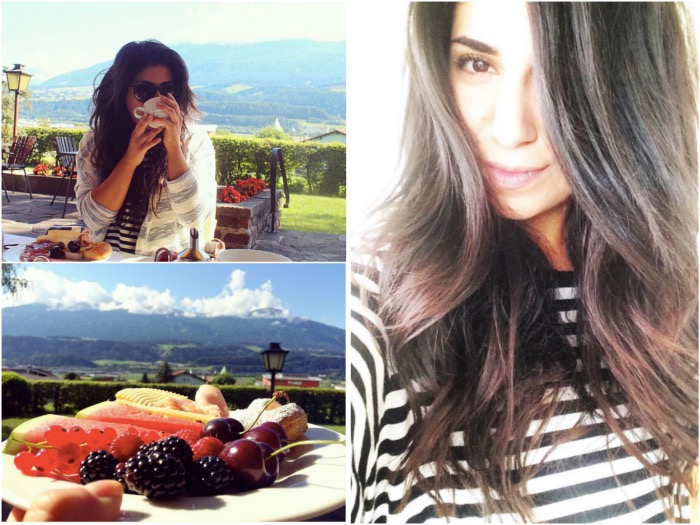 1. Ontbijten buiten het hotel, het is er zo ontzettend mooi en rustgevend  2. Hmm 🙂   3.  Mn haar zat toevallig goed en ik had streepjes aan (duh), dat vraagt om een foto!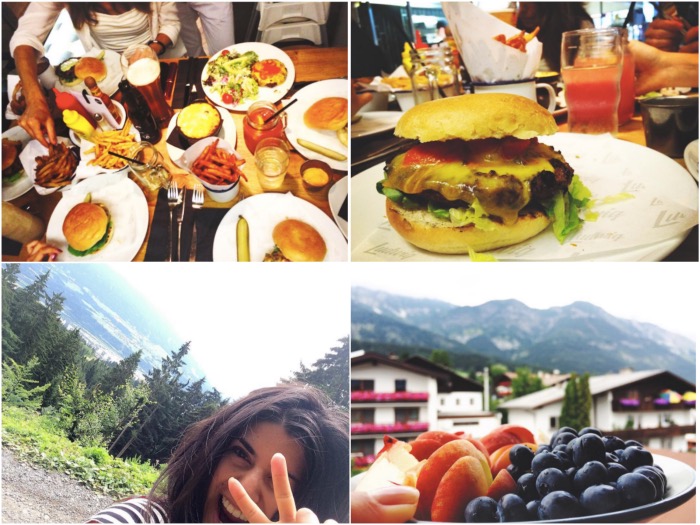 1.  Op mijn laatste avond in Oostenrijk moesten we toch echt Hamburgers gaan eten! Zo had ik een tentje gevonden online waar ik graag naartoe wilde. 2. Het was zó lekker dat ik er een hotspot post van ga maken! Geweldig gewoon 🙂   3. Wat zijn we al hoog!!   4.   Snackjes op het balkon met een mooi uitzicht 🙂
Nou, dat ziet er toch best uit als genieten niet waar? Je zou niet zeggen dat ik doodmoe richting Oostenrijk ging, haha. Alles gaat helemaal prima, ik moet prioriteiten stellen en me niet zo druk maken wat anderen van me zullen denken als ik dit doe. Langzamerhand komt het allemaal wel goed 🙂
Mocht je me willen volgen op Instagram, dan kan dat! @Tenitje