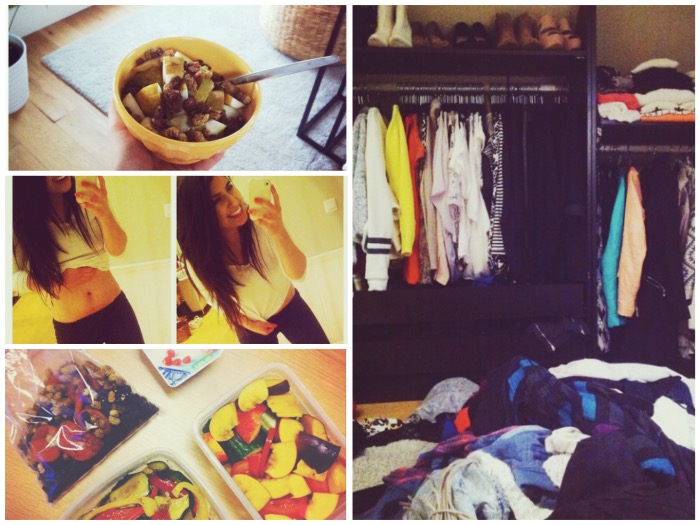 Instagram verslaafde hiero! Vandaag een wat kleinere Instagram post, maar toch weer leuk om terug te blikken naar de afgelopen 2 weken door Instagram. Oja, met minimaal 4 filters. Hehe.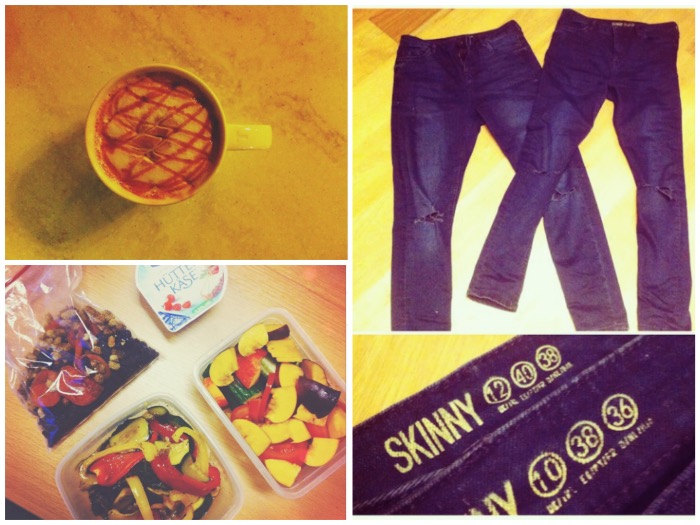 1. Ik ben de laatste tijd zo suf als ik klaar ben met werken, eenmaal in de trein ga ik helemaal knock out en slaap ik heel diep. Heel irritant als je daarna aankomt op het station en nog naar huis moet fietsen + wilt sporten + artikel typen etc. Dat voorkom ik zo af en toe door een grote kop koffie (caramel macchiato in dit geval) op het station, deze keer samen met een vriendin 🙂 2. Groente en fruit mee naar werk! Ik hou van mn bakjes. 3. Jeeeeeeej, ik heb de maand januari best hard getraind en goed gegeten als ik dat zo mag zeggen. En dat uit zich toch weer mooi in een maatje kleiner. Let wel, ik heb echt niet in elke winkel maat 36 qua broeken. Soms 36, 38 of 40.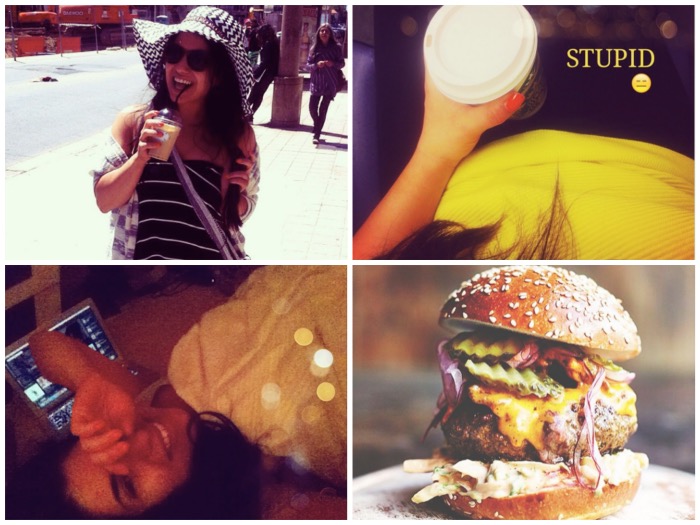 1. Even terugdenken aan de zomer, omdat het hier zo koud is nu. Ik vond dat ik er een beetje hobo achtig bij liep. Haha bij elkaar geraapt zooitje :p 2. Dit was heel dom, ik wilde een uur eerder naar kantoor en ging per ongeluk anderhalf uur eerder. Stupid. 3. Wekkertje ging om 6:00 uur en ik was best vrolijk! Dus waarom geen selfie maken… lol 4. Het wordt nog steeds tijd dat ik weer eens een goede, dikke, vette hamburger ga eten. Ik verlang er zo naar, haha.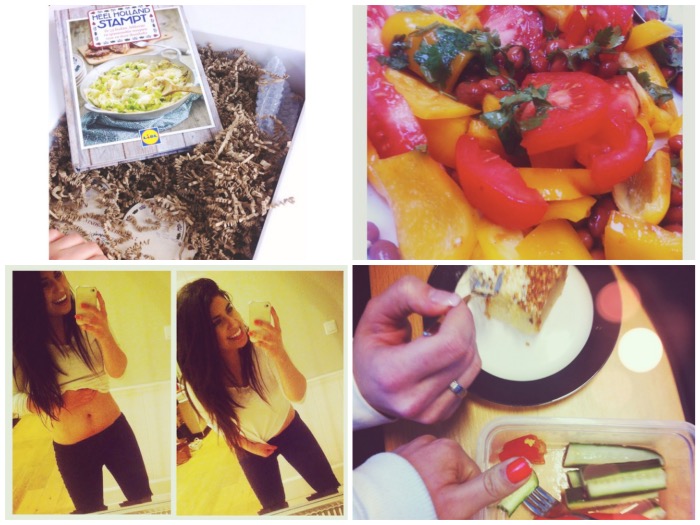 1. Een pakketje van de lidl!! Suuuuperleuk stamppot boek met recepten van allemaal mensen uit Nederland die hun recept hadden opgestuurd. De beste zijn gekozen voor in dit boek. Daarnaast kreeg ik er ook mooi oud Hollands servies bij. Dat wordt stampen binnenkort! 2. Letterlijk binnen 5 minuten bij elkaar gegooid 's ochtends voordat ik naar werk ging: paprika, tomaat, bonen, peterselie en wat citroensap + peper en zout. Klaar lunch. 3. Soms heb je dagen dat je je extra slank voelt, daar maak ik gebruik van door foto's te maken, haha. Kan zo weer gebeuren dat ik de dag erna denk, poeh, ik moet weer even harder sporten, en dan kijk ik de foto's terug en bedenk ik me dat ik niet te gek moet doen, het zit vooral in mijn hoofd. Gewoon stapje voor stapje. 4. Er is weer eens taart op kantoor! Zit ik dan, met mn bakje komkommer, paprika en tomaat :p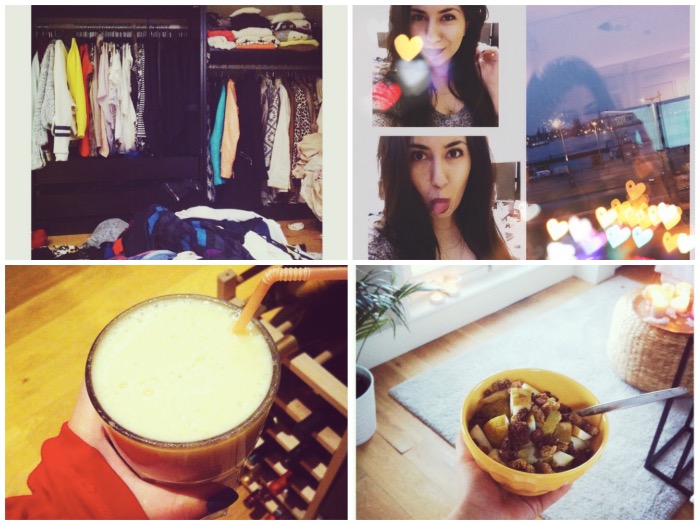 1. Avond voor fashionweek. Dit is hoe mijn kast eruit ziet, ontploft op de grond. 2. Vroege ochtenden op kantoor. 3. Zomer in een glas! Bevroren ananas, banaan + kokosmelk in de blender. 4. Dit noem ik kwark met zooi. Peer, moerbessen en cacao dingen.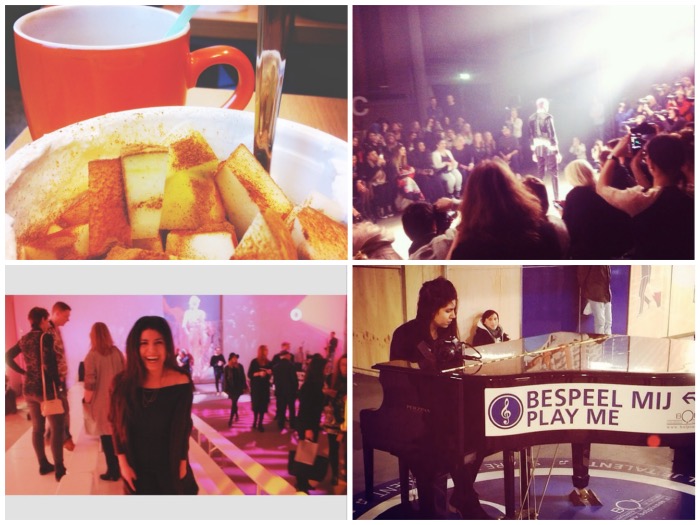 1. Standaard; kwark met fruit (appel) en heel veel kaneel + koffie met een rietje, op kantoor. 2. Fashionweek! Superleuk 🙂 3. Ik wil ook even op de foto. 4. Op Amsterdam Centraal toch eventjes wezen pingelen.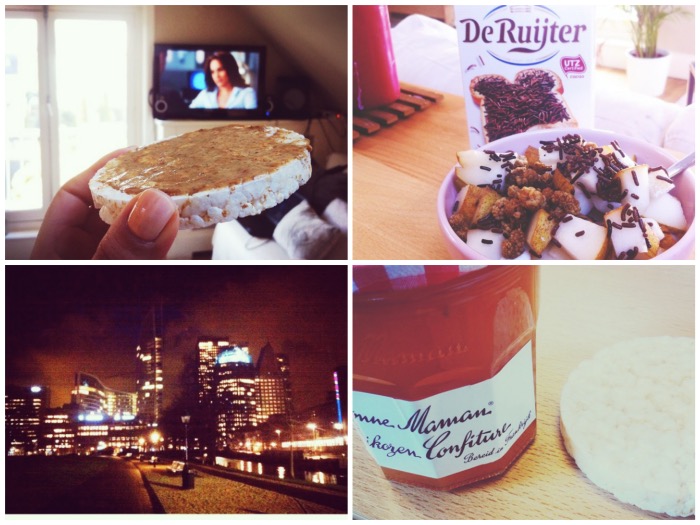 1. Hemels. Rijstwafel met amandelpasta. 2. Kwark met zooi, alweer. Maar dan nu met een extraatje; hagelslaaaggggg. 3. Den Haag Centraal om 6:30 🙂 4. Suikerrrrrrrtrek. Jam op de rijstwafel!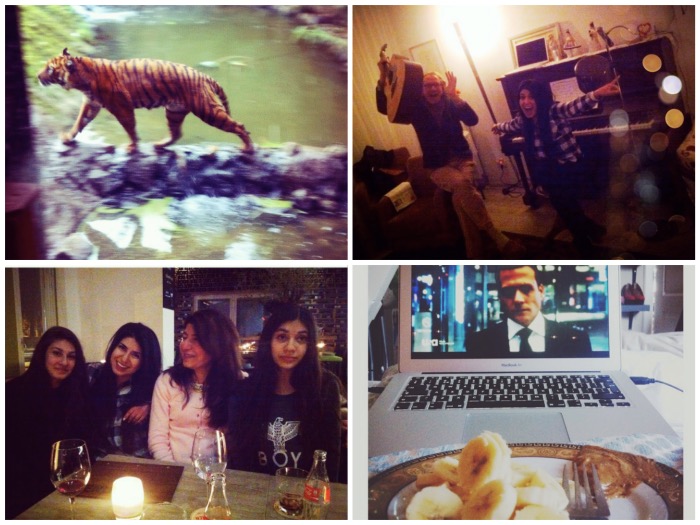 1. Dierentuintje 🙂 2. Showtje geven voor mn jarige moeder, haha. 3. Mama is jarig! Kijk ons eens allemaal anders doen op de foto.. 4. OOOHHHHJAAAAA Suits is weer begonnen! Mijn alllltimeeeee favorite televisie serie. Ik kan oprecht zeggen dat ik niet alleen verslaafd ben, maar ook nog eens een dikke crush heb op Harvey Spector. Maar hey, wie niet?
Mocht je me willen volgen op Instagram? @Tenitje !
Bewaar, Like, Tweet of Pin!