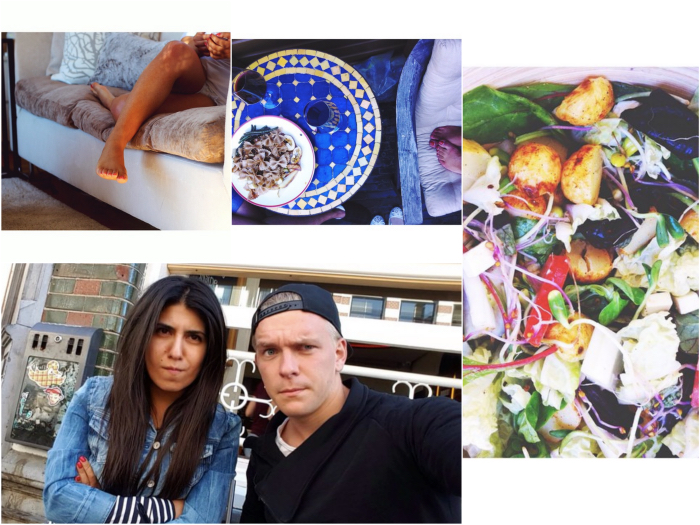 De afgelopen week is ontzettend leuk geweest maar tegelijkertijd ook wat stressvol. Ik heb heel veel tijd doorgebracht in mijn eigen hoofd en nagedacht over de toekomst van Fitbeauty. Want de toekomst van Fitbeauty is mijn toekomst. Ik heb een aantal knopen doorgehakt maar een aantal ook nog niet. Wat ben ik toch lekker vaag zeg! Anyway, als er wat tijd overheen is gegaan kan ik jullie alle ins- en outs vertellen, voor nu kan ik er nog niet teveel over kwijt. Op naar de Instagram foto's! Haha 🙂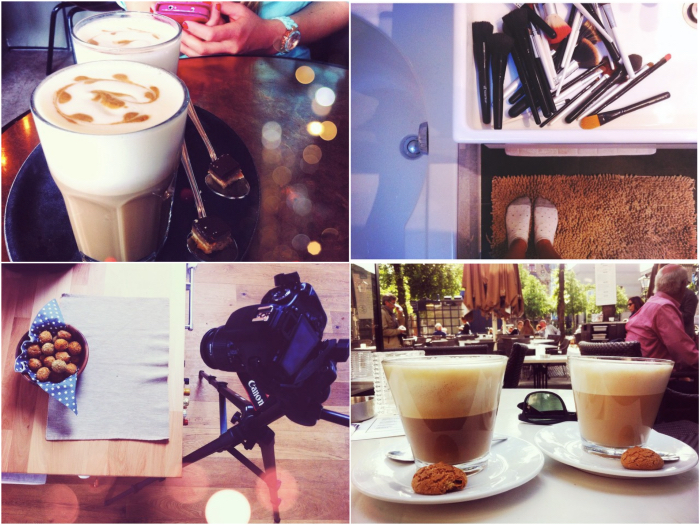 1. Samen met Lotta van Lottadenktbreed koffie drinken in Hometown Coffee in Den Haag. We wonen allebei in Den Haag dus het werd tijd voor een meetup en wie weet komen daar nog mooie dingen uit voort!  2. Kwasten wassen.. Meh. Ik houd er niet van en ik zal heel eerlijk zijn, het is misschien wel 1 jaar geleden dat ik ze heb gewassen.. Misschien wel langer.. Oeps. Gelukkig ben ik geen beautyblogger haha  3.  Bezig met foto's van perfect knapperige snacks uit de Airfryer. Natuurlijk heb ik dat ding gekregen maar ik ben er zo enthousiast over dat ik soms denk: houd je in Teni, het lijkt alsof je expres enthousiast moet doen en misschien denken mensen dat het nep is. Maargoed, ik vind hem awesome haha. Wel prijzig, maar wel awesome. 4.  Ik heb 7 jaar in Santpoort Noord gewoond en daarna heb ik 1 jaartje in Zoetermeer gewoond (toen ik uit huis ging). In de laatste week dat ik in Zoetermeer woonde kwam ik ineens een klasgenoot/vriend tegen die ook in Santpoort woonde, in de tram, in Zoetermeer. Bleek dat hij daar woonde. HOE TOEVALLIG. We besloten gauw eens wat te drinken en dat heeft zo'n 8 maanden geduurd, haha. Nu woon ik in Den Haag en hadden we eindelijk tijd om even bij te praten. Hoe fijn om met mensen van vroeger bij te praten 🙂
1. Om het verhaal dan maar compleet te maken: Mijn moeder verhuisde na Santpoort naar Utrecht waar ik echt ontzettend graag kom. Ik kan dronken worden met mijn moeder, ik kan met haar praten over alles en ze zegt altijd dat alles gaat lukken als ik het maar wil. Dus ik begin ook graag de avond met een wijntje bij mama.  2. De tuin is prachtig in Utrecht  3. Heeee wie hebben we daar!!?? Het is Jordi van fitdutchies.nl, allebei een mega drukke agenda maar het was toch gelukt een afspraak in te plannen want we hebben leuke plannen! Coming soooooooon 4. De volgende dag flink uitwaaien op het strand met een van mn beste vriendinnen. Het was niet de warmste dag, haha.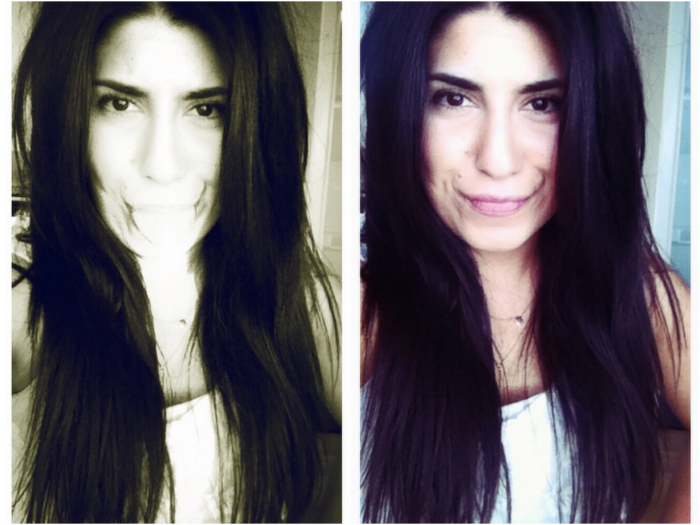 1. Na heel veel zooi in mn haar te hebben gegooid, besloot ik eens te kijken hoe dat ging met selfies hahaha  2.   🙂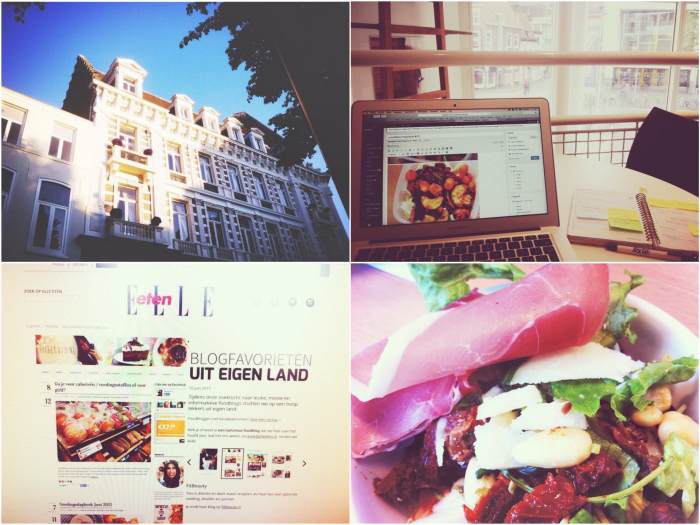 1.  Oh oh Den Haag, ik vind je mooi. 2. Mn internet lag er ineens uit en ik had letterlijk nog 40 minuten voor de openbare bieb in Den Haag dicht zou gaan. Dit was de enige plek waar ik zo snel nog aan het werk kon voor mn artikel. Racen tegen de klok dus. Maar het was gelukt!  3. Ik kwam erachter dat ik bij de blogfavorieten van ELLE eten stond! Echt su-per gaaf! 4. Onze lunchdame op het werk maakt echt geweldige salades. Elke keer een feestje!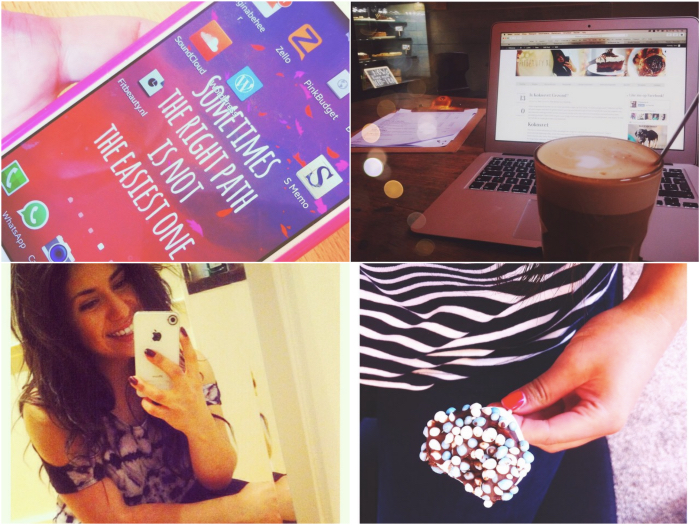 1. Mn collega heeft fitbeauty gewoon als snelkoppeling op haar telefoon! Haha, echt superlief. En hey, ze heeft ook een blog helemaal gewijd aan budget! Ze weet elk dubbeltje 10 x om te draaien en heeft de geniaalste tips! check haar blog: pinkbudget.nl   2. Ik schreef een artikel over kokosvet in Hometown Coffee.  3. Hoi!  4.   Baby geboren is traktatie op het werk. Marshmellow + chocolade + muisjes.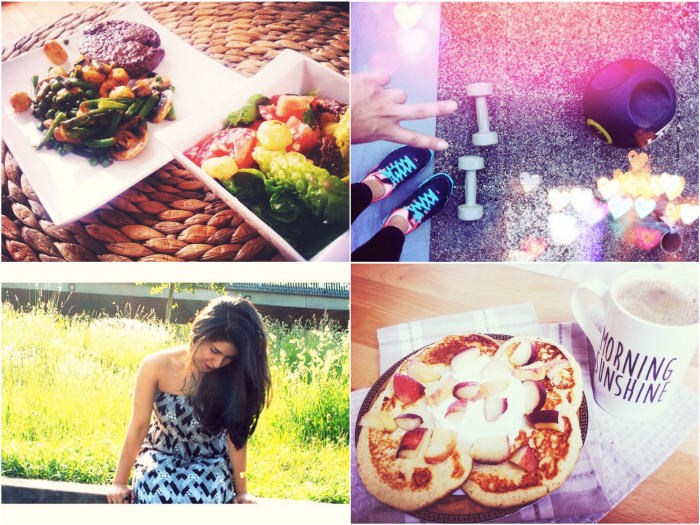 1. Eten!  2. Ik vind TrainMore in Den Haag echt een relaxte sportschool, vooral het dakterras waar je kunt trainen 🙂 Lekker verkoelend.  3. Zon + Maxi Dress  4.   Pannekoeken!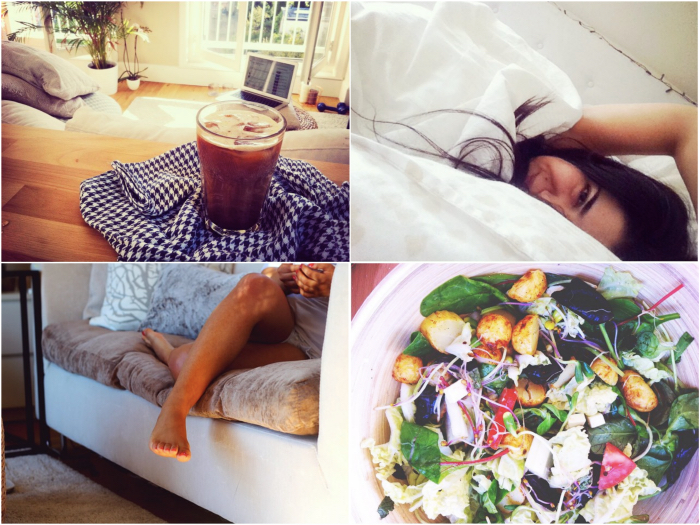 1. IJskoffie 🙂  2. Gebeurt niet vaak dat ik wakker word met een bak energie. Meestal heb ik wat meer tijd nodig, haha  3. Relaxte dag  4.   Salades. Ik probeer allerlei soorten 🙂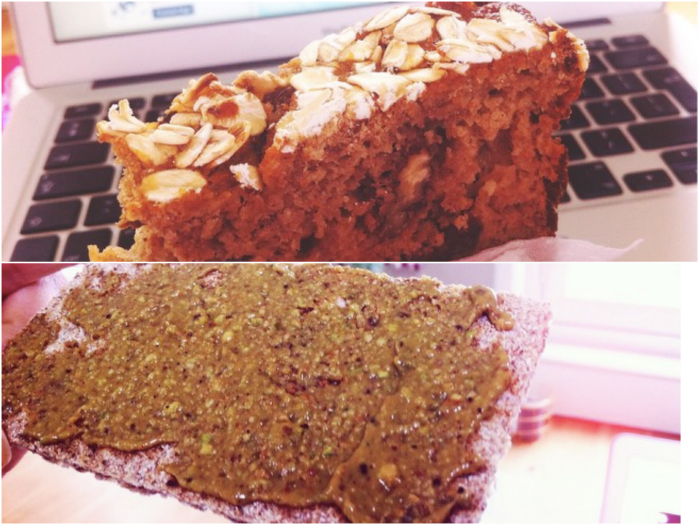 1. Heeeerlijk bananenbrood met appel gemaakt door Charlotten van Charlie's Kitchen!  2.   Pistache pasta op een cracker of rijstwafel is hemel hemel hemel! Ik heb nog nooit ergens anders pistache pasta gezien dan bij VanMax 🙂 Ze maakt trouwens ook geweldige pindakaas!
Wow, dit was echt een post vol met linkjes. Haha. Ik ben door niks gesponsord hoor! Oja, behalve dan de Airfryer. Dit betekent alleen maar dat ik heel veel online mensen heb ontmoet de afgelopen tijd haha 🙂 Mocht je me willen volgen, dan kan dat: @Tenitje
Fijne maandag allemaal!
Bewaar, Like, Tweet of Pin!