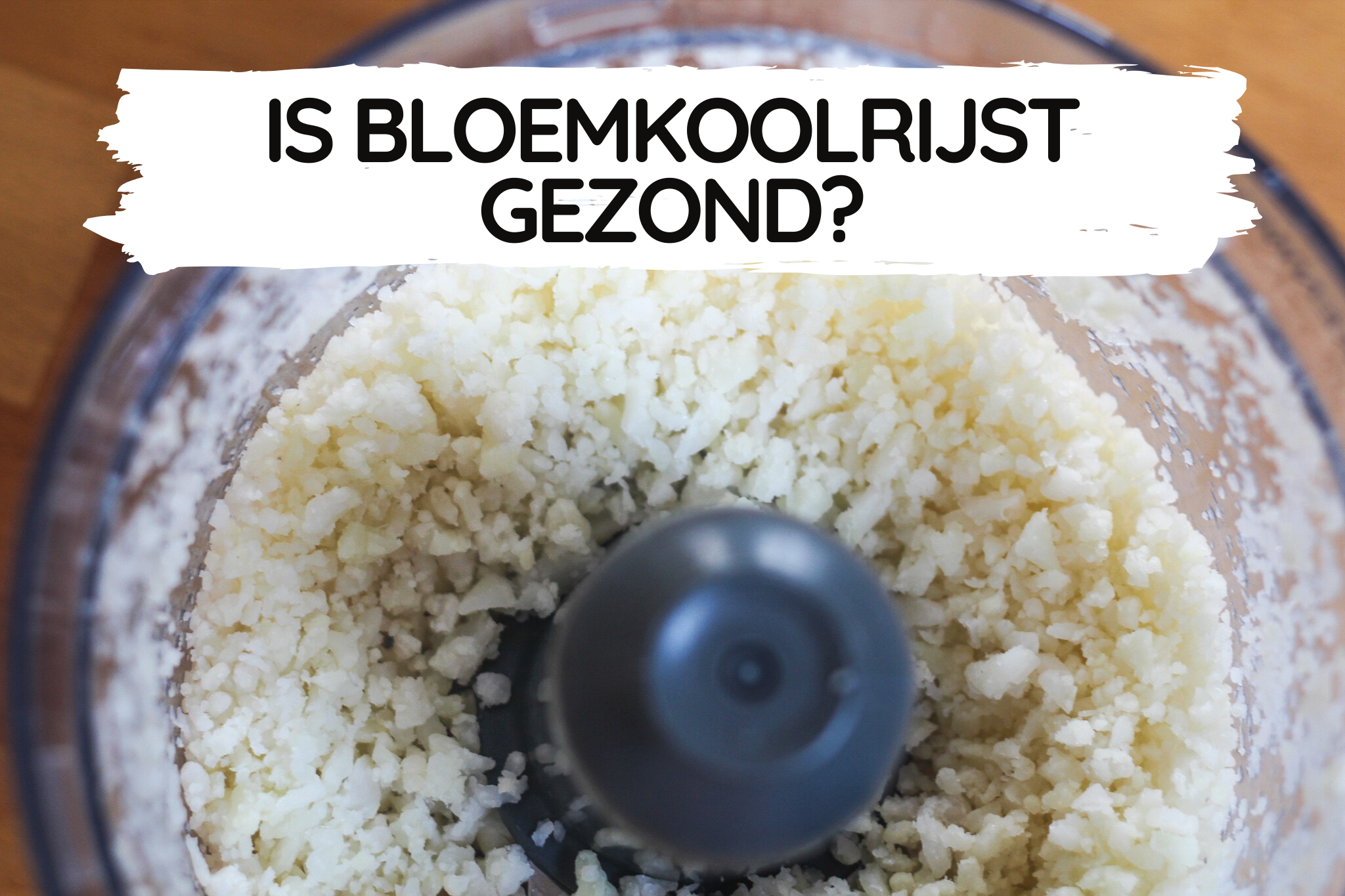 Bloemkoolrijst is steeds populairder aan het worden, dat is wel te merken als supermarkten het besluiten kant-en-klaar te verkopen. Maar, is dit een hype (sowieso) of zit er ook 'substantie' achter? Oftewel: is het gezond? Kan het wat betekenen voor sommige mensen?
Ik ben al lange tijd fan en vind het een geweldig alternatief voor 'normale rijst' gerechten. Maar dat is slechts wat ik vind. Wat kan bloemkoolrijst voor jou betekenen?
Calorieën en koolhydraten
De belangrijkste reden voor veel mensen om dit alternatief te gebruiken is om calorieën te besparen en dat is heel logisch: bloemkool bevat slechts 10-20% van de calorieën van gewone rijst. Met zo'n 25 kcal per 100 gram (rauw maar ook gekookt) kun je gerust een tweede portie opscheppen als je graag wat meer wilt eten voor wat minder calorieën.
Ook werkt het hydraterend aangezien het zo'n 90% uit vocht bestaat (1)(2)(3). Dit is met de meeste groente zo natuurlijk.
Verschillende onderzoeken linken voedingsmiddelen met weinig calorieën en veel vocht aan het afvallen aangezien het je een vol gevoel geeft voor minder calorieën en geen pieken veroorzaakt in je suikerspiegel (4).
Nu ik het toch over de suikerspiegel heb;  dit is nogal een verschil met het eten van normale rijst. Bloemkoolrijst bevat zo'n 2,5 gram koolhydraten per 100 gram, dat is 18 keer minder dan met gewone rijst.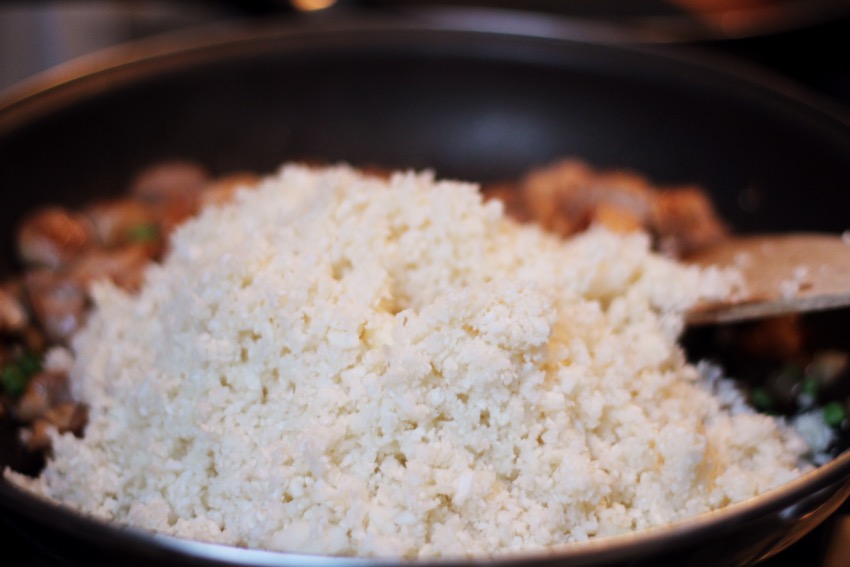 De vergelijking is stom, ik snap het.
En natuurlijk, het zijn twee compleet verschillende producten die ik nu met elkaar vergelijk – maar ze kunnen op dezelfde manier in een gerecht gegeten/gebruikt worden en dat is wat het interessant maakt.
Vooral als je de smaak prima vindt en je wilt graag wat minder calorieën en/of koolhydraten consumeren.
Voedingswaarde
Bloemkool is groente en groente is goed voor je. Dat weten we allemaal, toch? Maar wat bevat bloemkool dan allemaal dat het zo gezond maakt per 100 gram (5)?
25 kcal
1,9 gram eiwit
3 gram koolhydraten
0,2 gram vet
2,2 gram voedingsvezel
8 mg Kalium
296 mg Calcium
28 mg Fosfor
48 mg Magnesium
12 mg IJzer
25 mg vitamine C
En nog een beetje vitamine B6, B2 en B1
De vezels uit de bloemkool helpen je darmflora te voeden (6) en we weten inmiddels allemaal hoe belangrijk het is om een gezonde darmflora te hebben voor je algehele gezondheid. Uit onderzoek blijkt er een link te zijn tussen groenten met veel vezels en een lager risico op ziektes zoals diabetes type 2, kanker en hart- en vaatziekten. Ook helpen de vezels bij het krijgen van een vol gevoel wat enorm kan helpen bij het afvallen (7)(8)(9).
Daarnaast bevat bloemkool een stofje genaamd choline, het wordt ook wel een 'halfvitamine' genoemd. Bloemkool is één van de beste plantaardige bronnen ervan. Choline is heel goed voor de gezondheid van je hart, je lever, je brein en je zenuwstelsel (10). In vergelijking met andere kruisbloemige groenten is bloemkool rijk verschillende stoffen (open de linkjes naar de onderzoeken om te begrijpen welke dat zijn en hoe dit werkt)  en antioxidanten die ontstekingsremmend zijn en misschien zelfs de groei van kankercellen vertragen (11)(12)(13)(14).
De andere antioxidanten uit bloemkool kunnen waarschijnlijk het risico op hart- en vaatziekten verlagen (15)(16)(17)(18).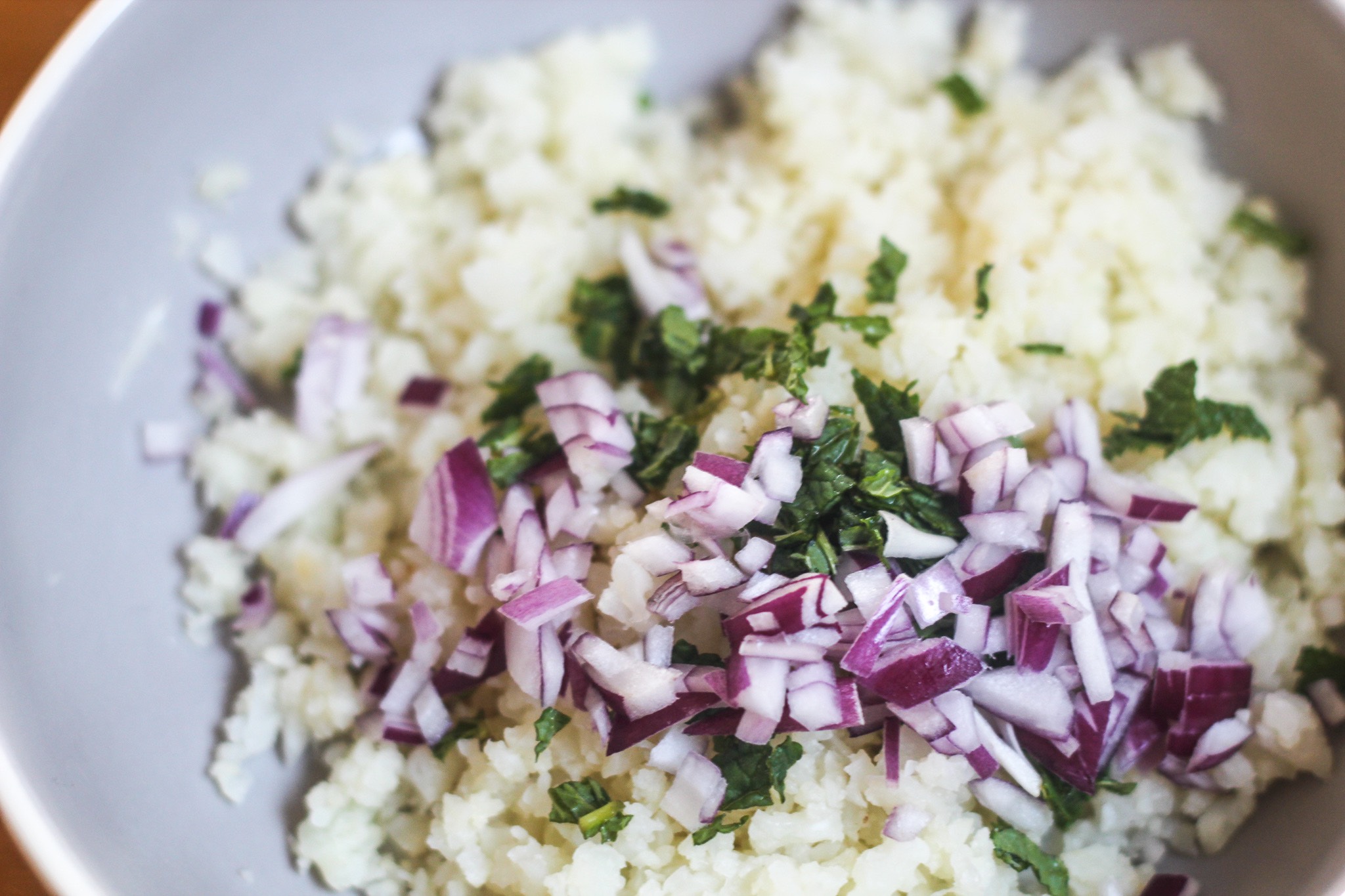 Superfood?
Zo zie je maar, als je je verdiept in groente en fruit – hoe suf dat ook klinkt – dan kom je erachter hoe waanzinnig goed het voor je kan zijn. Eigenlijk hebben we hier gewoon te maken met een superfood en dat is ook zo met broccoli, wortels, kool, etc. etc.
Onze aandacht gaat al gauw naar poedertjes en zaadjes als we denken aan superfoods en een gezond leven. Maar die poedertjes en zaadjes doen niet zoveel voor je gezondheid als de basis niet goed is gelegd. Oftewel: wat eet je door de dag heen aan groente, fruit, granen etc.? Dan kun je aanvullen met bepaalde poedertjes en zaadjes, maar het compenseren van een ongezonde leefstijl met poedertjes werkt helaas niet bij je gezondheid.
Hoe maak je bloemkoolrijst?
Het is heel makkelijk, je kunt het natuurlijk al kant-en-klaar kopen. Maar je kunt het ook zelf maken.
Begin bij het wassen van de bloemkool nadat je de groene stengels hebt verwijderd. Snijdt het hoofd in vier grote stukken en doe deze in een keukenmachine of rasp het tot kleine 'rijst'korrels.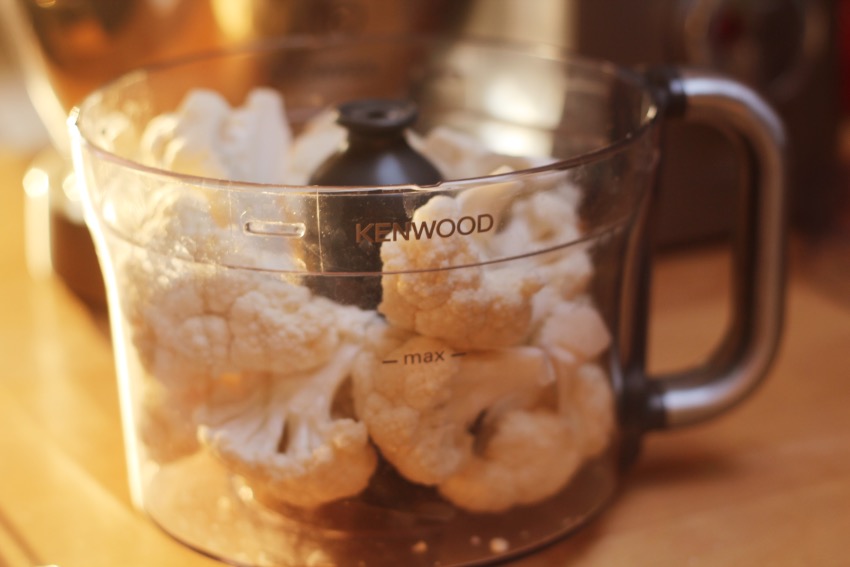 Je kunt ook diepvriesbloemkool kopen en dit na 5 minuten ontdooien in de keukenmachine fijnmalen – dit doe ik het liefst omdat ik graag altijd wat bloemkool in huis wil hebben zonder dat het bederft.
Opbakken kan al in 5-6 minuten met wat olie, peper en zout. Voeg het daarom wat later toe aan een éénpansgerecht zodat het nog wat bite heeft. Als je het langer bakt, dan zal het zacht en nattig worden.
Het lekkerste is het als je bloemkoolrijst vers eet, maar je kunt de bloemkoolrijst tot aan 5 dagen in de koelkast bewaren – daarna kan het wel een beetje vies gaan ruiken.
Conclusie
Bloemkoolrijst is naar mijn mening een super voedend alternatief voor gewone rijst, daarnaast bevat het weinig calorieën en koolhydraten vergeleken met gewone rijst en kan dus heel handig 'in te zetten zijn' als je wat minder calorieën en/of koolhydraten wilt eten.
Voor mij een blijvertje, maar je moet wel van de smaak houden. Als je het letterlijk vergelijkt met gewone rijst, dan zul je er misschien teleurgesteld door raken. Als je een open mind houdt en een belangrijke andere reden hebt om het als alternatief te gebruiken, kan het best goed uitpakken!
Wat vind jij van bloemkoolrijst?