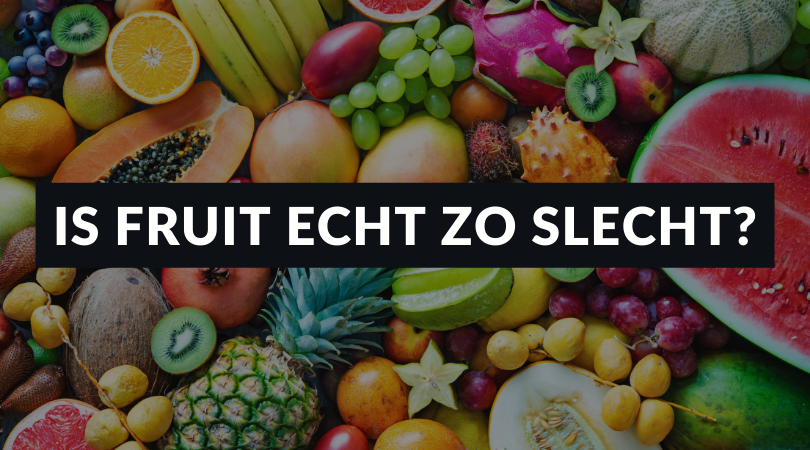 Waarom is fruit zo slecht? Is fruit slecht? Is fruit écht zo slecht?
Mijn hoofd dwaalt af.
Wacht heel even, wat?
Deze vraag heeft al een suggestie: dat fruit slecht is. Met de diepere vraag of het écht zo slecht is? Hier moet ik even kort maar krachtig op in gaan!
De reden dat fruit zo wordt gedemoniseerd is omdat het suiker bevat. Ja, so what? Wie wil er compleet suikervrij leven? Oprecht, wie wil dat en waarom? Om af te vallen?
Dus wel een overschot aan calorieën binnen krijgen aan eiwitten en vetten, maar suikers zijn de duivel? Je begrijpt hopelijk inmiddels dat afvallen niet direct gelinkt is aan suiker uit fruit. Maar aan een teveel aan calorieën, in ieder geval meer dan je verbrandt. En of deze calorieën dan afkomstig zijn uit fastfood of fruit, maakt niet uit.
Oké, suiker doet van alles in je lichaam, zoals het verhogen van je suikerspiegel. Maar wist je dat de invloed van suiker op je suikerspiegel wordt bepaalt door de vetten, vezels en eiwitten die je erbij eet?  Vetten, vezels en eiwitten vertragen je vertering maar zorgen er ook voor dat je suikerspiegel geleidelijk stijgt en niet zo'n hoge piek krijgt zoals wanneer je enkel suiker binnen krijgt zonder vetten, vezels en eiwitten.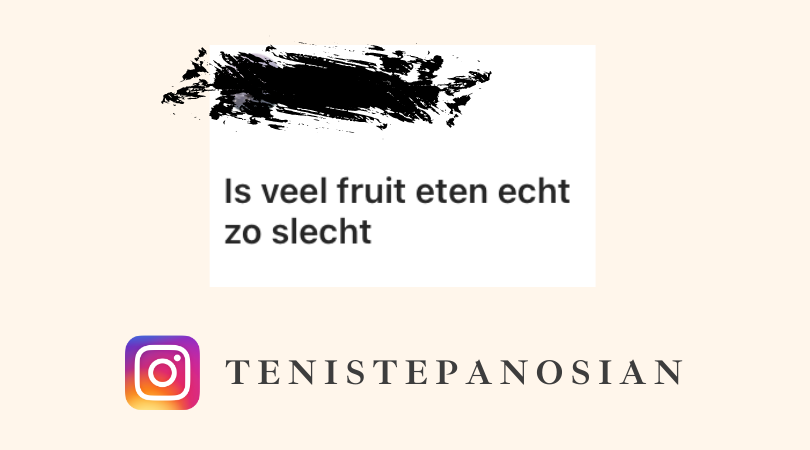 Een glas cola wordt nog vaak vergeleken met 1 banaan.
Bijvoorbeeld: Een glas cola bevat geen vet, geen eiwit en geen vezels. Het is ook nog eens vloeibaar waardoor het heel makkelijk je lichaam in kan komen én nauwelijks verteert hoeft te worden. Dus reken er maar op dat je suikerspiegel direct stijgt en een goede piek vertoont (dit is dus juist niet gezond ;)).
De banaan bevat een beetje vet, een beetje eiwit en vezels. Daarnaast moet je de banaan kauwen waardoor het langzamer je lijf in komt en de vertering ervan meer werk kost. Allemaal factoren die invloed hebben op je suikerspiegel. Deze zal na het eten van de banaan minder snel stijgen en ook minder pieken. Dat is dus top!
Een snelle en hoge piek in je suikerspiegel betekent dat deze ook heel snel weer zal dalen en vaak nog dieper zal dalen dan hij zat voordat je een glas cola dronk. Hierdoor heb je vrij snel weer trek, voel je je futloos en sloom. Dit herken je misschien rond een uur of 15:00-16:00 – je suikerspiegel is dan wat gezakt en je hebt trek. Neem je en snoepje? Dan zal je suikerspiegel snel en flink stijgen en ook weer snel en flink dalen. Resultaat? Je wilt nog een snoepje want je voelt je ineens weer futloos.
En de cyclus herhaalt zich.
Neem je een banaan? Dan zal deze je misschien van evenveel suiker voorzien, maar je langer een vol gevoel geven, minder snel je suikerspiegel laten stijgen én minder hoog laten stijgen.
En dan heb ik het nog niet eens gehad over alle fantastische vitamines en mineralen in die banaan – en elk ander fruit!
Dit is noodzakelijk voor je lijf en je gezondheid. Vitamines en mineralen zijn niet alleen leuke termen voor gezonde stofjes, maar ze doen ook FANTASTISCH werk in je lijf (lees hier maar!).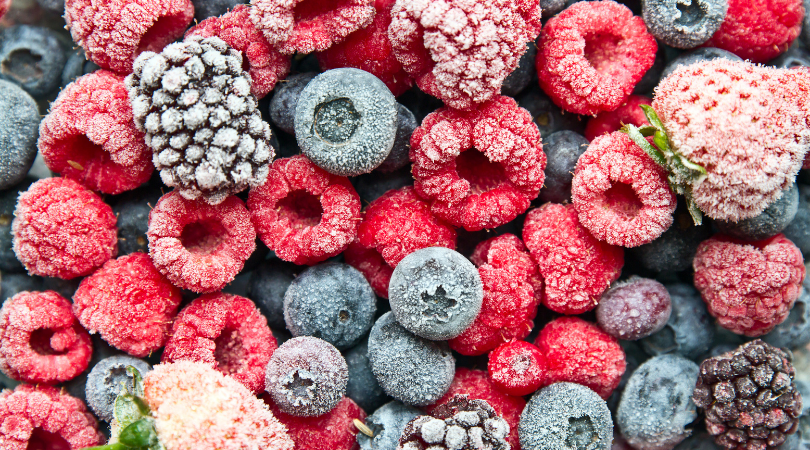 Even eerlijk zijn: wat eet je op een dag?
Kijk heel even realistisch naar wat je eet op een dag. Grote kans dat een stukje fruit NIET hetgeen is waar je op dient in te leveren omdat het enkel suiker bevat, toch? Zoals ik zei, fruit zit bomvol vitamines, mineralen en vezels.
Fruit is awesome en ik kan soms wel huilen als ik mensen mango's en bananen hoor vermijden omdat ze veel suiker bevatten. Maar ondertussen wel een muesilireep eten of een stuk taart nemen.
Niet dat je nu moet inleveren op een stuk taart – maar waarom zou je in vredesnaam inleveren op een onbewerkt voedingsmiddelen bomvol goeds met een lekker zoet smaakje! Dat is een cadeautje van de natuur!